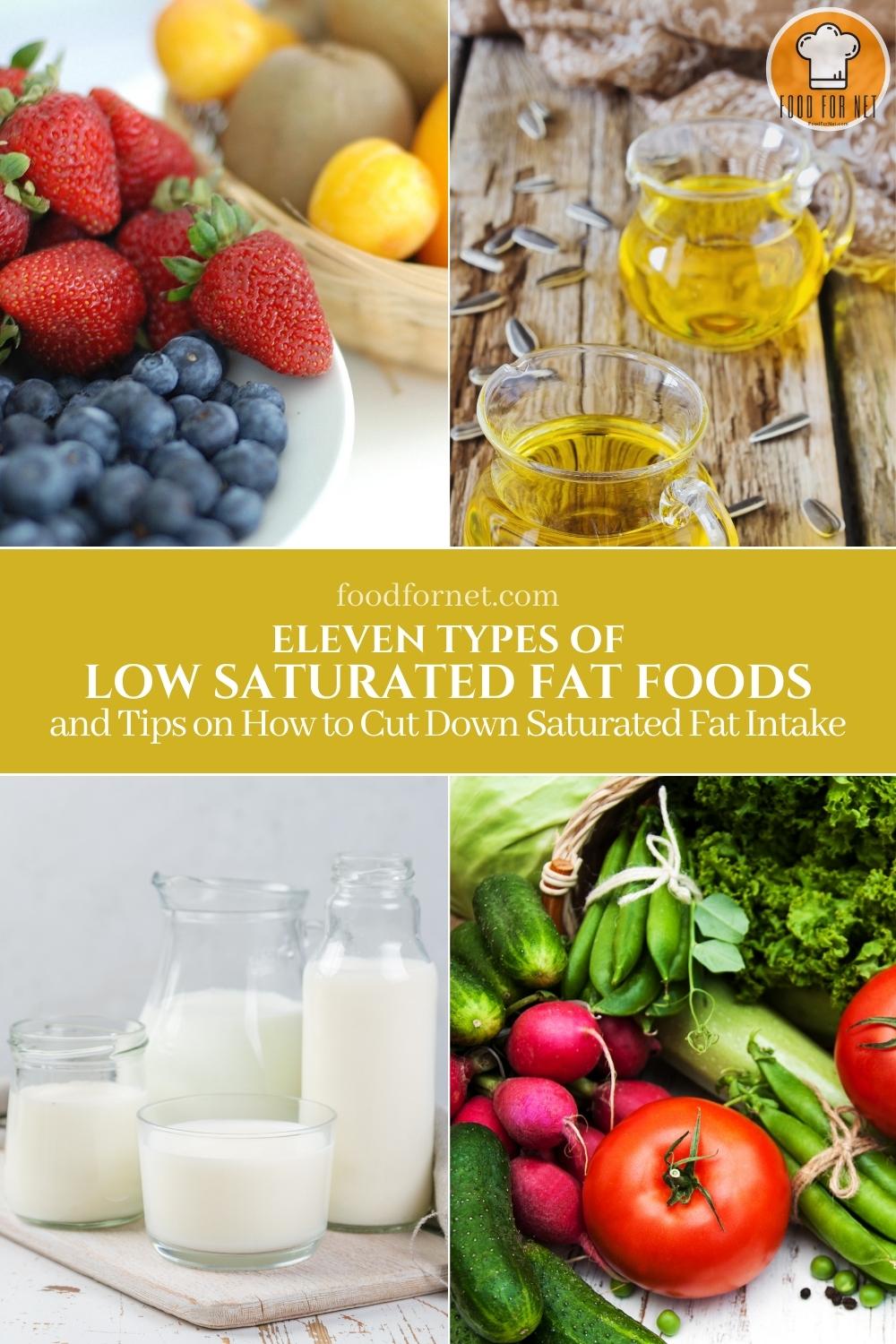 Our body uses fat for energy but consuming too much fat can lead to obesity because fat calories, compared to carbohydrates or protein, turn into body fat more easily. This is why a low-fat diet particularly with low saturated fat foods is preferred for a healthier body. In this post, we'll list out as many types of low saturated fat foods as we can so you can easily follow this type of diet without missing out on your favorites.
Saturated fats are also called solid fat because it's solid at room temperature. It is mainly found in animal foods (like milk, cheese, and meat) and a few plant foods (like palm oil, coconut oil, and cocoa butter). And according to the American Heart Association, the recommendation is to aim for a dietary pattern with 5-6% calories from saturated fat.
Saturated fat is just one type of fat. There's also unsaturated fat (monounsaturated fats and polyunsaturated fats) and trans fat. Like trans fat, saturated fat has been labeled the 'bad' fats because they increase LDL or the bad cholesterol levels which is a known risk factor for cardiovascular disease. It would seem that everybody already knows the answer when asked if saturated fat is good for you, right?
Well, it turns out that more recent findings seem to contradict such claims and instead suggest that reduction of dietary saturated fat has no consistent benefit to cardiovascular mortality. Yes, it does lead to increased LDL cholesterol levels but rather than focusing on it, the overall quality of diet and elimination of processed foods would likely do more to improve cardiovascular disease and overall health.
That said, it will still help you tremendously if you're aware of the different types of low saturated fat foods. Portion control is the key here, some saturated fat shouldn't be a problem (especially if it's nutrient-dense) if you know how to take them in moderation. And keep in mind, too, that while going for low fat foods, avoiding heavily processed foods high in refined carbs at the same time, will have a more positive effect on your overall health.
Here are 11 types of low saturated fat foods to give you some ideas and more options on what to shop for the next time you stock up your fridge or pantry. See also some tips on how to cut down on saturated fat intake at the end of this list.
Low Saturated Fat Foods (With Pictures!)
Omega-3 rich fish

Fish like sardines, salmon, mackerel, lake trout, and herring are not only rich in omega-3 fatty acids but are also low in saturated fats. Two servings of any of these fish a week is recommended by the American Heart Association.
Omega 3s are great for decreasing triglycerides while slightly affecting high blood pressure. They can also help in reducing the risks of strokes, heart failure, blood clotting, and irregular heartbeats.
Lean meat

Go for lean meat – loin, tip, or round cuts of beef; sirloin chops, tenderloin, or butterfly chops for pork; leg, chops, or roast lamb; and skinless chicken or turkey. These lean meats are low in saturated fats and a serving of no more than 6 ounces per day is absolutely fine.
These protein-rich foods also contain iron, iodine, zinc, essential fatty acids, and vitamins like vitamin B12. They're good for repairing small muscle tears, maintaining energy levels, and reducing the risk of chronic diseases.
Fruits

Fruits, either whole fruits or fruit juices, are in the clear. Preferably it's better that you eat the whole fruit with all of its flesh, pulp, and sometimes even the skin – this way you can maximize its health benefits because you're getting the most of its fiber and flavonoids content.
In addition to fruits' high fiber content, you can also expect a whole array of vitamins, minerals, and health-boosting antioxidants. Adding more fruits to your diet does not only help with inflammation but also with reducing the risk of developing heart disease, cancer, and diabetes.
Vegetables

All vegetables are also in the clear. These also include vegetable juices. And just like with fruits, it will be better if you'll eat whole vegetables, too. Juicing veggies however is a great way to add more vegetables to your diet, so juice away if that's the best approach for you. See the best vegetables for juicing here with some juicing facts for you to consider.
On top of vegetables' dietary fiber content, they're also packed with important nutrients like potassium, folate, vitamin C, and vitamin A just to mention a few. And of course, they're also naturally low in fats and calories.
Low fat cheese and yogurt

Low-fat cheese, yogurt, as well as sour cream, and cottage cheese are low in saturated fats. Eating 2-3 servings every day is recommended by the American Health Association.
You'll need these foods for their calcium, vitamin A, phosphorus, and protein contents. They can help in boosting digestive health, helping the immune system, and lowering blood pressure.
Fat-free milk

You don't have to completely forgo milk when on a low-fat diet, simply go for the fat-free or non-fat versions. Eat less whole milk and whole-milk products.
This milk still contains calcium, vitamin D, omega 3s, and protein. In fact, you'll get a good amount of protein from just a glass of skim milk with no added fat.
Grains

Eat plenty of grains like barley, bulgur, and quinoa. Barley and bulgur are just two of the Ancient grains with very low saturated fat. Quinoa aside from being a low-fat grain is also nutrient-rich and gluten-free.
Whole grains are known to be better sources of fiber as well as nutrients like B vitamins, folate, iron, selenium, magnesium, and potassium. And a diet rich in it can help reduce the risk of diabetes, heart disease, obesity, and certain types of cancer.
Vegetable oil

Vegetable oil like canola, olive, sunflower, corn, peanut, soybean, sesame, and flaxseed oil is low in saturated fats. Stir clear of solid fats and shortenings like butter and lard, as well as coconut oil, and palm oil.
Vegetable oil contains monounsaturated fats and polyunsaturated fats (omega 3 and omega 6 fatty acids). They're basically considered heart-healthy and have been consistently linked to reduced risk of heart disease.
Margarine

Margarine is fine as long as any of the above-mentioned vegetable oil is used as the first ingredient. Check to see that it doesn't contain trans fat and that the first ingredient is a liquid oil. It can be the spray, tub, or squeeze type.
Margarine contains essential fat-soluble vitamins like vitamins A, D, E, and K, and minerals like calcium, potassium, magnesium, iron, zinc, copper, and iodine. It's good for reducing low-density lipoprotein or LDL.
Unsalted nuts and seeds

Unsalted nuts and seeds like almonds, walnuts, pistachios, hazelnuts, flaxseeds, sunflower seeds, and pumpkin seeds are low in saturated fats. So eat away and keep enjoying snacking on these nuts and seeds. They also make for a great ingredient in cooking, baking, and even in smoothies and salads.
Aside from its fiber, protein, and healthy fats content, unsalted nuts and seeds can also give you magnesium, calcium, potassium, zinc, and vitamins B1, B2, B3, and vitamin E. They can help in lowering the risk of diabetes and heart disease.
Bread

All kinds of bread including low-fat English muffins, wraps, and pitas are also low in saturated fats. Stir clear or eat fewer products made with whole milk especially commercial muffins, doughnuts, sweet rolls, and biscuits.
Bread is rich in complex carbohydrates and contains protein, B vitamins, and minerals like phosphorus and zinc. Those particularly made from whole wheat can keep you feel fuller for longer periods of time, keep your digestive system healthy, and help control blood sugar and cholesterol levels.
Tips on How to Cut Down Saturated Fat Intake
Enriching your knowledge of the different types of low saturated fat foods is a great first step to cutting down your saturated fat intake. Here are some tips on how to succeed with your diet journey towards a healthier body.
Pay attention to nutrition facts
Again, the importance of actually reading nutritional labels. Make it a habit to check the nutritional contents on food packaging, for this instance, look for its 'saturates' or 'sat fat' content. Opt for those with lower %DV for saturated fat – that's 5%DV or less per serving, 20%DV or more per serving is considered high.
Make sure, too, to take note of the 'serving' or portion per serving. Your idea of a portion may be different from what the manufacturers used in computing those numbers. You might think it's fairly low in saturated fat, but if you eat twice the amount of the 'per serving' portion indicated in the package, well then, you pretty much ate twice of that fat content, too.
Understanding label claims
You oftentimes read claims such as 'fat-free' or 'no-cholesterol' on food packaging – which of course draws a lot of attention, especially from those who are trying to eat more healthily. And although food manufacturers have to provide scientific evidence for such claims to FDA (to be allowed to use such on their labels), it's still important that you know what those claims actually meant.
If it says 'low-fat' it means the product has less than 3g of fat per serving. 'Light' means it has 50% less fat than the same regular product. And 'reduced fat' simply meant that the product has 25% less fat than the same regular brand.
'Clean' your fridge and pantry
Cutting down your saturated fat intake also heavily relies on how you stock up your fridge or pantry. It will be a feat to keep a healthier eating habit if you're well-stock up with foods that are not exactly healthy. So do some spring cleaning and bid those nasties goodbye. You're more likely to stick to a healthier diet if both your fridge and pantry are clean and well-organized as well.
Of course, it's not as easy as it sounds but hey, health first, right? Sure, it's not such a bad idea to keep some for 'treats' every once in a while. And for your sanity's sake perhaps it's also okay to just keep them after all (in a designated place or corner maybe?). But this is if you're really that great with self-control (especially when you can actually see them right there!). Because the real culprit here is eating more than the acceptable portion – a bag of chips wouldn't exactly kill you, but you have to be mindful of the other foods you'll be eating for the day – do the math and do some adjustments to make up for that bag of chips.
Make healthier alternatives available
This one connects to the 'cleaning your fridge and pantry' bit. Getting rid of the heavily saturated fat-laden foodstuff isn't the end of it. You also have to make sure that healthier alternatives are available. The very idea of getting rid of food that not only you're used to eating but actually love eating is pretty hard as is, imagine seeing your fridge or pantry so bare – now, that is undeniably quite depressing already, right?
Well, that's why you really need to do some shopping and stock up on healthier alternatives. You'll realize that you're more inclined (even inspired) to prepare a healthier meal if you have what you need ready and available right there for you.
Plan your meals
Make the time for meal planning. More likely than not, especially on hectic days, you'll be quick to go for whatever is available on your way home or what's easy to order online without any thought to its saturated fats content (it's probably not on the priority list to consider when you're already crunched for time, right?). If you have a meal plan in place, you have already conditioned your mind in advance so you don't have to make hasty decisions. You'll be more confident and more in control so you're not easily tempted to just grab whatever.
Planning your meal will enormously help you as well with your food shopping. It will save you time wandering off food isles because you know exactly what you need, what you're looking for, and what you're getting. It can also save you money because more likely than not, whatever is on your shopping cart are the ones you'll be needing to carry out your meal plan – so no more buying this or that on a whim without any idea of what you're going to do with it later.