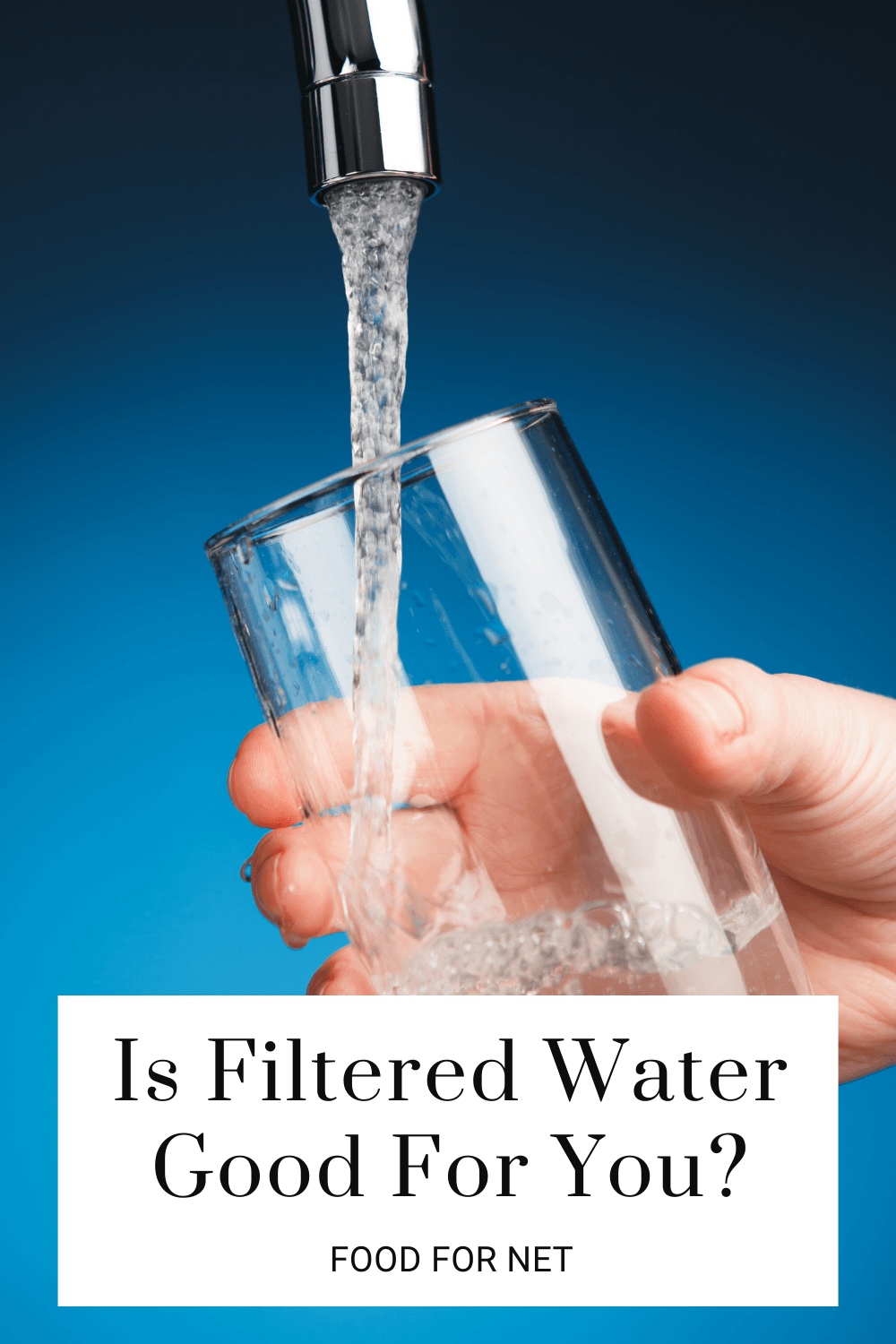 Water has gone from being a simple idea to one that's shockingly complicated. There's regular tap water, alkaline water, filtered water, distilled water, mineral water, seltzer water, and more – not to mention products like Vitaminwater and coconut water. It's enough to drive anyone crazy.
How do you navigate this array of options?
We've talked about many of those types of water before (you can click on the links to learn more about each of them). So, today, we're asking the question, is filtered water good for you?
To put it another way, should you be drinking water that's been through so many different steps to reach you, where chemicals may have been added and other ones filtered out? Surely the more natural approach is better?
Is Filtered Water Good For You?
Types Of Water Filters
The Benefits Of Filtered Water
The Problems With Filtered Water
Does Filtered Water Contain Healthy Minerals?
Why Do You Need Water?
How Much Water Do You Need Per Day?
Filtered Water Versus Purified Water
Which Type Of Water Is Best?
Final Thoughts
Types Of Water Filters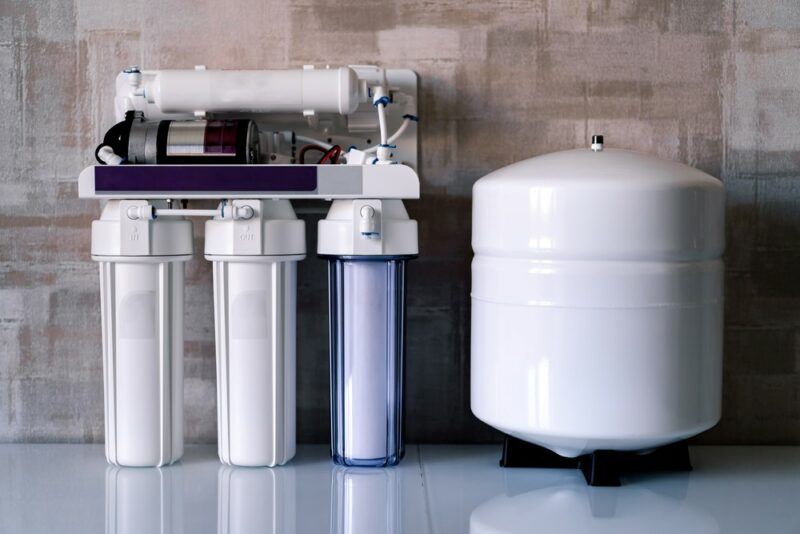 Filtered water is, quite simply, water that has been run through a filter of some type. The type of filter used influences what's removed from your water.
The main types of filters can be seen below. Many systems use multiple filters in concert to filter your water effectively.
Mechanical filters. These are generally used for pre-filtration, as they remove particles, rather than chemicals.
Ultra violet filters. These use different wavelengths of ultraviolet light to kill bacteria and viruses in your water. It's an environmentally friendly approach, although it does not target other types of contaminants.
Activated carbon. This common type of filter removes organic substances, agricultural chemicals, chlorine, magnesium, and sediment from your water.
Ion exchange. This type of filter is often used for hard water (water with high mineral content) and helps to soften it by removing calcium and magnesium ions.
Reverse osmosis. A particularly powerful approach for purifying water, removing a large amount of toxins and concerning chemicals in the process. Despite the popularity of such systems, reverse osmosis uses a large amount of water and this level of purity isn't needed for many household water uses.
The best combination of filters will depend on your budget and what you're looking for. For example, activated carbon could be critical if organic substances are a problem in your water supply, but might not be necessary in other cases.
The Benefits Of Filtered Water
You're Removing Contaminants
The first reason for using filtered water is simple – you're removing any contaminants. This is important, as water can be contaminated in all sorts of ways. Some of that contamination might happen in the water source itself, while other contamination might occur in the pipes or in another part of the water's journey.
Even water that has passed safety testing may contain low levels of contaminants, ones that could still potentially influence your health. Filtering water helps you avoid the problem entirely, giving you confidence in the water you're drinking.
Filtering Improves The Flavor
By removing contaminants from tap water, filtered water ends up with a much better taste. The effect might be strong or minor depending on where you live and what your tap water normally tastes like.
This flavor effect shouldn't be underestimated.
Many of us drink less water than we should, to the point that we're mildly dehydrated much of the time. Part of the problem is that water just isn't interesting. Depending on where you live, tap water might even taste bad.
Making your water taste better is a powerful way around this problem. Doing so may help you to reach for glasses of water more often, which makes it much easier to stay hydrated.
You Have Control Over Your Water Quality
When using tap water, you're trusting that the water treatment systems in your state and local area are sufficient to give you safe and clean water. You're trusting that there are no issues of contamination, that no one is cutting corners, and that nothing unexpected has gone wrong.
That's a lot of trust.
Much of the time, that trust will be warranted and you'll be getting safe drinking water. But, issues do happen – just look at the Flint water crisis, where the water was contaminated with lead. That crisis took years to fully resolve. Who knows how many more subtle water quality issues there have been over the years?
Filtered water gives you more certainty. You get to know, beyond any doubt, that your water really is high quality. That there's nothing in it to put your health at risk.
The Problems With Filtered Water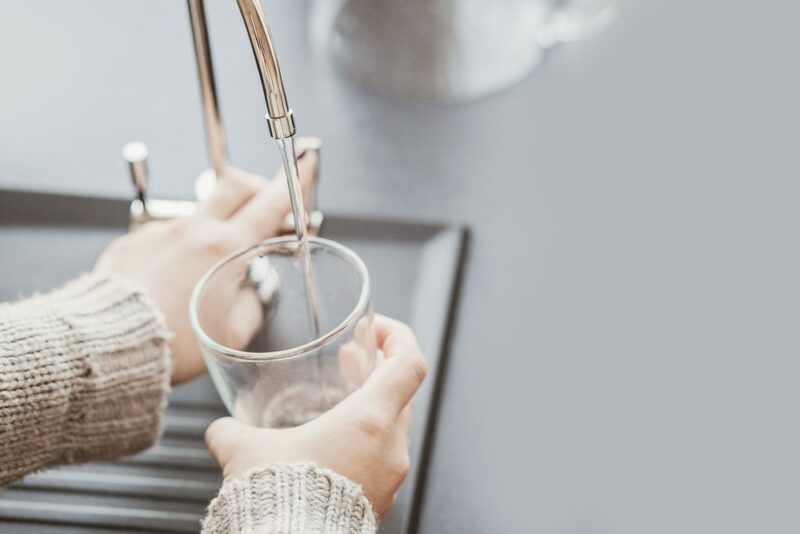 Often Sold In Plastic Bottles
Many people get their filtered water in plastic bottles from the store. Doing so is convenient and relatively inexpensive, especially if you can't afford the initial outlay of a water filter.
However, bottled water comes with some serious issues.
For one thing, the plastic bottles are horrible for the environment. We already seriously overuse plastic. The last thing we need is people buying dozens of plastic bottles a week, using them once, then throwing them away.
There are health risks too, as chemicals from the bottles can leach into your filtered water. Microplastics can make their way into your water too.
Debates rage about whether such contamination is a serious health problem or not. Still, why put yourself at risk if you don't need to?
Costs More Than Tap Water
Filtered water can be expensive. Either you need to buy bottles of the water or refills regularly, or you need to pay for a water filter system and replace the filters periodically.
Buying bottled filtered water is more expensive in the long-run, but not everyone has the money to get a water filter system in place. Even a simple countertop product can cost close to $100 (and many are more expensive than that).
If you want a system for your whole house, particularly one with multiple types of filters, you might be paying $1,000 or more.
Even if you think filtered water is worth it, this is a decent amount to pay – money that you might not have.
Excessively Filtered Water May Taste 'Flat'
Filtered water normally tastes better than tap water. Normally is the operative word here, however, as high levels of filtering can have the opposite effect. Such filtering removes some of the minerals, giving you water that tastes somewhat 'flat'.
This flavor difference can make the water less appealing to drink straight.
Some companies, like Coca-Cola with their Smart Water, get around this issue by adding electrolytes in for flavor. However, that process increases the price of the water.
Does Filtered Water Contain Healthy Minerals?
Water naturally contains some minerals, although the exact mineral content varies dramatically depending on the source. While water filters aim to remove contaminants from your water, some do remove minerals in the process.
Is this a problem?
This is a surprisingly debatable topic. On one hand, minerals are essential for your health. Water does sometimes contain decent amounts of minerals and regularly having low mineral water could, theoretically, lead to deficiencies.
However, many sources of water aren't that rich in minerals to begin with. Even if you find a mineral rich option, you'll find many more minerals in your food than you ever get from water.
Unless your diet is severely limited, mineral rich water isn't likely to influence your health very much at all.
What If I Want The Minerals?
If you still want the minerals, you could choose your water filters carefully, so that most of the contaminants are removed without having too much impact on the mineral content of your water.
Alternatively, you could look for systems that remineralize your water after filtering. This is the most powerful approach, as you're getting a good balance of minerals, regardless of what was in your tap water.
Why Do You Need Water?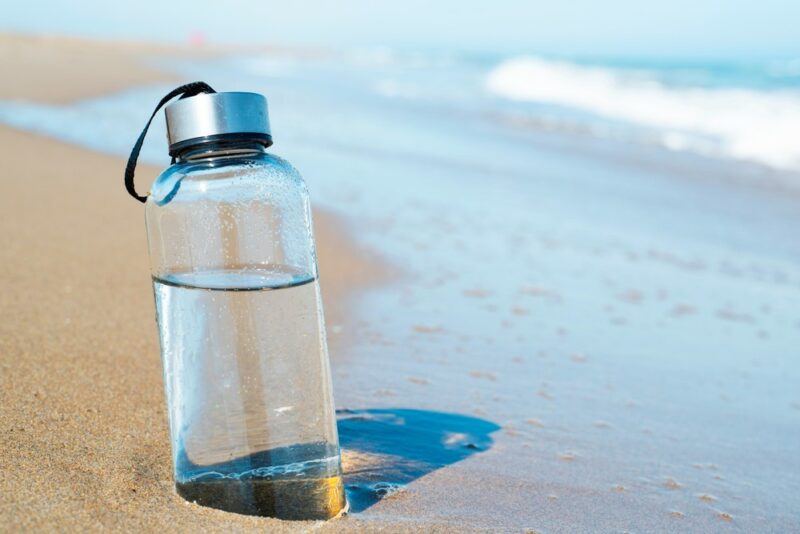 The main benefit of filtered water is simply that you're drinking water. Humans are roughly 60% water, so it's not surprising that we need to consume a decent amount of the stuff to keep functioning well.
Among other things, water helps to regulate our temperature, cushion our joints, and promote effective waste removal. Even being a little deficient in water can lead to headaches and a decrease in energy. Severe dehydration quickly becomes dangerous, carrying with it side effects like confusion and dizziness.
And, to make matters worse, dehydration is much more common than you may expect. Some estimates suggest that up to 75% of us may be chronically dehydrated.
Getting enough water can even promote your health, helping to reduce the risk of constipation, improve your physical performance, lower your kidney stone risk, and even help you lose weight. You can choose any type of water to get these benefits and you'll even get them from water rich foods and drinks.
How Much Water Do You Need Per Day?
There's no denying that we need water, but how much should we be drinking? The answer depends on various factors, including how much you exercise, how hot your environment is, how healthy you are, and whether you are male or female.
A good general estimate, however, comes from the U.S. National Academies of Sciences, Engineering, and Medicine, which suggests around 3.7 liters of fluid each day for men and 2.7 liters for women.
There's also a common recommendation that you drink 8 glasses of water each day. That goal gives you roughly 2 liters of water, but it could be enough, given that you're also getting some water from your food and from other drinks. Some people take the idea even further, suggesting that you should drink a full gallon of water per day.
That said, there's surprisingly little research on how much water we need.
The best approach is to pay attention to your thirst. This is an excellent indication of when you need to drink more water.
However, thirst won't always be enough. Sometimes you might feel weak or get a slight headache instead of feeling thirsty.
Because of this, it's also important to be aware of your water intake. Doing so makes it easy to spot when you've had enough water and when you might be lacking.
Pay attention to any water loss as well, like through sweat, particularly on a hot day or if you're exercising intently. If you're sick and have diarrhea or are vomiting, your water loss is likely to increase too. You'll need to increase your water intake to account for this loss.
Filtered Water Versus Purified Water
Purified water is basically the next step. It goes through the same filters as filtered water, but then goes through added steps, including reverse distillation, deionization, or distillation. Some systems even go through 12 steps of purification.
You can sometimes buy purified water in local stores or have it delivered straight to you. There are also systems that you can buy for your home, like a reverse osmosis filter water system. Such systems give you purified water on tap, saving you on plastic bottles.
Purifying does remove more contaminants from your water than filtering does, but making your water purer isn't an amazing ticket to health. In practice, unless your water source is very contaminated, you're not likely to see any benefits from excessively purifying your water.
You won't cause yourself harm either, you'll just be spending more money than you need to.
Which Type Of Water Is Best?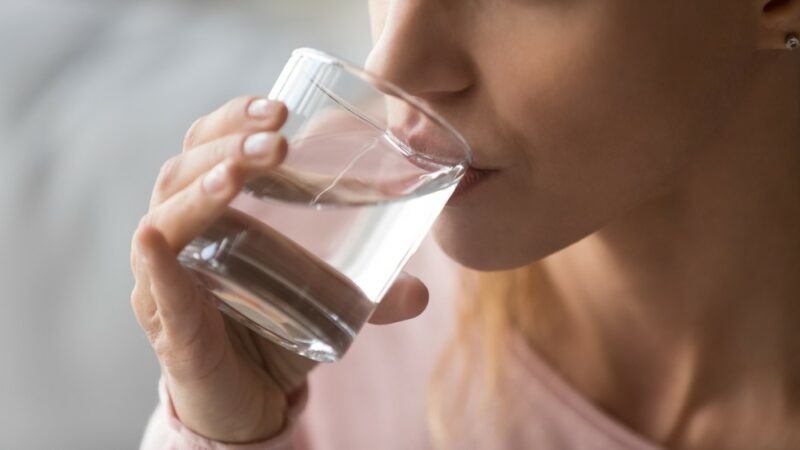 Regardless of the type, water is natural, essential for life, and keeps you hydrated. It offers the same general set of benefits regardless of whether you choose mineral water, filtered water, distilled water, or something entirely different.
Honestly, the best type of water is simply the type that you enjoy the most.
Filtered water could easily be your choice here, as the filtering makes the water taste better and removes contaminants, without costing you an arm and a leg in the process. If you're worried about cost, even a simple water filter pitcher could make a huge difference to the flavor and safety of your water.
Purified water or distilled water are both options if you want something even purer, although honestly, the health differences are negligible.
Final Thoughts
Filtered water can be helpful, as you're getting rid of some contaminants and making your water taste better in the process. Filtering might even be enough to get you drinking water more often. If that's the case, then yes, filtered water is incredibly good for you.
The best approach is to have some type of water filter at home. Countertop water filters are a great option, as they're not too expensive and there are plenty to choose from. Filtering your own water means you're not buying small plastic bottles of water regularly, so you avoid all the personal and environmental costs that come with doing so.
Still, if your tap water is of good quality, the differences between filtered water and regular water aren't dramatic. You certainly don't need filtered water to be healthy. It's up to you whether you want to drink it or not.
If you are considering filtered water, it's worth thinking about your current water supply first. What's the problem with the water to begin with? What contaminants are likely to be present and are there any other issues? The EWG's Tap Water Database can help with this process.
Understanding your water supply can help you to work out whether a water filter is needed and also which type will be the most helpful. Doing so is much better than guessing.
Frequently Asked Questions
Is Filtered Water The Same As Distilled Water?
Distilled water is essentially a form of filtered water. However, distilled water goes through a more rigorous filtration process than regular tap water. It also tends to lack many of the minerals and electrolytes that can be present in filtered water.
Does Filtered Water Contain Minerals?
Filtered water can contain minerals. Whether it does and the concentration of these minerals is influenced by where the water came from and the type of filtration used.
In particular, more thorough forms of filtration should result in fewer minerals in the water compared to relatively simple forms of filtration.
Is Filtered Water Safe To Drink?
Not only is filtered water safe to drink, but it's often considered the safest and healthiest form of water. After all, the filtration process removes most contaminants but keeps some minerals.
Does Filtering Water Remove Fluoride?
Some water filters remove fluoride, particularly those that use reverse osmosis. However, not all water filters have this function and many simple water filters won't do this at all. So, if you want to remove fluoride from your water, you'll need to choose your water filter carefully.
Is Filtered Water Better Than Tap Water?
Filtered water often tastes better and contains fewer contaminants than tap water. These features are most significant if your tap water is of low quality. If the tap water in your area is decent, filtered water mightn't be much better at all.