If you search for information on coconut water, you'll find endless articles on how amazing it is. While the benefits of coconut water seem almost endless, we still need to ask, is coconut water good for you? After all, some foods and drinks are as healthy as they seem, while others are little more than a marketing ploy.
At first glance, coconut water sounds fantastic.
It's simply the clear liquid that you find in green coconuts. These days you can find it on the shelves of many grocery stores, often in cardboard packages. Or, if you get lucky, you can find somewhere that sells fresh green coconuts that you can drink out of directly.
Coconut water isn't just a natural way to stay hydrated. It's also a source of electrolytes, which could make it more powerful than regular water. So, let's look at whether coconut water is as good as it's meant to be.
Is Coconut Water Good For You?
Health Benefits Of Coconut Water
Risks Of Coconut Water
Coconut Water Versus Sports Drinks
Coconut Water Versus Coconut Milk
Should You Drink Coconut Water?
Health Benefits Of Coconut Water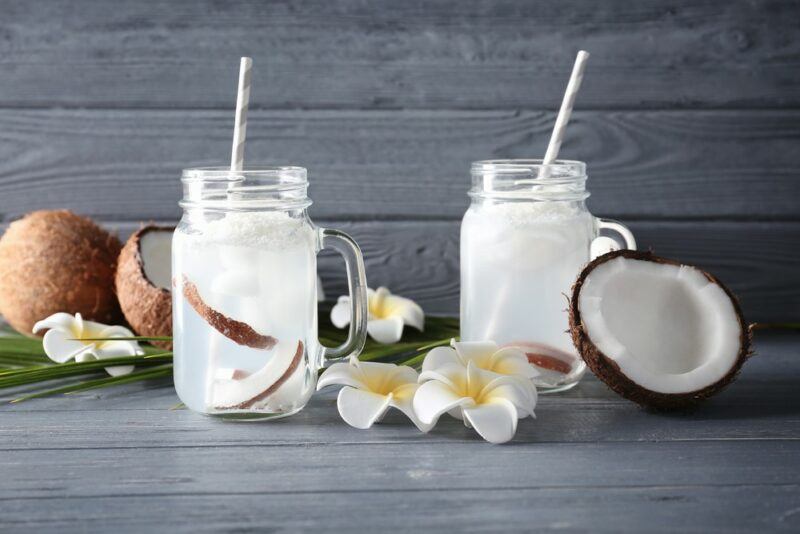 Keeps You Hydrated
Coconut water is sometimes promoted as a natural sports drink. So, not surprisingly, it's excellent for hydration. This is partly because coconut water is mostly water. No surprises there, right?
Getting enough water is crucial for health, but many of us drink less of it than we should. One problem is just that plain water gets boring quickly. Coconut water is an easy way around that problem, as it has a distinct flavor, one that many people enjoy.
Of course, if you're among those who don't like the flavor of coconut water, it probably isn't the best choice for keeping you hydrated. If this is the case, you could try flavoring regular water, like by adding lemon juice or infusing fruit pieces into it.
Coconut water also contains electrolytes. These are charged minerals that are crucial for your fluid balance. Drinks that are high in electrolytes may even be more hydrating than ones that aren't.
There Are Some Nutrients
You won't find a large selection of nutrients in coconut water, as the drink really is mostly water. However, there are some important nutrients present, starting with potassium. You'll also find B vitamins, biotin, vitamin C, and more.
Even drinking a large amount of coconut water won't get you anywhere close to your daily intakes for these nutrients. Still, boosting your nutrient intake even a little can be helpful.
Low In Calories And Sugar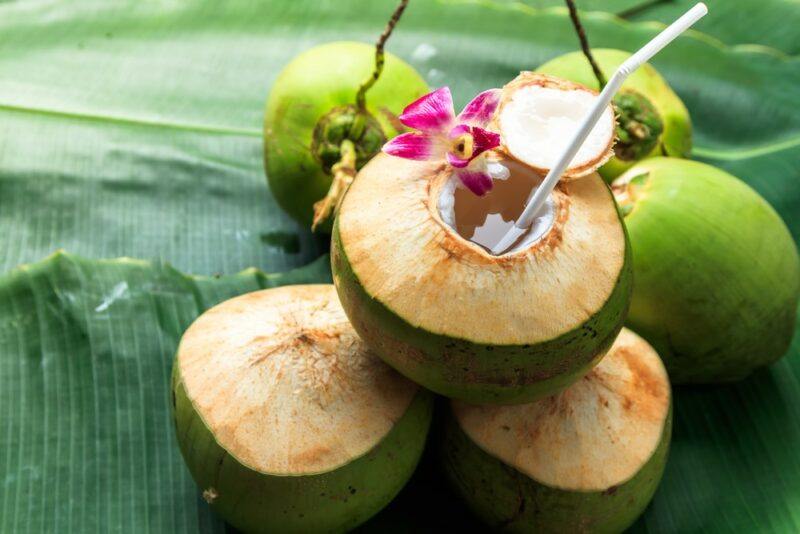 While coconut water does contain some sugar, the sugar content is much lower than soda and many sports drinks. This makes it a fantastic choice when you're looking for something fresh and delicious.
It's Healthier Than Many Other Options
The most important thing about coconut water is that it's healthier. It's a better choice than most sodas and sugar laden drinks – and is much better than sports drinks like Gatorade, which are often loaded with artificial ingredients.
Because of this, coconut water is most useful when you're drinking it instead of something less healthy. Swapping soda for coconut water, for example, should help to promote weight loss, reduce inflammation, and perhaps even decrease your disease risk.
May Improve Heart Health
Coconut water could be good for your heart, helping to decrease blood pressure and lower cholesterol levels. However, there isn't much evidence linking coconut water to heart health, so this effect may not be strong.
Still, choosing coconut water over highly processed drinks or those high in saturated fat could easily promote your heart health.
Risks Of Coconut Water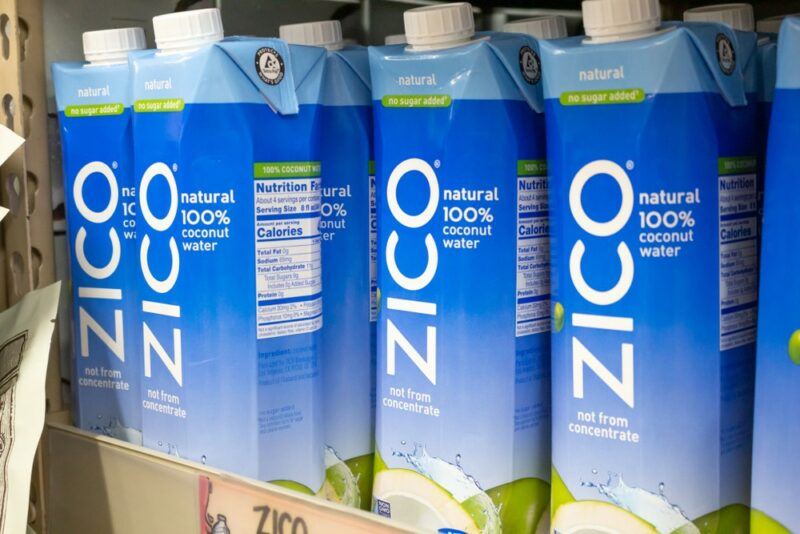 The Sugar And Calorie Content
Fresh coconut water contains roughly 46 calories, most of which come from sugar. While many other drinks contain more calories, the ones in coconut water do still add up.
This issue is most significant if you're relying on coconut water for hydration, as regular water doesn't contain any calories. So, if you're swapping water for coconut water, you're actually increasing your calorie and sugar intake. And, in most situations, coconut water won't hydrate you any more than water anyway.
The extra calories mightn't be a problem if you're exercising intensely. Unfortunately though, many of us overestimate the calories that we're burning when we exercise. If this is the case for you, coconut water might even make you gain weight when you're trying to lose it.
It's also worth thinking about how often you have coconut water. If you have a glass every so often, then the sugar content shouldn't matter too much. On the other hand, multiple glasses per day would add up to quite a bit of sugar.
Be particularly careful when buying coconut water from the store. Many brands add extra sugar to create a sweeter product. Doing so might make the coconut water taste better, but it isn't good for your health at all.
Sodium
A cup of coconut water provides around 250 mg of sodium. That's a little over 15% of your daily sodium intake. This amount of sodium shouldn't be an issue for most people.
But, if you're having multiple cups per day or if you need to be on a low sodium diet, then the sodium in coconut water could be too much.
Potassium
Potassium is the main electrolyte in coconut water. It's also an important one, as many of us aren't getting enough potassium.
However, as with most nutrients, more potassium isn't necessarily better. Having too much potassium in a short period leads to hyperkalemia, which presents with heart-related symptoms, including abnormal heart rhythms. In the long term, high potassium levels can even be dangerous.
If you're just having a glass of coconut water every so often, then the potassium shouldn't be a serious issue. But, if you're guzzling the water or have many potassium rich foods in your diet, then you'll need to be careful.
There May Be Additives
Most of us will buy coconut water from the store, rather than drinking it fresh from the fruit. Doing so is much more convenient, but coconut water products aren't all the same. Some include extra sugar and even artificial flavors to make them taste better.
It's worth checking the ingredients label for any coconut water you plan to buy. Look for products that just rely on coconut water and have few added ingredients.
Blood Pressure Interactions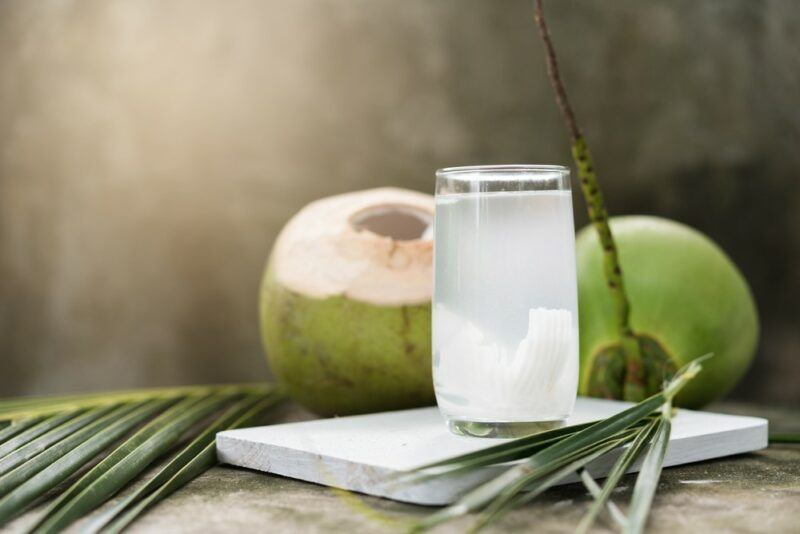 Coconut water is sometimes promoted as a way to decrease blood pressure.
The effect is generally positive, but it might be a problem if you're taking blood pressure medication. If you are, coconut water could decrease your blood pressure too far, perhaps to dangerous levels.
As a precaution, anyone taking blood pressure medication should talk to their doctor before relying on coconut water regularly.
The Flavor
Social media buzz calls coconut water a delicious drink that happens to be healthy too. Yet, plenty of people disagree. There are countless forum threads and blog posts filled with people talking about just how disgusting coconut water is. One person said that it tasted like a mixture of sweat, salt, and dirt.
How's that for unappealing?
It's tempting to blame processing for the unappealing flavor and claim that real coconut water tastes better. Except… it doesn't. Plenty of people who hate coconut water from a carton find that the real stuff isn't any better at all.
I even wonder whether anyone actually loves the flavor of coconut water. Maybe most of the people passionate about coconut water are mostly excited about the benefits and just tolerate the flavor.
And, let's be honest, drinking coconut water just for its benefits isn't the best decision. As we've already shown, the drink isn't as powerful as people often claim. It's mostly just water with a weird flavor and some electrolytes.
Coconut Water Is Expensive
There's another issue with coconut water too – the price. Coconut water ends up being an expensive drink, especially if you want to have it every day.
The price mightn't be so bad if coconut water was as amazing as the marketing suggests, but honestly, it isn't. If you can afford coconut water, then the issue isn't a serious one. Just make sure that you're not buying coconut water instead of nutritious foods.
Coconut Water Versus Sports Drinks
Drinks like Gatorade and Powerade are popular ways to stay hydrated and reenergize you when you're exercising. However, they're not that healthy, as they are often high in sugar and additives. Low sugar versions aren't necessarily better, as they rely on artificial sweeteners.
Even the best products are likely to be processed.
Coconut water is different, as it's entirely natural (especially if you drink it straight from the coconut). It also contains much less sugar than many sports drinks. So, is coconut water a good alternative?
Well, that partly depends on what you're looking for.
If you're a casual athlete, then coconut water might be a good choice. The decreased sugar content and lower electrolyte concentration are both useful features here – as sports drinks often contain more electrolytes than the average person needs.
If you're a serious athlete who works out intensely and sweats a lot, then coconut water might not give you enough. While you get a decent amount of potassium, the concentration of other electrolytes, including sodium, is much lower.
Even the low sugar content of coconut water could be unappealing in this situation. After all, the sugar in sports drinks isn't just for flavoring. It also helps to refuel and re-energize athletes. If you're in the middle of an intense session, coconut water mightn't give you the boost you're looking for.
Coconut Water Versus Coconut Milk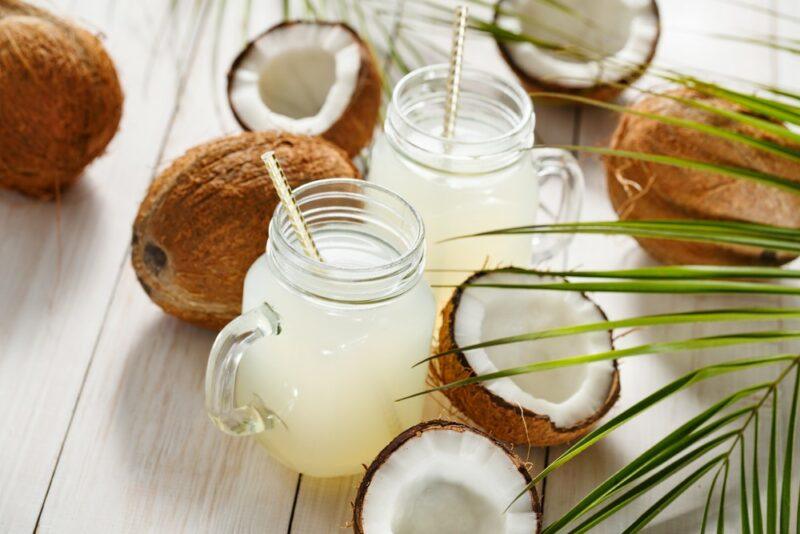 Coconut water and coconut milk sound similar, but they're actually quite different liquids. Coconut water is simply the liquid you find in green coconuts. It looks quite similar to water and tends to be clear.
Coconut milk, on the other hand, is thicker. It's made from mature coconuts instead. Creating it takes more work, as the flesh of the coconut needs to be grated and then the liquid squeezed out.
You'll often see coconut milk used instead of regular milk. It works well like this, as it has a creamy consistency and is naturally lactose-free.
Not surprisingly, coconut milk and coconut water are used in very different situations. You could include both in your diet or focus on the type that you prefer.
Should You Drink Coconut Water?
In the end, coconut water is basically water with a different flavor, some extra nutrients, and a little sugar. Those nutrients could occasionally be helpful and that sugar might sometimes be a problem, but for most people, coconut water is a pretty benign drink. While it won't harm you, it probably won't help that much either.
Let's not forget that all the helpful features of coconut water, like the water, the nutrients, and any antioxidants, aren't exclusive to coconut water. You'll find them in plenty of other foods and drinks too, including fruits and vegetables.
Honestly, coconut water is only powerful if you're consuming it instead of soda or some other sugary drink. In every other situation, it's pretty meh.
This doesn't mean you need to avoid it. If you enjoy the flavor of coconut water, then by all means, drink it. If coconut water makes you gag, then please, give it a miss. Infused water and lemon water are both tastier ways to give your water flavor.
If you need electrolytes, well, why not have some electrolyte-rich foods?
Frequently Asked Questions
Does Coconut Water Go Bad?
Regular water has an almost indefinite shelf life. The same isn't true for coconut water. How long it lasts depends on the type you buy.
The tall cardboard box style that you see often (called tetra packs) tend to be shelf stable. The coconut water in them lasts roughly a year after its production. However, that's only if it is unopened. Once opened, the coconut water only lasts 24 to 48 hours.
Some companies sell unpasteurized coconut water instead. This doesn't last as long and needs to be refrigerated at all times.
Watch out for a sour flavor or any distinct changes in texture and taste. These are sure signs that the coconut water has started to go rancid.
Is Coconut Water Good For Diabetes?
Coconut water is a surprisingly good choice for diabetics, as it doesn't contain much sugar and has a low glycemic index. It might even help with your blood sugar levels due to the vitamins and minerals it contains.
There is still some sugar present though, so you need to be careful about when you use coconut water and the amount you consume. Overdoing it could easily mess with your blood sugar levels, raising the risk of diabetic complications.
Is Coconut Water Good For Weight Loss?
Coconut water could be helpful here, as it's naturally low in calories and helps to keep you hydrated. Drinking coconut water instead of sugary soda would be particularly powerful and give you the most benefits.
Still, coconut water isn't some kind of superdrink for weight loss. You might even gain weight from it if you drink coconut water instead of regular water.
Is Coconut Water A Laxative?
Coconut water does have a natural laxative effect. This can be useful, meaning that the water helps to reduce constipation.
But, that effect starts to be a problem if you're drinking large amounts of coconut water. Doing so can easily lead to diarrhea, which is something to be avoided.
Is Coconut Water Keto Friendly?
While coconut water is fairly low in sugar, it's still not a great fit for keto. You're often getting around 11 grams of carbs in a single 8 fluid ounce serving.
You could theoretically still include coconut water on your diet, especially if you cut down your carb intake elsewhere. Still, the carb content is higher than many keto dieters would be comfortable with.