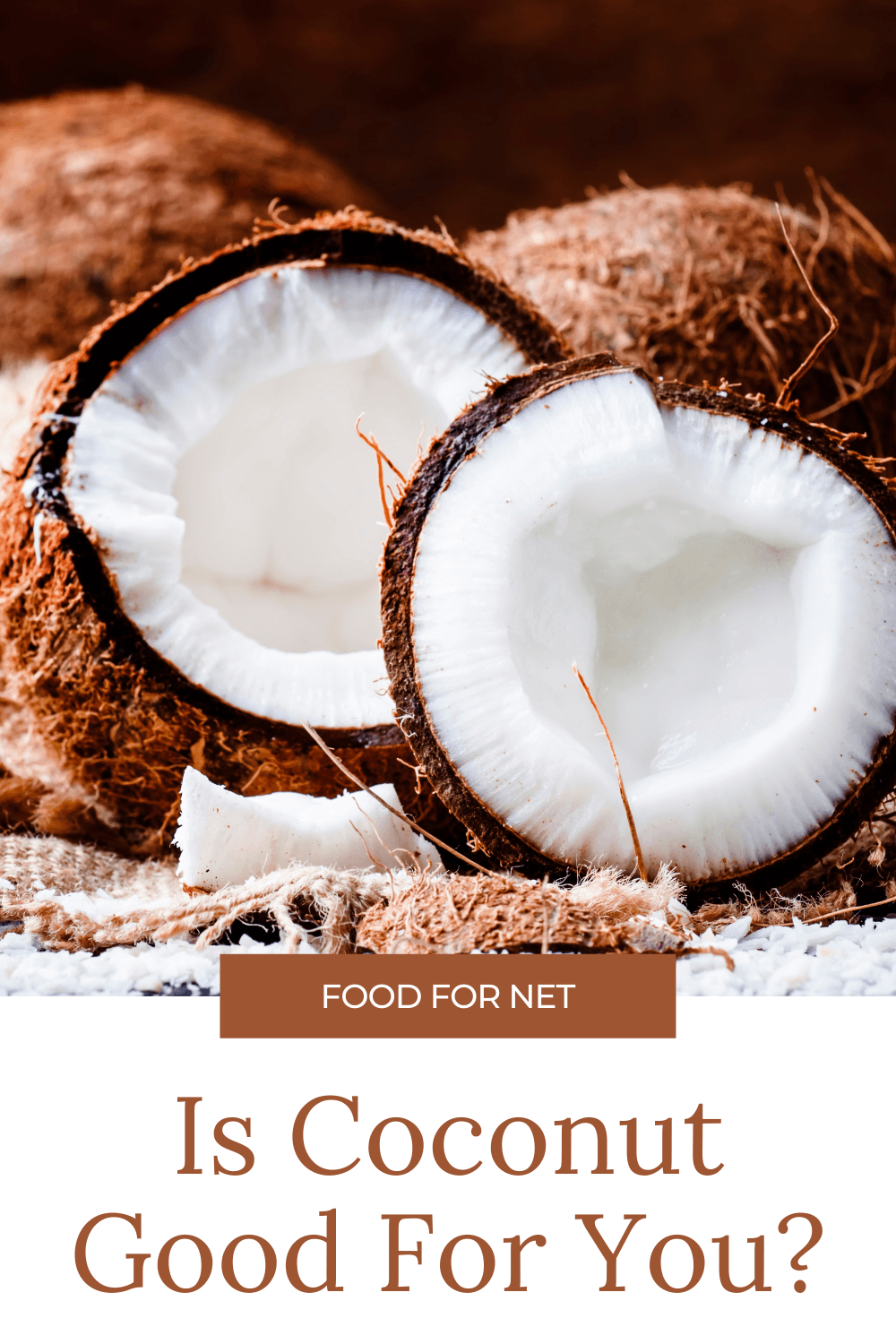 Coconut products have taken the health world by storm, with coconut water, coconut milk, and even coconut oil being seen as exceptionally healthy. So, what about coconuts themselves? Specifically, the flesh of the fruit, which we call coconut meat. Is coconut good for you in this form? What benefits does it offer and how does it compare to other types of fruit?
After all, coconut is a strange type of fruit. It has a brown husk-like exterior when ripe, along with rich white flesh and a hollow center. It certainly doesn't have the sweet pulpy nature that we see in many other types of fruit.
It's not surprising then that some of the health impacts are different as well.
Is Coconut Good For You?
Types Of Coconut Products
Coconut Nutrition
Benefits Of Coconut
The Risks And Problems With Coconuts
Do Coconuts Help With Weight Loss?
Is The Saturated Fat In Coconuts Really Unhealthy?
How To Choose Good Coconut Products
Final Thoughts
Types Of Coconut Products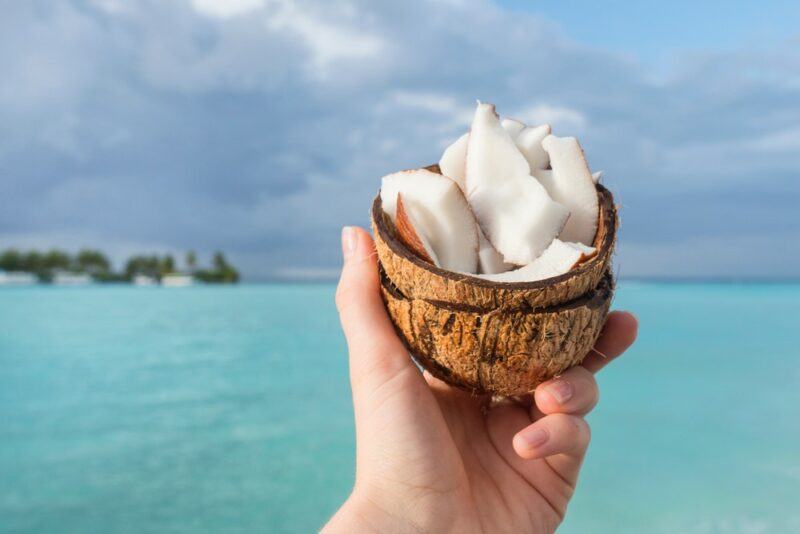 Let's begin with all the forms you can find coconut in, as there are some distinct differences:
Coconut milk: Often used as a milk substitute, this product is created by pressing raw grated coconut meat.
Coconut cream: This is similar to coconut milk except that it has been less diluted, creating a richer ingredient. You'll sometimes see it used as a replacement for cream in cooking.
Coconut oil: This is extracted from coconut meat as well. It is often used as a cooking oil and is highly controversial. Some people view it as being incredibly healthy, partly due to the MCT content. Others are concerned about the saturated fat and the potential for the oil to increase heart disease risk.
Coconut water. This is the liquid found in the center of a green immature coconut. It can be consumed straight from a green coconut or purchased as a product in many stores.
Raw coconut meat. This is simply the meat from a ripe coconut (it's also called the kernel). It tends to be firm with a slightly sweet flavor. You can simply crack a coconut open, scrape the meat out, and eat it directly.
Dried coconut meat. This is simply coconut meat that's been dried, which decreases the water content. You'll often find it in thin pieces, either shaved or grated. Dried coconut meat is exceptional in baking, although it has many other uses too.
Coconut flour. This is a gluten free flour that's made from dried and ground coconut meat. It's often used instead of regular flour by low carb dieters and people avoiding gluten.
We're talking about coconut meat in this post, so the last three products are the most relevant types. However, many of the same benefits apply to all coconut products, including the way that coconut has a relatively low carb content. Similarly, most coconut products are high in fat.
Coconut Nutrition
We also need to talk about the nutrition of coconuts. After all, coconuts are quite different than most other fruits and can be a little unexpected. For a cup of shredded coconut meat, you're looking at the following profile:
Calories: 283
Carbohydrates: 12.2 grams
Fiber: 7.2 grams
Sugars: 5.0 grams
Total fat: 26.8 grams
Saturated fat: 23.8 grams
Protein: 2.7 grams
Manganese: 60% of your daily needs
Copper: 17% of your daily needs
Selenium: 12% of your daily needs
Iron: 11% of your daily needs
Coconuts are unusual in a few ways here. For one thing, they're very high in fat for fruit. The calorie content is decent too. There's also the fact that coconuts contain plenty of minerals and not all that many vitamins. In fact, the most significant vitamin is folate, at just 5% of your daily intake.
None of these features are necessarily bad. They do, however, mean that we need to treat coconuts a little differently than other types of fruit.
Benefits Of Coconut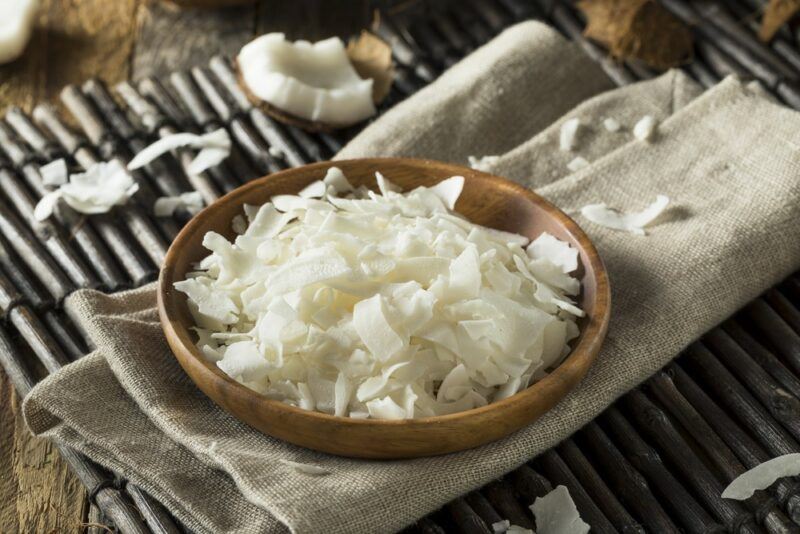 The Carb Content
Coconut is less sweet than most other types of fruit, so the low carb content shouldn't come as a surprise. In fact, a 100 gram serving of coconut meat just contains 6 net grams of carbs. This is incredibly low.
The low carb content is why you'll see coconut products feature so heavily on low carb and keto diets, including examples like keto coconut smoothies and keto coconut fat bombs. Indeed, coconuts are fantastic on this type of diet, as they're rich in fat too.
Even if you're not following a low carb diet, finding ways to decrease your carb intake can still be important. After all, modern diets tend to be carb rich. Most of us will see benefits by decreasing our carb intake.
You Get Plenty Of Fiber
Coconuts are fantastic as a source of fiber as well, with a cup of shredded coconut giving you more than 7 grams of fiber. You actually get close to 30% of your daily requirements from that serving.
This is very impressive, as most of us aren't getting enough fiber every day.
There's no denying the importance of fiber. Not only does it help to bulk out our stool and keep our digestive system functioning well, but fiber also helps to moderate our blood sugar and blood cholesterol levels. By doing so, high fiber diets may even decrease the risk of type 2 diabetes and heart disease.
A Source Of MCTs
Coconuts are famous for one particular type of fat, medium chain triglycerides (or MCTs, for short). MCTs are a type of saturated fat, but their chain length means that they're processed a little differently than other saturated fats.
In particular, MCTs don't require enzymes for digestion, which means they can go directly to your liver. They're digested much more quickly than longer chain fatty acids.
This digestion approach means that MCTs provide energy more quickly than other types of fat. They may offer other benefits as well, including improvements to your brain health and cognition.
That said, fresh coconuts aren't the best choice for MCTs. Many people turn to coconut oil or MCT oil instead, as these oils have a higher concentration of MCTs.
Their Nutrients
Fruits and vegetables always offer a decent range of nutrients. Coconuts are no exception. As we highlighted earlier, you get a decent amount of manganese, copper, selenium, and iron from coconut meat.
Those minerals are all important for your health. For example, manganese is used in connective tissues and bones throughout your body, while selenium is important for your thyroid function and metabolism.
Coconuts are unusual for fruit in that their mineral content is high, while their vitamin content is low. However, this isn't really a problem, as there are plenty of other vitamin rich foods to choose from.
The Risks And Problems With Coconuts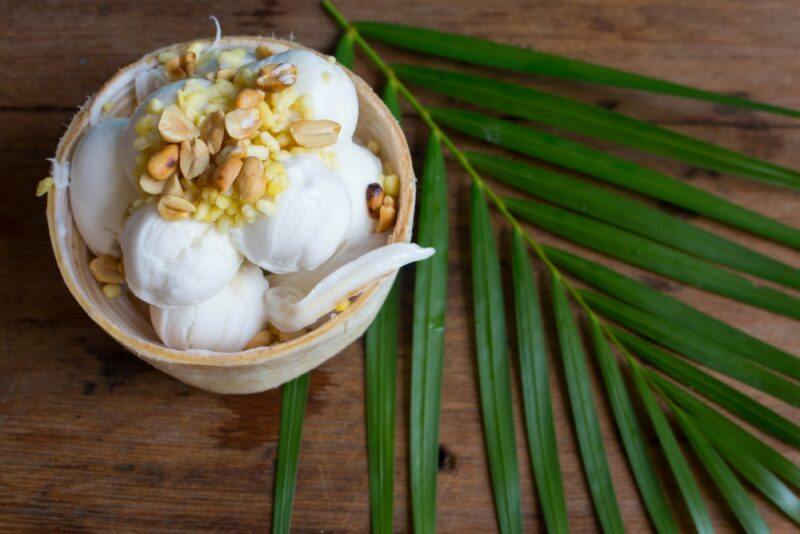 High In Fat, Including Saturated Fat
The saturated fat content of coconuts draws more controversy than any other feature.
This isn't surprising, as saturated fat has long been associated with increased heart disease risk. We're often told that cutting down on saturated fat is essential for living a long and healthy life.
Coconut is one of the few fruits that is high in saturated fat. In fact, a single cup of shredded coconut contains close to 24 grams of saturated fat, which is above your recommended saturated fat intake for the entire day.
Their Fatty Acid Profile
Indeed, the whole fatty acid profile of coconuts is generally seen as unhealthy. In particular, a cup of shredded coconut contains close to 27 grams of fat, almost 24 grams of which are saturated fat.
Compare this to avocados, where a cup of the fruit contains roughly 35 grams of fat, but only 5 grams of this comes from saturated fat. The rest is mostly monounsaturated fat.
This difference is why avocados are often seen as a heart healthy fruit and coconuts aren't, even though both contain a decent amount of fat.
They're Calorie Dense
The high fat content means that coconuts are also calorie dense, with a cup of shredded coconut giving you around 283 calories.
Now, calories are simply a measure of energy, so they don't mean much on their own. The problem is that you need to be careful with the calories you consume each day. The goal is to get all the energy your body needs, but not go too far beyond this, or you'll end up gaining weight.
Calorie dense foods are tricky as you're getting a lot of calories in a relatively small serving. This means you need to pay close attention to your portion sizes and think about how coconuts fit into your diet overall.
Do Coconuts Help With Weight Loss?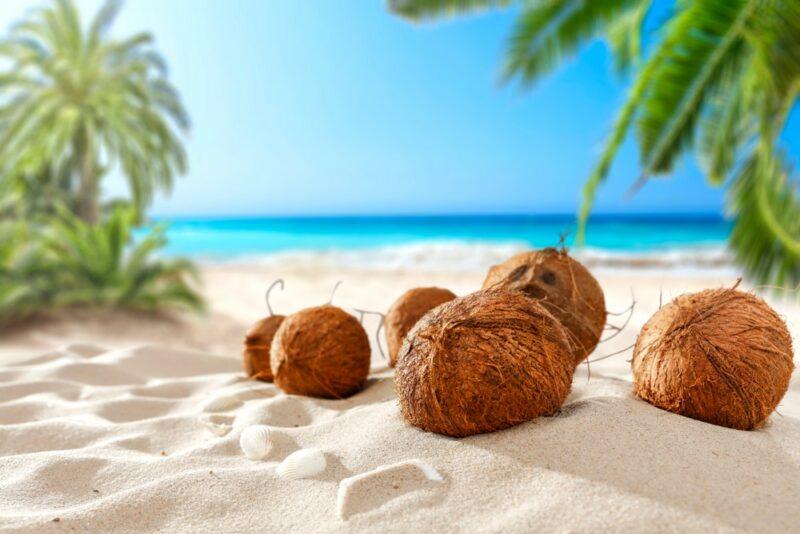 Coconuts are often promoted as an amazing way to lose weight. However, things aren't quite as straightforward as that.
For one thing, coconut meat is high in fat and calories. There's no getting around that. The calorie content means that coconut can easily lead to weight gain if you consume too much at a time.
And, the calorie density of coconut makes it easy to consume too much.
Still, if you keep your portions reasonable, coconut could help with weight loss. For one thing, coconut meat contains a decent amount of fiber, so it can be quite satisfying.
There are also the MCTs in coconut, which we talked about earlier. These could have some interesting weight loss effects.
However, MCTs are still being researched. There's still plenty we don't know about them, including whether they're effective for weight loss and the amount of MCTs that you need for optimal benefits. Plus, most research has focused on high MCT doses, more than you'd get from coconuts.
In the end, if coconuts fit into your daily calorie intake, they might help your weight loss journey and shouldn't make things worse. Just don't expect them to be this amazing weight loss tool. Weight loss doesn't come with shortcuts like that. You still need to put in the work.
Coconuts, Weight Loss, And Keto
The effects of coconut on weight loss are a little different if you're following a keto diet. Keto dieters keep their carb intake low, often less than 20 net grams of carbs per day.
Doing so promotes a state called ketosis, where the body burns fat for fuel, rather than carbs. Keto diets can be powerful for weight loss, especially as you get to enjoy many high fat foods that are normally excluded when you're trying to lose weight.
Coconut is a good match for keto dieters, as it is high in fat and low in carbs. That's the exact macronutrient distribution that you want.
The MCTs in coconut are important too, as they can be converted to ketones and might help to keep you in ketosis for longer.
These patterns mean that for most of the population, coconuts are okay for weight loss, if you're careful, while for keto dieters, coconuts might be amazing. Even so, you'll still need to keep an eye on your calorie intake and avoid overdoing it.
Is The Saturated Fat In Coconuts Really Unhealthy?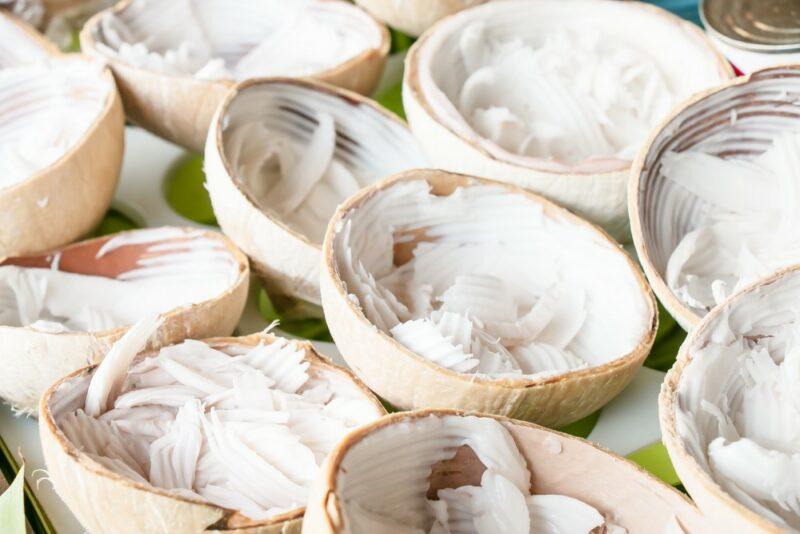 There's no denying that coconuts are high in saturated fat. But, what does this really mean for your health?
As it turns out, this is a heavily debated topic. Despite all the health recommendations surrounding saturated fat, the science isn't as clear cut as you might expect. Some theories suggest that saturated fat itself might not even directly increase heart disease risk. Instead, the association may come from the types of food that are high in saturated fat.
If that's the case, then ingredients like coconut could easily be good for you. It's certainly clear that coconut is much healthier than most other high saturated fat foods, particularly heavily processed ones.
In the end, you'll need to decide for yourself.
Pay attention to your portions too. Even if saturated fat isn't as bad as we've often assumed, it is still high in calories and hasn't been linked to many benefits. Until we know more, having a large amount of saturated fat each day doesn't seem like a wise idea at all.
How To Choose Good Coconut Products
If you're looking for coconut flesh, you're going to want a brown coconut, one that doesn't have any cracks (green coconuts contain plenty of coconut water, but much less meat).
However, whole coconuts can be a bit frustrating, so many of us focus on coconut products instead.
When you're doing so, it's important to pay close attention to the labels. Far too many products look like they are just coconut, but contain added ingredients as well.
The biggest problem here is shredded coconut, which is often sweetened. The extra sugar in such products adds to the calorie content and isn't at all helpful. It's much better to focus on unsweetened versions instead.
If you do want some extra sweetness, you can always add this yourself. This way you can add exactly the amount you need and no more.
Final Thoughts
Coconut is unusual. There's no getting away from that. It's a rich source of fat and saturated fat, while being low in carbs. It's hardly surprising, then, that coconut is controversial.
So, is the fruit good for you or not?
Honestly, that depends on how you define 'good for you' and what the rest of your diet looks like.
If you keep your portions reasonable, don't have much saturated fat elsewhere in your diet, and don't overdo it with calories, then yes, coconut could be part of a healthy diet. It is for many people.
The most important thing is to simply be aware of the saturated fat and calories, then plan accordingly. Please don't treat coconut like an amazing health food that you can eat as much of as you like. That type of approach could easily lead to weight gain and increased heart disease risk.
Frequently Asked Questions
Are Coconuts Nuts?
This really depends on your definition. You could consider them nuts, as they share some of the same characteristics. In fact, the FDA even recognizes coconuts as tree nuts.
Botanically though, coconuts are classified as drupes instead. Drupes are stone fruits, like peaches and nectarines. We also eat coconuts like a fruit, rather than like a nut.
Thankfully, despite the FDA's classification, there is little overlap between reactions to tree nuts and reactions to coconuts. Even people who are highly sensitive to nuts can normally eat coconut without a problem.
So, in the end, coconuts aren't nuts in any sense that really matters.
How Long Do Coconuts Last?
If you purchase a whole mature coconut, that's of decent quality, it can last as much as four months at room temperature. Young green coconuts have a much shorter shelf life, lasting no more than two weeks. These also need to be stored in the fridge to keep them fresh.
Things change once the coconut has been opened. In fact, a freshly cut coconut is normally good for just a few hours at room temperature. It will keep for around a week in the freezer though.
Dried, packed, canned, and toasted coconut tends to last longer, often up to eight months.
If you can't get through your coconut in time, you could consider freezing it instead. Grating the coconut into freezer bags works particularly well and makes the coconut easy to use when you need it.
Is Coconut Low FODMAP?
Coconut is tricky when it comes to FODMAPs. Most coconut products can be low in FODMAPs, but only if you stick to the right portion size. If your portion is too large, you may end up consuming too much sorbitol.
The portion size varies depending on the product you choose, how it was prepared, and any other additives.
Monash University considers fresh coconut flesh as orange, which means it's moderate in FODMAPs. However, a serving of around half a cup is actually low in FODMAPs instead.
For unsweetened, shredded dried coconut, the low FODMAP serving comes in at around a quarter of a cup. However, other types of dried coconut haven't been through the same testing. As such, you'll need to experiment and pay attention to your own physical responses.
Or, you could just drop coconut out of your diet entirely. There are plenty of delicious low FODMAP foods that you can rely on instead.
Is Coconut Good For Cholesterol?
There's intense debate on this topic because of the saturated fat in coconuts. As discussed in the article, there remain concerns that high saturated fat intake might raise cholesterol and increase heart disease risk.
However, the effects of coconut aren't all bad. It may help with some other heart disease risk factors, perhaps even improving your health in the long term.
What this means in practice depends on a variety of factors. Your overall health, the rest of your diet, and your saturated fat intake all come into play.
The best approach is to see coconut as a delicious and somewhat healthy ingredient, but don't treat it as a superfood. After all, even if coconut does have some heart health benefits, there are plenty of more powerful treats out there.
Do Coconuts Have Seeds?
Coconuts are drupes, which means they contain a single seed. Don't expect to cut open a coconut and find the seed inside though.
Surprising as it may seem, most of the seed portion of coconut is the white endosperm. That's the coconut meat that we eat regularly. So, in a sense, the coconut we eat doesn't contain a seed; it is the seed.