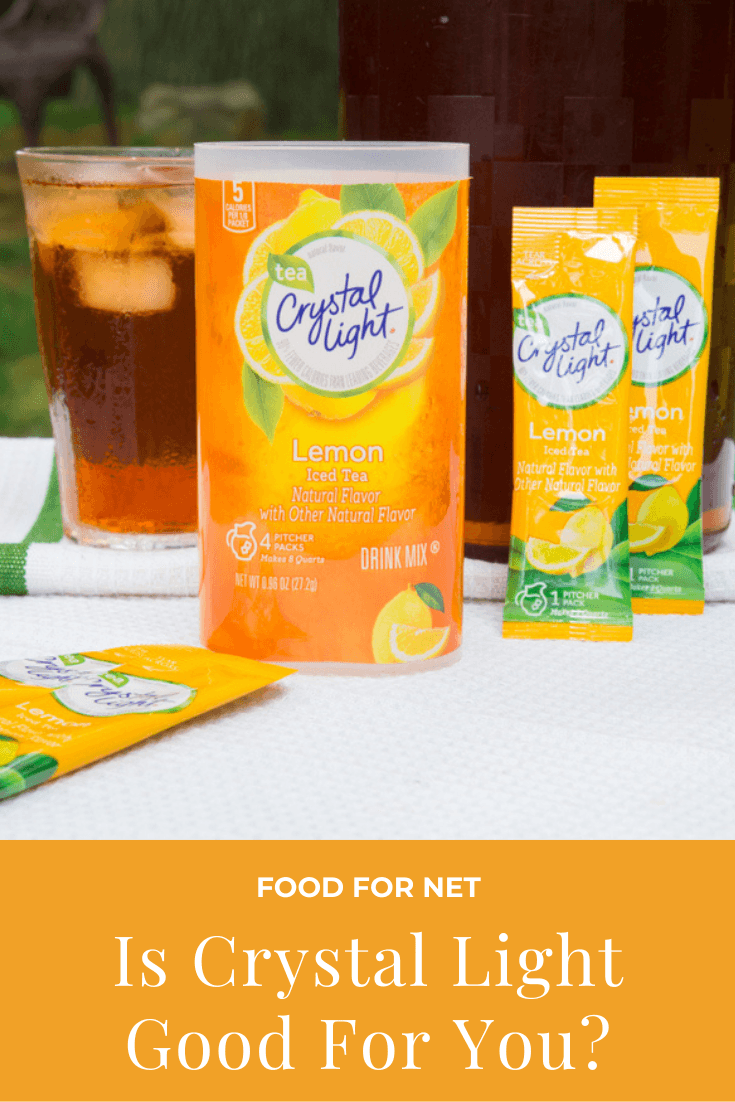 Crystal Light is a popular powdered drink mix, one that you simply combine with water to give you a delicious sugar free drink. It can be a powerful way to decrease sugar intake and get people drinking more water. But is Crystal Light good for you?
There are plenty of styles and flavors to choose from, including fruit punch, lemonade, raspberry lemonade, sweet tea, and grape. The company has also branched out to focus on Crystal Light Pure, which relies on natural ingredients rather than artificial ones.
At first glance, Crystal Light seems like the perfect alternative to sugary soda, but is Crystal Light good for you? Could it be amazing or is it simply too good to true? Or, to take the question even further, is Crystal Light bad for you?
Interestingly, there are arguments for both perspectives. We need to look a little closer to see which of the two is true. To do so, we'll first talk about the original Crystal Light products, then consider Crystal Light Pure.
Is Crystal Light Good For You?
The Benefits Of Crystal Light
Can Crystal Light Help You Lose Weight?
The Problems With Crystal Light
Is Crystal Light Healthier Than Soda?
Crystal Light Versus Crystal Light Pure
What Can You Use Instead?
Final Thoughts
The Benefits Of Crystal Light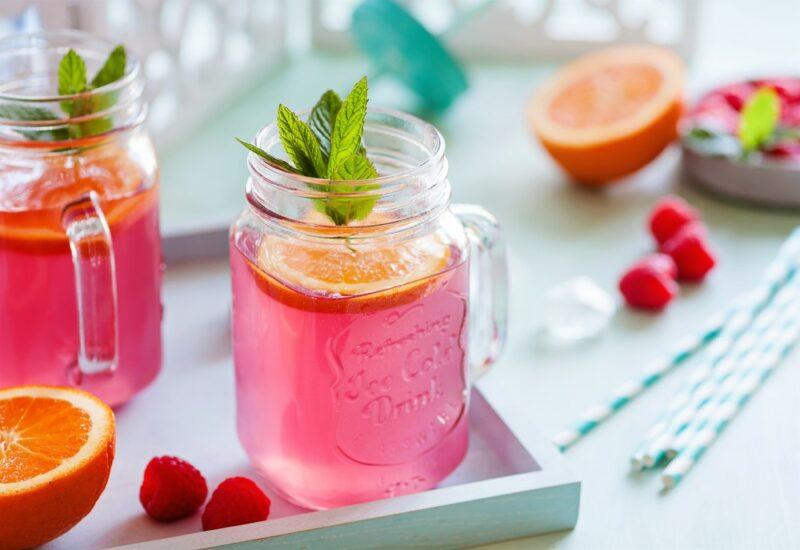 Helps You Hydrate
Crystal Light has one huge benefit – it makes drinking water easier. Let's face it, water is pretty dull. Hitting the standard 8 glasses a day goal for water gets boring fast and many of us simply don't bother.
Skimping on water is a serious problem. Even mild dehydration can decrease your energy levels and make concentration more difficult. Moderate or severe dehydration can have serious effects, especially if you are in that state regularly.
Adding flavor is one of the easiest ways to make your water taste better. Even just a little flavor can make all the difference in the world. Crystal Light achieves this goal well. Plus, it's an inexpensive way to add flavor.
Keeps Kids Hydrated
Many adults manage okay with regular water or turn to alternatives like lemon water or infused water. Kids are another story. Many want ultra-sugary drinks, like fruit juice or soda.
Crystal Light can get kids drinking water without a fight. It mightn't be the absolute healthiest option, but it's still miles better than them being dehydrated. Plus, sometimes, you just get tired of trying to get them to play ball. If Crystal Light is what it takes to keep them hydrated, maybe that's okay.
Helps You Decrease Your Sugar Intake
Most people turn to Crystal Light instead of something else. Maybe you're drinking it instead of soda. Or, perhaps you're choosing it instead of fruit juice (which is high in sugar and isn't as healthy as it seems).
Regardless, if you're focusing on Crystal Light instead of a sugar-packed drink, you're decreasing your sugar intake.
This is a powerful effect, as sugar is seriously concerning. It's been linked to a huge number of health issues, including increased inflammation, a higher risk of type 2 diabetes, weight gain, increased heart disease risk, and even mental health problems.
In short, sugar does us no favors at all. Sugar is also everywhere, particularly in processed foods. Many of us are already consuming more sugar than we should be. Any method of cutting down sugar intake is powerful for improving your health.
Can Crystal Light Help You Lose Weight?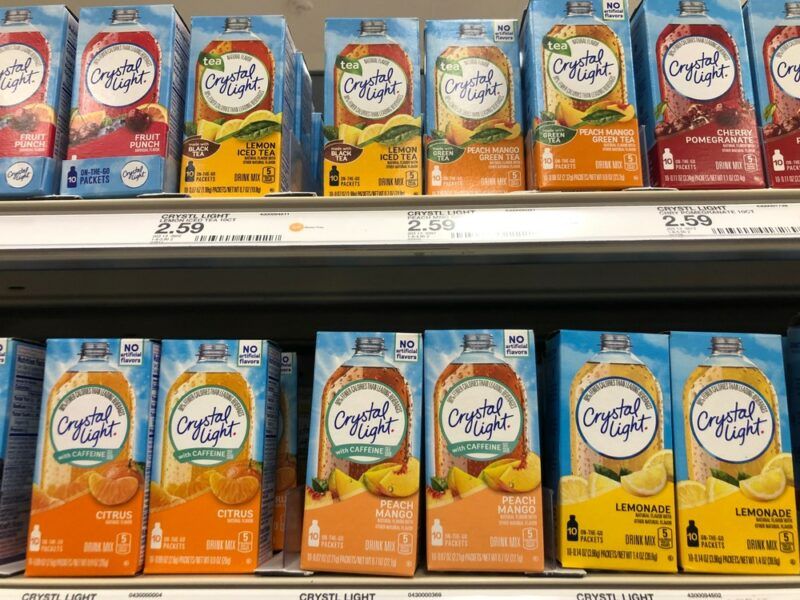 If you drink Crystal Light instead of calorie laden drinks like soda and fruit juice, then Crystal Light could easily promote weight loss. After all, making the swap decreases your calorie intake, which is the main thing that helps with losing weight.
However, this effect is only true if Crystal Light does reduce your calorie intake.
This isn't guaranteed, at all. Some people find that no-calorie sweeteners don't satisfy a sugar craving in the way that sugar does. Sometimes the sweeteners might even increase your craving for sugar.
A strong sugar craving could easily end up leading to a late night snack session or something similar, which then leads to more calories. That largely defeats the purpose of drinking Crystal Light to begin with.
The Problems With Crystal Light
Crystal Light has one serious problem – how artificial it is. Most versions of the drink rely on ingredients like maltodextrin, aspartame, natural flavors, acesulfame potassium, and artificial colors (like Red 40, Yellow 5, and Blue 1).
Such additives are generally seen as safe and haven't been proven to cause serious issues in the general population. But, this isn't a guarantee that they won't cause harm.
For one thing, the estimates on safety are based on reference intakes. These don't always align with how common such additives are. If you eat processed food regularly, you might be consuming additives regularly – always in small amounts, but those small amounts still add up.
Plus, even if the additives are truly safe for the general population, this doesn't mean they're fine for everyone. Some people may be sensitive to particular additives and experience more serious effects.
Also remember that kids are often drinking Crystal Light. They could easily be more vulnerable to the additives than adults are.
There's one final thing – safety testing hasn't considered the cumulative effects of additives across a person's lifetime. This is another area where kids might be vulnerable.
If they start relying on Crystal Light and similar drinks when they're young, what happens for the rest of their lives? Will they keep relying on such drinks rather than water? Will the additives have cumulative effects and increase their risk of disease?
There aren't easy answers to any of those questions. The research hasn't been done. In many ways, the answer is simply that time will tell (which isn't a helpful answer at all).
All these concerns highlight the importance of limiting artificial ingredients as much as you can. After all, none of those additives offer health benefits. The best case scenario is that they do no harm. That's not amazing.
Now, we're not saying you need to cut Crystal Light out entirely. If you enjoy the drink mix, you might still want to use it occasionally. Just be aware that the additives are far from ideal.
Is Crystal Light Healthier Than Soda?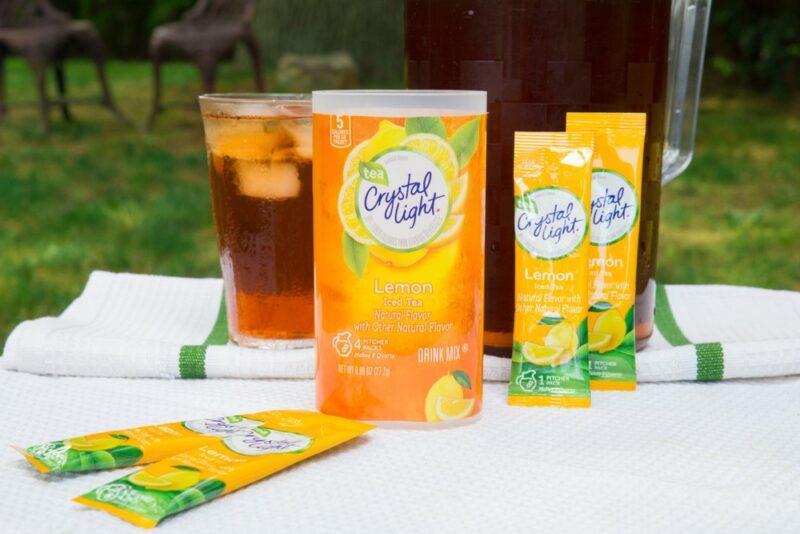 Crystal Light clearly has issues, but so too does soda. At least Crystal Light isn't laden with sugar, which should make it healthier, right?
That's probably true, as sugar has many well-known negative effects, like increasing inflammation, raising the risk of type 2 diabetes, and potentially leading to obesity. If additives do have negative effects, these are subtler, as we're yet to fully uncover them.
Still, even if Crystal Light is healthier than soda, this isn't enough to make it good for you.
Crystal Light Versus Crystal Light Pure
Crystal Light Pure attempts to avoid many of the controversies surrounding the original Crystal Light drinks. Rather than using artificial ingredients, the drinks are sweetened with a combination of stevia and sugar. Coloring comes from natural ingredients as well, like turmeric.
The focus on natural ingredients makes Crystal Light Pure a much healthier product than the original version. It does, however, contain some sugar. Sometimes this is as low as 2 grams per serving, while others contain around 6 grams instead.
While the sugar isn't ideal, it's way better than most soft drinks and fruit juices, which often give you more than 30 grams of sugar per serving. The little bit of sugar could even have some benefits, as it can help to satisfy sugar cravings in a way that a sugar free drink does not.
Some issues still remain though.
Crystal Light Pure is still heavily processed. While the ingredients are natural, most of their inherent benefits will have been lost during the processing steps.
Stevia is often seen as a healthy alternative to artificial sweeteners. This may be true, but there's still a lot we don't know about its health effects and there's still the potential for harm.
The term natural flavors simply refers to flavors that were initially sourced from nature. They've often been through plenty of processing and aren't necessarily any better for you than artificial flavors.
Some concerning ingredients remain, including maltodextrin, which is a surprising inclusion for a product that uses the title 'pure'.
Soy lecithin is sometimes used as well. Soy is a controversial ingredient, one that many people avoid. If you're concerned about soy at all, this might be another reason to be careful with Crystal Light.
What Can You Use Instead?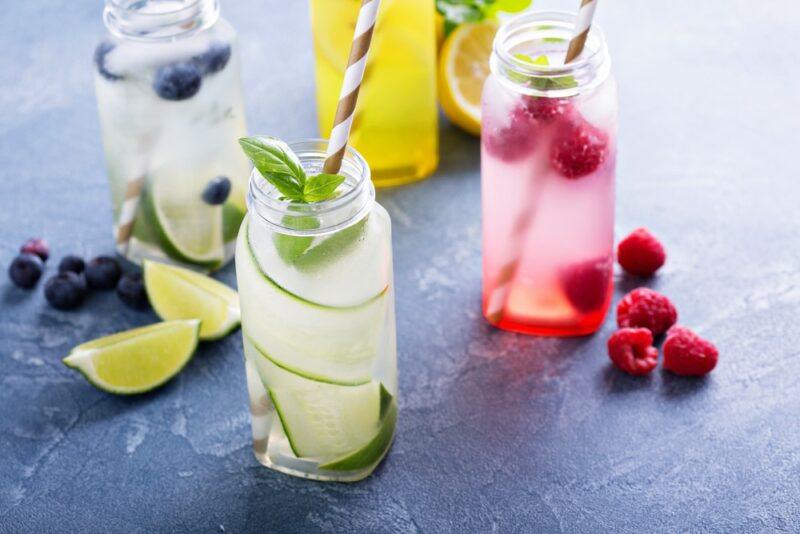 While Crystal Light Pure is certainly healthier than the original version of Crystal Light, but it's still far from ideal.
There are plenty of other ways to make your water interesting and tasty, without relying on something highly processed and packed with additives. Here are some ideas to experiment with:
Sparkling water. Honestly, just adding bubbles to water is enough to change things up. You can also look for sparkling mineral water, as the minerals provide even more flavor.
Lemon water works well too. This is simply regular water with a splash of lemon juice. The lemon juice adds extra flavor, without many calories at all. You can even do the same thing with lime juice or other types of fruit juice.
Then there's infused water. Here you're taking pieces of fruit and letting them sit in a jug of water or a water bottle for a while. Your water then takes on some of the flavors of the fruit. You can play around with combinations too. For example, cucumbers work well, as do some other vegetables. You can even use herbs, like rosemary or mint.
You can combine approaches, like using lemon juice or fruit pieces in sparkling water.
If you need a stronger flavor, you could try taking fruit juice and diluting it. A 50:50 mixture of water to juice has plenty of flavor and is hydrating, while a 25:75 mix is even lower in sugar and still tastes good.
If you're trying to move away from Crystal Light to something healthier, remember that your tastebuds take a while to adjust. You might need to move in small stages, rather than all at once.
Final Thoughts
Crystal Light is a useful way to decrease sugar intake and keep you hydrated. Yet, Crystal Light also comes with some serious issues, particularly if you choose the original version, which is laden with artificial ingredients.
Is the drink better than soda? Yes, probably, but this still doesn't make it a wise choice. You'll see more benefits by looking for a natural approach instead, like adding lemon juice to your water or making infused water. If you're healthy, you could drink Crystal Light every so often without serious issues. However, drinking Crystal Light every day isn't a wise idea at all. There are simply too many concerning features for that.
Frequently Asked Questions
Does Crystal Light Contain Caffeine?
Some Crystal Light products are entirely caffeine free, including their Sunrise and Refreshment product lines.
However, there are also caffeinated products. Some of these are on the low end, with just 10 to 15 mg of caffeine per serving. Others are much higher, with 40 mg or even 60 mg of caffeine per serving. These higher caffeine products are in the Focus and Energy product lines and can give you a decent energy boost.
Is Crystal Light Sugar Free?
Most Crystal Light products don't contain sugar. They rely on artificial sweeteners instead.
Crystal Light Pure is the exception to this pattern. This product range uses a combination of stevia and sugar for sweetness instead. Crystal Light Pure also avoids many controversial ingredients from the original Crystal Light product lines, making it more appealing to many people(as long as you don't mind the sugar).
Is Crystal Light Keto Friendly?
Most Crystal Light flavors are suitable for keto, as they contain very few net grams of carbs (even some Crystal Light Pure flavors may be keto friendly, as the sugar content is relatively low). However, this depends a little on the version of keto you're following.
Some people take a stricter approach, where they avoid highly processed foods and artificial ingredients. If this is the case for you, then Crystal Light is off the table entirely.
Does Crystal Light Count As Water?
For the purposes of hydration, yes, a glass of Crystal Light still counts towards your daily water intake. You might even find that Crystal Light helps you reach your water targets.
That said, you shouldn't be getting all of your water from Crystal Light. The drink mix is best used occasionally, as it contains so many concerning ingredients.
Is Crystal Light Bad For Your Kidneys?
The sweeteners used in Crystal Light and diet soda might be linked to kidney problems for some people. Research on this topic is very limited, so there's a lot we don't know. Still, the potential is there – suggesting that you shouldn't rely on Crystal Light too heavily.