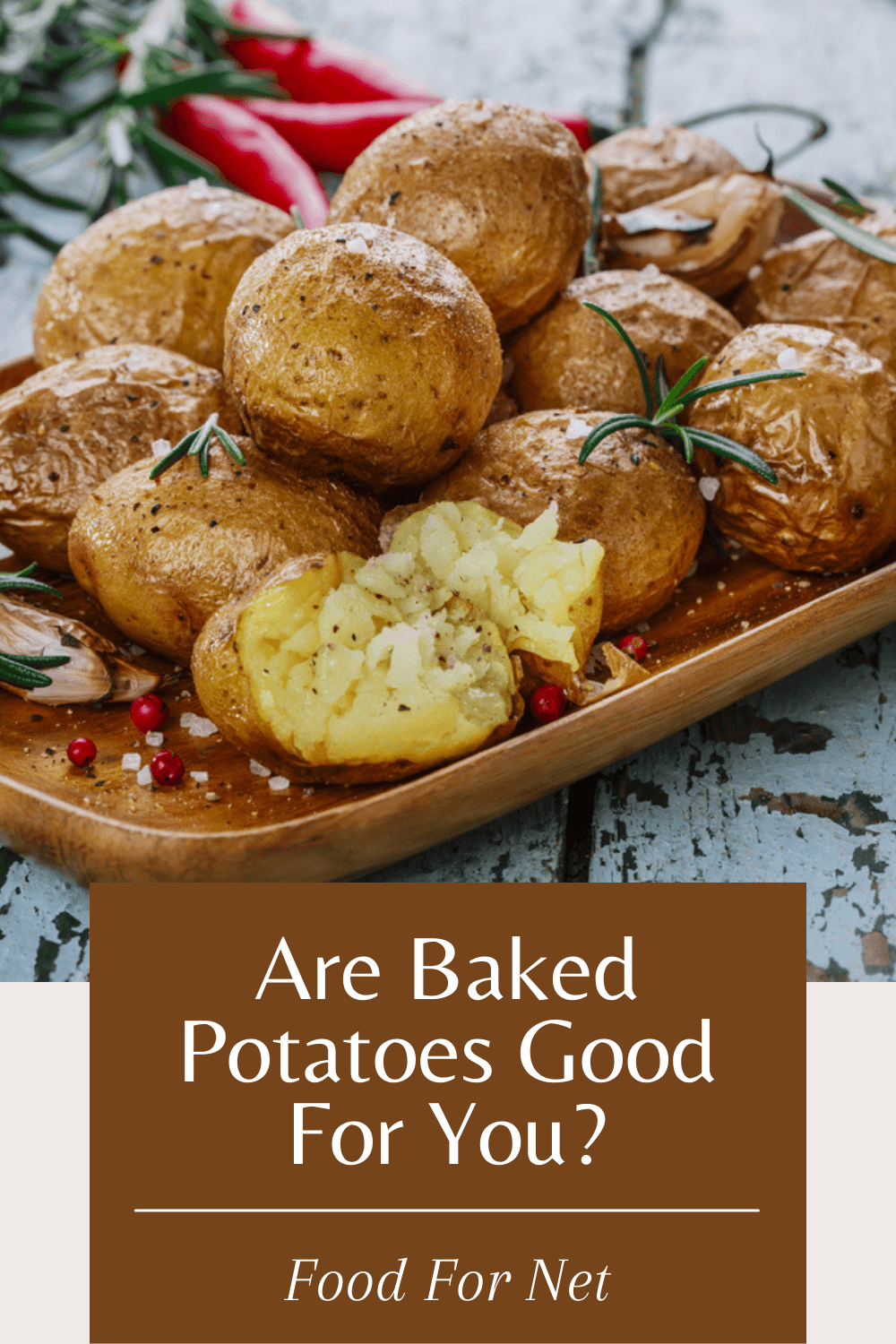 Potatoes are often viewed as unhealthy, partly because of their starch content. It's also easy to assume that the bland tuber can't possibly contain that many nutrients. Yet, potatoes aren't nearly as bad as they seem. They do still contain a variety of nutrients and can even support your health. Baked potatoes are particularly interesting, as you're not cooking them in fat. But, are baked potatoes good for you?
After all, baked potatoes do have some advantages. They're certainly healthier than French fries or potato chips. You mightn't even be using any oil to cook them at all and loading them with healthy toppings.
Are Baked Potatoes Good For You?
Their Nutritional Profile
Benefits Of Baked Potatoes
How Baked Potatoes Could Be Harmful
Low Calorie Toppings For Baked Potatoes
What About Low Carb Potatoes?
Should You Wrap Potatoes In Foil?
Final Thoughts
Their Nutritional Profile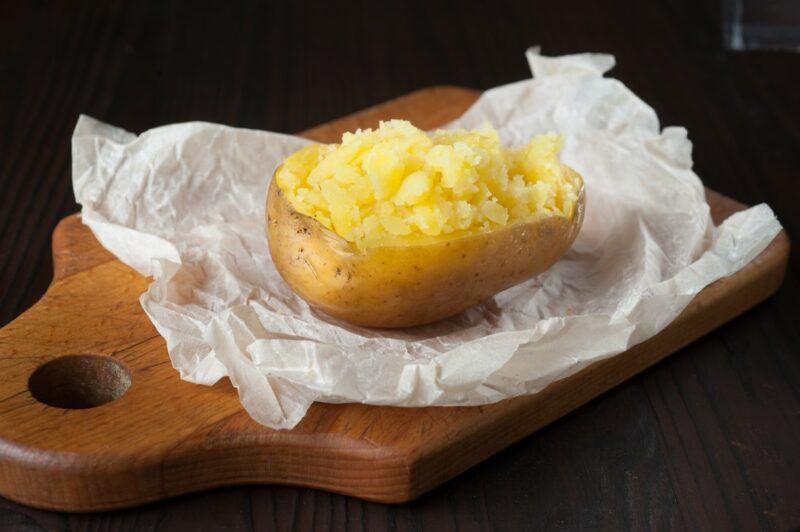 Nutrients are always a good place to start, right? After all, they're part of the reason for eating food to begin with. For a medium baked potato, this is what you get:
161 calories
Carbs: 37 grams
Fiber: 4 grams
Protein: 4 grams
Fat: Less than a gram
There are some interesting nutrients present too, including calcium, potassium, iron, vitamin C, and magnesium. The potassium level is actually higher than you get in a banana, which is pretty impressive.
There are plenty of different types of potatoes, including russets, white potatoes, red potatoes, and purple potatoes. There are some nutrient differences between the varieties, like how red potatoes are a little lower in carbs than white ones.
However, these nutrient differences tend to be minor, so they're not something to worry about too much.
Benefits Of Baked Potatoes
Excellent For Sensitive Stomachs
Potatoes can be perfect when you have a sensitive stomach, as they're mild, starchy, and easy to digest. You can even turn to them when you're feeling nauseous.
Plus, potatoes are naturally low in FODMAPs. This means they shouldn't cause symptoms in people with irritable bowel syndrome or a sensitive digestive system.
The fiber content is relevant too, as fiber helps your digestive system to function properly, reducing the risk of both constipation and diarrhea.
Because people with sensitive stomachs need to be cautious with their diet, they often end up avoiding many high fiber foods – a pattern that makes symptoms worse in the long term. Ingredients like potatoes are fantastic in that they give you the fiber you need, without upsetting your stomach in the process.
They Give You Fiber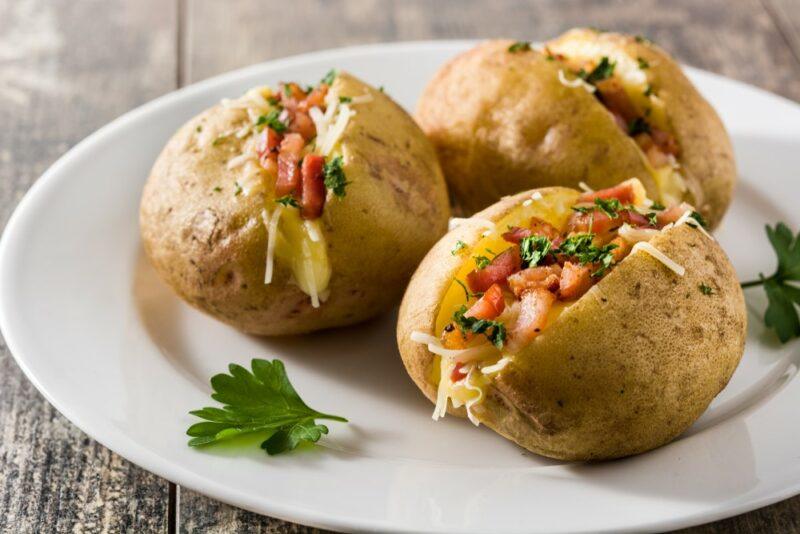 Potatoes are even better for fiber if you eat the skin rather than just the flesh. Besides, the skins of baked potatoes are delicious.
We don't digest fiber, but we need it. Fiber is vital for digestion, lowering our risk of constipation and making sure everything works as it should.
Fiber has other roles too, like helping with blood sugar levels and cholesterol. Getting enough fiber can even reduce the risk of some health problems, like heart disease.
Cold Baked Potatoes Can Provide Resistant Starch
Potatoes have an interesting feature. If you cook them and leave them to cool, they end up being an excellent source of resistant starch.
Our bodies can't digest this type of starch, but this doesn't matter. Instead, the starch has prebiotic properties, meaning it acts as food for the microbes in our gut.
It turns out that we have thousands of different types of microbes in our body, many of which actually help to support our health. Their effects are many and varied, such as aiding in weight loss, promoting better mental health, and improving the immune system.
When we talk about microbes, it's easy to focus on probiotic foods and supplements. These provide you with more microbes and can be powerful. Yet, prebiotics are just as important.
Making a potato salad is an easy way to take advantage of this resistant starch. Interestingly though, reheating the potato doesn't seem to destroy this starch. It could even create more of it.
They're A Whole Food
Potatoes are also natural and unprocessed. You're not even doing much to cook them, simply sticking them in the oven at high heat.
This feature can't be overlooked, as many other carb rich foods have also been processed, like rice and pasta. Those don't tend to be as powerful as potatoes. Plus, the processing may mean the carbs hit your bloodstream even faster than the ones in potatoes do.
They're Easy And Versatile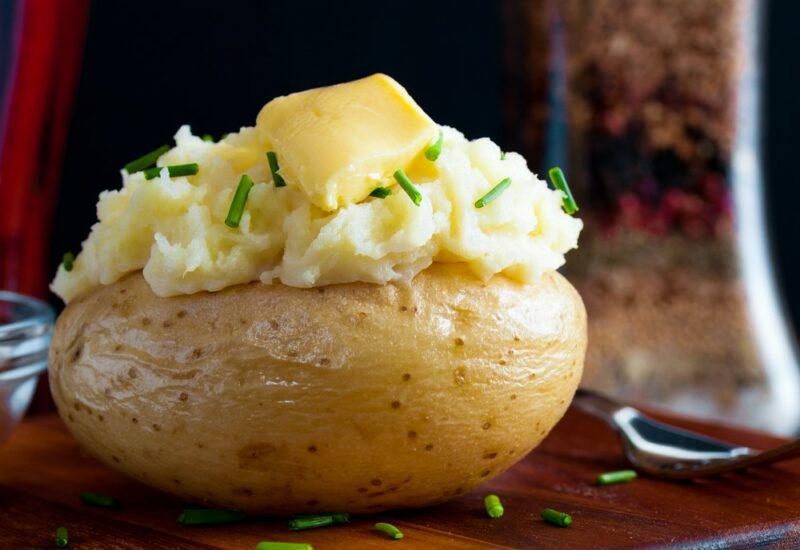 What could be simpler than a baked potato? You just need to prick your potatoes a few times and stick them in the oven. That's it.
Some people recommend taking the potatoes out towards the end of baking, brushing them with oil and some salt, then putting them back in. Doing so gives you crisper skins, but the approach isn't essential. You can skip this entirely if you want to keep your fat intake down.
The potatoes take around an hour to cook, depending on their size. You can even throw them in the oven at the same time as other dishes, such as a roast chicken.
If you want to speed things up, try microwaving the potato beforehand. Doing so for around 5 minutes helps to soften the potato, then you can put it in the oven to finish it off. Keeping the microwave time to just 5 minutes helps preserve the texture of the potato.
You can 'bake' a potato fully in the microwave, which takes around 15 minutes or so. However, the texture will never be the same as an oven-baked potato.
How Baked Potatoes Could Be Harmful
They're High In Carbs
It would be almost impossible to talk about potatoes without mentioning carbs.
A medium baked potato contains a whopping 37 grams of carbs. Only 4 grams of those carbs come from fiber, which isn't a good balance at all.
Carbs have some benefits. They're a source of energy, which our bodies need.
However, our health starts to suffer if our carb intake is too high or isn't well balanced by macronutrients like fiber, fat, and protein.
Potatoes are technically a source of complex carbs, but the carbs hit your bloodstream faster than you'd expect. This can make them a poor choice for diabetics and a no-go for any keto dieters.
All The High Calorie Toppings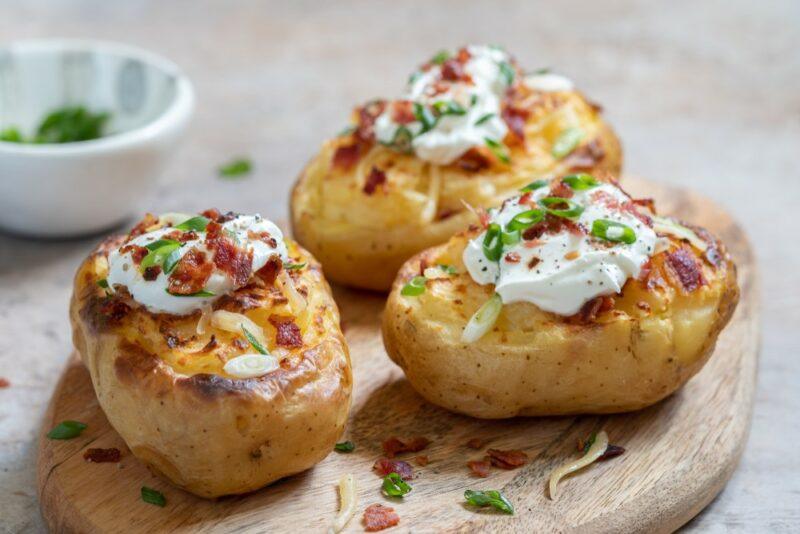 Potatoes are pretty bland, so we tend to add things to them to make them taste more interesting.
This is where things start to be concerning, as the most popular toppings for baked potatoes aren't healthy at all. Examples include sour cream, butter, cheese, bacon, or ham. See the problem?
These toppings quickly ramp up the fat and calorie content of your meal. Some add sodium as well. If you're heavy handed with the toppings or don't watch your portion sizes, your baked potatoes could easily make you gain weight.
They're A High GI Food
Potatoes are starchy and fall into the high glycemic index category (GI). This means that they quickly impact your blood sugar levels, particularly if you're eating baked potatoes on their own.
Having large amounts of potatoes regularly might even increase your risk of diabetes.
While the GI of potatoes varies depending on how they're prepared, baked potatoes fare poorly and are higher in GI than most other ways of preparing potatoes.
This suggests that people with diabetes or prediabetes may need to avoid baksed potatoes entirely or at least be very cautious with the amount they eat.
There is one exception though. Cooking then cooling potatoes increases their resistant starch content, which then lowers the blood sugar impact. This could make them a better choice if you have diabetes.
You can also keep an eye on your blood sugar levels. See what effect baked potatoes have for you. Having some fiber rich vegetables and protein at the same time can reduce blood sugar spikes, making the potatoes less harmful.
They Contain Acrylamide
Acrylamide is a concerning compound that's formed when food is cooked at a high heat. It's a problem because acrylamide might increase the risk of cancer.
How significant is this risk? Honestly, we don't know. While acrylamide is classified as a probable carcinogen in humans, most of the research comes from feeding animals large amounts of acrylamide.
Frying potatoes is the biggest problem, particularly if they're cooked until they're brown rather than yellow. Baked potatoes aren't as bad. You can reduce the risk even further by roasting small potato pieces, rather than baking whole potatoes.
Storing potatoes in a cool dark place rather than the fridge helps too, meaning that less acrylamide forms during cooking.
It's also worth remembering that acrylamide levels in food tend to be tiny. This suggests that there isn't much to be worried about, especially as the cancer link hasn't been proven in humans.
They're A Nightshade Vegetable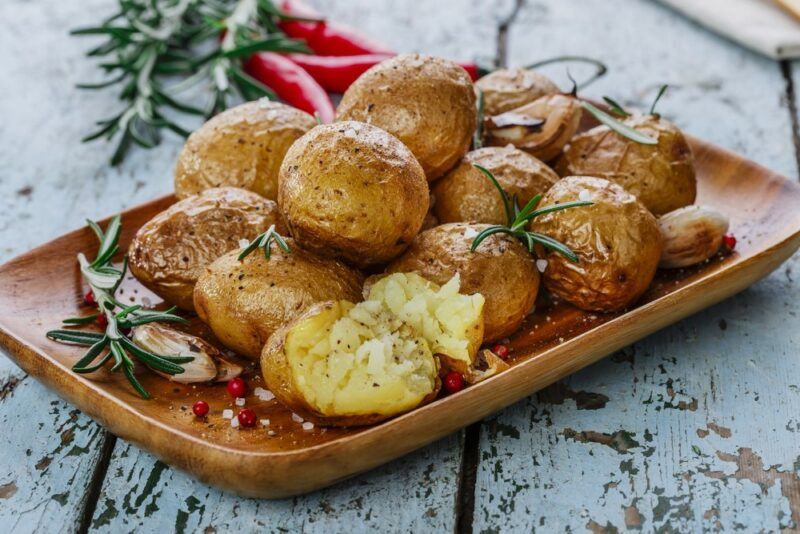 Potatoes fall into the nightshade family, along with tomatoes, eggplants, and peppers (although, interestingly, sweet potatoes aren't nightshade vegetables). While nightshades aren't an issue for most of us, some people don't tolerate them well.
In particular, nightshades can lead to digestive side effects, increased inflammation, or joint pain. You're most likely to be sensitive if you already experience joint pain or digestive issues, or have an autoimmune disease.
Because nightshade sensitivity varies so much, the best approach is to experiment for yourself. The AIP diet is one way to do so.
AIP is an elimination approach, designed to help you identify which foods are giving you symptoms. Following the diet through will help you see whether potatoes are good for your body or whether they're causing issues.
Low Calorie Toppings For Baked Potatoes
Toppings are one of the biggest problems with baked potatoes. To make things better, you need to choose your toppings carefully. This includes focusing on ones that are low in calories and provide benefits of their own.
Here are some interesting ones to try out:
Salt and pepper. These aren't the most exciting additions, but they make your potato taste much better without adding any calories.
A little butter. While butter is high in calories, a little bit also goes a long way. A teaspoon of butter only contains around 34 calories and still has enough flavor to make your baked potato much more interesting.
Salsa. This is a fantastic addition, as salsa has a vibrant flavor and is generally low in calories. Homemade salsa is the best choice, as store bought versions will often be too high in sodium.
Greek yogurt. Unflavored Greek yogurt gives you the same creaminess that you get with sour cream, while also being healthier and offering more protein.
Shredded chicken. Chicken provides you with a boost of protein, while still keeping the calorie content fairly low.
Cheese. Like butter, cheese can be a low calorie choice if you keep your portion sizes in check. Doing so means carefully measuring out your cheese, rather than judging by eye. Parmesan is a particularly good choice as it has such a strong flavor. You don't need to use much to get an immediate flavor boost.
Cottage cheese and roasted tomatoes. This is a fun combination that keeps the calorie content low and is still delicious. The protein in cottage cheese also gives you a very satisfying meal.
Vegetables. Sprouts, broccoli, and chives are just a few examples of vegetables that work well on your baked potatoes. Combine these with a tiny serving of cheese and you're getting something that's nutritious and surprisingly tasty.
You can also try topping your potatoes with a hearty serving of chili or something similar. This isn't a low calorie topping. Instead, it's an easy way to make a full meal out of your baked potato.
What About Low Carb Potatoes?
Some companies are developing low carb potatoes. These generally contain fewer carbs and calories than regular potatoes, which should make them healthier.
SunLite® potatoes are one example of this pattern. Their carb content is 33% lower than regular potatoes, while the calorie content has been dropped by 30% as well. There is also the Carisma potato and more that are being developed.
Low carb potatoes are still somewhat difficult to find, but they do hold promise. That said, they're just lower in carbs than regular potatoes. Even with a 33% decrease, you're still getting a decent amount of carbs per serving.
Also, notably, these potatoes aren't genetically engineered. They're produced through selective breeding, the same process that is used for most of the fruits and vegetables that we love today.
Should You Wrap Potatoes In Foil?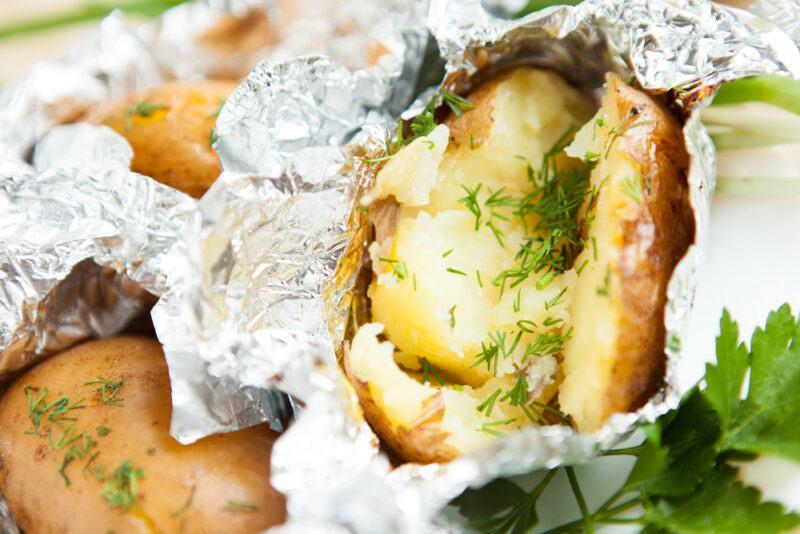 Wrapping potatoes in foil is an old habit that's meant to help the potatoes cool faster.
However, the idea doesn't work as well as you might think. The aluminum foil doesn't tend to increase cooking time anyway and it also changes the texture of your potato, making it soggy.
The idea still works if you specifically want soft baked potatoes. If you're after crisper skin and a fluffy interior, it's best to skip the foil entirely.
Final Thoughts
Baked potatoes have a surprising amount going for them. They provide a variety of nutrients and some fiber. Plus, if you cook and cool them, you're getting a decent amount of resistant starch too.
The biggest problem is their carb content, which is certainly getting up there. However, instead of avoiding potatoes, you might choose to decrease your serving size and load up on nutrient-dense additions. Getting more protein and fiber at the same time should help to keep your blood sugar levels stable. With potatoes, you're probably serving some kind of meat like pot roast or roast beef, so just eat them as part of a balanced diet and you can enjoy the benefits without all the drawbacks.
Frequently Asked Questions
What's The Best Way To Reheat A Baked Potato?
Reheating a baked potato doesn't need to be complicated. There are two main techniques that produce fantastic results every time.
The best way is to use the oven. First, bring the potatoes out of the fridge and allow them to come to room temperature. You can preheat the oven to 425°F at the same time.
Then, re-bake the potatoes in foil for between 10 and 20 minutes. You'll need to flip the potatoes at least once during the process and test them periodically to ensure they're heated through.
Alternatively, you can cut the potatoes in half and reheat them in a frying pan with a lid. You'll need to flip them regularly to ensure all the sides brown well and the potato heats evenly.
While this approach isn't the easiest, it's perfect if you don't want to heat up the oven.
You can also use the microwave. Adding a damp paper towel with the potato reduces the risk that it will dry out. But, even so, this technique isn't ideal and generally gives you a sub-par potato.
Are Baked Potatoes Good For Weight Loss?
In some ways, yes, baked potatoes have a role in weight loss, as they're relatively low in calories and offer plenty of fiber. The fiber helps with your digestive system and keeps you regular.
However, baked potatoes are low in protein too, so they're not incredibly satisfying on their own. You'll normally need some toppings with them.
This is where you start to run into problems, as baked potato toppings are often high in calories. To lose weight with potatoes, you need to choose your toppings carefully and keep an eye on your portion sizes.
Are Baked Potatoes Good For Diabetics?
Potatoes are an interesting case. They're often called a source of complex carbs, but most of these carbs are in the form of starch, which your body still digests quickly. Because of this, baked potatoes can easily spike your blood pressure, an effect that diabetics are don't want.
That said, diabetics don't need to avoid baked potatoes entirely. Serving them with high protein and high fiber toppings can reduce the blood sugar effect.
Being wise about the potato variety can help too, as some are lower in carbs than others. You can also cut your portion size down and eat the skin. These approaches also lower the blood sugar effect, making baked potatoes much better for you.
How Long Do Baked Potatoes Take?
If you bake a potato at 350°F (which is a common temperature), it will take around 60 to 75 minutes to completely cook. At 375°F, the cooking time is between 50 and 65 minutes. If you raise the temperature up to 400°F, the cooking time drops to around 45 minutes.
400°F is the highest you should go with baked potatoes. Cooking them at a higher temperature tends to overcook them and give them wrinkly skin.
Of course, the time will be influenced by the size of your potato. Smaller potatoes will cook faster, so you'll need to keep a close eye on them.
Are Baked Potatoes High In Cholesterol?
Not at all. Baked potatoes don't contain cholesterol at all. They also contain plenty of soluble fiber and potassium, which can both help to promote heart health.