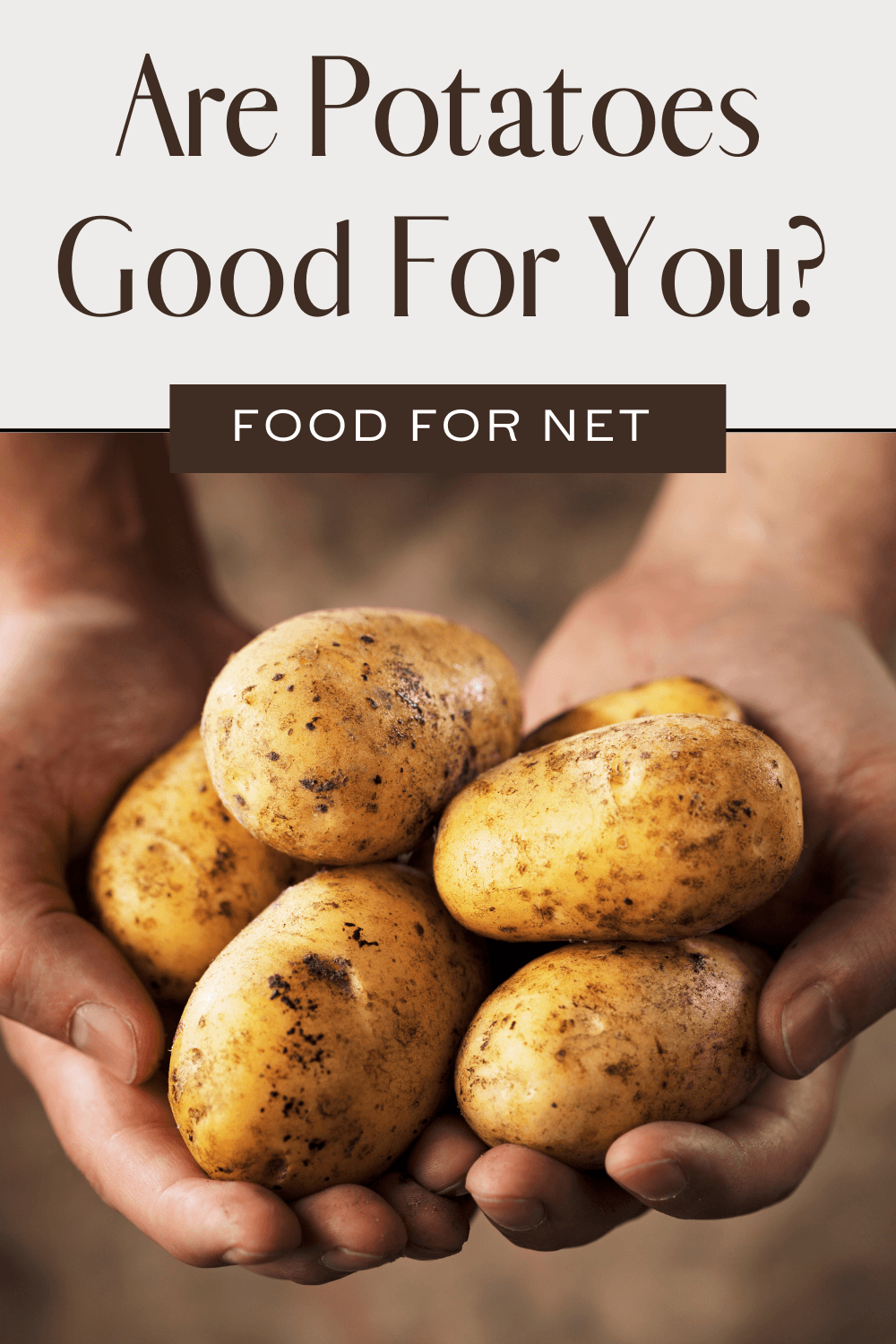 Potatoes are natural, versatile, and delicious. They're often inexpensive too and can be easily grown at home, by even the most inept of gardeners. Despite all these features, potatoes are often seen as a poor choice. Part of the issue comes down to a single question, are potatoes good for you?
I love questions like this because they're simple and complex at the same time.
First, how do we define whether a type of food is good for you or not? Most foods offer plenty of benefits and some concerning features. Spinach, for example, is almost universally seen as being healthy and is packed full of nutrients. Yet, the leafy green is one of the highest oxalate foods there is, making it harmful in some situations.
That's just one example. There are plenty of highly controversial foods too, ones that have significant benefits and potential risks. Coconut oil, soy, and butter are just a few examples from that category.
These patterns mean that no food is ever entirely healthy or unhealthy. Instead, it's important to choose your quantities based on the rest of your diet and needs.
Doing so involves understanding the benefits and risks in place. Let's see how potatoes fare.
Are Potatoes Good For You?
Types Of Potatoes
Nutritional Differences
Benefits Of Potatoes
How Potatoes Could Be Harmful
Do Potatoes Make You Gain Weight?
Are Purple Potatoes Healthier?
Should You Eat Potato Skin?
Can Diabetics Eat Potatoes?
Final Thoughts
Types Of Potatoes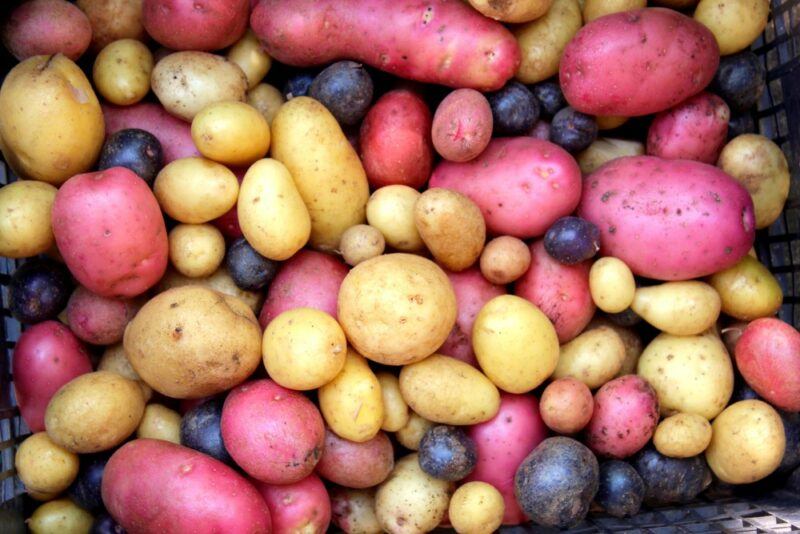 We're all familiar with potatoes, right? They're underground tubers from the Solanum tuberosum plant. These days, potatoes come in countless varieties, and we eat them in many ways, including baked, boiled, mashed, as fries, in potato gratin, or as an ingredient in a variety of recipes.
While different varieties of potato often look similar, they have their own features. Some tend to be creamier and denser than other types, making them useful for different meals.
Below are some of the main types and how they're used. You'll also see other types at local stores and farmer's markets.
Russet potatoes. These potatoes are high in starch. This makes them somewhat floury or mealy after they've been cooked and don't hold their shape well. As such, russet potatoes work well for mashed potatoes, but they're a poor choice for dishes like potato gratin.
White potatoes are often considered medium-starch potatoes and have a moderate level of moisture. They work well in many situations, including for mashed potatoes and potato gratin.
Red potatoes tend to be low in starch and high in moisture, making them versatile. They're often used in potato salads, as they hold their shape well and have a creamy texture when cooked.
Yukon golds. These potatoes offer a 'just right' balance of starch and moisture, making them useful for most situations. Not surprisingly, they're often considered all purpose potatoes.
Sweet potatoes. Sweet potatoes live up to their name and have a distinct sweetness. They can be used in similar ways to regular potatoes, although their sweetness means that they work well in desserts too (like sweet potato pie).
Purple potatoes tend to have rich purple flesh, along with thin purple skin. While their flavor has a slight nuttiness, they don't taste that different than regular potatoes. They're often firm and starchy, although the properties are different from one variety to the next.
There are also Idaho potatoes. This is slightly confusing, as the term simply refers to potatoes that were grown in Idaho. These are often russet potatoes, but they could be an entirely different type.
Nutritional Differences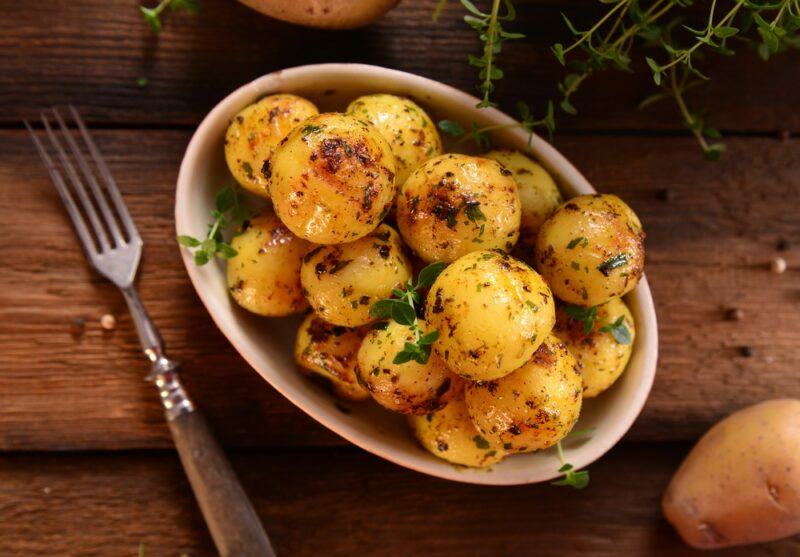 The different types of potato have many similarities. However, there are some nutritional differences too, ones that might influence which potatoes you choose to eat.
White Potato Nutrition
White potatoes offer a variety of interesting nutrients. Potassium and vitamin C are two of the most significant.
You can also turn to red potatoes. These are almost identical to white potatoes in terms of nutrition. The biggest difference is that white potatoes tend to be higher in carbs, which may make them less appealing.
Russet Potato Nutrition
Russet potatoes provide more fiber than white potatoes, making them useful for promoting gut health. Other nutrients are similar to white potatoes, although the vitamin C content is on the low side.
Sweet Potato Nutrition
Sweet potatoes are even better for fiber, offering around 3.3 grams of fiber for every 3.5 ounces of baked potato (versus 2.3 grams for russet potatoes and 2.2 for white potatoes). Their vitamin C content is decent too.
The vitamin A content is where sweet potatoes stand out, as you can get more than your daily requirement for vitamin A from a single serving. However, sweet potatoes do contain more sugar than regular potatoes.
Benefits Of Potatoes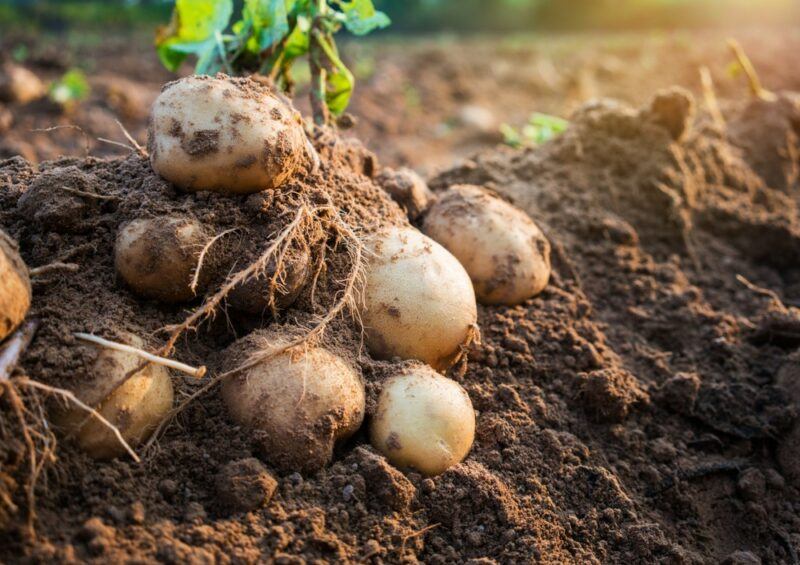 Their Nutrients
It's easy to think of potatoes as boring, but they contain a surprising number of useful nutrients, including potassium, vitamin C, and B vitamins.
You're also getting plenty of fiber, especially if you eat the skin as well as the flesh of the potato. The fiber is especially important, as it helps to promote digestion and keeps you regular.
In fact, many of us aren't consuming as much fiber as we should be. Potato skins are an easy way to bring your fiber intake up.
Potatoes do provide some protein too, with a medium baked potato giving you a little over 4 grams of protein. That's not a lot, but it's still something. Importantly, the protein is high-quality, with some important amino acids, like lysine, tryptophan, and methionine. These amino acids are all crucial for keeping your body functioning optimally.
They're Versatile, Natural, And Inexpensive
We need to talk about the practical side of potatoes as well.
They're an incredibly versatile ingredient, one that can be used in an almost endless number of ways. This is partly because potatoes only have a subtle flavor, so work well in many dishes and alongside plenty of foods.
Potatoes also tend to be inexpensive and are easy to prepare. They're an easy way to bulk out a meal, while providing a decent amount of nutrients at the same time.
The fact that potatoes are natural is an advantage too. After all, many other sources of carbs are processed, including pasta and bread. This is one reason that you can eat potatoes on a paleo diet, while most other high carb foods are excluded.
They're Filling
Potatoes tend to be filling too. This is another reason why we rely on them so often.
Research even suggests that potatoes are more filling than other starchy options like pasta and rice. This filling effect might be because of a molecule called protease inhibitor II, which is linked to appetite suppression.
Whatever the reason, filling foods are always useful. They help us to feel satisfied, which reduces our cravings for snacks and sugar. Such effects are powerful if you're trying to lose weight.
Can Provide Resistant Starch
One interesting feature of potatoes is that they can contain resistant starch. This type of starch is difficult to digest, so our bodies treat it in a similar way to fiber. As a result, resistant starch offers an array of health benefits, such as helping to control the amount of sugar and cholesterol in your blood.
Resistant starch in potatoes, however, is a little tricky. You won't find it in your regular baked or mashed potatoes. Instead, the best way to get this starch is to first cook your potatoes and then cool them.
This means you're looking for dishes that rely on cold potatoes – like potato salad.
The resistant starch also changes potatoes from being a high glycemic index (GI) food to a low GI one. So, if you're concerned about blood sugar levels, stick to cold potatoes instead.
They're Low In Fat
Potatoes are also naturally low in fat. This is a useful feature if you're worried about heart disease or obesity. Indeed, foods that are low in fat and are still filling are an important part of a healthy diet.
A Low FODMAP Food
Potatoes are considered a low FODMAP food, which means they're low in fermentable oligosaccharides, disaccharides monosaccharides, and polyols. Those compounds can all lead to bloating and digestive symptoms for some people, particularly those with irritable bowel disease (IBD).
Following a low FODMAP diet can be an important way to control the symptoms of conditions like Crohn's disease and IBD. Indeed, anyone struggling with regular nausea could benefit by cutting down high FODMAP foods.
The low FODMAP content of potatoes makes them a safe choice for many people struggling with digestive issues.
How Potatoes Could Be Harmful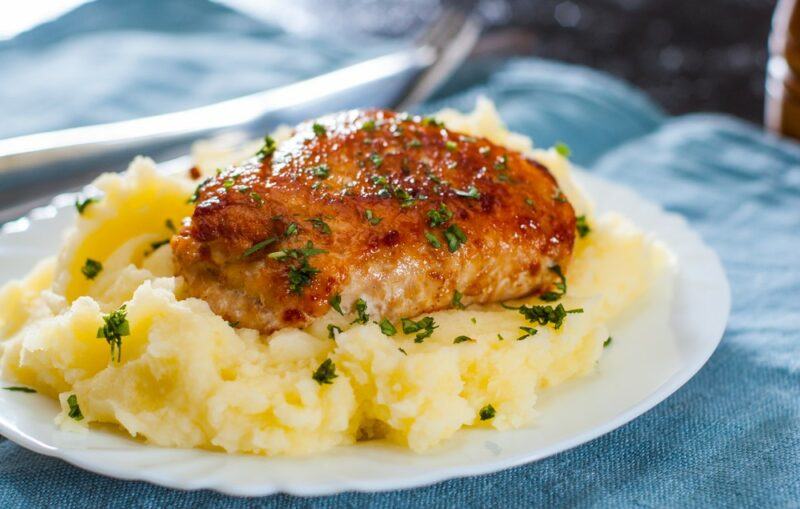 The Carb Content
The carbs in potatoes are one of the biggest issues. The amount varies dramatically depending on the type of potato and how it is prepared. For example, for a 100 gram serving, the carb content can look like this:
Raw (flesh and skin): 17.5 grams
Boiled (flesh only): 20 grams
Baked (flesh and skin): 21.2 grams
Microwaved (flesh and skin): 24.2 grams
Oven-baked chips: 25.6 grams
Fried chips: 41.4 grams
Some of those carbs come from fiber, but most are digestible carbs.
There's another issue too – the carb data is for 100 grams of potato. You're often consuming more than this in a single serving. For example, a medium baked russet potato provides 37 grams of carbs. That's a lot and we're just talking about a medium-sized potato.
Carbs are very controversial these days. They're often seen as something to be avoided. High carb diets might even lead to inflammation and increased disease risk.
Because potatoes are so high in carbs, they're a poor choice for anyone restricting carb intake.
They Come From The Nightshade Family
Potatoes are considered to be a nightshade vegetable, just like tomatoes, peppers, and eggplants. All of these vegetables come from the family Solanaceae.
While Solanaceae vegetables are all rich in nutrients and are often popular ingredients, they're thought to be harmful in some situations. Part of the problem is that nightshade vegetables contain alkaloids. These nitrogen-containing compounds might contribute to autoimmune issues.
This is why the Autoimmune Protocol (AIP) diet focuses on cutting out such ingredients.
Reducing your intake of nightshade vegetables might even help with symptoms like joint pain, fatigue, or an upset stomach.
Because sensitivities vary, the best approach is often to eliminate a variety of foods from your diet, including potatoes, then slowly reintroduce them. Doing so can help you work out which foods are causing symptoms.
There isn't much evidence for the benefits of cutting out nightshades.
Still, plenty of people report dramatic improvements, so the approach might be worth trying for yourself.
How They're Cooked And Served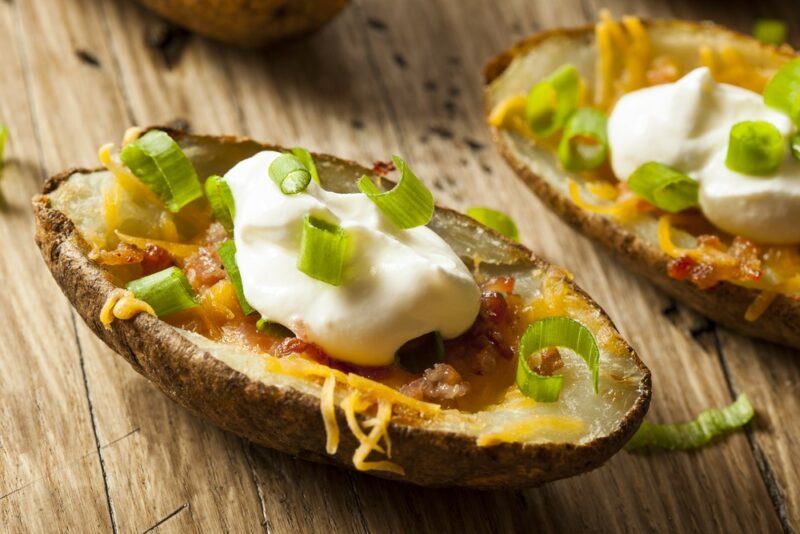 Another concern is the way that we use potatoes. We often cook them in oil or serve them with high-calorie toppings, like butter and sour cream. Sometimes we even deep fry them and load them with toppings.
This isn't so surprising, as potatoes aren't that exciting on their own. They need something to liven them up and, unfortunately, the tastiest options aren't the healthiest ones.
Don't forget about the salt either. It's easy to be heavy handed with the salt given that potatoes are so bland on their own.
Thankfully, there are better ways to serve potatoes too. Baked, mashed, or boiled potatoes are all classic options. They can be healthy too, as long as you keep an eye on the toppings that you use.
Acrylamide Production
When starchy vegetables are cooked at a high temperature, a chemical called acrylamide is often produced. Acrylamide can be a serious issue in high doses, potentially causing nerve damage and impacting the reproductive system.
It's unclear how low-level acrylamide consumption impacts human health. More research is needed before we can be confident. Still, there is enough concern that many people try to reduce their acrylamide intake.
The FDA even offers advice about how to decrease the levels of acrylamide in your food. They mentioned that frying potatoes produces the most acrylamide. You can also decrease acrylamide production by cooking potato pieces to a golden yellow, rather than dark brown.
However, we do get acrylamide from other parts of our diet too, including coffee, toast, and some breakfast cereals. You may want to decrease your intake of these as well, if you're worried about acrylamide.
Do Potatoes Make You Gain Weight?
Potatoes are often thought to promote weight gain, along with increasing the risk of diabetes and heart disease. There's some evidence for those ideas too.
But, and here's the important point, much of the research just looks at potato consumption and health. That's no good, as such an approach may lump all types of potato dishes together – including baked potatoes, mashed potatoes, fries, deep-fried wedges, and many other types.
Indeed, people who eat deep fried potato wedges loaded with cheese, bacon, and sour cream end up in the same part of the study as those eating mashed potatoes made with low fat milk and margarine. See the problem?
The truth is that potatoes themselves don't promote weight gain. They're simply a source of energy.
If you eat them as part of a meal with plenty of vegetables and some protein, then potatoes could even help you to lose weight. Conversely, if you load them up with high-calorie toppings then, yes, potatoes will probably make you gain weight.
Are Purple Potatoes Healthier?

Purple potatoes get their coloring from plant-based compounds called anthocyanins. These are the same compounds that you find in berries, red onions, pomegranates, and many similar foods.
These anthocyanins mean that purple potatoes are much richer in antioxidants – often containing more than two times the antioxidants that you find in regular white potatoes.
This increased antioxidant content could have many benefits, such as improving cholesterol levels, promoting eye health, and lowering your risk of some diseases. Purple potatoes still have all the benefits that you find with regular potatoes too.
The extra antioxidants are reason enough to eat purple potatoes instead of regular ones.
Interestingly, purple potatoes often don't taste as different as you might expect. They can be a little denser and earthier than regular potatoes, but that's about it. If you're using the potatoes in a recipe, the flavor difference mightn't even be noticeable.
Should You Eat Potato Skin?
You've probably heard the age-old claim that most of the nutrients in potatoes come from the skin. It's a popular idea and easily believed. Yet, things aren't as straightforward as that.
It's more accurate to say that potato skin and potato flesh are different than each other. The skin tends to be a better source of fiber and iron, while many of the other nutrients are found in both the skin and the flesh.
You even get more vitamin C, thiamin, and vitamin B6 from potato flesh than potato skin.
Eating potato skin is still a good idea – for the fiber if nothing else. This fiber offers many benefits and helps decrease the blood sugar impacts of potatoes. Still, eating the skin isn't essential. You'll still get plenty of nutrients from potato flesh alone.
Can Diabetics Eat Potatoes?
Potatoes tend to have a high glycemic index (GI), which can make them a poor choice for anyone with diabetes. However, this doesn't mean you need to cut them out entirely.
You can still enjoy potatoes, even with diabetes, as long as you keep a close eye on your portion size. Also think about how the potatoes are prepared and what you're eating with them. For example, adding a source of protein or some healthy fat should help to decrease the blood sugar impact.
You could also try cooking and then cooling your potatoes. Doing so increases the resistant starch content, which then decreases the GI of your potatoes (as resistant starch is harder to digest).
Final Thoughts
Potatoes mightn't be an amazing source of nutrients, but they're certainly healthier than we often assume.
The trick is to be wise with how you use them. Serving them with vegetables and some protein, for example, is much more powerful than loading a baked potato up with butter, cheese, and sour cream.
Keep an eye on your portion sizes too. It's easy to eat more mashed potatoes than you intend to or forget just how large your baked potato is. Such patterns can easily become a problem if they happen regularly.
Frequently Asked Questions
Are Potatoes Gluten Free?
Potatoes are naturally gluten free, making them a safe ingredient for celiacs. However, you still need to be careful with how the potatoes are prepared and the ingredients used with them, as some of these might contain gluten.
Are Potatoes Vegetables?
Potatoes are botanically classified as a vegetable, as we're eating the root of a plant. However, health advice that focuses on 5 pieces of vegetables a day sometimes excludes potatoes, due to their high carbohydrate content.
But, while potatoes are starchy, they still have plenty of health benefits, so there's no need to cut them out of your diet.
Are Potatoes Fattening?
The high carb content of potatoes isn't ideal for health, but this doesn't make potatoes fattening either. They can easily be part of a healthy diet, as long as you're careful about how you serve them (i.e. avoid deep fried potatoes and baked potatoes loaded with butter).
Are Potatoes Keto Friendly?
No. The high carb content of potatoes makes them a poor choice for keto. You'd need to keep your portions very small to still eat them on a keto diet.
Are Potatoes Low FODMAP?
White potatoes are an easy low FODMAP food. In fact, their FODMAP content is so low that you don't need to think about portion size.
However, some potato-based dishes and ways to prepare potatoes can include FODMAPs (particularly as onion and garlic are both high FODMAP ingredients). You need to watch out for sweet potatoes too. These are a completely different plant and are much higher in FODMAPs.