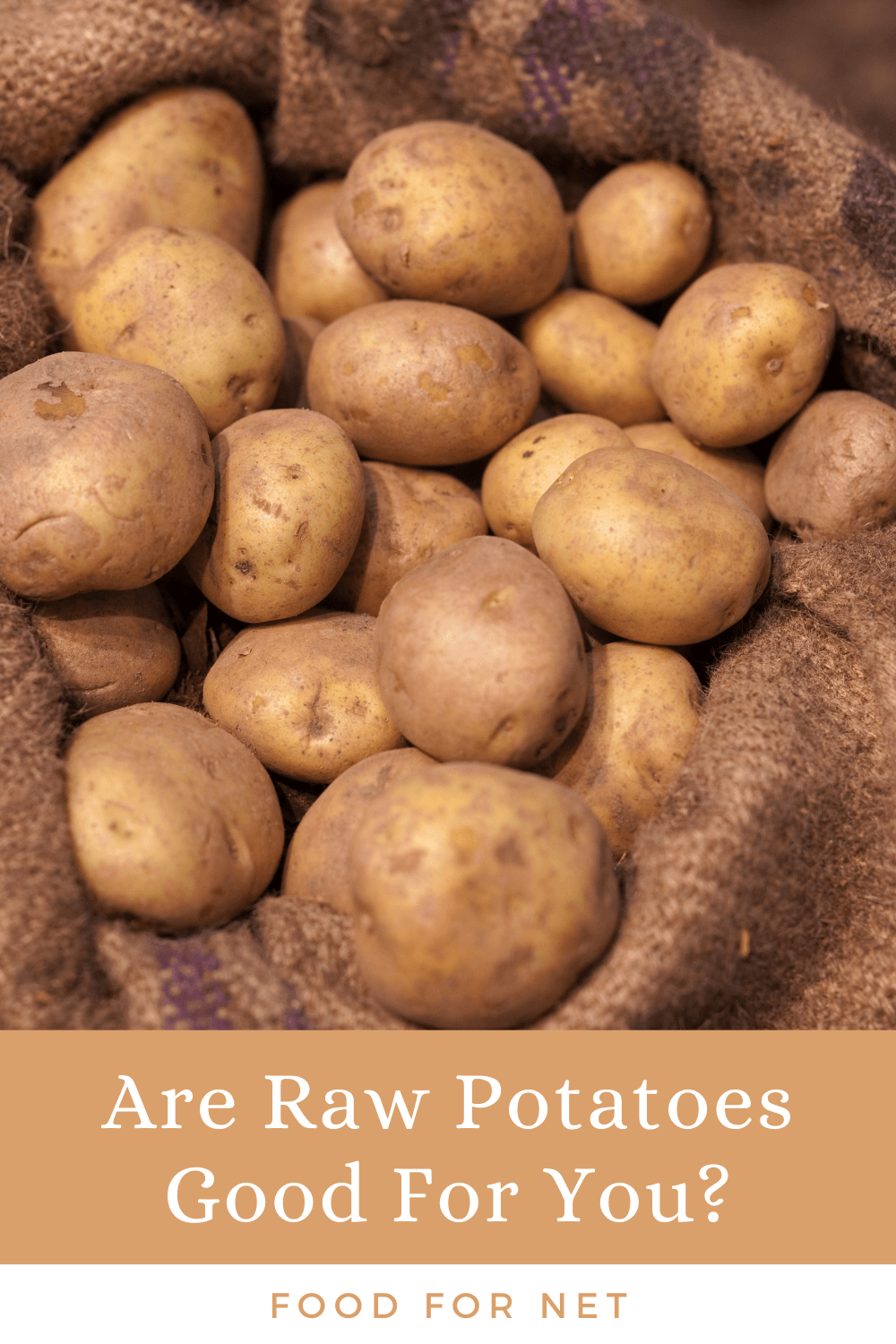 Raw vegetables are becoming increasingly popular, as they may offer more health benefits than cooked ones. The claim stands to reason, doesn't it? After all, cooking changes the chemical composition of our foods. That effect could decrease the benefits that food offers. Considering how ubiquitous potatoes are in cooking around the world, you might have wondered, "Are raw potatoes good for you like carrots or broccoli, or do they actually have to be cooked?"
Cooking is pretty important for some vegetables. Sometimes it's even essential. For example, you wouldn't want to eat raw beans. Doing so would give you some nasty side effects.
What about potatoes, though? Can you eat raw potatoes? And, if you can, are raw potatoes good for you?
Are Raw Potatoes Good For You?
Can You Eat Raw Potatoes?
Benefits Of Raw Potatoes
Are Raw Potatoes Good For Irritable Bowel Syndrome
Ways To Use Raw Potatoes
Are Raw Potatoes A Good Idea?
Final Thoughts
Can You Eat Raw Potatoes?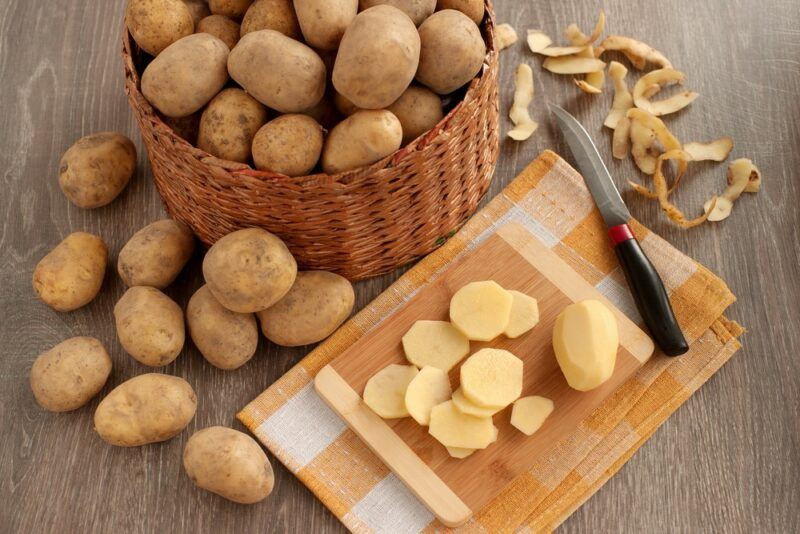 First of all, yes, raw potatoes are edible. They're not nearly as tasty as cooked potatoes, nor do they have such a nice texture. But, you can eat them.
If you're going to do so, look for high quality potatoes. Avoid any that are sprouting or have green bits. Such features increase your risk dramatically. Being careful is important because, as we'll discuss shortly, raw potatoes do come with some serious risks.
Benefits Of Raw Potatoes
Their Fiber Content
If you eat the skin and the flesh of your potato, a 100 gram serving of raw potato will give you roughly 2.5 grams of fiber.
While fiber sometimes sounds dull, it's actually incredibly important. Fiber is what keeps you regular, reducing the risk of constipation. It's also relevant in many other ways.
Did you know that fiber helps balance both your blood sugar levels and your cholesterol? This means that getting enough fiber can even lower your risk of type 2 diabetes and heart disease.
There's another area too – fiber provides food for your gut bacteria. Gut bacteria might not sound appealing, but they're actually incredibly important. We're still learning about them, but they do have a shocking range of effects, perhaps even helping with your mental health and your immune system.
You Get More Vitamin C
Cooking potatoes decreases their levels of some nutrients, including vitamin C. In fact, you get almost twice as much vitamin C from raw potatoes compared to roasted ones.
Vitamin C is most famous for its ability to help your immune system, but that's not all it does. The vitamin is also relevant elsewhere in your body, such as helping grow and repair body tissues.
Here's another interesting effect, vitamin C promotes the absorption of iron. This means that it can decrease your risk of iron deficiency.
You Get Plenty Of Nutrients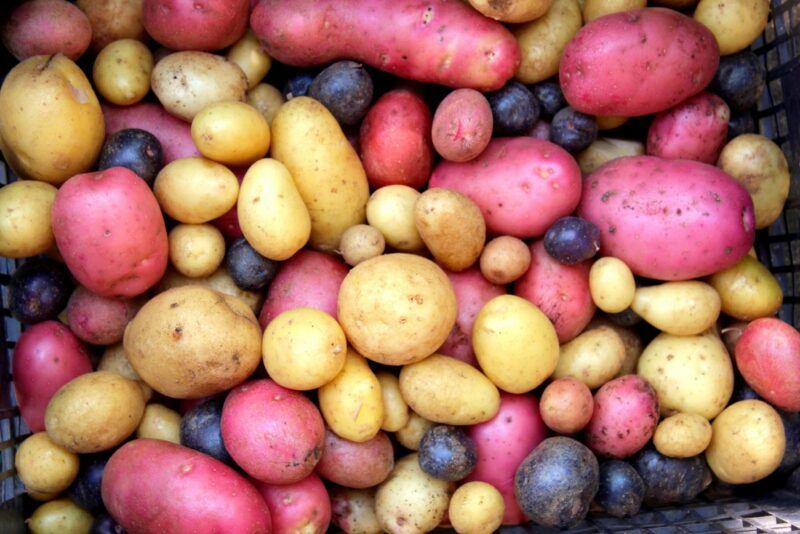 It's easy to assume that potatoes are unhealthy, given that they're pretty bland. Yet, they do contain a decent array of nutrients. As well as the vitamin C, you get some potassium, magnesium, vitamin B3, vitamin B6, and plenty more.
Nutrients like these are always important, as each one helps your body to function exactly like it should. If your nutrient intake is too low, your health starts to suffer.
While the nutrient balance differs between raw and cooked potatoes, raw potatoes still have many nutrients.
A Source Of Resistant Starch
Raw potatoes contain a decent amount of resistant starch, which you don't find in cooked potatoes. You may have heard about resistant starch before, as it's also seen in green bananas.
Resistant starch is important, as it can help with your blood sugar levels and insulin sensitivity. It may be relevant for your digestion too, as resistant starch can be converted to a fatty acid called butyrate.
Low In Fat
While potatoes themselves are naturally low in fat, we often add fat during cooking or perhaps as toppings.
Just think about baked potatoes. No fat is used in cooking them, but we load them up with butter, cheese, and sour cream. Then there are snacks like French fries and potato chips, which get plenty of fat from the cooking process.
These patterns aren't true for raw potatoes at all., making it easy to keep your fat intake low.
Provide You With Antioxidants
Fruits and vegetables are fantastic sources of antioxidants. Despite their apparent blandness, potatoes are no exception. They still provide you with some antioxidants. Raw potatoes might even give you more antioxidants than cooked ones.
What does this mean for health? Honestly, the jury is still out.
However, we know that antioxidants help lower oxidative stress throughout your body, reducing the risk that free radicals will cause oxidative damage to your cells and DNA. This effect may lower your risk of disease, perhaps even helping you live longer.
Potatoes aren't the most amazing source of antioxidants, true. You'll get more from many of the so-called superfoods, including blueberries. Still, small amounts of antioxidants from different sources do add up.
Problems With Raw Potatoes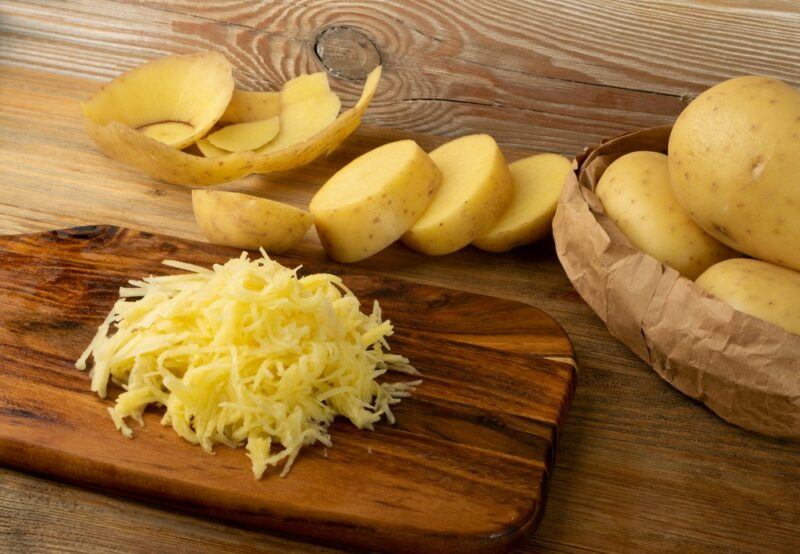 They Don't Taste Good
Raw potatoes aren't that tasty. They have a distinct bitter flavor, along with a starchy texture. This flavor and texture combination is why few of us eat raw potatoes.
Cooked potatoes are completely different. The cooking process leads to a Maillard reaction, which gives cooked potato the flavor and texture that we've come to love.
They Can Cause Side Effects
Potatoes contain antinutrients, including lectins. These aren't a huge problem when potatoes are cooked, but they can be quite significant for raw potatoes.
Lectins are concerning, as they cause digestive side effects for many people, like diarrhea, cramps, and bloating.
Some theories also suggest that regularly consuming large amounts of lectins could lead to health problems, including increased inflammation, issues with gut bacteria, and even increased risk of some diseases.
If this is true, then eating raw potatoes regularly could lead to issues further down the road.
May Decrease Nutrient Absorption
While raw potatoes contain vitamin C, which promotes iron absorption, other compounds in raw potatoes can decrease your nutrient absorption instead.
In particular, raw potatoes contain antinutrients (including the lectins that we talked about above). Antinutrients get their name from the way that they decrease your absorption of some nutrients.
If you're eating a healthy diet, then this decrease in absorption shouldn't be a big deal at all. However, if you're following a restrictive diet, you could end up deficient in some nutrients.
The problem is even more significant if you're relying heavily on legumes for your protein, as these also contain antinutrients. In that situation, cooking potatoes is a wiser approach than eating them raw.
Green Potatoes Can Be Dangerous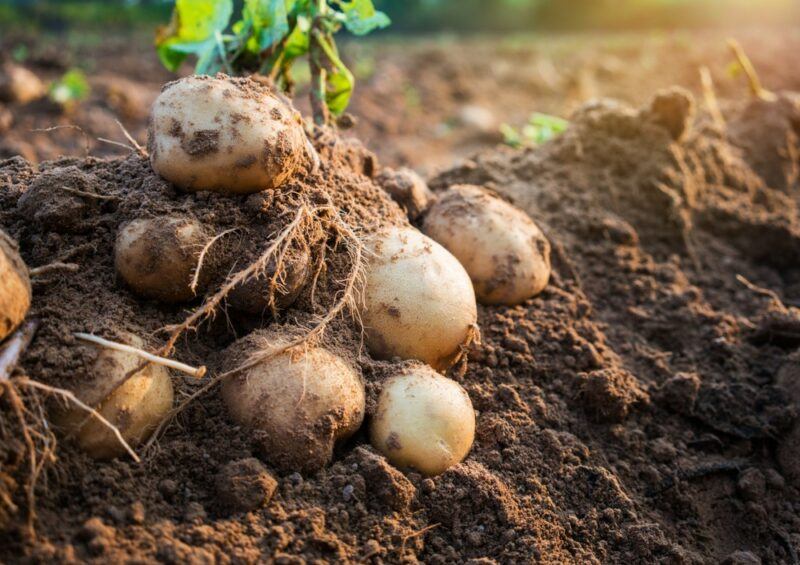 Potatoes contain low levels of a compound called solanine, which is toxic. The levels are low in cooked potatoes, so most of us don't have anything to worry about.
Solanine is much higher in green potatoes. In fact, you should avoid green potatoes even if they've been completely cooked.
Solanine is a glycoalkaloid and isn't the only glycoalkaloid found in potatoes. Other types can cause side effects as well, particularly in raw potatoes.
If you are going to eat raw potatoes, also watch out for any that are starting to sprout. Instead, focus on potatoes that have no green at all, are unblemished, and have no signs of sprouting.
Can Be Contaminated
Microbial contamination is an issue for most types of food. It's particularly serious for potatoes, as they are grown in the ground.
Contamination isn't a huge problem if you wash your vegetables and then cook them. However, if you eat them raw, any contamination could easily make you sick.
Thoroughly washing your potatoes should decrease the risk considerably. Even then, it's worth growing the potatoes yourself or buying them from a trusted source. This way you protect yourself as much as possible.
Are Raw Potatoes Good For Irritable Bowel Syndrome?
Potatoes are a low FODMAP food, so people with irritable bowel syndrome (IBS) can often eat them without a problem. However, raw potatoes come with some issues that aren't found with regular potatoes. What does this mean for IBS sufferers?
As is often the case, the answer varies from person to person.
However, fiber can sometimes help with IBS symptoms, which is one reason to try raw potatoes. The resistant starch may even offer IBS benefits, helping to reduce symptoms.
Interestingly, if you're interested in resistant starch, you can also try cooking and then cooling potatoes. Doing so provides you with plenty of resistant starch, but you avoid most of the issues that come with raw potatoes. Sounds like a win-win.
Ways To Use Raw Potatoes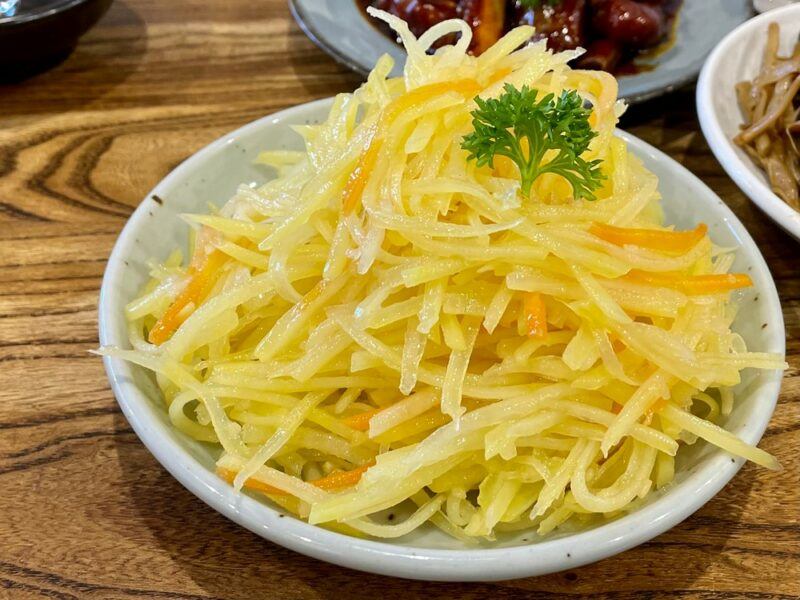 If you're still interested in raw potatoes, the most important thing is to start slowly. Doing so gives your body the chance to adjust.
Plus, you get the chance to spot any digestive issues early on. You don't want to find out that raw potatoes give you stomach cramps after you've eaten a large serving of them.
You should also completely wash your potatoes before eating them. Wash them even more thoroughly than usual, as there is no cooking step to kill bacteria.
You might even want to peel your potatoes first. This reduces the chance of contamination still further. You'd miss out on some nutrients and fiber from the skin, but that's okay; you can get plenty of nutrients from other parts of your diet.
The other question is, how exactly do you eat raw potatoes?
The most common way is to slice them thinly, then eat them on their own or perhaps include them in a salad. The smaller and thinner the potato pieces are, the easier they'll be to eat.
There's a handful of raw potato recipes out there too, like this raw potato salad. The recipe uses shredded raw potatoes and a light vinaigrette. The vinaigrette doesn't add a ton of flavor, but it does make your potatoes more interesting.
Are Raw Diets A Good Idea?
Raw diets can sound amazing, as the food is in its natural form and is completely unprocessed. But, as we've seen from talking about with potatoes, it isn't as simple as that.
For one thing, cooking food makes it easier to digest. This doesn't just reduce the risk of discomfort, but it could even mean that we get more nutrients from our food.
That's not all, cooking food actually increases the levels of some nutrients, such as lycopene in tomatoes and beta carotene in carotenes, which are both potent antioxidants. Antinutrient-rich foods, like beans, can even be harmful if you're eating them raw.
This means you should think carefully about which foods you're eating raw. Do a little research to find out whether they're safe to eat raw or not.
Also pay close attention to how your body responds. Do you feel fine after eating a given raw vegetable or do you end up with stomach cramps?
This is important, as we all respond differently to foods. Even if an ingredient is completely safe and causes no problems for most people, some may not be able to tolerate it at all. You'll only know the answer for you by experimenting.
Final Thoughts
Raw potatoes are edible and do offer some benefits. Even so, do you really want to eat them? Most of the benefits are the same ones that you get from cooked potatoes.
The biggest difference is simply that raw potatoes offer resistant starch. That's not enough to balance out the health risks of eating raw potatoes, not to mention the unappealing taste and texture.
Besides, if you do want resistant starch, you could just as easily turn to green bananas. These taste much better than raw potatoes and aren't risky.
Frequently Asked Questions
What Happens If You Eat Undercooked Potatoes?
Undercooked potatoes should give you fewer side effects than raw potatoes, which is helpful if you're sensitive to lectins. However, they're still not as safe or as easy to digest as fully cooked potatoes.
Remember that you still need to avoid green potatoes, as these can make you sick, even if they're fully cooked.
Can Raw Potatoes Make You Sick?
Many people do feel sick after eating raw potatoes. This is partly due to side effects from antinutrients and partly because raw potatoes are much more difficult for our bodies to digest.
That said, raw potatoes aren't likely to make you truly ill unless you're consuming ones that are green or sprouting.
Why Might You Crave Raw Potatoes?
Craving potatoes is often a sign that you need more energy, particularly energy from complex carbs. However, most people crave cooked potatoes when this is the case, not raw ones.
Other times craving potatoes could be a signal that you're not getting enough water. If this is the case, you'll see more benefits from drinking more water, rather than actually eating potatoes.
Can Raw Potatoes Kill You?
The solanine in potatoes can cause a variety of side effects and could even kill you if you consume too much. However, this issue isn't specific to raw potatoes.
Instead, high levels of solanine are found in green potatoes and those that have started to sprout. Even then, the occasional high solanine potato isn't likely to cause harm. You're only at high risk if you're eating sprouting and green potatoes regularly.
Can You Eat Sweet Potatoes Raw?
Sweet potatoes can be eaten raw. They also don't produce solanine, so they're safer raw than regular potatoes. However, raw sweet potatoes can still cause side effects, including gas.