We all know the story surrounding fish, right? Fish is an incredibly healthy source of protein, one that's packed with heart healthy omega 3 fatty acids. Those fats have been linked to more benefits than we can count. They're even thought to be essential to living long and well.
Tuna often seems like a fantastic choice, as canned tuna is easy to find and is often inexpensive. You can turn to the fresh fish as well, which many people find to be delicious. So then, is tuna good for you?
You've almost certainly heard mixed messages on that front, with some people saying that the fish is healthy as long as you watch the amount you eat, while others suggest you should avoid it entirely.
In this post, we're taking a close look at both sides of the argument to determine whether tuna can be part of a healthy diet.
Is Tuna Good For You?
Types Of Tuna
Benefits Of Tuna
How Tuna Can Be A Problem
Canned Tuna Versus Fresh Tuna
How Much Tuna Should You Eat?
Can Pregnant Women Eat Tuna?
Final Thoughts
Types Of Tuna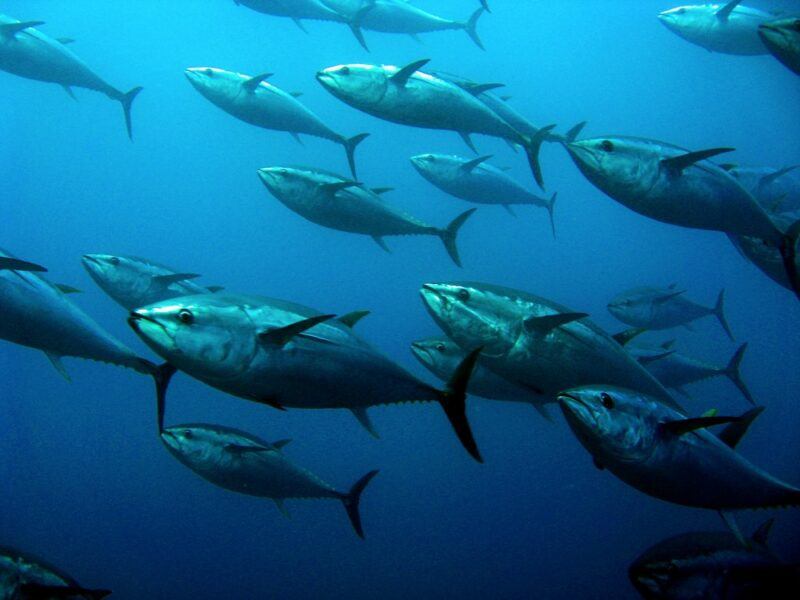 Before we talk about the benefits and risks of tuna, we need to highlight the different types. Doing so is important, as each species of tuna has its own characteristics, and some are much better for you than others.
While there are 15 different species of tuna, not to mention a variety of subspecies, there are only four main types that show up regularly in our meals. These are albacore, bluefin, skipjack, and yellowfin (also known as ahi).
Yellowfin: This is an inexpensive variety of tuna that's often canned. It has pink flesh and a mild flavor. You'll see high quality yellowfin tuna used in sushi and sashimi. This species is also delicious when grilled.
Bluefin: This species has much darker flesh, along with a richer flavor. It's the best choice if you're looking for fresh tuna.
Skipjack: This is another species that's rich in flavor and fat. It's often found in canned chunk light tuna.
Albacore: This species is canned as well, where it is marketed as white tuna or albacore white tuna. It has a very mild flavor.
There's also chunk light tuna. This one deserves a special mention, as it isn't a species of fish like the others (although, chunk light tuna often uses skipjack tuna as the main type).
The most notable feature is that chunk light tuna relies on smaller species of tuna. This helps to keep the mercury content low. Chunk light tuna tends to be low in calories too, making it useful for dieters.
Benefits Of Tuna
Source Of High Quality Protein
While fish is often recommended because of the omega 3 fats, the protein in fish is almost as important.
After all, protein is used throughout our bodies in countless ways. Protein can be helpful for weight loss too, as it helps you to feel satisfied and reduces cravings for snacks and sugary foods.
Fish is also a complete source of protein. This means that it contains all the amino acids that humans need (the same is true for protein from animals, but not for many sources of plant-based protein).
Low In Saturated Fat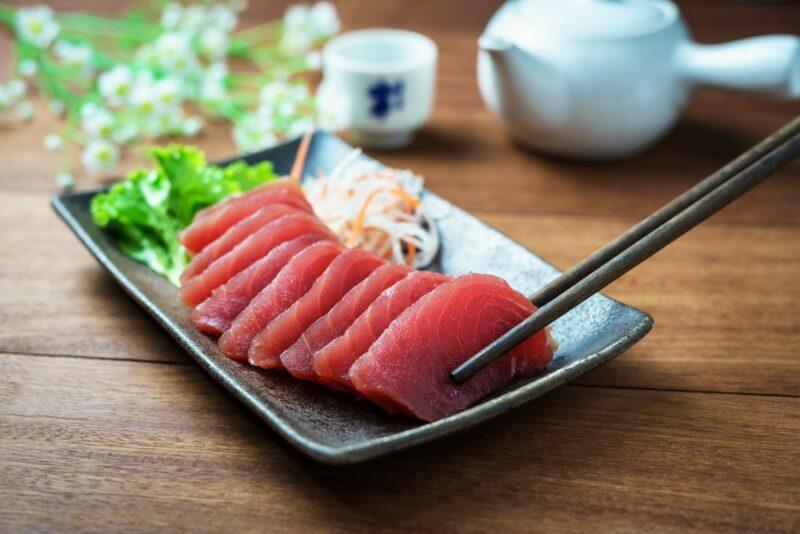 Tuna is often high in fat, but the amount of saturated fat tends to be low. This matters, as saturated fat is seen as the worst type, the one that may increase the risk of heart disease and lead to other health problems.
You might see even more benefits by replacing a high saturated fat meal with tuna instead (like having tuna rather than steak). However, as we'll discuss later, tuna needs to be consumed in moderation, so you can't replace all your red meat with fish.
Provides Omega 3 Benefits
Omega 3 fatty acids have an incredible reputation, one that's also well-deserved. This type of fat has been researched in-depth and linked to a whole host of health benefits, including decreased inflammation and a lower risk of some diseases, including heart disease and cancer.
Omega 3s may be relevant to mental health too, as people with depression may have low levels of omega 3s. This effect is why fish oil supplements may be helpful for treating depression (although the topic still needs to be studied more).
There's much more to be said about omega 3s, but we won't cover that here. After all, most omega 3 benefits are well-known and are relevant for all types of fish, not just tuna.
That said, tuna is special, as it's an oily fish. It has a higher concentration of omega 3s than leaner types of fish, like tilapia.
The Nutrient Profile
With the focus on omega 3 and protein, it's easy to forget just how many important nutrients are found in tuna. You even get a decent amount of vitamin D – a vitamin that isn't found in many foods.
Iron is another valuable nutrient. It is essential in the transport of oxygen and also plays a role in metabolism. While iron is found in many foods, iron deficiency is surprisingly common.
Fish is a great way to increase iron intake, as you can avoid the heaviness of meat, but you are still getting heme iron. Plants, on the other hand, provide non-heme iron, which isn't absorbed as well.
Those are just two of the nutrients present. There are plenty of other important ones, such as selenium, iodine, potassium, and vitamin B6.
Canned Tuna Is Inexpensive And Versatile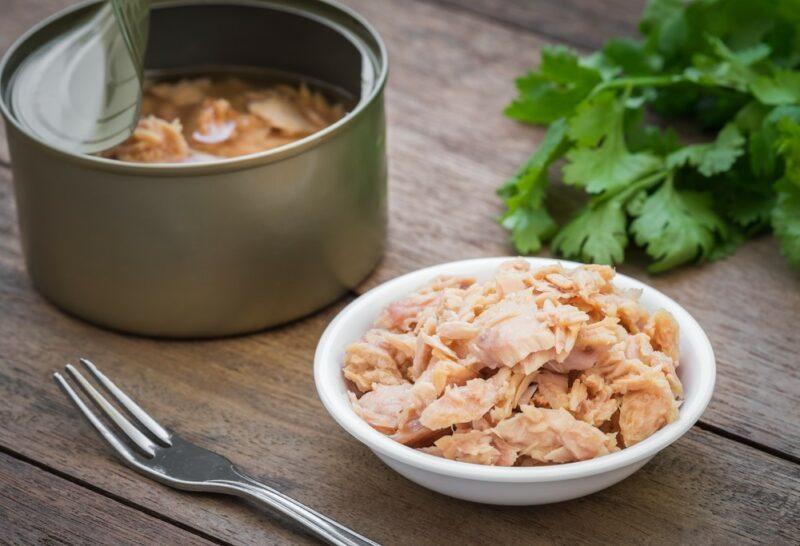 There's one other benefit to mention – the fact that canned tuna is so easy to use. It's practical and inexpensive, features that often don't apply to fresh fish at all.
Buying fresh fish can be a challenge for many families. After all, the fish doesn't last long, it can be tough to figure out the quality, and fresh fish is often expensive. Those issues just get worse if you live far away from the coast.
Canned fish like tuna, salmon, and sardines are all easy ways to boost your omega 3 intake without blowing your budget in the process.
The popularity of canned tuna also means that plenty of recipes rely on it, including tuna casserole.
How Tuna Can Be A Problem
The Mercury Levels
If you're eating fish, you need to think about mercury. It's as simple as that.
Mercury is a naturally occurring element, one that can easily become poisonous if you consume too much. Mercury poisoning is becoming a greater risk these days – as increased industry leads to more mercury in the water and the soil, which causes higher levels of mercury in animals and fish.
The effects of mercury poisoning are particularly strong in young children, but even in adults, too much mercury can lead to permanent damage.
As such, it's essential to keep an eye on your mercury intake.
Tuna, unfortunately, is on the high end of the scale, to the point that you need to avoid some types of tuna altogether. This happens because larger fish tend to accumulate more mercury.
Here's a rough guide for mercury in the different types of tuna:
Very high, best to avoid entirely: Bigeye tuna and ahi tuna
High: Yellowfin and canned albacore tuna
Moderate: Canned chunk light tuna
There Are Other Contaminants Too
While mercury is the most concerning contaminant, others can make their way into fish too, including lead, arsenic, and cadmium. Thankfully, the levels don't tend to be high. If you stick to two or three servings of fish each week, your intake of these contaminants should be pretty low.
You can decrease the risk further by focusing on high quality companies, ones that don't fish in contaminated waters. Many will provide details about how their practices protect your health and the ecosystem.
Tuna Is High In Fat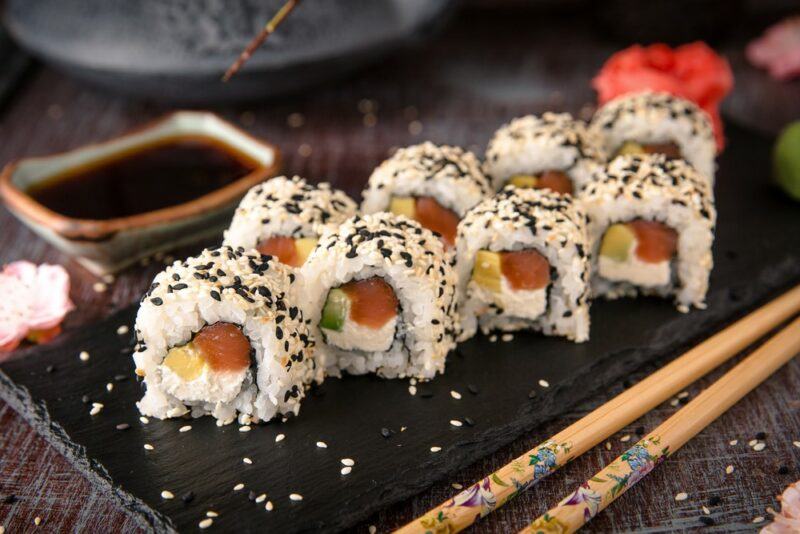 Tuna is considered an oily or a fatty fish. This is often seen as a good thing, as it means that the omega 3 fatty acid content is high.
Even so, too much fat can be a problem. Some people need to keep their fat intake low, which means being cautious with tuna consumption. Others may be more worried about the calories – as high fat foods are often high in calories too.
It's Easy To Eat Too Much
The problems we've talked about with tuna aren't a big deal, provided that you watch the amount you consume.
However, not everyone knows that you need to watch tuna consumption. And honestly, canned tuna is such an inexpensive and easy ingredient to use, it's hardly surprising that some people eat more than is good for them.
Canned Tuna Versus Fresh Tuna
Canned tuna is popular partly because it's inexpensive and easy to use. It's a fantastic option for times where fresh fish is expensive or difficult to source.
It's easy to assume that canned tuna is an unhealthy choice. Yet, it still provides the omega 3 fatty acids and all the nutrients that you get with fresh tuna.
That's not all. Canned tuna can even be healthier than fresh tuna, as it relies on small fish. This often means there's less mercury in canned tuna than in fresh tuna.
How Much Tuna Should You Eat?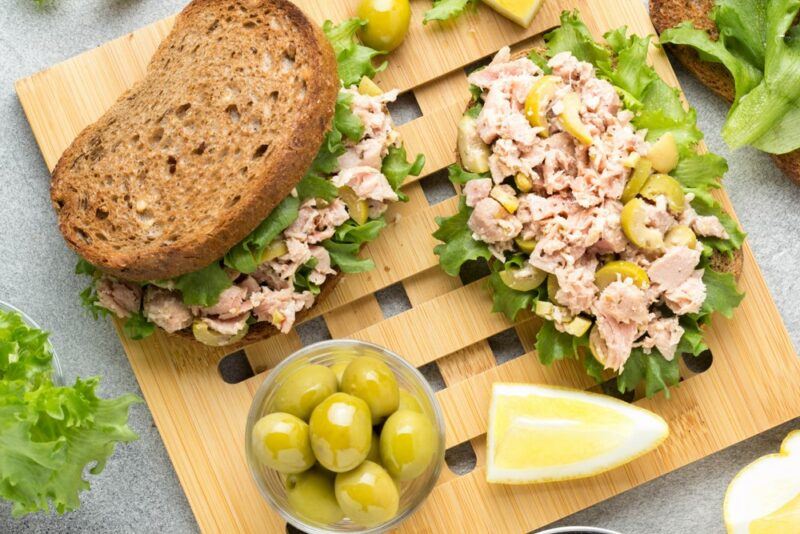 Your ideal tuna consumption is influenced by various factors, like your age, whether you're pregnant, and even your weight. The type of tuna you're eating matters too.
A good general rule is to have tuna no more than twice a week and to have a few days between each time you eat tuna. This pattern helps you avoid any serious problems.
Watching your tuna intake like this really is essential, as the dangers of too much mercury aren't to be taken lightly.
Can Pregnant Women Eat Tuna?
Pregnant women need to be much more cautious with their fish consumption, as the fetus is highly sensitive to mercury. This often means avoiding tuna entirely and focusing on lower mercury fish.
However, you may still be able to eat small amounts of tuna, particularly if you focus on chunk light canned tuna. Pregnant women should always talk to their doctor before eating tuna to work out a safe level of intake.
Young children are sensitive to mercury as well, so it's worth talking to a doctor about their mercury intake as well.
Final Thoughts
Tuna is a rich source of omega 3 fatty acids, while also providing plenty of nutrients and protein at the same time.
Even so, the high mercury content means that you need to be ultra-cautious. This might mean that you only have tuna once or twice a week and focus on canned tuna rather than the fresh fish.
Or. you could just skip tuna entirely.
Why not focus on different types of fish instead, like sardines and salmon? Those are both rich in omega 3 fatty acids, just like tuna, but their mercury content is much lower.
Frequently Asked Questions
Is Tuna Good For Weight Loss?
Fish is often fantastic for weight loss, as it's filling and the calorie content isn't too bad. Canned tuna has the advantage of also being very convenient. It's a simple way to increase the protein content of your meal and stave off any cravings.
Is It Bad To Eat Tuna Every Day?
Despite the benefits of fish, it's not something you should eat daily. Doing so increases your mercury intake too much and can be dangerous. This is particularly true for tuna, as some types of tuna are high in mercury.
If you're healthy and stick to canned light tuna, then having it three or four times a week should be fine. If you want to eat tuna every day, then you'll need to keep your portion sizes very small and keep an eye out for any problematic side effects.
Can You Eat Raw Tuna?
Tuna is often served raw as part of sushi or sashimi. Doing so is fairly safe, as long as you take the right precautions. This includes paying close attention to where the tuna is from and how it is handled.
Whenever possible, look for sushi or sashimi grade tuna. Companies that use these grades should be taking extra precautions with their tuna to keep it as safe as possible.
Is Canned Tuna Cooked?
Canned tuna is always cooked and can be eaten straight from the can. In fact, it's often cooked twice, so you can be confident that it is safe.
How Long Does Canned Tuna Last?
If the can is sealed and undamaged then the tuna can last anywhere from three to five years (which is seriously impressive!). The tuna may even be safe for quite some time after its expiration date.
However, once it's open, your tuna will only last a day or two. Thankfully the cans are small enough for you to finish them in one go, so the short shelf life isn't a huge issue.