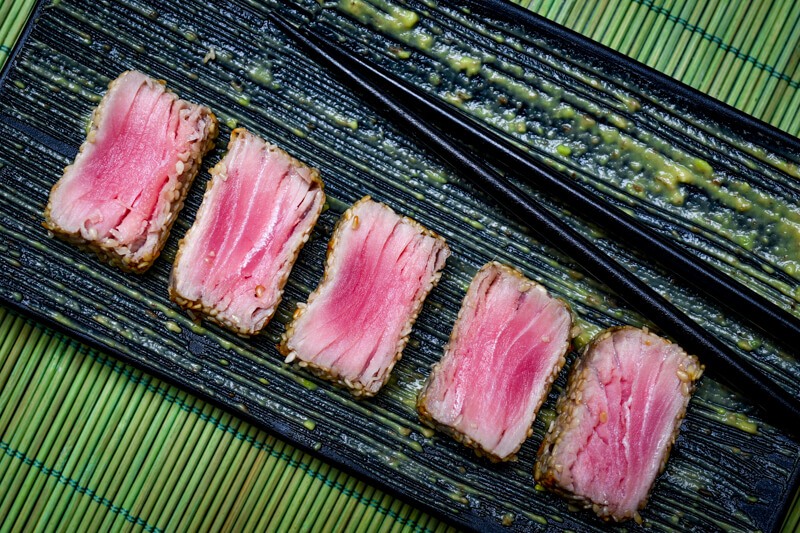 Sesame-Crusted Tuna with Avocado-Wasabi Puree
Speed - 100%
Simplicity - 100%
Tastiness - 97%
Perfectly raw tuna with a crispy sesame seed crust. The rich avocado puree with that spike of wasabi went really well with the fish.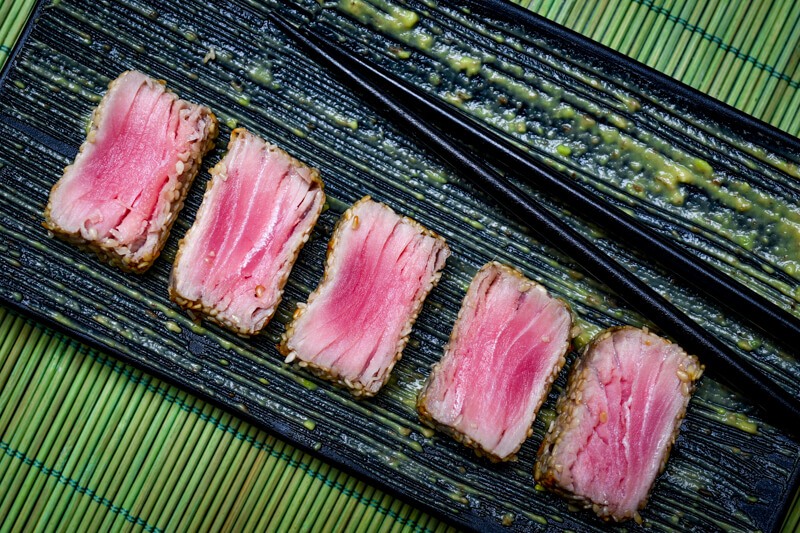 Ingredients
250

Grams

Saku Bar

1/4

Cup

Sesame Seeds

1

Piece

Avocado

1-2

Tablespoons

Wasabi Paste

1/4

Cup

Coconut Cream

Salt

to taste

Ground White Pepper

to taste
Instructions
Season the tuna with salt and white pepper.

Roll the tuna in sesame seeds.

Heat olive oil in a skillet.

Sear tuna for about 30 seconds per side.

Combine avocado, coconut cream, and wasabi paste in a food processor. Pulse until smooth. Season with salt and pepper if desired.

Slice the tuna and serve over avocado-wasabi puree.
I do love tuna sashimi and would prefer it any day over any cooked preparation. I just find well-done tuna too dry for my taste. But to be honest, I do get those seldom moods of taking my tuna for some interesting spin. We're doing exactly that in this recipe, while keeping our fish still mostly in its raw state.
Let's begin by seasoning the tuna and rolling it in some sort of crust. It was plain and simple salt and pepper for this recipe, though I really won't keep you from getting all out fancy. Curry powder, togarashi, garlic salt. . . rub on any flavor that you wish.
As for the crust, I simply scattered a good amount of sesame seeds onto a plate. Again, let your creativity get to work. Roll your tuna in practically any ingredient you wish – chopped dill, lime zest, Sichuan peppercorns. . . you have full control of the flavor profile. Tuna has a rather neutral flavor that would work well with most herbs and spices.
On top of flavor, also consider texture. Toasted coconut shavings, panko, bacon bits. . . no idea would be bad.

Leave the crusted tuna in the chiller while we work on the puree. This is a very simple mix of fully ripe avocados, wasabi paste, and a bit of coconut cream.
I personally don't like avocados that much. This puree would be an exception. The sting of wasabi and nutty flavor of coconut cream just perfectly cuts down the richness of avocado that I personally find too overwhelming.
Pulse everything in a food processor until smooth. Taste, and adjust the flavors to your preference. More wasabi(as I always do), more coconut cream, salt, pepper.
Some chopped jalapeños could work too, as some chopped cilantro, lemon zest, or grated ginger. Just keep the flavors fresh.

Get some olive oil smoking hot in a skillet and sear the tuna all the way around on all four sides. Pay attention as this will be quick. Fifteen to thirty seconds would be enough to sear each side of your fish. Longer and you could easily cook it all the way to its core. What we're after is an even white ring of seared meat around a perfectly raw center.
Then take the tuna out of the pan, quickly wrap it in cling film, and leave it for a few minutes in the freezer. This should keep any residual heat from cooking the tuna past our desired point.

Finally, slice your saku bar as you would for sashimi and enjoy it with that wasabi-spiked avocado puree.