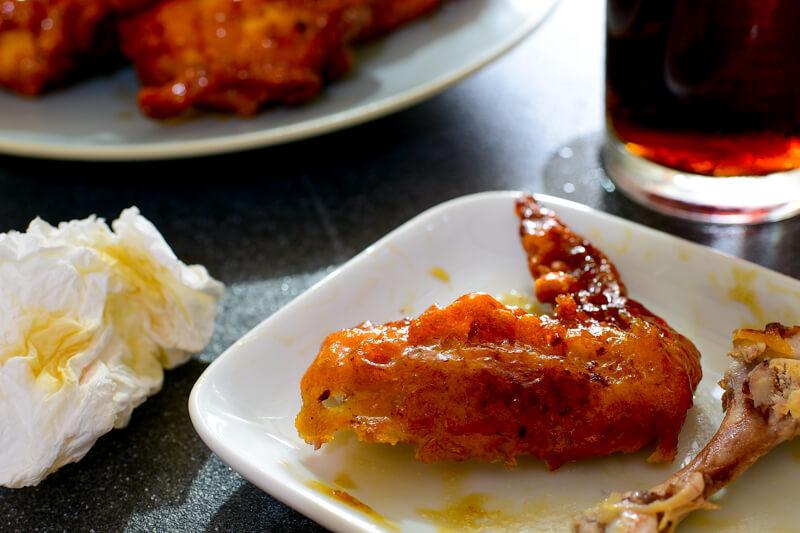 Plum-Glazed Sri Racha Wings
Speed - 97%
Simplicity - 100%
Tastiness - 99%
I can't have enough of these wings. Sweet, spicy, tangy, juicy, and crisp. . . it simply ticks all those boxes.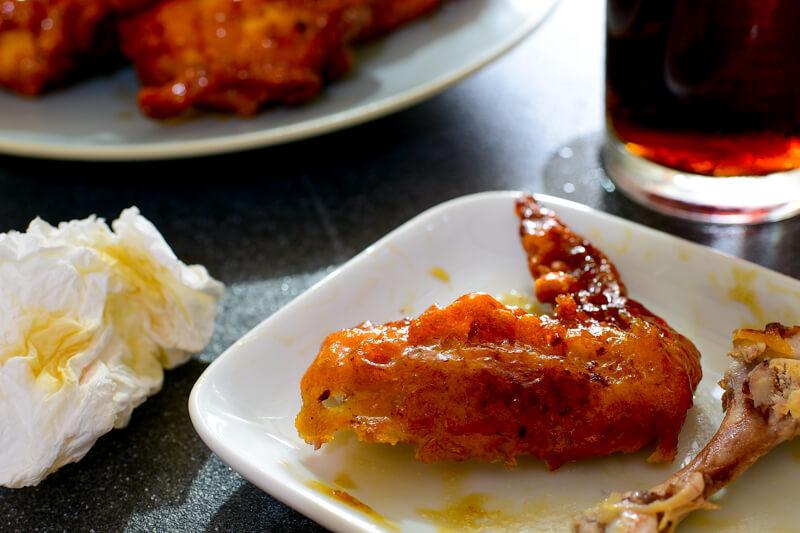 Ingredients
1

Kilogram

Chicken Wings

1/4

Cup

Sri Racha

Salt

to taste

Pepper

to taste

1/2

Cup

Plum Sauce

1

Teaspoon

Grated Ginger

2

Tablespoons

Soy Sauce

1

Piece

Egg

1/4

Cup

Cornstarch
Instructions
Marinate the chicken wings in Sri Racha, salt, and pepper overnight.

Coat the wings in egg and cornstarch.

Deep fry the chicken wings for 8-10 minutes.

Meanwhile, whisk together the plum sauce, soy sauce, and ginger in a bowl.

Toss the cooked chicken wings in the plum glaze.
Related Recipe: Crispy Baked Lemon Pepper Wings
Had too much of those chicken wings, baked or fried, and smothered with some kind of sticky glaze? With the countless recipes that came with the rising popularity of this dish, I wouldn't at all be surprised if you choose to skip what I'm trying to share here. Well, if you've come to read at least to this point, chances are, I can still persuade you into giving this a shot.
These chicken wings get a base layer of flavor from an overnight marinade in Sri Racha, salt, and pepper. That slightly tangy, peppery, and spicy flavor of this Asian condiment surprisingly works well as a marinade in case you may haven't tried yet.

From here, you have the choice of either baking or frying your chicken. Let's get on with a fried version.
Crack a whole egg directly into the bowl of marinated chicken and mix in a small handful of cornstarch. Why not flour?
First, flour would brown faster and darker than cornstarch during frying. This property combined with the considerable stain given by the Sri Racha in the marinade would cause your chicken wings to end up darker than what most of us would consider appetizing.
Second, cornstarch would yield a more crisp crust, actually more close to being brittle. This coating would hold up to the final glaze better compared to a crust made with flour which would most likely end up soggy.

Heat a good amount of vegetable oil in a pot, enough for deep frying those wings. Be sure to get your oil heated to somewhere in between 350F and 375F before getting those wings in. Lower than that and you'll surely end up with grease-soaked chicken; and obviously, they'll burn if you go beyond the range.
Avoid overcrowding your fryer too, working in batches if you must, to keep your oil within the stated temperature range.
Chicken wings, being relatively small parts, would need only about six to eight minutes in the fryer. Beyond that, they'll start to dry up and turn tough.

While your wings are frying, whisk up some store-bought plum sauce, soy sauce, and some grated ginger. The sweetness from the plum sauce would perfectly balance out that bite from the Sri Racha, while the grated ginger should freshen up those flavors.
Prepared plum sauce is a condiment common to Chinese cooking, and should be easily found in the Asian section of most supermarkets.

Once the wings are done frying, drain off any excess oil through a mesh strainer and toss them thoroughly in the plum glaze you've just prepared.

These plum-glazed Sri Racha wings are good to serve. Sprinkling some sesame seeds or some chopped spring onions before serving would be good for extra presentation points.

Notice how the outer crust remained brittle even after a thorough soak in that glaze.