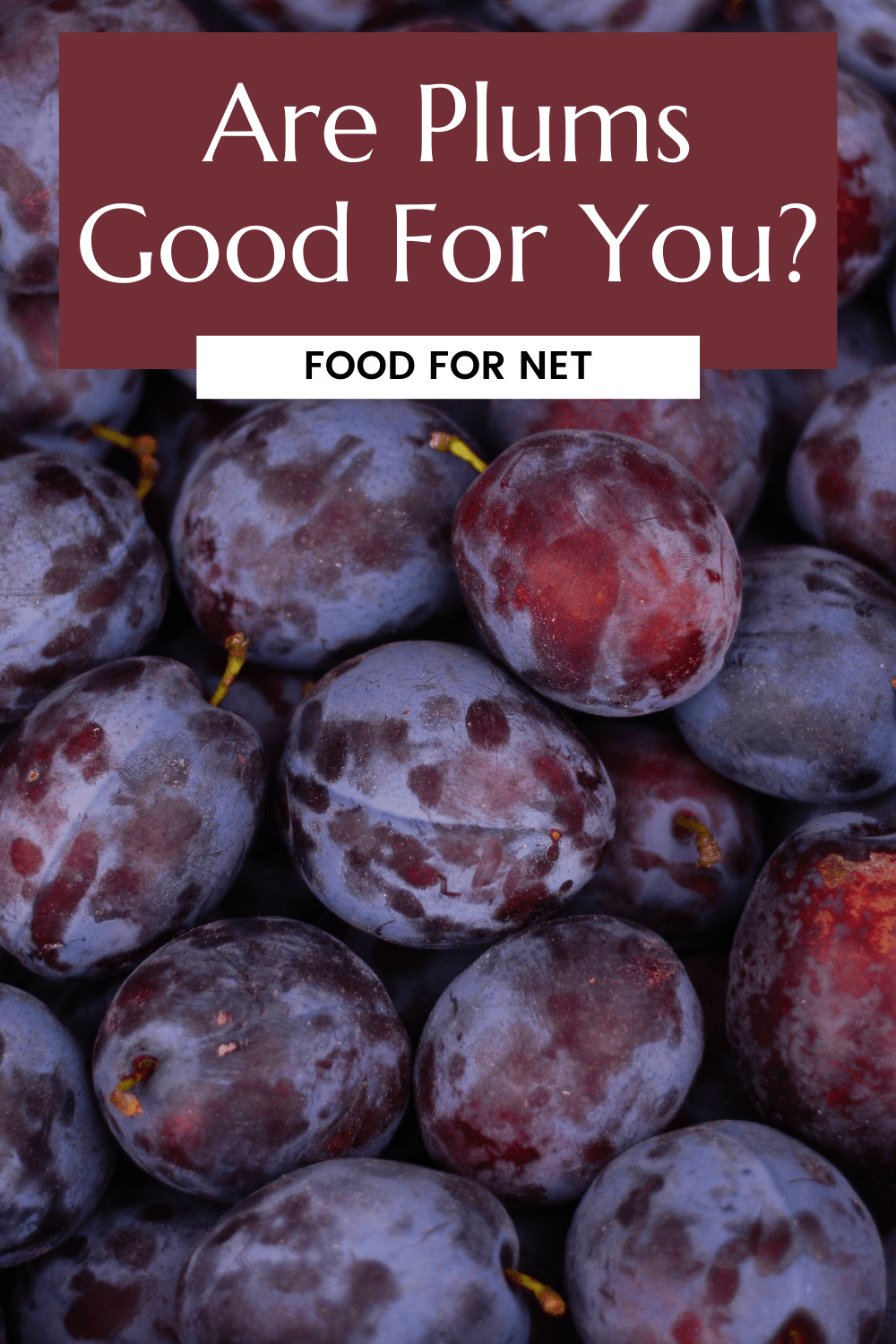 Plums have an incredible history, as they're thought to be one of the first fruits domesticated by humans. Not only that but plums are now grown throughout the world, with China and Romania being some of the biggest producers. Some species of plums are dried and used to make prunes, while others are eaten fresh instead. So are plums good for you?
We all know that getting plenty of fresh fruit and vegetables is critical for staying healthy. However, fruits aren't all the same.
Some types are much healthier than others. Take bananas as an example. While they're delicious and can be good for you, they're also very high in sugar when fully ripe. Other types are much less debatable, like pomegranates and goji berries, which are almost universally seen as being very powerful.
So, where do plums fall? Are plums good for you or are there better choices out there?
Are Plums Good For You?
Plum Nutrition
Benefits Of Plums
How Plums Could Be Harmful
Do Plums Help With Constipation
How Do You Use Plums?
Can You Freeze Plums?
Final Thoughts
Plum Nutrition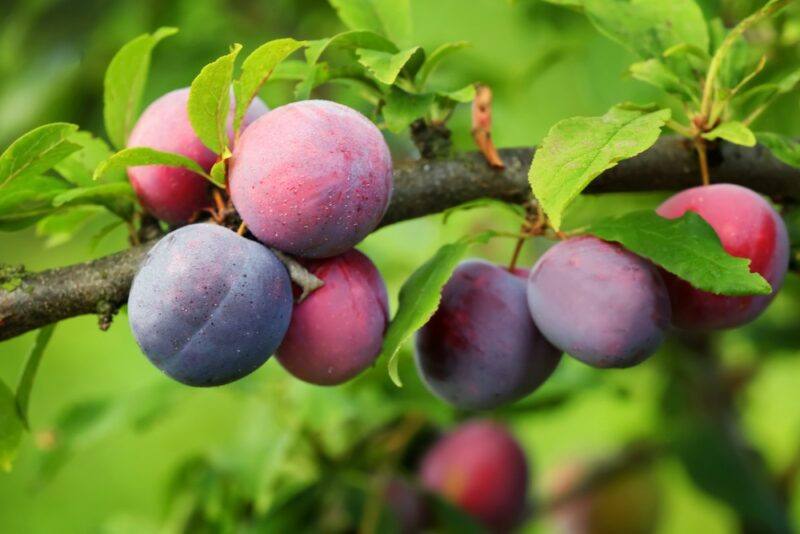 One of the first things to mention about plums is that there are lots of types. The differences between them aren't small either. Instead, you'll often find yellow, red, and deep purple plums, some with light colored flesh and others with darker flesh instead. There are more unusual varieties out there too, including fully ripe green European plums.
There are differences in flavor too, with some types being sweet, while others have a sour quality to them.
While all types of fruit vary somewhat, the amount of variation between plum types is simply staggering.
The nutrients and antioxidants do vary from one type of plum to the next as well. However, these differences aren't too dramatic, so we can generalize a little when we talk about plum benefits. So, for a cup of sliced plums (regardless of the type), you're looking at roughly this nutritional profile:
Calories: 75.9
Carbohydrates: 18.8 grams
Fiber: 2.3 grams
Sugars: 16.4 grams
Fat: 0.5 grams
Protein: 1.2 grams
Vitamin C: 26% of your daily value (DV)
Vitamin K: 13% DV
Vitamin A: 11% DV
Potassium 7% DV
Other relevant nutrients include magnesium, manganese, phosphorous, niacin, and magnesium.
The balance of macronutrients is about what you'd expect for fresh fruit. So, there's some fiber and a decent amount of sugar, along with relatively little fat or protein. The fiber helps to balance out some of that sugar, reducing the effect on your blood sugar levels.
Benefits Of Plums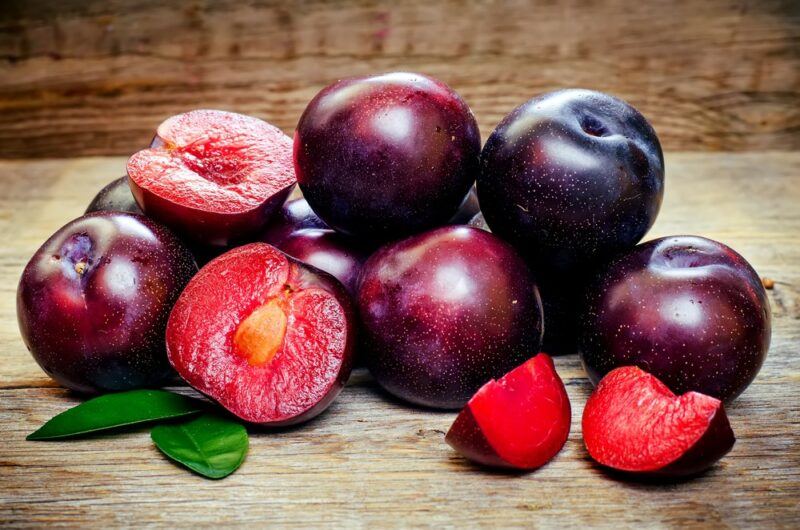 They're Relatively Low In Carbs
While plums do contain carbs and sugar, the amount is relatively low for fruit. In particular, a single plum contains around 6.5 net grams of carbs – and you don't need to have a whole plum in a serving.
This might still sound like a lot of carbs, but you can actually fit plums onto a keto diet. Plenty of people manage to do so.
That being said, there are better choices when you're following keto, including raspberries, strawberries, and blackberries. Whether plums work for you will depend on the carb intake you're trying for and what the rest of your diet looks like.
A Good Source Of Antioxidants
With the bright colors of plums, it's hardly surprising that they're potent sources of antioxidants, more so than nectarines and peaches.
Antioxidants are critical compounds, ones that have many effects in our bodies, starting with decreasing the amount of oxidative damage. That single effect is powerful, as excessive oxidation can increase the risk of many diseases.
More research is needed before we know the best types of antioxidants to promote health and the optimal doses. For the moment though, we do know that antioxidant rich diets help to keep people healthy – and that plums are one way to get these antioxidants.
Many of the antioxidants are found in the skin, so make sure to eat the skin rather than just the flesh.
There's one other thing to think about.
The antioxidant content of plums will vary depending on the type that you choose. In general, plums with purple or red flesh or skin should contain more powerful antioxidants than those that are yellow or orange instead.
This is because that purple and red color comes from anthocyanins, which is a class of pigment molecules. Anthocyanins are strong antioxidants that have been associated with an array of benefits.
Can Help With Blood Sugar Control
Fruit is a little confusing when it comes to blood sugar. Plums contain a decent amount of carbs and sugar, after all, so you'd expect them to spike your blood sugar levels. But, they don't appear to do this.
The fiber is partly responsible, as this slows down any blood sugar effect. Plums can also increase levels of a hormone called adiponectin, which helps with blood sugar regulation.
Even more surprisingly, eating fruit like plums regularly might decrease your risk of type 2 diabetes, rather than increase it. To get this effect though, you'll need to pay attention to your portion sizes. Plums are still a decent source of calories and sugar, so they can lead to weight gain if you consume too many.
Also, this positive blood sugar effect is specifically associated with fresh fruit. You won't necessarily see it with plum juice (or prune juice) or with products like plum jelly.
A Low Calorie Snack
Why turn to sugary and processed snacks, when you can enjoy a fresh plum instead? Plums have much less sugar than many processed alternatives and are an excellent source of fiber as well.
Plus, you're only looking at roughly 30 calories in a single plum. This is low enough to work for most diets. The fiber in plums is useful too, as this can help to sate your appetite, making it easier to get to the next meal.
How Plums Could Be Harmful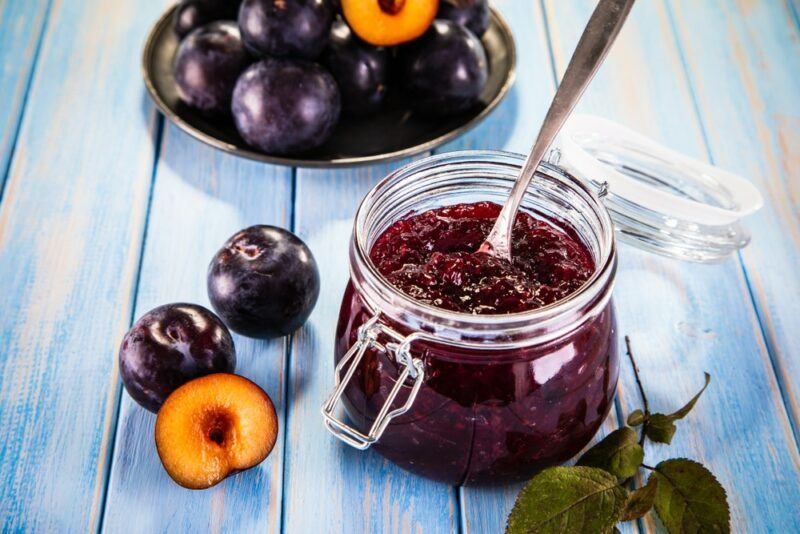 They're High In FODMAPs
If you have irritable bowel syndrome (IBS) or a sensitive digestive system, you've probably heard about FODMAPs before. The acronym refers to a collection of fermentable carbs that can sometimes cause significant side effects.
Focusing on low FODMAP foods can significantly improve IBS symptoms for many people, which unfortunately means you need to avoid plums.
Most fruits with pits, including plums, cherries, apricots, and peaches end up being high in FODMAPs. Low FODMAP options include oranges, kiwis, pineapple, and strawberries.
However, this is an area to experiment with for yourself. There's a variety of different FODMAPs and the carbs are found in different combinations in food. People respond to individual FODMAPs and foods differently. You might be able to eat some high FODMAP foods without an issue, but not others.
Pesticide Contamination
If you're buying non-organic produce, there's always the risk that it is contaminated with pesticides. This is hardly the most appealing idea. After all, pesticides are used to keep bugs off crops, they're hardly something that we want to be eating.
Thankfully, the pesticide levels on plums aren't extremely high. Plums don't make it onto the EWG's Clean 15 list, but they're not in the Dirty Dozen either.
You have more to worry about with strawberries, pears, and cherries than you do with plums.
Even so, pesticide residues are never going to improve your health. It's much better to do without them if you can. Organic plums are the safest option for doing so. You can also look for locally grown plums where you know that pesticides haven't been used, like plums sold at a local farmer's market or grown in your neighbor's garden.
Do Plums Help With Constipation?
Prunes and prune juice have a well-established reputation as being effective for relieving constipation, due to their combination of fiber and sorbitol. However, fresh plums don't share this reputation at all.
This may be partly because fresh plums contain less fiber per serving than prunes do. For example, 100 grams of plums provide you with around 1.4 grams of fiber, while 100 grams of prunes give you 7.1 grams of fiber instead.
Prunes and prune juice may also be higher in sorbitol than fresh plums. The other aspect is simply practicality. You'd need to eat a decent number of fresh plums to see a laxative effect, which isn't that easy to do. Prunes and prune juice, on the other hand, are much easier to consume.
That said, some people do find a laxative effect from plums (we're all different, after all). You could always experiment to find out whether this is the case for you.
How Do You Use Plums?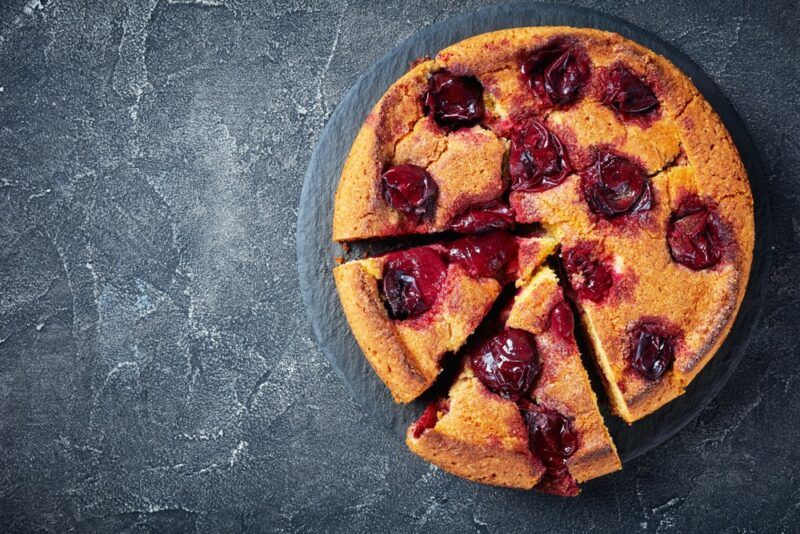 Plums are delicious when eaten fresh, ideally straight from the tree. However, this is far from their only use.
Grilled plums are a perfect alternative. Making these is as simple as lightly grilling slices of plum until they start to blacken. This gives you a sweet treat with an unexpected crunch.
Caramelized plums is another amazing approach. These can be made by cooking the plums over low heat with a little sweetener (honey works well). You end up with a delicious sweet sauce that is perfect on its own or over ice cream.
Don't forget about baking either. Plenty of recipes use plums as an ingredient, including plum tart and plum cake. Many of these can be made with multiple types of plums, giving you a fantastic balance of flavors.
Can You Freeze Plums?
If you have fresh plums and aren't sure what to do with them, why not freeze them for later? Plums freeze surprisingly well. You don't even need to cook them first. In fact, whole plums can last roughly 6 months in the freezer.
It is, however, helpful to wash your plums, cut them into wedges, and remove the pits. Doing so helps them to freeze evenly. Plus, frozen plum wedges are much easier to use than a whole fruit with the stone still in place.
If you want your plums to last longer than that, try stewing them first. Doing so roughly doubles their freezer life.
Final Thoughts
Plums are a fantastic type of fruit. There are plenty of different varieties to choose from, all of which provide plenty of antioxidants, along with some fiber and nutrients.
Plus, plums are an easy snack, one that's unprocessed, low in calories, and can be enjoyed on the go.
The biggest problem is the FODMAPs, particularly the sorbitol in plums. While that sorbitol can be helpful, it also causes problems for people with irritable bowel syndrome or sensitive digestion. You'll need to experiment for yourself to see whether plums give you any significant side effects. Thankfully though, most people should be able to eat plums without a problem.
Frequently Asked Questions
Can You Eat The Skin Of A Plum?
Yes. Plum skins are both edible and delicious. They're also a source of antioxidants and fiber.
Of course, the skins aren't essential. If you don't like them or find them difficult to digest, you might choose to remove them first.
For raw plums, the best way to do this is to soak your plums in boiling water for 15 seconds or so, then give them a cold water bath. The contrast of hot to cold makes loosens the skin, making it much easier to remove.
Are Plums Keto Friendly?
A medium plum contains roughly 7.5 grams of carbs and 1 gram of fiber. This doesn't sound like much, but plums are also small, so they end up containing a decent number of carbs per 100 grams.
You could still include plums on keto if you were cautious about your serving sizes. Still, they're hardly ideal, especially as there are lower carb fruits like berries that you can enjoy instead.
Are Plums Good For Diabetics?
Fruit tends to be exceptional for diabetics, as the fiber and antioxidants provide important benefits. Plums are particularly good as they have a fairly low glycemic index (GI), which reduces the risk of a blood sugar spike.
Are Plums Acidic?
Plums are certainly acidic, although the reported pH varies all the way from 2.8 to 6.5 depending on who you ask and the variety of plum being considered. Many people can eat acidic fruit like this without a problem. But, if you're sensitive to acid reflux, you may want to give them a miss.
Are Plums Good For Weight Loss?
It's easy to avoid plums and other fruits when you're trying to lose weight. Yet, fruit often helps you more than you might think, particularly because of the fiber and antioxidants. Fresh fruit is also surprisingly filling, so it's easier to keep your portions in check with fruit compared to processed treats.