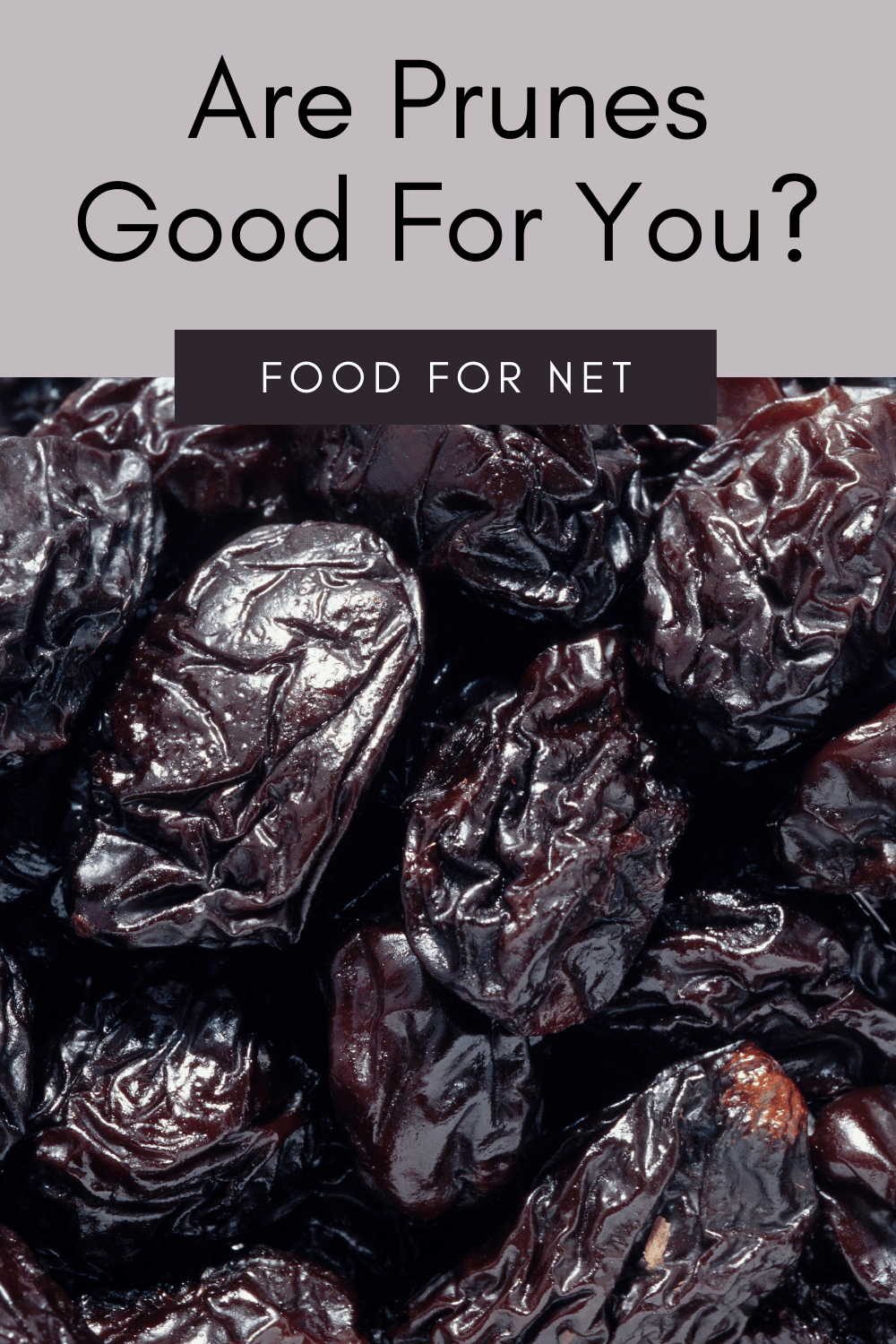 Prunes don't sound very exciting, do they? Along with prune juice, they're often seen as a way to relieve constipation and little else. That reputation was so solidly fixed that plum growers petitioned to use the term dried plums instead, with the idea that changing the name might break the negative association.
Such a name change isn't surprising, given that prunes are technically dried plums anyway. Still, regardless of the name that's used, the health implications of prunes are much the same. So then, are prunes good for you?
Well, they could be, as prunes do have many benefits (beyond helping with constipation). Still, there are some risks to consider too, which influence how regularly you can eat prunes.
Are Prunes Good For You?
An Introduction To Prunes
Benefits Of Prunes
How Prunes Could Be Harmful
Prunes Versus Prune Juice For Constipation
Are Prunes Healthier Than Raisins?
Final Thoughts
An Introduction To Prunes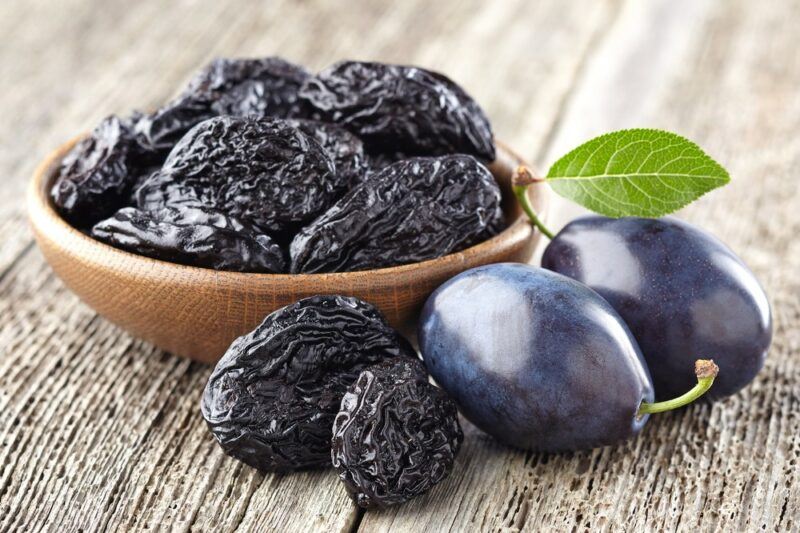 Prunes are simply dried plums. They're often made from the European plum, which has the scientific name Prunus domestica. This species works well for plum production, as the plum has firm flesh and a high amount of soluble solids.
Other varieties of prunes can be used to create plums as well, leading to minor nutritional differences between prunes. In general though, the nutritional profile for an ounce of prunes looks like this:
Calories: 67
Carbohydrates: 17.9 grams
Fiber: 2 grams
Sugars: 10.7 grams
Protein: 0.6 grams
Fat: 0.1 grams
Vitamin K: 21% of daily intake
Potassium: 6% of daily intake
There are also smaller amounts of other nutrients, like vitamin A, vitamin B3, copper, manganese, and magnesium. While the amounts are small, they are still relevant. After all, prunes themselves are just one tiny part of your diet.
Benefits Of Prunes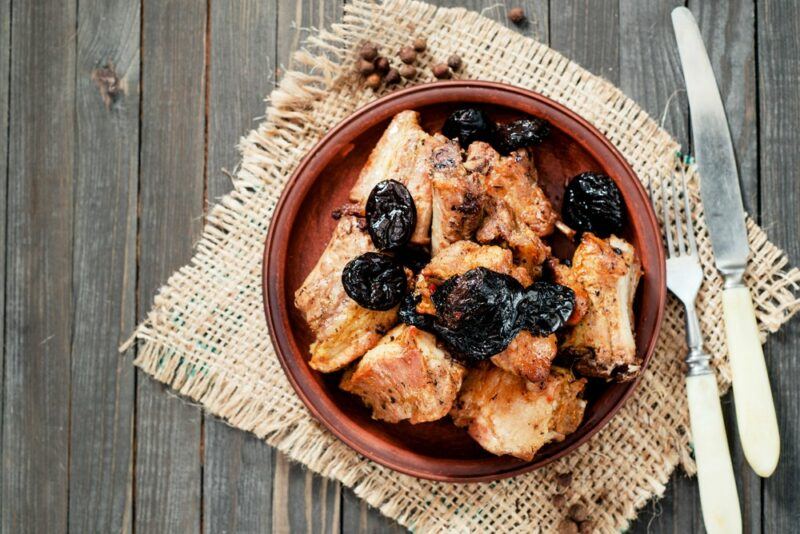 They Have A Laxative Effect
Let's get this one out of the way first. Prunes do have a laxative-like effect, one that can be surprisingly strong. This effect partly comes from the fiber in prunes. In fact, a cup of pitted prunes gives you close to half of the fiber that you need per day. Pretty impressive, right?
Fiber reduces constipation because it bulks out and softens your stools. That combination of features makes it easier for the stools to move through your digestive system, getting things moving again.
Prunes also contain a decent amount of sorbitol. This is a sugar alcohol that is sometimes used in laxative medications because it draws up water to provide extra bulk for your stool.
The combination of sorbitol and fiber makes prunes more powerful than most other fiber rich foods. You do get some sorbitol and fiber in fresh plums too, but at a lower concentration.
May Promote Weight Loss
Prunes can be helpful for weight loss too, due to their fiber content. The fiber helps you to feel full, so you're less likely to crave sugary snacks.
This effect makes it easier to keep your calorie intake in check. You'll still need to avoid excess calories, of course, but doing so is easier when you're not hungry and don't have strong sugar cravings.
Importantly though, it's the fiber in prunes that is relevant to weight loss not the laxative effect. Using laxatives for weight loss is never a good idea. Doing so can cause significant harm and won't help your weight loss journey anyway.
Also remember that prunes do still contain a decent amount of sugar. They'll only help with weight loss if you take this sugar content into account. If you snack on them like candy, then they're not going to help much at all.
Can Improve Heart Health
Prunes are often associated with improvements to heart disease risk factors, like decreasing blood pressure and cholesterol levels. The fiber is likely to be a key reason for this effect, as research consistently links fiber to decreased heart disease risk.
They Might Improve Bone Health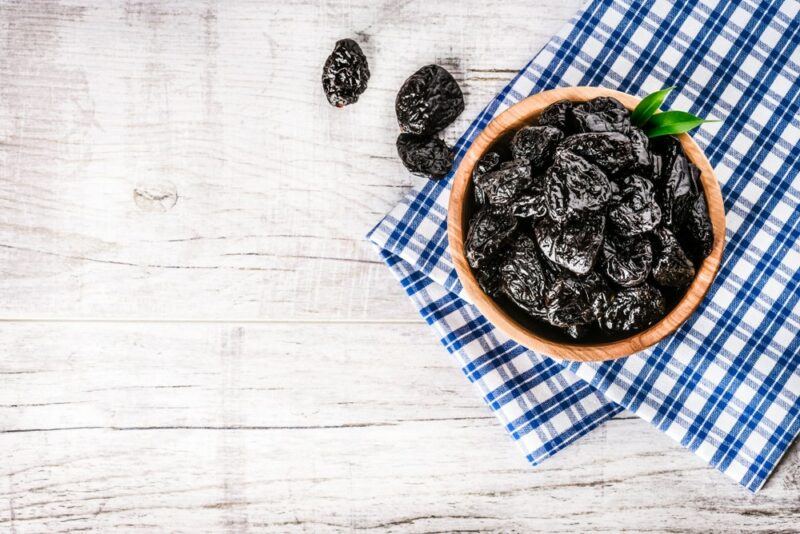 This is a surprising effect, but it's one that's starting to be shown with research. Basically, there's some evidence that prunes help to prevent bone loss. They might even be able to reverse it in some situations.
Exactly why this is the case isn't clear. Perhaps the effect comes from the various vitamins and minerals in prunes, along with the antioxidants.
More research is still needed, as is often the case. Still, even in these early days, it's clear that prunes have the potential to help with your bones and aren't likely to cause significant harm.
They're Practical
Another benefit of prunes is simply that they're a practical ingredient. They've been dried, after all, so they're going to last a decent amount of time (versus fresh plums, which have a relatively short shelf life). You can easily cut prunesup and use them as ingredients in a salad or even in a smoothie. Or, how about trying prune chutney?
How Prunes Could Be Harmful
The Amount Of Sugar
Like all dried fruits, prunes are pretty high in sugar. An ounce of prunes, for example, contains 2 grams of fiber and almost 11 grams of sugar. Not surprisingly this sugar content adds up fast.
We are talking about sugar from a whole fruit, so 11 grams of sugar here isn't nearly as bad as 11 grams of sugar in a candy bar. Even so, sugar from fruit can still cause harm, especially if you're consuming a large amount.
In particular, sugar can increase your risk of diabetes and obesity, can increase inflammation, and may raise the risk of inflammation-related diseases. You could easily see this effect from prunes if you're eating a lot of them or if your diet is high in sugar.
Look at it this way… dried fruit is often referred to as nature's candy. It's more nutritious than candy, true, but we're still talking about a sweet treat that you can easily consume too much of.
A High FODMAP Food
FODMAPs are an area of concern for people with irritable bowel syndrome (IBS) or anyone who has a sensitive stomach. The problem is that FODMAP compounds can ferment in our digestive system, causing gas, discomfort, and even pain.
Most people can eat high FODMAP foods without any problems at all. However, if you are sensitive, then you might need to be careful about the foods you eat.
Prunes and plums, unfortunately, fall onto the high FODMAP list. The same is true for other pit-containing fruits as well, like cherries and apricots. The big problem here is the sorbitol in prunes, which can easily trigger digestive side effects.
Thankfully though, people vary in their sensitivities. You might find that you need to avoid some high FODMAP foods entirely, while others, like prunes perhaps, are safe in small doses. The only way to figure this out is to experiment, as each person is unique.
Side Effects From The Fiber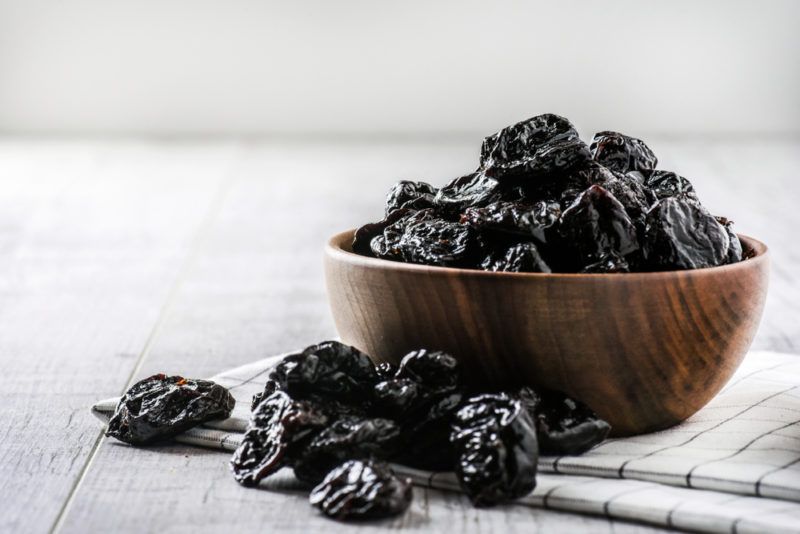 While prunes are well-tolerated, some people do experience side effects, mostly due to the fiber.
Honestly, fiber is a little strange like this. Despite the importance of the macronutrient, our bodies need time to adjust to it.
Increase your fiber intake too much or too suddenly and you're likely to see side effects like bloating, stomach cramps, and diarrhea. And, if you consume too much fiber and not enough water, you might end up getting constipated instead.
Thankfully, these side effects go away as your body adjusts to the fiber. You can also minimize the side effects by increasing your fiber intake slowly and drinking plenty of water as you go.
Not Wise If You Have Diarrhea
Prunes are excellent for fighting constipation and keeping you regular. But, if you're experiencing diarrhea, then prunes are likely to just make your symptoms much worse.
Sticking with bland foods, like white rice, and drinking plenty of water is often more powerful for treating diarrhea. The water is essential, as diarrhea can easily lead to dehydration.
Also, eating too many prunes can easily give you diarrhea. To avoid this, it's best to stick with a relatively small serving of prunes – no more than half a cup per day.
Prunes Versus Prune Juice For Constipation
Prune juice is famous as a natural way to relieve constipation, one that's often just as effective and much safer than laxatives. The same is true for prunes, so which often is better?
Well, whole fruit is generally seen as healthier than fruit juice. Not only is fruit less processed than fruit juice, but it also contains much more fiber. That fiber is an important part of fighting constipation, making prunes much more powerful than prune juice.
Prunes also contain more sorbitol per serving than prune juice, which adds to their power.
That said, prune juice does have one advantage – the water content. Getting enough water is essential for healthy bowel movements too, especially if you're increasing your fiber intake.
The most powerful approach then is to eat whole prunes and drink water. Alternatively, look for prune juice with pulp. This will still provide you with some fiber and should be more effective than prune juice without fiber.
You can also experiment for yourself. While prunes should be more powerful than prune juice, some people find that only the juice helps with their constipation.
Are Prunes Healthier Than Raisins?
Prunes and raisins are both dried fruits. The biggest difference is simply that raisins are made from grapes, so they tend to be smaller, while prunes are made from plums instead. Both types of dried fruit provide you with plenty of nutrients and antioxidants.
However, prunes do tend to be the healthier choice out of the time, as they contain less sugar per serving than raisins. This is an important difference, as you don't want to overdo it with sugar.
Final Thoughts
Prunes have considerable benefits. They're excellent for promoting good bowel health and are the perfect first stop for combating constipation. Prunes are also safe and most people tolerate them well (unless you're sensitive to FODMAPs).
We can't forget about the various nutrients too, along with all the antioxidants.
The biggest issue is the sugar content. Dried fruit is always a concentrated source of sugar, to the extent that it's a little like candy. The sugar content means that you must be cautious with the amount that you eat. In particular, a serving of no more than 6 prunes is probably about right for most people. Even this contains more than 20 grams of sugar, so you might need to stick to just a few prunes at a time.
Frequently Asked Questions
How Many Prunes Should I Eat For Constipation?
Some recommendations suggest having anywhere from 5 to 10 prunes at a time. This should be enough to move your bowels, without forcing you to sprint for the bathroom.
However, it's important to be cautious. Don't keep going with prunes just because the first set doesn't seem to work. Consuming too many can make your bowel movements torturous. Seriously, some people end up screaming in pain.
Also, if your diet is low in fiber or you don't eat prunes often, start with a smaller amount – like 2 or 3 prunes per day. This gives your body time to adjust, as too much fiber too quickly isn't fun at all.
How Long Does It Take For Prunes To Work?
Prunes aren't normally immediately effective, as it takes time for them to work through your system. You're often looking at between 6 and 12 hours between ingestion and a successful bowel movement. Sometimes it may take up to 24 hours.
If you're not constipated, then you may need to eat small amounts of prunes each day for a week or more before you start to see benefits to your digestion and bowel movements.
We can't get any more precise with the time than this, as there are plenty of digestive and dietary differences between us. The effect of prunes, and most other foods, will vary from one person to the next.
Are Prunes Acidic?
Prunes are acidic, with a pH of around 6.0. This isn't unusual, as most other dried fruits are acidic as well.
However, a pH of 6.0 is only slightly acidic, many other fruits are more acidic. And, if you're concerned about acidity, it's more important to be cautious with processed foods and red meat, rather than worrying about prunes.
Do Prunes Need To Be Refrigerated?
No. Dried fruit tends to be self-stable and can often be stored for 6 months or more in the pantry.
You can keep prunes in the fridge if you want to though. Doing so in an airtight container can even extend their shelf-life, while keeping the prunes juicy.
Are Prunes Good For Diabetics?
Prunes are a decent type of dried fruit for diabetics, as they have a relatively low glycemic index and are filled with fiber. Eating too many may still spike your blood sugar levels, but prunes are less likely to do this than most other dried fruits.