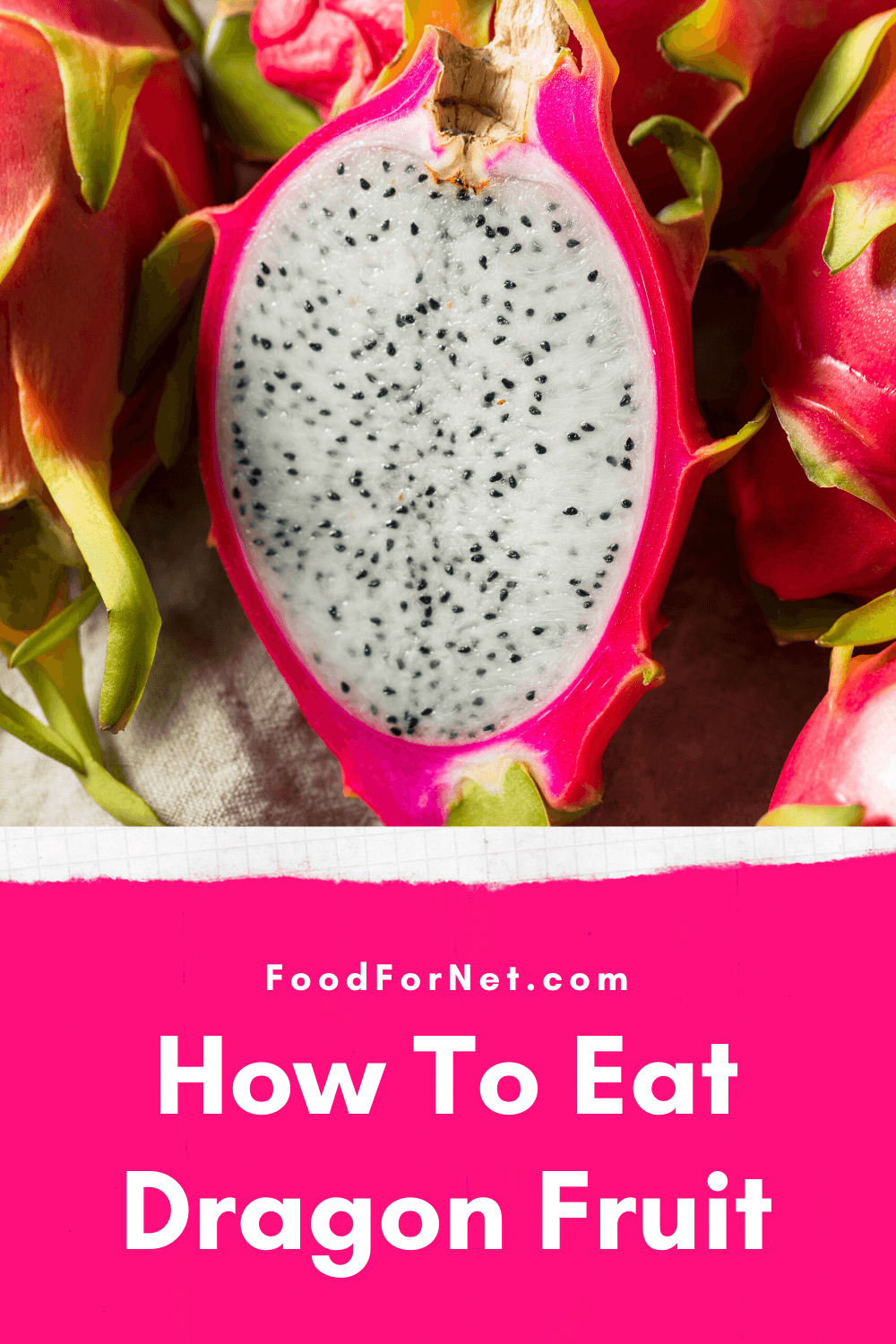 If you're like a lot of people, you probably haven't heard of the exotic dragon fruit until around a few years ago. You might not have even heard of it at all until very recently, too.
Maybe you've only discovered it during one of your trips to the local supermarket. Regardless of how you've found out about the dragon fruit, though, you probably also know that it's not just another sweet treat.
Dragon fruit is a tropical fruit that's native to Central America as well as around Mexico, though it is now grown everywhere, especially in Asia.
You can easily spot a dragon fruit due to its unique shape and color, and despite it having many different appearances based on variety, the most common ones sport a vivid red color to their skin, with green appendages or "scales" surrounding it.
What's made dragon fruit so popular in recent years is its reported health benefits. And this isn't just some trend that blew out of proportion – dragon fruit contains not only essential vitamins and minerals such as Vitamin C and Iron, but it also carries antioxidants that are reported to help against bad cholesterol, heart disease, and even cancer.
But let's say you already knew all that. What now? Well, the only thing left for you to do is buy yourself a few pieces of fruit and eat it. But how exactly do you do that?
I mean, it isn't as easy as peeling a banana or popping a grape in your mouth. Luckily for you, you'll learn the ins and outs of eating this healthy fruit, so you can enjoy both the tastes and the benefits that dragon fruit brings to your health.
And if you love dragon fruit, check out these other exotic fruits you can try to find in your local market or online. There are probably hundreds of fruits out there you haven't heard of, let alone tried!
How To Eat A Dragon Fruit

Now before you go on ahead and slice a piece, you'll need to know the necessary steps in preparing the fruit itself. Like most fruits, you can't just pick any dragon fruit you see in the grocery store and expect it to be good enough. There are good dragon fruits and bad ones too, and you'll need to learn how to tell the difference so that you won't be wasting your money and time preparing it later.
Step 1: Find Yourself Some Dragon Fruit
Now, this step may sound like a no-brainer, but trust me – it's a lot harder than you think. Dragon fruit isn't exactly as popular as, say, oranges or bananas, and not all grocery stores (especially the smaller ones) have them. Luckily for you, the chances of finding one in an Asian or even Central American/Mexican market should be a lot easier, given that these regions grow the fruit the most.
So head down to your local China town or any Asian/Mexican marketplace and look for some yourself. If you're having trouble in a Mexican marketplace, ask for "pitaya"" or "pitahaya" as that's the local name for dragon fruit.
Step 2: Choose Ripe Fruit
Now that you've found the fruit, it's time to pick the best ones from the batch. Don't be too intimidated when you first pick the ripe ones though – it's not that difficult. Like most fruits, you'll want to eat dragon fruit when it's ripe, and you can tell if the fruit is ready to eat by judging both its color and texture.

Ripe dragon fruit has a bright red or pink color to it, so you can tell straight away which ones look promising. All that's left to do now is to give the fruits a little squeeze. If they're a little soft, then the fruit is probably ripe, and you've got yourself a perfectly good dragon fruit you can buy.
Don't buy the fruit if it's TOO soft, though. That fruit's most likely overripe, meaning that it's past its peak eating condition. You can buy ones that aren't soft at all, though – those that are a bit tough aren't ripe yet, but they aren't bad either, so just keep the fruit in your kitchen for a few days and let it ripen on its own.
Finally, check for bruises on the fruit – for obvious reasons. If you've done everything correctly, you should be bringing home some quality dragon fruit for your next meal. Nice.
Step 3 – Cut The Dragon Fruit In Half
Again, this may sound like such a simple step, but keep in mind that there are many fruits (such as mangos) that have a seed that prevents cutting down in the middle, while others (like bananas and some kinds of orange) are best peeled and not sliced. Thankfully, dragon fruit belongs to neither category, and you can slice it up any way you like (though down the middle is obviously the best choice).
Another reason why you're cutting it in half is so that you can easily scoop the soft flesh out of its skin with a spoon. For this reason, you'll want to cut it along its long side, so you cover as much surface area as possible.
Step 4 – Scoop Out the Dragon Fruit
Now it's time for the fun part – grab yourself a spoon and scoop out all the flesh inside that sucker. Try getting as much flesh as possible in a single scoop, digging all the way to just under the fruit's skin – that way, you won't be wasting the little extra flesh attached to the skin, and you won't have to scoop thin layers a second time.
If possible, try scooping an entire side in one go, to get a nice semicircle cut of the flesh. When you're done, you should have a bowl or plate full of juicy, dragon fruit flesh, as well as the skin where the flesh was once found in.
Step 5 -Enjoy!
Now that you've finished all of the necessary preparations, you can now enjoy dragon fruit in any way you want. You can start eating it by itself raw, as it's plenty good on its own – or, you can do a few more preparations and make some tasty snacks and beverages with the flesh.
And this next section will cover just that. Here's a recipe that uses your freshly scooped dragon fruit to get you started. Spoiler alert: it's smoothies.
How to Make Dragon Fruit Smoothies
Tired of eating the dragon fruit? You can make yourself a delicious smoothie made of the stuff instead. Here's how:
Step 1 – Get Some Fruit Ready
Alongside your dragon fruit, prepare some ready-to-blend pieces of fruit that you want in your smoothie. This is based on your personal preference, so feel free to add anything from bananas to even avocados – which are surprisingly fruit, as we discussed in an article you can find here.
Step 2 – Select The Base Of Your Smoothie
Smoothies can be made with many different fruits, and even bases can be different depending on what suits your tastes. You can have the base be non-fat or soy milk, some yogurt, or even nut milk such as almond milk. If you're tight on a budget, water combined with condensed milk and/or sugar should be just fine, though it's best to stick to healthier bases if you can.
Step 3 – Add Some Extra Ingredients
If you're like me and would prefer adding a little extra flavor to the smoothie, then adding some extra ingredients can help out a lot. For those who really want to stick to the healthy aspect of the smoothie, natural sweeteners such as honey or syrup like maple syrup can be great additions to the smoothie. For those on a budget, sugar does the trick just fine – though you probably don't want to add too much of the stuff.
You don't even need pure sweeteners to get the job done – apple juice or grape juice should do just fine. If you're really feeling it, you can add some twists to the smoothie by adding in peanut or almond butter.
Personally, I like the exotic spices in the recipe below:
Step 4 – Throw The Ingredients In A Blender And Blend Away
Now it's time to actually turn your ingredients into a smoothie. Add the different ingredients together and blend them using the "Pulse" or "Smoothie" feature of your blender if they have any, and blend until everything turns into a nice, liquid beverage. Pro tip: blend the toughest fruit along with a little bit of the base first before adding in the other ingredients – that way you can minimize the number of lumps that may remain in the smoothie.
Step 5 – Drink Up!
Unless the ingredients you used were in room temperature (which they shouldn't be), you can now pour yourself a glass of the fruit smoothie and enjoy it by itself or alongside a good meal.
---
Dragon fruit hasn't really seen popularity until recently, but its fame is well-deserved. If you want to board the hype train yourself and try a piece of this fruit, with our help you should be well on your way into becoming a dragon fruit connoisseur – if that's even a thing.
You can even grow your own dragon fruit at home, depending on your climate. I live in a relative warm California area, but it does get cold in Winter. I have two dragon fruit plants, and they have not produced any fruit so far (3 years!), but I'm still hopeful.