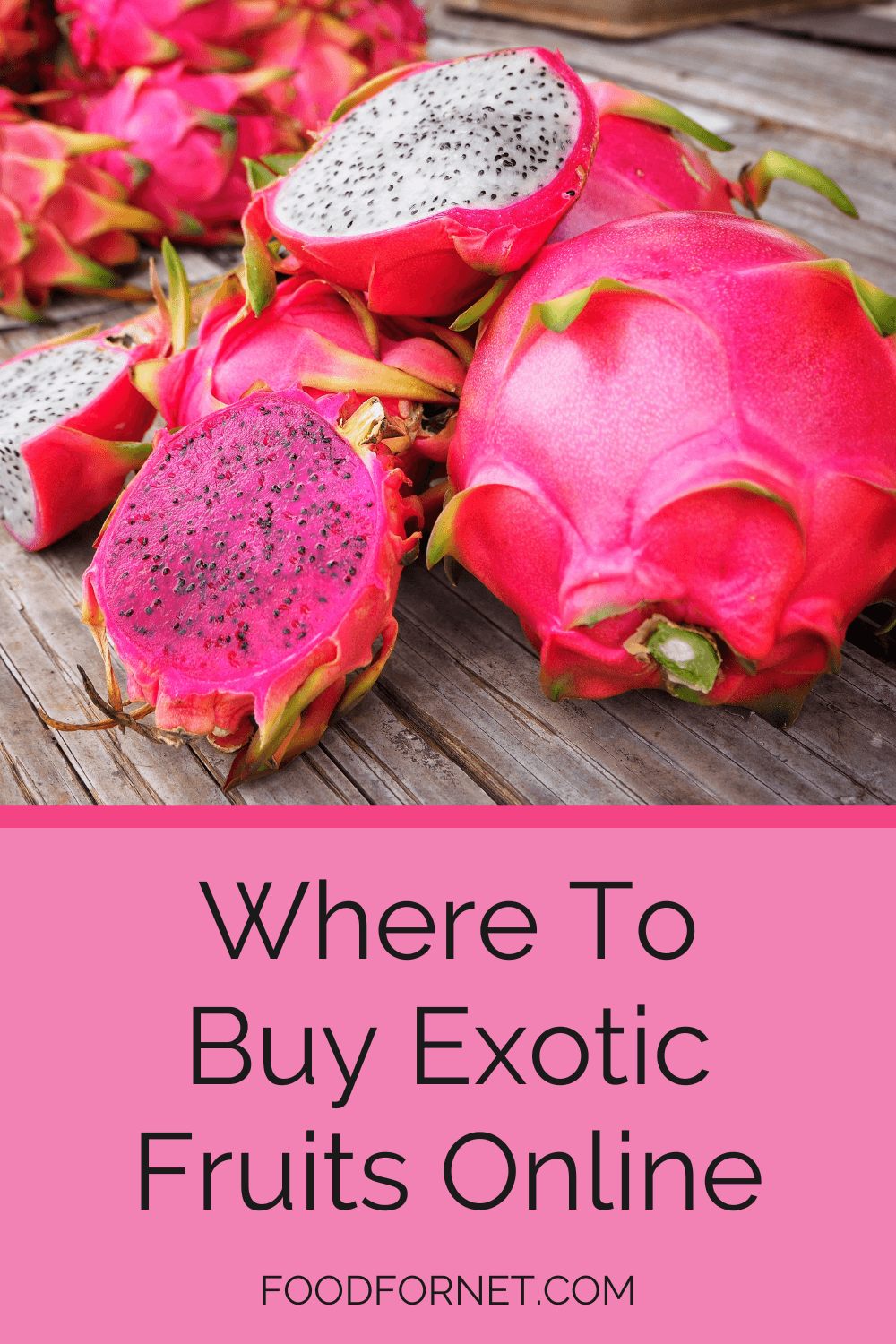 Fruit is always wonderful, providing plenty of nutrients and antioxidants, plus delicious flavors. But, why stick with the same old same old? After all, apples, bananas, and pears get pretty boring after a while – and there's a whole world of exotic fruits out there to choose from. Since the internet is so connected, you can buy exotic fruit online in a lot of cases.
You may have heard of some of these fruits before, like dragon fruit and starfruit, while others may be entirely unfamiliar. So, if you're wanting to buy them yourself, where do you start? You could experiment with local farmer's markets, but most of the time, you'll need to look at where to buy exotic fruit online.
Buying online is important, as these fruits often aren't grown commercially in the United States. Many of them can't handle our climate at all, while others are difficult to grow here.
So, you need to find companies that grow these fruits in their home environment, then carefully ship them to you. However, there's a vast difference in quality between the companies, so you'll need to shop around.
To get you started, this post compares your current options for ordering fruit online. Some of these companies offer exotic fruit boxes, while others focus on individual orders instead.
Places To Buy Exotic Fruit Online
There's one more thing that needs to be said. States vary in their rules about which fruits can be imported and where these can come from. California is particularly stringent, but many other states also don't allow citrus fruit to be imported.
Many companies make substitutions to give you fruit that will pass through local customs. However, this isn't guaranteed. Plus, if your state has strict restrictions, you might not get much variety in your box. It's always worth checking the fine print for your situation, so you know exactly what to expect.
Full Moon Fruits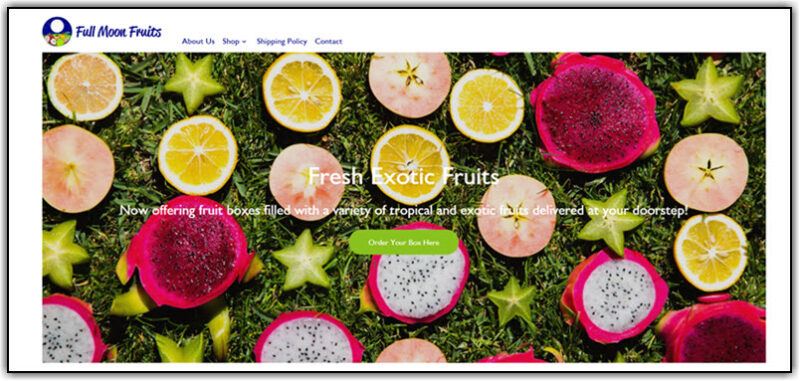 Operating out of Los Angeles, Full Moon Fruits has a strong focus on quality and affordability. They also have some truly exotic fruit in their selection, including rambutan, mangosteen, finger limes, and soursop.
Perhaps the most unusual addition is their pink pineapple (which really is a pineapple with pink flesh). This can be ordered on its own or is guaranteed as part of their pink-themed Love Box.
If you're interested in mixed boxes, there are a few to try. The first is the Love Box, which comes in at $129.99. It can contain items like dragon fruit, star fruit, snow apples, rambutan, and pink zebra lemon, along with more familiar items like passion fruit and blood oranges.
The next step up is their Full Moon Fruit Box. This starts at $149.99 for a 7 to 10 lb. box and increases in price from there. There are plenty of delicious fruits that may be included, but the specific fruits vary based on the season and availability. As such, the exact selection will always be a surprise.
For more reliability, you can turn to their more specific boxes, like a Dragon Fruit Mix Box and their Mangosteen, Lychee, Rambutan Trio Box. These don't have the same variety as the large mix boxes, but at least you know exactly what you're getting.
Miami Fruit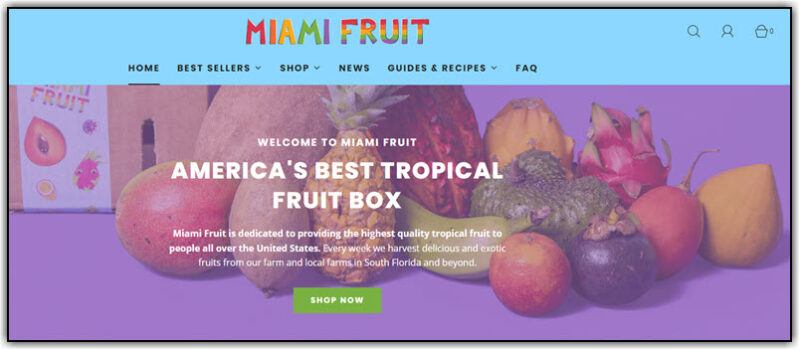 Miami Fruit is another fantastic company for variety. You can order most of their fruits in individual boxes, including options like mamoncillos, cacao, mamey sapote, sugar apple, finger limes, and plenty of others.
There are also two variety boxes. One simply contains different types of bananas – many of which are entirely unfamiliar.
Then there's the regular variety box. This includes a selection of familiar and exotic fruits, such as dragon fruit, noni, soursop, caviar limes, black sapote, and various banana varieties.
There are different sizes for both boxes. The small ones are a good introduction to the company, but the larger ones give you better value.
Miami Fruit has a few interesting options as well. One of these is frozen durian, which can be ordered by the tray. They offer eight types, although availability varies. There is also frozen ice apple, snake fruit, langsat, and strawberry tree berry.
Frozen fruit is never as tasty as fresh fruit, but it is much more resilient to travel. Frozen products like these may even let you try exotic fruit that you could never find fresh.
Fruit Hunters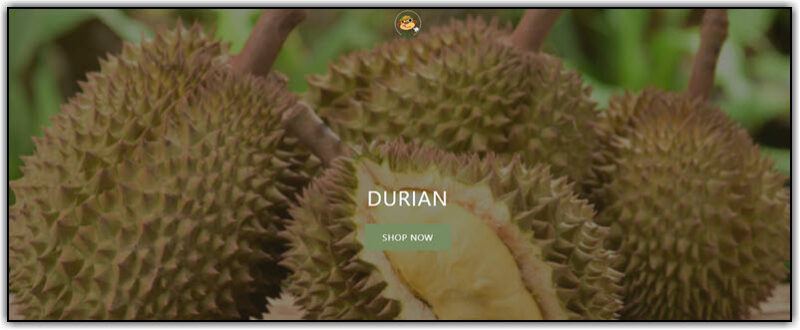 Fruit Hunters is another versatile choice. Some of their options include star apple, sapodilla, tropical persimmon, black sapote, and sugar apple.
The site shows fruit before it is in season, giving you the option to preorder it. This way, you know there'll be some for you when the fruit is finally ready. This feature is perfect for rare exotic fruits, ones that quickly sell out.
Most fruits can't be ordered individually. Instead, you need to get them in boxes. Some of these are small, though, like a box containing 10 caviar limes for $25 or 1.5-2.5 lbs. of mangosteen for $90.
Fruit Hunters also offers a seasonal box, which contains a variety of fruits. The regular box costs around $70 and gives you between five and seven pounds of fruit. That's somewhere between six and nine pieces of fruit.
There's also a large version, which comes in at between 14 and 16 pounds. This one will give you much more variety. Because this is a seasonal box, the included fruit might vary dramatically from month to month.
The Farmers On Wheels


The Farmers on Wheels operates out of California and sells produce individually and in mixed boxes. If you live in their local delivery area (which includes many parts of California), then you can fully customize your order. This is one of the best ways to get exotic fruits like lychees, guava, rambutan, jackfruit, dragon fruit (yellow, red, or white), piel de sapo, and mangosteen.
If you live anywhere else, you'll need to buy an Exotic Box instead. This contains 16 fruits, which can include dragon fruit, longan fruit, rambutan, papaya, and a variety of others. You could also try their Tropical Seasonal Fruit Box.
Not all of the exotic fruits that The Farmers on Wheels sells are featured in these boxes. The exact fruits also change based on the season and what is available. Even so, you're getting a greater variety than with many other services.
Tropical Fruit Box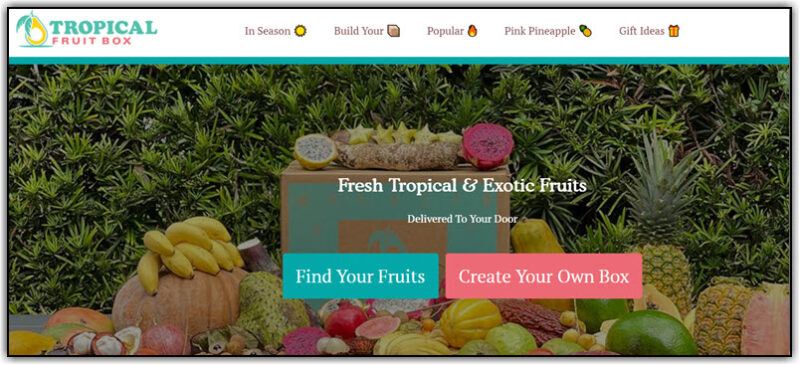 Tropical Fruit Box is perfect if you've been frustrated by fruit boxes or fruit subscriptions in the past.
For one thing, they provide details for each of their fruit boxes, so you know exactly what you're getting. If they run out of stock, they'll say so, rather than making substitutions behind the scenes.
There are also boxes with just one type of fruit, like passion fruit, logan fruit, rambutan, Spanish limes, and plenty of others. Many sites have this option, but Tropical Fruit Box offers many more fruits than normal.
It's even possible to build your own box. The box will contain at least 10 lbs. of fruit and you get to choose the type of fruit. You get two to four choices and there are plenty of exotic options in the mix, including star fruit, mangosteen, and cherimoya.
Melissa's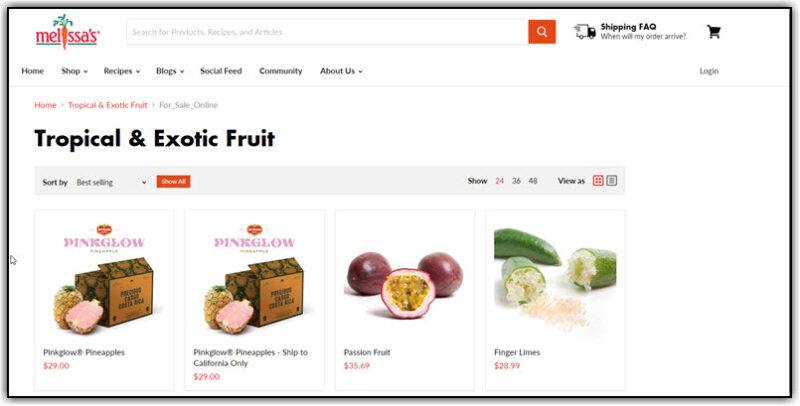 Melissa's has been operating since 1984, making it the most well-established company on this list. Melissa's focuses on a huge range of fresh fruits and vegetables, plus plenty of related products.
One of the biggest challenges is that there are so many different products to choose from. But, there are some exotic products in the mix, including finger limes, rambutans, South African baby pineapples, pink pineapples, burro bananas, mangosteens, lychees, and more.
There is also an Exotic Fruit Club, which ships fresh exotic fruit out to you each month. The fruit you get is based on the month, like baby pineapples in January and cherimoya in April. While there are exotic fruits in the mix, some months are less exciting (like May, which gives you 1.5 lbs. of kiwis).
Pardess Farms


Unlike most other companies, Pardess Farms doesn't offer a mixed fruit box.
You can occasionally buy single pieces of fruit through their site, but most of the time you're buying boxes containing at least a few pieces of fruit. For example, dragon fruit often come in packs of four, while you get roughly 20 mangosteens in a box.
Most of the fruits are the same as found on other sites. Still, there are a few interesting entries, like purple pepino melons and jaboticaba. There are even a few fruit trees in the mix, in case you want to try growing exotic fruits for yourself.
Dragonberry Club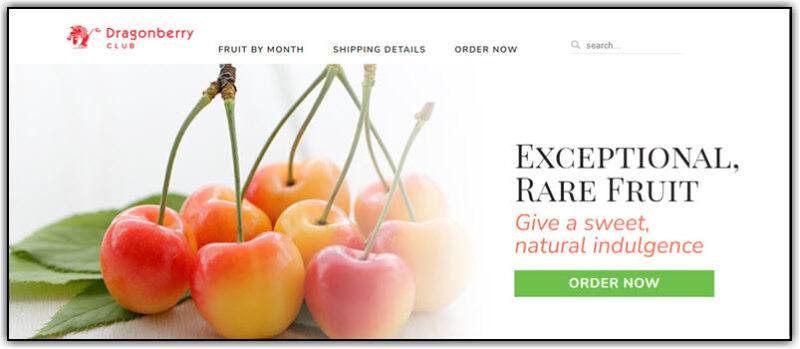 You can't buy fruit individually through Dragonberry Club. The company focuses on a monthly subscription instead.
Each month, club recipients get roughly four pounds of fresh fruit. Each month features a different type of fruit, starting with rambutan in January, then dragon fruit in February, and longan in March.
One of the most interesting additions is the pink Hidden Rose apple, which does literally have pink flesh. You can't find this apple in many other places (although Miami Fruit occasionally sells it too).
There are enough unusual and exotic fruits in the Dragonberry selection to make the club worth trying. The shipments also come in special clamshell boxes, making them perfect as gifts.
Other Places To Consider
The sites above are your best options for Americans looking to buy high quality exotic fruit. However, there are a few other options. These aren't as powerful, but each does have some interesting features.
Rancho Santa Cecilia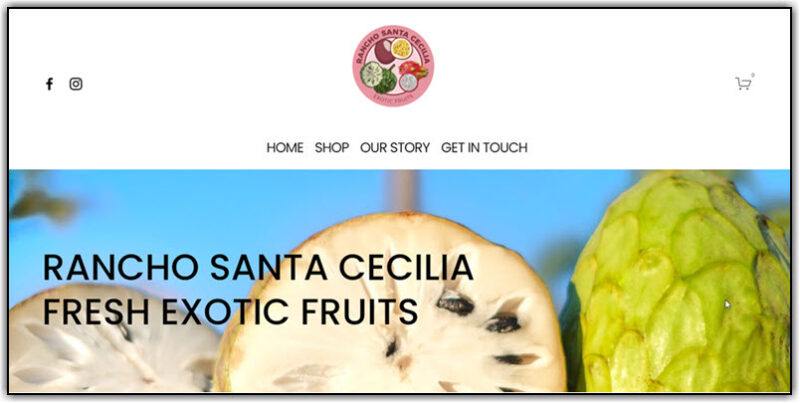 Rancho Santa Cecilia is a small player in this field. They have a family owned farm in Carpinteria, California and offer a variety of local and exotic fruit.
At the time of writing, most of their products are either sold out or out of season, including their Exotic Fruit Box. However, they do still have boxes of cherimoyas and may expand their selection in the future.
They do sell their produce at farmer's markets as well, so if you're in the right region, you may find a greater selection in person. If nothing else, this is a company to keep an eye on.
Frog Hollow Farm


While Frog Hollow Farm is a great way to get fresh fruit delivered monthly, the company doesn't focus on exotic fruit.
The main exception is that you can order frozen Pakistani mulberries through their site. These unusual berries aren't sold in many other places and could be a reason for trying the site out for yourself. They even sometimes have fresh mulberries.
Amazon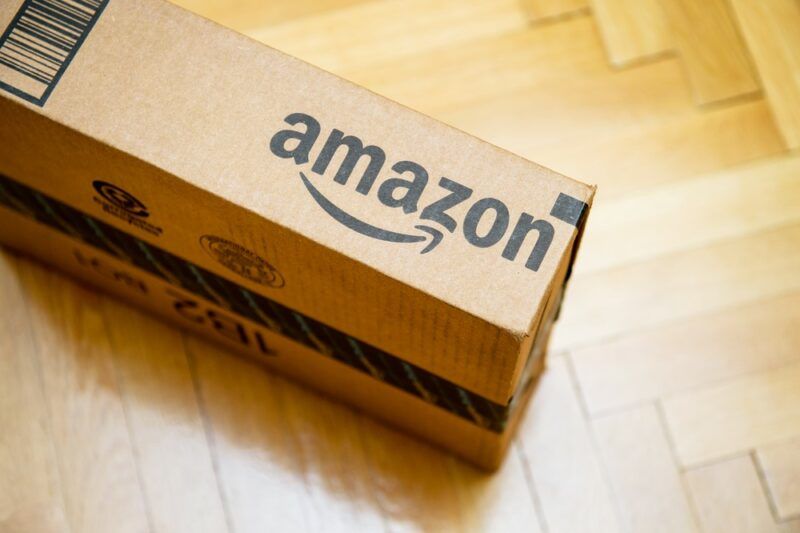 There are plenty of sellers on Amazon offering mixed boxes of exotic fruit or specific types of exotic fruit, like dragon fruit or mangosteen. Amazon can be a useful choice too, as there are so many products and it's easy to compare prices.
However, if you're going to order, pay close attention to the seller's reviews. Many listed products have mixed reviews, where some buyers appear to get fresh and delicious fruit, while others get fruit that is rotten or was previously frozen.
The best products are those that have a decent number of reviews and an average rating of at least 4 stars (ideally 4.5 or above).
Be particularly cautious with mixed exotic fruit boxes. These boxes often give a list of the fruit that may be present, while stating that the exact contents may vary.
While this claim is reasonable enough, it does allow companies to largely focus on inexpensive and common fruit, rather than the exotic ones you're actually interested in. This can be seen from the reviews, where some customers received hardly any exotic fruit in their boxes.