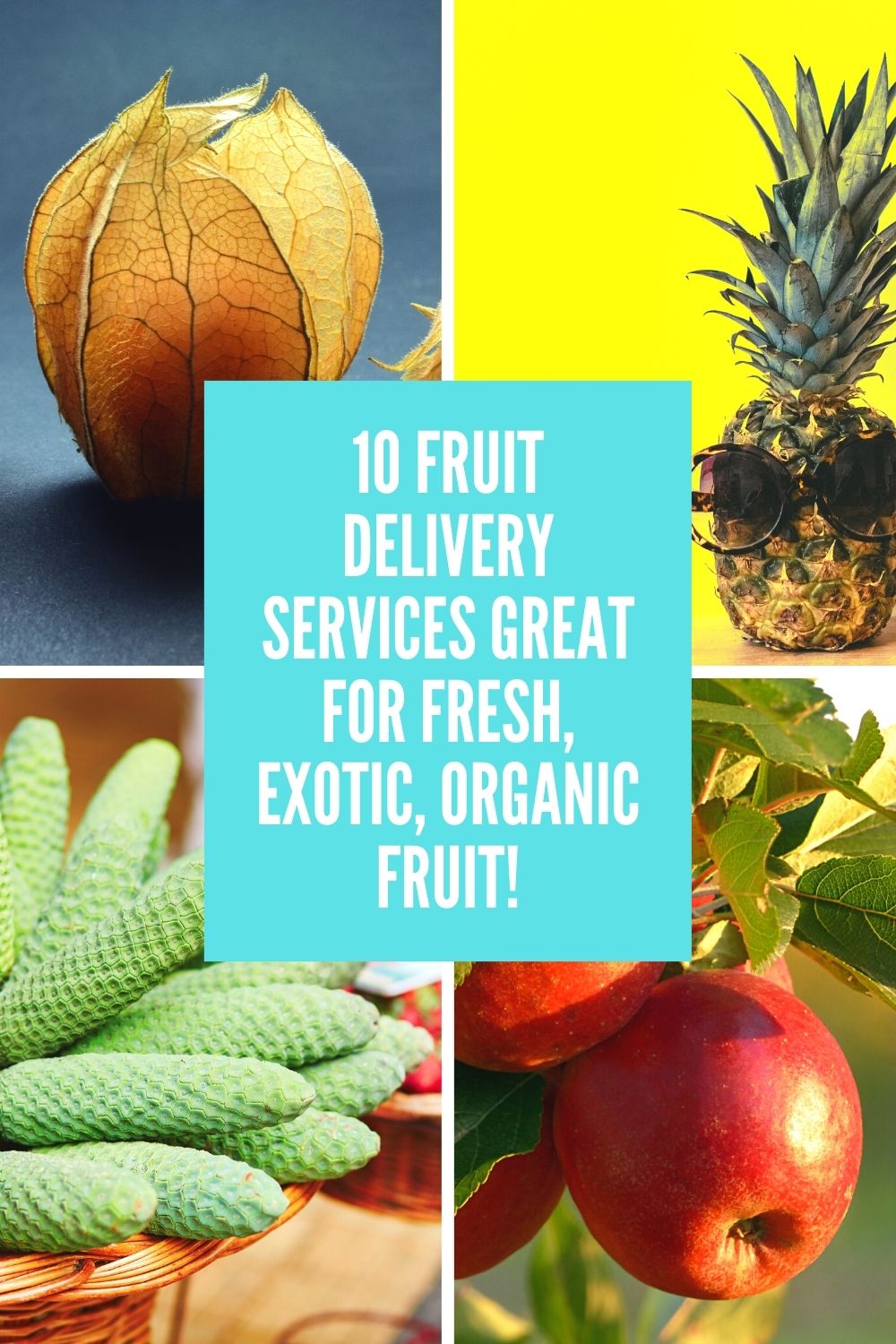 There are so many different kinds of fruit, there's always something for everyone. Fruit is juicy, delicious, often sweet, and easy to eat for most. This is great because fruits are full of healthy ingredients that are good for us. But, it's not always easy to get your hands on the best fruit.
Of course, most supermarkets and grocery stores carry fruit, but options are often limited, and produce is often quite expensive. This is especially true if you're looking for organic options.
Both of these problems can be solved by using fruit delivery services instead. First, they conveniently deliver right to your door, usually on a weekly basis. They're also – usually – cheaper than buying individual items in the store.
Lastly, some services will give you better access to seasonal fruits from other parts of the country, and/or more exotic or rare options that aren't available in regular stores. Not only does this provide exciting new flavor experiences, but you'll get nutrients you otherwise wouldn't.
Even better, if you like fruit delivered, then these fruit of the month clubs will delivery fresh fruit to your doorstep every month. Many services focus on local, organic, seasonal fruits so you won't get stuck with mealy GMO apples!

Fruit Delivery Services
Fruit Guys
Farmbox Direct
Harry and David
Frog Hollow Farm
Raw Generation
Misfits Market
Imperfect Foods
Tropical Fruit Box
Hungry Harvest
Talley Farms
1.Fruit Guys

The Fruit Guys have been long-since known for their trusted and reliable office delivery service. They've been serving offices with fresh fruits and vegetables for a while, and they've now expanded to home delivery as well.
They offer a mix of farm-fresh fruits, vegetables, and snacks. You can get a nice mix of all three, or choose something more specific from their selection of boxes. This includes a "staples" box, organic boxes, seasonal boxes, or a box with just snacks.
They also deliver to schools where they offer discounts and complimentary nutrition programs, with the goal of getting good nutrition into as many kids as possible.
2. Farmbox Direct

Farmbox Direct Promises a delivery of all-natural and organic farm-fresh produce. This includes fresh fruits, vegetables, and more. They have several different types and sizes of boxes to choose from. This includes small, medium, and large with options for regular or only organic.
If you're into juicing they also offer juicing boxes, with green, orange, and red options. These boxes come with the appropriately colored fruits and/or vegetables specifically for juicing purposes.
They create menus every week based on what's fresh and in-season. If you don't like what they've selected, they do let you make up to five substitutions so your box is entirely to your liking.
3. Harry and David

Harry and David specialize in fancy, premium, and high-quality gift baskets. Many of their baskets are fruit-based, though they do have other options as well. There are specialty fruit and cheese baskets that pair fruits with complimentary cheeses. You can also order just fruit.
The boxes make a perfect gift, or you can order one for yourself. In addition to the fruit, you can also get wine and cheese, chocolate, baked goods, and flower boxes.
If you want regular deliveries of their premium fruit selections, you can sign up for one of their many monthly options. From a basic fruit mix to more specific options, you're sure to find something you like.
4. Frog Hollow Farm

Frog Hollow Farm has been around since 1976, always working hard to provide delicious and high-quality products that are certified organic. They offer many options, including fruits, nuts, seeds, a great bakery, and more.
For fruit specifically, they offer a number of "fruit clubs" you can sign up for, which subscribe you to weekly or monthly deliveries, depending on your selection.
You can order a basic weekly box that contains a variety of fruits to get you through the week. Or, you can choose something more specific like a shipment of just peaches, nectarines, plums, or whatever else they have available at the time.
5. Raw Generation

Raw Generation is the perfect solution for anyone who loves their freshly squeezed fruit juices. Drinking fruit juice regularly is beneficial in many ways. It's an easy and convenient way to get your daily servings of fruit in as you can take juices with you wherever you go.
It's also a fun and different way to experience fruit, as there are endless possible combinations and new flavors to discover. Raw Generation offers a variety of different fruit juice deliveries, all with a purpose.
They have protein-packed juiced, weight loss cleanses, immunity-boosting drinks, and more. Subscribing to your preferred order saves you 10% and makes sure you never run out of juice.
6. Misfits Market

Misfits Market believes that everyone should have access to fresh, healthy, quality produce at an affordable rate. They also aim to reduce food waste by ignoring the "beauty" standards for food. Many companies will throw away perfectly good fruits and vegetables because they don't "look" right.
Misfits Market makes a point of using these foods anyway in order to reduce the amount that goes to waste. So, you can expect some "misfits" in your box, but rest assured they're just as good as the rest, and you're getting it at a great rate!
Currently, they ship to all zip codes in 27 states, all of which are listed on their website. They are growing, though, and hope to reach the entire country soon.
7. Imperfect Foods

Imperfect Foods is another company that aims to reduce food waste. They're proud to offer "imperfect" produce because they know it's just as healthy and delicious as the perfect ones. Because they don't throw anything out, they're able to offer fantastic rates – up to 30% less than what you'd pay in a grocery store.
You can choose between traditional or organic, and you can then shop from the foods available that week. They make a selection for you, but you're able to add and remove items as desired to create the perfect box each week.
They are currently delivering to the West Coast, Midwest, Northeast, and most of the West South Central region – which makes up most of the country. They are expanding so new regions are added all the time.
8. Tropical Fruit Box

Tropical Fruit Box offers an amazing exotic fruit box and is a fantastic way to get access to all the rare, exotic, and tropical fruits and roots you probably can't find at the grocery store. While they may not be as common, they can be just as delicious. You may find you soon have a new favorite that you'd never even heard of before.
They have a number of pre-selected boxes for deliveries of a single type of fruit. Or, you can create your own customized box in one of their three categories – exotic fruit, tropical fruit, and tropical roots.
9. Hungry Harvest

Hungry Harvest has also joined the mission to eliminate food waste. They make a point to "rescue" as much reject produce as possible, and curate a variety of amazing boxes that are delivered right to your door.
To date, they've reduced 20 million pounds of food that would have otherwise been wasted. They offer three box sizes, with standard and organic options for each box. Their largest box is recommended for up to seven people, so big families can still get in on it.
They deliver either weekly or bi-weekly and cover areas throughout Maryland, Washington, Virginia, Philadelphia, New Jersey, Delaware, Florida, and North Carolina.
10. Talley Farms

Talley Farms offers its boxes in two sizes, with the larger option being suitable for a family of up to five. They offer pickup if you're local, or they will deliver to most places on the West coast – both homes and offices.
You can choose to have boxes delivered weekly, bi-weekly, or monthly. They select the boxes for you based on what's in-season and available, or you can customize it for a very small additional charge. They also include storing instructions for your food and several recipe ideas with each box, so you're never left in the dark.
Things to Consider When Having Fruit Delivered

There are many amazing benefits to using a fruit delivery service, but with so many options, it can be hard to pick. Consider the following things before choosing which service to sign up for:
Customization
This one is important if you have any allergies, dietary restrictions, or even a house full of picky eaters. There are many companies that offer great food and great service, but they make the boxes up for you.
If you prefer to choose your own foods, find a company that offers customized boxes, or at least the ability to change or substitute what they select.
Box Size
Another thing to look for is the range of sizes a company offers. Some only offer a standard box each week, or maybe two size options. This is fine for some. But, if you're shopping for either a large family or just yourself, you need some more flexibility.
An individual doesn't need a family size box and a big family can't make a small box last, so pay attention to the available box sizes and make sure it's going to work for you.
Organic VS Non-Organic
For many, eating organic is important. Not every farm offers organic food, while some only offer organic. This is an important factor to watch for to ensure you're getting exactly what you want.
Some companies offer both organic and traditional. These are the most versatile as it caters to the highest number of people, but if you're using one of these it's important that you make sure you specifically select organic so you don't get the wrong thing.