Even if you're amazing in the kitchen, pies take a lot of effort. Sometimes it's fun, but honestly it's also nice just to buy one. Pie of the month clubs fill this need.
Besides that, most of us just have a few pie recipes that we are good at. The rest just turn out less impressive than is desired.
Pie of the month clubs are a great solution to not just the problem of time and skill, but they solve many more problems as well (pick one, any one!) It's also fun to try different desserts than you're used to.
They are exactly what the name suggests – subscription programs that provide you with pies on a monthly basis. Each club is different, with its own features, quirks and pricing structure. That's why this post is examining the different clubs and highlighting what they have to offer.
Which pie club should you start with? I highly recommend Amazing Clubs Pie of the Month Club because they are a great curator of pies. Instead of ordering a different pie from a single company each month, they do the hard work of finding local craft bakeries and getting a new pie out to you each month.
They say variety is the spice of life, and the saying is true about pies too!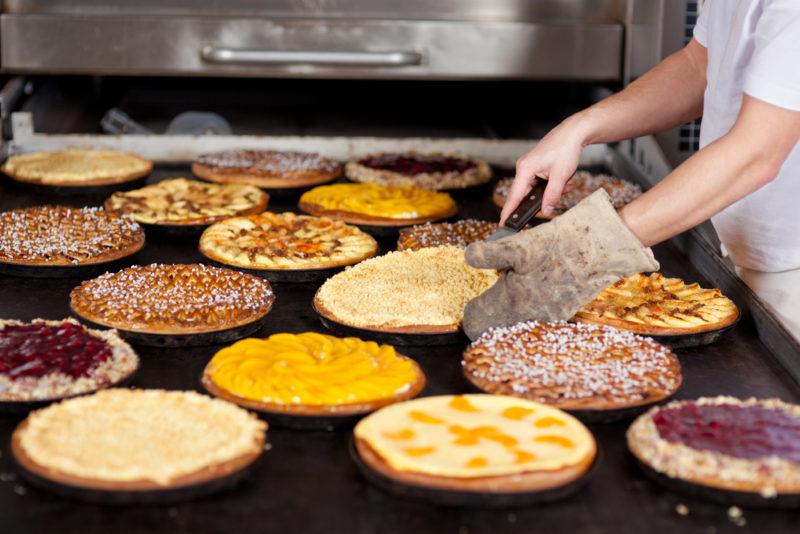 Pie Of The Month Clubs
Amazing Clubs
Grand Traverse Pie Company
CurvyMama Pies
Tootie Pie Co.
Southern Baked Pie Company
Pie Y'all
1748 Bakehouse
Goldbelly
Victoria Pie Co.
Michele's Pies
Gold Star Pies
Katie's Pie Shop
PS. How could I talk about pie without also mentioning these cake of the month clubs and cupcake clubs. Geeze. Anyone up for a cardio of the month club? Me neither.
Amazing Clubs

Amazing Clubs differs from most items on this list, as the website offers curated clubs. Amazing Clubs not producing the pies themselves – they're sourcing them from some of the best bakeries across the United States. The style allows them to offer a wider variety of pies. You even get to experience the differences in the way that individual bakeries create their products.
The subscription program provides you with a pie that contains 8 to 10 servings every month. You don't get to know the types of pie ahead of time, but previous examples have included Peppermint Chocolate Pie, Buttermilk Cheese Pie and Blackberry Crumb Pie.
There are plenty of membership options, including pre-paying or paying for each shipment the month that you receive it. The price per month ranges from $41.95 to $43.95.
Grand Traverse Pie Company


The Grand Traverse Pie Company specializes in selling pies online, making their subscription an especially good choice. Because they focus on this area anyway, the company should have good processes in place for keeping your pies fresh. Their pies have even been featured in The Oprah Magazine.
The pie club can be joined for 3, 6 or 12 months at a time. It ships out a fresh pie from the company every month. You're able to choose the variety that you want or the company will select for you. You do pay an extra $2 per month if you make the decision.
The 3-month version of their subscription costs $89.97, while the 6-month one is $179.94 and the 12-month one is $359.88. In each case, you also pay an extra $15.99 for shipping per month.
CurvyMama Pies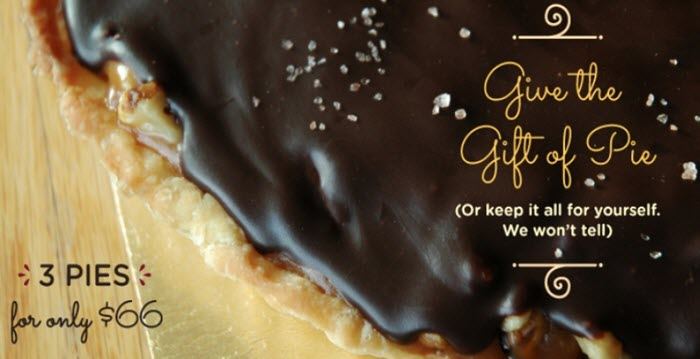 This pie club only has a 3-month subscription, but their pies sound amazing.
CurvyMama Pies offers just a single version of their pie club. This provides you with a pie every month for 3 months – for $66. That's $22 per pie, a savings of around $2 from the normal price for pies from CurvyMama.
The site doesn't provide any further details about the club, so there is no information about the types of pies that you'll receive. However, there is a page that features all the pies that the company sells, along with stunning images. You're likely to be sent some of the pies on that page as part of your subscription.
Tootie Pie Co.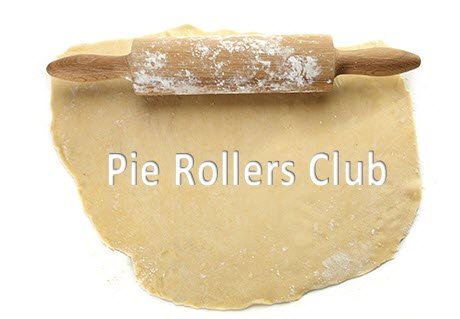 If you're looking for variation, the Pie Rollers Club from Tootie Pie Co. is a good place to start. This club provides you with 11-inch pies that are large enough to serve 10 to 12 people. You're able to see the pie flavors ahead of time too. That information is always useful, especially if you have strong preferences about pies.
The club a typical membership structure with 3, 6 and 12 month memberships. There is one difference – the 6 and 12 month memberships have extra features. Members of these versions receive an exclusive flavor in April and/or October. Those flavors cannot be purchased from the company in any other way.
The subscription price varies depending on location. People in Alabama, Arkansas, Louisiana, Mississippi, Oklahoma and Texas pay $135 for the 3-month, $250 for the 6-month and $450 for the 12-month membership. Customers in other states pay $215, $410 and $775 for the same set of durations.
Southern Baked Pie Company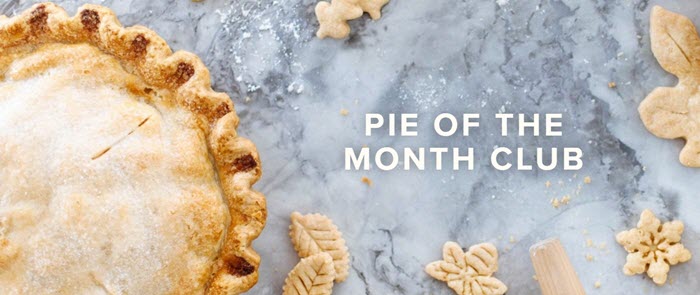 Sweet pie lovers will adore this subscription from the Southern Baked Pie Company. The company sends out a pie from their sweet menu each month. Their pies can all be seen on the website and there are some extremely appealing treats on there.
Your subscription will cost $33/pie on a 3-month membership, $32/pie on the 6-month and $30/pie on the 12-month. The pie selection is random, so you won't know what flavor to expect. You'll have to simply wait for it to turn up. Still, getting a surprise is part of the fun of a subscription club.
Pie Y'all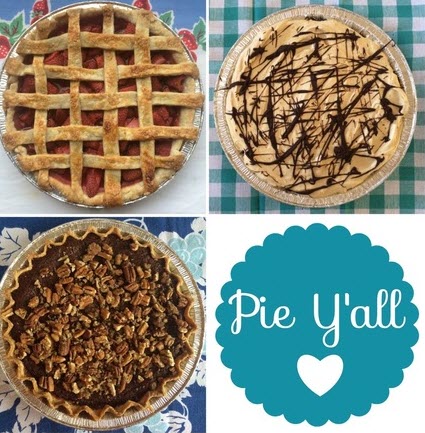 The monthly club from Pie Y'all offers a fantastic selection of flavors. The club page on the site provides a list of the featured flavors for 2018, 2017, 2016 and half of 2015. This list highlights the large variation and should give you a sense of what to expect.
The membership club is simple and inexpensive. You're paying $18 a month on a 3-month subscription or $17 a month on a 6-month subscription. Unlike most clubs, you can't just sign up and pay online. You need to contact Sarah through an online form and set up your membership with her.
1748 Bakehouse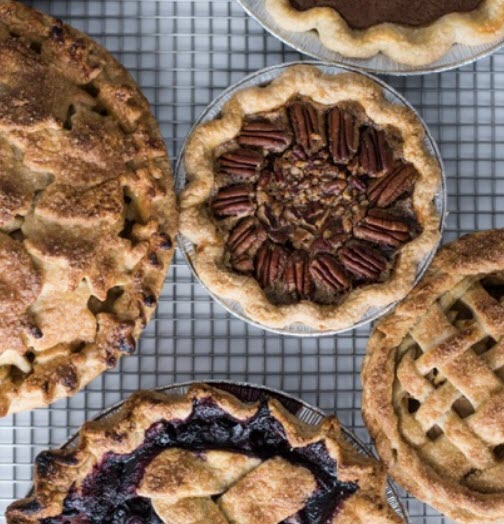 1748 Bakehouse is an amazing company, featuring a range of baked goodies, including pies, cakes, galettes and brownies. Their Pie of the Month Club stands out from most, as they maintain a strong focus on traditional flavors and styles. Even with this focus, none of the pies are boring. The bakers at 1748 Bakehouse make sure of that by creating amazing combinations of flavor and texture.
There is only one version of this club to sign up for – a yearly subscription for $300. That price includes local delivery within I 295 in Duval County. For anyone outside of this area, there is a $50 one-time delivery fee.
Goldbelly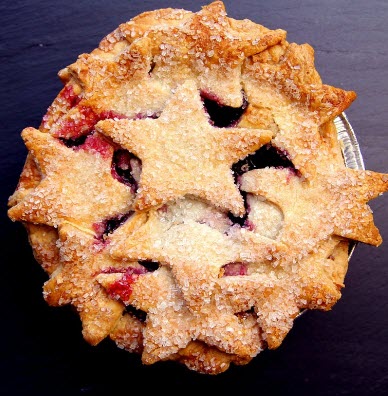 Goldbelly is another company that specializes in curated clubs. Once again, the pies come from different bakeries, giving you a fantastic selection. Previous examples include Dangerously Delicious "Baltimore Bomb" Pie, Florida's "Killer Key Lime" Pie from Mike's Pies and Texas' Legendary Royers Pies "Texas Trash Pies".
You'll be getting enough pie each month to serve 8 to 10 people – depending on how hungry everyone is. Of course, you might just end up with multiple servings yourself. There's nothing wrong with that.
The subscription costs $49 per month and comes with free shipping. You can order for 3, 6, 9 or 12 months at a time. The monthly price remains the same regardless.
Victoria Pie Co.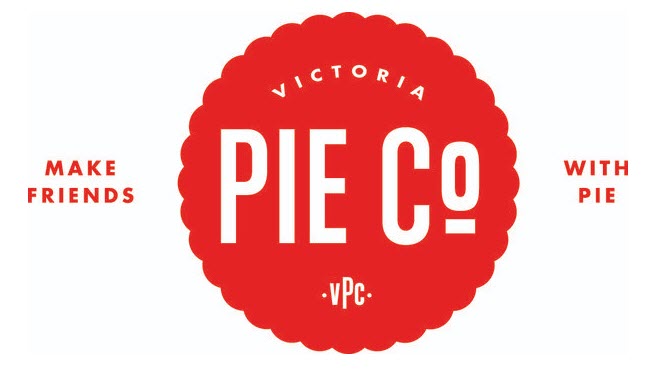 Victoria Pie Co. promotes a selection of special pies, ones that you won't find by visiting their store. The site mentions that they make use of good ingredients, including ones that are sweet, savory, local and seasonal.
The description suggests that the pies should be amazing, but it's hard to know. There aren't any details about the types of pies that you'll be receiving. It's not even clear whether they're focusing on sweet pies, savory pies or a combination of both.
You're able to pick your monthly pies up or have them delivered. The total price for delivered pies is $89 for 3 months, $169 for 6 months or $299 for 12 months. You pay $79, $149 or $249 if you want to pick up your pies from the store in Victoria, Canada.
Michele's Pies

Michele's Pies follows a different style than most. The company is a pie shop located in Norwalk, Connecticut. The pies in the club are freshly baked for you specifically and you must pick them up in store. To do this, you need to give them a phone call 2 days before you plan to pick up the pie each month. This allows you to get the pies at different times of the month, which is a useful feature.
There are just 2 versions of this club, a 6-month ($160) and a 12-month ($320). Members of the 6-month version are able to choose which months they want to pick up their pies. The company provides details of the flavors ahead of time. This gives you the ability to choose the flavors that you're the most interested in, rather than getting an entirely random selection.
Gold Star Pies


Gold Star Pies offers an interesting variation on the random pie club idea. The company provides a list of 3 pie types each month and you are able to choose 1 of these. The information is sent to you 2 weeks before delivery, giving you plenty of time to make your decision. You can also opt out on months where you're not going to be available.
Another angle is the number of pies. You can choose between 1, 2 or 3 pies per month for $35, $60 and $80 respectively. There's even the option of adding on a bag of roast coffee (12 ounces) for an extra $15.
The final thing to mention is timing. Gold Star Pies only runs their club from March through to December. This is unusual and means that you can't get pies delivered all year round.
Katie's Pie Shop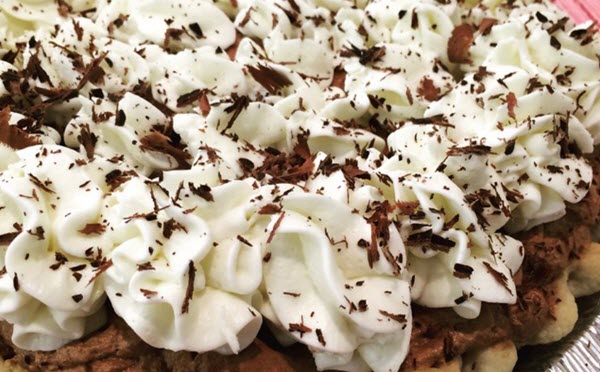 Katie's Pie Shop is located in Rockford, Illinois. The store actually has a cafe and records aspect too. It's a nifty idea and makes for an unusual company. The Pie of the Month Club allows you to choose the pies that you are going to receive. You also need to specify the seasons that you want to receive your pies and when you plan to pick them up.
There aren't many details about how the club works, but it seems like you can choose any of the pies that the company produces. This includes both sweet and savory products. The style is also much nicer than being stuck with just a single option each month.