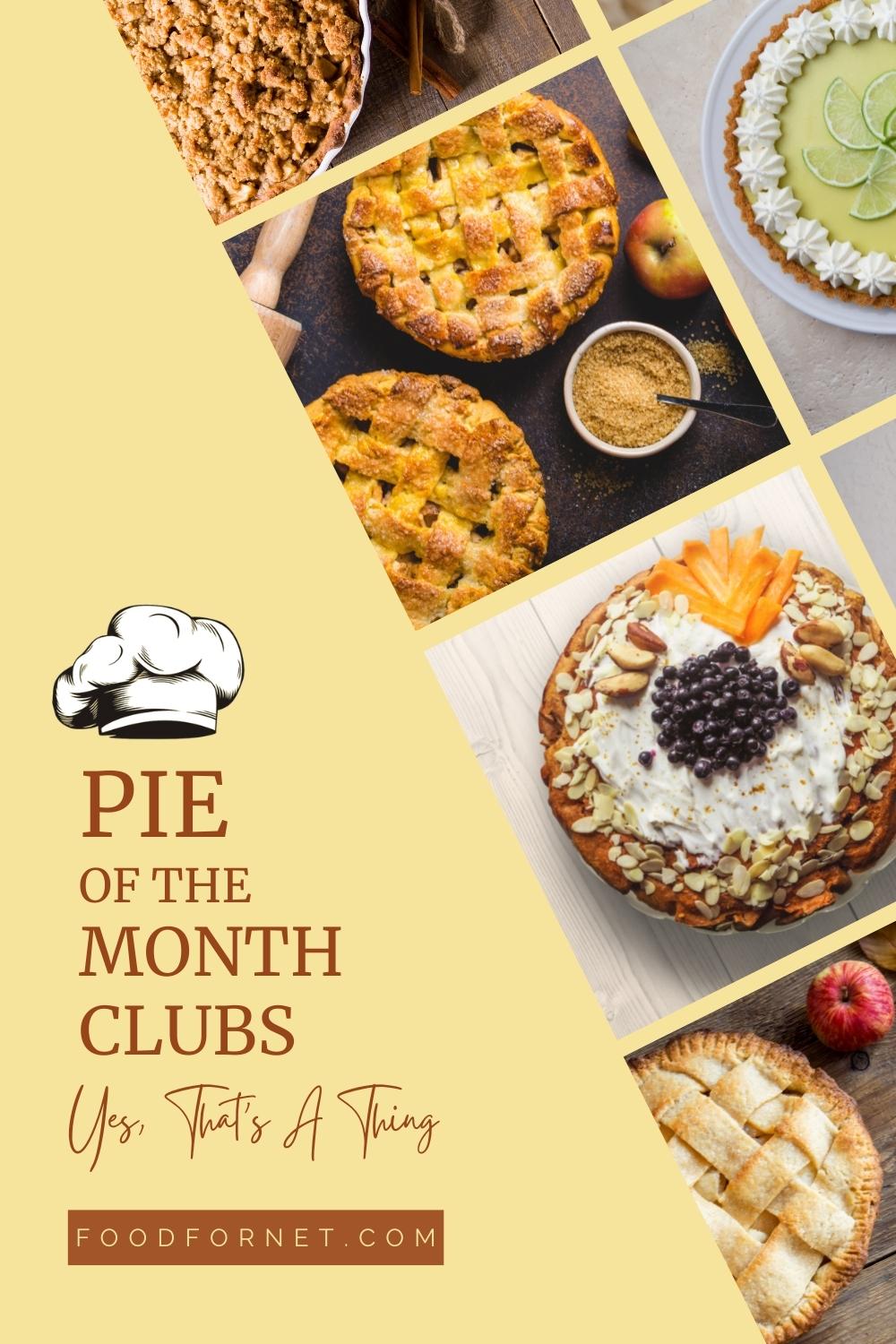 Even if you're amazing in the kitchen, pies take a lot of effort. Sometimes it's fun, but honestly it's also nice just to buy one. Pie of the month clubs fill this need.
Besides that, most of us just have a few pie recipes that we are good at. The rest just turn out less impressive than is desired.
Pie of the month clubs are a great solution to not just the problem of time and skill, but they solve many more problems as well (pick one, any one!) It's also fun to try different desserts than you're used to.
They are exactly what the name suggests – subscription programs that provide you with pies on a monthly basis. Each club is different, with its own features, quirks, and pricing structure. That's why this post is examining the different clubs and highlighting what they have to offer.
Which pie club should you start with? I highly recommend Amazing Clubs Pie of the Month Club because they are a great curator of pies. Instead of ordering a different pie from a single company each month, they do the hard work of finding local craft bakeries and getting a new pie out to you each month.
They say variety is the spice of life, and the saying is true about pies too!
PS. How could I talk about pie without also mentioning these cake of the month clubs and cupcake clubs. Geeze. Anyone up for a cardio of the month club? Me neither.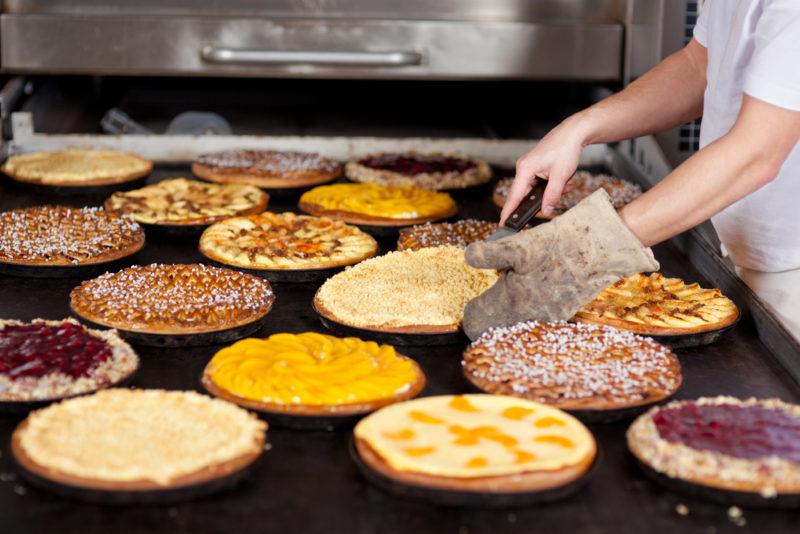 Pie Of The Month Clubs
Amazing Clubs Pie of the Month Club

Amazing Clubs differs from most items on this list, as the website offers curated clubs. Amazing Clubs not producing the pies themselves – they're sourcing them from some of the best bakeries across the United States. The style allows them to offer a wider variety of pies. You even get to experience the differences in the way that individual bakeries create their products.
The subscription program provides you with a pie that contains 8 to 10 servings every month. You don't get to know the types of pie ahead of time, but previous examples have included Peppermint Chocolate Pie, Buttermilk Cheese Pie, and Blackberry Crumb Pie.
There are plenty of membership options, including pre-paying or paying for each shipment the month that you receive it. The price per month ranges from $41.95 to $43.95.
Grand Traverse Pie Company Pie of the Month Club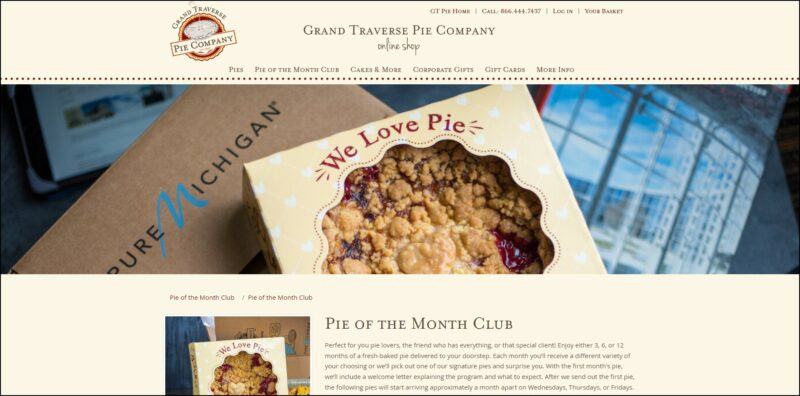 The Grand Traverse Pie Company specializes in selling pies online, making their subscription an especially good choice. Because they focus on this area anyway, the company should have good processes in place for keeping your pies fresh. Their pies have even been featured in The Oprah Magazine.
The pie club can be joined for 3, 6, or 12 months at a time. It ships out a fresh pie from the company every month. You're able to choose the variety that you want or the company will select for you. You do pay an extra $2 per month if you make the decision.
The 3-month version of their subscription costs $98.97, while the 6-month one is $197.94 and the 12-month one is $395.88. The prices are exclusive of the shipping fees.
Tootie Pie Co. Pie of the Month Club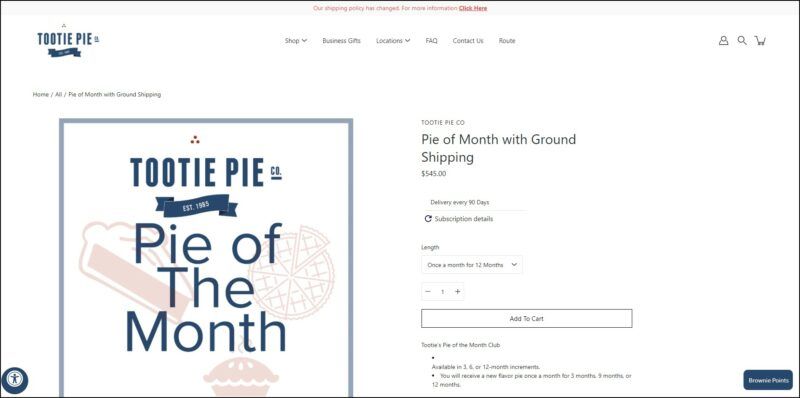 If you're looking for variation, the Pie Rollers Club from Tootie Pie Co. is a good place to start. This club provides you with 11-inch pies that are large enough to serve 10 to 12 people. You're able to see the pie flavors ahead of time too. That information is always useful, especially if you have strong preferences for pies.
The club has a typical membership structure with 3-month, 6-month, and 12-month membership plans. The price per package is $155 for the 3-month, $290 for the 6-month, and $545 for the 12-month plan.
Southern Baked Pie Company Pie of the Month Club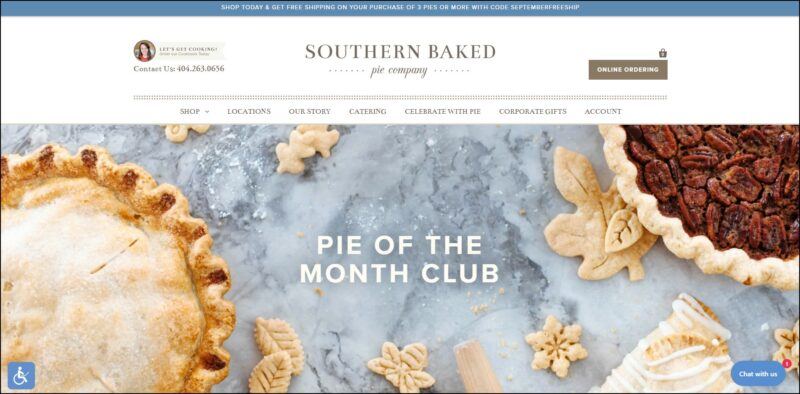 Sweet pie lovers will adore this subscription from the Southern Baked Pie Company. The company sends out a pie from their sweet menu each month. Their pies can all be seen on the website and there are some extremely appealing treats on there.
Your subscription will cost $49.63/pie on a 3-month membership, $52.79/pie on a 6-month, and $52.87/pie on a 12-month membership plan. The pie selection is random, so you won't know what flavor to expect. You'll have to simply wait for it to turn up. Still, getting a surprise is part of the fun of a subscription club.
Pie Y'all Pie of the Month Club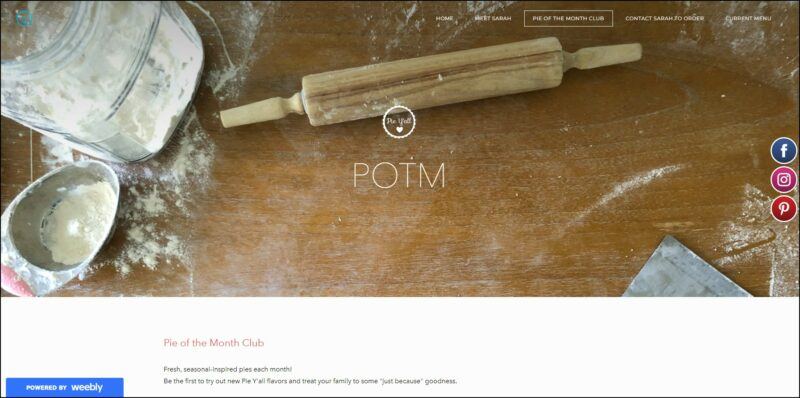 The monthly club from Pie Y'all offers a fantastic selection of flavors. The club page on the site provides a list of the featured flavors all the way from 2015 to the present. This list highlights the large variation and should give you a sense of what to expect.
The membership club is simple and inexpensive. You're paying $19 a month on a 3-month subscription or $18 a month on a 6-month subscription. Unlike most clubs, you can't just sign up and pay online. You need to contact Sarah through an online form and set up your membership with her. The pies also need to be picked up – this subscription won't ship them.
Goldbelly Monthly Pie Subscription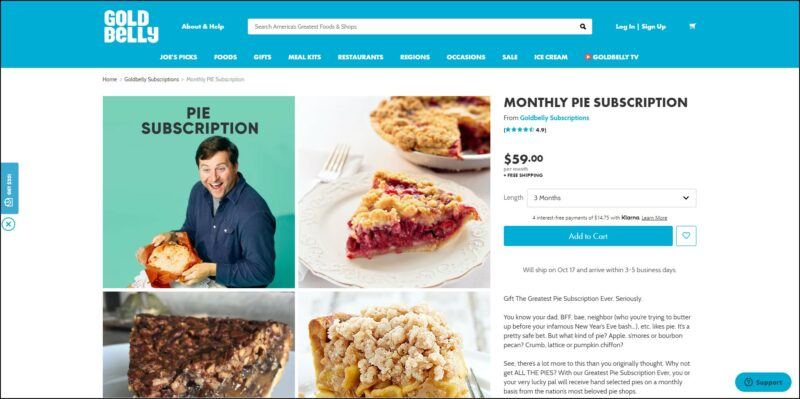 Goldbelly is another company that specializes in curated clubs. Once again, the pies come from different bakeries, giving you a fantastic selection. Previous examples include Dangerously Delicious "Baltimore Bomb" Pie, Florida's "Killer Key Lime" Pie from Mike's Pies, and Texas' Legendary Royers Pies "Texas Trash Pies".
You'll be getting enough pie each month to serve 8 to 10 people – depending on how hungry everyone is. Of course, you might just end up with multiple servings yourself. There's nothing wrong with that.
The subscription costs $59.00 per month and comes with free shipping. You can order for 3, 6, 9, or 12 months at a time. The monthly price remains the same regardless.
Victoria Pie Co. Pie of the Month Club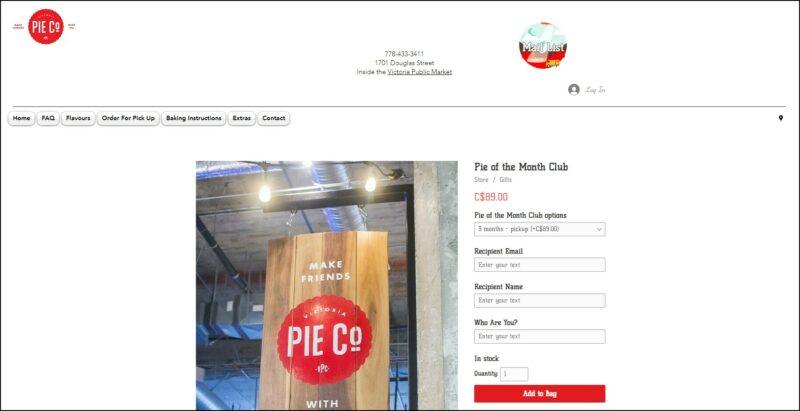 Victoria Pie Co. promotes a selection of special pies, ones that you won't find by visiting their store. The site mentions that they make use of good ingredients, including ones that are sweet, savory, local, and seasonal.
The description suggests that the pies should be amazing, but it's hard to know. There aren't any details about the types of pies that you'll be receiving. It's not even clear whether they're focusing on sweet pies, savory pies, or a combination of both.
The total price for the subscription cost $89 for 3 months, $169 for 6 months, and $249 for 12 months. As of this writing, these subscriptions are available only for pick-up pies (from their store in Victoria, Canada).
Michele's Pies Pie of the Month Club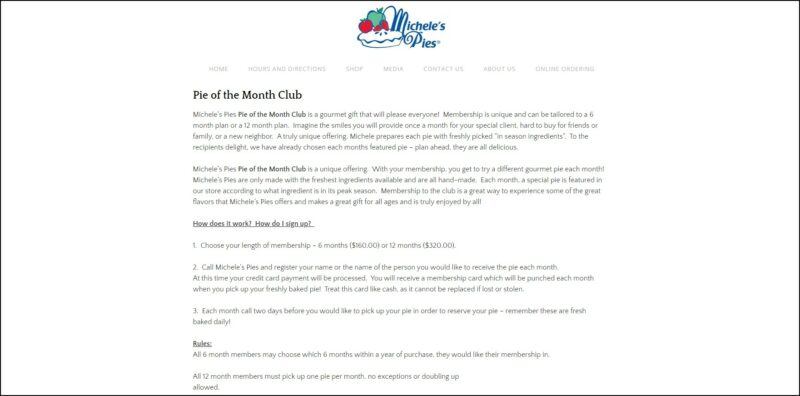 Michele's Pies follows a different style than most. The company is a pie shop located in Norwalk, Connecticut. The pies in the club are freshly baked for you specifically and you must pick them up in the store. To do this, you need to give them a phone call 2 days before you plan to pick up the pie each month. This allows you to get the pies at different times of the month, which is a useful feature.
Their wide selection of pies includes award-winning pies in National Pie Championships like the Country Apple, Apple Crumb, Apple Cranberry Crumb, Maple Pumpkin with Pecan Streusel, Blueberry Crumb, Blueberry Blackberry Crumb, and Macadamia Coconut Crumb.
The Pie of the Month Club subscription cost is $185 for the 6 months plan and $360 for the 12 months plan. Each month, members can call two days before they're planning to pick up the pie so that they can reserve the pie for you. If you're a 6-month member, you can choose which 6 months (within a year of purchase) you would like to have your pie. And if you're a 12-month member, you need to pick up one pie each month – you can't miss one month and double it up the next.
Gold Star Pies Pie of the Month Club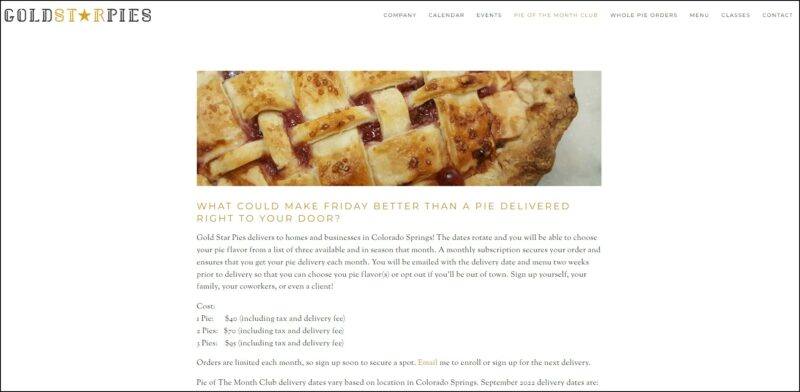 Gold Star Pies offers an interesting variation on the random pie club idea. The company provides a list of 3 pie types each month and you are able to choose 1 of these. The information is sent to you 2 weeks before delivery, giving you plenty of time to make your decision. You can also opt out on months when you're not going to be available.
Another angle is the number of pies. You can choose between 1, 2, or 3 pies per month for $45, $80, and $114 respectively. For September flavors they have, Apricot Honey Cobbler, Salted Maple, and Pear Almond.
The final thing to mention is timing. Gold Star Pies only runs their club from March through to December. This is unusual and means that you can't get pies delivered all year round.
Pie Bird Farm Pie Subscription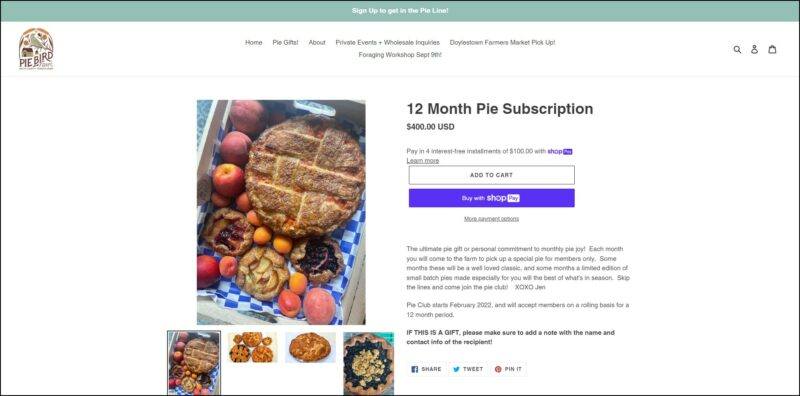 Behind Pie Bird Farm is a husband and wife team who simply loves pies, Jennifer Brodsky and Eric Theesfeld. Their community-focused farm is located in Bucks County which is committed to building a gathering place for the community. These include making pies that celebrate small farmers and makers.
They take pride in using 100% grass-fed organic butter, organic flour, and other ingredients like local fruits. Members of the pie subscription will get to enjoy a well-loved classic or limited edition of small-batch pies.
They are currently offering a 12-month pie subscription. Members will come to the farm each month to pick a pie that is specially made and exclusive to members only.
Muddy's Bake Shop Seasonal Pie of the Month Subscription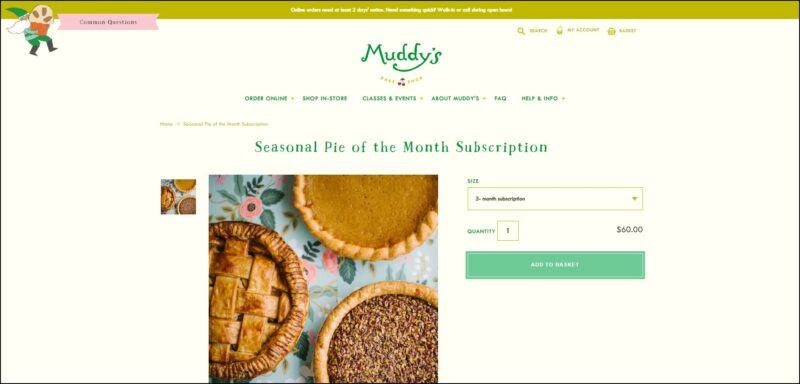 Muddy's Bake Shop, owned by Kat Gordon, is an old-school, neighborhood bakery with a 'bake sale' style. They specialize in homestyle Southern classics like cookies, cakes, pies, cupcakes, and more. They also have take & bake quiches, pot pies, chicken salad, and pimento cheese.
They're offering a Seasonal Pie of the Month subscription with plans varying from 3, 6, and 12 months in length. The subscription price starts at $68 up to $259. Subscription will normally start after the month you subscribe but you can also opt to avail it much later if you want. Pick-ups are scheduled during the second week of the month depending on the day of your own choosing.
The menu depends on fresh fruit availability, seasonal specials, or if they want to surprise you with something totally new.
Sister Pie's Pie Club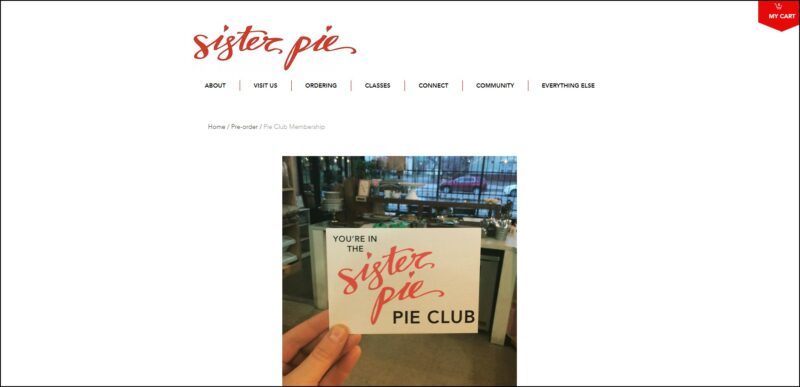 Sister Pie was launched in 2012 by Lisa, named after the term of endearment that she shares with her sister. They showcase not just the abundance of Michigan's farm and local produce but also foster family-style community in the workplace.
The items they are offering on their menu are on a first-come, first-served basis. However, you can place pre-orders online. Their pies include Salted Maple, Stone Fruit Cardamom Streusel, and The Banana Pete.
The subscription is 3 months long for the price of $96. Each month, for three consecutive months, you'll receive one pie or you can also opt to pick them up in their store.
Allen's Pie Apple Pie Subscription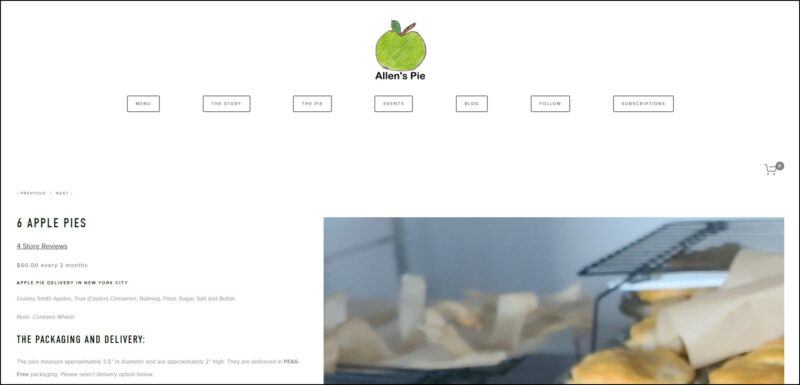 Allen's Pie is a black-owned bakery in Harlem USA providing one type of dessert in many traditional flavors and in portable sizes – they're miniaturized. The pies are exclusively online and delivers throughout New York City.
Allen's Pie takes pride in baking hand-made pies using geometry, temperature control, and very few ingredients and using PFAS-free packaging at the same time (you can read more about that on the website).
The Apple Pie Subscription is for 3 months costing $60 every month. You'll be getting 6 apple pies approximately measuring 3.5″ in diameter and 2″ high and are delivered on the first week of every month for 3 months.
Pie Bird Bakeshop Pie Club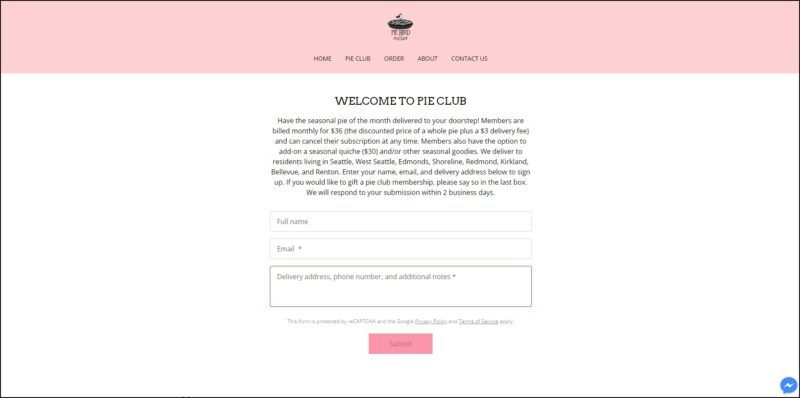 Pie Bird Bakeshop was founded by Hannah Jacobsen in 2018. You can find them at the University District Farmer's Market on Saturdays between 9 am to 2 pm, Broadview Tap House on the first or third Saturdays between 4 pm and 6 pm, and the Ballard Farmers Market between 10 am to 2 pm.
Among the pies, they offered the Chocolate Tahini, Black 'n Blueberry, Maple Orange Pecan, Bittersweet Chocolate Chess, Blueberry Swirl Cheesecake, and Apple Frangipane.
Pie Bird Bakeshop's pie club cost $39 per month – that's the discounted price of a whole pie plus a $5 delivery fee. There's no fixed length of subscription, members are billed monthly and you can cancel your subscription at any time. They deliver in Seattle, West Seattle, Edmonds, Shoreline, Redmond, Kirkland, Bellevue, and Renton.
Gabi & Jules Pie Subscription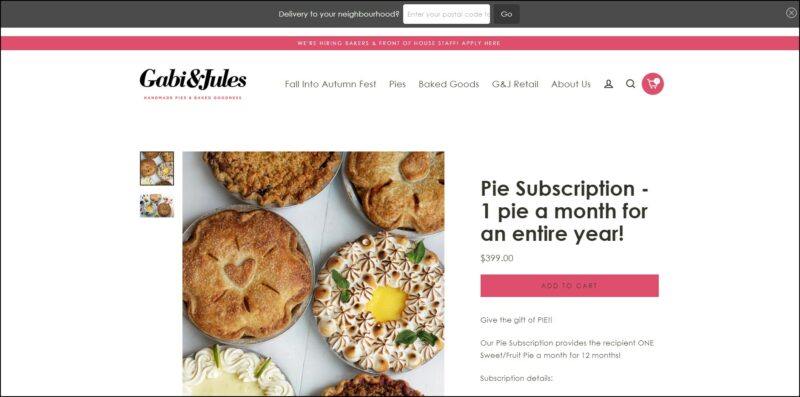 Gabi & Jules is a Canadian company that originally opened in 2016 in Port Moody and was named after the two daughters of the owners. It would seem that the success is quite evident given that they now have a new Burnaby Heights location with both indoor and outdoor seating. Today they're now also offering savory pot pies, bake-at-home mixes, soups, and even bread.
They are committed to using all-natural ingredients and make sure to change their menu with the seasons. They also regularly update the website to improve online shopping.
The Pie Subscription is for 12 months and is priced at $399. You'll get one of their sweets or fruit pie each month. There are no carryovers to subsequent months so make sure you pick up your pie of the month once you subscribed.
Three Babes Bakeshop Pie Subscription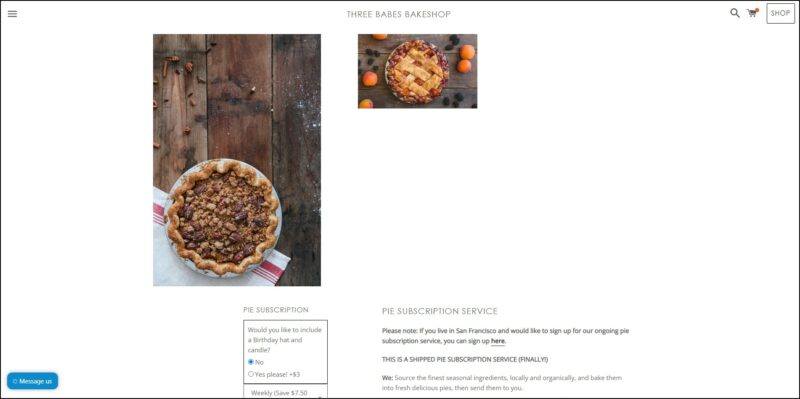 Three Babes Bakeshop originally started as a pop-up pie shop by Lenore and Anna that eventually turned into a Big Stand that can be found at the Ferry Plaza Farmers Market. Their commercial kitchen is now open seven days a week ready to serve pie lovers. It's better to pre-order so that they'll be able to prepare the pie ahead of time and have it ready for pick up. They also deliver pie within San Francisco.
Aside from their regular pies, they also have a number of gluten-free options. Those baked with nuts will explicitly have the nut in the product name for reference. All of their fruit pies are egg-free but unless a pie is labeled vegan it most likely contains dairy.
You can set your pie subscription to weekly, twice a month, or monthly. Prices are between $37.50 to $43.00. Unfortunately for those with nut allergies, they're only shipping nut pies – Pecan, Salty Honey Walnut, Chocolate Pecan, and Frangipanes of all kinds.
Polly's Pie Club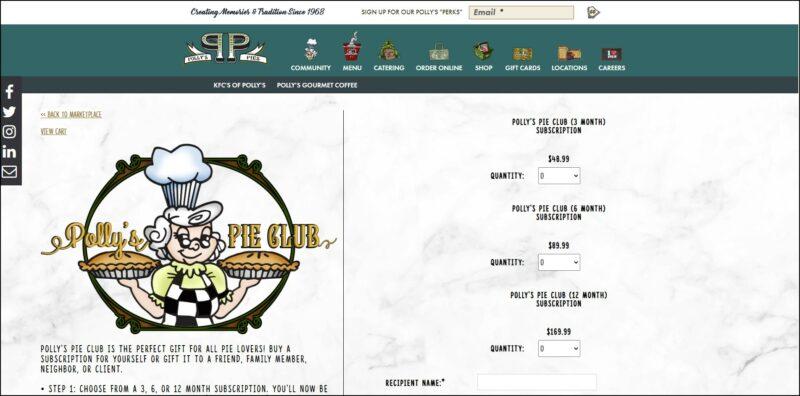 Polly's has been in business for over forty years but is still striving to offer excellent services, and the freshest, tastiest homestyle cooking and baking, at reasonable prices. They operate 13 family-owned Polly's Pies Restaurants and 10 Kentucky Fried Chicken franchises all over Southern California.
Aside from pies, Polly's also offers breakfast, soups, salads, pasta, homemade meals and so much more. Check out the menu for their locations in Orange County, Los Angeles County, and Riverside County.
Polly's Pie club is available in 3, 6, and 12-month subscriptions costing $48.99, $89.99, and $169.99 respectively. Members will have to pick up the pie at any Polly's location. It must be redeemed in the month that it's valid because it won't roll over into the succeeding months.
Grandma Ruth's Pies Local Pie of the Month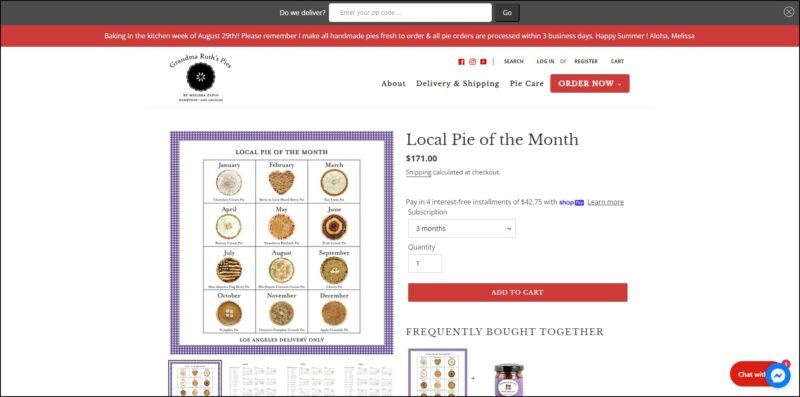 Professional Opera singer, Melissa, started Grandma Ruth's Pies in honor of her late Grandmother. She's currently selling online, offering flash-frozen pies for delivery in Los Angeles and the Hamptons.
Their pies are baked to order and preservative free. They're made from fresh, organic, and taste-tested ingredients. They accommodate food sensitivities and dietary restrictions by providing gluten-free and vegan or dairy-free pie options.
Their Local Pie of the Month is only available for Los Angeles delivery only. You can choose from 3, 6, and 12 months. You can choose seasonal pies, mini pies, or DIY Pie in a Box. Monthly, you'll get a 10×10 inches pie weighing about 5 lbs. The pie's flavor with be based on what fruit is in season.
Niles Pie Company


Niles Pie Company is a small company in Union City, California. They sell pies at local markets and from their bakery. Online orders can be picked up from their store or market locations. They deliver to the Bay Area as well, although there's a delivery fee of between $15 and $75, depending on where you live.
There are a few subscriptions to choose from, including their sweet pie club. This one ships out a seasonal pie each month for $25. You get to select your pie from their seasonal menu, so the control is ultimately in your hands.
But, it's the savory options that are really fascinating. Niles is the only company I've seen that offers a specialized savory pie club. This costs $27 per month and works exactly like the sweet version. There are plenty of pot pies in the mix, along with some more unusual ones (like ratatouille pie) and quiches.
They even have a mixed pie of the month club. This subscription is for an entire year and provides both sweet and savory pies. Some of their flavors include Roasted Pepper and Cheese Tart, Beef & Mushroom Pie, Pear & Raspberry Pie, and Tollhouse Cookie Pie. There are even a few extra surprise treats throughout the year.
Buttermilk Bakery & Pie Shop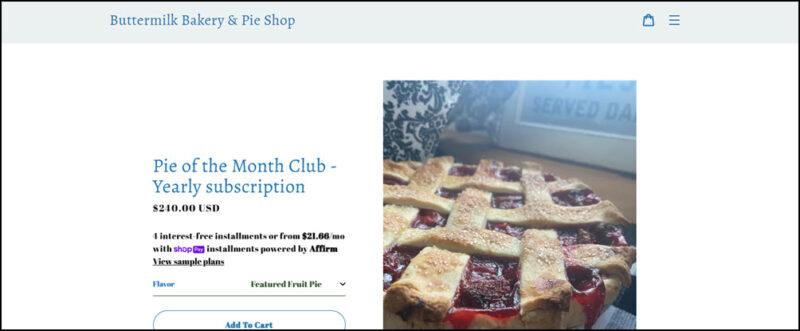 The Buttermilk Bakery & Pie Shop offers a huge range of delicious treats, including sweet and savory pies, cupcakes, cookies, and more. Their pie of the month club is a yearly subscription for $240 and ships out a single full-sized delicious pie every month.
Subscribers can choose between the featured custard pie, featured fruit pie, or chef's choice pie. No details are given about which flavors to expect each month, but the bakery produces some amazing-looking pies, so you shouldn't be disappointed.
However, like many small companies, the Buttermilk Bakery & Pie Shop doesn't ship their pies out. You need to be able to pick up the pies from their farm in Loveland, Colorado.
Livin' The Pie Life


Livin' the Pie Life is another relatively small company that requires customers to pick up their pies. This time they're located in Arlington, Virginia
The 3-month version of their membership costs $99, the 6-month costs $209, and the 12-month costs $399 instead. The prices aren't too bad considering the complexity of their pies.
Having to pick up the pies is a bit frustrating. Still, this should give you a fresher and tastier pie than anything that comes in the mail.
The club operates by sending you a code each month. You can then use this code to order a savory or sweet pie from the website. While this style means you won't get a surprise, it gives you complete control over the dessert you receive.
Erwin's Pie Of The Month Club

Erwin's Bakery is a proudly Canadian company, located in Kamloops. Their Pie of the Month Club ranges from $30 for a single month to $264 for a 12-month membership. All of the pies sent through the club are made for club members specifically. They're never sold in the company's store.
Erwin's also has a list of the different flavors from December 2022 all the way to December 2024. Some of these are familiar, but there are some unexpected pies on the list as well, including a Tomato Onion Pie, a Carrot Cake Pie, and a Mac n Cheese Pie.
All the pies must be picked up within a 2-day window and there are no substitutions. This approach doesn't provide much flexibility. It could also mean that you sometimes get pies that you don't really like. Still… some of those unusual pies sound seriously amazing – and you won't find them anywhere else.
Salty Lark Pies Club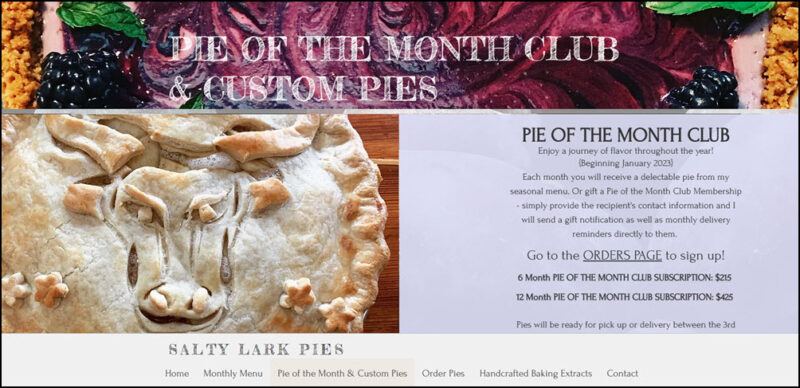 What do you think of the pies from the Salty Lark Pies Club? Some of them have an amazing style. They're certainly more exciting and complex than the pies from a regular store.
The club costs $215 for a 6-month subscription and $425 for a 12-month subscription. The pies need to be picked up between the 3rd and 6th of each month (from Yellow Springs, Ohio), but the company will send you out a reminder.
What's more, the pies in this subscription are all made by hand. There's also plenty of monthly variation, as the seasons and local produce inspire the pies that are created.
Piedaho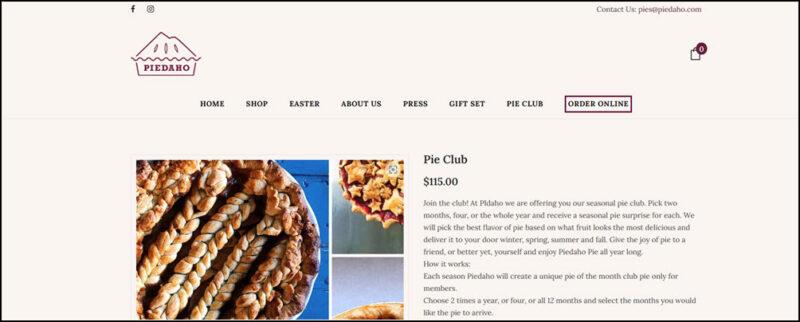 Piedaho offers a Seasonal Pie Club which relies on seasonal fruit to create delicious and unique pies every month of the year. You can choose whether to receive pies twice a year, 4 times, or 12. You even get to pick which months the pies turn up.
You end up paying $115 for 2 pies, $220 for 4 pies, and $650 for 12 pies. These prices make this a fairly expensive company (seriously, you're paying more than $50 for a single pie!). Still, they are artisan pies. Hopefully, they live up to the price tag.
City Bakers Collection Pie Lovers Club


City Bakers Collective is another Canadian company with an exciting subscription. Their Pie Lovers Club offers a surprise pie every month. These are often based on seasonal flavors and are occasionally quite unusual.
If you order a 6-month membership from the company, you get to put in a request for a custom pie. The 12-month version is even more exciting, providing you with two custom pies.
Pricing varies depending on subscription length and how you receive your pies. If you pick them up, a 3-month subscription costs $100 CAD, a 6-month subscription costs $185 CAD, and a 12-month subscription costs $350 CAD. If you go with delivery instead, the prices change to $130 CAD, $245 CAD, and $470 CAD, respectively.
Delivery is only available in Toronto, so you're out of luck if you live further afield.
Short Stack Eatery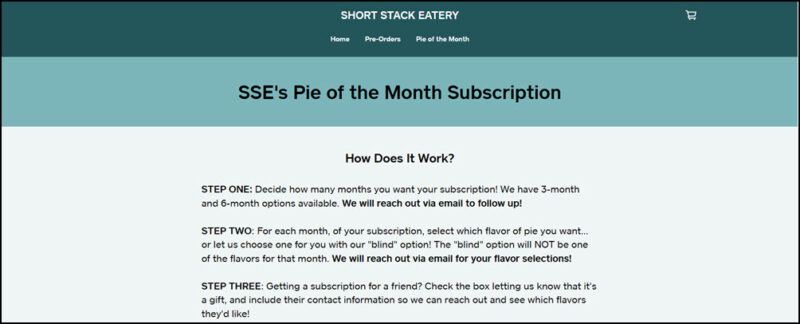 Short Stack Eatery is a relatively small store in Madison, Wisconsin, with delicious food and drink, plus a Pie of the Month Club. The location is important, as this is another pickup-only pie club.
A 3-month subscription to the club costs $48 for a Petite pie (which serves 1-2 people) and $75 for a Full Sized pie (which serves 6 to 8 people instead). Or, you can go with the 6-month subscription, which costs $96 for a Petite pie and $145 for a Full Sized one.
Short Stack Eatery takes an interesting approach to their pie flavors. Each month provides you with two flavors to choose from, like Key Lime Pie and Chocolate Raspberry Mousse Pie in May.
Or, you can go with a 'blind' subscription, where the company chooses your pie for you. The pie they choose isn't one of the two on their flavor list, so it truly ends up being a surprise.
Red Acre Farm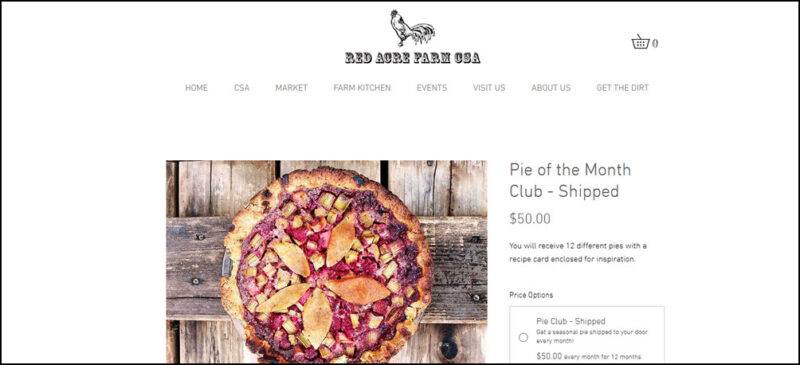 Finally, there's Red Acre Farm. This company's Pie of the Month Club focuses on seasonal flavors and costs $50 a month for a 12-month subscription. You don't get to choose the flavor and there aren't any ways to vary subscription length either.
While there are few details about the pies themselves, Red Acre Farm has a strong focus on the environment and quality. This should mean they put a lot of effort into making some truly delicious pies.
Frequently Asked Questions
Is There A Pot Pie Of The Month Club?
Despite sounding pretty amazing, pot pie of the month clubs don't actually exist. The best you can do is find companies that will deliver pot pies to you. There's a surprising number of these. Some even sell gluten free pies or ones with non-traditional fillings.
You may even be able to order the pie on a regular subscription. Southern Baked Pie Company provides this option. Doing so is pretty close to a pot pie club, except that you'd get the same type of pie each month.
Are The Pies Always Sweet?
These clubs focus almost exclusively on sweet pies. Even companies that offer savory products tend to only ship sweet pies out for their clubs.
The one exception is Niles Pie Co. This company sends out a seasonal pie each month, which could be sweet or savory. They also have a savory pie club for $27 per month, where you get to choose which pie you receive. This is the absolute best subscription if you truly want variety, but they only deliver to the Bay Area in California.
Does Harry & David Have A Monthly Pie Club?
Harry & David has a monthly dessert club that includes a pumpkin pie in November, a Peach and Berry Pie in May, and a Cherry Pie in July. You can also order pies individually from their site, including a Salted Caramel Apple Pie and Deep Dish Pumpkin Pie.
However, there isn't a specific pie subscription. This might be because Harry & David only has a small selection of pies and they're not all available at the same time. So, you'll need to plan ahead and order pies when you want them.
Is There An Apple Pie Of The Month Club?
Most companies ship out different types of pie each month, giving you plenty of variety. But, if you want to stick to the tried and true apple pie, Allen's Pie is the subscription for you. This club sends out a freshly baked apple pie once every three months, but only to recipients in New York.
You could also look for a club that allows you to choose your pie flavor every month, like the Grand Traverse Pie Company. Or, why not skip the club idea entirely? Plenty of companies allow you to order pies online. You could simply order an apple pie whenever you want one or look for a site that offers repeat subscriptions.