As a big fan of cheese, I'm more than happy to text out all the cheese of the month clubs I can to see which one is the best. Very recently, a new club launched – the Rare Cheese Club.
I wasn't exactly sure what a "rare" cheese was when I joined. Are you?
As it turns out, good cheese, like wine, beer, cigars, or any other gourmet foods, can be difficult to find. The blue cheese in your local Save Mart doesn't do any justice to the century-old Belgian cheese maker producing one-off batches.
In my Rare Cheese Club review I wanted to introduce you to a couple of the specific products that were shipped to me as a member. Though you can't reach through your computer screen and taste these for yourself, you can still join and get whatever is coming next month.
Each month is a surprise, and so far, the club has not disappointed, and I'm still a member!
Rare Cheese Club Review
The Rare Cheese Club from MonthlyClubs.com is the reason that food clubs exist. There's just absolutely no way I'd ever have access to this type of cheese within 50 miles of where I live.
Not only that, I'd have no idea where to start. I love cheese, but I'm not the type of cheese lover to spend hours researching what type of cheese there is to eat and then drive 100 miles to go get it.
Beer – sure. Let's do it. But cheese? I'm just not there that.
That being said, I have a deep appreciation for strong cheeses, and The Rare Cheese Club delivered.
The truth is, I've been a member of many different cheese clubs over the years. For most of them, it was clear they were just buying discount bulk cheeses, and some were even in the grocery story packaging.
Sorry, I'm just not interested in habanero cheddar.
I want something cave aged in the hills of France, or from a 100 year old farm in the Midwest. I want to taste grass from the Swiss Alps, or the salty seaside of Northern England.

With the Rare Cheese Club, you get three incredible cheeses each month. For my first month, I got something called a garrotxa from Catalonia, a Cheddar from Prince Edward Island, and blue from Wisconsin.
I'll describe and show the cheeses below, but the best of the bunch was the garroxta. Wow. What a unique cheese, with a delicious sweet/acidic balance. The biggest surprise was the Dunbarton Blue, since it wasn't really 'blue' at all (which I liked).
Rare Cheese Delivery 1
Cheese #1: Sant Gil D'Albió Garrotxa

Origin: Spain
Texture: Firm
Milk Type: Goat; Pasteurized
Age: 2 Months
Tasting Notes: Clean, salty, slightly acidic. Cooked curds, minerals, and herbaceous. Rustic, bloomy rind formed by fungus helps sweeten and balance by neutralizing acidity.
My Notes: Dark rind keep going to. Rind is Bitter and earthy but complex. Woody. Intense. Lasting umami. Dry and flaky by itself but in combination with cheese compliments. Creamy but sharp tartness.
Cheese #2: Avonlea Clothbound Cheddar

Origin: Price Edward Island, Canada
Texture: Semi-Firm
Milk Type: Cow; Raw
Age: 12-16 Months
Tasting Notes: Umami & mineral flavors. Sweet, nutty, and fruit-like tanginess. Earned 12 National US & Canadian awards!
My Notes: Cheddar nicer than one dimensional sharp cheddars. Sea Salty. Grass. Most interesting part was the rind.
Cheese #3: Dunbarton Blue

Origin: Shullsburg, Wisconsin
Texture: Semi-Firm
Milk Type: Cow
Age: 3-6 Months
Tasting Notes: Firm, yet pasty. Earthy & savory flavors. Cheddar salinity w/ blue sweetness.
My Notes: Woody. Creamy. Earthy. complex. Nice kind of creamy – not soft.
Rare Cheese Delivery 2
Cheese #1: Queso Azul Andazul

Origin: Spain
Texture: Semi-soft: Blue
Milk Type: Goat; Pasteurized
Age: 4 Months
Tasting Notes: Fudgy creaminess, with umami. Buttery, savory flavors on the rind. Touch of mineral tanginess, that pairs well with sweet and nutty foods like apples, apricots, cranberries, figs, and walnuts.
My Notes: This cheese had a very deep, earthy flavor to it. There was some tartness I could taste at the edges of my tongue and corners of mouth, but it was an overall, very rich cheese.
I got some soft bread flavors, as well as salt and fresh grain. It would pair well with chocolate porter to compliment the sweetness. An amber ale would also match well with the roasty-sweet flavors.
I'm a fan of blue cheese, and really enjoyed looking that the marbling in this one!

Cheese #2: Moro Formaggi Ubriaco Pino Rosé

Origin: Italy
Texture: Semi-soft
Milk Type: Sheep; Pasteurized
Age: 6-9 months
Tasting Notes: Floral aroma, with fruity sweet flavors. Pairs well with Italian whites and rosés.
My Notes: The booziness of this cheese was not subtle! It was a bit overwhelming, so I only at this one in small bites, and it lasted the longest. I didn't like it much at first, but it grew on me.
There was a strong wine/grape flavor component with some tartness, and a crumbly texture.
Cheese #3 Tulip Tree Trillium

Origin: USA
Texture: Soft
Milk Type: Cow; Raw
Age: 2-4 weeks
Tasting Notes: Buttery soft and mild sweetness, with some lactic notes. Luxurious texture pairs well with red or white wine, or even a Russian imperial stout!
My Notes: I get a bit of fresh cut grass on this one, maybe from the rind. Inside was soft and tender, with some floral flavors. I think this cheese would pair well with a light German lager, since the floral aromas of the noble hops would match with with those flavors.
Rare Cheese Delivery 3
Cheese #1: Préféré de nos Montagnes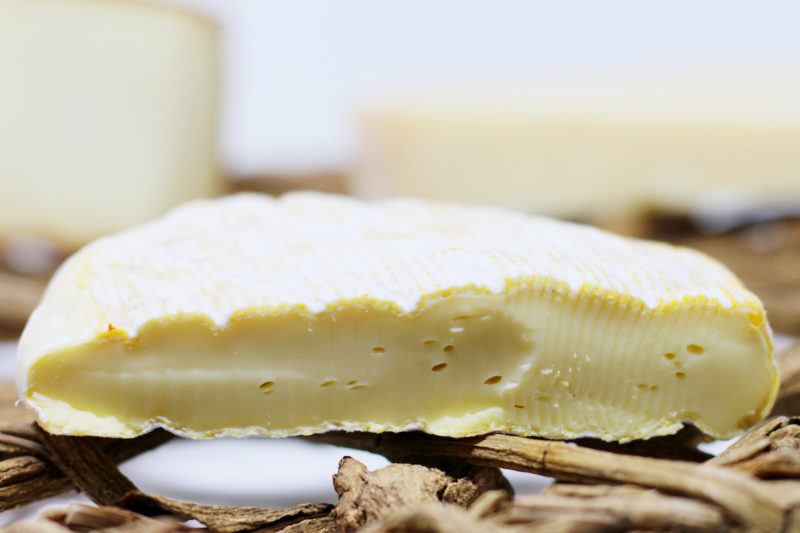 Origin: France
Texture: soft; Bloomy Rind
Milk Type: Cow; Pasteurized
Age: 1-2 months
You can tell this cheese is fancy by the number of accents on it. LOL. But seriously, this was a very interesting cheese. It was soft enough to spread on a cracker, but hard enough to cut into squares and stick a toothpick in it. It wasn't overwhelmingly fragrant like a lot of soft cheeses – a perfect middle ground.
The texture was quite unique. I don't think I've ever had anything quite like it. It wasn't "weird" at all, just different!
The pungent flavors of this cheese are best savored by pairing with lighter flavored, medium bodied wines, or golden lagers ales.
Cheese #2: Valserena Parmigiano Reggiano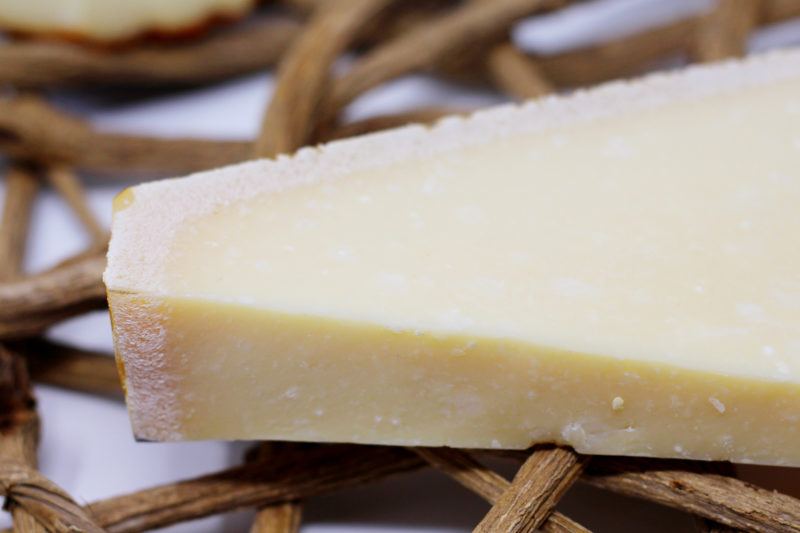 Origin: Italy
Texture: Firm
Milk Type: Cow; Raw
Age: 24-36 months
Of all the cheeses I received in these three shipments from the rare cheese club, this parmesan cheese was my least favorite. That's unfortunate, because according to the notes it was created by the oldest Parmeigiano-Reggiano producer in Italy!
While I can appreciate the craft that went into making this cheese, it just wasn't my style. I like to each cheese as-is, not adding to anything, and parmesan is so dry, crumbly, salty, and overwhelmingly umami that I just couldn't really find an appropriate time to snack on this.
Reading over the notes now, I see that it's recommended to eat with a drizzle of honey or balsamic vinegar, and I think those sweet flavors with a bit of hydration could have helped cut some of the salty and dry flavors of this particular cheese.
Cheese #3: Alisios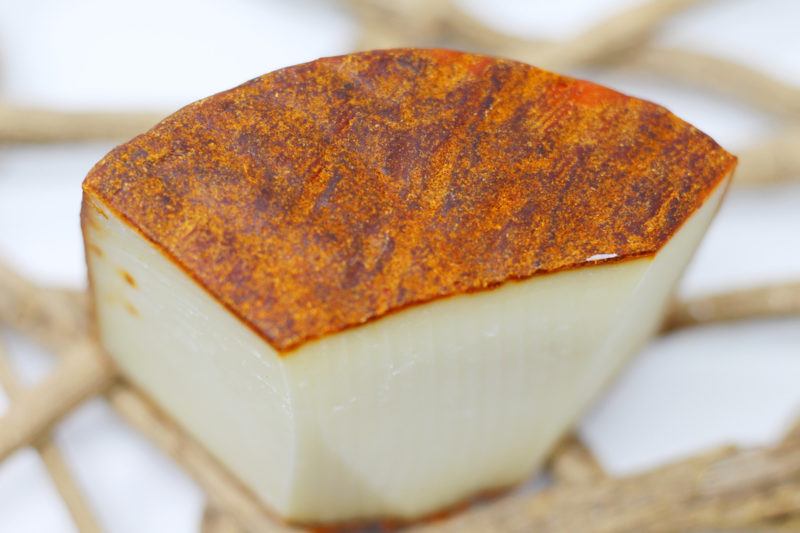 Origin: Spain
Texture: Firm
Milk Type: Cow & Goat; Pasteurized
Age: 2-3 months
When I read the notes that came along with this Alisios cheese, I read that the rind was created with smoked paprika…so I was expecting some spice. It looks spicy and smoky, right?
I was mistaken! The rind is created using the same type of peppers as smoked paprika: sweet pimentón. So there's no spicy smoky flavor. Perfect. I hate flavored cheese.
The rind does add a bit of sweetness to the cheese, but not overwhelmingly so that you can't taste the actual cheese itself. The pleasant, salty-sweet flavor of this cheese would pair well with many types of wine, and I think it goes well with an Irish red or other type of amber ale.
Cheese Education
One thing I really enjoyed about The Rare Cheese Club (and all MonthlyClubs.com subscriptions), is that they really make the effort to educate you about the stuff you consume.
A club with these guys is not just about consuming food. You really get to appreciate gourmet food, by learning a little bit about it!

Don't worry, they won't send you a 500 page book on how to make cheese! They do however, include a small flyer with information on each of the cheeses in your delivery. You'll learn where the cheese came from, who made it, and a quick history of how it came into production.
For example, the Garroxta almost went completely out of production in the late 70's, but was revived by a cheesemaker cooperative in Catalonia. The maker of this cheese only has 12 employees, and they've been making this particular cheese for 30 years!
The flyer also include tasting notes, so you can read along as you taste. Instead of just "I like this one", you can get a better idea of what to look for. For example, the clothbound cheddar was made on Prince Edward Island, which imparts a salty, mineral-y flavor, in addition to its complex sweet and nuttiness.
Cool, right?
Pros
rare cheese (hard to find locally)
broad range of flavors, textures, styles
learn about the cheese and cheese maker
pairing and tasting notes
try new cheese every month
can order 2-12 months in advance
can pay monthly
Cons
a little bit expensive ($53.95 + $14 Shipping)
cannot choose cheese
Final Thoughts
I think it's pretty clear that I enjoyed the rare cheese club. Although almost $70/month for 1.5 pound of cheese seems like a lot on the surface, you really do get what you pay for.
I like to pair my cheese with local craft beer. Personally, I think beer goes better with cheese than wine does. I like a blonde with something light and tart, or a porter with something rich and creamy. I know most of you will disagree, but whatevs.
Plus, that means I can stop buying stupid things in the grocery store like mass-produced brie sharp English cheddar. Honestly, I can't see that as being worth the money any more after trying the incredible cheeses from above.
If you love cheese, or know someone who does, I recommend at least trying this club especially if you can't find any interesting cheese locally. Use the links on this page to get a discount on your first order!