Clubs of America: Beer of the Month Club Review
Beer Selection - 91%
Price - 89%
Order & Delivery - 92%
Customer Service - 86%
Club Features & Quality - 94%
90
%
Explore USA-Wide Craft Beers!
I was generally happy with the beers that I received, and would recommend this membership for a few months. However, for an experience craft beer drinker, you may get bored of some of the selections. Long term, I can just go to my local bottle shop and get a wider variety of beers for cheaper, and I won't have to deal with the hassle of waiting for a beer shipment.

However, the beers were delicious, and this makes a great gift, or short term adventure if you are bored of what's available in your local shop. I live in California, so have a ton of selection in the stores here. So if you are thirsty for what you don't have locally, this is an awesome club for tasting beers from around the USA.
Cost: $42.95/month (free shipping)
$25 discount On 12-month membership!
12 US micro craft beers per delivery
2 breweries, 4 styles, 3 beers each
This year I took time out of my busy schedule to drink a bunch of beer so I could let you guys know where to get the good stuff. LOL. But seriously, I did join all the beer of the month clubs that I could find online, and will review & compare them so you know which club is the best one for you.
This week, I'm going to review Clubs of America: Craft Beer Club, to see what beer they offer, how much it costs, and if the beer was any good. Most importantly, is it worth the price, and will I keep my membership long term? Let's get started.
Signing Up For Clubs Of America
Before you get started, let's make it clear which website we're talking about. They have got a very confusing setup, and it took me about 10 times looking over all my beer delivery club information to figure out what was going on.
Their domain name is GREATCLUBS.COM
Their company name is CLUBS OF AMERICA
Their beer club name is BEER OF THE MONTH CLUB
Here's a screenshot of what their website looks like, so you know you're at the right place. They call themselves "the original gift of the month club", but that's not to be confused with The Original Craft Beer Club [LINK], which is a completely different company/service.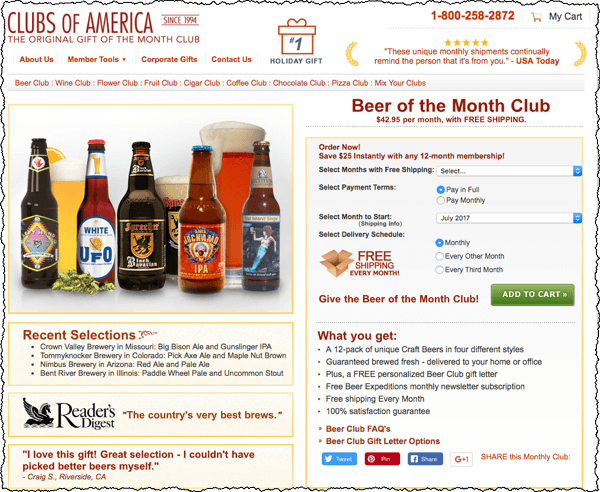 I think the website could use a big update to be a bit more user friendly and informative. They've been around since 1994, and it looks like their site was built in that year! Of course, this has no bearing on the quality of the beer, and crappy websites seem to be the standard for beer clubs. But as a website owner, I felt there was a serious lack of information about the club, its benefits, and past beer selections.
What would be even better would be the ability to tailor my own boxes to include more of one kind of beer or less of one kind. I know some people hate stouts, and others hate IPAs. Expect both in your box! For someone like me, I appreciate every kind of beer so I knew I would like whatever they send, but keep this in mind if you join this club.
If you hate IPAs, you may want to consider joining the International Beer Club [LINK] since non-US beers tend to be less hoppy. It's just the USA, and mostly the West Coast USA that go nuts for hops. I love hoppy beers though, and recently tried Monthly Clubs Hop Heads Beer Club [LINK] (their newest club addition in many, many years).
Delivery of Clubs of America Beer
My beer arrived without issue, properly packed, without any broken bottles. I had to sign for it, of course, but since I work from home this wasn't an issue. Depending on where you live, you may need to deliver to your work, having someone sign for it, or have it delivered to a place where they can hold alcohol shipments without a problem. Mine was consistently delivered during a morning weekday, and I know that's not convenient for most people!
Upon opening the package, I did notice their newsletter as promised. In my opinion, it didn't really have any useful information about the breweries or beer, and was a bit gimmicky. For me, part of the fun of drinking craft beer from American breweries is learning about their history, and how the beer is made. There was some basic information like the difference between some beer styles, but it was very basic.
As a homebrewer, it would be an awesome bonus to have a clone recipe or two I could make at home. Other clubs like the The U.S. Microbrewed Beer Club from MonthlyClubs.com [LINK] contain pretty useful information in their newsletter called Malt of the Earth.
Beer Selection & Quality
Though there are four different beers each month, they come from just two different breweries. That's great because you get to see a variety of what a brewery has to offer, and don't get overwhelmed with too many brewery names, beer styles, and crazy beer names. However, I like variety and tasting as many breweries as possible is part of the fun, so I was a little disappointed to see that I didn't get to try 4 different breweries each time. Not a big deal, but worth mentioning.
For the first month, I got to try beers from Shmaltz brewery and Belfast Brewery. I'm familiar with Schmaltz, but had never bought it for myself. They included a lager and an IPA, which greatly surpassed my expectations! I know the brewery from different articles I've read, and know it's a popular one. Now I know why!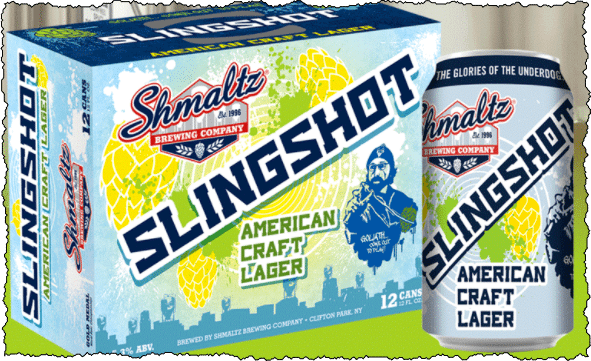 I also really enjoyed the oatmeal stout from McGovern's. Tasty! But the Lobster Red Ale was just mediocre. It wasn't bad, but didn't really have anything that made it distinguishable from other general amber ales I've had before. I guess every beer doesn't have to be amazing lol.
PENDING: I accidentally deleted all my photos from 3 months of membership, plus my beer tasting notes. I'll update this section after I join the club again and get more details about beer selection.
Personal Opinion About The Beer
In the three months I was a member, I got a good variety of different breweries and beers. They were all solid selections. However, pretty much all of them were very standard beer styles. In fact, considering what's available in the craft beer world, sometimes they were a bit boring. There were lots of "stouts", "wheat beers", "amber ales", and "lagers". I enjoy the far-out stuff like "chocolate cherry imperial stouts", "watermelon wheat sour", "amber ale aged in bourbon barrels" and "dry hopped lagers", for example. It doesn't have to be super weird stuff, but at least be a little creative!
I could probably find an equally good variety of beers at my local TotalWine or Bevmo, and it would be a lot cheaper. Even $12 for a six pack is very expensive, but it works out to $2.00 per bottle. A $9 six pack works out to $1.50 per beer as opposed to $3.50, and I get to pick out exactly what I want.
So if you are looking to discover new and fun beers that will expand your palate and help you discover new flavors of beers you love, you probably won't find much satisfaction in this club. But if you just want to taste excellent craft beer and are bored of what's available at your local store, getting a few months of this club would be fun!
Pros
1 month option with no contract
Pay for 2-12 months in advance
Shipping included
Try beers from across the USA
Cons
Only highlights 4 past selections
Only shows 1 positive review
Only discount available for 12 months
No option to leave membership open
Average cost $3.50 per beer (including shipping)
Gimmicky newsletter not worth reading
Who Is This Club Best For?
This club is best for someone that's tired of their local selection of beer and doesn't want to drive to the next town to see if they can find something different. Clubs of America is also a lot easier and probably cheaper than ordering from other beer websites where you order "bombers" (22 oz) bottles. Those types of websites usually focus on rarer beers that cost more and are harder to find. With Clubs of America you can get 12 oz bottles/cans of great beer delivered to your door instead of wasting a bunch of time looking for specific things online.
It also makes a great gift for a craft beer lover. Some of my criticisms in this review would be much less sever if someone else was paying for the club for me LOL. It was great beer, but I just wouldn't pay that much for it on a long term basis. If someone else is paying, well, then keep 'em coming.
Comparison To Other Clubs & Links
Here are the main competitors and their reviews, if I've joined and tried them:
The one that stands out is the Microbrewed beer of the month club and the HopHeads club (same company). I haven't tried Amazing Clubs or Clubs Galore yet because their websites looked so bad, I wanted to start with these other guys first. I'll update as soon as I've tried them all.
If you aren't a "hop head", then the Microbrewed Beer of The Month Club from MonthlyClubs.com is a good choice since you can go for the US microbrew only, International, or US/International Mix. The Microbrew club actually has a lot of repeats from Clubs of America, though not all are repeated.
Which one is better? Well, the US micro and the Clubs of America are the same price. If I had to choose one, I'd go with the US Microbrew club because I enjoy so many of their other clubs. They have the famous Michale Jackson on staff selecting beers for the Rare Beer Club which is my all-time favorite club, so I trust this particular company and the quality of their products most of any of the beer clubs I've tried.
Which club will you try?
Is it for you or are you picking it as a gift?
Let us know in the comment section!