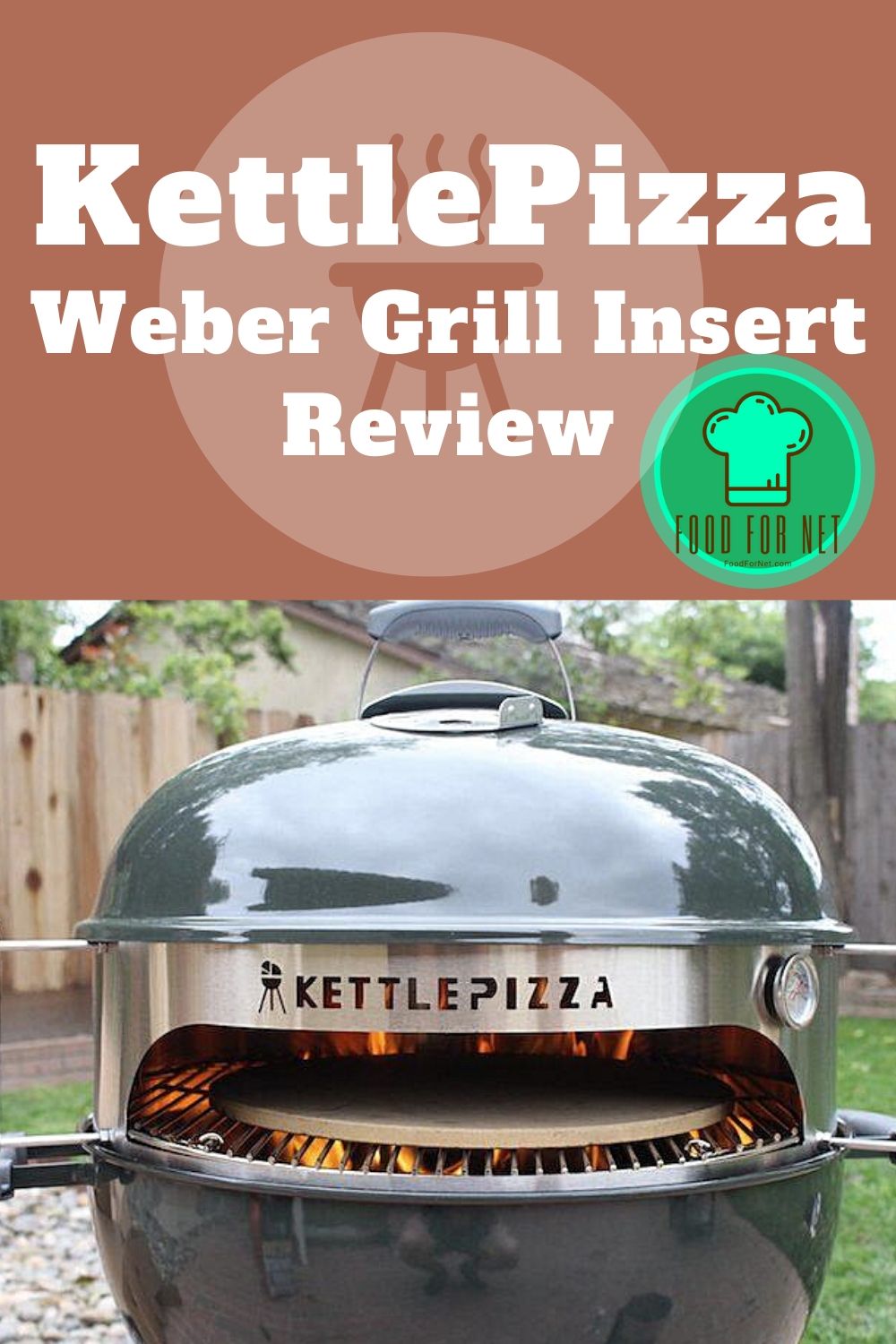 Who doesn't love a fresh baked, home made, wood-fired pizza – the flavor is amazing, right? The idea of making it in your own backyard sounds pretty cool, but buying a wood-fired pizza oven can cost several thousand dollars.
On top of that, building your own outdoor pizza oven yourself requires that you have the space, permission (if you don't own the property or have HOA), and that you'll use it enough to make it worth the time needed to build it.
…enter KettlePizza
Sale

KettlePizza Basic 22.5 – Pizza Oven Kit…
Transforms 22.5″ kettle grills like Weber One Touch Gold or Silver into a pizza oven.
Heat remains stable because lid does not need to be removed to access food.
Made of 20 gauge, 304 grade stainless steel. Made in USA.
Use with a skillet to cook meats, fish or vegetables.
Works with charcoal or hardwood.
KettlePizza Review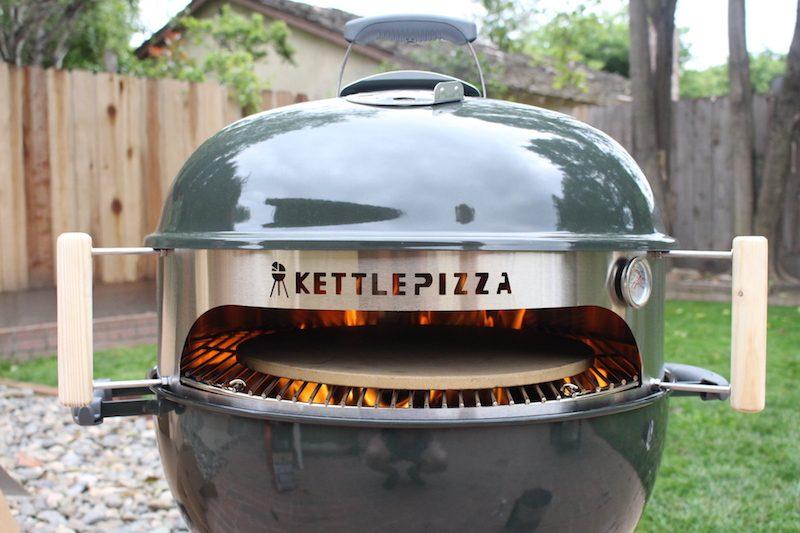 There are a bunch of ways to turn your charcoal grill into a pizza oven, but KettlePizza is a company that specializes in this one specific task. Genius!
You could make restaurant-quality pizza in your backyard for cheap, with some very basic accessories that work with your current grill. KettlePizza, named after the kettle-style grill it works with, is top dog in the backyard pizza oven space.
Note: Although there are other brands of kettle style charcoal grills out there, I highly recommend using a Weber. KettlePizza was designed to work with this specific size and shape. It may work with other brands, but I've never actually seen anyone do this.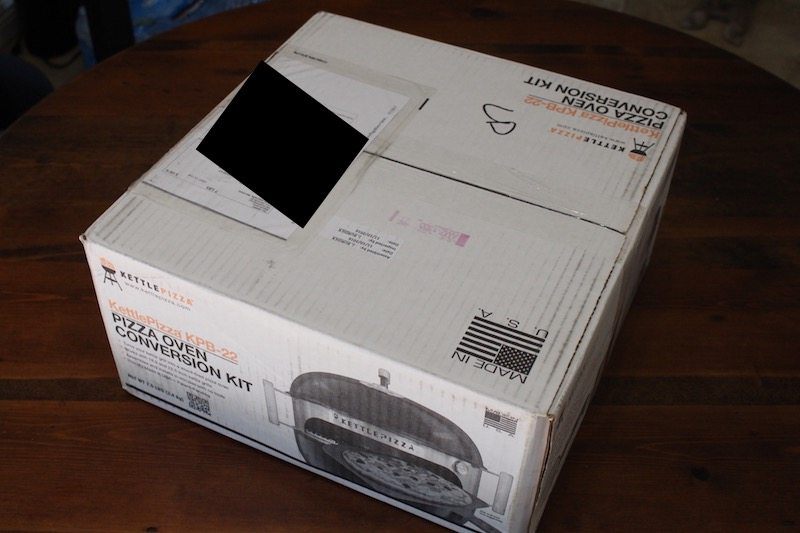 I was surprised at how small it was when it arrived in the mail. The shipping box is only 15″ x 15″. Keep this box for when you decide to store your KettlePizza for the winter.
Depending on where you live and the size of your garage, it may be difficult to find space for a 22.5 inch, round thing. I just leave my grill outside because I'm in California, so it doesn't snow at all, or rain much in the winter. However, I don't want to leave my KettlePizza outside all year long!
How The KettlePizza Weber Grill Insert Works
Essentially what you're doing with the KettlePizza insert is making an alteration to your charcoal grill so that it can get up to a higher temperature. Normally, using just charcoal, your grill will cook at between 300ºF – 500ºF.
While this can cook a pizza in about 20 minutes, it's not "Neapolitan style" cooking that you get with a wood-fired pizza oven. Not only that, you only get charcoal smoke, instead of wood smoke, which is what's going to flavor the dough as we cook.
While this can cook a pizza in about 20 minutes, it's not "Neapolitan style" cooking that you get with a wood-fired pizza oven. Not only that, you only get charcoal smoke, instead of wood smoke, which is what's going to flavor the dough as we cook.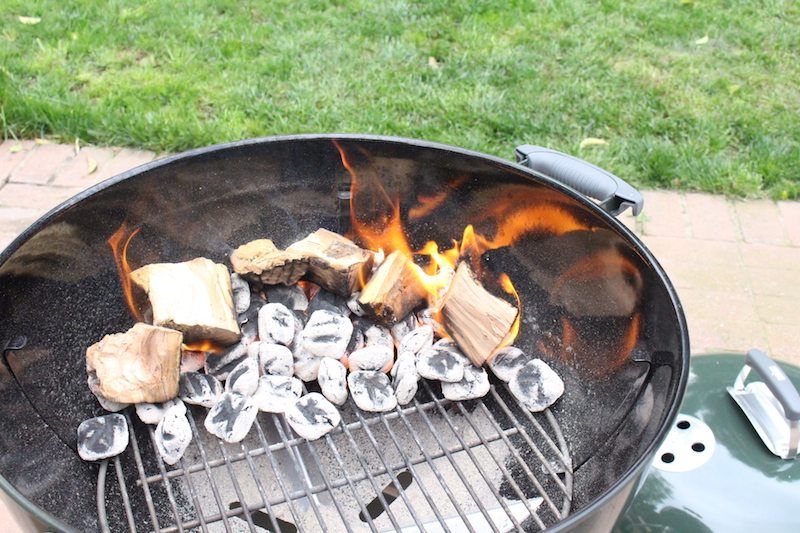 A wood fired oven gets up to 1,000ºF, although a good cooking range is anywhere between 700º-1000.
First, with the opening in the front of the grill, it means we don't have to take the lid off the grill so we never lose heat. Second, because we're using wood and getting flames, we are going to burn at a hotter temperature.
Our coals and wood are at the back of the grill, making the back hotter than the front, which also contains the opening. This is going to give us nice air flow over the pizza, mimicking an actual wood fired pizza oven! With a pizza stone sitting on the grill grates, there's not a whole lot of difference between a hundred-dollar grill accessory and a six-thousand-dollar construction project.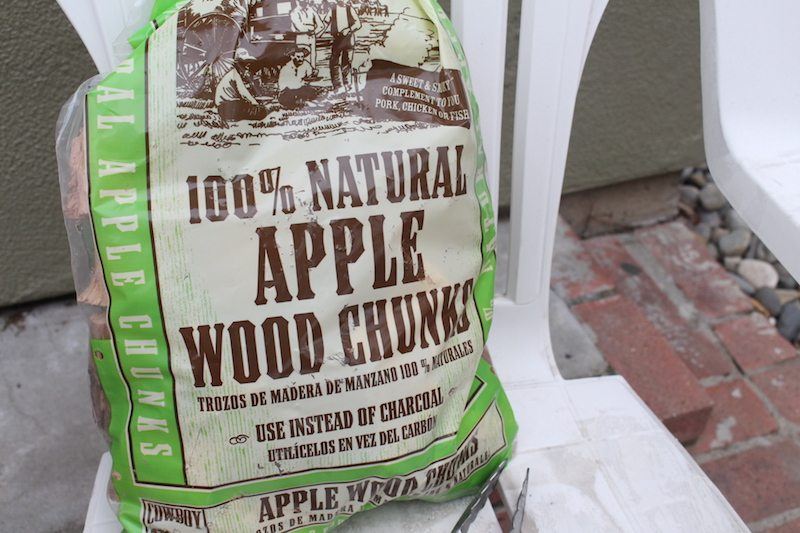 I know for country people, you usually have a pile of wood somewhere from a tree you cut down, or know someone that can sell you a box of wood. For city-folk like myself, you can buy chunks of wood at Lowe's, Home Depot, or Amazon.
It costs between $5 – $10 for 5 lbs depending on the type of wood you get. Applewood is kind of expensive, but the only other one available was hickory. I tend to avoid hickory and mesquite because the flavor can be quite pungent.
Other good options are cherry, pecan, or maple. Get chunks, not chips or pellets! The chips will burn up way too quickly. The pellets will just smolder and not cause any heat.
Once downside to cooking pizza this way is that you end up using a lot of fuel. I used about 2.5 lbs of wood and a couple pounds of coal to cook just 3 pizzas. Of course, I was learning how to use the KettlePizza insert, so was making mistakes along the way, so take that into consideration as well. But even if you're working efficiently, you may end up spending about $10 on fuel to cook up a couple pizzas. That, of course, depends on where you're getting your coal and wood!
Even with expensive fuel, it's still cheaper than a $20 artisan pizza (plus tip) in hipstertown! Including ingredients and fuel, it probably cost me about $5 to make a pizza, and I am confident I could cut that down with practice.
Video: KettlePizza Charcoal Tested & Reviewed!
Cooking Experience
I had a tough time learning how to use the KettlePizza Weber grill insert. Yup. I'll admit it. My first pies were not a success. Actually, the first time I used it I couldn't even cook them because I put it together wrong. The grilling grates go INSIDE the KettlePizza, not inside the grill. See my mistake in the image below?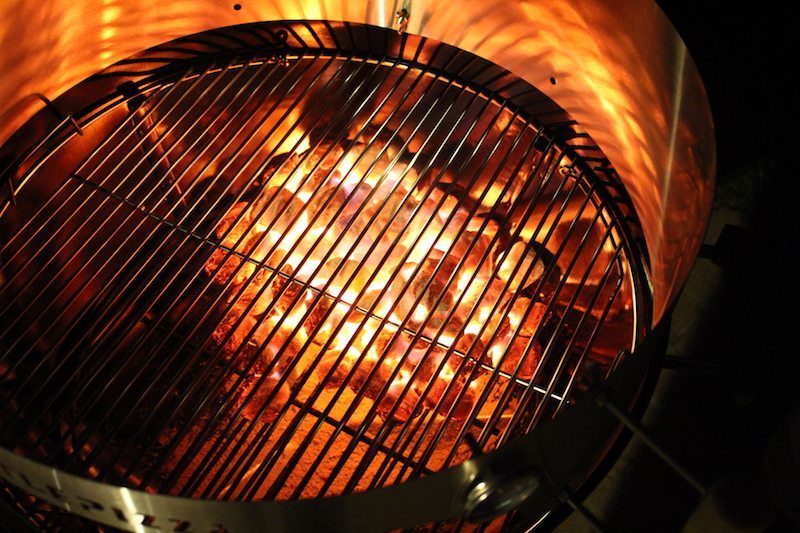 The grilling grates are sitting below the KettlePizza, meaning that I was unable to get the pizza in and out without angling the pizza peel. The grate sits on the wingnuts of the insert. Oops. Not only that, but I didn't know I need to use wood to get the temperature high enough. Oops x2.
Once I figured that out, it was time for round 2. The next day was slightly better, but still had some mishaps.
Make sure your dough has enough flour or it will stick to your pizza peel!
Make sure you know how far back the pizza stone is. I missed it a couple times!
Other than that, my main recurring mistake is overestimating how long the temperature lasts. Load up your grill with enough coal and wood to get that sucker hot. Don't be shy. In fact, I recommend getting a charcoal basket to hold your coal & wood.
Or, if you plan on spending some dough to get your pizza perfect, consider the Prograte + Tombstone Combustion Kit below. It comes with a bigger pizza stone, and a charcoal basket in one.
That'll solve two of the problems I had getting started right out of the gate!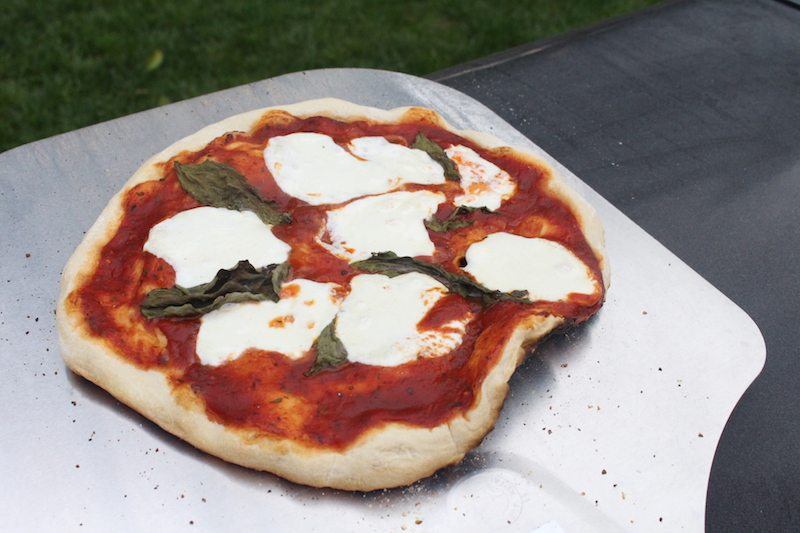 The dough here is looking a little pale – not quite like a true Neapolitan wood-fired pizza, but it was my fault. I was cooking at too low of a temperature. I was losing heat and ran out of wood! Still tasted great though.
After about 5-6 pizzas I started to get the hang of things. Don't get me wrong – I ate all of the pizzas I made. They were delicious! But they weren't "restaurant quality", which is what I'm aiming for. I'll update with more photos after I start producing some more photogenic pies.
Actually, I found that working with the KettlePizza Gas Pro was much easier. I just tossed the device on my gas grill, and was cooking amazing pizzas in minutes. They don't have that same wood-smoke flavor, but they are still delicious. I may experiment with KettlePizza's gas grill smoker device at a later date.
Technical Stuff
Unit Size: 22.5 x 22.5 x 7 inches, 7.2 lbs
Max Temperature: 800ºF+
Construction Material: Stainless Steel
It was interesting to find out exactly how the KettlePizza Weber grill insert could work with both 18.5 and 22.5 inch charcoal grills. The design was simple! Using wing nuts and bolts, you just choose which holes to bolt together, like rolling a newspaper on itself. They actually sell an extension plate on their website for 26.75 inch grills as well.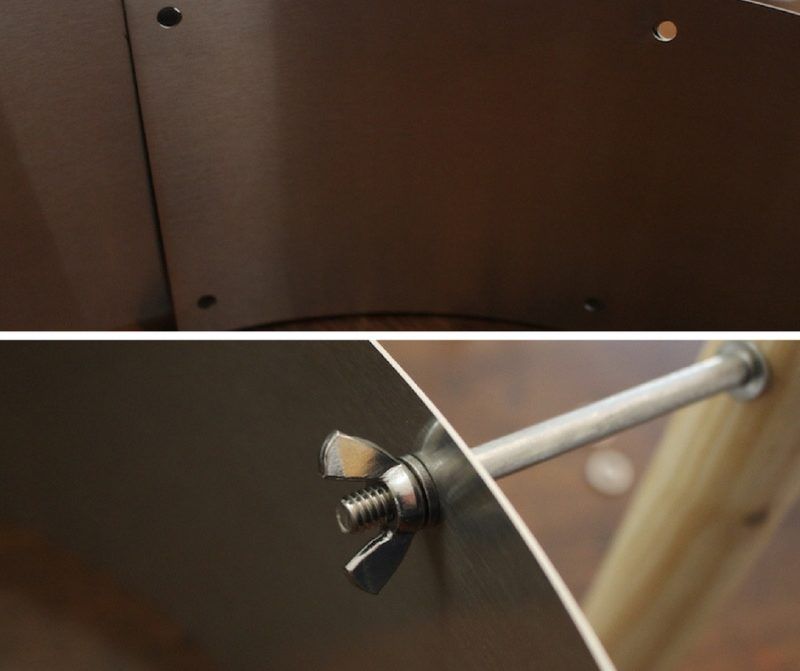 The temperature dial for the grill insert goes up to 700ºF but I've read online about people using an infrared thermometer that read almost 1000º (with the baking steel accessory).
Keep in mind the back of the grill will be way hotter since that's where the flames are. The front of the insert, which has the opening, is where the temperature dial is located.
Who Is The KettlePizza Weber Grill Insert Best For?
If you love outdoor grilling and want to try your hand at making some delicious pizzas at your next barbecue event, then the KettlePizza Weber grill insert would be perfect for you. Everyone loves pizza, and everyone will be really surprised that there's such an interesting product out there. I'll be you inspire some of the other people to buy their own as well!
If you have kids and want to teach them about cooking, or just spend some time outdoors, this is a really good project to have. You can take your pizza grill camping, tailgating, or even just stay in your backyard and enjoy being outside instead of stuck in front of the TV while a pizza cooks in the oven.
Or, if you're like me, just a dude that likes making creative food, this is a lot of fun to play with. I've made some awesome creations so far, including a spicy bacon pineapple pizza, a brie + fig jam pizza, and basil chicken pasilla pepper pizza that were amazing. There's nothing better than impressing your girlfriend with a homemade, fresh, hot, wood-fired pizza with her favorite toppings!
Pros/Cons
Pros
Great design/look
Creates authentic, restaurant quality pizza
Very cheap compared to traditional wood-fired ovens
Portable
Fun backyard activity
Great for people with kids
Made in USA
Wooden handles for easy maneuvering
Cons
Takes some practice to make perfect pizza
Requires a lot of fuel to maintain "pizza temperature"
Difficult to store (keep the original box!)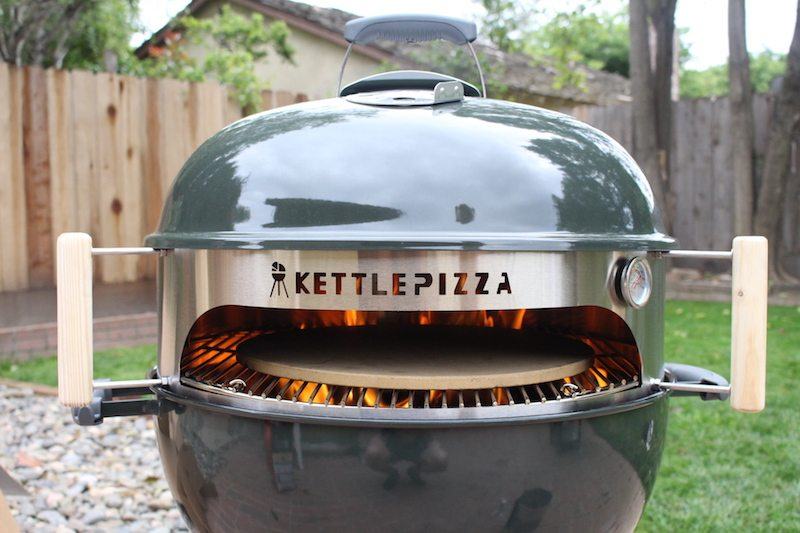 Upgrades To Improve Your Pizza Quality And Cooking Experience
Below is a list of upgrades you can buy for your KettlePizza Weber grill insert. I'm sure you're thinking, "wow, this is getting to be an expensive hobby!". But keep these things in mind:
You're still saving a ton of money by not building or buying a proper wood-fired pizza oven. Even with all of the upgrades listed here, you'll still spend less than $500 for a legit wood-fired pizza oven. Your oven will reach 800º-1000ºF and have smoky wood flavor. Plus, yours will be better because it's portable.
It's a portable pizza oven. You can take it with you if you move, or even if you just want to take it to a friends house or tailgating. Compare that to building or buying your own oven.
You don't have to get all of them. Personally, I really want to get the tombstone insert first because it'll make getting the pizza in and out easier
It will improve your pizza making experience. Pizza is fun, until you're struggling to get a floppy, sticky dough off your pizza peel. These make it easier, which makes pizza-making more fun.
They'll last forever. Everything here is stainless steel, high quality, and made in the USA. Plan on using this gear for the next decade, it'll pay dividends in chewy crust and gooey cheese. It's not just spending money, it's investing in your culinary skills, investing in your family and friends, and investing in happiness.
Note: Regarding the pricing of Amazon, I can't post the exact price here for two reasons. One, the price fluctuates depending on the exact seller, as well as fluctuations in the Amazon Marketplace.
Even a price change of less than $1 would be unfair to you and the seller. Plus, it's against Amazon's TOS to post an exact price. However, I will note that in some cases, the Amazon price is cheaper than KettlePizza. In other cases, the opposite is true.
My recommendation is to pick one place to order everything. Many of the KettlePizza accessories do not have Prime Shipping on Amazon, but some do. This may change in the future, so check!
Upgrade #1: ProGrate & Tombstone Combination Kit

KettlePizza ProGrate & Tombstone…
Installs on 22.5″ kettle grills with the KettlePizza insert to make a superior pizza cooking surface
Openings on sides allow easy refueling, firebox in rear allows extra heat to circulate in grill dome
Works with 22.5″ kettle grills and 22.5″ KettlePizza inserts such as KPB-22
Cooking grate is 304 stainless steel, tombstone shaped pizza stone is made of 5/8″ cordierite
All components proudly Made in USA with the highest grate materials
This is the upgrade that I'm gunning for. I haven't got it yet – too busy testing other pizza stuff right now, but I think this is really going to up my pizza game. It's a grill grate made especially for the KettlePizza insert. There are no actual "grates" though, because you don't need them to cook the pizza. It's an extra large pizza stone in the shape of a tombstone, with a basket in the back to put your charcoal and wood.
That keeps the fuel to a nice spot in the back so the stuff doesn't fall in the center of the grill beneath the stone, potentially cracking it or burning your dough.
Bigger cooking area = fewer lost pies in my opinion! I'm had a few incidents where I overshot my pizza stone and burned on the grill 🙁
Upgrade #2: Spinning Pizza Stone

Pizzacraft PC0119 Thermabond Stone-14…
The easiest way to turn your pizza and ensure that it cooks evenly
Prevents the need to turn your pizza with a peel, which can create a mess
Easy to install – this stone replaces the one that came with your PizzaQue or Pizzeria Pronto pizza oven
Product includes one 14-inch base Cordierite stone and one 14-inch rotating Cordierite stone along with bearings and turning tool
Compatible with the Pizzeria Pronto outdoor pizza oven – PC6000 and the PizzaQue outdoor pizza oven – PC6500
One of the difficulties of making pizza on a grill is getting the sweet spot for even heat. You've got your charcoal on one side of the grill, and getting the pizza in/out to turn it isn't the easiest thing in the world.
Having a spinning pizza stone means you can get your pizza cooked evenly on all sides, without the hassle.