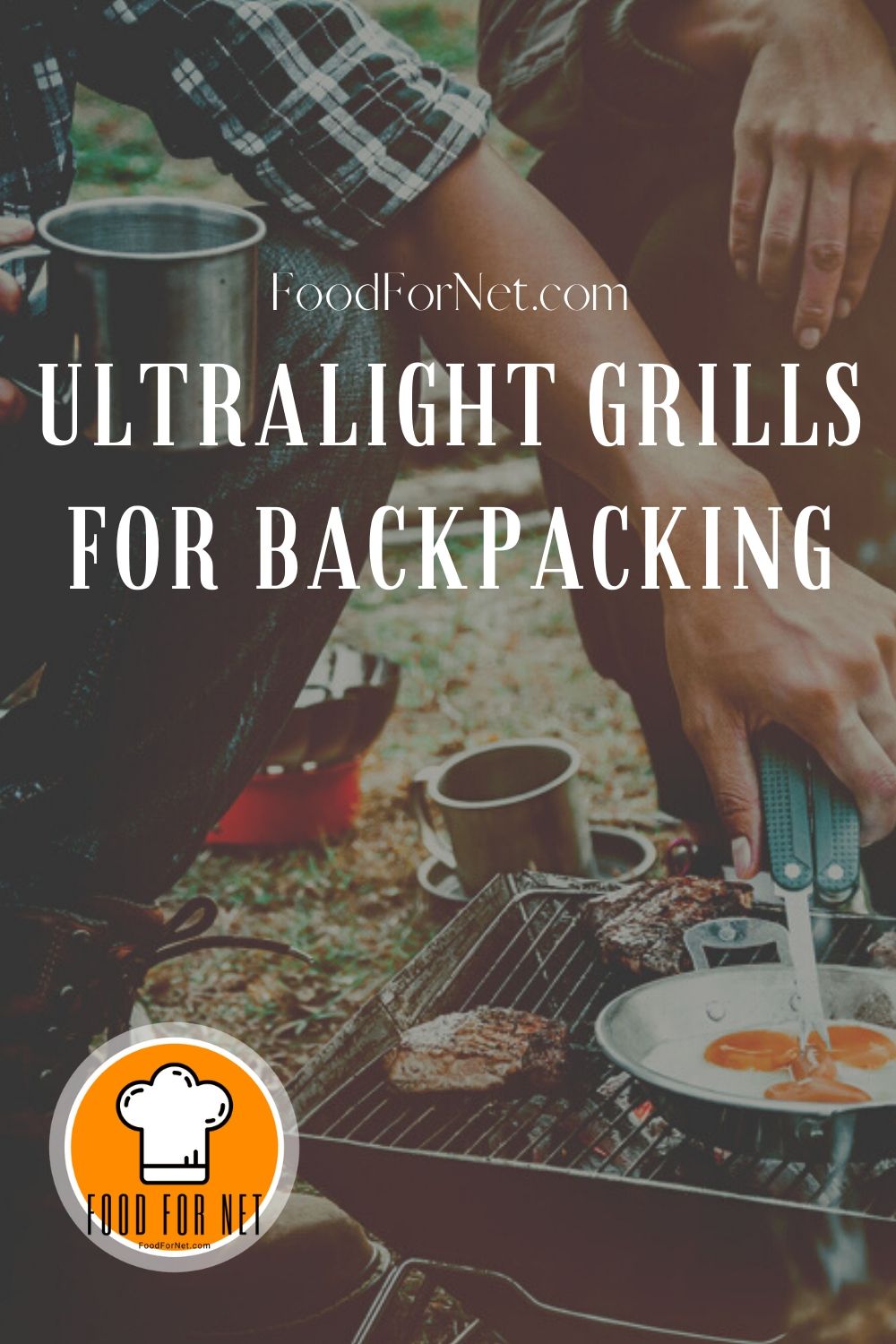 Backpacking can be a fun time. You can backpack in a local forest, a mountain, or throughout different countries that have different weather conditions. Either way, there is going to be a time when you get hungry after all that physical activity. That is why you will need to find the best ultralight grills for backpacking.
The right grill should be very thin and compact, almost as if it isn't even there. Just because you choose to go with something slimmer, doesn't mean the job doesn't get done.
With ultralight grills used for backpacking, you will find units that can hold their own in any environment, and will fold into something similar to a notebook. This super compact size will save backpackers tons of space, and doesn't hinder them from enjoying their backpacking trip.
The obvious best choice of the bunch is the Firebox Nano. Weighing just 6 oz, it's the lightest on the list. By far. It comes with it's own tiny little metal carrying case, which bumps it up to only 9 oz. Still lighter than any other grill.

Firebox Stainless Steel Nano Stove G2 +…
Multi-fuel versatility (with additional accessories sold separately) – Wood, Gas, Alcohol, Gel
No assembly, hinged construction
Perfect for the Trangia Spirit Burner ("Sweet spot" head space of 1″ in top position)
Proprietary cross-feed Wood fuel delivery system
Adjusts to fit small cups or large pans
There are lots of great choices here though. Actually, the most bought item is the last one, #5, because it's the cheapest on the list and just works. It's double the weight of the Firebox, but keep in mind that's only an additional six ounces, and it's quite a bit cheaper.

Top 5 Best Ultralight Grills for Backpacking
Bushcraft Camp Stove Kit
UCO Flatpack Portable Stainless Steel Grill
Unigear Foldable Backpacking Camping Stove
Ohuhu Portable Wood Burning Camping Stove
Coghlans 8770 Folding Pack Grill
1. Firebox Nano

WEIGHT: 6 Ounces
What makes the Bushcraft camp stove kit the #1 overall best ultralight grill for backpacking? This ultralight grill gives you everything you need and more to be fully prepared to cook no matter how far you go backpacking.
The Bushcraft camp stove has a hinged damper that is used for additional exhaust. There is also the Cross Feed Fuel Delivery System which is placed at a specific angle used to increase flame velocity as well as turbulence.
Using this ultralight stove can get tricky, so it'll take a few times to practice, but overall, this grill is #1 due to its convenience and super lightweight design. You can use it in various ways and it will take up very little room in your backpack.
Positives
Can be used in a variety of ways
Durable
Easy to use
Instructional videos available
Negatives
2. UCO Flatpack Portable Stainless Steel Grill (mini)
WEIGHT: 32 oz

The UCO Flatpack is another great option. You can purchase this ultralight grill in two sizes: either mini or regular. The 13 x 10-inch regular version can cook up to 6 servings at once, whereas the 9 x 6.75-inch version can only cook about 3 servings at once.
If you've used different types of grills in the past, you know that the fire you've worked so hard to create can sometimes be disrupted by something called wind. This grills helps prevent wind from putting out your fire thanks to the stainless steel walls that shield your flames. In addition to protecting the fire, the stainless steel material will prevent rust and other debris from damaging the grill.
You will get more than your money's worth with this product, as it is created with strong material that is meant to last long instead of being a one time purchase.
Positives
Users can choose from two sizes
Folds up to a slim size
Quick to set up
Metal legs provide stability
Durable
Negatives
3. Unigear Foldable Backpacking Camping Stove
Weight: 24.6 oz

With this ultralight grill, you can use either wood or charcoal to get the fire started and start cooking your favorite foods. In fact, backpackers that use the Unigear ultralight grill can also use dry twigs, leaves, or even grass if there is no firewood available.
This backpacking camping stove can fold up into the size of a book for easy storage. This will make it very easy to stop and grill up some food without feeling dragged down by a bulky portable grill.
It should provide years of use, with proper care. The stainless steel construction will help prevent rusting. This camping stove also comes with a carrying case that will help you take it along with the rest of your belongings.
Since there isn't an ashtray to collect ashes created from the fire, you may need to clean the ash pile depending on where you decided to set up camp. In regards to the price, this grill cost a little more than other models, but is a worthy investment if you want an ultralight cooking solution.
Positives
Easy to fold and store
Plenty of fuel options
Durable
Negatives
Price is on the high side
4. Ohuhu Portable Wood Burning Camping Stove
Weight: 12.8 oz

The ultralight Ohuhu Portable camp stove can be powered with the use of wood, twigs, leaves, and even pine cones! The ability to use these potential fueling sources should be excellent news for backpackers.
This camping stove can be set up quickly and can be collapsed just as quickly. Once you're done with this ultralight grill, you can put it in the mesh carry bag and slip it into your backpack.
The wood burning camping stove is constructed with high-quality stainless steel, so it won't be damaged no matter how hot the campfire becomes. You also won't have to worry about the stove becoming rusty or getting knocked over due to the wind. While some users claim the top half of the grill is flimsy, it contains a 3-arm support base, so you can use it in the most unstable surfaces and still cook your food.
Positives
Cost efficient
Made with sturdy material
Easy to carry
Negatives
Grilling platform is somewhat flimsy
5. Coghlans 8770 Folding Pack Grill
Weight: 12.3 oz

Simple in design, the Coghlans folding pack grill is a low budget alternative for backpackers that are seeking a platform for their grilling needs. Once you find a few logs to light up, all you'll have to do is set up this 7 inch grill right above it and place a pan or cup on the grates to cook up whatever food you are craving.
While this is a pretty simple setup, some buyers have an issue with the height of the folding pack grill, saying it is too short for them to sit down and cook. This may not be an issue for everyone.
One advantage of this grill is that it can handle a beating without breaking down. The durable chrome-plated steel frame will handle the high temperatures that are produced by firewood without becoming stained with burn marks.
After cleaning (if necessary) you can just fold the frame flat, slip it into your backpack, and keep moving on your trail. Keep in mind you'll need your own heating source; whether it be charcoal or wood, so be prepared to either grab the materials needed before you head out or set up camp in an area where there is plenty of firewood available.
Positives
Affordable
Durable
Easy to store
Negatives
Stands short
Flimsy at times
Finding the Right Ultralight Grill For You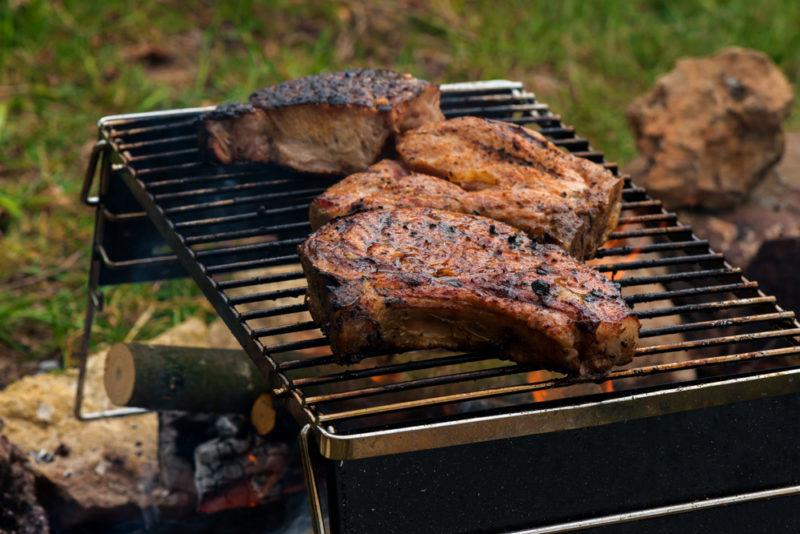 When shopping for a grill for your next backpacking trip, you're going to want something lightweight and something that can collapse into an ultra-portable size.
Bulky portable grills aren't what you look for, as they take up way too much space and can be heavy at times, depending on the brand. They can be better options for RV camping or for a camping trip when you take a truck.
While all five of the grills on this list might look similar, they aren't necessarily the same. Some differ in price, while others differ in durability. There are some that provide more resources than others. The Firebox Bushcraft is a good example of this. This grill would be best for someone who goes backpacking often and wants a reliable grill to have for when they get hungry.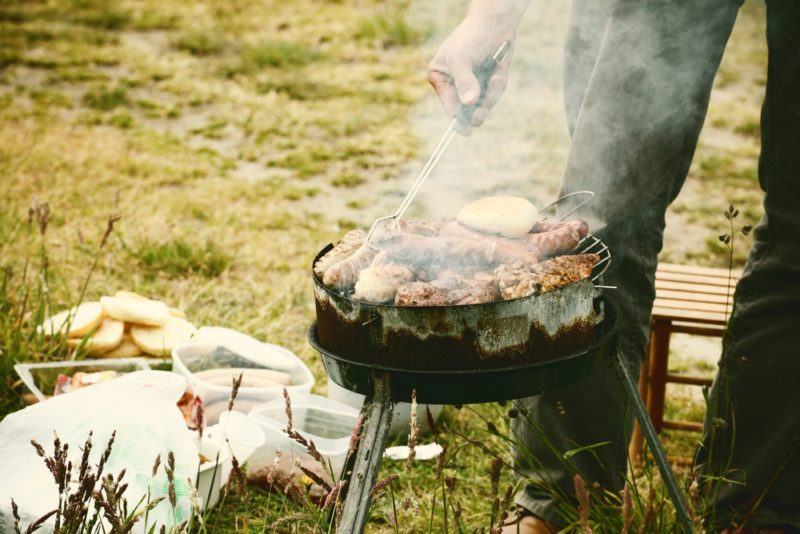 The top 3 grills on the list look almost identical. They can all fold into a smaller size, they are made of stainless steel, and they are all fairly priced. The UCO Flatpack has a slight advantage compared to the other two because it will allow your grill to reach higher temperatures and last longer. The solid stainless steel structure prevents any extra air from reaching your flames.
The Firebox and the Unigear grills have holes used for ventilation. The Ohuhu grill has a different shape, but essentially produces the same results. It can handle high temperatures without becoming damaged.
About Ultralight Grills for Backpacking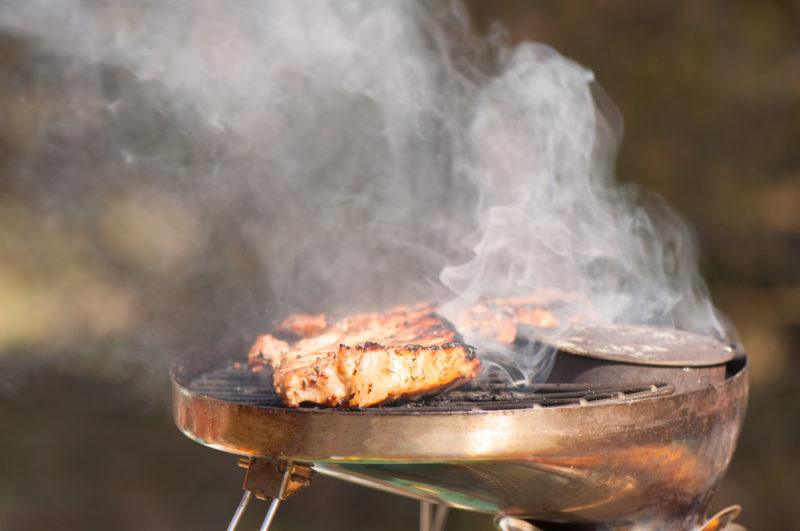 What should you know about Ultralight grills that are used for backpacking? The most common feature of these grills is that they are small and can fit in your backpack. Most of these grills require some assembly before use and then can be folded down and thrown in with your other camping gear.
When backpacking, the last thing you want to do is feel anchored down. Carrying a heavy grill would take way too much effort; sucking the energy out of you by the minute. That's why it's important to have a thin, ultralight grill that will take absolutely no effort to carry while you're out backpacking.
One thing you'll notice almost immediately when considering an ultralight grill is that there is no true storage space for your heating fuel. There is no connection for propane gas or a bowl that will hold wood or charcoal. This means you must create your own fire using wood or charcoal.
Temperature control is more difficult with one of these ultralight grills. You are working with an open flame. Unlike portable gas or electric grills where you can essentially turn a knob to control the heat being applied to the food, ultralight grills used for backpacking will be relying on the coals and/or wood to heat up to a convenient temperature for your food.
Most of these grills have a small area for starting a fire that allows you to use materials other than charcoal or wood. If you're out in the wild and there isn't any firewood nearby and you forgot to bring the bag of charcoal, you won't have to starve. Can use leaves, branches, twigs, and other natural burning materials.
While these grills are not flashy, they get the job done and take up little room. Before your next backpacking trip, think about choosing one of the 5 ultralight grills listed above.