Almost any passionate sports fan will tell you; watching their favorite team play in person is outright exciting. It's truly fun to watch the game in person; you feel like you're apart of something bigger than yourself. You know what's just as fun? Tailgating!
Having a couple of beers with friends and cooking up some food before the game will keep your stomach full and build anticipation for the game up ahead. In order to participate in this experience, you'll need to get your hands on a portable grill for tailgating.
In order to have a top quality experience, it is important to get the right grill for your tailgating setup. Whether you like charcoal or propane, one team or another, the grill you go with will make or break your tailgating experience, hence why it's so important to pay attention to the top 5 portable grills for tailgating!
5 Best Portable Grills for Tailgating
Weber Q1200
Coleman Road Trip LXE
Cuisinart CCG-100 GrateLifter
Weber Smokey Joe
Cuisinart CGG-180T
(Bonus: Trager Tailgater)
1. Weber Q1200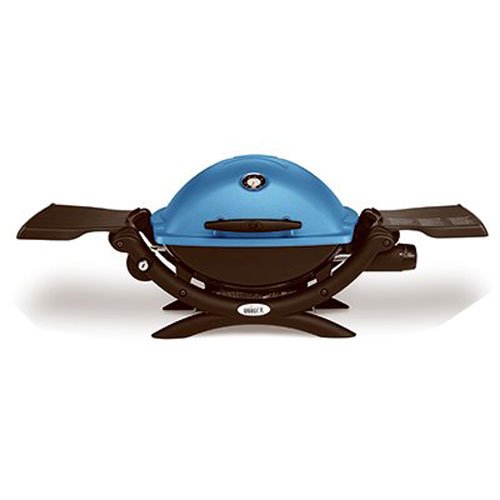 The Weber Q1200 grill is a wonderful choice for a number of reasons. The fact that this grill offers certain colors with college logos make it a great option to choose before going to the big game. If you're already on the way to the game and don't have time to put the grill together, you're in luck – the grill comes fully assembled right out of the box.
There is a stainless-steel burner that provides 8,500-BTU's of heat to the 189-square inch cooking surface. This is enough space to cook 4 to 6 servings at a time.
This grill starts easily with the electronic ignition, making setting up painless. Cleaning is also easy. After allowing the grates to cool down, you can wipe them off and be prepared for your next tailgate party.
Positives
Comes in plenty of colors, some with college logos
Can easily fit in the trunk of a car
Comes fully assembled
Easy to start
Cooking grates are easy to clean
Negatives
Pricey
Other grills are hotter
2. Coleman Road Trip LXE

The Coleman Road Trip LXE is a versatile propane grill that is the perfect size for a big group of people in the parking lot. You will be able to find this Coleman grill in at least 8 different colors, including red, black, green, and blue.
You can also use it for a handful of cooking methods. The sliding tables on the side of the grill will give you some space to prepare your food and remove the cooked food from the grill.
One thing you will immediately notice is that this grill can handle any type of weather. The PerfectFlow Pressure Control System will provide consistent heat, even the coldest of temperatures. That is great news for football fans who like attending games towards the end of the season.
The best part is that this grill can fit into basically any storage area. It breaks down into a compact size so it will be able to fit in most areas within a car, whether it's a pick up truck bed or the trunk of a sedan. The collapsible stand will quickly fold so you can put it away before you start walking towards the stadium.
This grill has a removable grease tray, as well as cast-iron and porcelain-coated surfaces that respond well to cleaning materials.
Positives
Inexpensive
Available in 8 colors
Mobile
Instastart ignition
Negatives
3. Cuisinart CCG-100 GrateLifter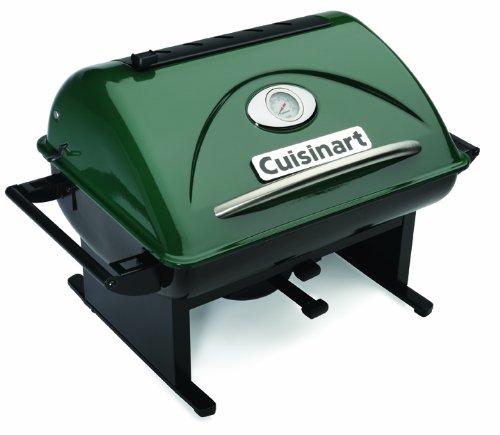 Propane is great, but sometimes getting that char taste within your food truly makes an experience. That's why we need to include some charcoal style grills on this list!
With the CCG-100 GrateLifter from Cuisinart, cleaning is easy and cooking food will take minimal effort. There is an ash collection bin underneath the grill that will collect all the ashes that are produced from the briquettes heating up. All you have to do after cooking is dump the ashes out of the bin and start fresh.
The Precision Air Flow System allows users to take the temperature into their own hands. The temperature gauge located on the lid will also help you monitor the temperature of the grill so that you know when it will be best to put your food on the grates.
The three-year warranty included with this grill will provide you with peace of mind as you cook with your friends outside the stadium.
Positives
Cleaning is easy
Has a three year warranty
Airflow system
Compact size is easy to store in car
Negatives
4. Weber Smokey Joe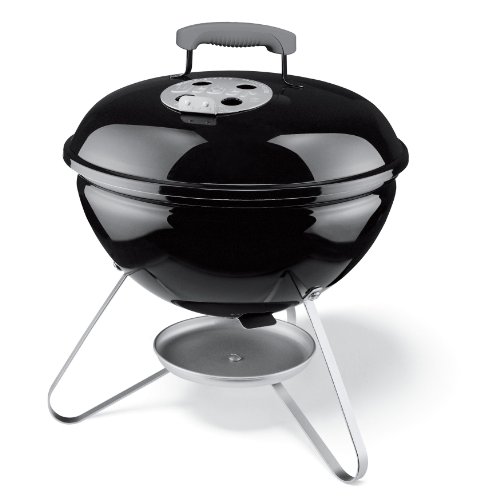 The Weber Smokey Joe is another charcoal option for your tailgating event. The cooking grate is at about 14.5-inches in diameter. This durable charcoal grill has 160-square inches to cook with, so make sure you have a lot of food to put this to the test.
The porcelain coating will help prevent rusting and color fading, ensuring your grill lasts a long time. You will be able to consistently check in on the status of your food with the nylon handle on the lid of the Smokey Joe. There's no need to wear any gloves, since the handle should protect your hand from any severe heat from the grill.
Without the lid, is about 12-inches tall, so there shouldn't be any problems trying to get it into the car; whether it's in the trunk or the back seat. It also comes with a 10-year warranty, protecting against damage or defects.
Positives
Durable
10 year warranty
Short
Negatives
Lid isn't secure
Doesn't fold into a smaller size
5. Cuisinart CGG-180T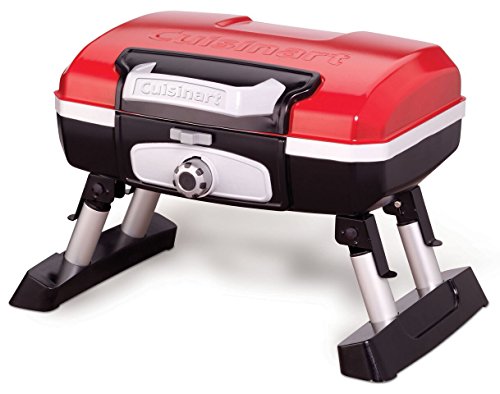 This small propane powered grill is perfect for tailgating. This grill cooks a lot of food and is very stable thanks to the superior aluminum legs. Despite the large surface area, the 8,500-BTU's produced by this grill might not cut it for some people. The porcelain-enameled grate helps prevent food from sticking to the grill, so cleaning will be easy.
Portability is a must with this grill. The foldaway legs will reduce the size, for convenient storage. At 13.5 pounds, this grill won't be much of a hassle to carry.
The CCG-180T is available in Red, Stainless Steel, and Black, so feel free to pick the color that best matches your favorite team so you can properly show team spirit!
Positives
Inexpensive
Available in three different colors
Lightweight
Has strong legs
Negatives
Bonus! Traeger Tailgater
This one uses pellets instead of wood chunks, charcoal or gas, and it's a pretty bad-ass grill. You'll get that wood-fired smoke flavor, with the convenience and portability like no other product can offer. The image shown above is with the legs folded up, so you can set this in the bed of your truck and grill there or you can extend the legs, for a standard grill height.
The internal belt/spiral system continually moves new pellets to the flame to feed your fire and a fan moves the heat around evenly. With this grill, you can smoke, grill, and even bake for your next tailgating party.
Buying a Grill for Tailgating
When looking for a portable grill for tailgating, you must consider the size of the car that you are taking to the game, your heat source preference, and how many people you will be with.
The Weber Q1200 is at #1 on the list of portable grills used for tailgating because it has the perfect combination of performance and cosmetics. If you go to one of the schools that have their logo on this grill (Texas, Florida State, Wisconsin, Michigan, Nebraska) it should be a no-brainer to pick up this grill for the next football or basketball game.
Does it matter if you go with charcoal or propane? This decision will ultimately come down to your preferences. Both heating sources have their pros and cons, but in the end you will need to make the final decision. Charcoal grills may take a while to heat, but they apply a char taste to food that is unmatched. On the other hand, propane grills start up fasted and most grills cook the food evenly.
Regardless of what cooking method you decide to go with, there will always be something straggling along, whether it's a charcoal bag or a propane tank. The biggest difference between the two is that propane typically lasts longer, so if you're interested in preserving the amount of times you use a single tank, propane is an option.
The Smokey Joe is a quality charcoal grill, as well as the GrateLifter. Between the two, the GrateLifter might be the better choice because it is smaller and easier to clean. If price is an issue, you're better off going with an affordable grill; typically a charcoal grill.
About Portable Grills for Tailgating
What exactly is tailgating? For those of you who aren't familiar with the term, tailgating is basically when groups of people attending an event gather together and cook food in the parking lot out of the trunk of their cars. A lot of times people are also playing random games while tailgating, such as throwing around the football or trying to get a bean bag in their opponents hole.
People can tailgate before, during, and after the game, although before is most common because it builds up excitement for the game. After all, why not enjoy great food and time with friends right before a big game?
For these occasions, a portable grill is a fantastic buy. Grills that can fit in the trunk of the car are the best for tailgating because they won't take up a lot of space.
Tailgating can get a little hectic at times. You're with a lot of people, everyone is excited and moving around. Having a place to put the food before and after cooking would make things a lot easier, and would save some space within other places such as the car or your folding table.
It will also be easier if the grill is easy to clean. You may not want to deal with a large mess while cooking in the middle of a parking lot. If you have a grill that has grates made with the right material, there shouldn't be any issues with cleaning as you'll simply wipe the grates off or take the ash bin and throw it in the nearest dumpster.
Team pride is very important when it comes to sports. That's why you should purchase a grill that matches your team colors, if you have that option. For example, the Weber Q1200 offers roughly 14 different colors, including a handful of grills with different college logos on the lid!
If you're passionate about your school or professional sports team, buying a portable grill that can be used for cooking while tailgating will enhance your experience tremendously. The ideal grill will be something that cooks fast, is small is size, and easy to clean, so that you can spend more time prepping for the game and less time catering to the grill.