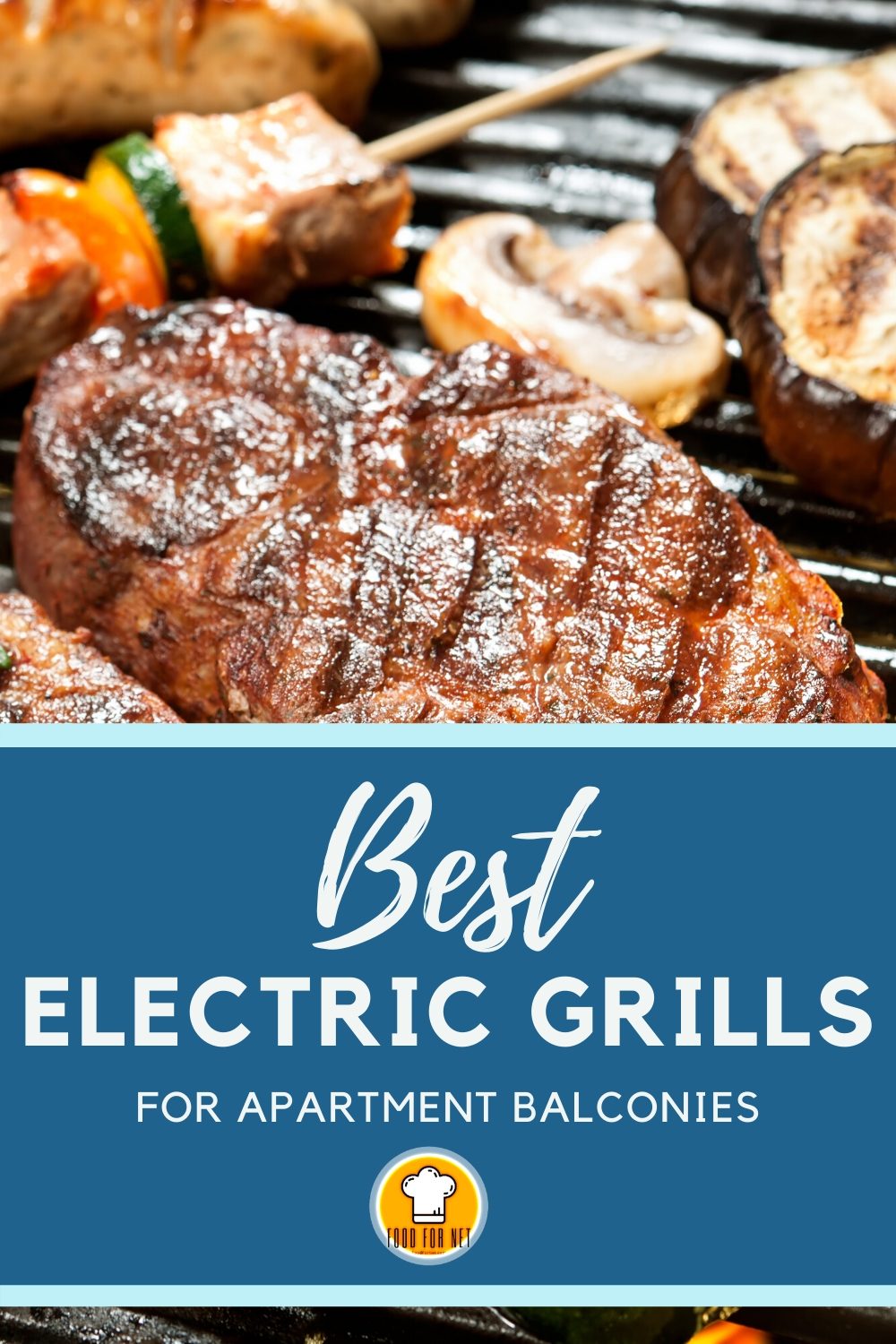 Electric grills provide you with grilled food without taking the risk of harmful chemicals coming in contact with the inside of your apartment. They may also be your only option for cooking on your apartment balcony.
Depending on the rules of your apartment building, open flames may be restricted. In this event, having an electric grill that you can set up on your balcony will be the perfect alternative.
Some grilling enthusiasts hesitate to choose electric grills as it's harder to achieve the same smoky flavor and texture that you get with a charcoal or wood grill. If you take the time to properly season your food and don't mind waiting a few extra minutes for your food to cook, electric grills are just as capable of producing fantastic meals.

These grills are also more convenient. They tend to be easier to clean and maintain a consistent temperature. If you want to enjoy this convenience, then explore the top 5 electric grills for apartment balconies.
Top 5 Electric Grills for Apartment Balconies
Char-Broil TRU Patio Bistro Electric Grill
Weber Q1400 Electric Grill
George Foreman Indoor/Outdoor Grill
Meco Easy Street Electric Tabletop Grill
Livart LV-982 Electric BBQ Grill
1. Char-Broil TRU Patio Bistro Electric Grill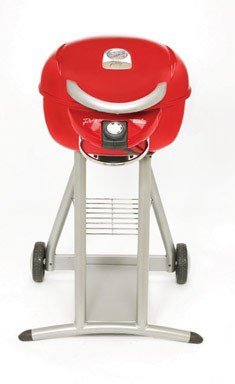 The Char-Broil TRU Patio Bistro grill is the ideal electric grill for those who don't want to use charcoal or gas on their apartment balcony. With this grill, you will have up to 320-square inches of area to cook with, allowing you to cook up to 8 to 12 burgers at once.
With the electric TRU infrared cooking system, your food will cook evenly while still keeping all of its natural juices. There is a temperature gauge right at eye level on the lid, so you can conveniently monitor the grill's temperature while using the easy to use temperature controls.
There are two wheels that will help move the grill where it needs to go without having to pick it up and place it somewhere. The compact design has a tray underneath the grill unit that can be used to store seasoning, drinks, and other random items while tending to the food.
Overall, this is a great electric grill for apartment balconies because it puts the user in control, is easy to move, and gives you enough space to cook for a family of people without sacrificing patio space.
Positives
Easy to move for storage
Plenty of cooking room available
Infrared cooks food evenly
Negatives
Durability is questionable
2. Weber Q1400 Electric Grill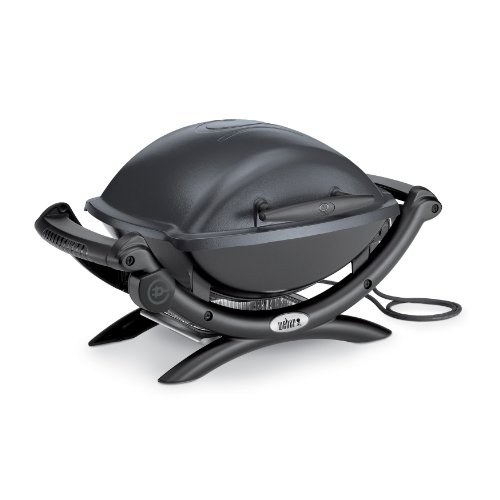 As time progresses, the Weber Q1400 electric grill becomes more and more popular. While this grill is small in size, it is very powerful. In fact, it can reach over 600-degrees Fahrenheit. The 189-square inch cooking area will heat up quickly thanks to the 1560-watts that will be emitted.
The cooking grates contain porcelain-enameled cast iron that will last a long time without rusting or deteriorating. The cast aluminum lid helps to keep all the heat on the inside of the grill.
Another benefit is that you may not need an extension cord to use this on your balcony. It comes with a 6-foot power cord.
There are two common issues that people typically have with this grill. First, this grill is relatively small. It can fit about 4 hamburgers at once. The other issue is the price. This is one of the most expensive grills on this list, but you are paying a high-powered little device.
Positives
Produces high temperatures
Comes with a 6 foot cord
Negatives
Small amount of cooking space
High price
3. George Foreman Indoor/Outdoor Grill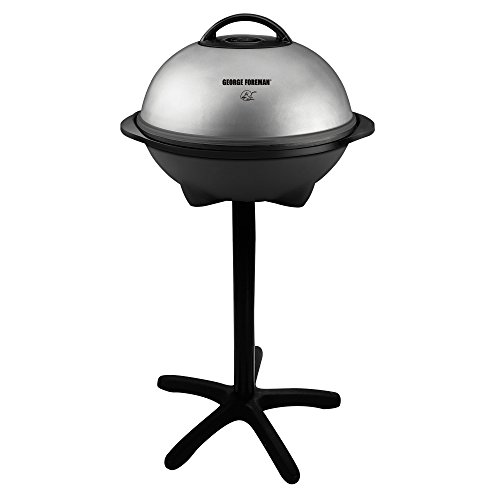 The most versatile grill on the list, the George Foreman grill serves both the outdoors and the indoors; perfect for an apartment balcony. This grill has superior George Foreman technology, such as the Tough Nonstick Coating, which is meant to eliminate the need to apply butter or oil, while making sure food residue and other substances don't stick onto the cooking surface.
The versatility of this grill is worth mentioning. Underneath the grill unit is a removable stand that will allow you to use it as a tabletop inside or go outside onto the balcony and keep the stand attached. This removable stand will give you more opportunities to use the grill no matter what the weather is like.
With the adjustable temperature control, you'll have 5 different heat settings to choose from. These temperature options will give you the freedom to cook your food at the temperature you want.
The 240-square inch circular cooking surface makes the George Foreman indoor/outdoor grill a valid option for anyone with a large family that is looking to have a cookout on their apartment balcony. Current users claim that this grill can cook up to 15 servings! This electric grill is great for your outdoor balcony because it doesn't take up a lot of space and cooks for a high quantity of people.
Positives
Versatile
Plenty of cooking room
Nonstick coating make it easy to clean
Temperature is easy to control
Negatives
Takes a while to heat up due to low heat output
4. Meco Easy Street Electric Tabletop Grill

The Easy Street Electric Tabletop Grill is a compact cooking unit that can be used in several different ways. This electric grill was built to accommodate the cook who doesn't have a lot of balcony space but wants to enjoy the benefits of grilling their food outside.
This grill is small in overall size, yet has a 200-square inch cooking surface, which is a reasonable amount of space based on the small size. The biggest issue that this grill has (as most electric grills do) is that it doesn't generate the high temperatures you are used to when cooking on a charcoal or gas grill. This just means that you may have to wait an extra minute or two before your food is done cooking.
With a plug that can go into any general household outlet, this grill can be used both indoors and outdoors. One of the biggest concerns is the durability of this grill. On the other hand, the price makes it desirable in comparison to other grills. This electric grill would be great for anyone looking for a quick fix for their apartment balcony.
Positives
Compact size
Has a handful of uses
Affordable
Negatives
5. Livart LV-982 Electric BBQ Grill
The compact Livart LV-982 electric grill can be a reliable cooking tool for your balcony or your kitchen. The small size of the grill makes it very easy to use, so if you're having a cookout with a couple of friends on your balcony, you can unplug the grill and take it inside.
In the event you feel the grill is too short, you can adjust the height of the grill to a level that is most comfortable for you. The cleaning process will be convenient when using this grill thanks to the bottom tray underneath the grill. This will collect all the fat and residues that typically come from cooked food, so that you don't have to take so much time catching this leftover material yourself.
The detachable stainless steel grill will also give you plenty of room to wipe the grill down once you're finished cooking. If there is any residue on the grates, you can easily clean them off with a wet cloth instead of letting the materials harden.
Positives
Easy to move
Adjustable height
Bottom tray intercepts any fat or residue
Affordable price
Negatives
Small
Doesn't produce enough heat
Buying an Electric Grill for Your Apartment Balcony
The reason why most renters purchase electric grills for their apartment balcony is because they aren't allowed to use other fuel sources. If this applies to you, you'll want to get the best possible electric grill.
On the list for the best electric grills for apartment balconies, the most impressive option is the George Foreman indoor/outdoor grill. It is inexpensive, easy to clean, and offers a generous amount of cooking room. In fact, this grill can cook up to 15 servings. Based off of the price and what is has to offer, this product holds the most value when it comes to electric grills for apartment balconies.
The grill that can somewhat compete with the George Foreman electric grill is the Char-Broil Patio Bistro. This grill is on a mobile platform that allows the user to stand when cooking, with wheels that can be used to place the grill anywhere. This grill might take a while to heat up, but once it gets going it will be worth the wait.
If you're not cooking for so many people, you should consider a smaller grill like the Livart LV-982 or the Meco Easy Street grill. These grills are relatively cheap, have the ability to cook for one, and don't take up much energy, which is great if you pay for your own electricity usage. You can place these compact grills onto a small table that will hold it up for a stable cooking environment.
Buying an electric grill for your apartment balcony will come down to: how much space you have available to you, how many people you are cooking for, and how many watts the grill can emit at a time. Once these elements are figured out, buying an electric grill for your balcony will be much easier.
About Electric Grills for Apartment Balconies
Gas grills are a good option for many apartments, but there are a handful of reasons why electric grills are your best bet when grilling right outside your living area.
Electric powered grills are actually one of the easiest and safest grills to control. Unlike gas grills where you need to put on the propane the right way, or charcoal where you need to stack up a pyramid and wait for the coals to turn gray, electric grills can be started at the twist of a knob, as long as they have a valid power source. In addition, electric grills don't release overwhelming amounts of chemicals, such as carbon monoxide.
Electric grills tend to be more economical compared to other types of grills. With an electric grill, there is no need to spend money on propane or charcoal for your grill to work. All you really have to do is plug in the grill and get to work. While this is a very simple procedure, it also implies that you need to be around an electric outlet in order to use the grill.
Cleaning electric grills is easy as well. Most charcoal or gas grills have food particles and other residues occupying the grates, causing a mess. If you let that material sit on the grates too long, they will harden and you will have to aggressively scrape it off the grates until the cooking surface is fully clean. With electric grills, all you'll have to do is let the cooking surface cool down, and wipe it with a rag or sponge so that no residue sticks around.
There are also a few disadvantages to using an electric grill for your apartment balcony, depending on how you cook. First off, there is no open flame when it comes to an electric grill. This makes the grill much safer to use, but it takes away from the outdoor cooking experience.
Some barbecue enthusiasts prefer to use charcoal because it provides that authentic outdoor cooking feel. When buying an electric grill, one must accept that they won't be able to generate the same high temperatures as they would with a charcoal, wood, or gas grill. This lack of heating power will increase the amount of time you spend next to the grill, but you can create a smoky flavor with the right seasoning.
The main reason for choosing an electric grill is convenience – and the fact that it may be your only option for your apartment balcony. These 5 electric grills are the top of the pack and deserve your consideration. Review the options again, while considering your own preferences. Happy grilling!