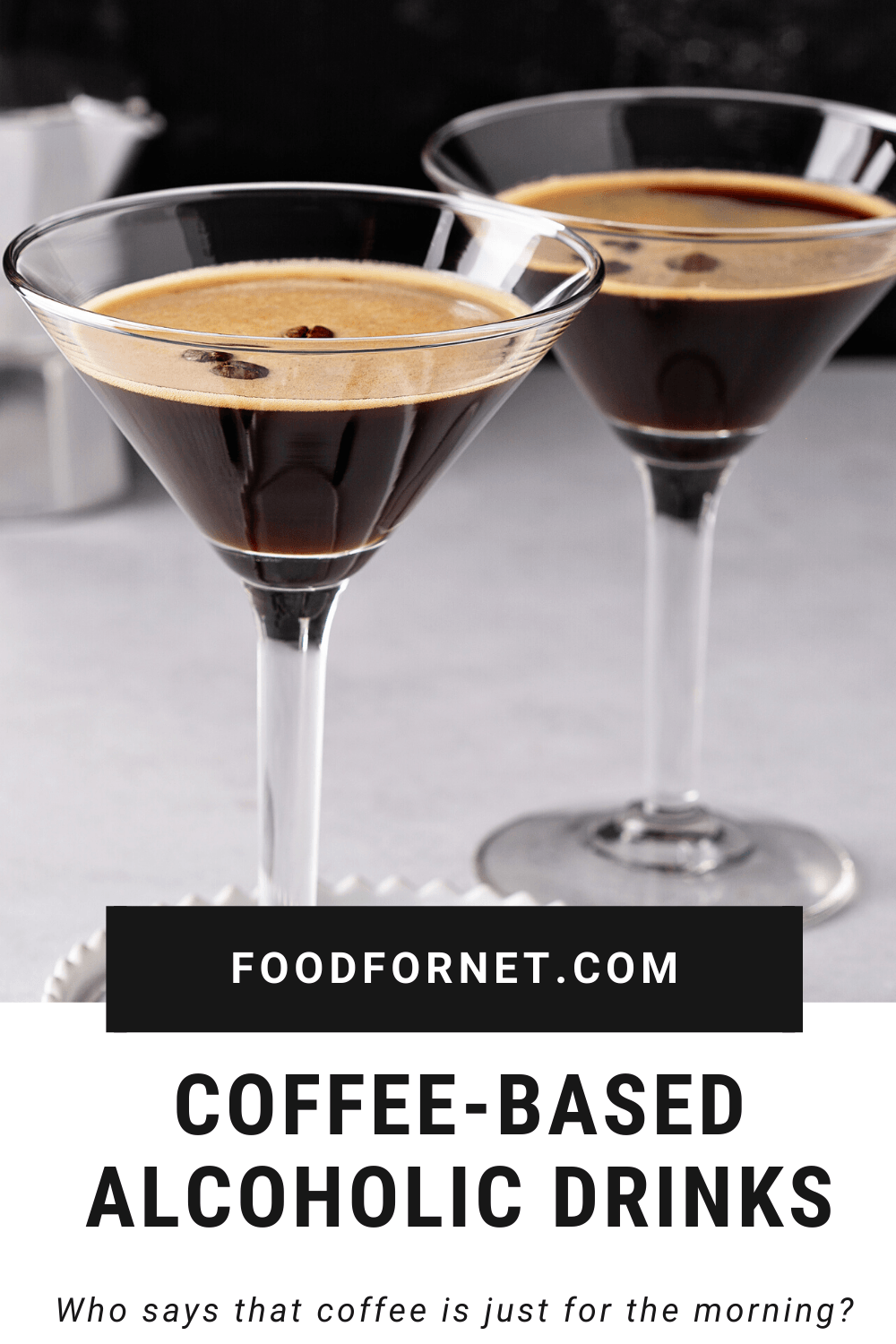 Coffee remains incredibly popular as a go-to drink, especially first thing in the morning. While some of us use the drink just for the caffeine hit that it offers, many people love the flavor as well. So, why not enjoy coffee in other ways too, like in coffee-based alcoholic drinks?
The coffee-based drinks (or coffee cocktails, if you will) that we're focusing on here all feature at least one coffee-based ingredient. Some of them use a shot of black coffee as an ingredient or even add alcohol into a steaming mug of coffee.
Others take a different approach, by relying on coffee liqueurs and similar ingredients instead. Doing so creates a more nuanced flavor profile, where the coffee isn't nearly as overpowering as it would be otherwise. Kahlua is the most popular choice here, although there are other coffee liqueurs that you could rely on as well.
Just remember that most of these drinks will contain some caffeine, even the ones that just use coffee liqueur. This means that they're not ideal choices for an evening drink.
P.S. If you want more ideas, why not take start with fun coffee flavors, then just add whiskey or perhaps vodka? Doing so gives you an alcoholic drink with plenty of flavor.
Coffee-Based Alcoholic Drinks
Espresso Martini
Black Russian
White Russian
Mudslide
Irish Coffee
Kentucky Coffee
Revolver
Dark & Stormy Coffee Cocktail
Raspberry Coffee Cocktail
Turkish Coffee Sour
Iced Rum Coffee
Siciliano
Affogato Cocktail
Kahlua
Kahlua Sour
Mind Eraser
B52
Brave Bull
Kahlua Cold Brew Tonic
Orgasm
Colorado Bulldog
Espresso Martini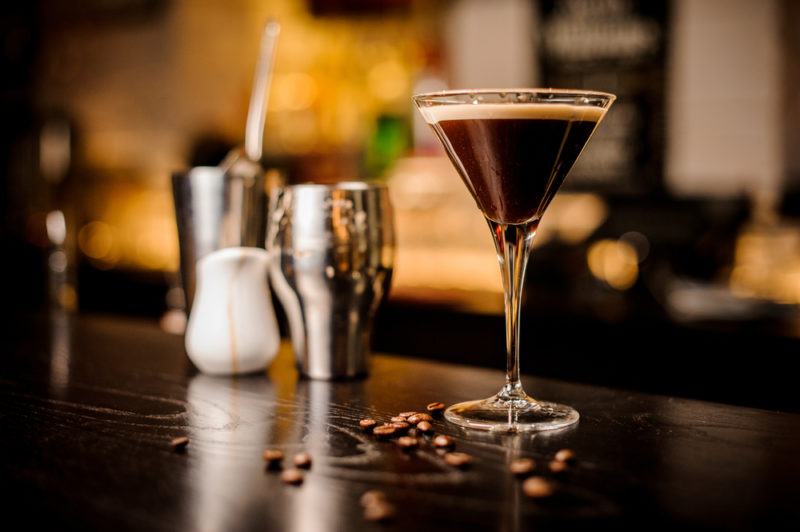 An espresso martini is often considered variation of a regular vodka martini, even though there is no vermouth present at all. A basic version of the cocktail can be made using two parts Bailey's Irish Cream, four parts vodka (vanilla flavored, if possible), two parts vanilla-infused simple syrup, and a shot of espresso coffee. The coffee should be cold.
The ingredients are all combined in a cocktail shaker and shaken over ice. The strained drink is typically served in a martini glass.
Some versions of the martini end up with a type of froth or foam on the top of the drink, This post highlights how you can get the froth.
There are many ways to make the cocktail, as is the case for most of the drinks on this list. Some people focus on vodka, coffee liqueur, and espresso – skipping the simple syrup and the Bailey's altogether. Doing so should create a martini that is less sweet but still tastes just as nice. Other versions use a different approach again.
Black Russian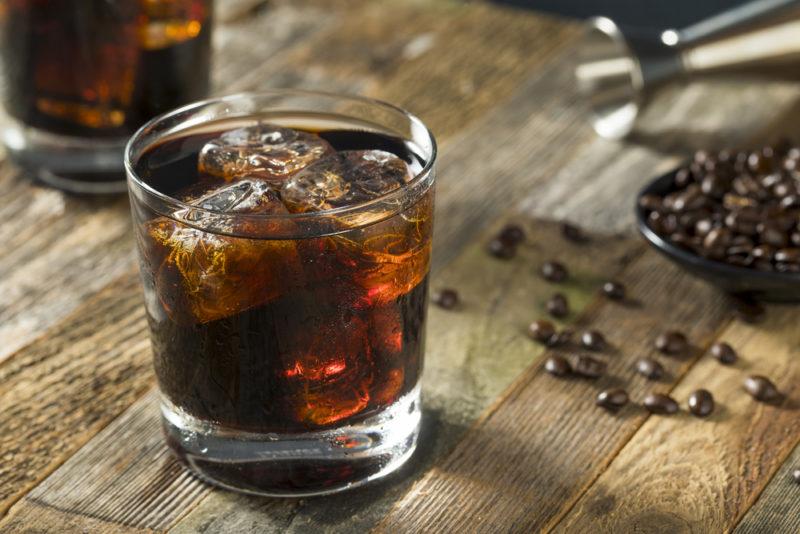 A black Russian is a mild example of a coffee cocktail, as it relies on Kahlua (which is a coffee-flavored liqueur) rather than coffee itself. However, the coffee flavor does still stand out, as the alcohol of choice is vodka and this doesn't have a strong flavor of its own.
The cocktail is easy to make. Simply half-fill a lowball glass with ice. Pour four parts of vodka over the ice, followed by two parts of Kahlua. Stir to mix and that's it.
Cola can be added to top up the cocktail and make it less intense, if that is your preference.
White Russian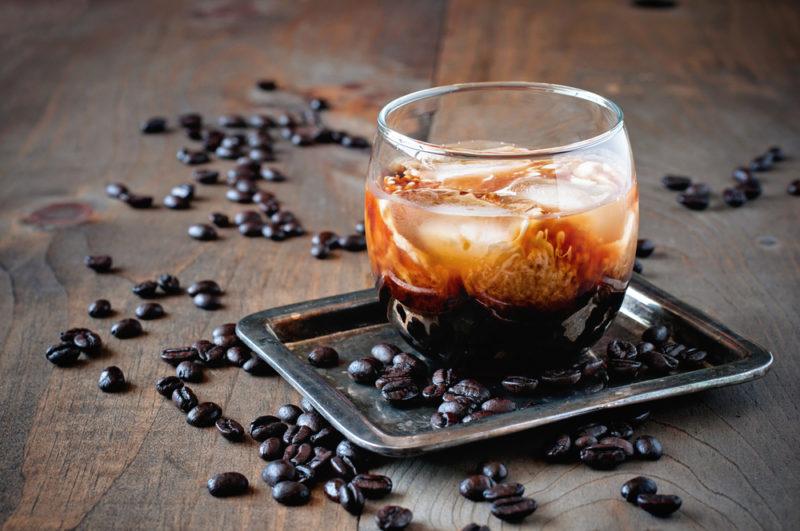 Not surprisingly, a white Russian is a variation on the black Russian cocktail. The main difference is that the white Russian includes one part cream (and any cola is skipped).
The use of cream changes the texture of the drink considerably. You end up with a creamy cocktail that can be enjoyed slowly. This approach might seem more appealing, as we often expect our coffee drinks to be at least a little creamy.
Mudslide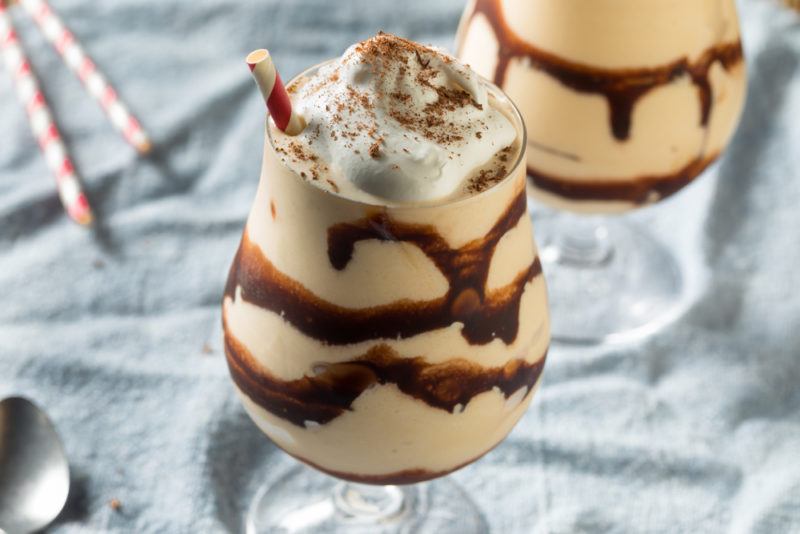 A mudslide is a dessert cocktail, one that comes in many variations. The basic idea is similar to a coffee or a chocolate alcohol milkshake. You'll often see the cocktail garnished to the hilt too, with additions like chocolate syrup, chocolate flakes, and perhaps even ice cream.
However, a basic mudslide doesn't need to be complicated.
One version simply uses one part coffee liqueur, one part vodka, and one part Irish cream liqueur. Most recipes use Kahlua and Bailey's Irish Cream as the liqueurs of choice, although there are other delicious coffee and Irish cream liqueurs out there too.
You can play around with quantities and ingredients to get a flavor balance that you like. For example, increasing the amount of Kahlua will provide a more pronounced coffee flavor to the drink. You could also swap out the Irish cream liqueur for dark crème de cacao. Doing so would create a mochaccino-like flavor.
Irish Coffee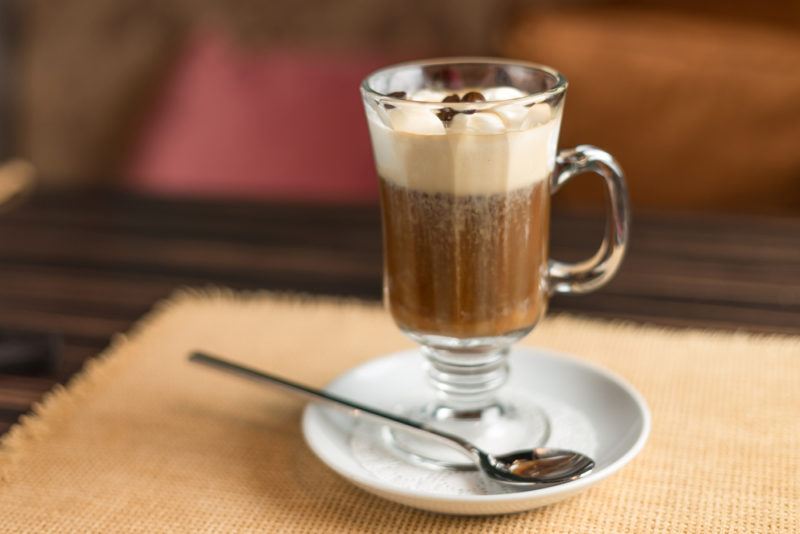 We can hardly leave Irish coffee off our list, as this is one of the classics. It also gives you a much stronger coffee flavor than many other options – as you're adding alcohol to coffee, rather than the other way around.
The simplest way to make an Irish coffee is to add Irish whiskey to your hot coffee. Some versions call for brown sugar and heavy cream as well. In practice, you can simply make coffee the way that you enjoy it and then add the Irish whiskey to it.
Kentucky Coffee

A Kentucky coffee uses bourbon, with stronger bourbon producing the best outcome. A small amount of honey liqueur is used as well. This liqueur increases the alcohol content of the drink, while also providing extra sweetness.
Kentucky coffees aren't made nearly as often as Irish coffees, which is a good reason to try the cocktail for yourself. After all, changing things up once in a while is always appealing.
Revolver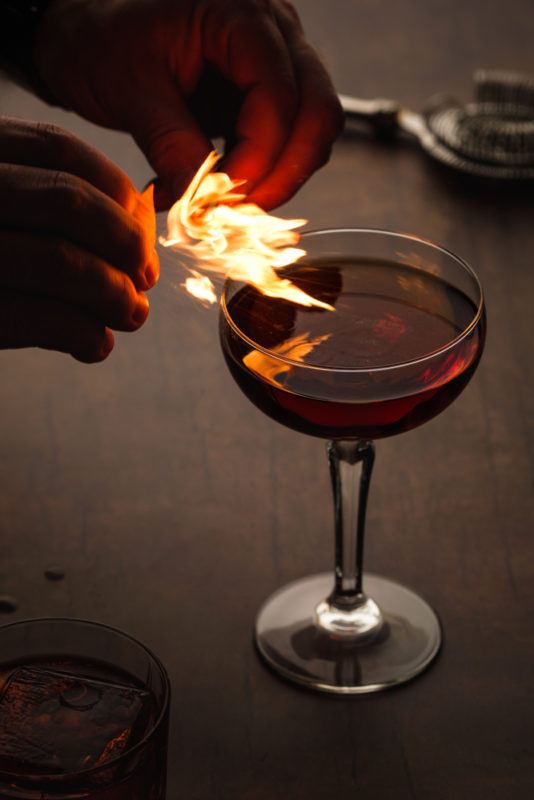 This cocktail is a fairly new invention (going back to 2004 or so). It could be considered a variation on the Manhattan, one that uses coffee liqueur rather than sweet vermouth.
Bulleit bourbon is recommended for the drink, as this is the bourbon that it was originally developed for. Other types of bourbon can be used too, although each bourbon will create a slightly different flavor profile (which, honestly, is half the fun).
Notably, this drink is served with a flamed orange twist as a garnish. This garnish might add a little smokiness to the drink, but its main purpose is the effect. So, if you're preparing the cocktail for someone else, don't skip the garnish. It's certain to impress.
Dark & Stormy Coffee Cocktail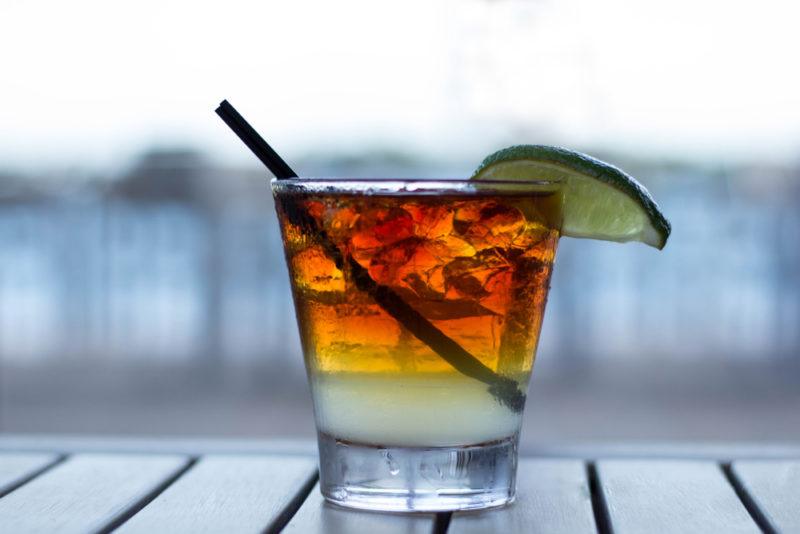 This modern cocktail is a variation on the classic dark and stormy rum cocktail. One difference is that you're using equal measures of dark rum and tequila, rather than just focusing on the rum.
The cocktail also includes the classic ginger beer and a little freshly brewed espresso. You're only using around two tablespoons of espresso, so the coffee flavor doesn't end up being too intense. This isn't a bad thing though, as too much coffee in a cocktail can easily be overwhelming.
Raspberry Coffee Cocktail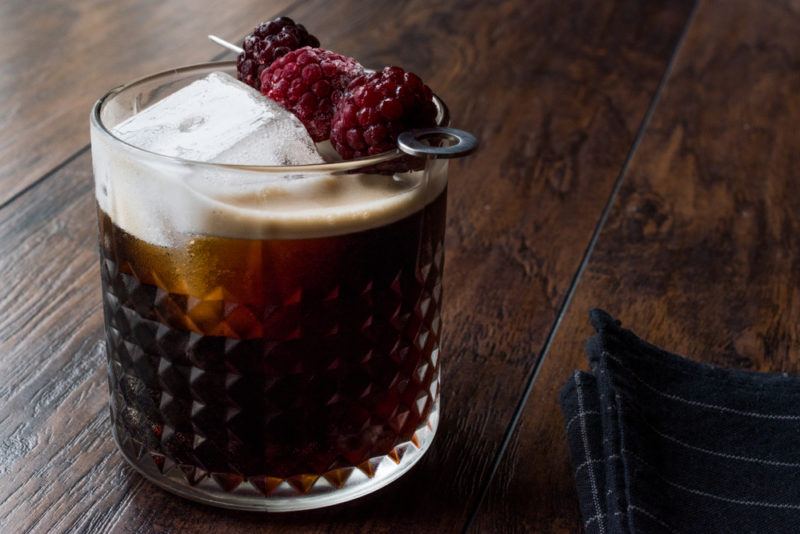 This interesting cocktail uses coffee and coffee liqueur, giving it a stronger coffee kick than most. It does also rely on raspberry liqueur and shaved chocolate. The shaved chocolate acts as a garnish, and the combination of the two creates a dessert-like flavor to the drink.
There's just one other ingredient to think about – vodka. The vodka increases the alcohol content of the drink, without changing the flavor profile much at all.
Turkish Coffee Sour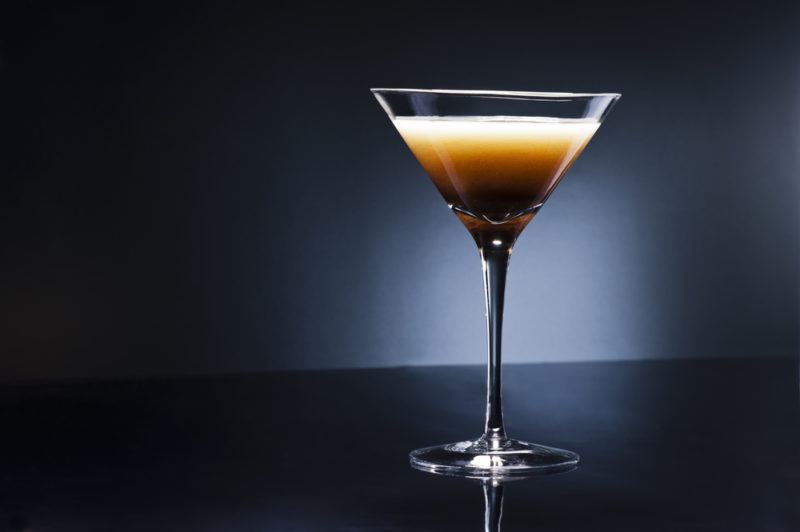 This cocktail combines the idea of hot Turkish coffee with a rum sour. It uses the classic rum sour ingredients, including spiced rum, egg whites, and lemon juice. Angostura bitters can also be added too, although this ingredient is optional.
You also need to brew a cup of coffee and infuse this with flavors from spices like cardamom and cinnamon. Strain the coffee and then shake it over ice to cool it down. After this, the ingredients can all be combined together and served in a cocktail glass.
While this cocktail requires more work than many other coffee cocktails, it is also worth the effort. You end up with an interesting flavor profile that puts simplier cocktails to shame.
Iced Rum Coffee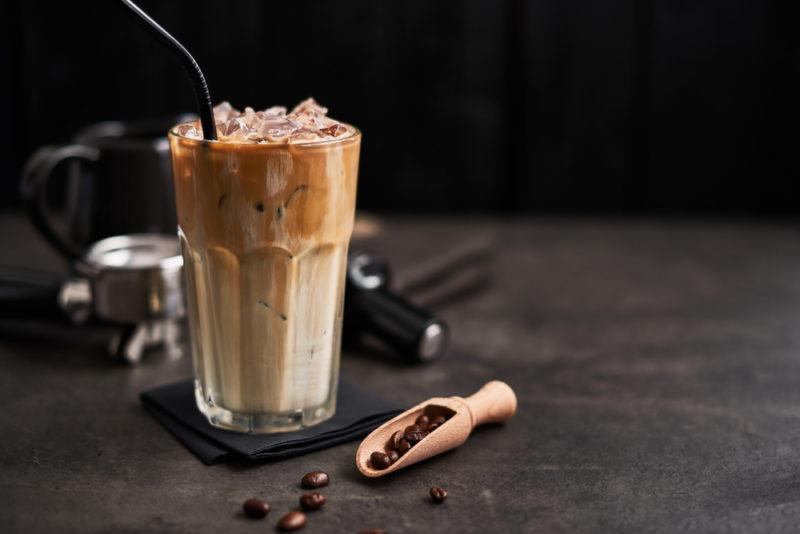 If you don't want a hot coffee cocktail, how about an iced coffee one? While this type of cocktail could be made in many different ways, spiced rum is a good spirit to focus on. After all, spiced rum has a complex flavor profile that complements coffee well.
You could add in some butterscotch schnapps to give the drink more flavor too. If you don't have any on hand, butterscotch essence would create a similar effect.
And, as with any coffee cocktail, you can choose the type of milk and sweetener that you use, along with their quantities. There's no right or wrong answer here, as everyone has their own flavor preferences.
Siciliano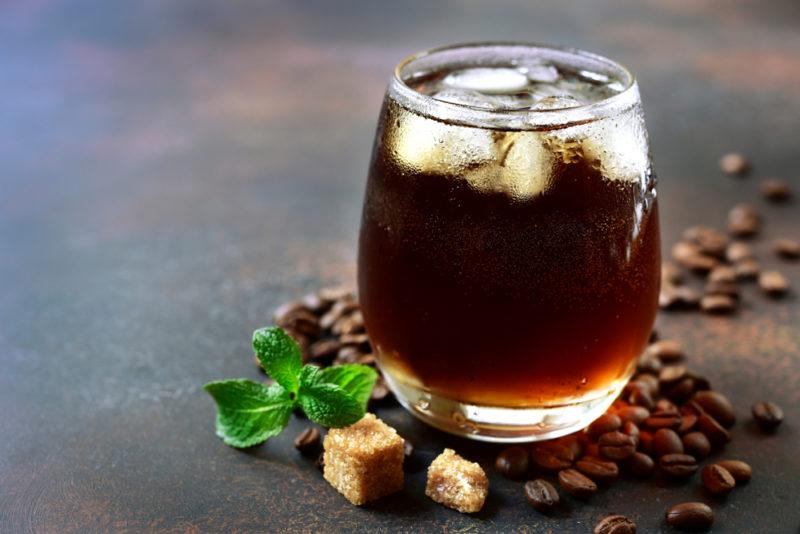 This is an Italian cocktail that uses cold-brew coffee, sweet vermouth, simple syrup, amaro, and club soda. Italian ingredients are often recommended to make the drink more traditional, but using these isn't essential at all.
When making the cocktail, you'll shake all the ingredients together over ice, except the club soda, then strain and pour into a glass. The drink is often poured over ice and then topped up with club soda.
One variation involves pouring the cocktail neat instead and skipping the club soda entirely. This creates a more intense cocktail.
Affogato Cocktail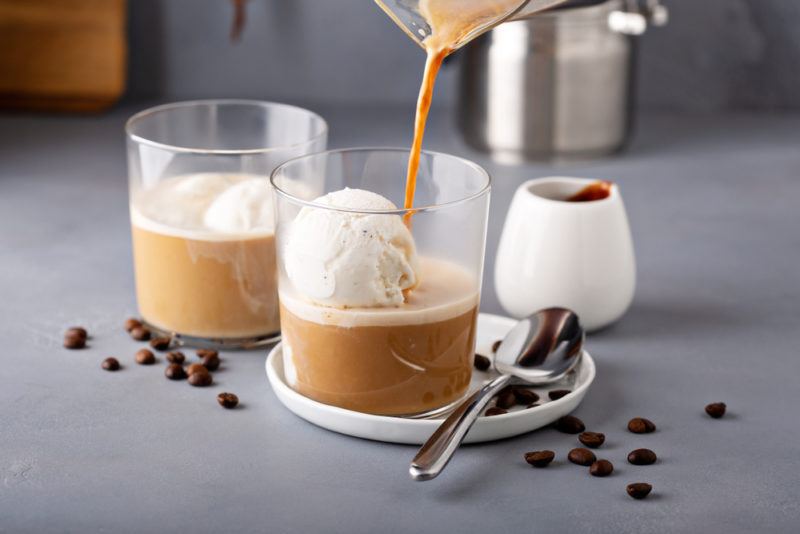 How about combining an affogato coffee with alcohol? It shouldn't be surprising that this dessert-like cocktail has been tried before. The flavor combination is simply too good to pass up.
There are many ways to approach this coffee. The simplest would be to make an affogato as normal, then spike it with alcohol. Whiskey could be a good choice here, as the flavors complement coffee well. Vodka would work too, especially if you want to add alcohol without changing the drink's flavor profile.
Another option is to basically make a coffee martini, then add in a scoop of ice cream. This gives you a slightly different drink, as affogato is traditionally served hot, while a coffee martini is served cold instead.
Other variations use creamy ingredients as well, like Kahlua or Bailey's, to create a rich dessert cocktail. You can easily play around with ingredients until you get a combination that you enjoy.
Kahlua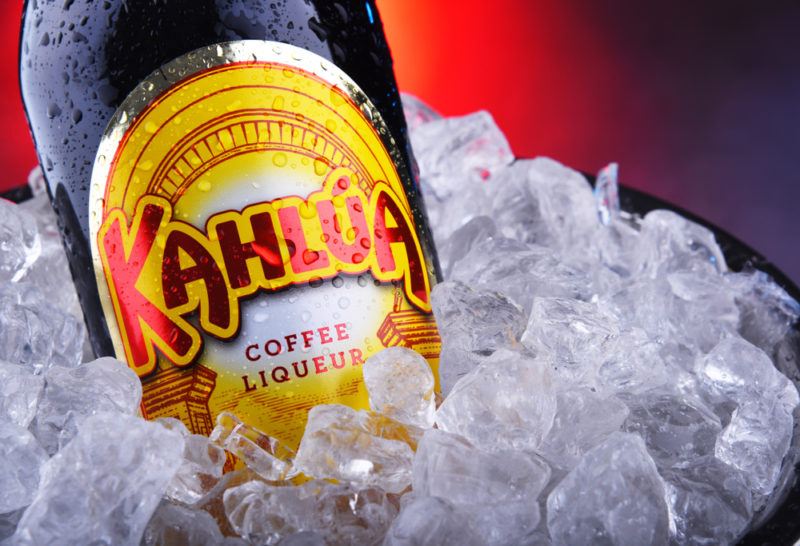 Kahlua is a coffee liqueur that features in various coffee cocktails, but making a cocktail isn't your only option. Kahlua can be enjoyed on its own too. It is often served on the rocks, creating a creamy dessert-like drink. And, in practice, you really don't need any other ingredients. Kahlua tastes pretty good on its own.
As for alcohol, Kahlua is roughly 20% alcohol by volume (ABV). The creaminess of the liqueur means that you probably won't drink a large amount at a time either, making Kahlua best if you want a little alcohol rather than a lot.
Kahlua Sour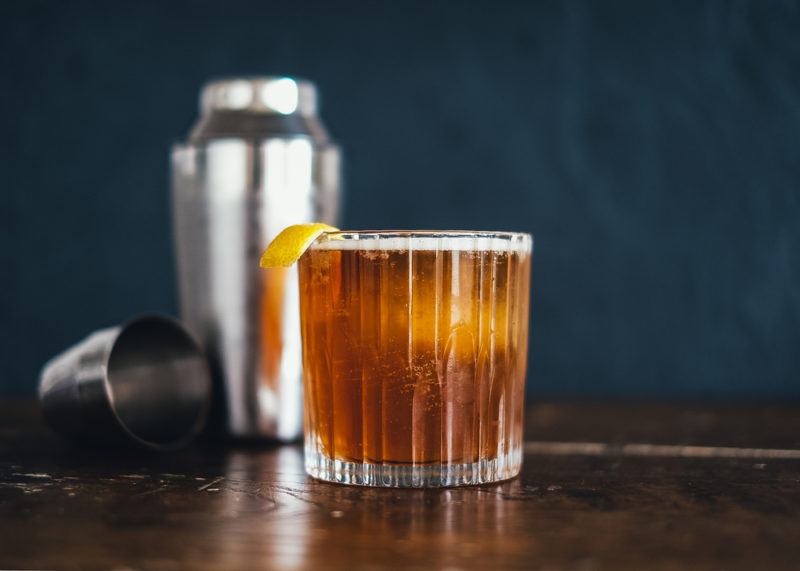 The company behind Kahlua has developed various cocktails that use the liqueur. We're not going to feature all of these, as some are fairly obvious, but we will touch on a couple – including the Kahlua sour.
As the name suggests, this cocktail is a variation on classic cocktails like the whiskey sour. The main difference is that you're using Kahlua as the source of the alcohol, rather than whiskey. So, as you might expect, the other ingredients include lemon juice, simple syrup, and an egg white.
Using a coffee liqueur in a sour is an odd choice, but the combination seems to taste good.
However, there are differences between this and regular sour cocktails. One is that Kahlua is sweeter than a pure spirit, so the cocktail doesn't end up as sharp. The liqueur is creamier too, which changes the texture a little. And, once again, Kahlua is relatively low in alcohol, so you won't get the same hit that you would get with a whiskey sour.
Mind Eraser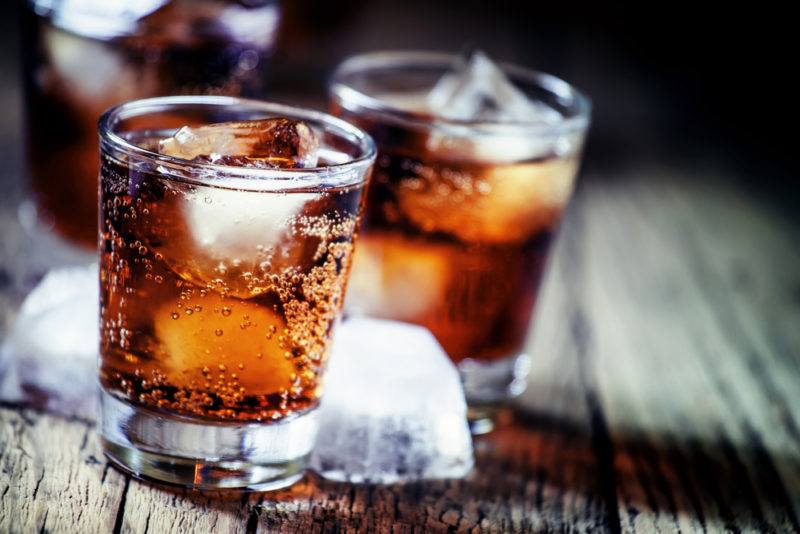 The mind eraser is a good cocktail if you want the flavor of Kahlua, but with a stronger alcoholic hit. It's easy to see how this works, as the cocktail combines equal measures of Kahlua, vodka, and club soda.
Kahlua is the only ingredient of the three with a notable flavor, so it stands out in the finished drink. One version of the cocktail involves pouring the ingredients one at a time over ice, with no stirring at all. The drink can then be consumed with a straw, allowing you to enjoy the flavors one at a time.
B52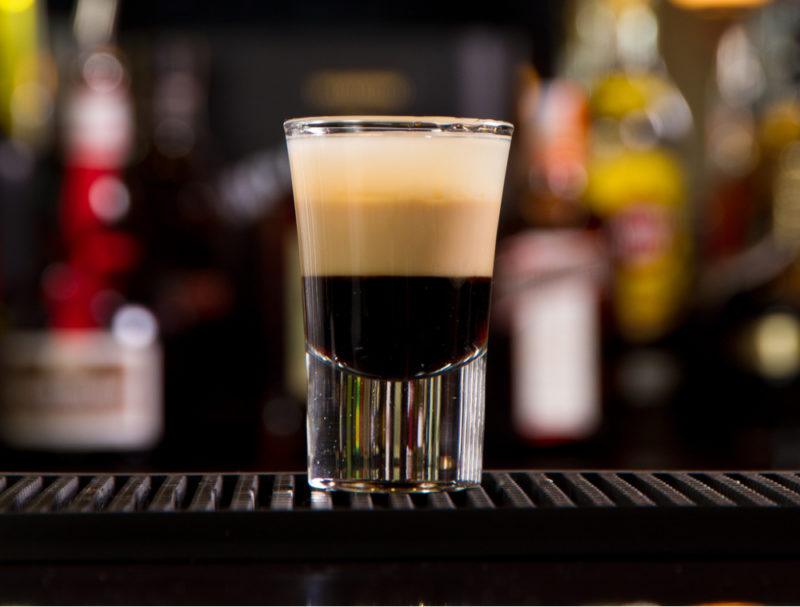 The B52 is one of the most famous shots that uses Kahlua. It's a layered shot, where you use Kahlua, Bailey's Irish Cream, then Grand Marnier – in that order. You'll need to add each layer carefully over the back of a spoon to get the pictured layering effect.
The cocktail is a delicious combination of flavors. It also has a relatively low ABV for a shot, which could be appealing in the right situation.
Brave Bull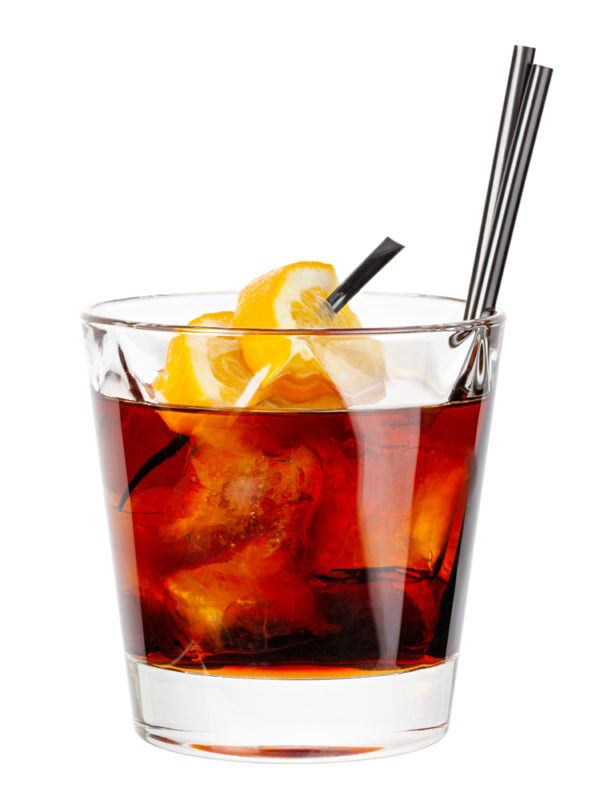 If you're looking for something stronger, the brave bull could be a good cocktail to try. It is a simple cocktail that uses just two ingredients and is served over ice.
The coffee aspect of the cocktail comes from the use of Kahlua, once again. This time, you're relying on roughly two parts of tequila to every one part of Kahlua. The tequila adds nuance to the drink. And, as it turns out, Kahlua and tequila complement each other very well indeed.
Kahlua Cold Brew Tonic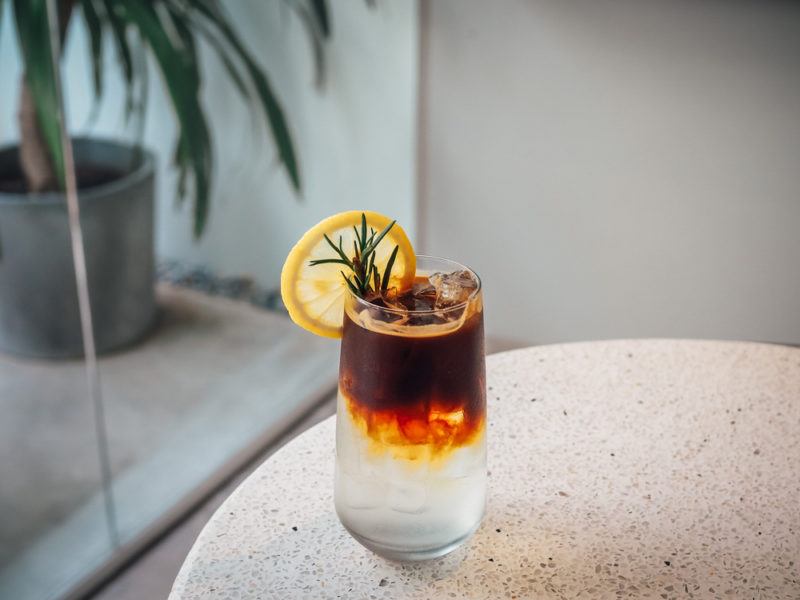 This cocktail is another one that Kahlua itself has developed (you can check out their full list here). The name really says it all, as the cocktail relies on Kahlua, cold brew, and tonic water.
Cold brew coffee and tonic water has become a popular combination recently. The tonic water adds a new dimension of flavor to the coffee, while the bubbles are appealing too. The end result is much more interesting than regular cold brew coffee.
The addition of Kahlua makes the drink slightly alcoholic, while also making the coffee flavor more intense. This ends up being a very low ABV cocktail, as the alcohol content of Kahlua isn't that high and you're not using a large amount of Kahlua in the cocktail.
Orgasm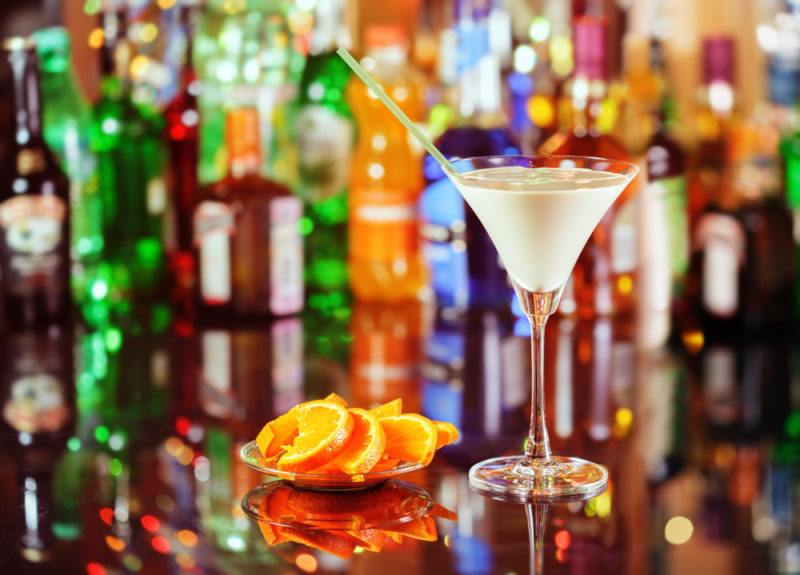 The orgasm, or screaming orgasm, doesn't rely on coffee as the main flavor. It is a milky cocktail instead, one that can be made in very different ways.
A commonly-quoted example relies on equal measures of four ingredients: Bailey's Irish Cream, half-and-half (or cream), amaretto, and Kahlua. The Kahlua can be swapped out for a shot of espresso instead, to create a more intense drink.
There are many other versions too. Many use Kahlua or espresso in some way, so you have no shortage of options for a coffee-based drink.
Colorado Bulldog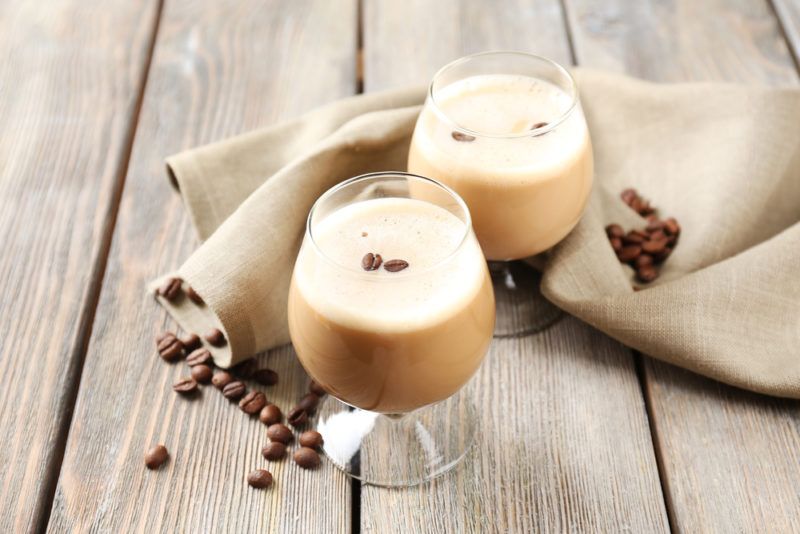 You could consider a Colorado bulldog to be a combination of a black Russian and a white Russian. The cocktail relies on coffee liqueur, cream or milk, and vodka, much like a white Russian. Cola is used too.
One way to make this cocktail is to use equal measures of dairy and cola, then half as much of the vodka and coffee liqueur. So, you might have a 2:2:1:1 ratio in the final drink. This combination helps the coffee flavor to stand out.
The use of cola and cream means that you end up with a drink that is creamy, but not overwhelmingly so. And, if nothing else, the drink is different. It's always nice to add some variety to your cocktail menu.