Eggnog is without a doubt a holiday classic. However, there is much debate about exactly how it should be consumed. Do you carefully craft the perfect drink with top-notch ingredients, or you do buy premade eggnog at the store and spike it yourself with some cheap spirit from the cupboard? If you're making it yourself, you're going to want the best brandy for eggnog.
The truth is, both extremes are acceptable as is anything in between. That's the beauty of cocktails – there are no rules! Recipes exist because certain combinations are known to be good, but you can always change them up.
Whatever spirit you prefer your eggnog with there are always some expressions that are better than others. Because even though each respective spirit has distinctions that set it apart, flavor profiles still vary widely and some flavor notes work better in eggnog than others. That said, the best brandy for eggnog is bright and lively, but balanced. Too sweet and you'll kill the heat.
If brandy doesn't seem quite right, you can make eggnog with rum instead. Either style is delicious. And, if you do go for brandy, you can always include it in other cocktails too.
The Best Brandy For Eggnog (With Pictures!)
1. E&J VSOP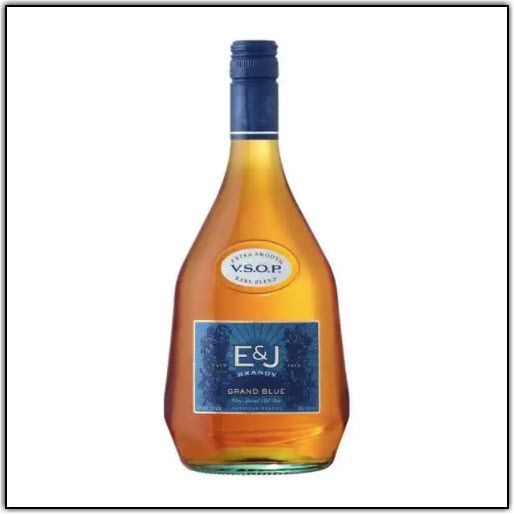 In business since 1938, E&J has spent its time perfecting the craft of perfect brandy. Their efforts have paid off handsomely as they are currently the most decorated brandy company in all of America. They're passionate about making authentic and genuinely delicious brandy that you can use for a variety of purposes.
E&J VSOP is meant for sipping just as it's best for mixed drinks. Though it has no official age statement, the VSOP label means it's been aged for at least four years. Blended from several different grape varietals, they've gone for intense richness, full flavor, and a smooth finish on this one, which is exactly what comes through.
The nose offers a subtle fruit sensation with a focus on pear and cherry with some violets in there as well. The palate follows with a similarly mild fruity sweetness with apples and berries. It's balanced with a touch of toasted oak brought on by the barrel aging and some notes of vanilla. The finish is on the short side but it's predictably smooth.
2. Paul Masson Grande Amber VSOP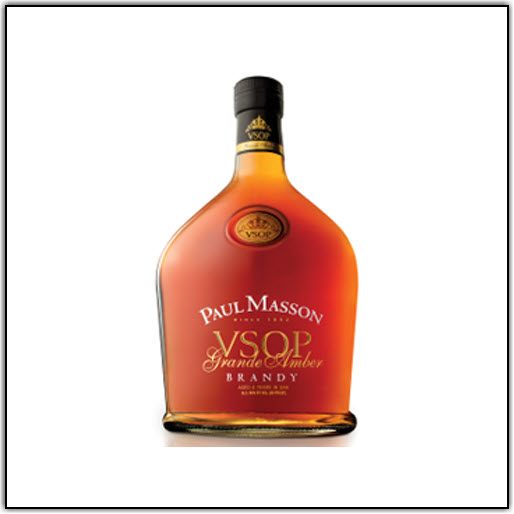 Paul Masson Grande Amber VSOP is an excellent choice for your eggnog because of its lovely flavor profile but also because of the price! One of the lowest prices you'll find on a quality VSOP, you can whip up a ton of the festive cocktail without a care or worry at all. Serve your whole family and impress them with your superior eggnog-making skills.
Aged for at least four years, you're getting lots of bang for your buck. While it's an American brandy, it's blended with French cognac. This gives it the qualities of the most exquisite grapes while also getting plenty of flavor from the American oak bourbon barrels.
On the nose, you'll first find a lovely splash of dried fruit, followed by ginger, oak spice, dark chocolate, and vanilla. You'll also notice subtle hints of bourbon but it doesn't overwhelm.
The palate offers a strong fruit sweetness on the front followed by oaky notes in the middle, intermingled with a complex array of caramel, ginger, iris, vanilla, and raisin. The finish is soft and sweet with a spicy undertone.
3. Pierre Ferrand Ambre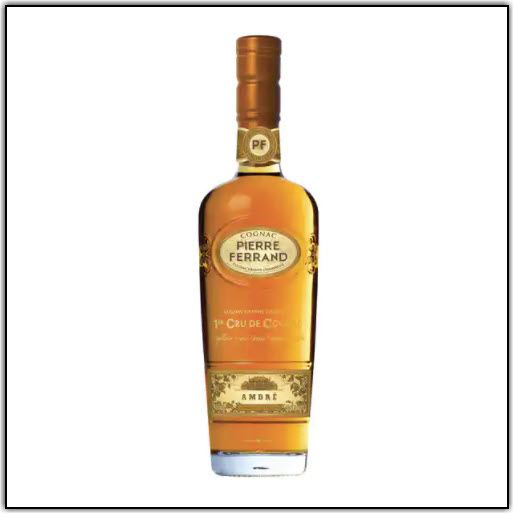 Pierre Ferrand Ambre is an elegant expression that's distilled from both the traditional Ugni Blanc grapes and the more rare Colombard grape. Pierre Ferrand also gets their unique and powerful flavor profiles by aging their spirits for much longer than average. They don't use traditional brandy labels like VS or VSOP.
Instead, their Ambre label is present here, denoting their youngest category, aged for an average of ten years. The bottle is, understandably, more expensive than many others. If you're going for that extra punch of quality, aging, and flavor in your eggnog or other cocktails, then the extra dollars are worth it.
Even the appearance is top-notch and beautiful, the brandy itself being a light, soft, lovely amber color, while the bottle is adorned with delicate gold labeling.
On the nose, you'll find notes of amber, plums, pears, and flowering vines with lovely underlying floral notes.
The palate is decidedly different, offering woody notes on the front followed by black tea and savory spices. Notes of cognac continue with a fruit undertone in the middle. The finish is bittersweet with a note of almonds on the end.
4. Hennesey VS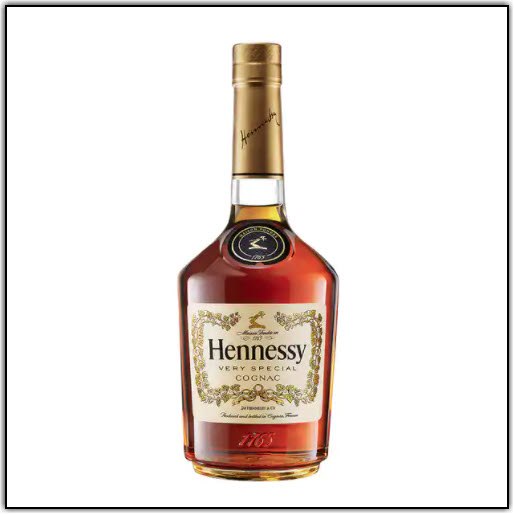 Founded in 1765, Hennesey has more experience to offer than most. This is part of what has led them to brandy stardom, maintaining their status as one of the top brandy producers in the world. They've always been led by a passion to create the best of the best – which is exactly what they've done.
Their cognac is created with strict adherence to a set of high standards which are enforced by the current Master Blender but have been passed down from many generations.
Hennesey VS is made from several distinct eau-de-vies that are matured for about seven years in oak. They're then blended by expert hands to create a warm and full-bodied flavor profile.
On the nose, you'll find intense fruity notes with a touch of oak in the background. The palate follows with powerful flavors of grilled almonds and fresh grapes. It's not the most complex profile but it's strong and powerful with complementary notes all around. The finish is just as lively and fruity.
It's a great choice for your creamy holiday cocktail but it's just as nice over ice or sipped neat if you want to experience its flavors uninhibited.
Related Content
5. Camus VS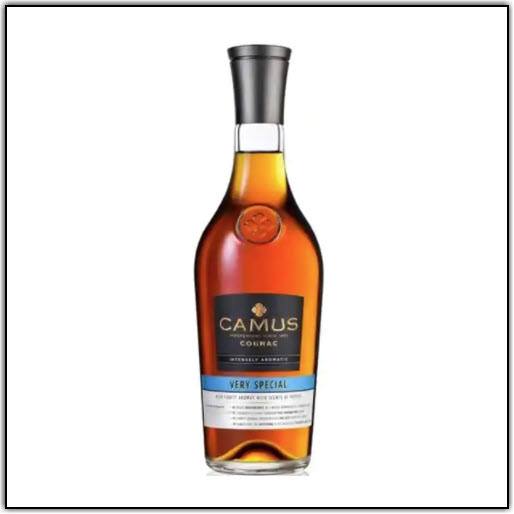 Camus was founded in 1863 and produces a unique and interesting collection of brandies. For their Camus VS, they use a lesser-known grape from one of the smallest areas in the cognac region. Extremely well-known in many other countries, Camus has only recently resurfaced in the United States but is slowly making a name for themselves with their delightful line of spirits.
Their brandy is distilled in classic copper stills. The eau-de-vie that results is aged in Limousin oak barrels with minimal tannins. This allows the unique characteristics of the eau-de-vies to shine rather than being overtaken by oak.
The aroma is strong and intense with fruit, including apples, grapes, and pears. Also present are notes of vanilla, walnuts, and caramel. The palate follows with flavors of grape and apricot as the light sweetness of butterscotch toffee rolls in. Underneath, you'll find rose water, fresh leather, lemongrass, and a little menthol with a touch of spice that doesn't linger.
The finish is floral and spicy with a light hint of salt at the end.
6. Courvoisier VS

Courvoisier VS is commonly recommended as a brandy addition, partly because it's one of the best bottom shelf brandies out there. This means that you don't need to break the bank on brandy when preparing eggnog for a party.
The flavor profile is light and fruity, with notes of apricots, figs, prunes, and vanilla. The brandy has enough body to stand up in your eggnog without getting overwhelmed. It's also a good brandy for anyone who enjoys bourbon, as some of the flavor notes are similar.
You can take things a step up with Courvoisier VSOP instead. The VSOP has been aged for longer, which gives it richer and more intense flavors. However, the flavors here don't work out well for everyone, so you may need a second spirit in your eggnog as well.
7. Torres 10

Torres 10 is a famous Spanish brandy that has an intense aroma with notes of wood and spices. The palate is tannic, complemented by notes of vanilla and cinnamon. This is also an exceptional expression for the price, giving you more flavor than many cognacs, while often costing less.
The rich flavors mean that this brandy should stand out in any eggnog recipe, which is perfect if you want the spirit to be very noticeable. The Torres 10 should also shine in complex eggnog recipes, where milder brandies could easily get lost.
What's The Best Brandy To Eggnog Ratio?
A popular starting point is 5 parts eggnog to 1 part brandy (or whatever other spirit you feel like using). This ratio means that you can easily taste the brandy, but the brand doesn't overwhelm the other flavors. Interestingly, the same ratio applies to homemade eggnog and to eggnog from the store.
Of course, this strongly depends on your personal preferences. Some people go much heavier with the alcohol, perhaps using a ratio of 3 to 1 or even 2 to 1.
The intensity of your brandy matters as well. In particular, you might need to decrease the amount you use if you're focusing on a richly flavored brandy.
Brandy Eggnog Recipes
While you can simply buy eggnog from the store and spike it with brandy, there's something special about making your own eggnog. Doing so doesn't need to be difficult either.
The Spruce Eats has a fantastic Quick Brandy Eggnog recipe to get you started. It's one of the easiest recipes out there, as it just relies on milk, simple syrup, an egg yolk, and brandy. That's it – four ingredients!
Food52 has a more complex recipe. This one drops the milk and uses a combination of half-and-half and heavy cream instead. This decision creates a much richer drink. Their recipe does combine apple brandy and light rum, but you could easily make it using just regular brandy instead.
Rum, Brandy, or Whiskey?

Eggnog can be made with any one of these. Early versions of eggnog were made with cheap rum that was on hand, but it's evolved to be more versatile than that.
Some may disagree, but the fact is that no spirit is "best" for eggnog. What's best for you comes down to preference. It's also worth noting that there are so many different spirits in each category that you could experiment forever and always get different results.
With that said, each spirit will perform a little differently:
Brandy
Many don't think about brandy but it works surprisingly well in homemade eggnog. The wine base adds a nice sweetness that isn't overbearing and pairs well with the creamy texture. The flavor is lively and you can really find the brandy in there, though it doesn't dominate so much as to take away from the rest of the drink.
It's sweet enough that it may just convert anyone with an aversion to eggnog.
Rum
Compared to brandy, rum comes in a little subtler on the palate and not quite as sweet overall. That said, the flavor was still nice and sweet enough to know there's something other than eggs in there.
This may appeal to those who specifically don't want the drink too sweet. Many love eggnog for the smooth and creamy texture and want to appreciate the other flavors the drink has to offer.
If this is you, consider trying a few rums with different flavor profiles to see what you like best.
Whiskey
Whiskey falls somewhere in between the two. It offers a sweet and lively flavor like brandy, but the taste of the whiskey itself really comes through. It's also worth considering the vast difference between different styles of whiskey, such as bourbon and rye.
Bourbon definitely brings out the sweetness if that's what you're after. Rye on the other hand is naturally spicier and this will come through in your eggnog. While it's an interesting flavor and a tantalizing experience to drink, it doesn't go down quite like the sweet brandy version. One of these is probably enough for most.
If you're not sure what you're doing here, try a little of everything. While certain recipes might specify which spirit to use, most recipes can accommodate any of the three just fine. This means that once you find your preference between brandy, rum, or whiskey, you can cater to each recipe and make it perfect for you!
A Combination
Finally, some eggnog recipes don't just stick to a single type of spirit. A combination of dark rum and brandy is particularly common. You can even make eggnog with whiskey, brandy, AND rum, if you want to.
Combining spirits like this gives you some of the features of each type, without any single spirit dominating. You also end up with a more complex drink. That's got to be a good thing.