Honey whiskey gets mixed reviews. Some people love it and savor it in cocktails or just consumed neat, while others feel that regular whiskey is much better. Part of the problem is that each type of honey whiskey is different from the next. If you love it, then this list of honey whiskey drinks is going to keep you busy for a while (there's more than a few to try)!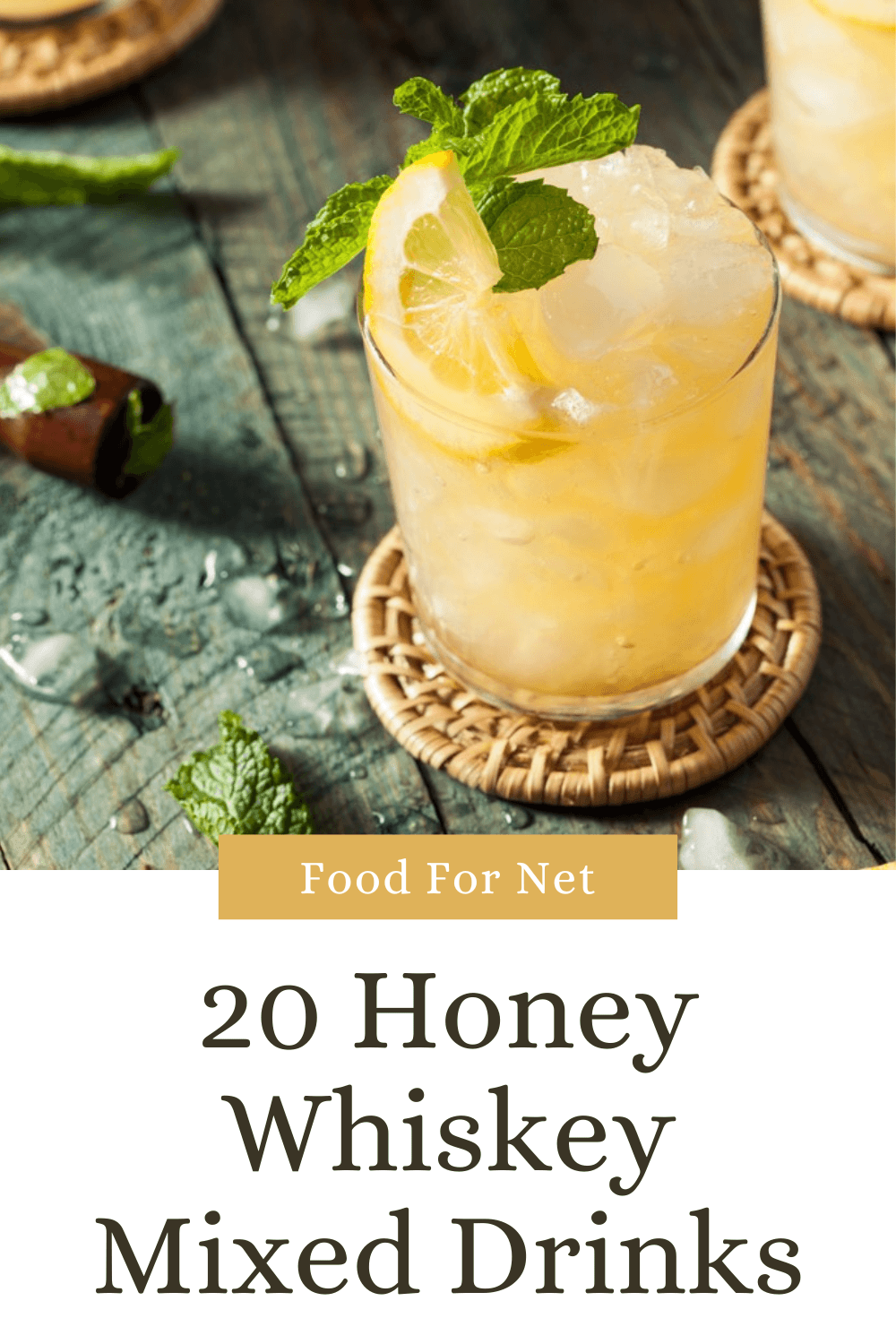 Some play up the honey content, creating something sweet that's more like a whiskey liqueur than a true whiskey. Others use honey in the background, creating a more nuanced and balanced drink. These differences make it difficult to find good mixed drinks with honey whiskey.
Often a cocktail that tastes good with one type of honey whiskey won't be so tasty with another. Thankfully, cocktail creators often specify which type of honey whiskey you should use.
You can also experiment. Doing so is the best way to learn more about your whiskey and truly enjoy it anyway. You don't even need to stick to the cocktails on this list. Many healthy drinks with honey or regular honey cocktails would benefit from some honey whiskey as well.
Honey Whiskey Drinks (With Pictures)
The Angry Bee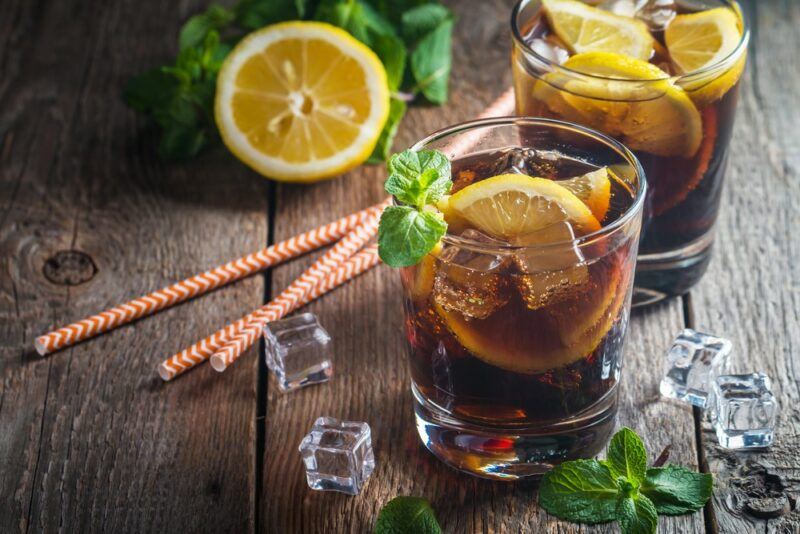 Few cocktails are simpler than the angry bee. You're just combining equal measures of cinnamon whiskey and honey whiskey, then topping the glass up with cola.
The cola, honey, and cinnamon flavors balance each other well, giving you a drink that goes down a treat. This combination also stops the cinnamon whiskey from getting too overwhelming. That's particularly important if you're using Fireball Whisky, as that has a pretty intense flavor.
You could serve this in a long glass or a short one, over ice or on its own. All of those styles taste fantastic.
Honey Whiskey Gingernut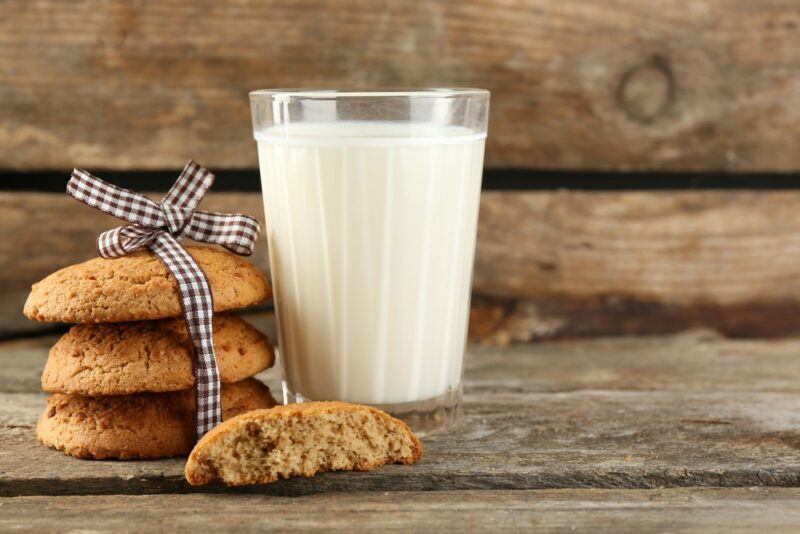 This cocktail could just as easily be called a honey whiskey gingersnap, as gingernuts and ginger snaps are both popular ginger cookies. The cocktail tries to replicate the flavor of the cookie by combing honey whiskey with milk, cream, ginger, and syrup.
You end up with a creamy and delicious drink that's a little like milk and cookies rolled into one. The use of milk and cream also makes this a less rich cocktail than one that just relies on cream.
Honey Whiskey Iced Tea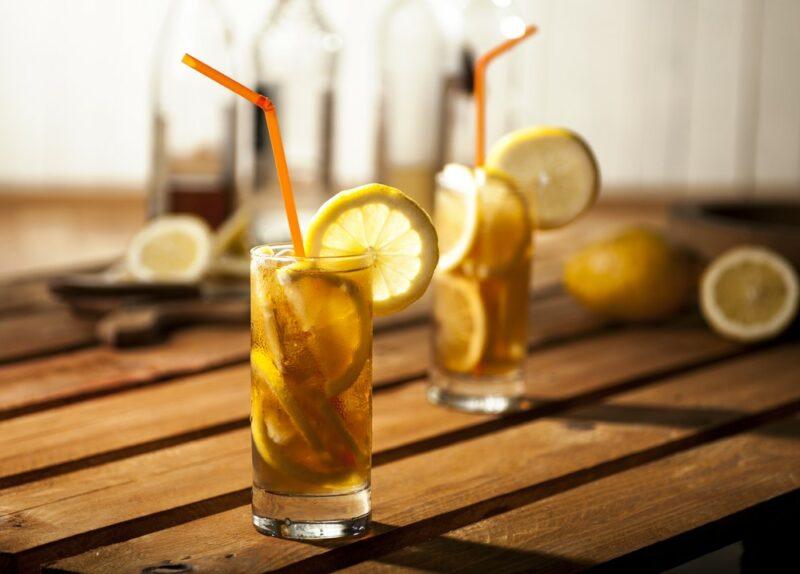 Honey whiskey is excellent in iced tea as well, providing extra flavor and a touch of sweetness.
Rather than using the whiskey directly in the tea, why not combine honey whiskey with lemonade and unsweetened iced tea? Doing so gives you a refreshing summer drink that can be sipped slowly.
You can even skip the effort and buy a half tea and half lemonade drink from the local store. You can then add your honey whiskey straight to that.
Crown Royal Honey Lemonade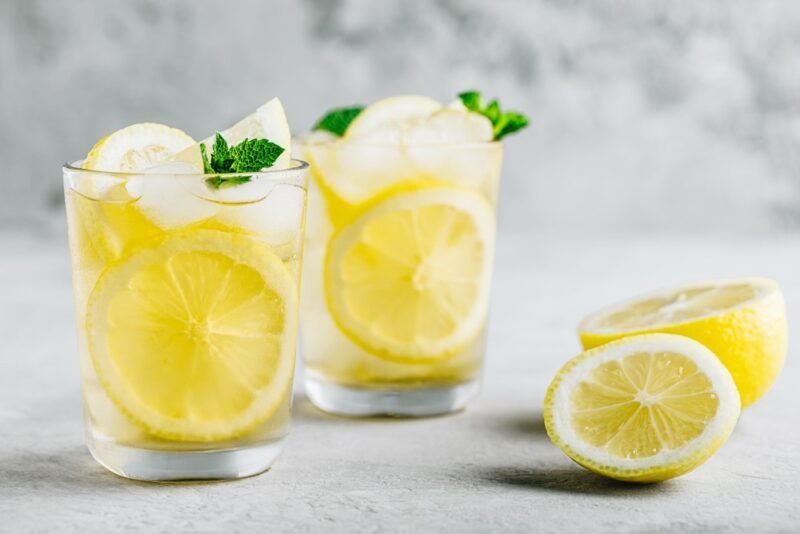 This recipe comes from Crown Royal itself, so it was designed to work with their Crown Royal Honey Whisky. That said, you could easily sub out for a different honey whiskey.
The cocktail itself is even easier than the previous example. This time you're just combining the whiskey with freshly made lemonade. Crown Royal recommends using 1.5 ounces of whiskey to 4 ounces of lemonade, which would give you a fairly strong drink.
Don't be afraid to tweak the ratios, though. After all, you're the one drinking the cocktail.
You could even make this with bottled lemonade. Doing so wouldn't be quite as tasty as using the fresh stuff, but would cut down on your work.
Crown Royal Honey Gold Rush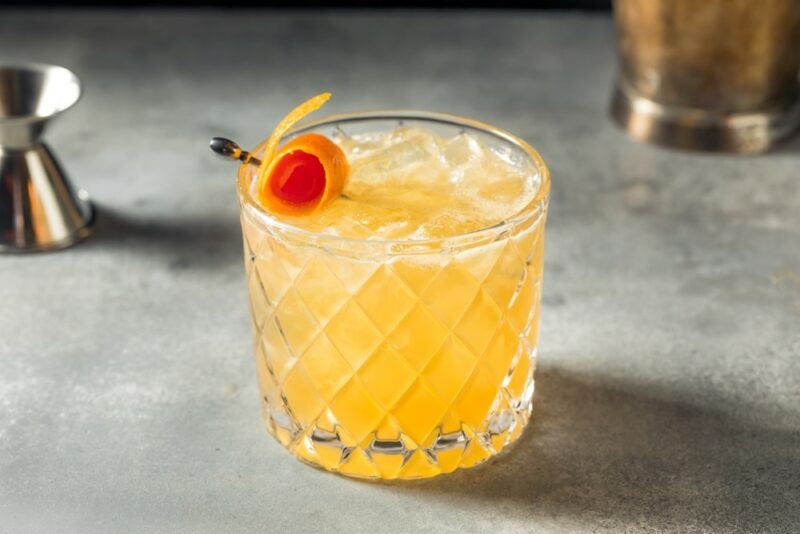 The gold rush cocktail traditionally combines bourbon, honey syrup, and lemon juice, making it a slight twist on the traditional whiskey sour.
Crown Royal's version calls for honey whiskey instead of bourbon, then uses simple syrup instead of honey syrup. You end up with a similar flavor profile, without needing to mess around with honey syrup.
Alternatively, you could make a more honey rich version of this drink by combining honey whiskey with honey syrup and lemon juice.
Variation: Bourbon Honey Sour Gold Rush
Honey Whiskey Godfather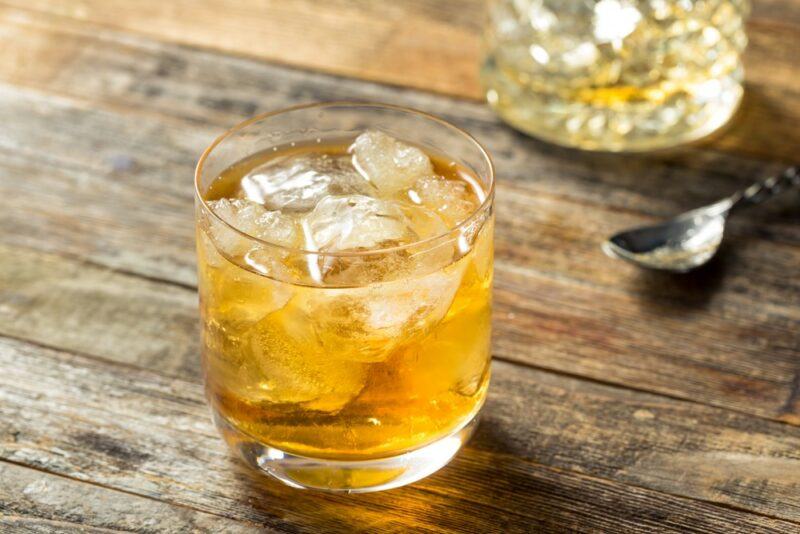 The godfather is a two ingredient cocktail that combines Scotch whisky with amaretto.
Many versions use equal measures of the two ingredients, but you can also use a Scotch heavy ratio, which allows the flavor of the Scotch to shine through more strongly.
Making a honey whiskey godfather is simple – you just replace the Scotch whisky with honey whiskey. This gives you a sweeter drink, so you'll want to make a whiskey heavy version.
A 3:1 ratio of whiskey to amaretto is a good starting point. You can adjust from here if the flavor profile isn't quite right.
Jack Daniels Honey Smash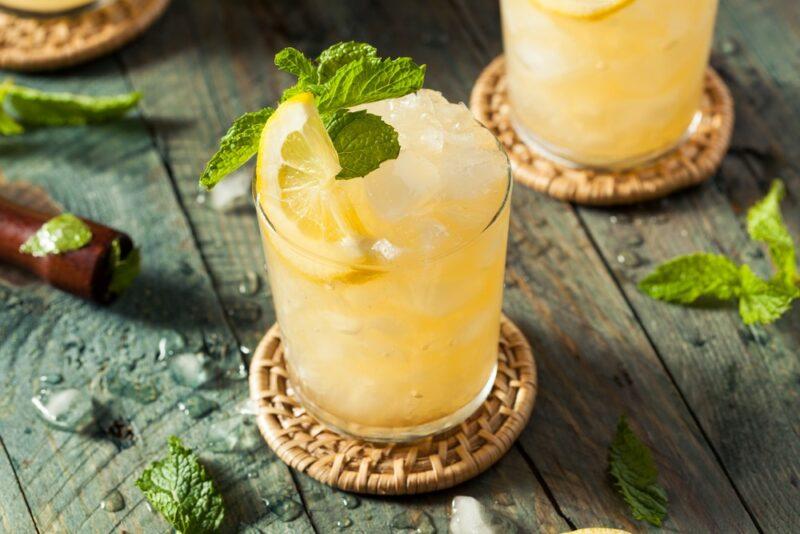 This cocktail is designed to work with Jack Daniels Tennessee Honey. It can be made by shaking together the whiskey with mint leaves, lemon juice, simple syrup, and ice, then straining the drink into a glass of crushed ice.
The lemon juice and simple syrup provide a nice sweet-sour contrast that is complemented by the mint leaves and whiskey. It remains a fairly strong cocktail too, as the mixer content is low.
Don Rodrigo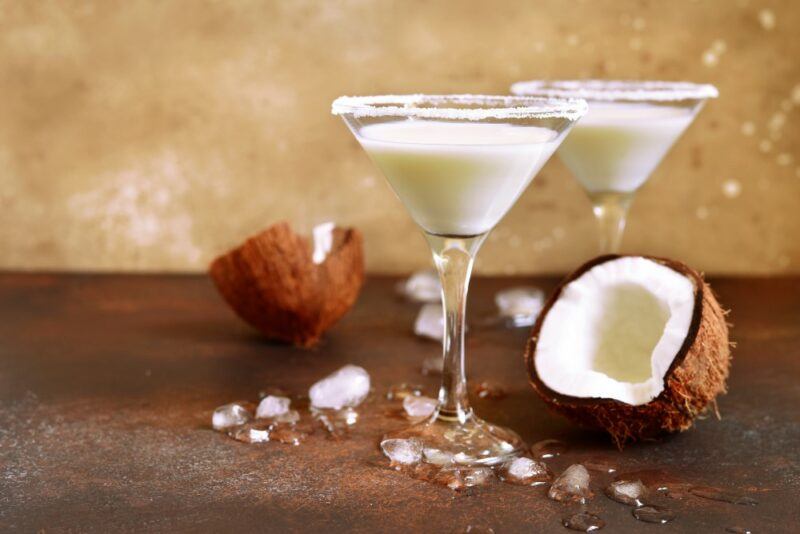 This cocktail follows a different theme than most of the others. It relies on coconut cream, which makes it a creamy drink. Then there are some spices added in for complexity, including cinnamon, nutmeg, and a little ground pepper.
Beyond this, there is plenty of rum and some Drambuie. You'll see Drambuie mentioned a few times on this list, as it's a Scotch whisky liqueur that has strong honey and herbal notes. It's nuanced, delicious, and easily fits the criteria for honey whiskey.
The rum provides most of the flavor for this cocktail, while the Drambuie plays a supporting role, helping to mellow out the rum and bring together the other flavors.
Hot Toddy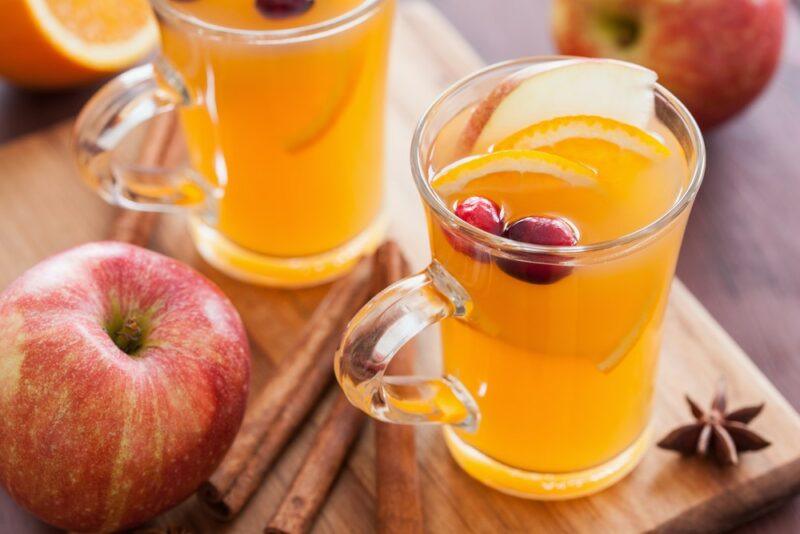 The hot toddy is a classic winter's drink. It's ideal when you're feeling sick or run down, but is still delicious even when you're healthy.
The basic recipe combines whiskey, lemon juice, honey, hot water, and various spices. Some versions use apple cider as well, but this risks making the hot toddy far too sweet.
The ingredient choice means that honey whiskey should complement the cocktail perfectly. You could prepare the drink by dropping out the regular whiskey and honey, then using honey whiskey instead.
Or, you might simply add a little honey whiskey while leaving the other ingredients as-is. Either version would be delicious.
Spiced Winter Blizzard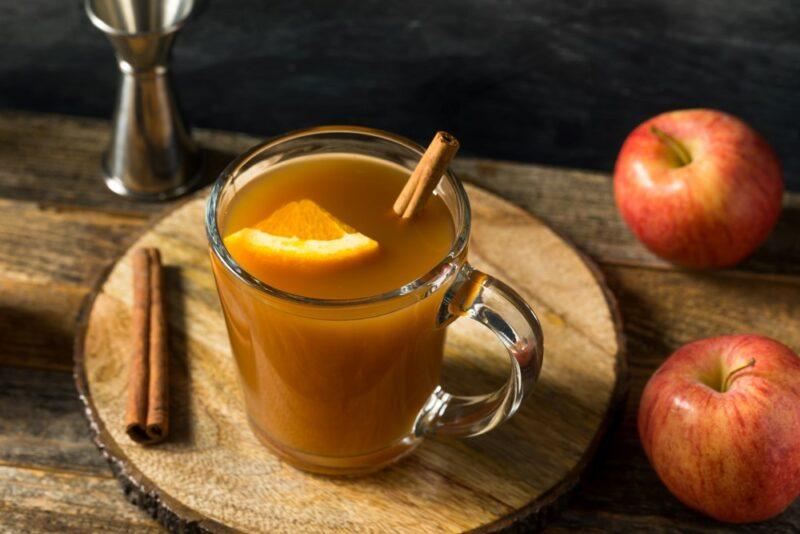 This comforting cocktail combines Jack Daniels Tennessee Honey with cloudy apple cider, fresh tangerine juice, and spiced simple syrup. The spiced simple syrup adds complexity to the drink and isn't difficult to make. To do so, you're just making regular simple syrup and adding in some pumpkin spice seasoning.
You could make this an even stronger cocktail by using hard apple cider rather than regular apple cider. Or, perhaps a combination of apple cider and hard apple cider.
Rusty Nail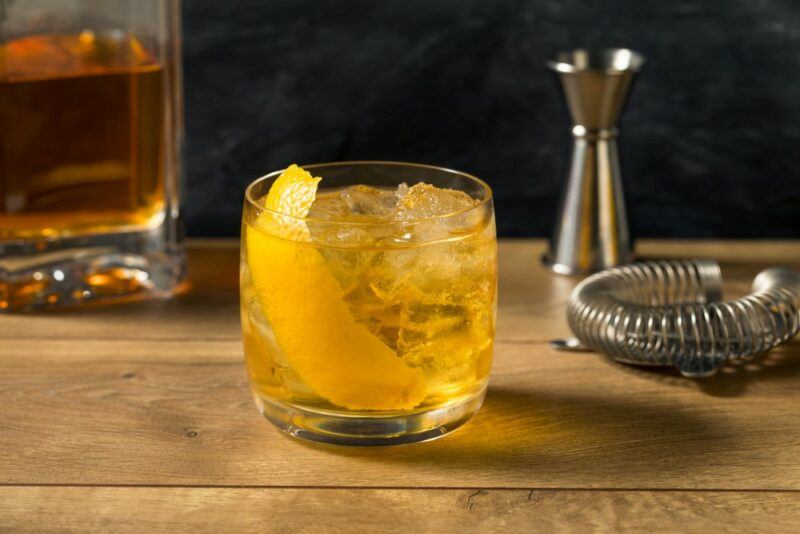 This is a classic whiskey cocktail, one that was popular among the Rat Pack back in the day. It relies on just two ingredients – Scotch whisky and Drambuie. You can use equal measures of the ingredients or try a different ratio, like 2:1 or even 4:1.
While Drambuie is the liqueur of choice for the drink, it may work well with other honey whiskeys too, like Jack Daniels Tennessee Honey. However, you may need to tweak the ratios, as the flavor profiles from one product to the next.
Drambuie Collins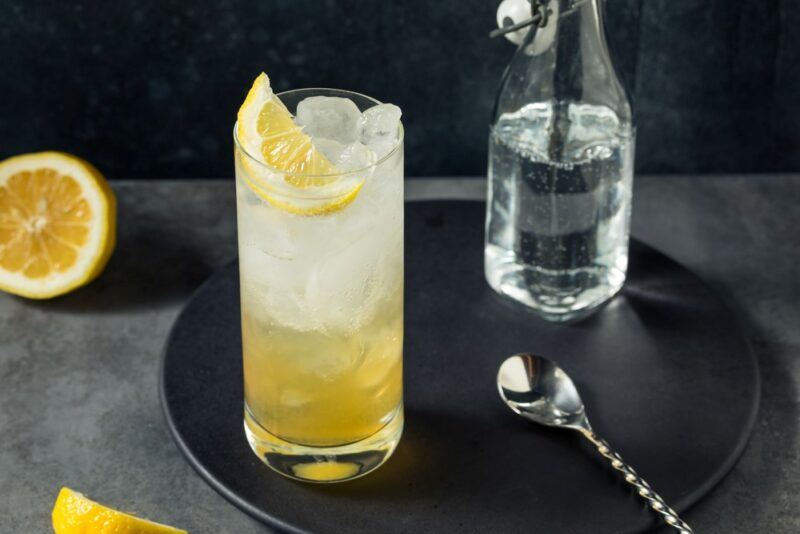 This cocktail belongs in the Collins family, so it's a tall drink with soda water and lemon. But, rather than using gin, you're using Drambuie as the spirit of choice.
The Drambuie provides a honeyed whiskey flavor, with herbal notes that stop it from getting too sweet. Those flavors work perfectly with the other ingredients in your cocktail.
You could also try this with other types of honey whiskey. The results would be different each time, but that's not a bad thing.
Honey Jalapeno Whiskey Lemonade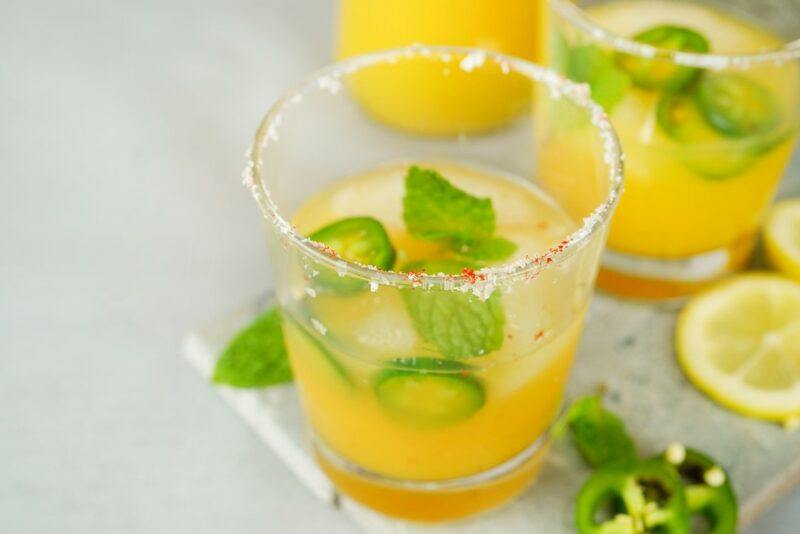 Looking for something with more oomph to it? This cocktail could be perfect. It's surprisingly simple, as it just relies on lemonade, honey whiskey, and a fresh jalapeno.
To use the jalapeno, you simply cut it into slices and muddle these. Doing so releases some juice and adds a spicy kick to your cocktail.
As for the lemonade, you could use a store bought product or go the extra mile and make your own. Cocktails with homemade lemonade will always taste better, but sometimes you just want a fast and easy solution.
The Mackinnon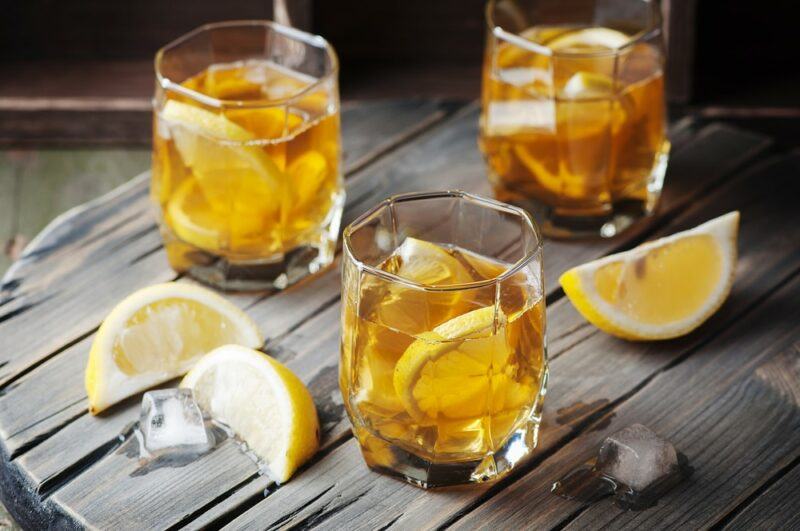 This nuanced cocktail follows traditional styles, combining rum with Drambuie and lemon juice. The honey in the whiskey provides an excellent contrast to the lemon juice, while the flavors of the rum and Drambuie interplay nicely with one another.
To switch the cocktail up, try serving in a tall glass with ice and soda water. This creates a more refreshing drink with a lower ABV.
Honey Buck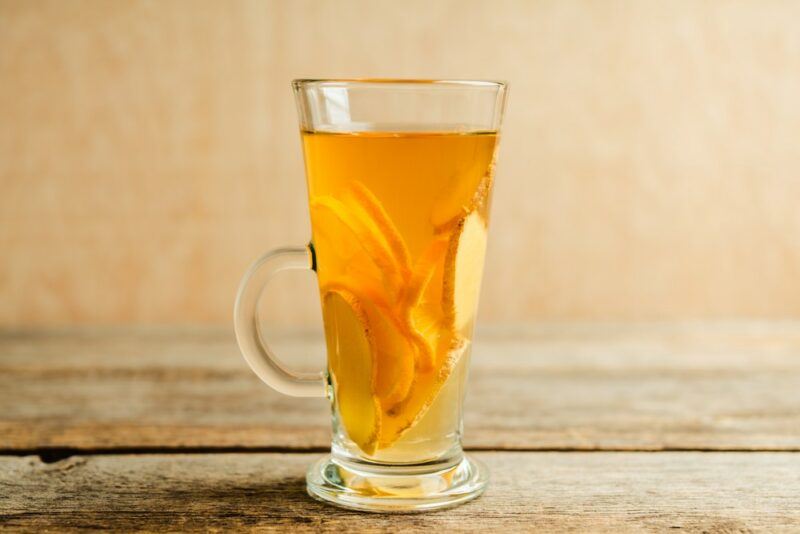 This cocktail was designed to focus on Jack Daniels Tennessee Honey. It combines the whiskey with lime juice, pressed apple juice, and ginger ale.
The three mixers give you a fairly sweet drink that goes down easily.
Drambule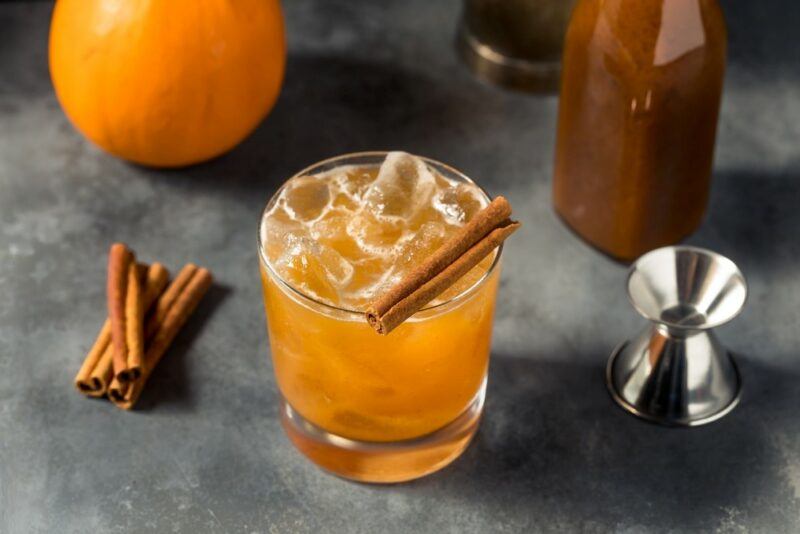 This cocktail shows that you can make some fairly complex cocktails with honey whiskey too. For this one, you're using Drambuie, gin, crème de mure, and lemon juice.
Those are all common enough as cocktail ingredients. Oddly though, the cocktail also uses cranberry-orange compote and Greek yogurt. These are mixed with the other ingredients to provide an interesting texture and flavor balance.
Honey Whiskey Sour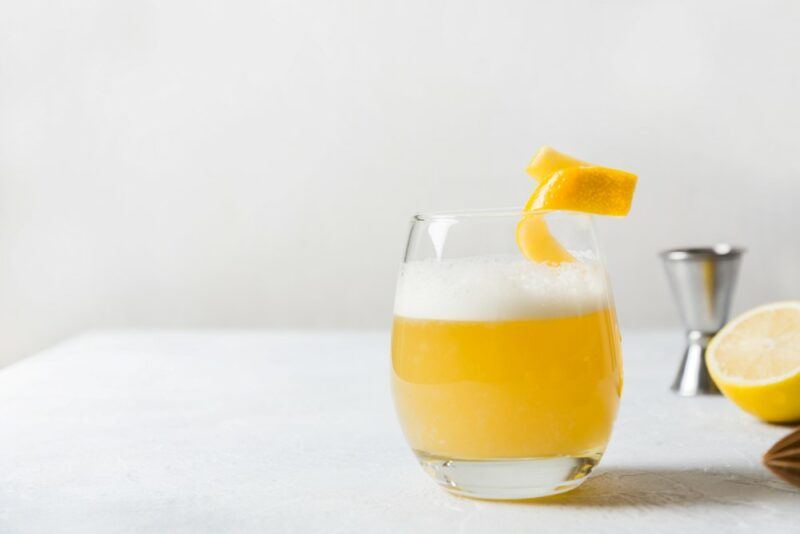 This cocktail is a more complex twist on a traditional whiskey sour. Not only are you using honey whiskey instead of regular whiskey, but you're also using honey instead of sugar syrup.
A small amount of orange juice is added too. This provides extra sweetness and helps to balance the flavors.
Because sours tend to be concentrated, the recipe calls for honey rather than honey syrup. You'll need to do a decent amount of shaking to stop the honey clumping and get the right texture for your drink. But, the final cocktail is worth the effort.
Honey Dew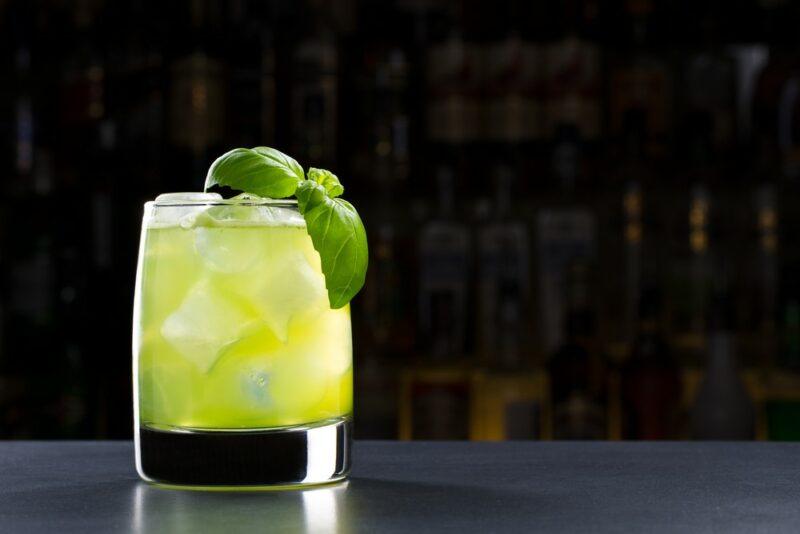 Here's a fun modern cocktail to experiment with. It just uses two ingredients – honey whiskey and Mountain Dew. This combination is best for people who love sweet drinks.
Rather than using a traditional garnish, why not top the cocktail with whipped cream? This adds an interesting texture and flavor contrast.
Angry Badger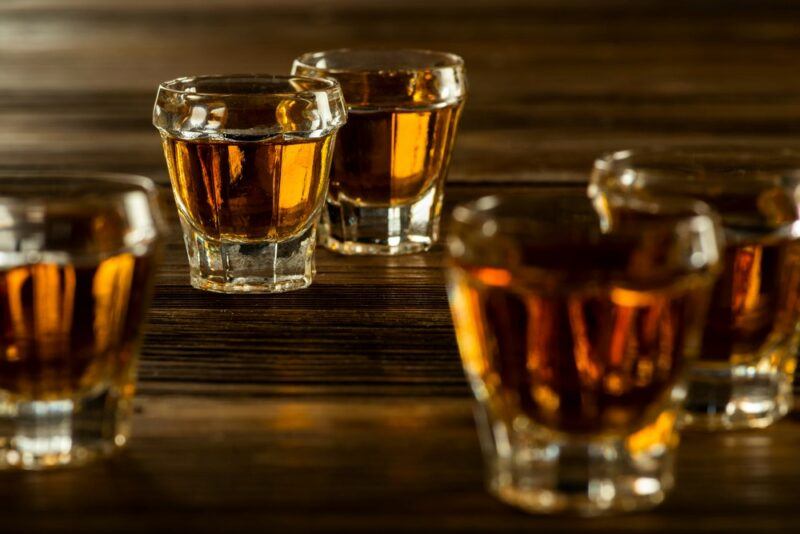 We've been focusing on mixed drinks, but there are also some shots that rely on honey whiskey as well – including the angry badger.
This shot is both simple and delicious. You just need equal parts of Fireball and honey whiskey. So, basically, cinnamon whiskey and honey whiskey.
Cinnamon and honey combine well, so it's not surprising that this shot tastes fantastic too.
Hot Lil Honey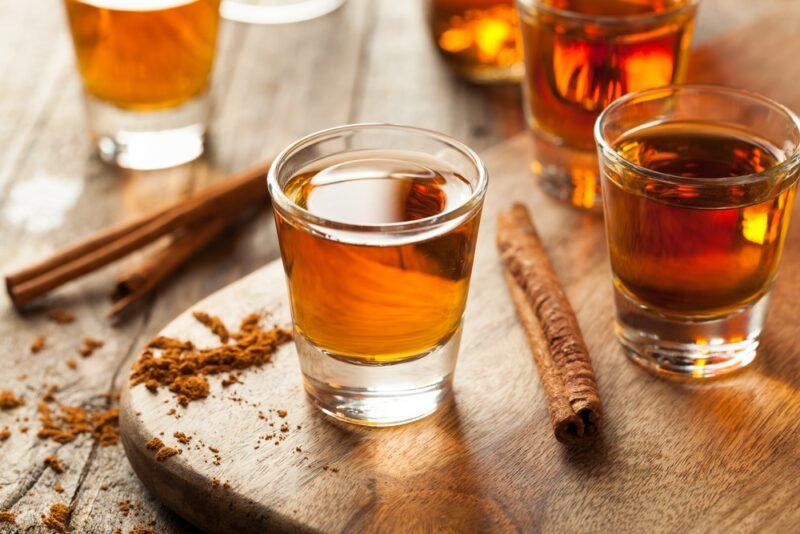 Despite the name, this whiskey shot isn't actually served hot. Instead, it's a cold shot that combines honey whiskey with Fireball whisky and Frangelico.
Whipped cream is added on top of the shot to make it even better. Not surprisingly, this is a strong shot. However, the Frangelico does mellow it slightly compared to the angry badger.