Celery is hardly the most exciting vegetable. It has a distinctive flavor, one that somehow manages to be mild, strong, and spicy all at the same time. Some people love the flavor, others can't stand it, and few people are excited about celery in the way they might be about kale or quinoa. But is celery good for you and should you add it to your diet?
Instead, celery is most often seen as a weight loss snack or just as a useful way to eat hummus or some other type of dip. What about the health impacts though? Is celery good for you or is it just an uninspiring vegetable hyped up by people who don't really know what they're talking about?
Is Celery Good For You?
Celery Nutrition

Many vegetables are packed full of vitamins and minerals. This isn't really the case for celery, although there are a few interesting nutrients present. Per chopped cup of celery, the most significant nutrients are these:
Vitamin K: 37% of your daily value (DV)
Vitamin A: 9% DV
Folate: 9% DV
Potassium: 8% DV
Vitamin C: 5% DV
Manganese: 5% DV
Other nutrients include vitamin B6, magnesium, calcium, iron, and selenium, all at less than 5% of your daily intake.
Don't think too badly of celery yet though, as that same serving size contains just 16.2 calories. Celery is low in carbs too, with 3.5 grams of carbs per cup, 1.6 grams of which comes from fiber. The low calorie and carb content give celery some clear advantages, especially for weight loss.
Benefits Of Celery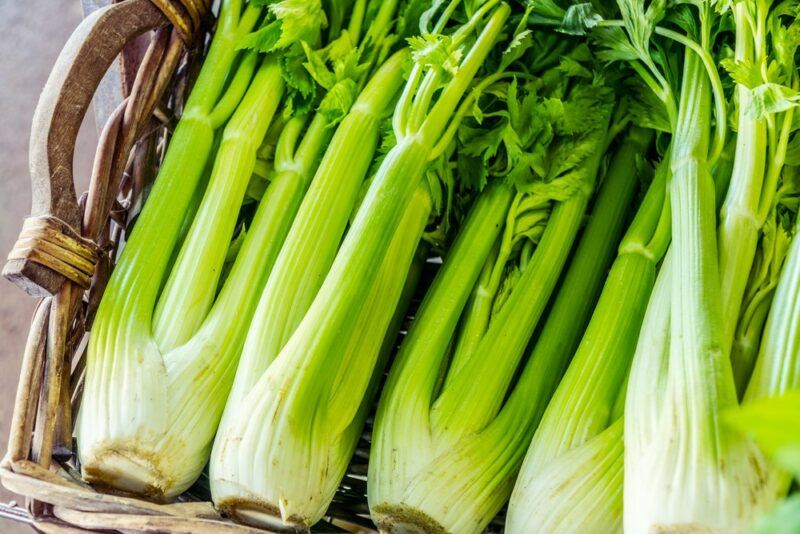 It's A Keto Friendly Snack
The low carb content of celery makes it an ideal ingredient for keto dieters. In fact, a medium stalk of celery contains less than a net gram of carbs, so you could enjoy multiple sticks of celery without any problem at all.
The fiber in celery is relevant here too, as you might not be getting all the fiber that you need. After all, most fiber rich foods contain some digestible carbs as well, so it's easy to inadvertently decrease your fiber intake when you first begin a keto diet. This pattern is why keto dieters often struggle with constipation.
Finding ways to eat more fiber should decrease your risk of constipation. Celery isn't the only way to do this, but it's a fantastic option (raspberries are helpful as well).
Works Well For Weight Loss
Celery doesn't contain special compounds that will make you magically lose pounds. It is, however, a very practical weight loss ingredient, due to the high fiber and low calorie content. Plus, celery is roughly 95% water, which is another reason that it can help to keep you full.
Celery is also helpful because it's so easy to use. You can even eat celery sticks raw on their own or dip them in hummus for a tastier snack that's still incredibly healthy.
Using celery as an ingredient works well too. The vegetable adds a delicious crunch to your meals, making them much more interesting than they'd be otherwise (without adding many calories at all).
Helps To Hydrate You
The water in celery is fantastic for keeping you hydrated. It's easy to see why this is critical, as water is involved with plenty of reactions and processes throughout our body.
Even being mildly dehydrated is enough to decrease your energy levels and concentration. Chronic dehydration can lead to many other health problems and potentially increases your risk of disease.
Getting enough water is one of the easiest ways to keep you healthy and doing well. Drinking water should still be your main go-to, but water-rich foods like celery can help to promote hydration as well.
A Very Good Source Of Fiber
If you need more fiber, and most of us do, then celery is one of your best possible options. Seriously, a single stalk of celery gives you more than half a gram of fiber, for a measly 6.4 calories.
Few other foods give you this much fiber for such a low number of calories.
Plus, you can simply wash celery and eat it as-is. You don't need to cook it first or include it in any type of recipe. If you want more flavor, why not spread some hummus on your celery? This gives you more nutrients and adds to your fiber intake as well.
This fiber is incredibly important. It is critical for your digestion, helping to keep you regular. Many of us don't get enough fiber currently, so easy-to-eat foods like celery are perfect.
Good For Diabetics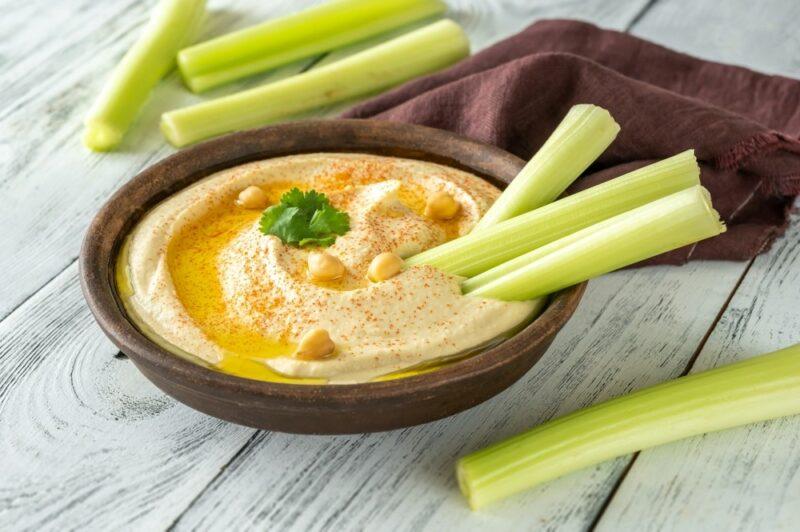 Celery is an excellent food for diabetics. Not only does it contain plenty of fiber, but it also has a very low glycemic index (GI) and glycemic load (GL). These features mean that celery has minimal impact on blood sugar levels and make it an excellent snack.
Plus, because of its low calorie content, celery won't make you gain weight. This is important too, as being overweight dramatically increases your risk of type 2 diabetes.
Of course, snacking on celery isn't your only option. You can also include it as an ingredient in many diabetes friendly meals.
Promotes Heart Health
Celery is excellent for your heart health as well.
There are a few reasons for this effect, starting with the fiber. Eating a high fiber diet helps to keep your cholesterol levels where they should be, which then protects your heart.
Celery also contains phthalides, which is a phytochemical that's been linked to decreased blood pressure. The effect has mostly been seen for celery extract, rather than celery itself, but you may still get some blood pressure effects from celery too.
Plus, celery provides a variety of important nutrients and is low in fat, features that are useful for your heart health as well.
Offers Antioxidants
Brightly colored foods like blueberries and red cabbage are most famous for their antioxidants, but you find the plant-based compounds in less vibrant foods as well. This means that, yes, you do get plenty of antioxidants in celery.
Regardless of the source, antioxidants do as you might expect, helping to decrease the amount of oxidation throughout your body. In the process, antioxidants help to lower disease risk.
Plus, the various antioxidants have other effects throughout your body, promoting health in plenty of ways. These effects, combined with the fiber and nutrients in celery, mean that you're getting many health benefits from a low calorie snack.
It's A Mild Diuretic
Celery has a mild diuretic effect, meaning that it increases the amount of water and salt your body expels in the form of urine. This is often a desirable effect, as it helps to reduce fluid buildup.
Celery isn't nearly as powerful as diuretic medications (often called water pills). This isn't a bad thing though, as water pills are too strong for many situations and can give you significant side effects. Using something milder like celery is often a wiser choice.
How Celery Could Be Harmful

Too Much Can Lead To Side Effects
Despite all the benefits of celery, having too much of the vegetable isn't a fun experience.
Surprising as it may seem, one problem is the fiber content. While we do all need fiber, having too much or increasing our fiber intake suddenly can lead to side effects like bloating, stomach cramps, and diarrhea.
Celery is particularly problematic, as you get a decent amount of fiber per serving. It would be easy to overdo it, especially if you're regularly eating celery between meals.
Celery contains mannitol as well, which is a type of sugar alcohol that can sometimes lead to diarrhea. This side effect happens more often for celery juice than for celery itself, but it's still something to watch out for. Indeed, you should be particularly careful with celery if you're already dealing with diarrhea, as the vegetable is likely to make your symptoms worse.
It's Relatively High In Sodium
A cup of celery contains a little under 90 mg of sodium, which is a surprising amount for a vegetable. This sodium content could be a problem if you're following a very low sodium diet and are worried about your blood pressure.
Thankfully, the sodium content isn't high enough to be an issue for most people. Celery is also more nutritious than most other foods with a similar amount of sodium, so it's still worth including in your diet if you can.
Often Contaminated With Pesticides
Celery currently makes it onto EWG's list of Dirty Dozen produce, which is never a good place to be. That list highlights the fruits and vegetables that have been most heavily contaminated with pesticides.
While celery is towards the bottom of the list (11th place, out of 12), the fact that it's on there means that the pesticide contamination is significant. This is reason enough to buy organic celery because, honestly, who wants to be eating pesticides?
In fairness, we are talking about very low levels of pesticides, ones that are easily within safe limits. The problem is that we still don't really know what safe limits are for pesticides, especially when we're getting residues on many foods and are eating them throughout our lives.
Even if you're not too worried about pesticides, it's worth choosing organic versions of anything on the dirty dozen list. This way you're cutting the riskiest produce out of your diet without killing your budget in the process.
Celery Versus Celery Juice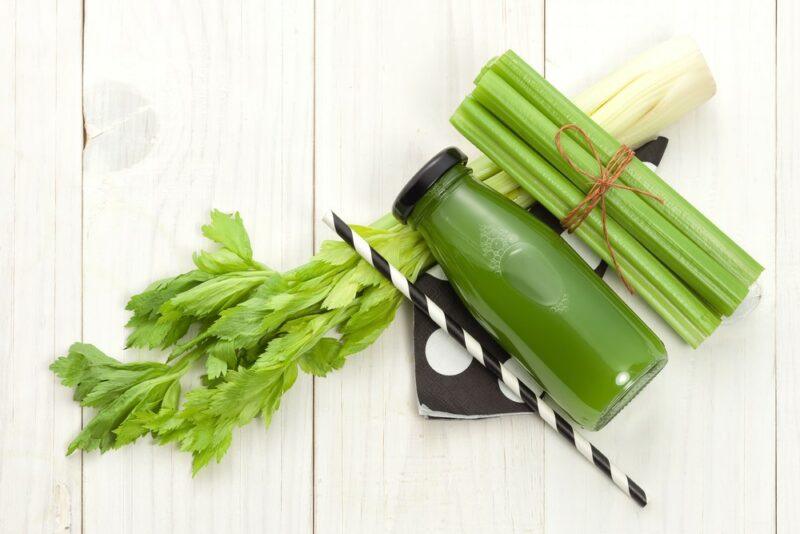 Celery juice has become incredibly popular as a drink to promote health and help you to detox. The juice does contain most of the compounds you find in celery, so many of the benefits are the same as well.
There are some differences though.
The first is that celery juice doesn't normally contain fiber. Losing out on this fiber is a pity, as most of us need more fiber than we're currently consuming.
Another is that celery juice is a more concentrated source of sodium and sugar. You might get more than 200 mg of sodium in a single cup of celery juice, which is a decent chunk of your daily maximum.
Plus, celery juice often contains extra ingredients. Some versions use juice from other fruits and vegetables to improve the flavor, while others rely on artificial flavors and preservatives. The artificial ingredients certainly don't promote health, while the other types of juices just add to the sugar content of your celery juice.
These differences mean that fresh celery is almost always a better choice than celery juice. If you do drink the juice, be cautious with your portion sizes, especially because the mannitol in the juice can easily lead to diarrhea.
Is Celery Calorie Negative?
There's this ongoing rumor that celery is a calorie negative vegetable, suggesting that you actually burn more calories digesting calories than the vegetable contains.
It's an attractive idea and also complete nonsense. Calorie negative foods don't exist in the real world. They're a fantasy.
That said, celery is very low in calories, so it's still an excellent choice when you're trying to lose weight.
What About Celery Supplements?
Surprisingly, celery supplements are a thing. Most of them rely on celery seed extract, which is thought to help with joint pain, headaches, and even weight loss.
Some studies support these effects, but much more research is needed before we know anything for certain. There's also the risk of side effects, especially if you take large doses, use the supplements for a long time, are pregnant, or have an underlying health condition.
It's always wise to be cautious with supplements as safety testing is still ongoing and there are big quality differences between one product and the next. Given that the benefits aren't proven anyway, it's much safer to stick to real food instead.
Final Thoughts
It's easy to see that celery has benefits. The vegetable is an excellent source of fiber, provides nutrients and antioxidants, is perfect for diabetics, and can improve your heart health. Plus, it's low in calories, making it perfect for weight loss.
There aren't many problems with the vegetable either. The biggest one is the pesticide contamination, but this is easily avoided by focusing on organic celery.
Even so, celery isn't as powerful as it's often thought to be. Despite all the wild claims out there, celery certainly isn't calorie negative and won't help you to detox either. In the end, celery is simply a healthy vegetable that works best as part of a balanced diet.
Frequently Asked Questions
Is Celery Low FODMAP?
Unfortunately, celery is a high FODMAP food, even at a serving of just two stalks. This puts celery juice off the table too, as that's often made with 10 or more stalks of celery.
Is Celery Keto Friendly?
Celery is an excellent snack for keto dieters, as most of the carbs are fiber. Even a snack of nine celery stalks only contains around 3 net grams of carbs. Impressive, right?
Is Celery A Diuretic?
Yes. Celery contains a natural chemical called butylphthalide, which stimulates your kidneys and acts as a diuretic.
The potassium in celery is useful too, as diuretics can sometimes drop your potassium levels down too low. Getting some potassium from celery helps to offset this effect.
Is Celery Acidic?
Celery isn't acidic at all. In fact, it's strongly alkaline. This makes it valuable for alkaline dieters and is also relevant for settling your stomach and perhaps helping with inflammation.
Is Celery High In Sodium?
Celery is high in sodium compared to most other vegetables (you get around 30 mg of sodium per stalk). This becomes more significant if you're making celery juice, as you'll often be using at least half a dozen stalks of celery at a time.
Still, high sodium foods are those with upwards of 400 mg of sodium per serving. Even celery juice doesn't get anywhere near this level. It also contains much less sodium than many processed foods.