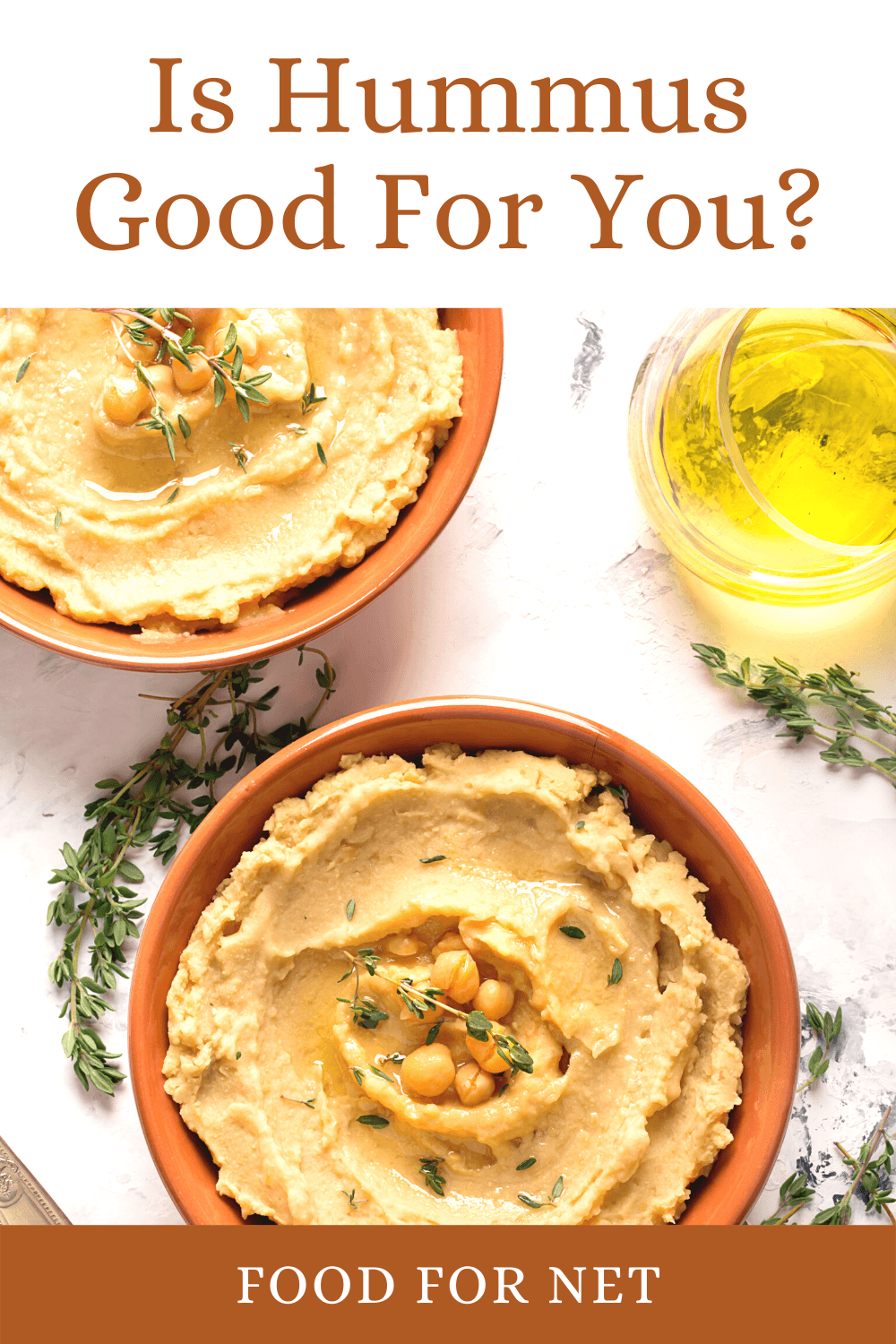 Hummus isn't controversial – at all. It's uniformly seen as a healthy snack, one that you can easily enjoy when you're trying to lose weight. But is hummus good for you?
The popularity is easy to understand. Not only is hummus delicious, but it's also simple to make and relies on relatively few ingredients. This makes it more natural and much healthier than most of the other spreads and dips you find out there.
Still, is hummus good for you? The dip is made from chickpeas after all and while chickpeas have many benefits, they're still a type of legume and contain a decent number of carbs.
To answer the question, this post will take a look at hummus, including where it shines and where there are problems. Remember, though, that no single food defines your health. The goal is to have a diet that's rich in good food, including plenty of fruits, vegetables, and whole grains. That type of diet provides plenty of nutrients and endless benefits.
Is Hummus Good For Your Health?
What Is Hummus?
Benefits Of Hummus
How Hummus Can Be A Problem
Does Hummus Make You Gain Weight?
Is Hummus Keto Friendly?
Is Food Ever Really Good Or Bad?
Final Thoughts
What Is Hummus?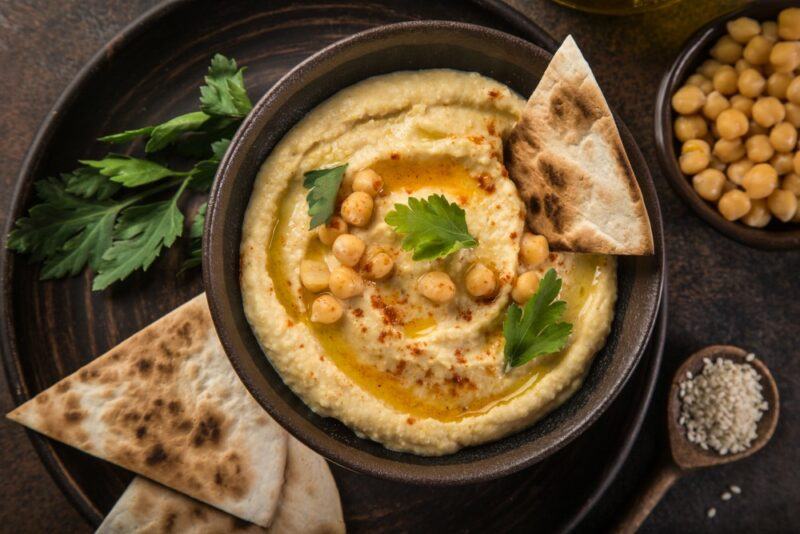 At its heart, hummus is a simple appetizer. It only uses four main ingredients: chickpeas, olive oil, tahini, and lemon juice. Salt is often added too, although this isn't strictly necessary. The chickpeas are what give hummus its distinctive flavor and texture, along with many of the nutrients.
There are plenty of variations too. For example, you can easily add garlic or spices into hummus to make the flavor more interesting – and many people do. Alternatively, you could change some of the ingredients around, like using a different type of oil instead of olive oil.
It's even possible to skip the chickpeas and make a hummus-like dip with other ingredients. Of course, doing so means you miss out on many of the features that the chickpeas offer.
The popularity of hummus means that you can easily find it at your local store. Honestly, though, you'll get more benefits by making hummus yourself. Doing so ensures there are no additives to worry about and gives you full control of the flavor and texture of the finished hummus.
Benefits Of Hummus
A Decent Source Of Nutrients
Chickpeas provide many important nutrients, so it's hardly surprising that hummus does as well. For a cup of hummus prepared at home, you get the following nutrient balance:
435 calories
Carbohydrates: 49.5 grams
Fiber: 9.8 grams
Sugars: 0.7 grams
Fat: 21.1 grams
Protein: 12 grams
Vitamin B6 49% of your daily needs
Folate: 36% of your daily needs
Vitamin C: 32% of your daily needs
Copper: 28% of your daily needs
Iron: 21% of your daily needs
We could easily go on too, as hummus also contains a decent amount of magnesium, zinc, magnesium, vitamin K, vitamin E, and calcium. Now, some of these nutrients are more famous than others, but they're all important. Without them your body wouldn't function as it needs to.
While you get plenty of nutrients from vegetables too, it's always nice to get them in an ingredient that's as easy to eat as hummus.
An Excellent Source Of Fiber
Because hummus is made from chickpeas, it offers more fiber than most other dips and spreads. You get close to 10 grams of fiber from a single cup of hummus. Impressive, right?
Even if you're not eating a whole cup of hummus at a time, you'll still be getting a decent amount of fiber.
Don't forget that hummus is often paired with high fiber foods as well, including celery and carrot sticks. That combination is exceptional for fiber (and it's much easier to eat celery and carrot sticks with hummus than on their own).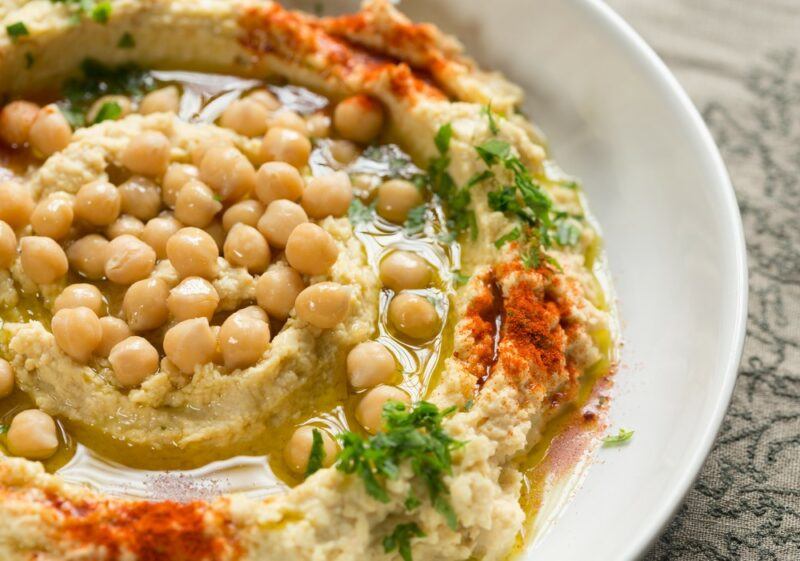 Contains Protein Too
The protein content of hummus is notable as well, with a cup giving you roughly 12 grams of protein. This is more than you get with many other vegetarian, vegan, and weight loss foods – and is impressive for something that's so easy to prepare.
While most of us already meet our minimum requirements for protein, getting more in our diets is often helpful. Doing so can reduce the risk of muscle loss from age, can help with muscle gain, and even contributes to weight loss.
Good For Blood Sugar Levels
Hummus has a low glycemic index (GI), making it excellent for people with diabetes. A low GI means that hummus releases its energy slowly and you won't end up with dramatic blood sugar spikes.
Plus, hummus is often enjoyed with other low GI foods, like celery. It's easy to end up with a snack that's entirely low GI.
The low GI isn't just relevant to people with diabetes either. Eating low GI foods regularly may also contribute to weight loss, along with a decreased risk of heart disease.
Works Well For Many Diets
Hummus is also popular because it works well on so many diets. In particular, it's naturally free from gluten, dairy, and nuts (just be sure to check the ingredients label for commercially prepared hummus, as some companies add extra ingredients into the mix).
There aren't any animal-based ingredients used either, so vegetarians and vegans can eat hummus as well.
That said, anyone with a sesame seed allergy will need to be cautious, as hummus contains tahini, which is a type of sesame seed paste. This issue is easily avoided if you make your own hummus, as you can simply leave the tahini out.
The other exception is people following a paleo diet, as chickpeas are legumes and legumes are normally avoided when you're following paleo.
Easy To Prepare
Finally, hummus is easy to prepare. All you need is a blender and a handful of ingredients, and you can make your own hummus. This is worth doing too, as homemade hummus tends to taste much better than hummus from the store.
The trick to making hummus is to add the ingredients one at a time and run the blender for around a minute between each one. The tahini and lemon juice are a good place to start, followed by chickpeas and olive oil.
You can experiment with the quantities to get the texture that you're looking for. Don't be afraid to add other ingredients too, like spices and garlic. These add extra nuance to the hummus.
To make things even easier, try using canned chickpeas to make the hummus. These are already cooked and don't even need to be peeled before you use them (you can peel them, but doing just isn't worth the effort).
How Hummus Can Be A Problem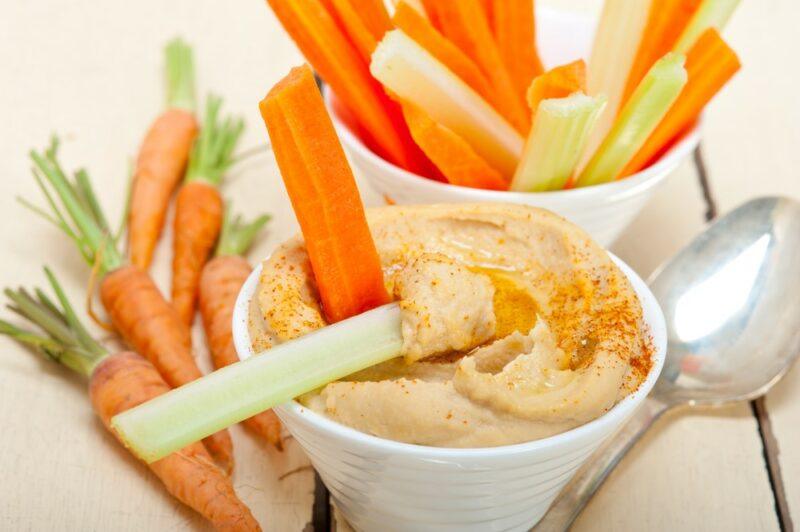 Chickpeas Contain Raffinose
Chickpeas contain a type of sugar called raffinose, which is a FODMAP. FODMAPs are fermentable carbs that can cause notable side effects for people with irritable bowel syndrome and some other digestive problems.
If your digestive system is sensitive, you might need to focus on low FODMAP foods and keep an eye on your serving sizes.
This doesn't mean that you need to avoid hummus entirely. Instead, you may be able to have roughly a quarter of a cup of hummus per serving without too many problems.
As always though, you'll need to pay attention to how your body responds. If you start getting strong side effects, you might need to give hummus a miss.
Made From A Legume
Chickpeas are a type of legume. While this isn't inherently a bad thing, there is a lot of debate surrounding legumes.
Part of the problem is the antinutrients in legumes, which decrease your absorption of some nutrients. Eating a diet rich in antinutrients could even lead to nutrient deficiencies and might cause other problems.
At least, that's the theory. Research currently shows many more benefits than risks from legumes. Plus, most of us are getting plenty of nutrients in our diets already, so antinutrients only have a subtle impact.
Still, if you're worried about antinutrients or are following a paleo diet, you might need to give hummus a pass.
Often High In Sodium
Salt isn't an essential ingredient in hummus, but it's often included. This can be a problem, as you can easily end up with 500 mg of sodium per serving or perhaps more.
Now, sodium is an important electrolyte, one that helps with your fluid balance. The problem is that most of us already get more sodium than we need from our diets.
Increasing our sodium intake even further isn't wise, as too much sodium can increase your blood pressure, raising your risk of heart disease. Consistently high sodium levels may lead to a variety of other health problems as well.
The sodium content of hummus will be written on the ingredients label, so it's simply a matter of shopping around until you find a low sodium product. Or, why not make your own hummus? This is the easiest way to keep the salt content low.
To do so, you'll need to look for low sodium chickpeas and make sure you rinse them well before making the hummus.
Some Companies Use Additives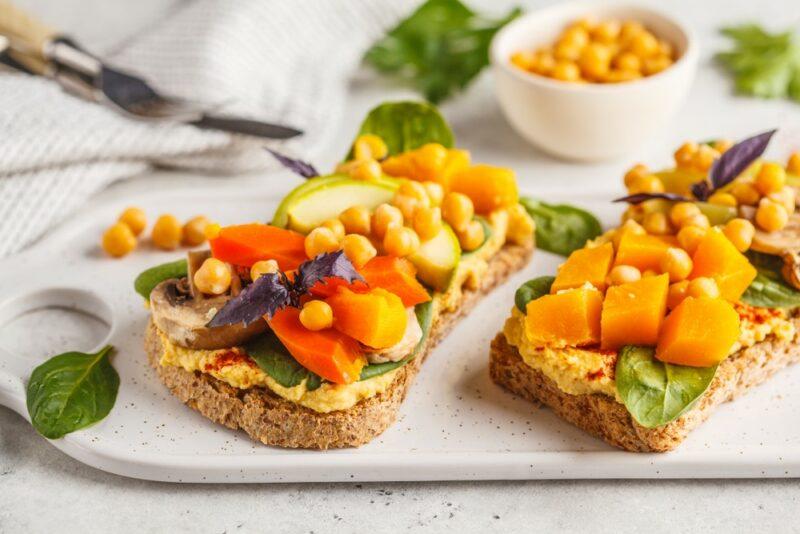 Commercially produced hummus comes with another problem too – additives. Companies often add artificial ingredients to improve the flavor and texture of their products. Potassium sorbate is one example and there are many others.
While such chemicals have been tested for safety before their use, there's still cause for concern. For one thing, additives don't offer health benefits. At best, they cause no harm and make your food taste better. That's it. They don't help you in any way.
Plus, it's incredibly difficult to work out exactly how individual chemicals are influencing our health. Some may have subtle effects that don't apply to everyone, making them almost impossible to detect in the population at large.
With the potential for harm and no notable benefits, it makes sense to avoid additives whenever possible.
If you make your own hummus, you have nothing to worry about. If you buy it instead, it's worth paying close attention to the ingredients label. Look for products with as few ingredients as possible. Organic hummus tends to be best, as there will be fewer chemicals used on the crops. Plus, organic companies often focus on making their products as natural as possible.
Often Eaten With Less Healthy Foods
While hummus is often served with healthy sides, like carrot sticks, this isn't always the case. You'll also find hummus used as a spread on white bread or served with pita chips.
This is where you start to find problems, as you're getting some calories from the hummus itself and even more from the other foods. This combination means that it's very easy to overdo it on calories, especially if you're at a party or some other event.
Too Much Can Lead To Side Effects
It's possible to consume too much of any type of food, including hummus. Doing so can cause side effects, including stomach cramps, bloating, and more.
Most of these side effects are linked to the fiber in chickpeas.
This is a common problem with fiber. Despite the macronutrient's importance, having too much fiber too suddenly can make your digestive system feel a bit haywire for a while.
You can avoid most effects by increasing your fiber intake slowly and being sure not to overdo it. For example, don't go from having hardly any fiber to having a large amount of hummus and celery sticks. Doing that would almost certainly lead to problems.
Does Hummus Make You Gain Weight?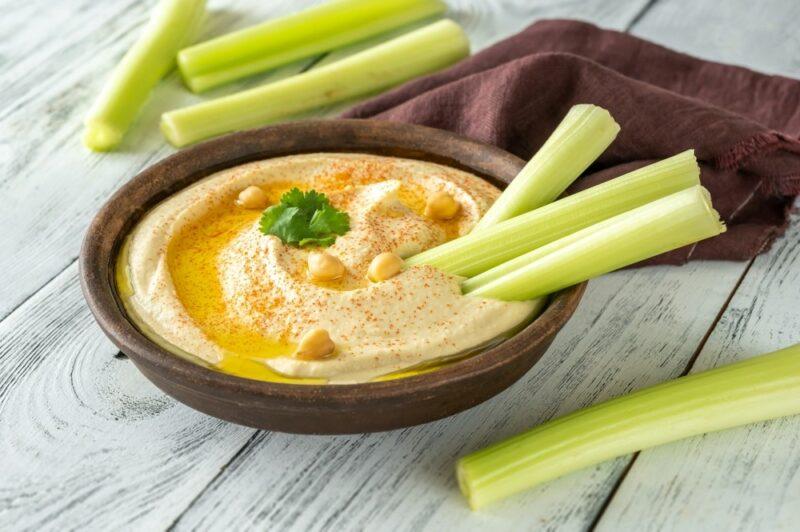 Hummus is often used as a weight loss ingredient, partly because it contains a decent amount of protein and fiber. These macronutrients can help you to feel satisfied, reducing the risk that you'll snack on fatty or sugar rich foods.
Indeed, some research even links the consumption of legumes to decreased weight, an effect that should apply to hummus, given that it's primarily made from chickpeas.
One popular approach is to use hummus as a dip for celery or carrot sticks. Doing so provides you many more nutrients than just eating hummus on its own. Plus, the hummus makes celery and carrot sticks much more interesting than they are on their own.
Still, these features don't mean that hummus is always linked to weight loss.
For one thing, hummus certainly isn't calorie free. A cup of hummus often contains around 400 calories (the exact amount will vary depending on the product you choose). While this isn't a huge amount of calories, you do still need to account for the calorie content. Otherwise, you could easily overdo it on hummus and end up gaining weight instead of losing it.
Is Hummus Keto Friendly?
Hummus can theoretically be included on a keto diet, particularly if you are making it yourself. This way you can make sure there are no unexpected additions.
However, hummus does contain a decent number of carbs, so you'll need to keep your serving size very low indeed. Even just two tablespoons of hummus gives you around two net grams of carbs. Keto dieters certainly can't indulge in hummus like other people can.
You may see some recipes for keto hummus, like this one from Headbangers Kitchen. Such recipes may sound fantastic, except that most of them don't use chickpeas at all. They rely on lower carb ingredients to create a keto friendly dish that still looks and tastes like hummus (well, mostly, keto adaptations are always a little different from the real thing).
You still end up with a delicious dip, one that could be very good for you. But, you won't get the same benefits that you do with chickpeas.
Is Food Ever Really Good Or Bad?
Before we round things off, it's important to talk a little about the idea of labeling food as 'good for you' and 'bad for you'. It's tempting to do this, as knowing which foods are healthy can help you to make good decisions about what you eat.
The problem is that terms like good and bad have emotional associations. You can easily feel like you're doing badly or are a bad person because you make poor choices about your food.
In practice though, the healthiest diets aren't the ones that entirely avoid bad food. Instead, they're the ones that focus on beneficial nutrient dense foods, while also allowing space and flexibility to have treats without guilt.
Besides, as you've seen with hummus, most foods can't easily be called healthy or unhealthy anyway. They tend to have some appealing features and some that are much less so. The most important thing is to pay attention to your portion sizes and make sure that the foods you choose fit well into your diet as a whole.
Final Thoughts
For most people, hummus is an excellent dietary addition. Not only is the dip delicious, but it is also easy to make at home and contains plenty of protein, fiber, and nutrients.
What's not to love?
The biggest issue is probably the sodium content, but sodium levels vary from one type of hummus to the next. It isn't too difficult to find or make your own low sodium version.
Frequently Asked Questions
How Long Is Hummus Good For?
Unopened store bought hummus tends to last between 3 and 10 days past the printed 'best if used by' date, as long as you keep it tightly sealed in the fridge. Once opened, the short life decreases dramatically. Here, the hummus should last you for between 4 and 6 days.
Homemade hummus doesn't contain preservatives, so it has a shorter lifespan. It lasts just 3 to 5 days in the fridge.
We can't get more precise about the times than this, as how long hummus lasts is influenced by how it has been prepared, the ingredients used, and other factors. Thankfully, bad hummus is easy to spot. Just pay attention to the smell, as bad hummus has a distinct sour smell.
Does Hummus Cause Gas?
Some people do experience gas from hummus, largely because of the chickpeas. Like other legumes, chickpeas can be challenging to digest. While some of us can consume them without a problem, others experience digestive side effects, including bloating, gas, and stomach cramps.
Soaking the chickpeas and rinsing them well before making hummus decreases the problematic compounds, which decrease the risk of gas. However, if you're very sensitive to chickpeas, doing this may not be enough (if this is the case, try making paleo hummus instead).
Is Hummus Good For Diabetes?
Hummus is fantastic for diabetics, as it is high in healthy protein, fiber, and nutrients. It also has a very low GI, so it's not going to spike your blood sugar.
Try pairing hummus with fresh vegetables, including carrots and bell peppers, to create a satisfying diabetic snack.
Can You Eat Hummus While Pregnant?
Yes. Hummus isn't just safe during pregnancy, it's also a fantastic choice, giving you plenty of nutrients. However, it's still important to be cautious.
There are some concerns about the tahini in hummus, which could become contaminated with bacteria. The best way around this is to prepare hummus yourself. This way you have full control over the process and can prevent any bacterial contamination.
What Can You Eat With Hummus?
Hummus is most frequently used as a dip for raw veggies, including cucumber sticks, bell pepper, radishes, broccoli, and carrots. You can also dip bread-related items into hummus, like pita chips, flatbread, pretzels, and crackers.
Hummus also works well as a spread, particularly in sandwiches and wraps. Here, the hummus provides extra flavor and texture – making your meal much more interesting.
You'll also see hummus used as part of a layered dip or in a bowl with a variety of vegetables, olives, and other ingredients. The options are endless, as the mild flavor of hummus pairs well with many different foods.