Garlic has a long history in traditional medicine and as a way to make our food taste better. Many of us have been eating garlic throughout our lives without any apparent ill effects. For that reason, asking is garlic good for you? might seem like a strange idea indeed.
However, the question only seems strange because we often get stuck on the idea that anything natural is good for us and anything artificial isn't. There are plenty of examples of that pattern too, like how leafy greens and spices offer health benefits, while products like Gatorade and Ensure use concerning additives.
Even so, there are many cases where natural foods aren't as beneficial as they seem. The high oxalate content of spinach, for example, can contribute to kidney stones, while the vitamin K present interacts with blood thinning medications. That's just one example. There are countless others.
Garlic is similar to spinach in that it offers plenty of benefits and has some concerning features as well. Whether it's a good choice or not strongly depends on your needs and the amount you plan on eating.
Is Garlic Good For You?
How Garlic Influences Your Health
The Many Benefits Of Garlic
The Risks Of Garlic
Can You Eat Raw Garlic?
Is Black Garlic Healthy?
How Much Garlic Should You Consume?
What About Supplements And Extracts?
Final Thoughts
How Garlic Influences Your Health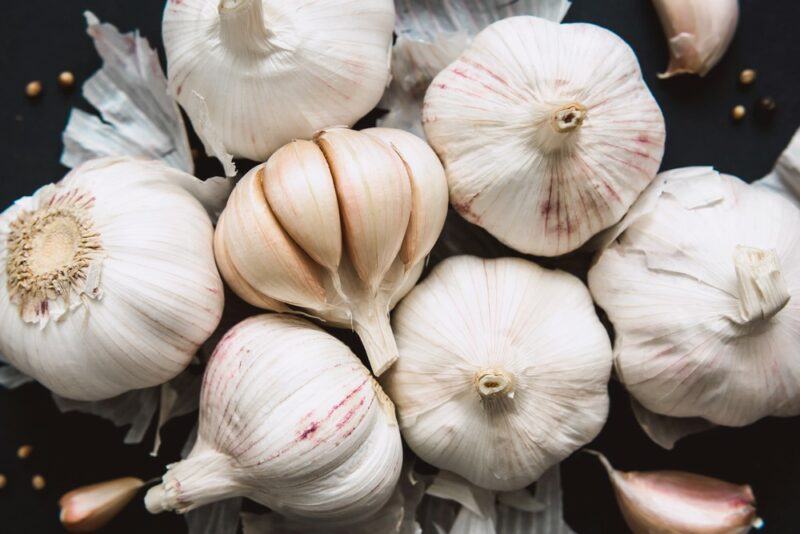 The Allicin
Garlic is most famous for allicin. This is a defense molecule that's produced from an interaction between alliin and alliinase. Alliin is an amino acid that's found in fresh garlic, while alliinase is produced when garlic is chopped or crushed. This reaction is why crushed garlic has a much stronger smell than garlic cloves.
Allicin itself has been studied in-depth and linked to a variety of benefits. We'll talk about some of these shortly. You can even find allicin supplements, which give you an easier way to increase your allicin intake.
However, allicin isn't a stable compound and quickly breaks down. Allicin also doesn't survive in garlic once it's been cooked, potentially making raw garlic the healthiest choice.
Other Compounds
Allicin might be the most famous molecule in garlic, but it isn't the only important one. Other sulfur compounds are present too, ones that have also been linked to health, including s-allyl cysteine and diallyl disulfide.
Some of these compounds come from allicin breaking down. In fact, diallyl trisulfide is the version that you'll often see in supplements, as allicin itself isn't stable enough.
The Nutrients
There are also some important nutrients in garlic. The main ones are vitamin C, manganese, and selenium, while there are also smaller amounts of copper, iron, potassium, and some B vitamins present.
Garlic also happens to be nutritionally dense and low in calories, making it an easy way to boost your intake of these vital vitamins and minerals.
Nutrients all play crucial roles in our bodies, helping everything to function as it should, including our muscles, our organs, and even our blood. While you can find the same nutrients in plenty of other foods, garlic is an easy choice, as you can add it to countless recipes.
Don't forget about the antioxidants either. Antioxidants are common in plant-based foods, helping to protect our bodies and protect us from disease.
The Many Benefits Of Garlic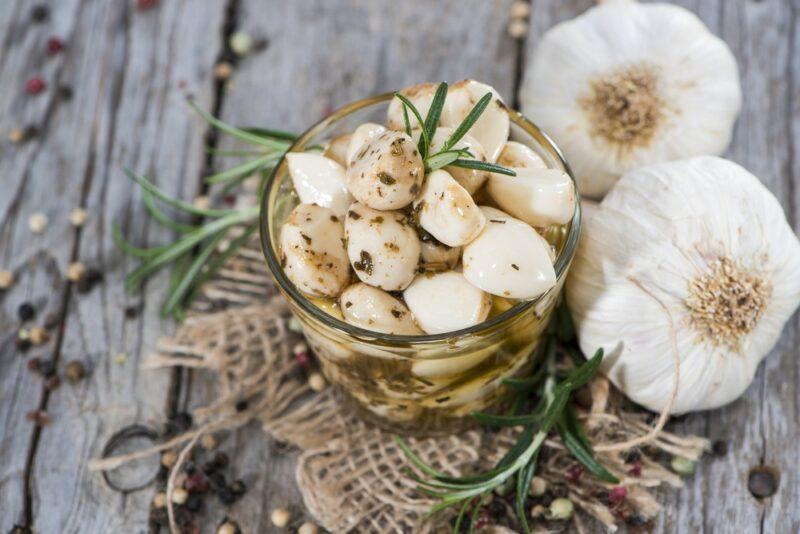 Garlic's benefits have been known throughout history. As far back as Hippocrates, people have been prescribing garlic as a way to treat ailments.
These days, garlic has been the subject of many studies – and some of the potential benefits have been proven.
Decreases Cholesterol Levels
Studies have shown that garlic can lower total cholesterol levels and LDL cholesterol levels, often by between 10% to 15%. This effect is important, as high cholesterol levels are thought to increase your risk of heart disease.
As such, eating garlic regularly could help to protect your heart. Including garlic as part of a heart-healthy diet is even more powerful.
Lowers Blood Pressure Too
Blood pressure is another important area. High blood pressure increases the risk of heart diseases and other health problems.
Finding natural ways to decrease blood pressure may be a powerful way to protect health – and garlic could help in this area.
Most studies on this topic have focused on garlic supplements or aged garlic extract. In some cases, the garlic was as effective as blood pressure medication.
The catch is that garlic supplements and extracts are more concentrated than regular garlic. You might need as much as 4 cloves of garlic per day to get the same effect (which, honestly, is too much for most of us).
Improves Your Immune System
Boosting our immune system can help our body to fight off infection and stay healthier. Researchers often look at this by seeing how a given food or supplement influences the risk of a common condition, like getting a cold or the flu.
One such study showed that an allicin supplement reduced the likelihood of contracting a cold and improved recovery speed for people who did end up sick. A second study found a similar effect from aged garlic extract.
Once again, the studies focused on supplements rather than garlic itself. There hasn't been much evidence either, so more studies are needed before we can be confident.
Still, you can always experiment for yourself.
Decreases Oxidative Stress
Like many foods, garlic is a decent source of antioxidants. These help to protect your body from free radical damage, while reducing your oxidative stress.
Such effects are thought to improve your health in various ways, like protecting against cognitive decline, cancer, and more.
Allicin Has Anti-Microbial Effects
The allicin in your garlic is powerful against various microbes, including those that are resistant to antibiotics. This effect could lead to health benefits too, like helping your body to fight infection or promoting ulcer healing.
The Risks Of Garlic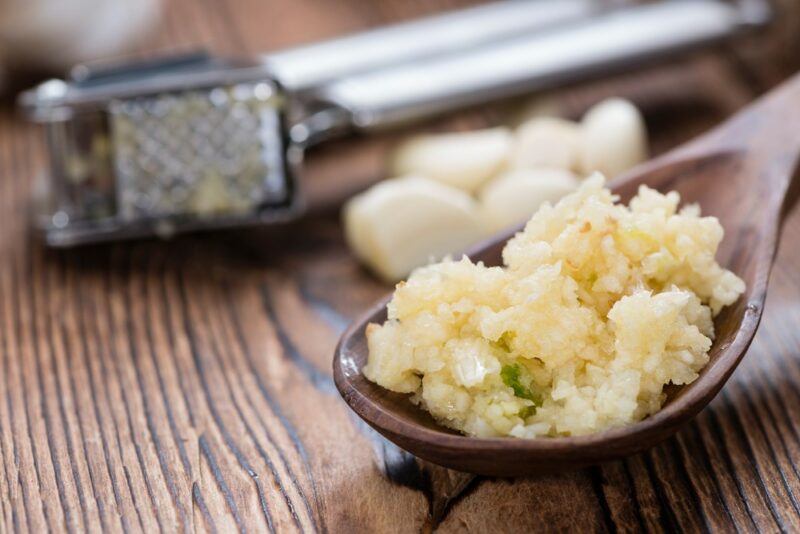 It Can Cause Side Effects
Garlic doesn't agree with everyone. Some people experience significant side effects, like gas, heartburn, and diarrhea. There's also the chance of allergic reactions and an increased risk of bleeding.
Gastro side effects are particularly common, as some compounds in garlic create gas. These side effects are strongest if you're eating garlic raw on an empty stomach (which some people do as a way to increase their garlic intake). If you're sensitive, try using garlic in meals instead.
Side effects tend to increase with garlic dose as well, meaning that you should be cautious when using garlic supplements.
Consuming food at the same time as garlic or garlic supplements often helps to reduce the risk of side effects.
There are also significant side effects from using garlic on your skin, either on its own or as part of a gel or a paste. Some people end up with a sensation that's similar to a burn, where the garlic may even damage their skin. This use may even be unsafe and is best avoided.
Garlic Interacts With Some Medications
There are also significant interactions between garlic and some medications. For example, garlic changes how quickly the body breaks down some HIV/AIDS medications, making the medications less effective.
Hormonal birth control pills can be affected by garlic as well. This interaction is so significant that you might need a secondary form of birth control.
Birth control pills and HIV/AIDS medications are just two examples. There are plenty of other times where garlic interacts with medications.
Such effects mean that anyone going beyond regular dietary intake of garlic should talk to their doctor about possible issues. This is even more true if you're eating raw garlic, as the allicin content of raw garlic is much higher than with cooked garlic.
Increases The Risk Of Bleeding
Garlic also acts as a blood thinner. This can be a problem in multiple situations, like if you are taking blood thinning medication, have blood clotting issues, or need to have some type of surgery.
The biggest risks come from high doses of garlic. So, having garlic supplements or eating 4 cloves of raw garlic per day, for example, might put your health at risk. Using a clove every so often in cooking isn't likely to have a big effect.
That said, if you are worried about bleeding at all, please talk to your doctor. Various foods, conditions, and medications can influence your blood clotting – and it's always best to be on the safe side.
High Doses Mightn't Always Be Safe
The quantities of garlic that we normally use in food appear to be safe for most people. No surprises there, right? After all, we've been using garlic for a long time.
Problems start to arise when you increase the dose.
Part of the issue here is research. Extensive safety testing is needed to work out whether high doses of any food or supplement is safe.
Right now, there is little safety evidence for pregnant or breastfeeding women, to the extent that such women should avoid high doses of garlic and garlic supplements.
It Gives You Bad Breath
This one isn't really a risk, per se, but garlic breath is a well-known risk of eating garlic. Your breath won't be too bad if you use garlic as an ingredient.
But, if you're eating raw garlic, you might be very difficult to be around.
Can You Eat Raw Garlic?
Most of us cook garlic before we use it – with good reason too, as raw garlic has a strong flavor and intense smell. The idea of consuming it raw may sound overwhelming, to say the least.
Yet, raw garlic is safe to eat. It may even be healthier than the cooked version, as some of the allicin in garlic gets destroyed during the cooking.
Of course, you're likely to get intense garlic breath for a while after eating a raw garlic clove. Side effects could be more significant too, including heartburn, gas, and burning inside your mouth.
To make raw garlic easier to eat, try including it in a recipe, like homemade salsa, salad dressing, or garlic butter. Crushing the garlic can be helpful too, as this gives you the most allicin.
Is Black Garlic Healthy?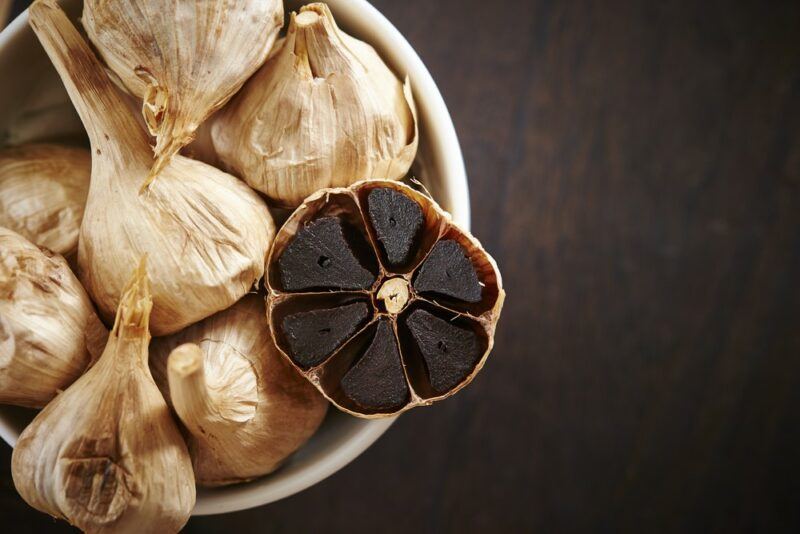 Black garlic is an interesting alternative. This is fresh garlic that has been heated slowly in high humidity. The process turns the garlic black, while also making it sweeter than regular garlic, with a softer and chewier texture.
Black garlic does contain less allicin than regular garlic, which does decrease some of the potential benefits. However, containing less allicin could mean fewer side effects too.
What black garlic loses in terms of allicin it makes up for in other areas, as the garlic is high in antioxidants and contains some interesting compounds. It's even been linked to a variety of benefits, like helping with blood sugar levels, decreasing cholesterol, and lowering triglyceride levels.
How Much Garlic Should You Consume?
If you're not sensitive to garlic and don't experience significant side effects, then 1 to 2 cloves of garlic per day may be the optimal amount.
This should give you some benefits, without putting you at risk.
However, this still puts you well under the allicin doses used in some studies. You might need to eat 4 cloves of garlic per day to hit those doses.
If you do so, remember that the studies focused on the safety profile for garlic supplements, rather than for garlic itself. There's little information about the safety of large quantities of fresh garlic every day.
What About Supplements And Extracts?
If you don't like the flavor of garlic, allicin supplements or garlic extract may seem more appealing. These products aim to give you all the benefits of garlic, without the hassle of dealing with garlic cloves.
You may also get more allicin per serving with supplements than from garlic itself, which may increase the potential health benefits. Besides, many of the studies into garlic have focused on aged garlic extracts or supplements, rather than garlic itself.
While this idea has some advantages, there are extra risks to think about too. After all, you don't really know whether the pill you're taking contains what the label says it does. You have to trust the company's claims and not all companies are honest.
The supplement you choose might be poorly made or contain less allicin than the label suggests. There's even the risk of contamination.
The limited regulation in the supplement industry makes it even more difficult to work out when a product is worth using and when it isn't. Look for brands that are up-front about their quality processes and use third-party testing. These should provide the most reliable products.
Finally, the best supplements will have some type of enteric coating. This coating ensures that the pills dissolve in your intestines, rather than your stomach.
Final Thoughts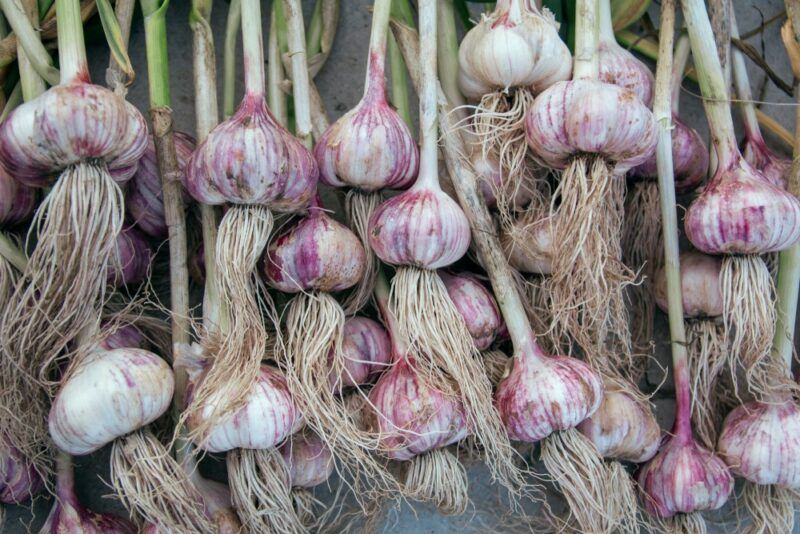 Garlic is a useful ingredient, with a long history in traditional medicine. Even so, we know surprisingly little about its effects on health. Many of the proposed benefits, like decreased blood pressure and improved immune system function, have largely been shown for supplements and not for garlic itself.
There are also some significant risks to think about, including how garlic interacts with medications, increases bleeding, and can cause side effects – especially when the dose is high.
The current balance of evidence suggests that using garlic in your cooking is safe. You'll avoid most of the serious side effects this way and might even see some benefits.
On the other hand, high doses of garlic (whether through supplements or garlic itself) come with many more risks and the benefits are questionable, at best. Honestly, it's better to take the classic approach and let food be thy medicine. Rather than going overboard with garlic, why not include a variety of spices in your diet, along with fresh fruit, veggies, whole grains, and legumes?
Frequently Asked Questions
How Long Does Garlic Last?
A whole garlic bulb should last between three and six months, if you keep it away from moisture and heat. A single unpeeled clove, on the other hand, lasts three weeks or so.
Garlic cloves don't last long at all once peeled. You'll only get a couple of days from them at the most, even if you're storing them in olive oil.
In both cases, it's best to keep the garlic in a dark and cool place. Not in the fridge though, that's too cold. You'll get better results from keeping them at room temperature instead.
How Many Cloves In A Head Of Garlic?
On average, you get around 10 to 12 garlic cloves in a head of garlic. It varies a little depending from one head to the next.
Does Garlic Cause Gas?
Garlic contains fructans, which are a type of carb found in a variety of foods. While fructans are safe, some people can't tolerate them well and get side effects, including gas.
Cooking the garlic before you use it can help to decrease this effect, but not always. If you're highly sensitive to fructans, you might even need to avoid cooked garlic.
How Many Cloves Of Garlic In A Tablespoon?
If the garlic is chopped, then it takes roughly three garlic cloves to give you a tablespoon of garlic. However, the measurement varies a little depending on the size of your garlic cloves.
Is Garlic Good For Your Heart?
According to some research, yes, some of the compounds in garlic could help to decrease blood pressure and improve your cholesterol levels. These effects help to protect your heart and could lower the risk of heart disease.