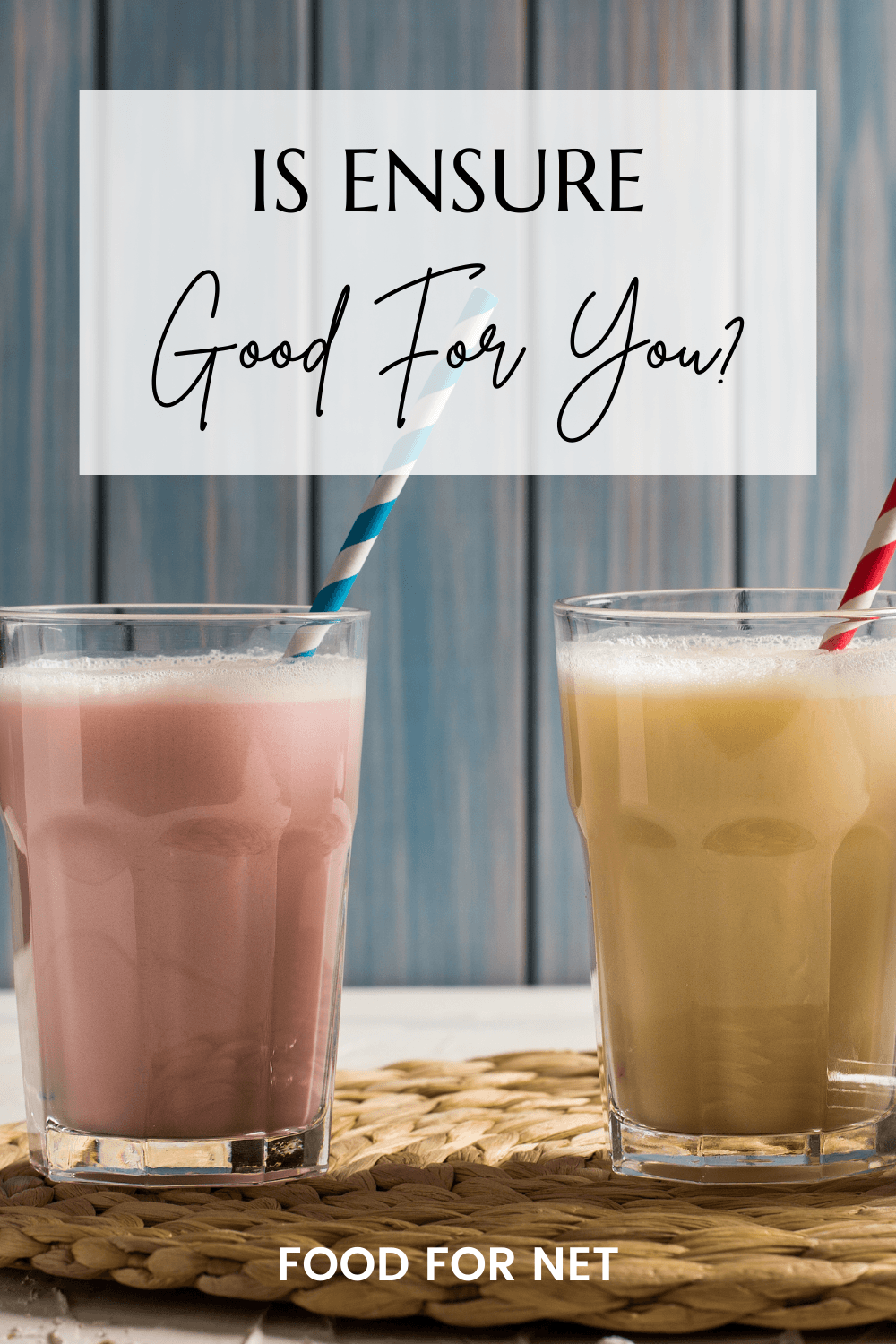 Ensure is one of many brands that provides pre-prepared protein shakes and powders, ones that are designed to promote health and be nutritionally balanced. There's a whole range of them to choose from, formulated for every need, but is Ensure good for you?
The question is an important one, as products are often misleading. Some look like they're healthy, but have underlying problems, like Vitaminwater and Powerade. Others have a mixed history, like eggs, so it can be tough to know what to expect. So, what about Ensure?
In this post, we'll take a close look at whether the Ensure products live up to their claims. Along the way, we'll talk about the different items in the Ensure range and how you might use Ensure shakes in your diet.
If you like the idea of Ensure but aren't convinced about the ingredients, why not make protein shakes or smoothies yourself? Homemade versions have many of the same benefits as Ensure, with fewer risks.
Is Ensure Good For You?
Ensure Products
The Benefits Of Ensure
The Risks Of Ensure
How Does Ensure Affect Weight?
Should You Use Ensure?
What Does Ensure Taste Like?
Ensure Products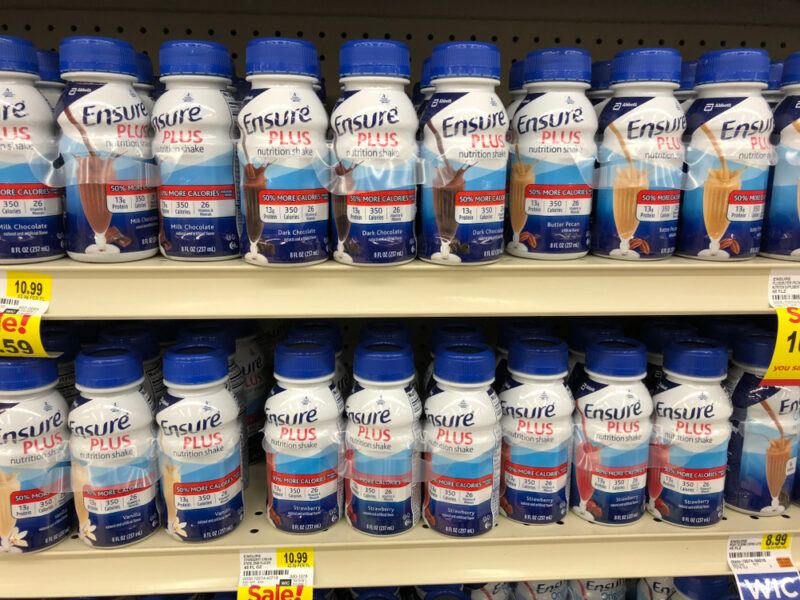 To start the ball rolling, let's talk about different Ensure products. These are quite distinct from one another, partly because they're designed for different needs.
Ensure Clear. This is a fruit-flavored drink rather than a protein shake, offering 8 grams of protein and 180 calories per serving.
Ensure Compact. Here, you're getting 9 grams of protein and 220 calories in a tiny drink (just 4 fl oz). The small size makes it an easy choice for people who struggle to eat.
Ensure Complete. This version offers an impressive 30 grams of protein per serving. It does contain 15 grams of sugar too, along with 350 calories per serving.
Ensure Enlive. This is another high protein product, with 20 grams of protein per serving and 350 calories. It's promoted as offering "complete balanced nutrition" and contains a broad range of nutrients.
Ensure High Protein. This version contains 160 calories, 16 grams of protein, and just 4 grams of sugar – giving you a much better ratio of protein to sugar.
Ensure Light. This version aims to keep the calories low, with just 70 or 80 calories per serving. There are 12 grams of protein and no added sugar.
Ensure Max Protein. This product is quite different, with 30 grams of protein and just one gram of sugar. Some versions contain caffeine too, but not all of them.
Ensure Original. This is Ensure's original shake, coming in at 220 calories, with 9 grams of protein and 15 grams of sugar per serving.
Ensure Plant-Based Protein. This product is plant-based and dairy-free, with 20 grams of protein, 5 grams of fiber, 7 grams of sugar, and 180 calories per serving. The shake is soy-free too, as it relies on pea protein and fava bean protein.
Ensure Plus. This version is just like the original, except this time there are 16 grams of protein per serving and 350 calories. The sugar content is higher too, with 21 grams of added sugar.
Ensure Pre-Surgery. This product is different than the others, as it contains sugar, sodium, selenium, zinc, and a few other ingredients. The idea is to give you energy and help keep you full, even while you are fasting ahead of surgery. There's no protein because it is designed for before surgery.
Ensure Surgery. Designed to support the immune system after surgery, this product has some extra features, including arginine and omega-3 fatty acids.
There is also a protein bar from Ensure, some electrolyte powder, and nutrition powder. The nutrition powder is similar to protein powder and uses soy protein as a key ingredient. However, it's not a great choice for protein, with 9 grams of protein and 13 grams of sugar per serving.
The sheer range of products means that there should be an option for every need. While the selection is absurdly large, Ensure does have a page that compares the features of the various products side-by-side, along with the average customer rating.
The Benefits Of Ensure
The first benefit of Ensure is convenience. Most of the time, you just need to open the product and drink it to get plenty of protein and nutrients. This is much easier than needing to cook a full meal.
Plus, most Ensure products are ready-to-drink and shelf-stable. You can easily bring them with you and use them as needed.
The Protein
The Ensure products are mostly protein shakes, ranging from 9 grams to 30 grams of protein per serving. While most people already get enough protein to avoid deficiency, increasing your protein intake can still help.
In particular, protein decreases hunger, helping to keep you satisfied for longer. It also plays a role in muscle development, which is why bodybuilders often increase their protein intake. Protein helps in other parts of your body too, improving bone health, blood pressure levels, and even boosting your metabolism.
Can Help You Recover
Protein is also critical when you're recovering from an illness or an injury, as protein is used to create both muscle and tissue. Increasing your protein intake could even decrease your recovery time.
There are plenty of ways to get this extra protein, including protein rich foods. However, Ensure can work better in some cases because you're drinking the protein, rather than having a meal. Doing so might be critical if you have a serious illness or have difficulty chewing.
The Nutrient Content
Most Ensure products contain a variety of nutrients, including vitamins C, E, K, and A, along with calcium, iron, potassium, and manganese. These nutrients are all vital for health and help you avoid nutrient deficiencies.
These nutrients could be particularly helpful if you're not getting enough through your diet for any reason. They're relevant for weight loss too. For example, replacing a meal with a shake from Ensure will give you more nutrients than skipping that meal or using a shake that contains protein and few nutrients.
Perfect For Reluctant Eaters
Ensure shakes work well for people who can't chew well, who don't want to eat, or who are recovering from surgery. In these situations, eating a full meal might not be realistic. Drinking a shake, on the other hand, is easy.
The sugar content of Ensure's shakes can even be a good thing here, as the sugar helps the shakes to taste good. Some are even similar to a chocolate milkshake, so they appeal to even the most reluctant eater.
Take seniors as an example. Appetite often decreases with age and many seniors also have problems chewing. Soft and nutritious food tends to be the best choice, but if the senior is reluctant to eat, a shake from Ensure is an easy substitute.
The Risks Of Ensure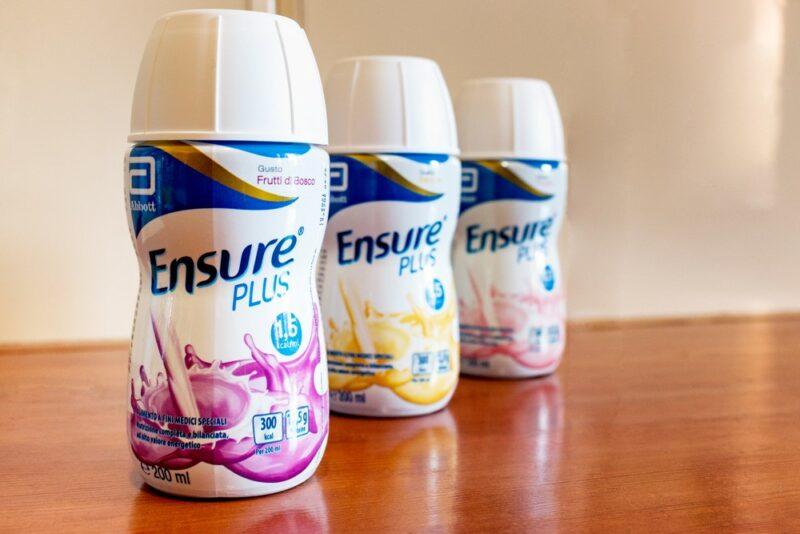 The Sugar
Some Ensure products are shockingly high in sugar – up to 21 grams for a tiny serving! The sugar makes the shake taste good but isn't healthy whatsoever.
Plus, some of the high sugar shakes aren't that great for protein. Just look at the original Ensure. It contains 9 grams of protein and 15 grams of sugar. How can that possibly be good for you?
What's even worse is that Ensure is promoted as being healthy. Some users will simply assume that the shakes are healthy, without ever checking the ingredients label.
Carbs
Sugar isn't the only problem either. Most Ensure products are high in carbs, like Ensure Complete, which has 42 grams of carbs and Ensure Original, which has 33 grams of carbs.
Some of these carbs come from fiber, but not many. Instead, most of the carbs are digestible simple carbs. This isn't what you want at all. While complex carbs from whole foods can be good for you, simple carbs from processed foods aren't a great choice for your health.
Anyone on a low carb or keto diet will need to avoid most Ensure products.
Artificial Sweeteners
You'll also find sucralose in most Ensure products. Sucralose is an artificial sweetener, the same type that's used in Splenda. The chemical is produced in a lab using multiple chemical steps.
Like other approved artificial sweeteners, sucralose is generally considered safe and has been tested in multiple studies. It could even help improve health, by cutting down your sugar intake.
Even so, sucralose is controversial. Some studies suggest that it could influence your metabolism, your blood sugar levels, and the bacteria in your gut. There's also much that we don't know about the long-term effects.
Sucralose is often used instead of sugar to make products sweet, but Ensure takes the idea one step further. Even their high sugar products (like the original Ensure, with 14 grams of sugar) use the artificial sweetener.
Many products contain acesulfame potassium too. This is another artificial sweetener and doesn't have the best reputation either.
Sugar and artificial sweeteners both have their downsides. There's no good reason to use both in the same product.
The Processing And Additives
Ensure is highly processed. It needs to be to provide all the nutrients that it does. But, even so, the level of processing and some of the ingredients used are concerning.
We're not just talking about artificial sweeteners either. Ensure also uses a combination of natural and artificial flavors, the food dye Red 3, carrageenan, vegetable oils, soy protein, maltodextrin, and various vitamins and minerals.
While these ingredients are all considered safe, there's plenty of debate around them.
Besides, diets packed with processed foods and additives are far from ideal. Whole foods tend to provide more nutrients, along with a better balance of nutrients, antioxidants, macronutrients, and other important compounds.
You're Consuming Liquid Calories
Our bodies respond differently to liquid calories compared to calories from food. Research shows that liquid calories don't keep us as full, which often leads to eating more food.
You can try this one out for yourself. Have one of Ensure's shakes for breakfast each day for a week. Next week, swap to a meal that has a similar amount of calories. You'll probably find that the meal keeps you full for longer, while also making you less likely to snack.
How Does Ensure Affect Weight?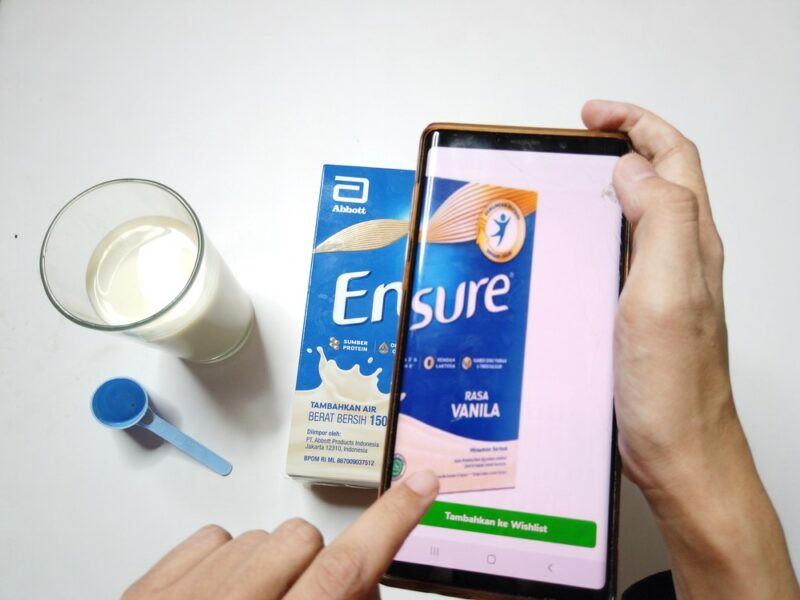 Like most protein shakes, Ensure can be used for maintaining your weight, losing weight, or gaining weight. The effect depends on the rest of your diet and how you're using Ensure.
For weight loss, you might choose a high protein Ensure product (like Ensure Max Protein) and have this instead of breakfast each day. The protein in the shake should help to keep you satisfied and you're consuming less calories than you would with a full breakfast.
For weight gain, you might use Ensure as well as your meals or focus on the high calorie versions of Ensure (like Ensure Plus or Ensure Complete, which both contain 350 calories per serving).
However, you need to be careful.
Many Ensure products are high in sugar, with less protein than you might expect. Shockingly, the Ensure Original shakes and powder even contain more sugar than protein.
This balance of sugar and protein, combined with getting your calories from a liquid, could easily lead to unintended weight gain.
Should You Use Ensure?
Ensure is best when the features of the products you choose match your needs. For example, the high calorie products might be relevant to seniors who have a low appetite and struggle to eat. In this situation, even the sugar in the shake might be appealing, as this helps the drink to taste good.
On the other hand, if you're trying to gain muscle or lose weight, a high protein and low sugar drink would be much more powerful.
Still, while the right product offers some benefits, Ensure is far from your healthiest option. The products are all highly processed and rely on additives to give them the flavor, texture, and shelf stability that they need.
Even if those additives are as safe as the manufacturers suggest, none of them provide you with health benefits. They're simply a way to give products the desired flavor and texture. So, why not protect yourself and avoid those additives whenever possible?
You'll get many more benefits by making protein shakes yourself anyway. This way you can control the ingredients used and get the perfect balance of nutrients for your needs.
What Does Ensure Taste Like?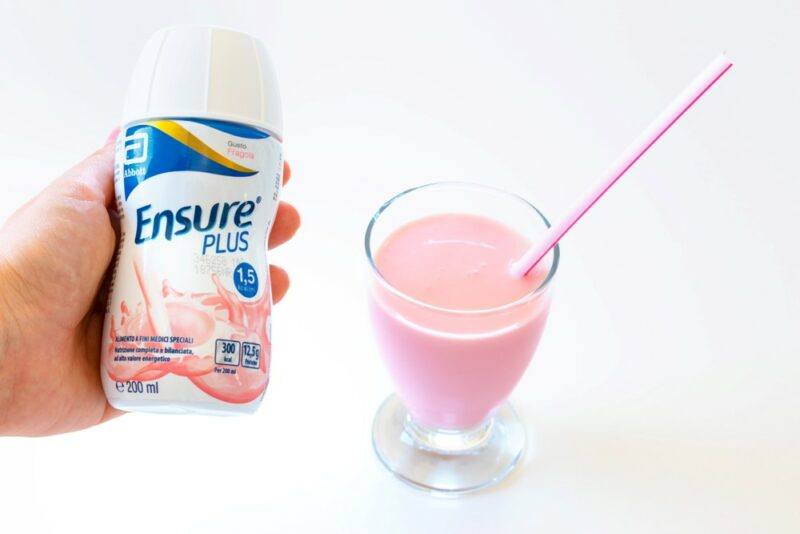 Ensure gets better reviews than many other protein shakes. This is partly because of the flavor – as most of the shakes do taste good.
The flavor isn't too surprising either. Ensure does use plenty of sugar in most of their products. This sugar helps mask the flavor of the protein and the additives, giving you a delicious drink.
There are some interesting flavors to choose from too. For example, the original range includes milk chocolate, vanilla, strawberry, dark chocolate, butter pecan, coffee latte, and banana nut.
However, not everyone agrees about the flavor. Some people say that the shakes are too sweet or that they taste artificial. You could tone down the sweetness by mixing the shake together with extra milk, although that would make the drink less convenient.
Differences between the products mean that you might like some more than others.
For example, the original Ensure contains 9 grams of protein and 15 grams of sugar, giving you a sweet product that's much like a milkshake. Ensure Max Protein, on the other hand, contains 30 grams of protein and only one gram of sugar. Some reviews say that the product has a strong aftertaste and ends up being almost undrinkable.
It might take some experimenting before you work out which shakes you enjoy and which ones you don't.
Final Thoughts
While the products from Ensure have their advantages, they're not nearly as healthy as they first seem. Most are packed with sugar or artificial sweeteners, along with plenty of other concerning ingredients.
Even the nutrients aren't as good as they seem. These have just been added in, so you're basically getting a multivitamin in shake form.
The shakes are mostly useful for people who need an easy source of nutrition – including those who can't keep regular food down, like straight after surgery. Even so, there are plenty of better premade shakes out there. Or, you could make your own.
Related Content
Frequently Asked Questions
Does Ensure Have A Lot Of Sugar?
This depends on the product you choose. Some Ensure products are packed with sugar, like Ensure Original, which contains 15 grams of sugar and just 9 grams of protein per serving. Ensure Plus is even more sugar packed, with 20 grams of sugar per serving.
Other products do better with sugar. For example, Ensure High Protein has just 4 grams of sugar and Ensure Max Protein gets down to a single gram.
The catch is that the low sugar versions rely on artificial sweeteners like sucralose to make them palatable. Such sweeteners could be harmful, especially if you consume large amounts of them regularly.
Can You Replace Meals With Ensure?
While Ensure shakes all contain a decent selection of vitamins and minerals, only some of them work well as meal replacements.
In particular, you need shakes with a decent amount of protein and some fat. Ensure Complete is a good example. This version provides 350 calories, 30 grams of protein, 15 grams of sugar, and 8 grams of fat per serving.
You could also try Ensure Max Protein. This has fewer calories, less fat, and less sugar, but still provides 30 grams of protein. It works well for people who want to lose weight by having a shake instead of a meal.
Can An Elderly Person Live On Ensure Alone?
Ensure shakes are helpful for seniors, especially as appetite can decrease with age. However, it's not wise to replace all meals with Ensure.
After all, Ensure is highly processed and contains plenty of additives. It's also fairly low in fiber. We need fiber for our digestive systems to function well.
Finally, following an all-liquid diet isn't a good idea, as our bodies function better with solid foods. There may be exceptions, like seniors who can only consume liquids. But, in this case, a doctor should be involved to make sure the senior's health isn't compromised.
Is Ensure Easy On The Stomach?
Some people find Ensure easy to digest, partly because it's low in fiber. However, Ensure also contains allergens, including milk and soy. These allergens can cause side effects for anyone who is sensitive.
Some of the additives are concerning too, particularly the artificial sweeteners. While many people can eat these without an issue, some people do experience notable side effects.
Do Doctors Recommend Ensure?
Ensure is famously recommended by many doctors, to the extent that Ensure the claim on their advertising.
The recommendations are partly because Ensure is helpful in some situations, particularly for people who can't tolerate solid food. Ensure is also an easy recommendation for a doctor to make. It's certainly simpler to tell patients to buy a shake than to provide nutritional and recipe recommendations.
A more relevant question is whether your doctor recommends Ensure for you.