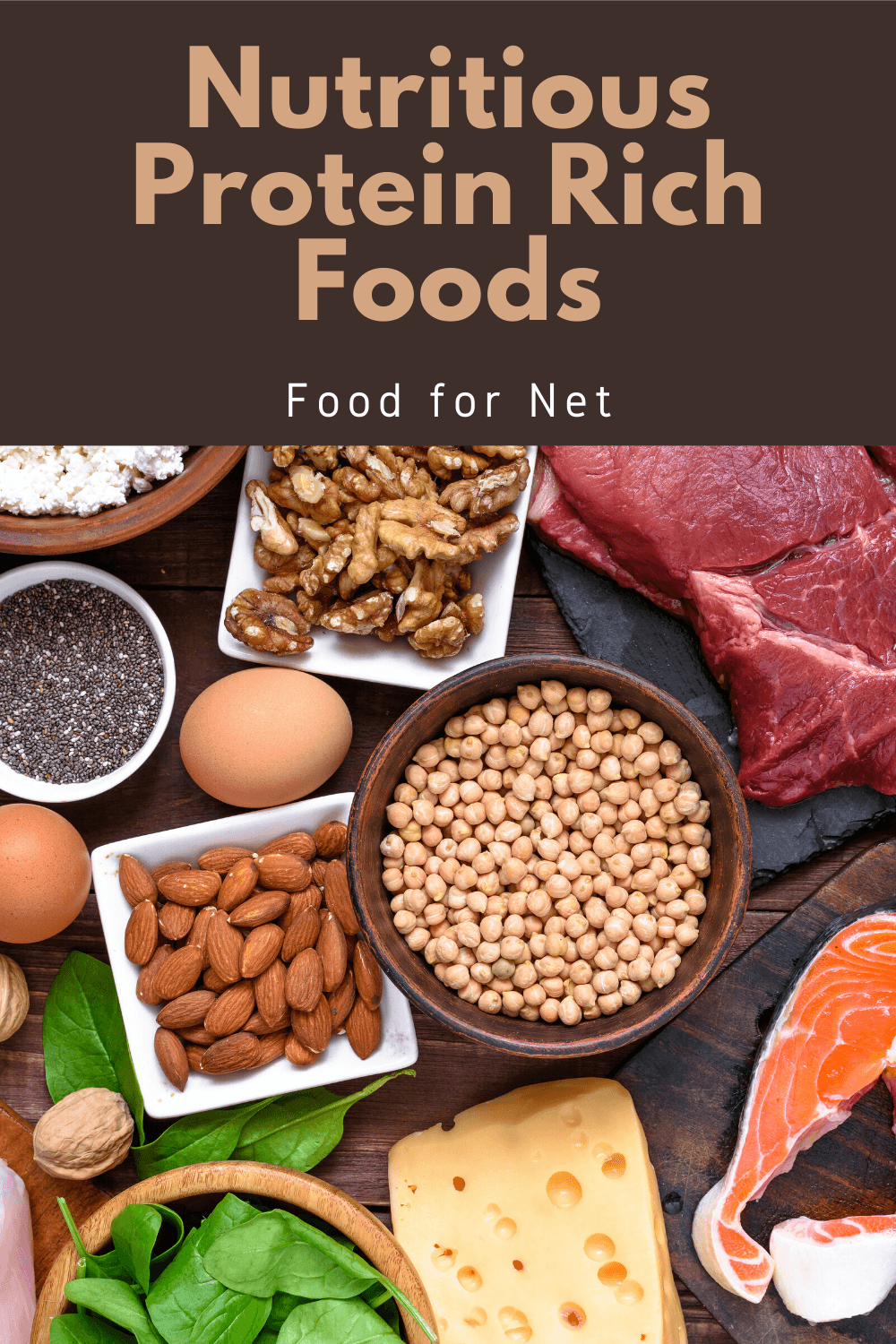 Getting enough protein in your diet is vital for many reasons. Protein plays a crucial role in keeping you healthy, building your muscles, and keeping you full. In fact, relying on protein rich foods is a powerful strategy for weight loss, as you end with fewer carb cravings and are less likely to snack.
For an adult, the recommended daily dose of protein is generally between 45 and 65 grams per day. The amount varies based on weight and physical activity. Protein requirements may be higher for some groups of people, including pregnant women and athletes.
While many people meet the minimum protein requirements to prevent deficiency, they may not be getting enough to optimize their health. That's where this list comes in. On it, we're featuring a variety of high protein foods.
Many of these are the typical examples that you might expect, including meat and eggs. There are also some plant-based sources of protein in the mix and a few protein sources that are powerful simply because of their ratio of protein to calories.
It's worth playing around with the protein in your diet until you find the best amount of protein and best protein sources for you. The answers tend to be different from one person to the next, as our needs vary, as do the way that our bodies respond.
Protein Rich Foods
Eggs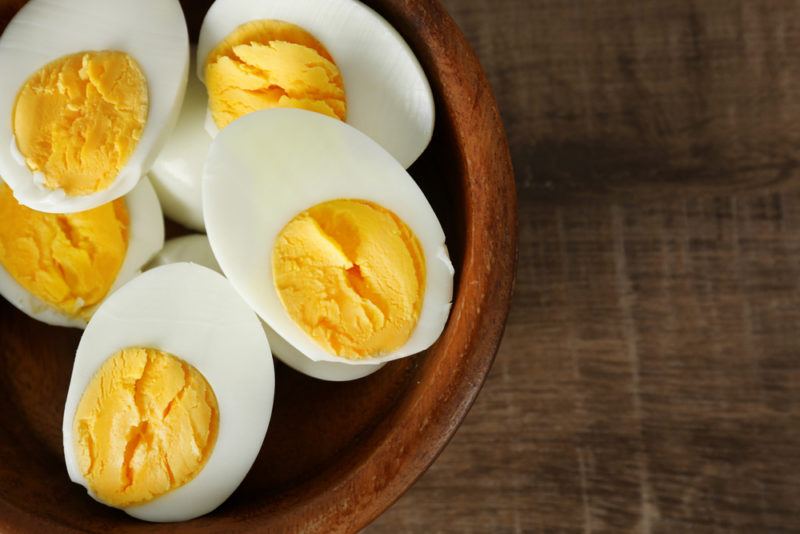 Eggs are an incredible addition to any diet. They're absolutely packed with nutrients, including various healthy fats, minerals, and vitamins.
They are particularly powerful as a source of protein. On average, you're getting 6 grams of protein in a whole egg, which accounts for roughly a third of the calories. Egg whites are almost completely protein, while the yolk contains more fat, along with a variety of nutrients.
Eggs have another advantage too – they're incredibly versatile. You can cook eggs in many ways and include them in countless dishes at any time of the day.
Of course, eggs won't be a good choice for vegans or for anyone with an egg allergy.
Chicken Breast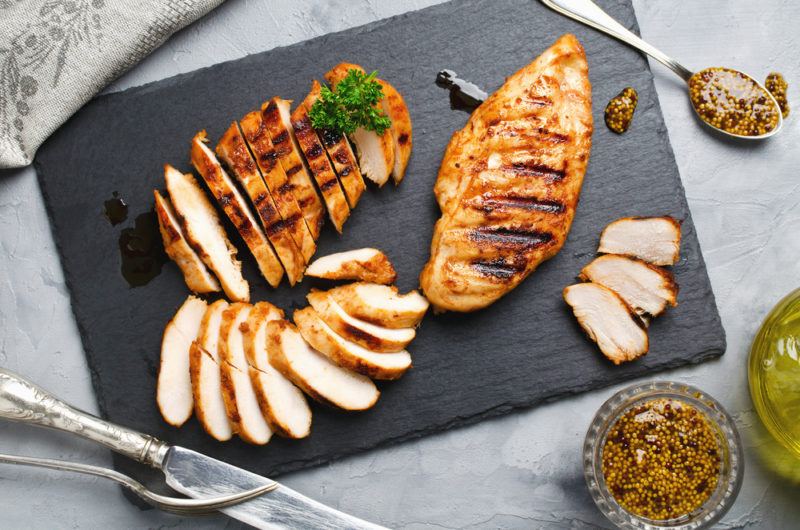 Chicken breast is often recommended as a protein source because it is low in calories compared to most other types of meat. After all, chicken breast is a lean cut and contains very little fat. This is why it can sometimes be difficult to cook chicken breast thoroughly without letting it dry out.
Lean chicken breast averages around 32 grams of protein per 100 grams, which is pretty impressive.
It is also a versatile ingredient that can be used in many different meals. Because chicken breast tastes good cold as well as hot, it is often used in meal prepping.
Other Cuts Of Chicken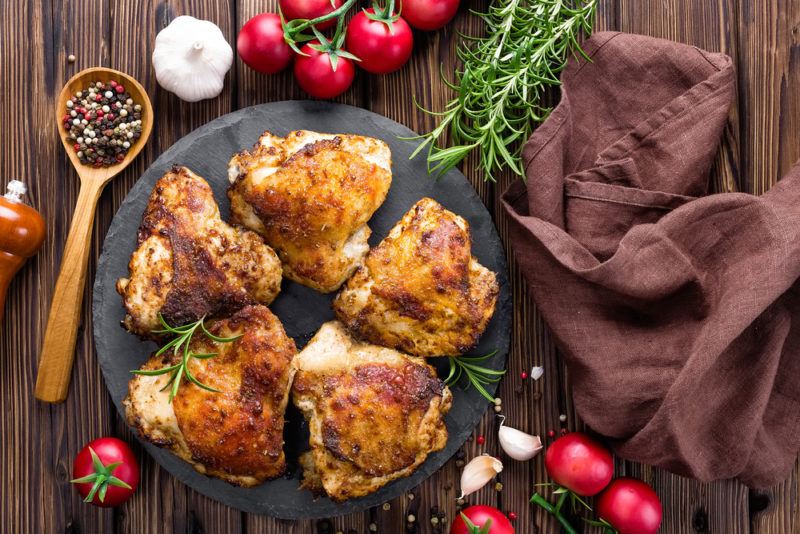 Of course, chicken breast isn't the only cut of chicken that offers you protein. Chicken drumsticks and chicken thighs, for example, provide plenty of protein too.
Each cut does have its own distinct nutrient balance. For example, chicken thighs tend to be higher in fat than chicken breasts, and thighs tend to have less protein too. However, this balance of fat and protein can be appealing, as fat is filling too.
Turkey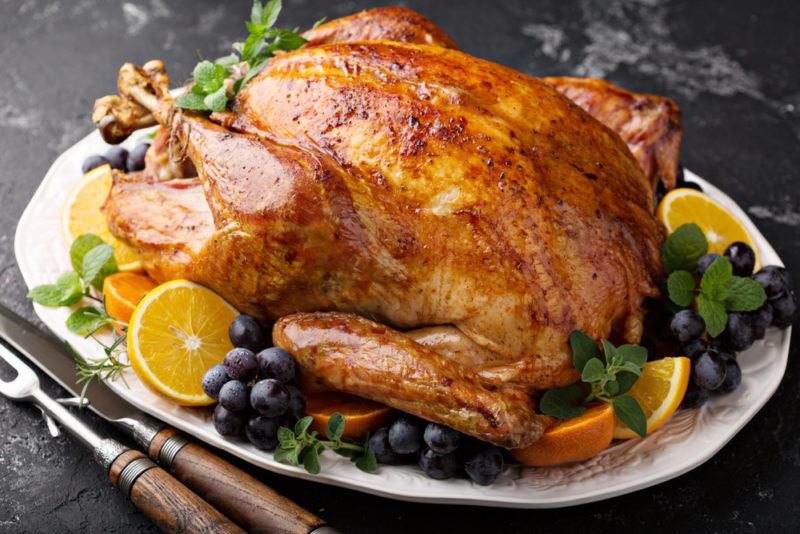 There are many similarities between chicken and turkey, so it shouldn't be surprising that turkey is a good source of protein too. Turkey breast averages around 30 grams of protein per 100 grams, so it has a little less protein than chicken, but the difference is small.
Interestingly, the amount of protein in turkey remains similar regardless of the part of the bird that you're eating. Even if this wasn't the case, there's no need to always choose the cut that is highest in protein. Each cut of meat has its own advantages and disadvantages.
Other types of poultry act as good sources of protein too, including more obscure choices like ostrich, duck, and emu.
Red Meat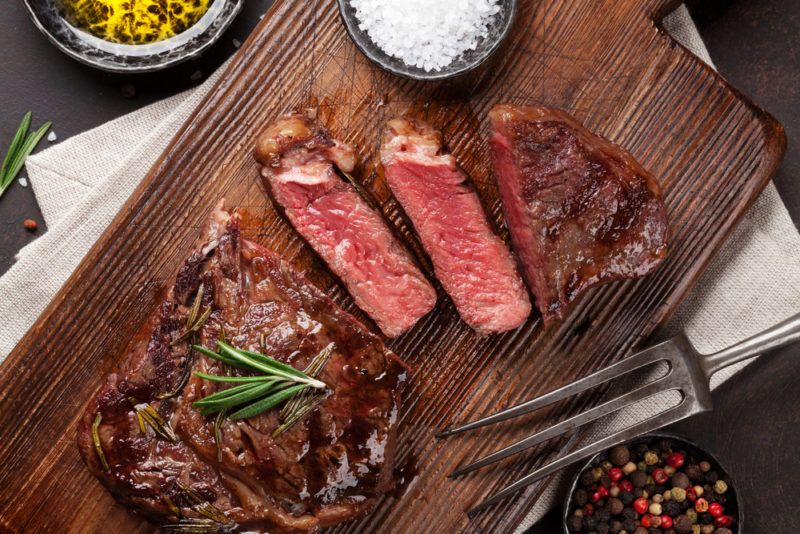 Red meat, of all types, is another undeniable source of protein. You'll get more protein per 100 grams of red meat than of most other protein sources. Veal, lamb, and beef top the list here.
While there are distinct differences in the protein content depending on the animal and the cut of meat that you choose, all red meat ends up being a decent source of protein. This means that you can select your meat based on other factors, like taste, fat content, and price.
Shrimp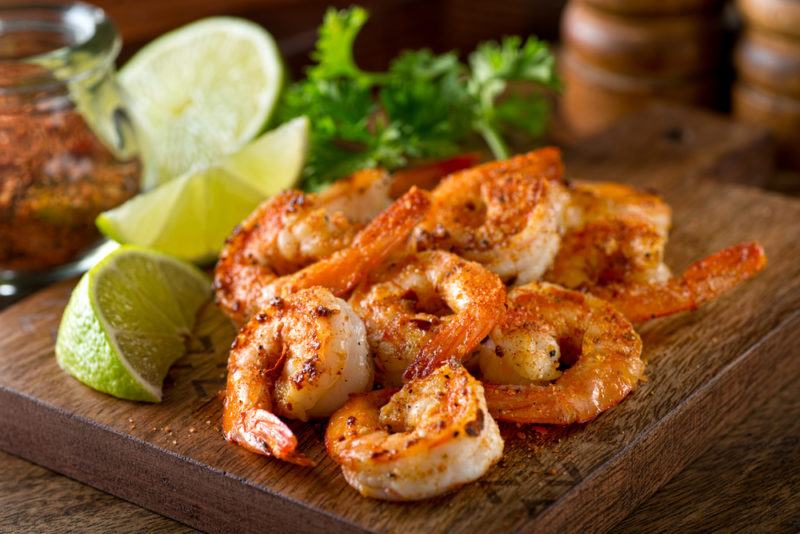 If you enjoy seafood, shrimp can be a useful source of protein. Not only does shrimp taste delicious, but it is also low in calories and provides you with many nutrients.
The high levels of selenium and vitamin B12 are key reasons to enjoy shrimp regularly. You're getting some omega-3 fatty acids too, just like with fish.
Shrimp ends up being mostly protein, which makes it low in calories. This is why shrimp is often favored by people who are trying to lose weight.
Oats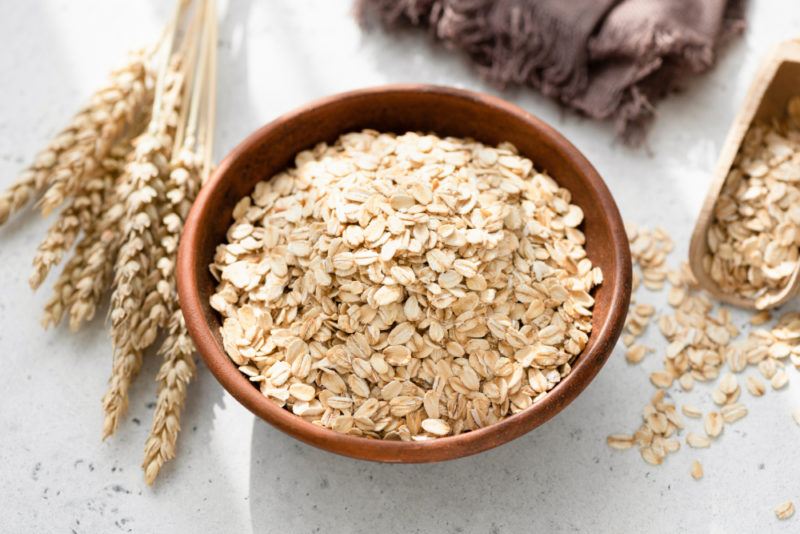 Oats remain an incredibly common ingredient, especially for breakfasts. This isn't surprising, as oats are a fantastic source of fiber, including both soluble and insoluble fiber.
Oats also contain beta-glucans. These compounds have been linked to improved heart health, as they may affect blood pressure and cholesterol levels. As for protein, you're looking at around 7 grams per half cup of uncooked oats.
Another advantage is that oats are versatile and can be used in hot or cold recipes. Many people use them to create energy bites or protein bars.
If you're sensitive to gluten, you may need to choose your brand of oats carefully. While oats don't contain any gluten themselves, they're often processed using the same machinery as gluten-containing grains. This can lead to cross-contamination.
Nuts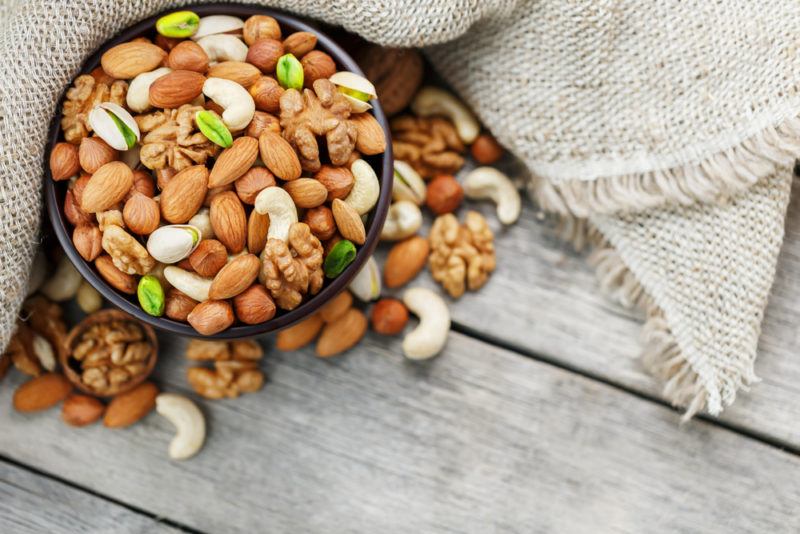 Nuts of all types are perfect sources of protein. Not only do they contain a decent amount of protein, but they're easy to pick up and eat. You don't need to prepare a meal, simply grab a handful of nuts.
The protein content varies between types of nuts. For example, 15% of the calories in almonds come from protein, compared to 13% for pistachios, and 11% for cashews.
These differences make almonds one of the best choices for quickly boosting your protein. But don't rule out other nuts. Each type of nut has its own appealing balance of nutrients. Eating a variety of nuts is the best way to take advantage of all the nutrients.
While they're technically legumes rather than nuts, peanuts are also a good source of protein. They can be the most appealing option in some cases, as peanuts are the most inexpensive type of nut out there.
Seeds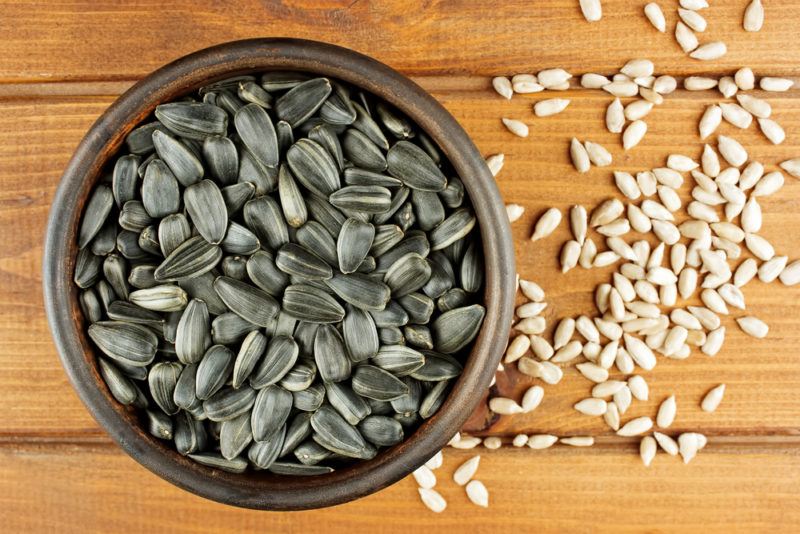 Seeds offer similar advantages to nuts. They're similarly easy to eat while providing plenty of nutrients too.
Just like with nuts, the protein content depends on the type of seed that you choose. Pumpkin seeds are one of the best choices, as protein accounts for 22% of the calories in the seeds. Besides, roasted pumpkin seeds are delicious, especially with a little light seasoning.
But, once again, don't just stick to one type of seed. You'll get the most benefits by including a variety in your diet.
Trail Mix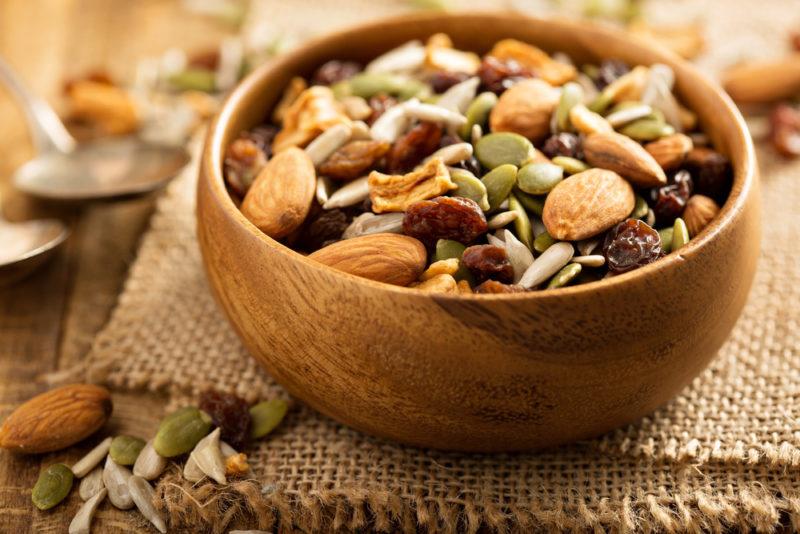 Trail mix is the perfect way to enjoy a variety of nuts and seeds. A well-balanced trail mix is also much tastier than eating a single type of nut or seed. You end up with a variety of textures and flavors to enjoy.
The trick is to find a good trail mix, which usually involves making it yourself. Trail mix that you buy at the store often relies far too heavily on dried fruit, which is high in sugar and doesn't provide much protein at all.
If you do make your own mix, use dried fruit sparingly. Or, better yet, skip the fruit entirely.
A little dark chocolate is a better addition, as this is high in antioxidants. Dark chocolate does contain a little protein too, but not nearly as much as seeds and nuts.
Sprouted Bread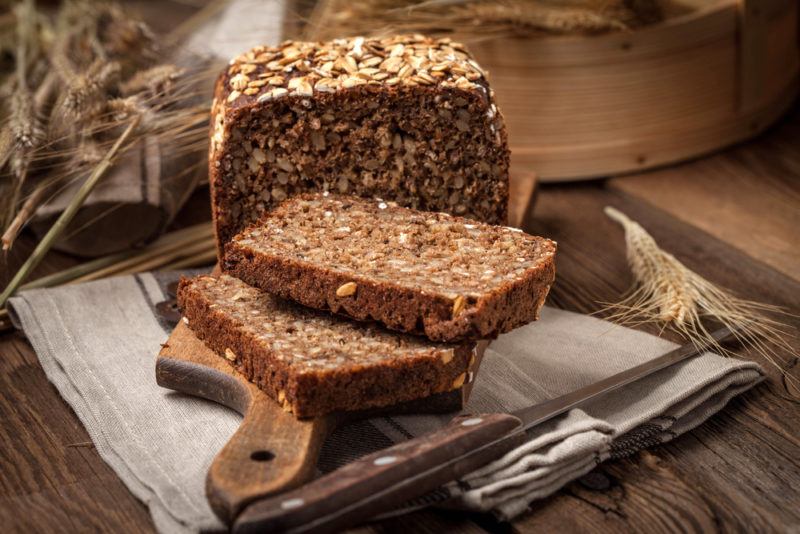 While bread is generally a poor source of protein, sprouted bread is an exception to that rule. The brand Ezekiel bread is one example of this style, although there are plenty of other types of sprouted bread out there too.
This type of bread uses whole grains and legumes that have been sprouted. Most sprouted bread brands use very little refined flour, which is another advantage.
You'd still get more protein by eating nuts, seeds, or red meat, but sprouted bread gives you another way to add protein to your diet. You can use it just like regular bread.
Imagine using sprouted bread with some other high protein ingredients to make a sandwich. You'd end up with an incredibly satisfying lunch.
Nut Butter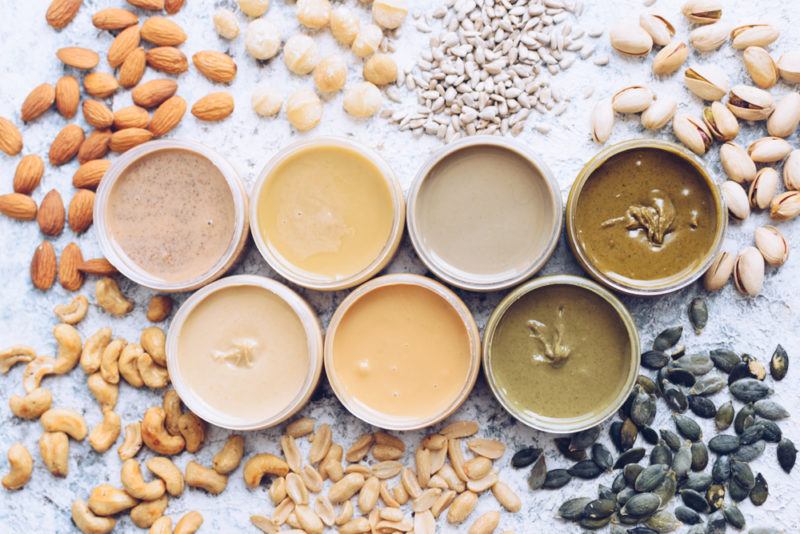 Nuts are a high protein food, so it's not surprising that nut butter makes this list too. After all, nut butter tends to be made largely from nuts. It has a similar nutritional profile to the nuts that were used to create it.
The best nut butter products out there rely on the nuts, some salt, and little else. Extra ingredients really aren't needed. The nutrient profile will depend on the type of nut that you use.
Nut butter tends to be more versatile than nuts themselves. You can spread the butter on bread, fruit, or whatever else takes your fancy. It's easy to add the nut butter into recipes too. You'll even find nut butter used as a smoothie add-in.
Just be wary of your portions. It's easy to eat more nut butter than you mean to. This can be a problem, as nut butter is also high in fat.
Fish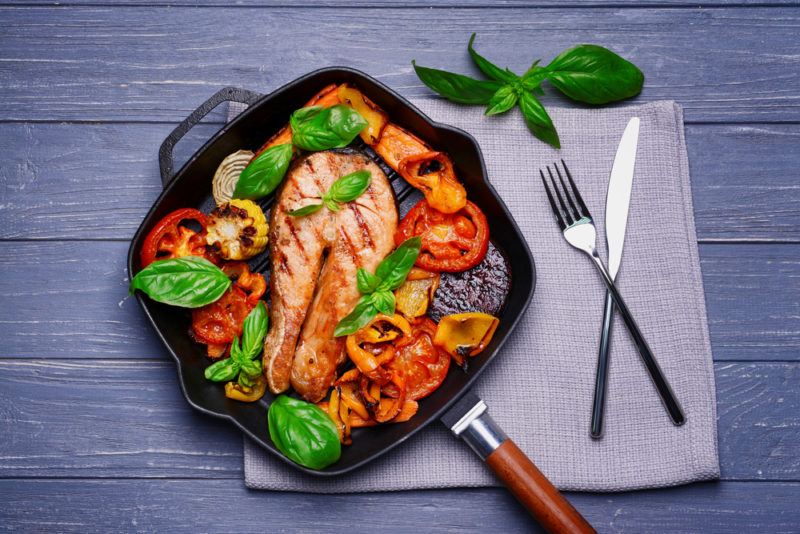 Most types of fish are high in protein. Fatty fish, like salmon, is often considered to be exceptionally healthy, as it is high in omega-3 fatty acids.
However, leaner fish can also be beneficial, including options like cod and flounder. Leaner fish end up with a better balance of protein to fat, so you're getting more protein per calorie than you would with fatty fish.
Fresh fish isn't the only option either. Dried fish can work well as a protein source too. Dried fish may even be better in some cases, as it is a more concentrated protein option and has a longer shelf life than fresh fish.
Tuna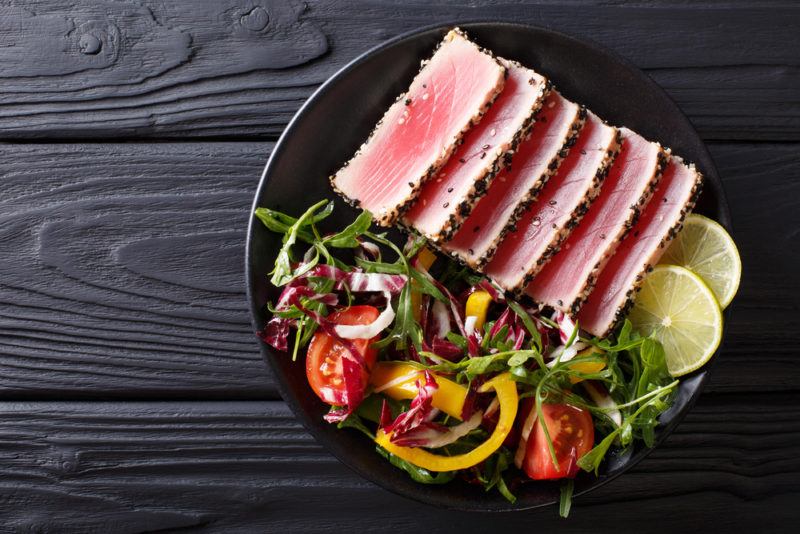 Tuna is an especially attractive choice for protein, as it is low in fat and calories. As a result, most of the calories come from protein. You're getting various other nutrients as well, including several B vitamins and some minerals.
Canned tuna is easy to find and is inexpensive, making tuna the most accessible type of fish to enjoy regularly.
However, you do need to be wary of the mercury content, which is higher in tuna than with some other types of fish. While eating a can of tuna every week or so is likely to be safe, it's best to avoid consuming multiple servings of tuna in a single week.
Lentils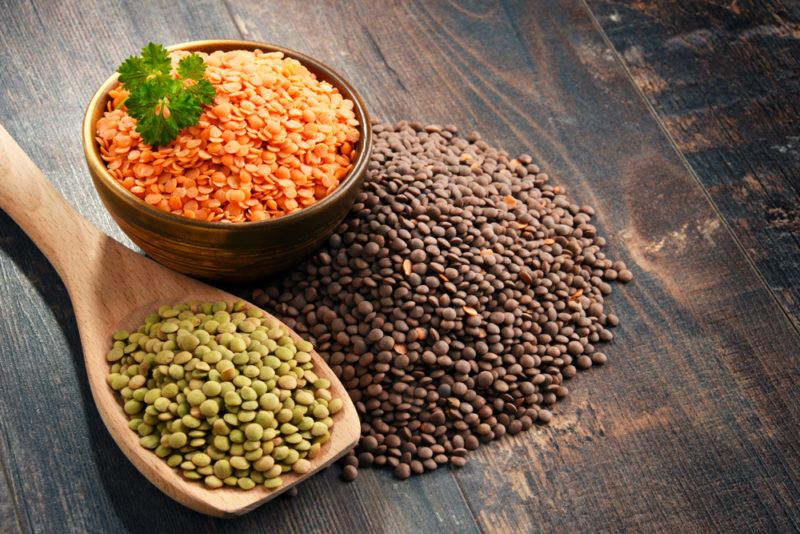 Lentils are a popular plant-based protein option, partly because they're very easy to store. Lentils are often inexpensive too and can be included in meals as a way to boost protein content.
You might also eat lentils regularly because they are a source of fiber, along with other vital nutrients.
The main limitation is that lentils are a type of legume. While legumes are generally thought to be healthy, some people and dietary approaches avoid legumes entirely. So, whether legumes work well for you will depend on your approach to food.
Black Beans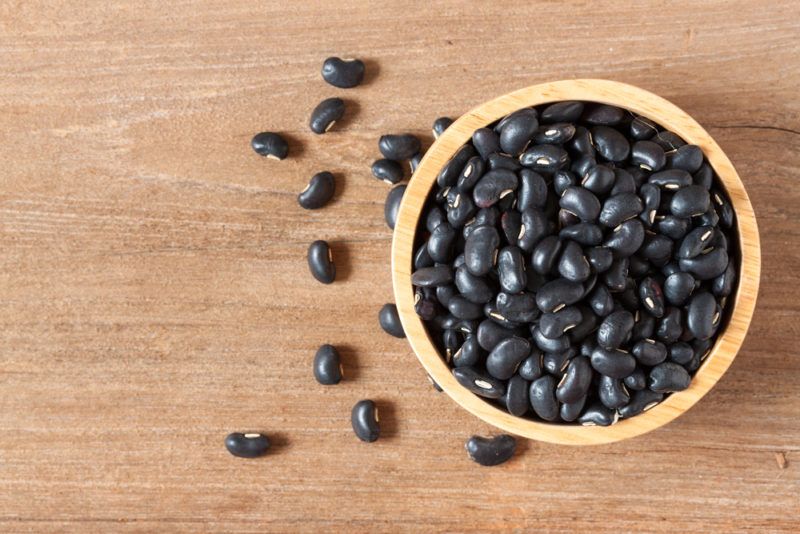 You can also turn to black beans as a source of protein. Like lentils, black beans are versatile, inexpensive, and are easy to store. They're also powerful, as cooked black beans provide roughly 15 grams of protein per cup.
You don't need to go to much effort either, as it's easy to find pre-cooked black beans in a can. These beans can be used as the base for salsa or chili, along with countless other recipes.
The black coloring of the beans is also relevant, as the color compounds in plants often have implications for health. Indeed, black beans end up being rich in polyphenols. Some of these compounds might even help to fight cancer.
Other Beans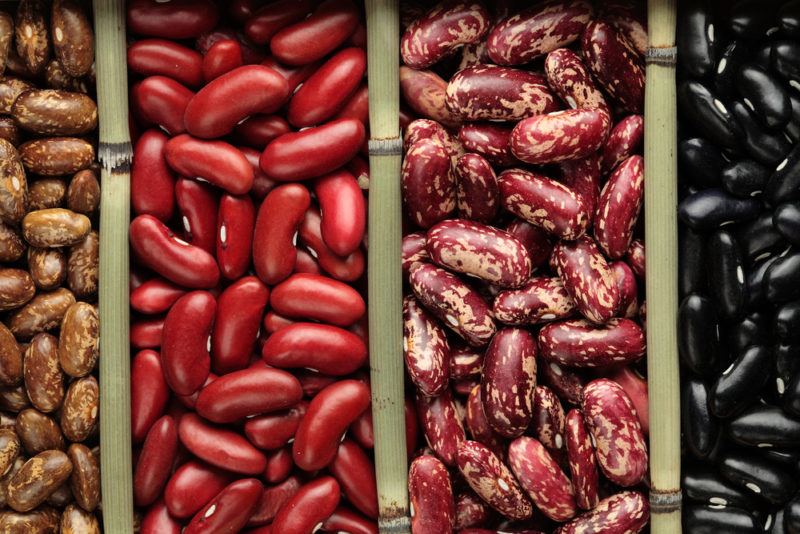 While black beans have some distinct advantages, they're not your only choice for protein. Any type of bean is going to give you a decent amount of protein. For example, a 100 gram serving of lima beans may give you around 21 grams of protein.
Each type of bean has its own nutritional profile. There can even be differences in nutrition based on where the bean was grown and the variety of seed that was used.
These differences aren't a bad thing. After all, variety is a critical part of a healthy diet. You'll get more benefits from eating many different types of food than eating the same thing over and over again.
Soybeans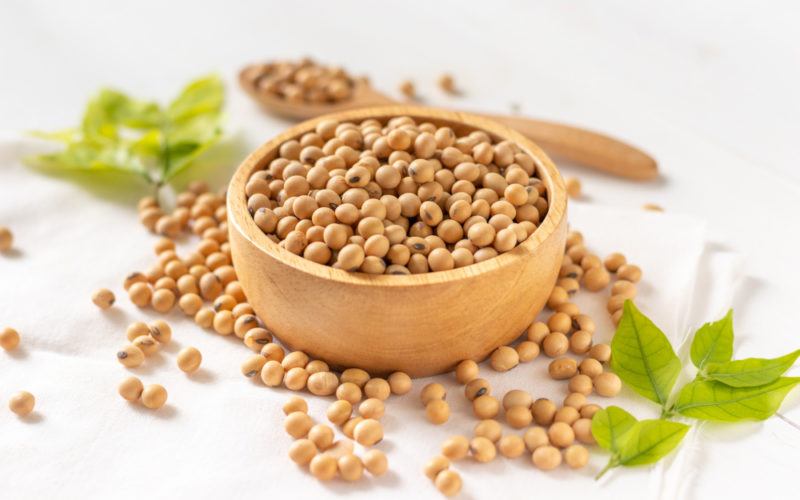 While we're talking about legumes, here's another example – soybeans. You'll mostly find soybeans processed or cooked in some way, like in tofu, tempeh, soy flour, or soy milk. This isn't a bad thing, as you end up with many ways to include soybeans in your diet.
Soybeans offer other nutrients as well, including phytonutrients and antioxidants that may be especially relevant to health. They're also one of the best plant-based sources of protein out there, which may be why there are so many soy-based products.
Even so, soybeans are controversial. Some people have allergic reactions to them and there is concern about the presence of phytoestrogens. These are compounds are similar to estrogen (the female sex hormone).
Phytoestrogens may help to reduce menopause symptoms in women, but some men are concerned about adverse effects, especially if their soy consumption is high. There is little evidence that men are negatively impacted by phytoestrogens, although some people may choose to avoid soy anyway, just to be on the safe side.
Edamame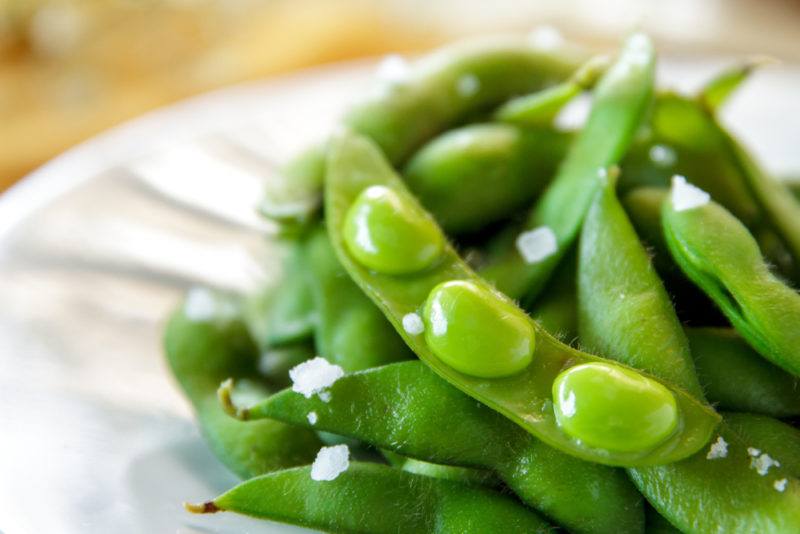 Edamame is an easy and healthy protein snack – as it is simply boiled soybeans. You don't even need to use fresh soybeans. Frozen ones work well too and they're often easier to find.
You can serve edamame as-is or with a little salt. Various recipes add in more flavor, making the snack more delicious still.
Tempeh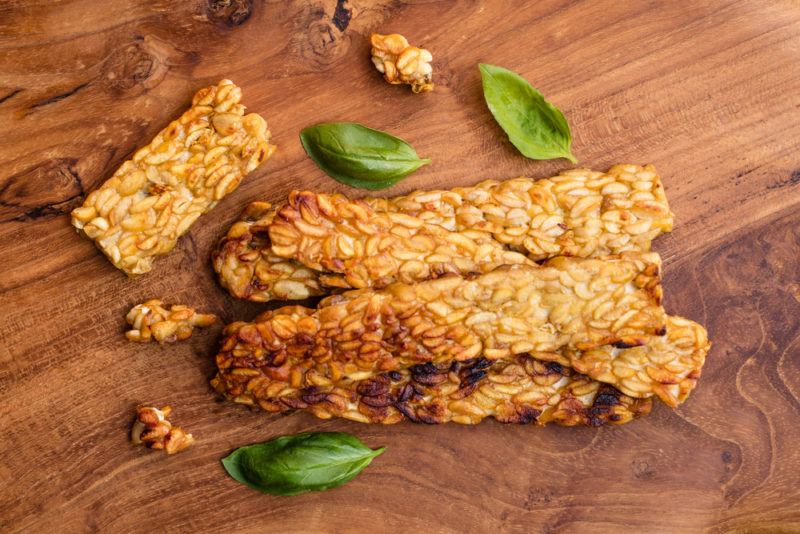 Here's an unusual one. Tempeh is a fermented product made from soybeans that have been compacted together. The fermentation means that tempeh provides you with natural probiotics, which may help improve your gut health.
While tempeh is a processed soy product like tofu, the way that it is made means that tempeh has a completely different texture. It is even somewhat chewy.
Tempeh has a nutty flavor that complements many different recipes.
You can also find tempeh products that include other ingredients, like flax seeds, spices, and even quinoa. These ingredients can change the nutrient profile of tempeh and its flavor, but you end up with a high protein ingredient either way.
Interestingly, tempeh tends to contain more protein than tofu, making it an especially appealing choice. Tempeh is harder to find of the two options, but once you do locate a store that stocks it, you may find yourself coming back for tempeh time and time again.
Tofu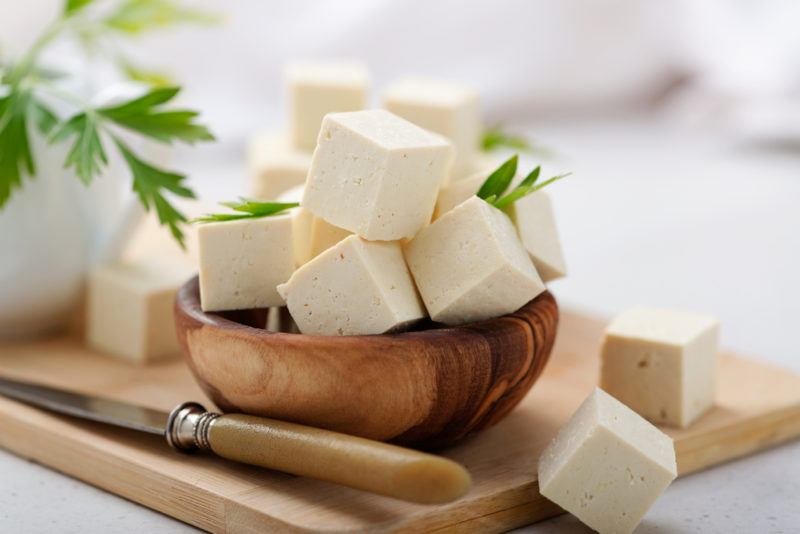 Tofu is a more common vegan protein choice. It is made from soy milk that has been pressed to create solid blocks. You can find tofu in various textures and there are countless recipes to take advantage of it.
Tofu's popularity in recipes comes from its neutral nature. Tofu doesn't taste like much of anything on its own. Instead, it takes on flavors from the other ingredients in the recipe – making it ideal as a meat replacement.
Milk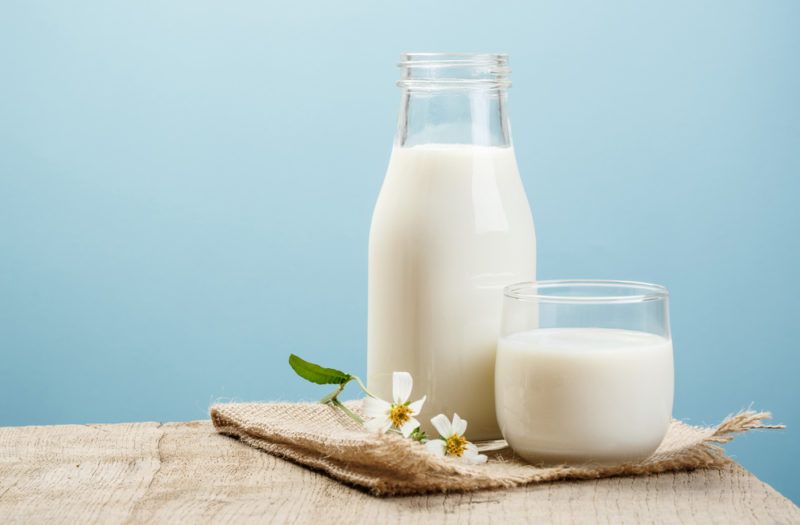 Milk mightn't be as powerful as other protein sources, but you're still getting roughly 8 grams of protein in an 8-ounce serving. This is pretty good, especially as milk is easy to include in your diet.
Many of us already use milk regularly in coffee and cooking. You can also make a protein shake using milk and protein powder, which is an easy way to boost your protein intake even more.
Other milk-related products also end up being sources of protein, including cheese, yogurt, cream, and 50/50. However, the amount of protein will vary depending on your choice, as will the other nutrients.
For example, cream tends to be higher in fat and calories than milk. While this is fine in some situations, the higher calorie content can be a problem for anyone trying to lose weight.
Greek Yogurt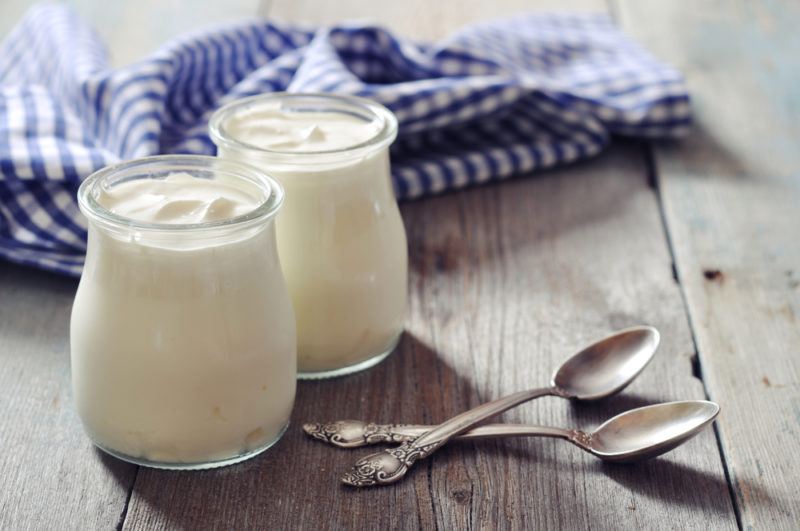 If you're looking at dairy as a source of protein, Greek yogurt is an especially attractive choice. This type of yogurt is traditionally strained three times.
The straining process creates a thicker and creamier yogurt that tends to be higher in protein and nutrients than other types of yogurt. Greek yogurt often ends up being lower in sugar too, which is an added bonus.
If you're going to try Greek yogurt, opt for the plain versions whenever possible. Flavored yogurt often involves added sugar, which increases the calorie content and generally isn't good for you.
This doesn't mean that you need to eat the yogurt plain. You can add flavor yourself with natural ingredients, which might include stirring fresh fruit into the yogurt or even adding a little cocoa powder.
For those who want to buy flavored yogurt instead, pay close attention to the ingredient labels. Some brands focus on natural ingredients more than others. With a little effort, you should be able to find a product that doesn't include too many extras.
On a side note, there are other types of strained yogurt too, like skyr. While there are differences between the types of yogurt, strained yogurts tend to be better sources of protein than non-strained options.
Cottage Cheese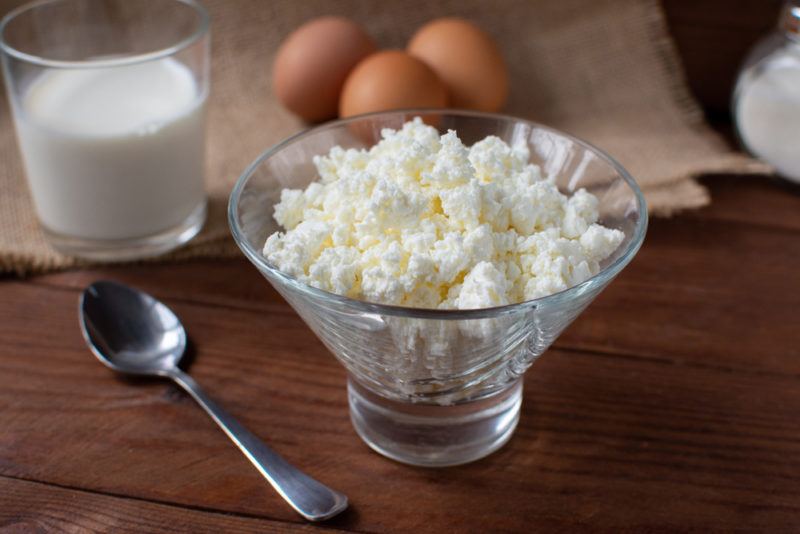 Cottage cheese is a common protein choice for anyone trying to lose weight, partly because it is low in calories. The cheese is derived from milk, so it also offers various important nutrients.
One key advantage is the mildness of the cheese. Because cottage cheese doesn't have much flavor of its own, it can easily be combined with other ingredients to create tasty snacks. You can even use cottage cheese with sweet or savory ingredients, which is impressive.
Another advantage is that there are many types of cottage cheese to choose from, such as reduced fat versions, creamed cottage cheese, whipped cottage cheese, and versions with reduced sodium.
Quinoa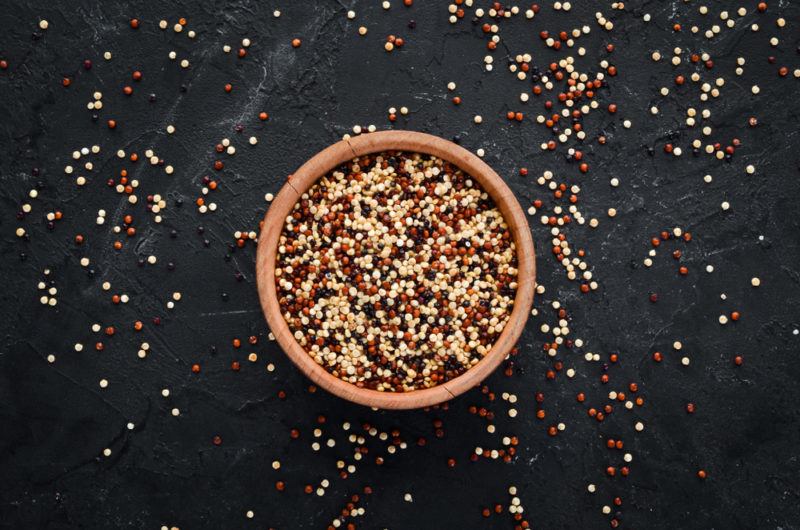 Quinoa's popularity has soared in recent years, earning the little seed the label of superfood. This is hardly surprising either, as quinoa does contain many minerals, nutrients, and plant-based compounds.
On top of that, quinoa is a good source of fiber and protein, without containing too many calories. This combination of factors is why quinoa is often used as a weight loss food.
The seed is cooked and eaten in a similar way to rice – and can be enjoyed hot or cold. There are already countless recipes that take advantage of quinoa's nutritional profile, along with the nutty flavor and appealing texture of the seed.
Many Ancient Grains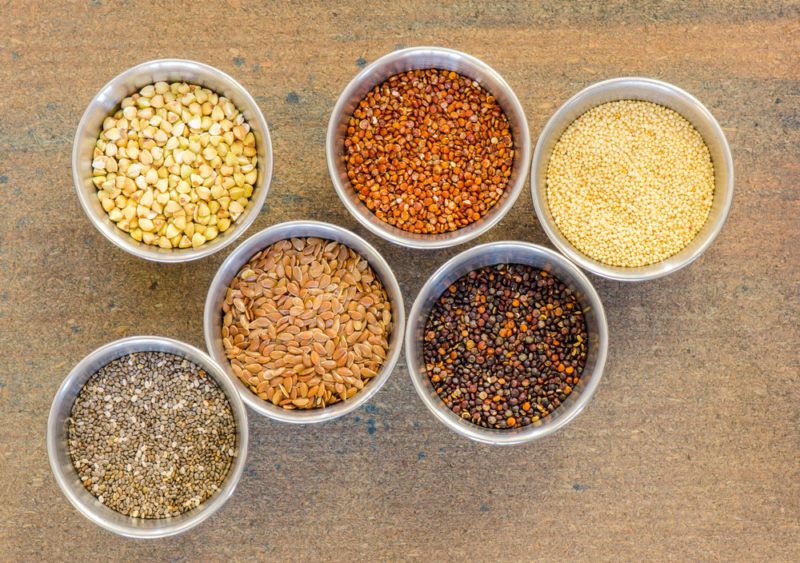 The term ancient grains refers to grains and pseudocereals that haven't been majorly changed through selective breeding. Instead, the grains are much the same as they were when our ancestors ate them.
Ancient grains are thought to be healthier and more nutritious than wheat and other modern grains. While it's debatable whether that claim is true, ancient grains do provide more variety in your diet, and each type has its own balance of nutrients.
Many of these grains offer decent amounts of fiber and protein. For example, a cooked cup of the gluten-free grain amaranth provides around 9.4 grams of protein. Likewise, just a quarter of a cup of uncooked farro provides 6 grams of protein.
You can experiment to find the grains that you enjoy the most. Some of them are easy to find, while you might need to find others online. You can learn more about the different types in our post on ancient grains.
Chickpeas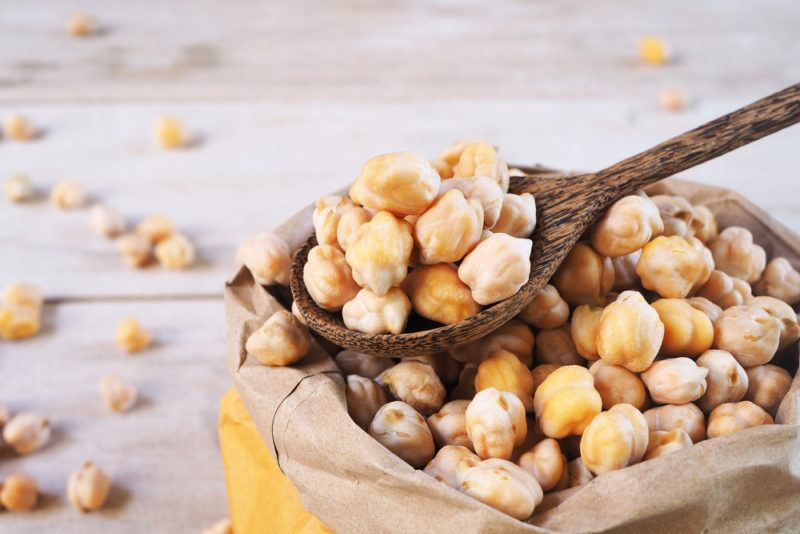 Chickpeas are considered a legume and have a long history of cultivation. They're not as popular as modern superfoods like quinoa, but in many ways they are just as powerful.
For one thing, chickpeas are nutritionally dense. They offer many nutrients in a small package. This includes various amino acids, protein, fiber, and minerals like iron.
Cooking or sprouting chickpeas increases the protein digestibility – and you'll often see cooked chickpeas used in recipes. They can even be cooked and then cooled down to create delicious cold salads on many occasions.
Insects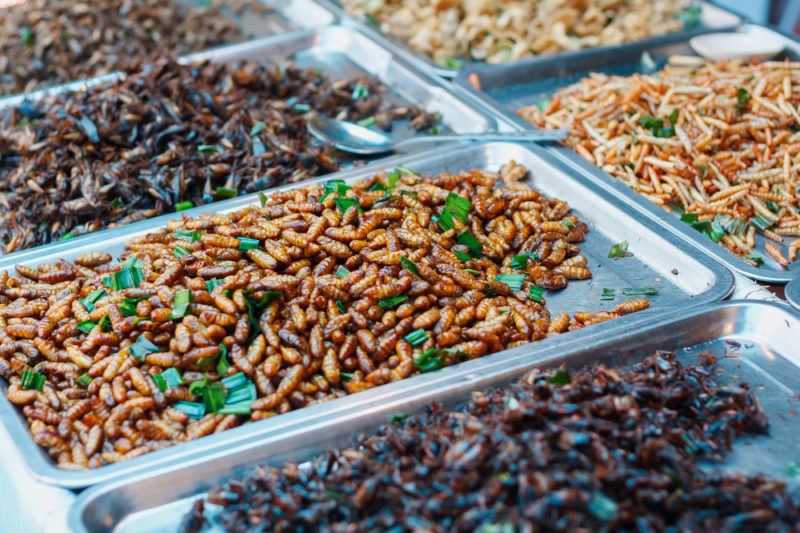 Insects are, surprisingly, a pretty good source of protein. While you're not getting a large amount of protein per insect, when you compare ounce-for-ounce, insects are as powerful as red meat as a source of protein.
In some senses, insects are even more nutritious than the meats we regularly enjoy, as you end up eating the entire insect, which includes exoskeleton, muscles, and organs.
While insects aren't a common menu item right now, they could be in the future. Some groups feel that eating insects is in our future as a species, as they are more environmentally friendly than cattle.
Besides, eating insects isn't as bad as you might think. The practice already occurs in many cultures throughout the world. And, once you get over that initial 'yuck' ideal, you may find that insects aren't all that different than other types of food.
Broccoli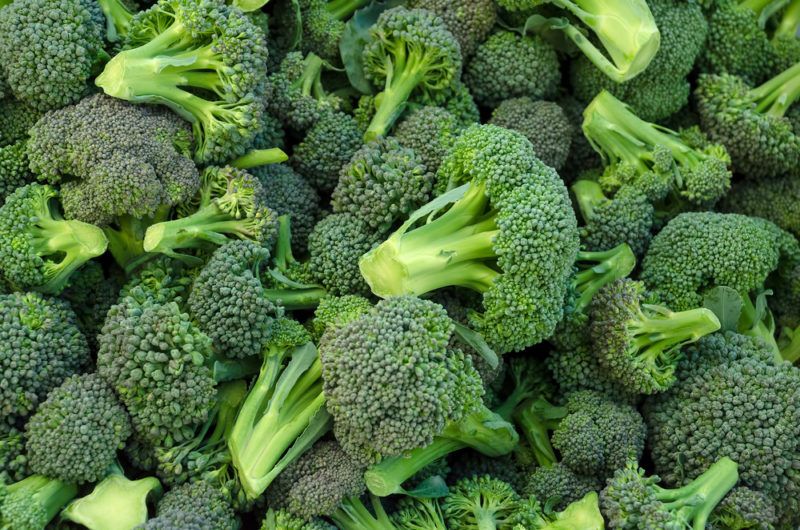 Broccoli isn't a good source of protein in the traditional sense. You're only getting around 2.6 grams of protein from a cup of raw broccoli.
But, broccoli is low in calories. This feature makes it easy to increase your protein intake, without consuming too many calories. Doing so may be essential if you're trying to lose weight.
Besides, as a cruciferous vegetable, broccoli provides many healthy nutrients. Some of these will be much less common in animal-based sources of protein.
Cauliflower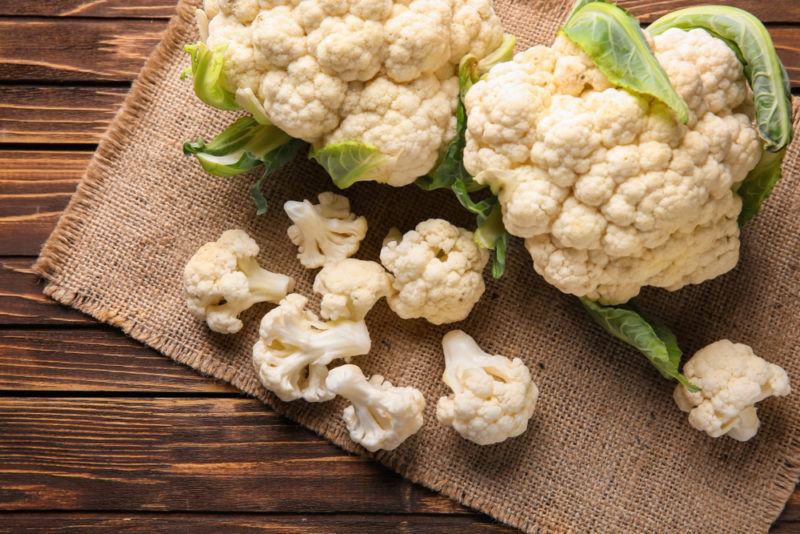 While cauliflower offers just 2 grams of protein per cup, it is another low calorie example. It is versatile too, which is a distinct advantage if you're trying to get more protein in your diet.
For example, low carb dieters often use cauliflower as an alternative to some carb-rich foods, like using riced cauliflower instead of rice. There are more creative examples too, such as bread and pizza crusts that rely on cauliflower, along with creating a cauliflower-based alternative to mashed potatoes.
Spirulina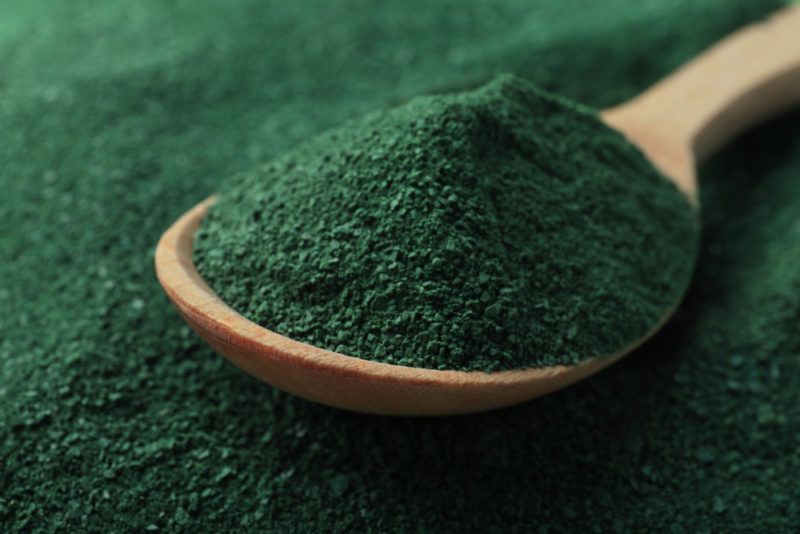 Spirulina is a type of kelp that has become popular as a superfood. It's an unusual source of protein, as you're not getting a large amount of it at any one time. Mostly, you'll just be including a tablespoon or two in a smoothie.
Even so, spirulina continues around 8 grams of protein in a serving size of 2 tablespoons. It's an easy supplement to use, so why not add a little protein to your diet with it?
The way that spirulina comes from the sea is an advantage too. The supplement offers a different balance of nutrients than you'll find with other superfoods. Spirulina is even a source of B vitamins, iron, and manganese.
Peas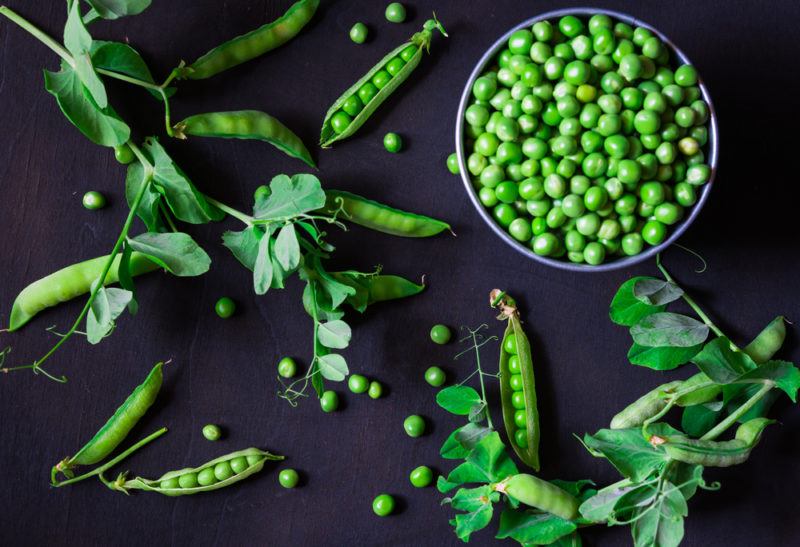 Peas might seem like a boring choice, but they are surprisingly good as a source of protein. In fact, many companies produce pea protein powder or plant-based protein powders that use pea protein as one ingredient.
You can get benefits by eating peas directly too. A cup of cooked peas gives you roughly 8 grams of protein. This is pretty good when you consider how easy it is to add peas into a meal or as a side dish.
You don't need to rely on fresh peas either. Canned and frozen peas still offer most of the same benefits. They're easier to use too.
Corn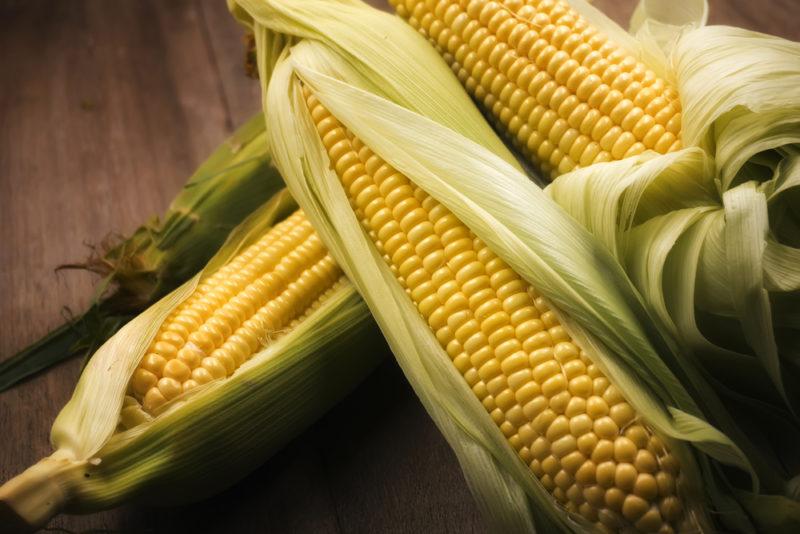 Corn mightn't be as high in protein as some of the other entries on this list. Still, you do get more than 15 grams of protein in a single cup of yellow corn
The yellow coloring should mean that there are some interesting phytonutrients present too.
Protein Powder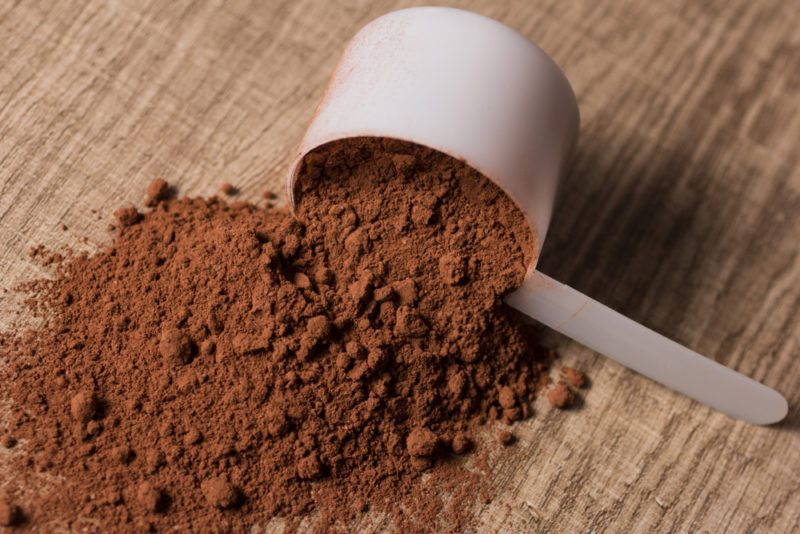 We can't talk about protein without mentioning protein powder. While this is a more processed source of protein, it is one of the easiest ways to increase your protein intake.
For that matter, some types of protein powder are almost pure protein, giving you more than 20 grams of protein in a single serving.
If you're looking at protein powder, the type of protein is the first thing to think about. Whey protein is one of the most popular choices. This is derived from milk, which makes it a complete source of protein.
There are also various plant-based protein sources to consider, such as pea, rice, hemp, and soy. These are considered incomplete protein sources, as they don't contain all the essential amino acids. Some plant-based protein powders get around the issue by using multiple sources of protein, which gives you a better balance of amino acids.
It's also worth considering the ingredients in your protein powder.
While some brands focus just on protein, many offer extra nutrients, or even caffeine, so that the protein powder can be used as a meal replacement. Powders like this can be appealing, but watch out for additives and fillers.
Finally, be sure to check the nutrient balance for any protein powder that you plan to use. Some companies focus on making their products taste as good as possible, which often means that the protein shake contains a lot of sugar and not much protein.