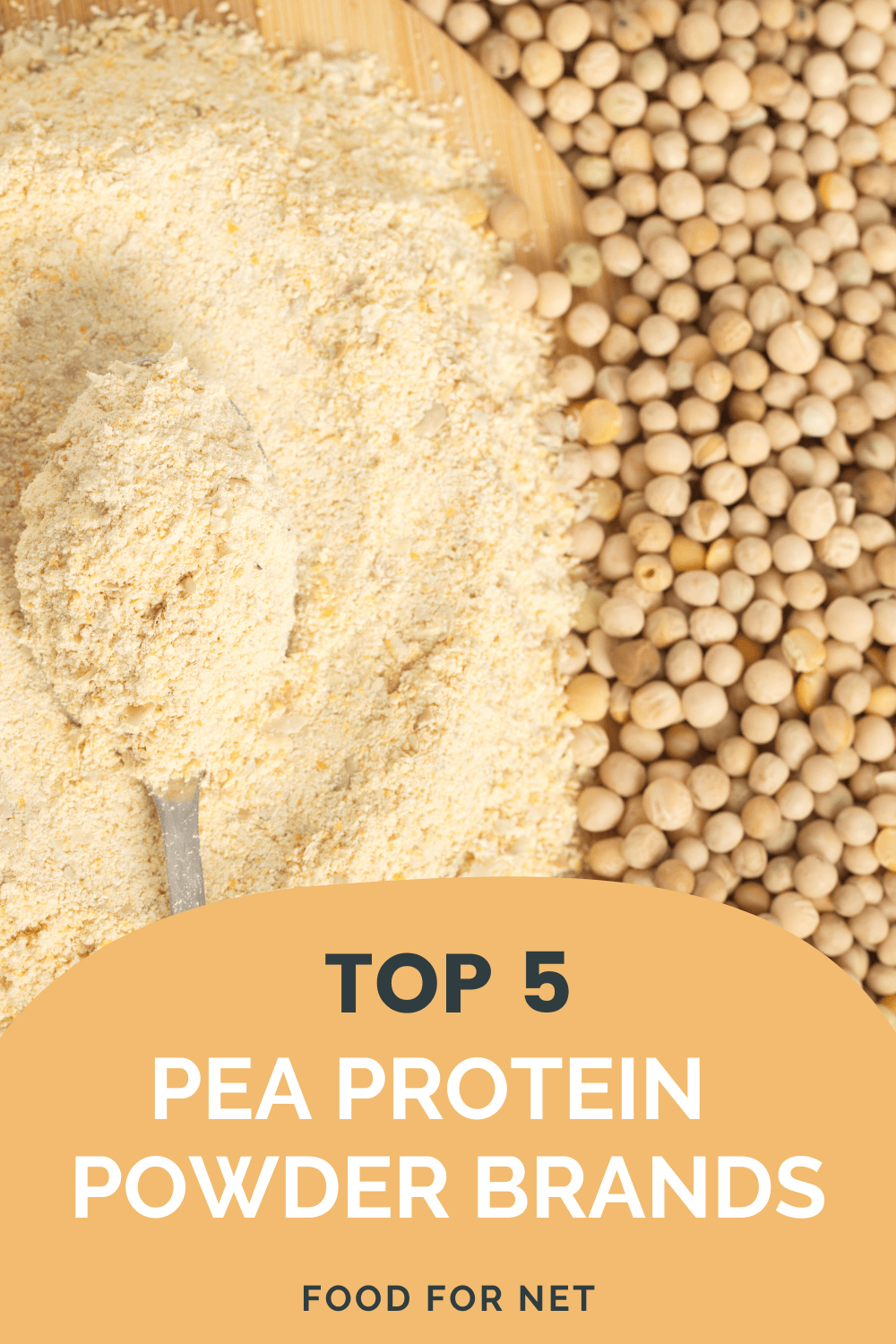 Pea protein powder is one of the cleanest and most popular types of plant-based protein. It's a good quality type of protein that makes a smooth and creamy powder when made well – much less chalky and gritty than other plant options. So, it's no surprise it's taken off as a great way to supplement protein on a plant-based and vegan diet, or the regular diet of anyone who wants to get a little healthier.
Pea protein is also a great source of iron and contains all nine essential amino acids that your body can't create on its own. These nine amino acids are not produced naturally and you must get them from food. It's crucial you ingest them regularly and a good pea protein is a fantastic way to ensure you get them every day.
Another benefit is that most pea protein contains only peas and no other ingredients. If there are special flavors available, you should look for ones that use ingredients like cacao, real vanilla, and perhaps natural flavors. When the list of ingredients is clean and minimal, it allows the protein powder to fit into many different diets. Other than vegan it can work with keto, paleo, gluten-free, soy-free, grain-free diets – and more.
The Best Pea Protein Powder Brands
1. Transparent Labs Organic Vegan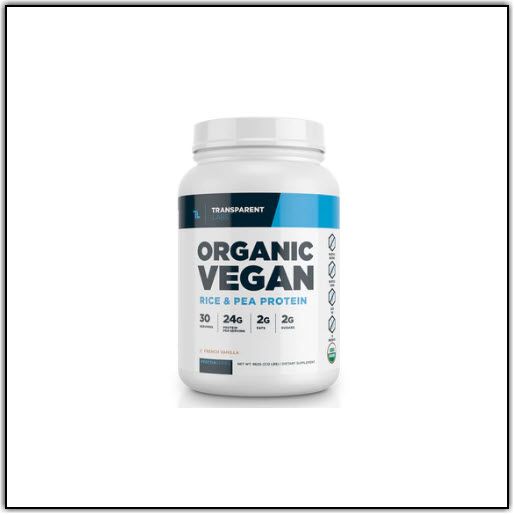 Transparent Labs Organic Vegan Protein Powder is made with a combination of rice and pea protein, both of which offer their own set of benefits and nutrients. Beyond this, the only other ingredients are cocoa powder, chocolate flavor, stevia, natural flavors, and Himalayan salt. It has 150 calories and offers four grams of fiber, plenty of iron, and an impressive 24 grams of protein.
The formula contains no artificial flavors, colors, sweeteners, or anything else. It's all-natural and the rice and pea combination gives you a smooth texture that's delicious, grit-free, and easy on the digestive system.
Transparent Labs makes a great pea protein but they also have plenty of other powerful and delicious products and supplements you can try such as protein bars, glutamine, BCAAs, creatine, mass gainers, carb powders, and so much more. They're the ultimate resource for those looking to get healthy, and especially those looking to get the most out of their workouts and get nice and fit.
2. Anthony's Premium Pea Protein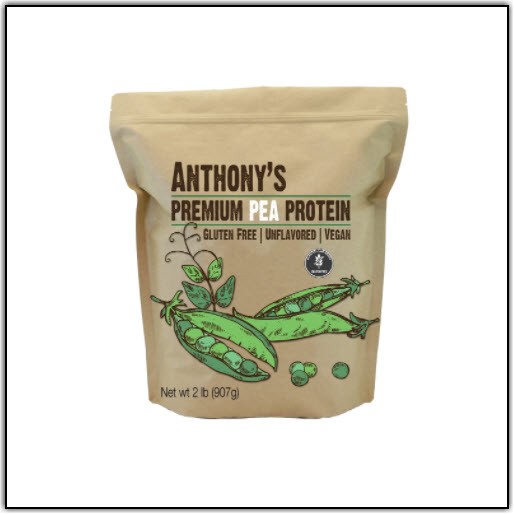 Anthony's Premium Pea Protein is verified gluten-free, batch tested, and completely plant-based. It's made in Canada and is completely unflavored and unsweetened. This makes it perfect for just about any shake or smoothie as it'll blend into whatever taste you've created with your other ingredients. Pea protein isolate is the one and only ingredient here.
One serving is about a tablespoon, so a little smaller than most scoops. It has 35 calories and eight grams of protein. If you're going for a protein-rich pre-workout shake, two tablespoons is probably a good idea.
Beyond protein shakes and smoothies, the smooth texture and neutral flavor of this protein make it ideal for many other things. You can use it in place of flour for baked goods, add it to yogurt, or even make your own protein bars!
Anthony's has an amazing collection of healthy products to pick from in addition to this protein powder, from other supplements and healthy snacks to beauty and personal care items.
3. Norcal Organic Pea Protein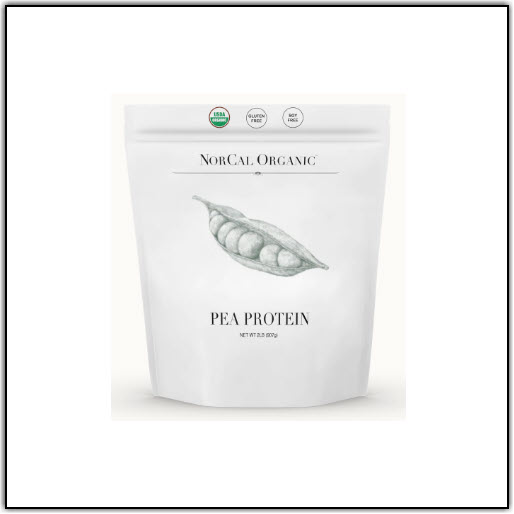 NorCal Organic Pea Protein is a clean, single-ingredient protein powder that is sourced exclusively from organic farms in Canada. It has no artificial additives of any kind, no sugar, and is fully vegan. It's also a very comprehensive protein, offering 22 grams of protein, 4.8 grams of BCAAs, and 2.18 grams of arginine per serving.
It's unflavored and 100 calories per serving, mixing well into smoothies or with any beverage of your choice. They also offer the independent lab test results right on the website if you're curious to look before buying. This level of transparency isn't found everywhere and it should tell you how confident they are in their product.
Other available products include marine collagen, fiber boosters, bone marrow capsules, and a few different types of protein powder such as peanut butter, hemp, and whey. All of their products are made with the same level of care and dedication to quality and clean ingredients.
4. Zen Principle Protein Powder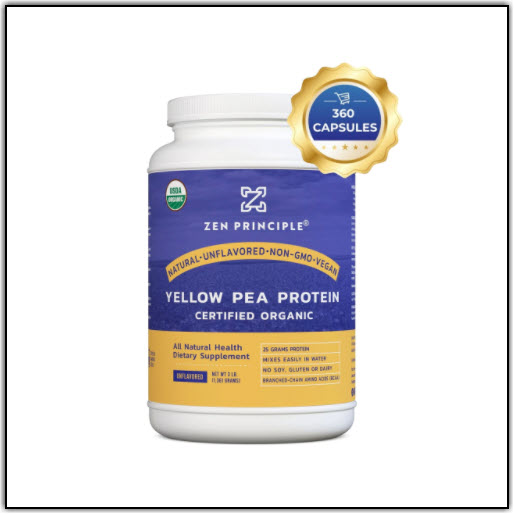 Zen Principle is a certified organic yellow pea protein powder with a clean formula made only from pea protein. The peas are harvested when they're at their peak ripeness before being carefully dried and processed at low temperatures. This produces the proper protein concentrate while preserving all their powerful nutrients.
The result is a light, smooth powder with a nice, mild, versatile flavor you can add to just about any shake, smoothie, or even baked goods! It also contains lots of BCAAs and iron as well as its impressive 25 grams of protein. The high protein content makes it particularly good for those who like to work out and hit the gym regularly.
This amazing pea protein is not the only thing Zen Principle has to offer – their selection of supplements and healthy products is extensive. They've got other types of protein as well as things like charcoal powder, moringa powder, collagen, and more. You can even sort their products by diet/lifestyle choice such as organic, vegan/vegetarian, paleo, gluten-free, and keto.
5. Now Sports Organic Pea Protein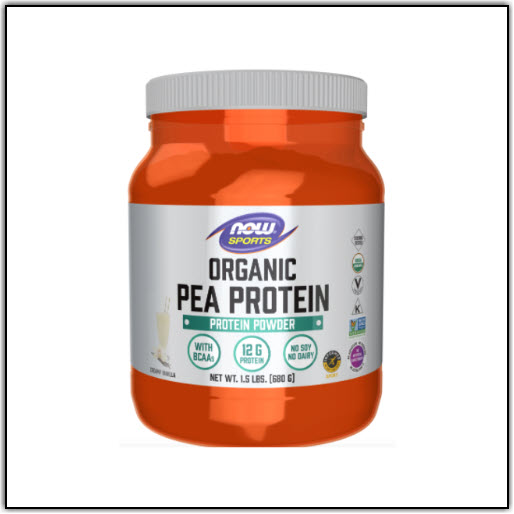 Now Sports Organic Pea Protein is clean, highly bioavailable, plant-based, offering a moderate 12 grams of protein and 80 calories per serving. It's also a good source of iron with a typical amino acid profile to help round out protein synthesis and muscle building.
The protein powder is sweetened with natural stevia and organic vanilla flavor and contains no common allergens such as yeast, wheat, gluten, soy, milk, eggs, fish, or even sesame ingredients. This makes it ideal for a diverse range of people on a variety of diets. It's perfect for those needing or wanting to be gluten-free, vegan, paleo, keto, etc.
While this protein powder would be a good source of protein and nutrition for anyone, it's designed to work best for those who like to work out, compete, run, etc regularly. It's even been certified by an organization called Informed Sport that certifies products for meeting the standards of use in sport, meaning there are no banned substances or anything you could get in trouble for.
Homemade Vegan Protein Bars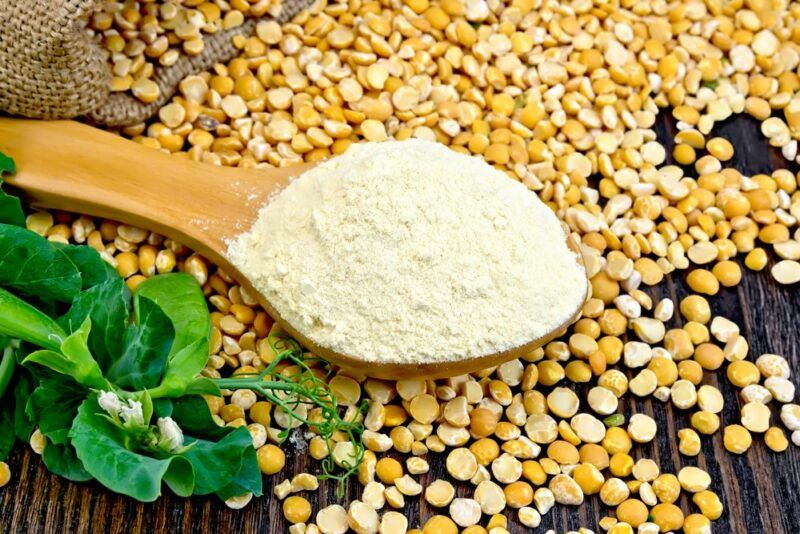 Protein bars are right up there with protein powder in terms of both popularity and convenience. Grabbing a bar for breakfast or taking it for lunch at school or work is a great option to have, especially if you've got a busy schedule.
There are plenty of protein bars out there to choose from, but even some of the highest protein options are filled with sugar. When you do find a clean bar, they're so often terrible expensive. The good news is that you can make your own relatively easily! The following recipes are great ones to try with the pea protein powder as they're vegan as well.
No-Bake Protein Bars
Protein bars themselves are convenient, but even more so when you don't even have to bake them! This recipe calls for a list of healthy, powerful superfoods that come together for not just a great taste but amazing fuel for your body. Cashews, dates, peanut butter, and chia seed are just a few. Chocolate chips and shredded coconut are recommended for topping, but they are optional.
The process is as simple as melting the chocolate and blending the rest of the ingredients together. The bars should be stored in the fridge to keep their shape. The posted recipe makes about 10 bars, which can last you a week or more, depending on how many you eat in a day!
Sweet and Simple
This recipe does need some baking time, but there are only four required ingredients, with chocolate drizzle optional! You'll need amaranth, vanilla, or unflavored protein powder, creamy nut butter of choice, and pure maple syrup. Not only is it a simple recipe but it's oh so sweet. Peanut butter and vanilla protein powder have a nice sweetness already, but adding maple syrup takes it to the next level.
Amaranth is ideal here but if you don't have it or can't find it, puffed brown rice cereal or most other popped grains can work as a substitute. The protein bars will last for a long time if you store them in the freezer, so don't be afraid to make plenty ahead of time and you'll be covered for as long as you need!
Each of these bars has about 215 calories, 10 grams of protein, and just over two grams of fiber. The amaranth/popped grains give these bars a unique crunchy texture that can be hard to achieve in a homemade recipe, so you're really in for a treat!