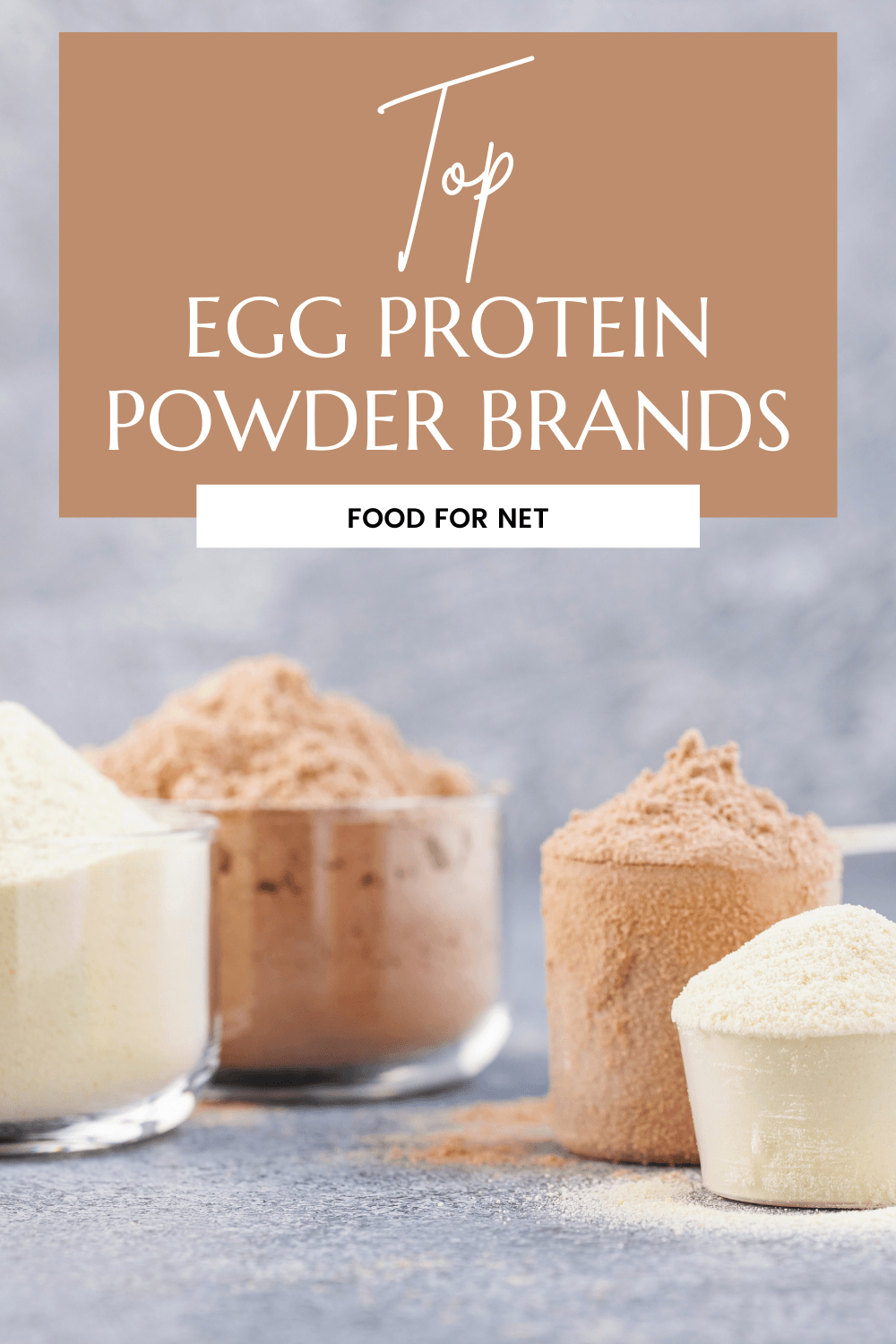 Eggs are not only a powerhouse of nutrition but they're high in protein and incredibly versatile. They're a weightlifter and bodybuilder staple. Whether scrambled, fried, or used for baking, they're an amazing source of protein and omegas. Some also eat them raw or add raw eggs to their smoothies. This is a great nutrition boost and also makes the smoothie super thick and creamy.
Seeing as eggs are so high in protein, it's no surprise that they make a good protein powder. This type of protein powder is, unfortunately, a little underrated. Whey protein is popular among athletes and gym-goers, casein is popular for slow-digesting nutrient boosts, and plant-based protein is geared towards vegans. But, egg protein powder has its own set of benefits.
In addition to being a healthy and quality source of protein, one of the best things about egg white protein powder is that it's absolutely ideal for baking. Eggs themselves are included in many baked goods recipes because they help these things turn out really well. Egg protein powder is essentially just powdered egg whites, so it will naturally perform well in the oven.
The Best Egg Protein Powder Brands
1. Now Foods Egg White Protein Powder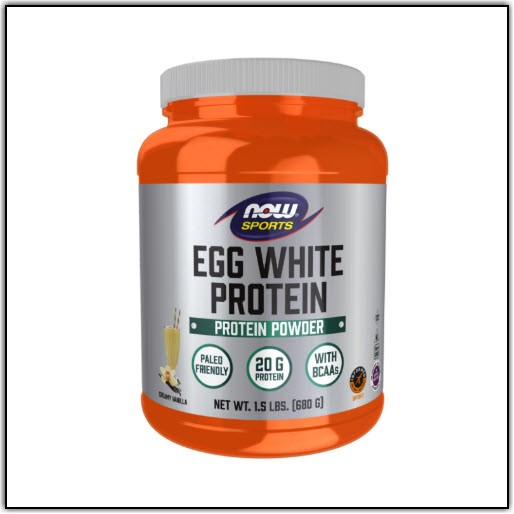 Now Foods Egg White Protein Powder is a fantastic source of premium quality protein, as proven by its high PDCAAS rating. This stands for Protein Digestibility Corrected Amino Acids Score which is a highly accurate measurement of the quality of a protein. This egg white protein rates as one of the highest quality products available according to this score.
To make it even better, this egg white protein is pasteurized, meaning the avidin glycoprotein is inactivated and biotin fortification is not necessary. The protein is halal, keto, paleo, and kosher friendly. It's also non-GMO, soy-free, sugar-free, gluten-free, and dairy-free.
Each serving contains no fat, only three grams of carbs, 20 grams of protein, and only 100 calories. It also has a good mix of essential amino acids and branched-chain amino acids.
The only other ingredients here are stevia, xylitol, stevia leaf extract, and a tiny amount of sunflower lecithin. It's a sweet, natural, healthy source of premium protein.
2. Naked Egg White Protein Powder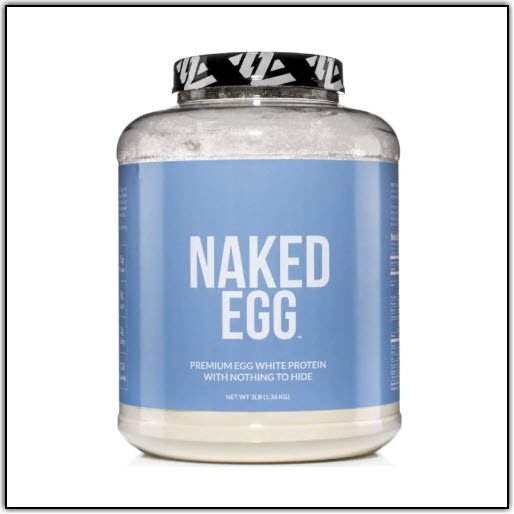 Naked Egg White Protein Powder is one of many amazing, top-notch products offered by the Naked brand. Their egg white protein is made with farm-fresh non-GMO eggs that are processed into a powder in under one day. This ensures that the powder retains a complete amino acid profile to fully support the development of lean muscle mass.
The formula contains no artificial sweeteners or additives of any kind. It offers 25 grams of protein, no sugar, no fat, and only two grams of carbs, making it perfect for a keto diet, among others. It has 110 calories per serving and a small amount of calcium, iron, and potassium as well.
This egg white protein is also completely dairy-free and gentle on the stomach. It's good for those who are lactose intolerant and can't properly digest whey or casein. The complete nature of egg white protein also means that it's ideal for supporting lean muscle development and is ideal for those looking to tone up and become stronger.
3. MRM Egg White Powder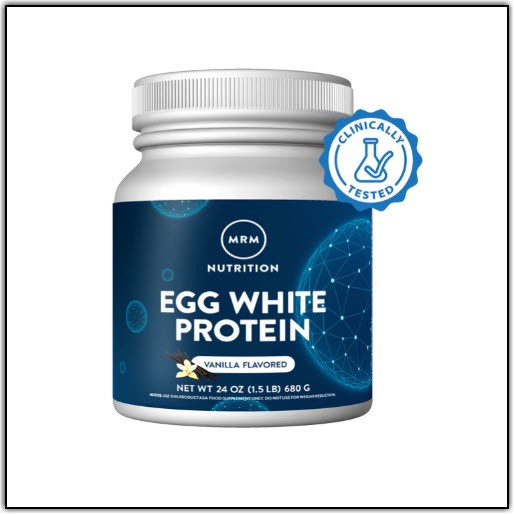 MRM Egg White Protein Powder is ideal for maintaining healthy muscle mass. It's a versatile supplement that works for many people with its digestive enzymes and fat-free formula. It offers 23 grams of protein per serving with no added sugar and five grams of carbs. There are 120 calories per serving and a solid amount of niacin. It also contains 7.7 grams of BCAAs which is two grams more than your standard serving of protein powder.
One serving of this supplement is equivalent to six egg whites. Because it has no carbs or fat it's a great way to maintain your protein requirements without worrying about overloading on other macronutrients.
Its gentle formula is also good for those with sensitive stomachs and many find that it causes no bloating where other products have caused a significant amount. Other than eggs, the only ingredients you'll find are natural things like monk fruit and stevia leaf along with the enzyme blend.
4. Judee's Egg White Protein Powder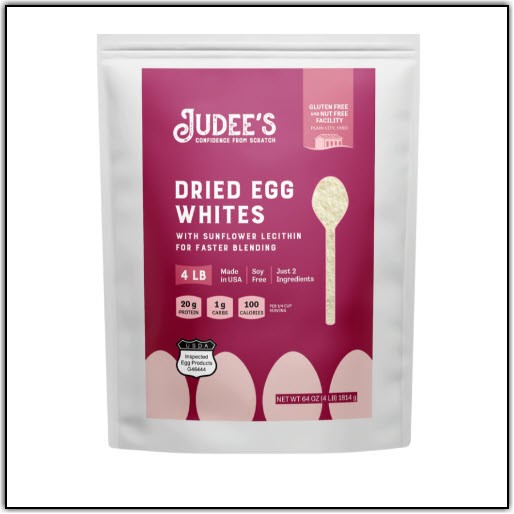 Judee's Egg White Protein Powder is a superior formula that mixes instantly in water as well as your protein shakes and smoothies. In addition to egg whites, the only other ingredient here is a small amount of sunflower lecithin for faster and easier blending. Nothing is worse than a protein with great ingredients that doesn't mix well and tastes chalky and gross. You won't find that with this carefully crafted powder.
Each serving has 20 grams of protein, no fat, no sugar, and less than one gram of carbs. There are only 100 calories per serving and a small amount of calcium.
While it's nice and easy to stir and blend, it's also great for baking. This is not only because it's made from eggs but because the powder is so mixable and is high quality. It'll fit right into your recipes and bake up so well that you'll never know the difference. It doesn't even have a strong flavor of its own so it won't overtake the taste of whatever you're baking. Lastly, the protein is made in the USA in a gluten-free facility. It's packaged in a stand-up, resealable pouch to ensure maximum long-term freshness.
5. Universal Nutrition Egg Pro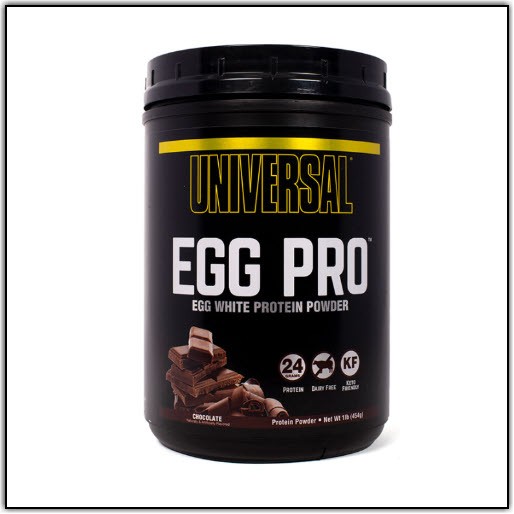 Universal Nutrition Egg Pro is a top-quality egg protein powder designed especially for athletes who want a clean, dairy-free, easily digestible protein to help with muscle gain, recovery, and maintenance. The powder is instantized and mixes incredibly well while offering a premium, enjoyable taste that's perfect for any shake either before or after a workout.
It offers 24 grams of protein, one gram of fiber, three grams of carbs, and no sugar or fat in each serving. There are 110 calories and a small amount of iron and calcium in each serving as well.
Available flavors are chocolate and vanilla – both classic and both versatile. The chocolate is perfect for satisfying the cravings of a sweet tooth, while vanilla is good for almost all smoothie recipes and can replace eggs in many baked goods as well!
Baking With Egg White Powder

There are many benefits to using an egg white protein powder, including a clean formula and a complete protein profile. Another amazing benefit, though, is its versatility in the kitchen. Most protein powders, including popular forms like whey and casein, can be used as a replacement for flour to add protein to baked goods.
Egg white protein powder, though, can also be used to replace eggs or egg whites! Because the powder is made directly from eggs, the powder reacts similarly when met with heat. It's perfect for times when you're out of eggs or would prefer the more minimal profile of the powder.
Try one of these egg white protein powder recipes and see the results for yourself:
Easy Cocoa Protein Bars
This simple recipe has a sweet chocolate flavor, soft consistency, and packs an impressive protein punch. The cacao version calls for sunflower seed butter, but you could use peanut butter instead to add a little diversity to the flavor.
Other ingredients include goji berries, cacao powder, coconut flour, and of course your choice of egg white protein powder. The process is simple too, all you must do is blend everything together and mold it into a container of your choice. Then, stick the bars in the fridge until you're ready to eat them – no baking is actually required.
Chocolate Protein Bread
This recipe is a fun, sweet treat that comes with plenty of nutrients. It bakes up like a loaf of bread but it has the taste and consistency of cake, so you could even use this for a celebration or birthday!
The ingredients are interesting, calling for goji berries, coconut milk, coconut flour, protein powder, and beets! The beets must be cooked so you'll have to steam or boil them until they're soft.
Once the beets are ready, you'll need to mix everything using either a handheld blender or a food processor. Once done they require about 40 minutes in the oven, or until your knife comes out clean when you insert it into the bread.
It's a simple process that when done correctly gives you a soft, sweet, delicious, and chocolatey treat. It's great for a healthy little snack or for serving at a party! Add some healthy, homemade frosting to the top to finish it off as a nutritious birthday cake. It's so yummy no one will even be able to tell the difference!
Related Content