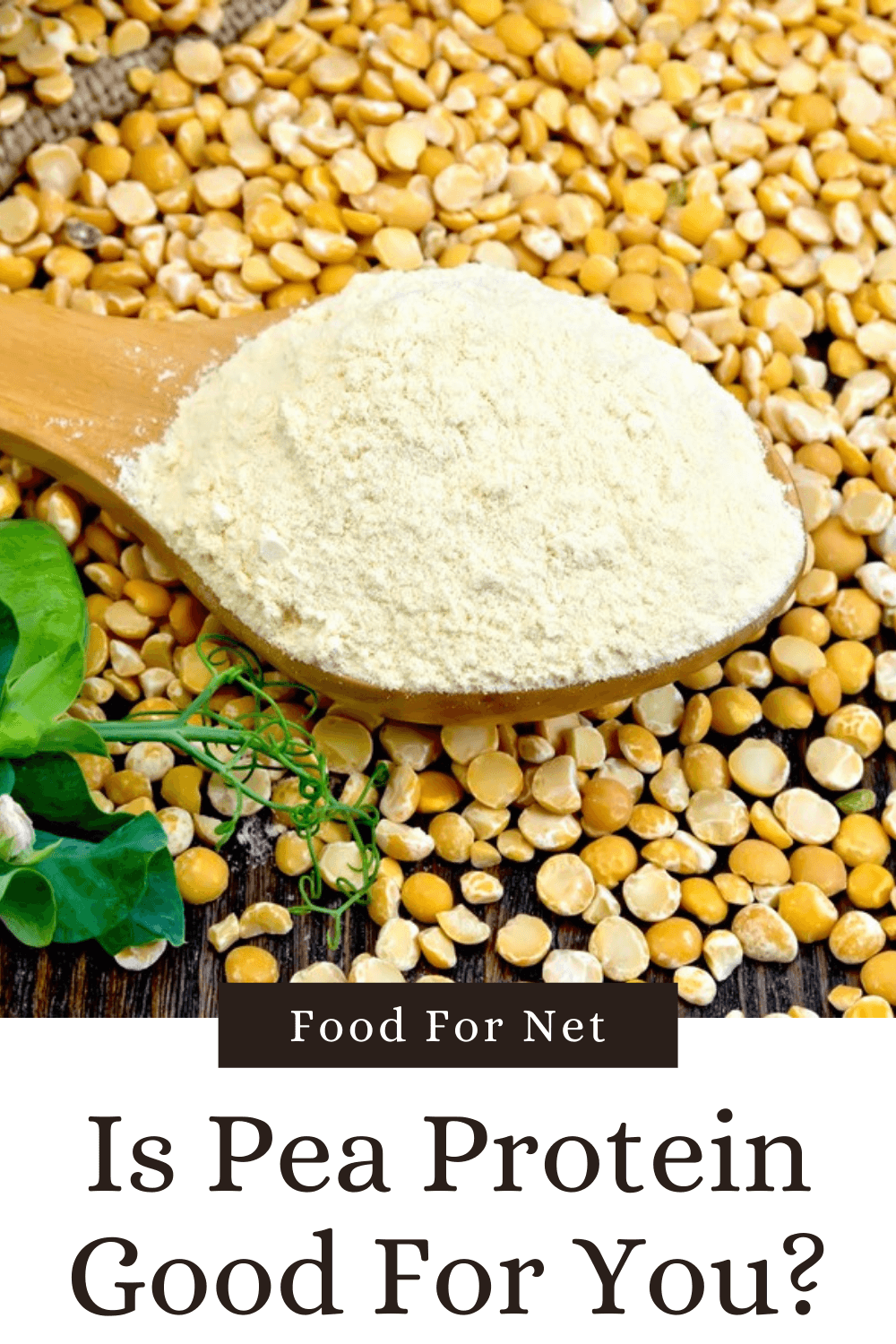 With all the concern about the dairy industry and eating meat, Americans are increasingly turning to plant-based sources of protein instead. Pea protein is one of the leading types, as it offers a decent amount of protein per serving and is relatively inexpensive. Pretty perfect, right? So Is pea protein good for you?
Pea protein powder is often used to make protein shakes and smoothies, although that's just the beginning. You can also use it as an ingredient to create things like protein bars and protein pancakes. Honestly, the options are endless.
There's no doubt that pea protein is practical, but what does it mean for your health? Is pea protein good for you or is it a poor choice? To answer that, we need to talk a little about protein itself and also about pea protein specifically.
Before we do that, however, let's clear up one source of confusion. The pea protein we're talking about here isn't made from the regular green peas that you have for dinner. Instead, the protein comes from split peas. This feature changes the nutritional properties slightly but isn't really a big deal.
Is Pea Protein Good For You?
Types Of Pea Protein
Benefits Of Pea Protein Powder
Risks Of Pea Protein Powder
Is Pea Protein A Complete Source Of Protein?
Does Pea Protein Contain Antinutrients?
Should You Use Pea Protein Powder?
Pea Protein Versus Whey Protein
Pea Protein Versus Soy Protein
Final Thoughts
Types Of Pea Protein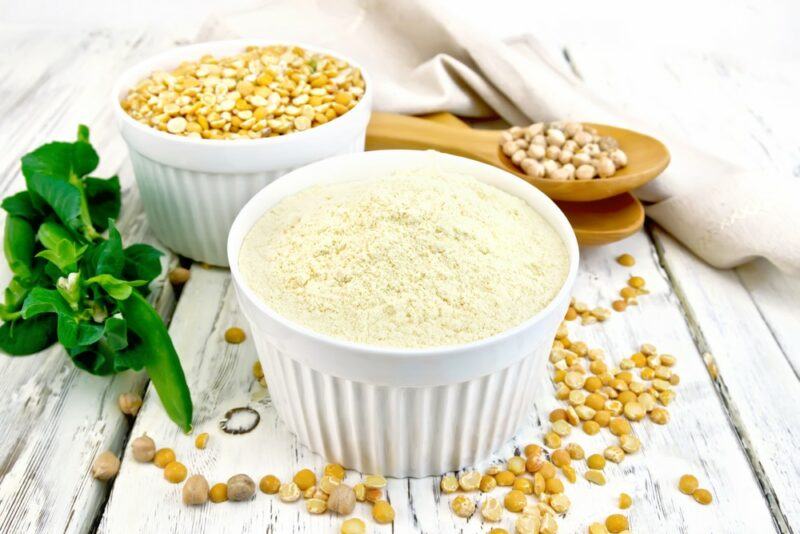 Most protein powders, including pea, use either isolate or concentrate versions.
Pea concentrate tends to be lower in protein and less processed. It's also often higher in nutrients, fat, or carbs. This is helpful if you want a meal replacement rather than a pure source of protein.
The isolate version is more heavily processed. It gives you little beyond the protein. This is the version you'll want on a keto diet or when you're maximizing your protein intake.
The main drawback is that pea protein isolate costs more than pea protein concentrate. Whether this matters will depend on your budget.
Benefits Of Pea Protein Powder
It's A Practical Plant-Based Source Of Protein
Getting enough protein on a plant-based diet gets a little tricky sometimes. It's not that your options are limited. On the contrary, there are countless sources of plant-based protein to choose from.
The problem is that many of the protein sources require some work before you can use them. Beans are a classic example. It's best to soak and then cook them before you eat them. Both processes take quite some time.
Lentils soak and cook faster, but you still need to find a meal to use them in.
Protein powder is much simpler. You just mix it into your water or some plant-based milk. This gives you a delicious protein shake. Blend in some other ingredients too, like frozen fruit, and voila, you have a protein shake.
Make Help With Weight Loss
Protein powder is famous as a weight loss tool. It has this effect because protein itself is filling. This is why a high protein meal keeps you satisfied much longer than one that is high in carbs instead.
Eating filling foods is one of the easiest ways to lose weight, as your desire for other foods is reduced. You may decrease your calorie intake without even realizing it.
Any healthy protein rich food will have this effect, but protein powder is special because you can use it to make protein shakes.
Many people drink protein shakes instead of a meal (often instead of breakfast). This is perfect for losing weight, as the protein shake should always contain fewer calories than a full meal. Or, perhaps you'll have a small protein shake to keep you going between one meal and the next.
Can Help With Muscle Development
Pea protein is often seen as inferior to whey for muscle development. This may not actually be the case at all.
Besides, even if pea protein isn't quite as good, it is still a source of essential amino acids, including branched chain amino acids (BCAAs). These BCAAs are the most relevant amino acids for muscle development. That's why they feature so heavily in weight loss supplements.
The benefits of protein powder are most noticeable when you're using the protein within a 2-hour window of your exercise. Research confirms this effect too, showing that a combination of pea protein and resistance exercise can help with muscle strength and building muscle.
Causes Few Side Effects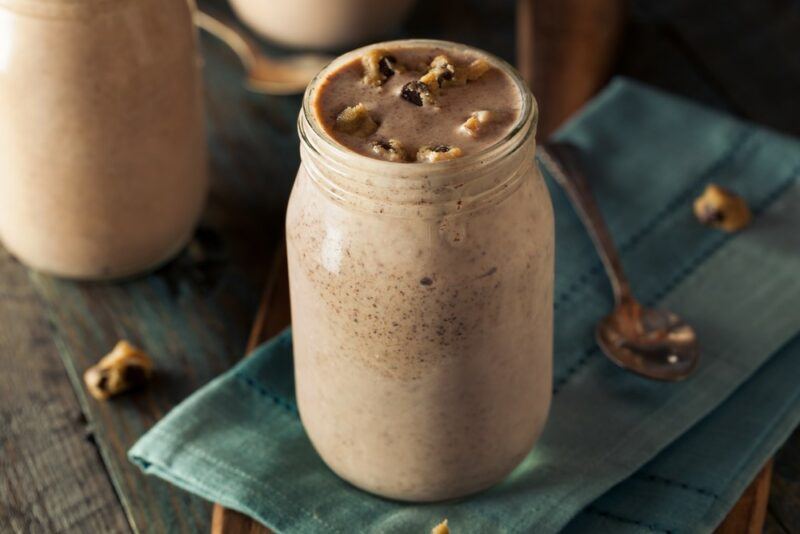 While side effects are always possible with protein powder, pea protein causes fewer problems than most.
This is partly because the powder doesn't contain common allergens, making it a safe choice for most people. The antinutrient content is low as well.
Also, most versions of the powder are high in protein and low in fiber. This reduces the risk of any fiber related side effects. There are plenty of other places for you to find fiber anyway.
It's Keto-Friendly And Plant-Based
Keto dieters focus on keeping their carb intake low, sometimes less than 20 net grams of carbs per day. Doing this typically means focusing heavily on animal-based foods.
Most keto-friendly protein powders follow this pattern too, with whey, egg, and casein powders being the most popular. Plant-based powders are trickier, as they're often high in carbs. Pea protein is the exception to this rule.
This is particularly true for pea protein isolate, which may only include a single gram of carbs per serving. However, you'll need to choose your product carefully, as some companies add sugar to make the protein powder taste better. Any added sugar increases the carb content and might stop the protein powder from being keto friendly.
Fits Onto Most Diets
Pea protein is fantastic because it can be included on most diets, especially as it is easy to digest and isn't a common allergen. Just about anyone can use the powder regularly.
There are two exceptions.
First, while pea allergies are rare, they do exist. If you have such an allergy, pea protein isn't a good choice.
Second, paleo dieters often avoid pea protein powder, as peas are a legume. However, this is an area of contention, as paleo dieters avoid legumes because of the antinutrient content and pea protein powder doesn't actually contain those antinutrients.
As a result, some paleo dieters choose to use pea protein. Others avoid pea protein on principle.
Risks Of Pea Protein Powder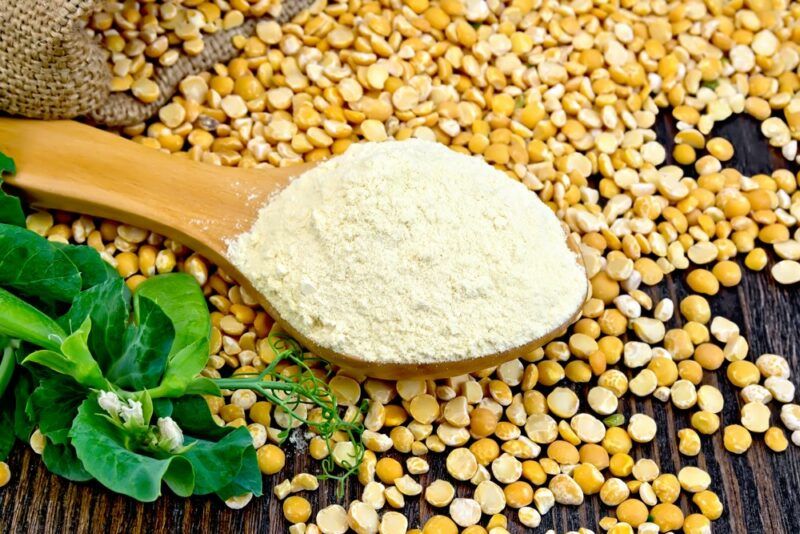 Often High In Sodium
Pea protein powder is often surprisingly high in sodium, sometimes giving you more than 200 mg of sodium per serving. This issue can be even worse for products made with pea protein, such as protein bars.
The issue here is significant. Consuming too much sodium can lead to many health problems, especially as it raises your risk for heart disease and increases blood pressure. Sodium also plays a key role in fluid balance, so high sodium levels can lead to fluid retention.
The sodium mightn't be a big deal if you just have pea protein every so often. But, if you're relying on it daily, you might overdo it with sodium. There are plenty of other types of low sodium protein powder to choose from, if your sodium intake is an issue.
There May Be Additives
The best pea protein products rely on pea protein and little else. However, not every company follows this pattern. Many of them use fillers and preservatives to help with the texture and shelf life of their product. Doing so also helps the pea protein to blend better with water or plant-based milk.
Some also tweak the flavor. This could involve adding natural flavors and perhaps sugar, so that anything you make with the protein powder tastes better.
While these additives may improve the taste of the pea protein, they're not ideal. The problem is that we don't fully know how additives influence our long-term health. There are simply too many of them and any health effects will probably be subtle and cumulative.
Being cautious is the safest approach. This includes avoiding additives whenever possible. So, with pea protein, look for brands that use just pea protein isolate, rather than a host of other ingredients.
Doing so gives you unflavored pea protein, which is a little boring. Don't worry though, you can easily mix in other ingredients to make the protein powder taste better. Unflavored protein powder is also exceptional in smoothies, as it won't compete with the flavors of other ingredients.
You Don't Know Exactly What You're Getting
Fresh food is easy when it comes to quality. You often just need to look at it or smell it to know whether it's high quality or not. As products get more processed, it becomes increasingly difficult to work out when there's anything to be worried about.
This issue is huge for supplements and protein powder. Not only is it difficult to know when there's a problem, but problems are also surprisingly common.
For example, some pea protein products have tested positive for low levels of glyphosate residue. Whether this is an issue or not is debatable, especially as the levels are well within safe limits. Still… this is just one potential type of contamination. Lead is another issue, along with residues from other herbicides.
Even if contamination is minor, the effects could still add up. You may be at greater risk still if you also rely on other processed ingredients regularly or use protein powder every day.
The best way around the issue is to look for products that have been tested by a third party. Sites like The Detox Project and Consumer Reports sometimes release lists that highlight the results of lab tests. Some protein powder manufacturers also have their products tested by a third party and publicize their results to put your mind at ease.
It Doesn't Have A Great Texture
Pea protein is gritty, more so than most other protein powders. It doesn't dissolve well in water, which sucks if you want a basic protein shake.
If you struggle with the texture, try using the protein powder in baking instead. Protein smoothies work well too, as these have a thicker texture that masks the protein powder almost entirely.
Is Pea Protein A Complete Source Of Protein?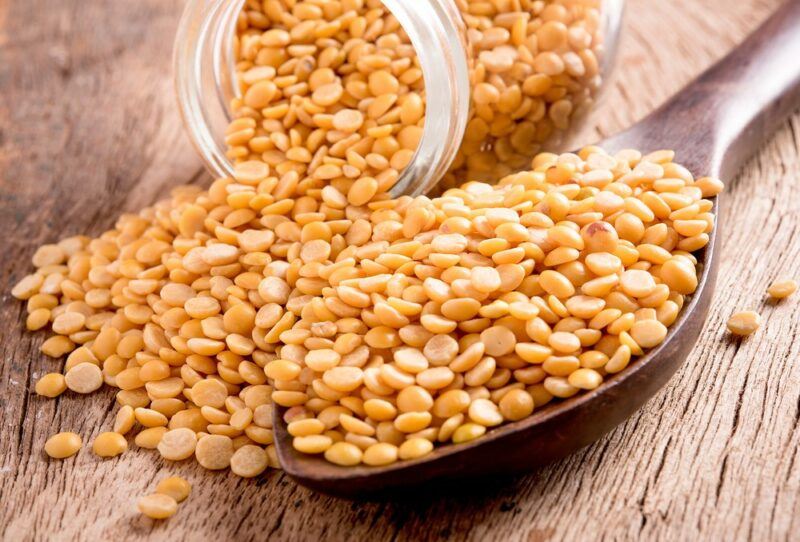 Complete sources of protein are those that contain all 9 essential amino acids. Animal-based sources of protein tend to be complete, but plant-based ones are much more hit and miss.
Whether pea protein is complete or not depends on your definition. On the one hand, yes, pea protein is complete as you're getting some of all 9 amino acids.
However, the amounts of methionine and cysteine are pretty low. You only get around 11 milligrams of these amino acids per gram of pea protein, while the ideal is 25 mg/g.
Does this matter?
Perhaps not. A complete protein just means you're getting all the amino acids you need from a single source. But, you're eating plenty of different types of protein throughout the day. Even if none of these are 'complete', you're still likely to get all the amino acids that you need.
Does Pea Protein Contain Antinutrients?
Legumes contain a class of compounds that we call antinutrients. These include lectins, saponins, and tannins, along with others.
Antinutrients act like their name suggests, in that they decrease the absorption of some nutrients. There's the potential for other effects too, such as impacting how well the protein can be digested, changing glucose uptake, and increasing inflammation.
Not surprisingly, antinutrients are highly controversial.
Experts generally suggest that the benefits of legumes easily outweigh the risks, as you're getting plenty of protein, nutrients, and antioxidants. Plus, any decrease in nutrient absorption shouldn't be a big deal if your diet is rich in nutrients.
As legumes, split peas do contain some antinutrients. However, most of these antinutrients are lost during the processing steps. Pea protein isolate actually ends up being almost entirely free from antinutrients.
Should You Use Pea Protein Powder?
Pea protein has many more benefits than risks, so it may seem like a perfect addition to your diet. However, there's one more thing to think about – do you need it?
Let's be realistic. Most of us aren't actually deficient in protein. We're getting plenty of it from our diets. You have fewer options on a plant-based diet, as meat, eggs, and milk are off the table. But, even so, there's no shortage of vegan sources of protein.
Does more protein help?
In many cases, no, it probably doesn't. Think of it this way. Protein provides you with amino acids. These are the basic building blocks for making countless proteins throughout our body, like collagen and biotin. If we already have enough of these building blocks, adding more won't change anything.
Extra protein may be helpful if you're trying to build muscle or are recovering from an illness. In those situations, your body needs extra protein to build muscle and repair itself.
Protein is relevant for weight loss too, as it helps to keep you satisfied. This effect makes it easier to stick to a diet and can help to lower your calorie intake over time.
So then, if you're recovering from an illness, are trying to build muscle, or want to lose weight, pea protein could be helpful. If this isn't the case, then pea protein mightn't do much for you at all.
Pea Protein Versus Whey Protein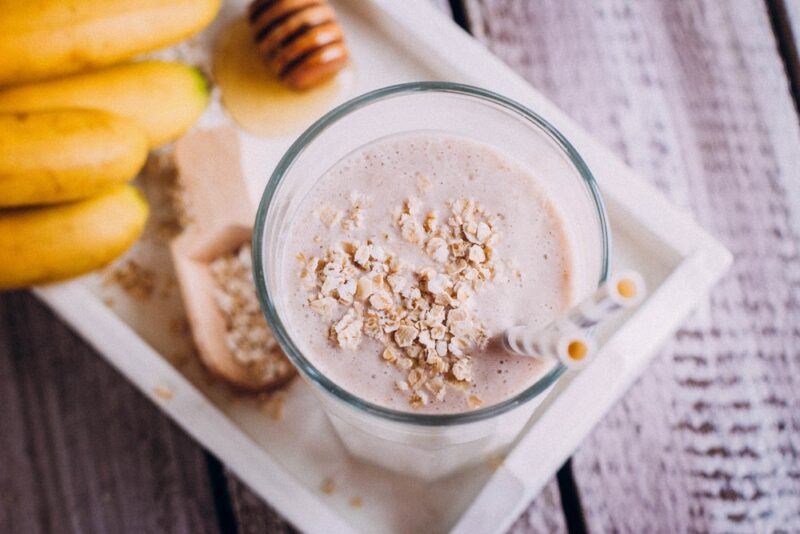 Whey is often promoted as the go-to source of protein, particularly for workouts, as it easily digestible and rich in branched chain amino acids. Studies also consistently show that it helps with muscle building and workout recovery, partly because it is rapidly digested.
The biggest problem is that whey comes from milk, so it isn't suitable for everyone.
Pea protein is digested more slowly than whey. This may make it less powerful as a workout supplement. Even so, research suggests that whey and pea protein have similar effects on muscle development and body composition, implying that athletes could rely on either type.
Plus, pea protein is often less processed than whey protein and is much less likely to cause allergic reactions. It's vegan-friendly as well and lactose-free. As such, the protein works for a much broader audience than whey protein.
Pea Protein Versus Soy Protein
Soy protein is another important point of comparison. Pea protein and soy protein are both popular plant-based protein options. They both contain a similar balance of amino acids, including plenty of branched chain amino acids.
Soy is more controversial, as it contains compounds called isoflavones. These act a little like estrogen in some contexts. They can provide health benefits but could also cause harm.
The isoflavones are one reason that some people avoid soy entirely. Thankfully, most of the isoflavones are lost during the processing steps, making that issue largely irrelevant for soy protein powder.
In the end, there are two notable differences between the protein types. First, pea protein is hypoallergenic, while soy protein can cause allergic reactions in some people. Second, soy protein retains more antinutrients after processing than soy protein does.
Such differences make pea protein the better choice. Honestly though, the differences aren't dramatic, so you can run with whichever type you prefer.
Final Thoughts
If you're looking for something plant-based, then pea protein is a decent choice. It's a rich source of amino acids, shouldn't cause allergic reactions, and is easily digestible. It might even be just as effective as whey protein for muscle development and weight loss. Still, it's important to remember that protein will only help when you need it. If you're getting plenty of protein in your diet and aren't skipping meals, then pea protein mightn't offer any benefits.
Frequently Asked Questions
Is Pea Protein Low FODMAP?
Pea protein is an excellent low FODMAP choice, especially if you stick with a serving of two tablespoons or less. That said, the FODMAP levels do appear to vary from product to product, so you may need to experiment and see which brands feel okay and which ones don't.
Does Pea Protein Cause Gas?
Peas themselves often cause gas as a side effect. However, this isn't the case for pea protein powder, as it is a protein isolate. This means that it's very low in fiber and is much easier to digest.
That said, some people do still experience gas from pea protein. The effect is much less common than gas from peas, but can still happen if you're very sensitive.
Does Pea Protein Have Estrogen?
Peas don't contain estrogen, as estrogen is a hormone that our bodies produce (and isn't found in plants). However, it does contain phytoestrogens. These compounds can mimic some of the effects of estrogen, although they have also been associated with health benefits.
Pea protein isn't anything to worry about though, as the phytoestrogen content is fairly low. Because of this, pea protein isn't likely to impact your hormones much at all.
What Does Pea Protein Taste Like?
Pea protein sometimes has a grassy and bean-like flavor, along with a distinct bitter aftertaste. However, the flavor profile varies from product to product. Some have a much milder flavor and blend more easily with other ingredients.
If you find the flavor difficult, you could easily blend the protein with more strongly flavored ingredients, like chocolate or even coffee.
Is Pea Protein Keto?
Pea protein can work well on keto, as is very low in carbs. It's low in fat too, but this isn't such a big deal, as you can easily pair it with high fat foods or ingredients.