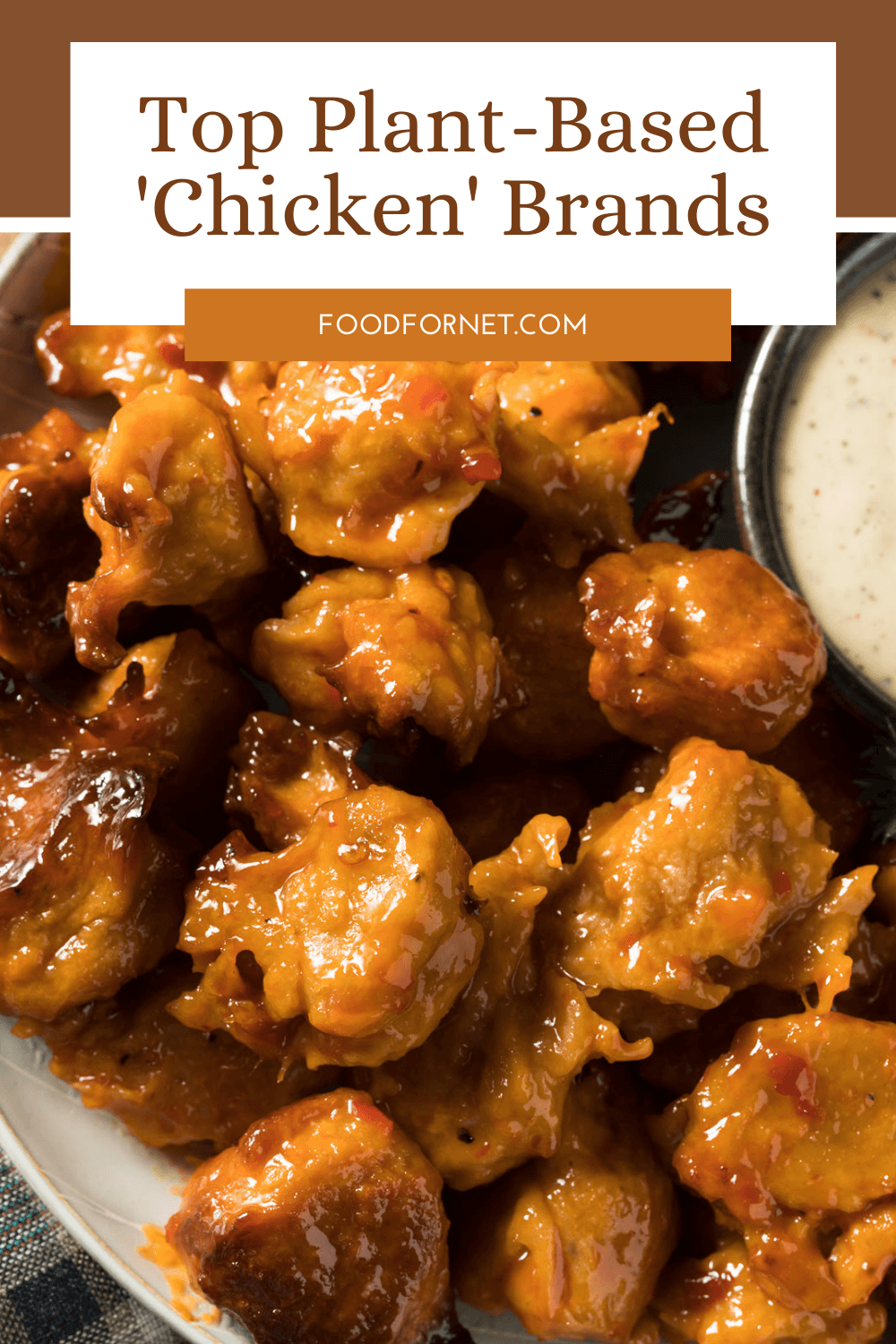 Chicken is among the most popular types of meat to eat and is often touted as some of the healthiest, as well. It is very lean meat and it's packed with other nutrients, making it a main player in many body-building and athletic diets. However, despite the potential health benefits, the industry as a whole is quite precarious and more often than not, the chicken you buy is tainted in many ways.
First of all, many commercial farms feed their animals modified and unnatural diets to help them grow faster, grow bigger, or whathaveyou. This includes things like antibiotics that then translate to poor quality and even dangerous meat. Unfortunately, these things aren't well-regulated and many unhealthy things are actually allowed, so if want to eat truly healthy chicken, you have to do lots of research on the source and you'll likely need to find something small and local.
The other issue is the treatment of the animals themselves. They're often given inadequate space to live and some don't even see the light of day once in their lives. They aren't paid attention to and they don't receive care if they are sick or injured. This isn't true for every single farm of course, but these are two of the main reasons vegetarians and vegans choose to give up meat, but that also means giving up chicken wraps, chicken wings, chicken sandwiches, chicken soup… that is, unless you use plant-based alternatives, including plant-based chicken!
Using the power of plants and nature, plenty of companies have recreated the taste, texture, and versatility of chicken. They've done so in a way that's both healthier, more humane because no animals are involved, and far more environmentally friendly, to boot.
The Best Plant-Based Chicken Brands
1. Tofurky Lightly Seasoned Chik'N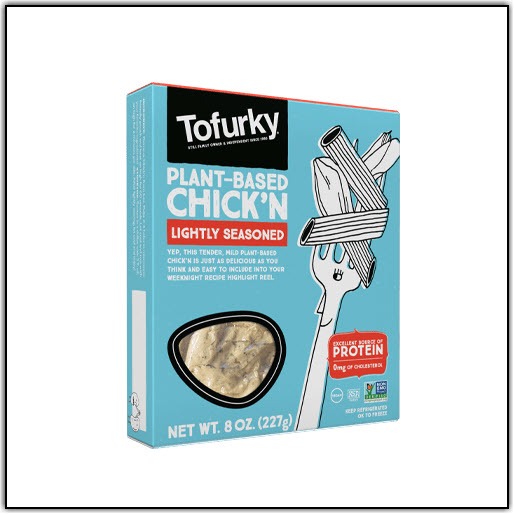 Tofurky has a Lightly Seasoned Chicken product that's just as versatile as the real thing. It can easily be sauteed or pan-fried, or even microwaved if you're feeling like a quicker, lazier meal. Tofu is the main ingredient here along with things like oat flour, garlic puree, onion powder, and a variety of tasty spices to create the best flavor possible.
The lightly seasoned flavor is perfect for making dishes that already contain many other flavors like a sandwich or wrap, but Tofurky also has some other versions you can try. This includes BBQ, sesame garlic, and Thai basil. These options are nice when you want to enjoy some nice grilled "chicken" on its own and want the flavor to pack a punch.
Other plant-based meat products on their roster include sausages, burgers, and deli slices, all made with the same careful thought to the health of both their customers and the planet.
2. Morningstar Farms BBQ Chik'n Nuggets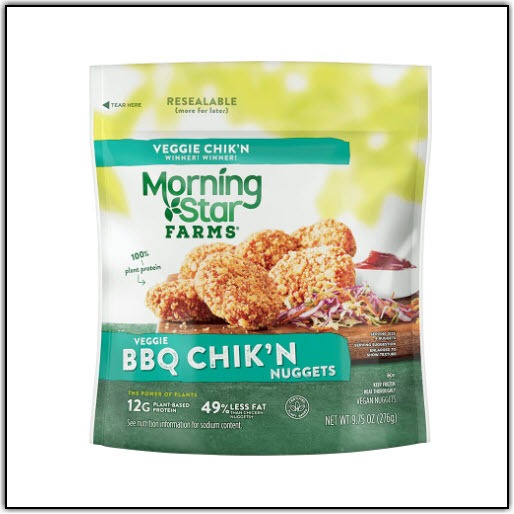 Morningstar Farms has the perfect solution for when you're craving some good old-fashioned chicken nuggets! They've packed these things full of healthy, crisp, plant-based flavor and readied them for dipping. They cook up nicely in the oven just like regular chicken nuggets and they offer 12 grams of protein per three nuggets, putting them pretty much on par with the average meat version.
Wheat flour, vegetable oil, and soy protein are the main ingredients here, along with several other things such as onion powder, dried garlic, molasses, apple cider vinegar, and natural flavors.
Morningstar offers a variety of other plant-based meat products that are widely enjoyed as adequate replacements to the respective originals. Their chicken nuggets are a newer addition to the collection, meaning there's tons of experience behind this product and you can have confidence in their quality.
And if nuggets are your thing for snacking, try these other plant-based snacks.
3. Gardein Seven Grain Crispy Tenders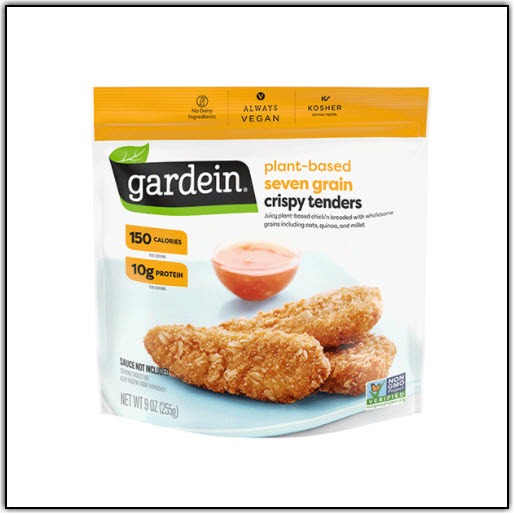 Gardein Seven Grain Crispy Tenders are delicious, easy to make, and crisp up just perfectly. They're the perfect shape and size for dipping and they contain plenty of healthy ingredients. Enriched wheat flour brings nutrients like niacin, iron, and folic acid to the table. The chicken tenders also include soy protein, rice flour, oats, sunflower oil, and more.
They're also pretty low in calories as chicken tenders go, containing only 150 per serving, with a serving size being three pieces. While the seven-grain variety is a popular one among customers, they have several other options to pick from, including regular, hot, chipotle lime, and more. Other products also include "chicken" wings, patties, nuggets, grilled tenders, and much more.
There are many reasons to go vegan and plant-based, and Gardein is very passionate about the impact it has on the environment. If you're interested, the website has a page with lots of information and statistics about the effect meat has and how they're trying to do better, for both the planet and people.
4. Boca Spicy Chik'n Patties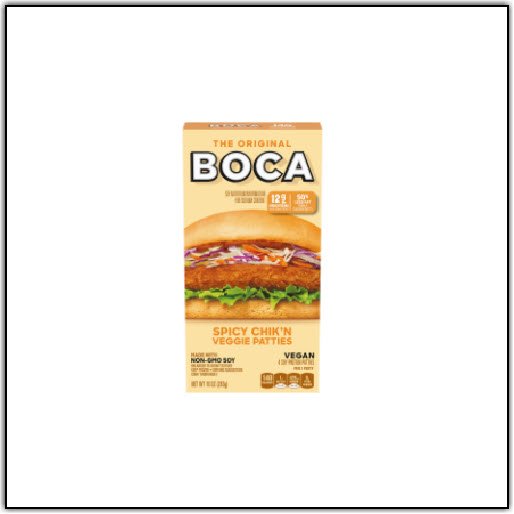 We've covered tenders and nuggets, but what if you're in the mood for a good old chicken burger? Boca Spicy Chik'n Patties are your go-to! They are made with non-GMO soy and offer 12 grams of protein each and only 130 calories. They also offer about 10 percent of your daily iron requirement which is pretty good for something that's not actually meat.
And once you taste them, you'll be glad it's not actually meat because they're just that good, and good for you! Boca is passionate about providing its loyal vegan and vegetarian customers with a large selection of good-quality, carefully crafted plant-based foods. Their collection includes bowls, crumbles, nuggets, falafels, and even skillet meals, all with potent flavor and healthy ingredients. Everything is easy to make too, serving any busy lifestyle well.
5. No Evil Foods Comrade Cluck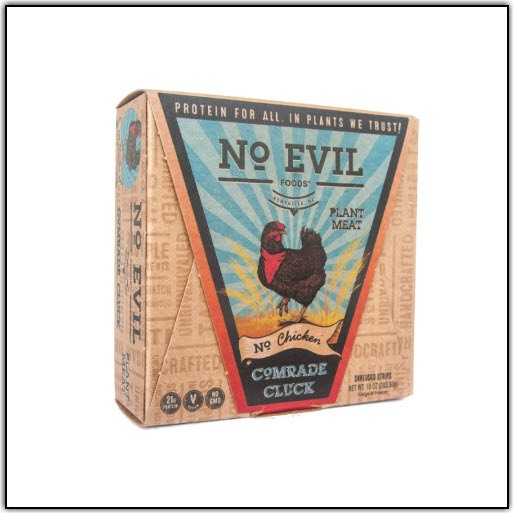 No Evil Foods is about as passionate as they come when it comes to plant-based foods and meat alternatives. They firmly believe you shouldn't have to give up the flavors and experiences you love, but they also firmly believe in eating healthier and being kind to animals and the planet.
Comrade Cluck is among the best chicken alternatives out there – a perfect solution for anything you can think of, from stir-fries to pot pies. If you're lacking in ideas or creativity, they have recipes aplenty on their website for you to browse and enjoy, all of which are vegan and plant-based through and through.
Their chicken offers an impressive 25 grams of protein per serving, the highest on this list, and only 150 calories. Other nutrients include calcium, iron, potassium, and a huge amount of vitamin B6 and B12.
They are dedicated to the plant-based lifestyle, and they make it easy for you to be, too! Other products include fun things like chorizo, pulled pork, an entire "roast", and sausages.
Plant-Based Chicken Nuggets at Home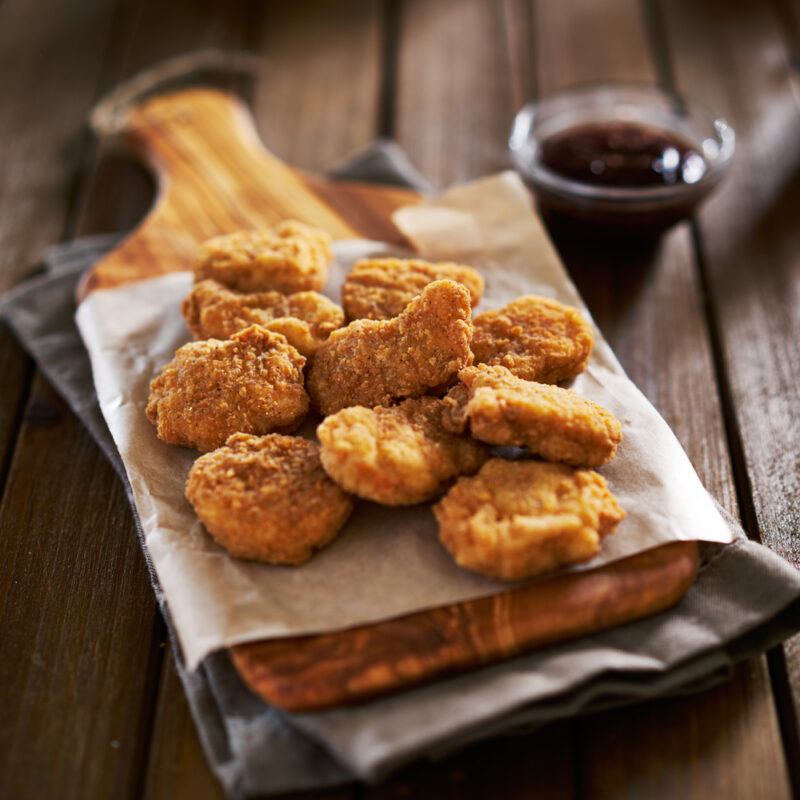 Even though the products listed here are at the top of the plant-based chicken game, it's always good to have a homemade method on hand if you're ever in a bind or just want to do it yourself! While the consistency of true chicken is tough to replicate at home, one thing that gets pretty close is tofu, especially if you cook it the right way.
Tofu gets a bad reputation for being bland, boring, and tasteless, despite its health benefits. If you know what you're doing, however, this is simply untrue. These recipes are a couple of great, easy ways to turn that boring old tofu into some tasty "chicken" nuggets!
Spicy and Crunchy
This recipe results in hot, crunchy, bite-sized nuggets that are perfect for snacking on, using as a side dish, or even adding to a salad! The author also gives some tips on working with tofu in general, which you can take with you and keep in mind if you're ever trying something else or creating your own recipe!
Including cook time, these only take about 45 minutes and the recipe makes 35 pieces – perfect for your family's dinner, or a week's worth of snacks for you!
The recipe also includes a delicious marinade made of many great spices. The combination they recommend is tried and true, but this is an area that's easy to experiment with if you wish.
Orange Chicken
Breaded chicken nuggets are the classic style, but some prefer them less crispy. These orange chicken "nuggets" offer a different texture entirely and embody that sweet and sour flavor that many find so appealing. In addition to tofu, ingredients here include ginger, honey, peanut butter, sesame oil, and several other healthy, nutrient-dense things!
The method does have several steps and will take some time but it's always worth it. If you're in a hurry, the nuggets can be broiled in the oven instead, which cuts the time down to three or four minutes per side instead of 15 or more. This requires careful monitoring, however, as they're a little more liable to burn in this case.
If you're feeling adventurous, you can easily add some hot sauce or cayenne pepper if you want to make the dish a little spicier and more dynamic.