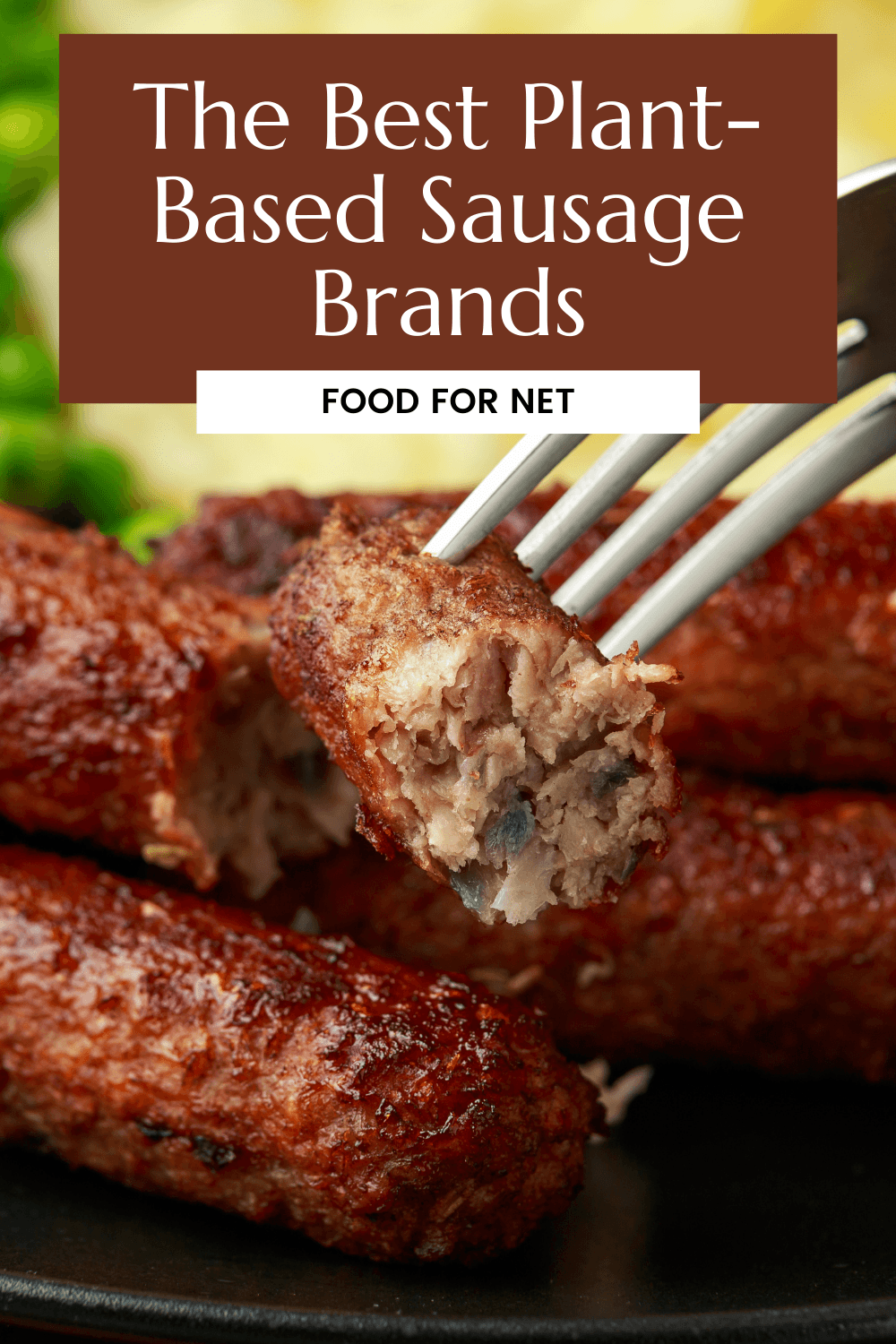 Whether we're talking about links or patties, sausages are a breakfast staple. Whether you're after a savory, spicy taste or the classic maple flavor that works so well in the morning, sausages will do the trick. Beyond breakfast, everyone loves sticking them in a bun and piling all kinds of other goodies on top. They're also great for a robust pizza topping, an addition to pasta, or pretty much anything you can think of that needs a meaty, flavorful kick.
They're something many vegetarians and vegans don't want to miss when they decide to give up meat, which is why there are plenty of plant-based sausages out there for you to enjoy. Many will choose a plant-based diet or lifestyle for a combination of health-related and moral/ethical reasons.
Not only does "real" meat come with health risks and potential side effects but it's not environmentally friendly and animals are often treated very poorly. The poor treatment usually also means a poor diet which translates to poor quality, unhealthy meat. With plant-based meat replacements, you can still enjoy the food you want without any of these concerns!
The problem with sausages, though, is that many of the plant-based alternatives are just as highly processed and they often have a lot of sodium. The average American already consumes too much sodium, so this shouldn't be ignored.
The following five brands are some of the best options out there. They offer whole food, simple ingredients, eco-friendly practices, and delicious, authentic flavors. Going plant-based doesn't mean giving up your favorite breakfast traditions or all-out hot dog experiences.
The Best Plant-Based Sausage Brands
1. Beyond Sausage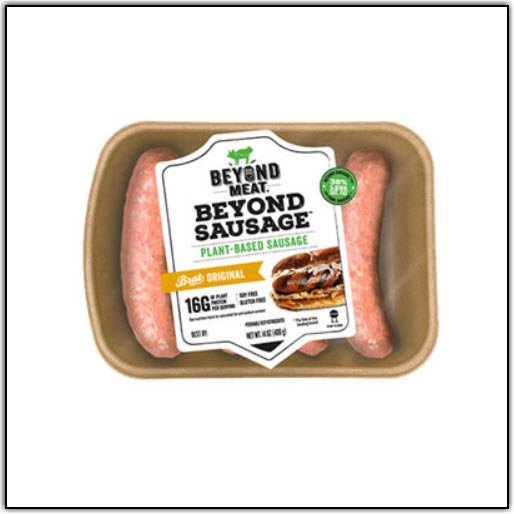 Beyond Meat is a strong contender in the world of vegan and plant-based meat. They were one of the first to come up with a passable product and they've worked hard over the years to improve their formulas and recipes. Today, their meat is great-quality and great-tasting – a worthy and authentic substitute for actual meat.
Their Beyond Sausage is a simple product, made with no soy, gluten, or GMO's. It's certified kosher and 100 percent plant-based. The base ingredients include coconut oil, sunflower oil, pea protein, rice protein, and faba bean protein. Vegetable concentrates are added for flavor and nutrients.
Each sausage contains 17 grams of protein as well as three grams of fiber. These sausages are meant to be cooked either on the BBQ or pan-fried. These methods will give you the best results. Boiling and microwaving aren't recommended. Other than that, the product functions just the same as a regular sausage in terms of flavor, texture, and use. Put it on a bun, add it to pizza, have it with breakfast – the options are many!
2. Field Roast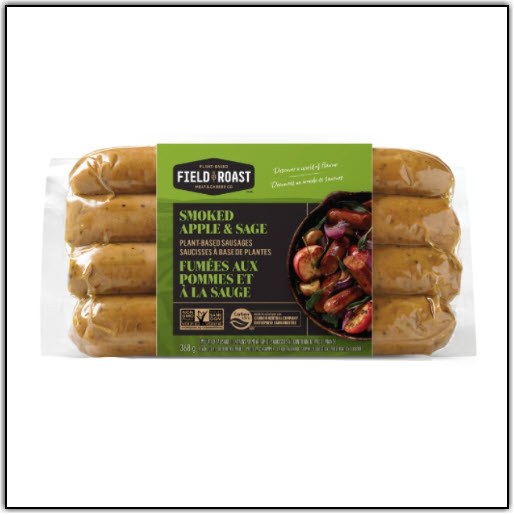 Field Roast Sausages are made with a collection of very unique ingredients, many of which are whole, healthy foods with a variety of nutrients to offer. They have three flavors to offer, starting with the popular smoked apple and sage. These are made with a base of Yukon gold potatoes, apples, and rubbed sage with a variety of spices for extra flavor.
They offer the perfect combination of sweet and savory with just the right amount of sizzle to them. They're the perfect substitute for regular sausages, whether you're after a nice plant-based hot dog or want to balance out your breakfast with some protein.
Other flavors include garlic and fennel, spicy Mexican chipotle, and caramelized onion, and beer plant. These are all made similarly, using the actual foods as ingredients and other healthy spices for additional flavor. They all contain 20+ grams of protein and varying amounts of iron, potassium, and calcium.
It's also worth noting that Field Roast is just as passionate about the health of the earth as that of its customers. They have worked hard to reduce greenhouse gas emissions over the years and are currently operating with a carbon-neutral promise.
3. No Evil Foods The Stallion

No Evil Foods has a rather self-explanatory name and an origin story to match. They want to eliminate the "evil" found in so many heavily produced and marketed foods that are prevalent today. They did so by creating quality, healthy products from scratch.
They grew their own food to use as ingredients and they crafted a meat-replacement recipe that has become so authentic and delicious. Their sausage is inspired by the classic Italian sausage and theirs is every bit as good as the real meat versions.
The base is made with chickpea flour and nutritional yeast while the flavor comes from a genius combination of spices such as paprika, fennel seed, rosemary, black pepper, and more. Each sausage contains 25 grams of protein and a variety of other nutrients like iron, calcium, and some vitamins. They are also only 160 calories each, on the low side for sausages. Their suggested uses include pizza toppers, pasta enhancers, and breakfast additions but of course, the options are as endless as your imagination!
4. Pure Farmland Plant-Based Breakfast Sausage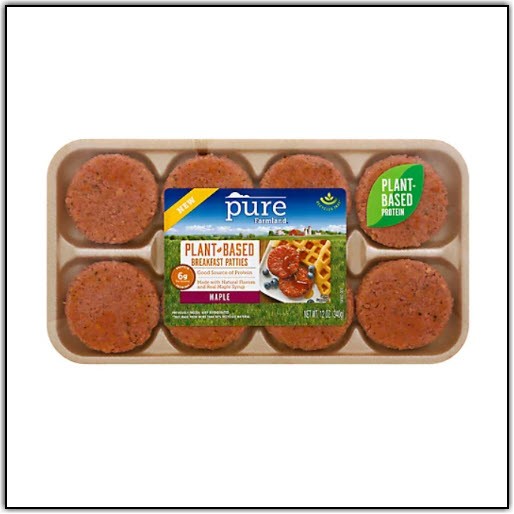 While sausage links are a classic staple across all meals, sausage patties are just as useful and sometimes preferred. Pure Farmland's Breakfast Sausage Patties are the perfect way to enhance your breakfast in a savory, high-quality way.
Their original breakfast patties are made with soy protein, coconut oil, and plenty of spices and other natural flavorings. They also have a maple flavor that is much the same, with the addition of some maple syrup and maple sugar for that classic, slightly sweet maple taste that goes so perfectly with a pancake breakfast!
Their patties are low on calories while still offering six grams of protein per patty. They're great for breakfast and beyond, with recipes like pasta and stuffed eggplant available on the website.
They cook up pretty similarly to regular sausages, though they shouldn't go in the microwave. You can cook them on the stove or broil them, depending on the exact finish and texture you want.
5. Meatless Farm Sausages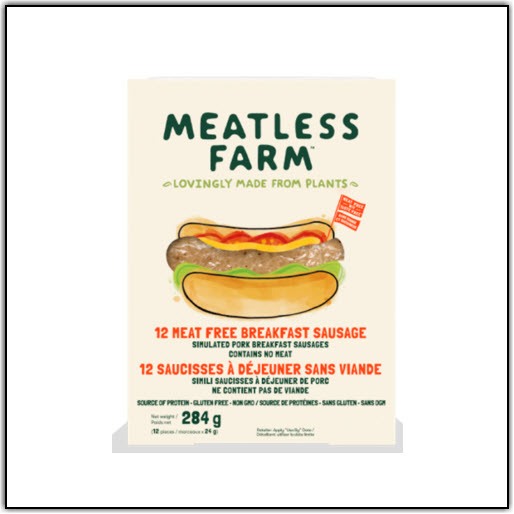 Meatless Farm Sausages are made to simulate pork sausages specifically, using a base of pea protein and a variety of oils, spices, and natural flavors. These sausages are unique from others as they not only contain no soy which is perfect for those with soy allergies, but they also offer many nutrients thanks to their healthy and robust list of natural ingredients.
This includes amounts of iron, potassium, iron, niacin, zinc, magnesium, several B vitamins, and even folic acid. They have 20 grams of protein each and are low in both fat and sugar while also being certified gluten-free and non-GMO.
They're just as versatile as any others, too. Get your day off to a healthy start by adding them to your breakfast, or grill them up for a solid lunch or dinner. They're great on the BBQ or stovetop and make for what may just be the best hot dog you've ever tried.
Creative Plant-Based Sausage Recipes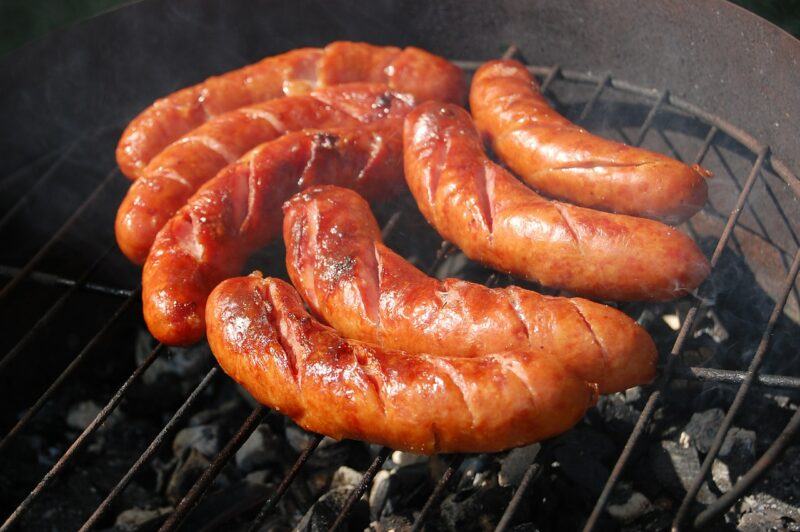 Hot dog buns, pizza topping, and breakfast – some of the most common uses for sausages, plant-based or otherwise. These can be fun and tasty, no doubt, but they're popular and frequently made. If you love your plant-based sausage but you're tired of the same old recipes, try some of these unique and interesting recipes that use your sausages in more creative ways.
Rosemary Potatoes and Collard Greens
These are two things you probably haven't associated with sausages before, but this dish is vegan, super healthy, and so deliciously flavorful. The great thing about this recipe, too, is that you can customize it a little if there are other things you'd' prefer. It's easy enough to add some other herbs and spices if there's a combination you love, or there are easy substitutions if you don't like rosemary.
Instead of rosemary, you can use sage, oregano, tarragon, or thyme and you'll get much the same effect. You can also use whatever potatoes you want – sweet potatoes might make an interesting new rendition!
Stuffed Peppers
Stuffed peppers are a great vegan dish as you can stuff the pepper with a whole variety of things and customize it to suit your taste. With the addition of some plant-based sausage, you can add a touch of "meatiness" to the meal without actually eating meat or compromising the vegan status.
This delicious recipe features brown rice, red bell peppers, brown rice, onions, and a variety of spices in addition to the plant-based sausage of your choosing. Of course, you can add anything else you think might go well with the peppers and you can mix up the spices if you want.
You could even use an existing stuffed pepper recipe you have, the point here is that adding plant-based sausage to this iconic vegan dish is a great way to add some protein and mix up the flavors!