Almost every country has its unique cultural version of sausage, which is what makes sausage of the month clubs so appealing. With literally thousands of sausage varieties and flavors available worldwide, there is no better way to experience a large variety of sausages than signing up for a monthly sausage subscription.
But, before we talk about the clubs, let's briefly delve into the past.
The history of sausage spans back to Mesopotamia in 3100 BC. Before there were refrigerators, people needed to find a method of preserving meat and using salt was a standard and safe process. Plus, back then, nothing went to waste, so scraps were made into sausage.
Though the Sumerians of Mesopotamia were the first to create sausage, people all over faced the same challenges of preserving meat and using the scraps. Thus, the sausage was invented and not just in Mesopotamia, but in different cultures all over the world. Though the basics of sausage were the same, ground meat mixed with salt, the sausages produced would not have tasted the same due to the various meats used as well as the many different spices.
Thousands of years later, in 1000 BC, the people of Turkey created Sujuk. Sujuk is a dried sausage that tends to be on the spicy side and commonly contains sumac, garlic, cumin, red pepper, salt, and pepper. Sujuk is still created to this day.
The next earliest sausage making adventures were seen in old world China, in 580 BC, where the sausage was called Lap Cheong. Lap Cheong now refers to Chinese sausage as a generic term, instead of one specific sausage variety. However, most Lap Cheong is a dry hard sausage often made from pork.
There are many other parts to the sausage-making story and countless varieties of sausage across the globe. That variation is what makes sausage of the month clubs such a fun idea.
Sausage of the Month Clubs
Bacon Freak Sausage of the Month Club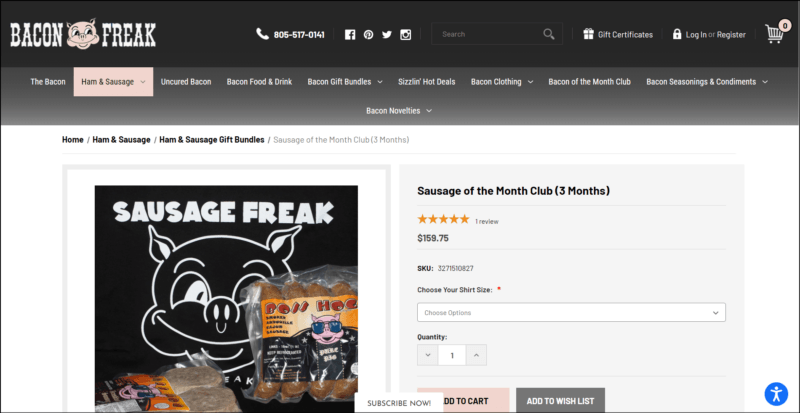 Bacon Freak, founded in 2008 specializing in bacon monthly subscription boxes, is located in Moorpark, CA. The company name emphasizes the heart of the business, but Bacon Freak has expanded well beyond just bacon. Some of the fun things you will find online include:
Bacon candy and unique food items: Boss Hog Maple Bacon Coffee, Bacon Frosting, and Bacon Gumballs
Bacon and Pig Novelty items: "Keep Calm And Eat Bacon" Metal Sign, Bacon Air Freshener, Bacon Balm Lip Moisturizer, and Bacon Bandages
Seasonings
Sauces
Country Ham
Variety of Sausages: Chirizo, patties, bratwurst, and links
Since they started as a bacon subscription company, it only makes sense that they would expand and add a sausage subscription too. The sausage of the month club is available as a three-month subscription for $159.75.
Each month the recipient receives two packages of sausage in each shipment (16 oz each) for 3 months. Plus, a Sausage Freak T-shirt – simply indicate your size at the drop-down box when signing up.
Their gourmet links and patties selections proudly bear the Bacon Freak stamp of approval. They make sure that only the very best are sent in their monthly sausage subscription, meaning only those that have gone through taste testing.
Sausage of the month club boxes ships out Monday to Wednesday, to ensure freshness. The first box ships out immediately and the boxes for all following months are sent the first week of the month.
Esposito's Finest Quality Sausage Club Membership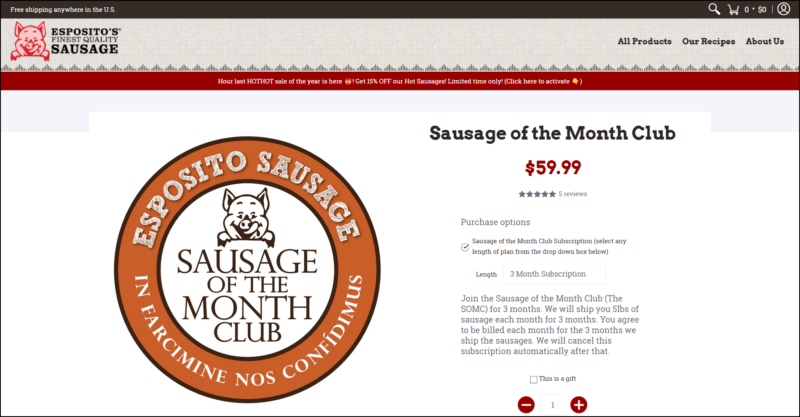 Esposito's Finest Quality Sausage, founded in 1933 in New York City, has been serving the Hell's Kitchen neighborhood for more than 85 years. The shop first opened under the name Giovanni Esposito and Sons and was initially a butcher shop featuring fresh meat and poultry.
Over the years, the sons took over running the business and soon realized the need to cut the company in half. They separated the butcher shop from the sausage side of the business to better focus on sausage production and distribution. This resulted in the creation of Esposito's Finest Quality Sausage Company, a wholesale manufacturer and distributor of sausage.
In 2000 the family decided to sell to new owners who would preserve the quality and culture of the business. Today, the company is still running strong, and it has expanded its services online so that more than just the local area could have the opportunity to purchase direct and have their favorite sausages delivered conveniently to their home.
For those who love Esposito's Finest Quality Sausage, they now offer a sausage of the month club for $59.99. This sausage subscription includes five pounds of pre-selected sausage each month. You can sign up for 3, 6, 9, or 12 months. Members save 20% on average, for every box of sausage.
The selected Sausage of the Month Variety is as listed on this calendar:
January – Sweet Italian Sausage
February – Sweet Sausage with Provolone & Parsley
March – Irish Bangers
April – Chorizo
May – Chicken Sausage w/ Broccoli Rabe & Smoked Mozzarella
June – Sweet Sausage with Provolone Cheese and Parsley
July – Sweet Italian Sausage
August – Hot Italian Chicken Sausage
September – Sweet Sausage with Peppers and Onions
October – Bratwurst
November – Breakfast Sausage 2oz "Diner-Style."
December – Chicken Apple
Heritage Foods Sausage of the Month Club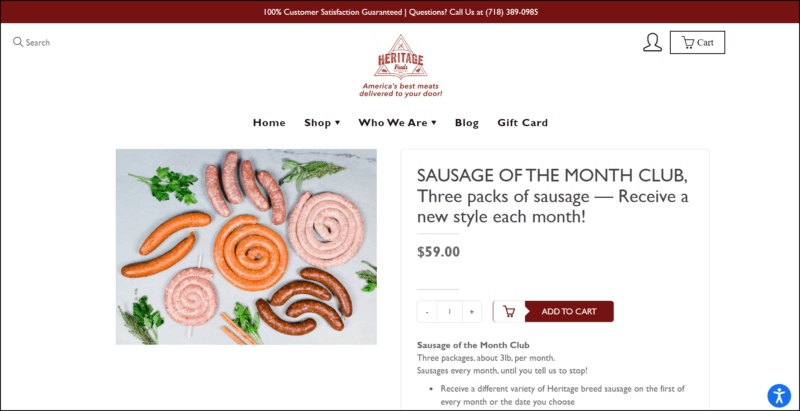 Heritage Foods, located in New York, was founded in 2001 when the owners were inspired by the goal of preserving endangered species of livestock from extinction. Heritage promotes traditional farming, humane care of the animals, biodiversity, and sustainability through their partnering with farmers who share the same belief.
All of the livestock used by Heritage can trace back its origins to before industrial farming, reflecting healthy pure bloodlines not tainted with hormones or antibiotics.
All of the sausages offered by Heritage are artisan sausages made from 100% Heritage-bred meats, from animals that were always pasture-raised. The sausage of the month club is $59/month and includes three pounds of sausage. Each month the recipient receives a new variety of sausage.
Some of the flavors and types that you may see include sweet Italian, fennel, bison hot dogs, lamb merguez, bratwurst, kielbases, and andouille.
The club membership also includes monthly tasting notes giving you information about the sausage, including the history of the breed. All subscriptions are auto-renewal month-to-month that can be canceled anytime.
Fortuna Sausage Salami_Dry Sausage of the Month Club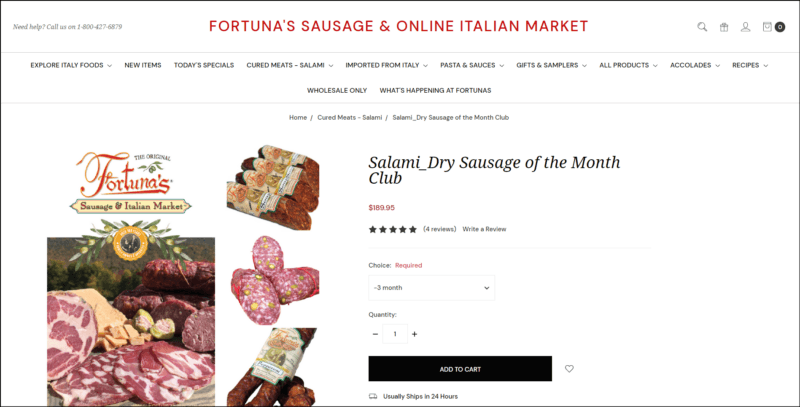 Fortuna Sausage and Italian Market is a family-owned and operated shop that has been in business for over 100 years. Based on the recipes from the current owner's grandparents, who brought them over from Italy, this shop has become famous thanks to the accolades received in many articles and interviews.
The sausage created by Fortuna's is made in small batches by hand, just like in the old days. They dry-age their sausage allowing the meat to develop its many savory, rich flavors naturally. The sausage has been featured in The Wall Street Journal, Los Angeles Times, and Everyday with Rachel Ray.
If you are ready to try this mouth-watering sausage, you can either stop in at their Vermont store or order their sausage of the month club online. The sausage subscription comes in three duration choices:
3 Months for $189.95
6 Months for $289.95
12 Months for $489.95
The first shipment of delicious sausage ships out immediately and the following shipments are delivered around the same time each month. Each delivery includes two to three different sausages of varying flavors and styles. Some of the options you may see in your sausage subscription include Genoa salami, finocchiona, soupy, prosciutto, and pepperoni.
Exotic Meat Market Exotic Sausage of the Month Club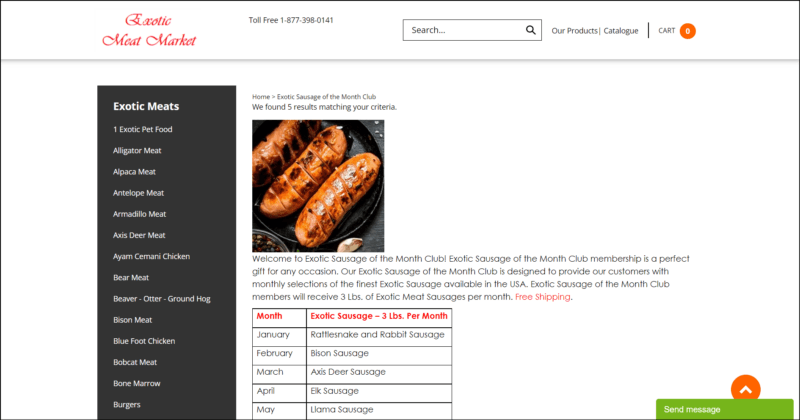 If you want something a little different, Exotic Meat Market is where it is at. This company has a strong focus on the environment, aiming to package meats sustainably and make good shipping decisions.
As the name suggests, the company focuses on exotic meats, including options like bobcat, camel, cayote, and dove meat. Their exotic sausage of the month club highlights this idea – shipping you out 3 pounds of a different type of exotic sausage each month.
For example, January will send you rattlesnake and rabbit sausage, February offers bison sausage, and March offers axis deer sausage. There is no month-to-month option. Instead, you need to pre-pay for multiple months at a time. The pricing breaks down like this:
3 months – $199.99
6 months – $399.99
9 months – $599.99
12 months – $799.99
Shipping is free for all versions of the club.
Vincent's Meat Market Sausage of the Month Club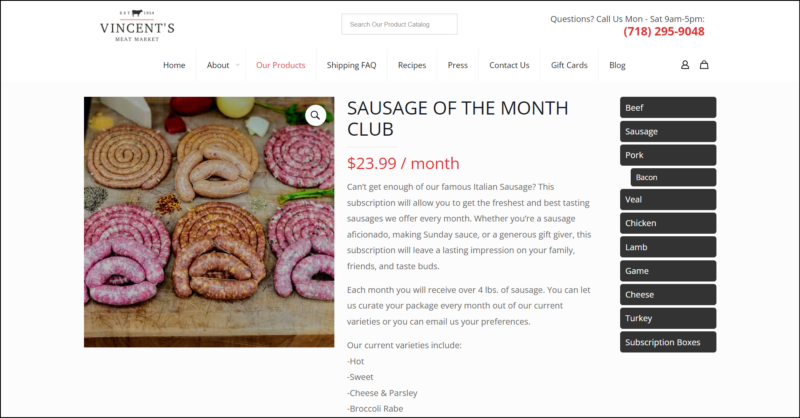 Vincent DeLuca's Vincent's Meat Market first opened to the public in 1954. Peter, one of Vincent and Sylvia's sons, kept the business afloat after Vincent's passing in 1979. He eventually expand the business and brought it to Arthur Avenue – The Real Little Italy, The Bronx, New York.
Vincent's Meat Market has been providing high-quality locally sourced meats to ensure only premium meats reached their customers. They have a wide selection of meats including chicken cutlets, pork chops, USDA prime hamburgers, USDA prime black Angus fillet mignon, and more. These are all from reputable farms, prepared by highly trained and experienced butchers.
Vincent's Meat Market's Sausage of the Month Club cost $23.99 per month. Members will receive the freshest and best-tasting sausages every month, that's over 4 lbs. of sausage. They will particularly select sausages for you but you can simply let them know if you have a particular preference among the varieties they carry:
Hot
Sweet
Cheese & Parsley
Broccoli Rabe
Fennel
Chicken
Lamb
You can also check out their other meat subscription boxes – Beef & Pork Monthly Box, Beef & Chicken Monthly Box, All Beef Monthly Box, Vincent's Steak Sampler Monthly, Grilling Subscription Box, and Kid's Monthly Box.
Catullo Prime Meats Sausage of the Month Club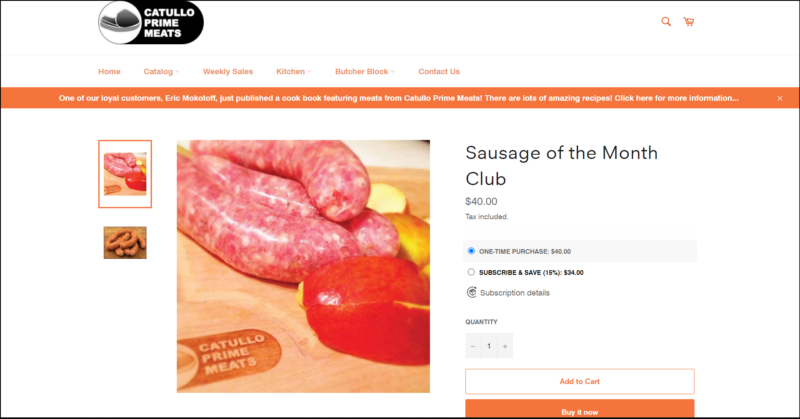 Catullo Prime Meats started three generations ago when Daniel Catullo saw that their area is lacking retailers that provide fresh and prime meats. Fast forward to today, they now provide the best locally sourced beef, poultry, and pork in Youngstown, Ohio.
Aside from fresh cuts, they also provide burgers, ground meats, sausages, smoked meats, dry rubs, seasonings, and even seafood. They also have quite an interesting catering menu which includes Prime Roast Beef, Pulled Pork Shoulder, Pasta & Meatballs, and more.
Their Sausage of the Month Club costs $34 each month, which is 15% savings from the regular price of $40. The members will receive 5lbs. of Catullo Prime Meats' best type of sausages. Some of the sausage varieties include:
Traditional Italian Sausage
Chicken Feta Spinach Sausage
Maple Blueberry Sausage
Festival Sausage
Garlic Basil Sausage
Chorizo Sausage
Polish Garlic Sausage
They also have a wide selection of gift boxes that they ship anywhere in the US – from Prime Steak Gift Box to Bad Ass Butcher Club to Smokehouse Box.
The Fermented Pig Private Purveyors Club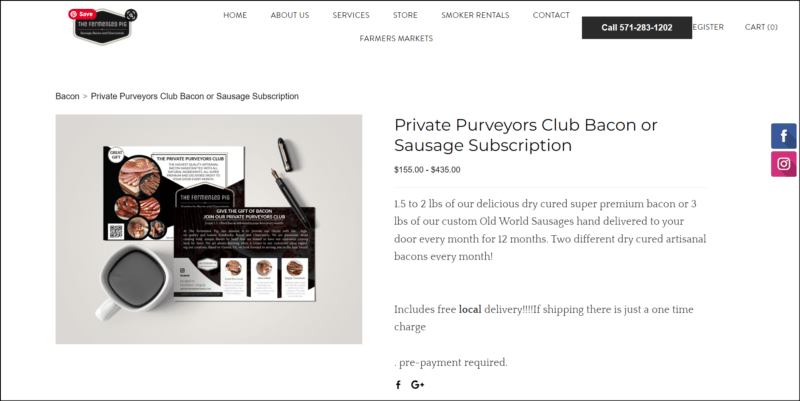 The Fermented Pig is a family business founded by Joshua Plante. It was born out of their shared passions for food, healthful local living, and creativity. They provide handcrafted bacon, old-world sausage, and charcuterie made only from the freshest pork and locally sourced ingredients.
They serve clients through their Private Purveyors Club, online website, and local farmer's market. They're open for catering large and small events, custom smoking, private classes, bulk or wholesale, smoker rentals for any events, custom kombucha flavors, and custom bacon of the month and sausage of the month offerings.
Their Private Purveyors Club Bacon or Sausage Subscription cost somewhere between $155.00 – $435.00 at subscription length that varies from 3, 6, and 12 months. Each month, members will receive 1.5 to 2 lbs of either dry cured super premium bacon or 3 lbs of their custom Old World Sausages or you can choose to have them alternately every month.
Some of the sausages they currently have on their website include:
Kupati Sausage
Polska Polish Kielbasa
Greek Loukaniko Sausage
Herb sausage with sage and thyme
Maple sage breakfast sausage
Hot Italian Sausage
Polish Biala
Orders are all delivered to your door but they're available for pickup, too. In fact, they encourage their customers to pick up orders at their upcoming farmers market location (check their website for an updated schedule, or contact them directly) because they love meeting new customers!
Woodhouse Farm Sausage Club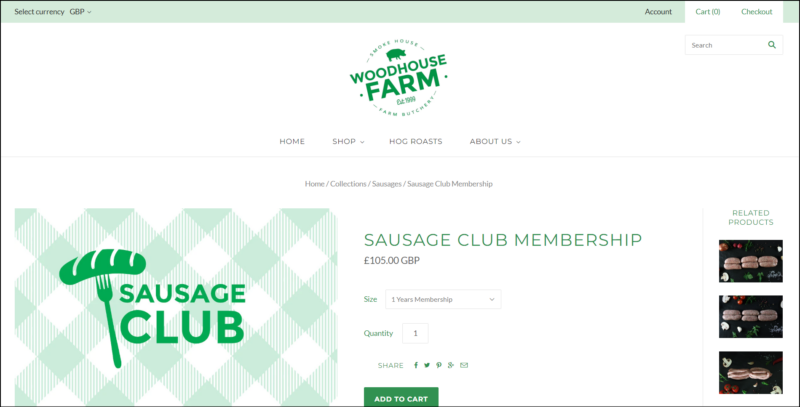 Woodhouse Farm operates a traditional common-sense farming system. They aim to keep healthy animals which may take longer to accomplish but they believe that it facilitates exceptional eating quality.
This company is UK-based, particularly in Elmesthorpe, Leicestershire, but we thought it should make the list because of its dedication to honorably, morally, and responsibly rear the animals and providing the best quality meats to customers.
Their products are free from antibiotics, growth promoters, low in food miles, and are produced with great care, common sense, and devotion to quality – which is quite undeniable with the number of awards they've earned recognizing such a fact.
Woodhouse Farm Sausage Club costs £105.00 for one-year membership:
specialty sausages of 20 packs in total
choose up to 3 free deliveries per 1-year subscription
choose your own sausage flavors
can be delivered at a place of your choice at your convenience
can gift the subscription as a present
Their other meats include beef, pork, bacon & gammon, lamb, and chicken. They also have a couple of meat boxes called Family Meat Hamper for £52, and Home Reared Pork Pack for £20. Both boxes are good for four people.
La Tienda Charcutería Club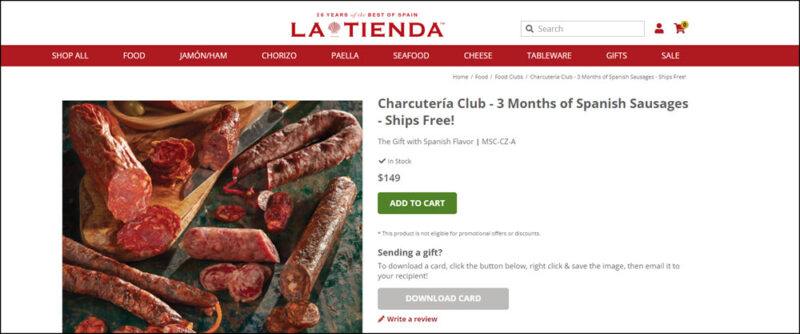 La Tienda offers a 3-month club that focuses on cured summer sausages. These would be a fantastic addition to a charcuterie board, especially if you're getting sick of salami.
The subscription costs $149 and can be easily sent as a gift. You get one or two sausages each month, always packed in a cloth gift bag. There's plenty of variety too, as La Tienda aims to include different styles and flavor profiles.
Related Content