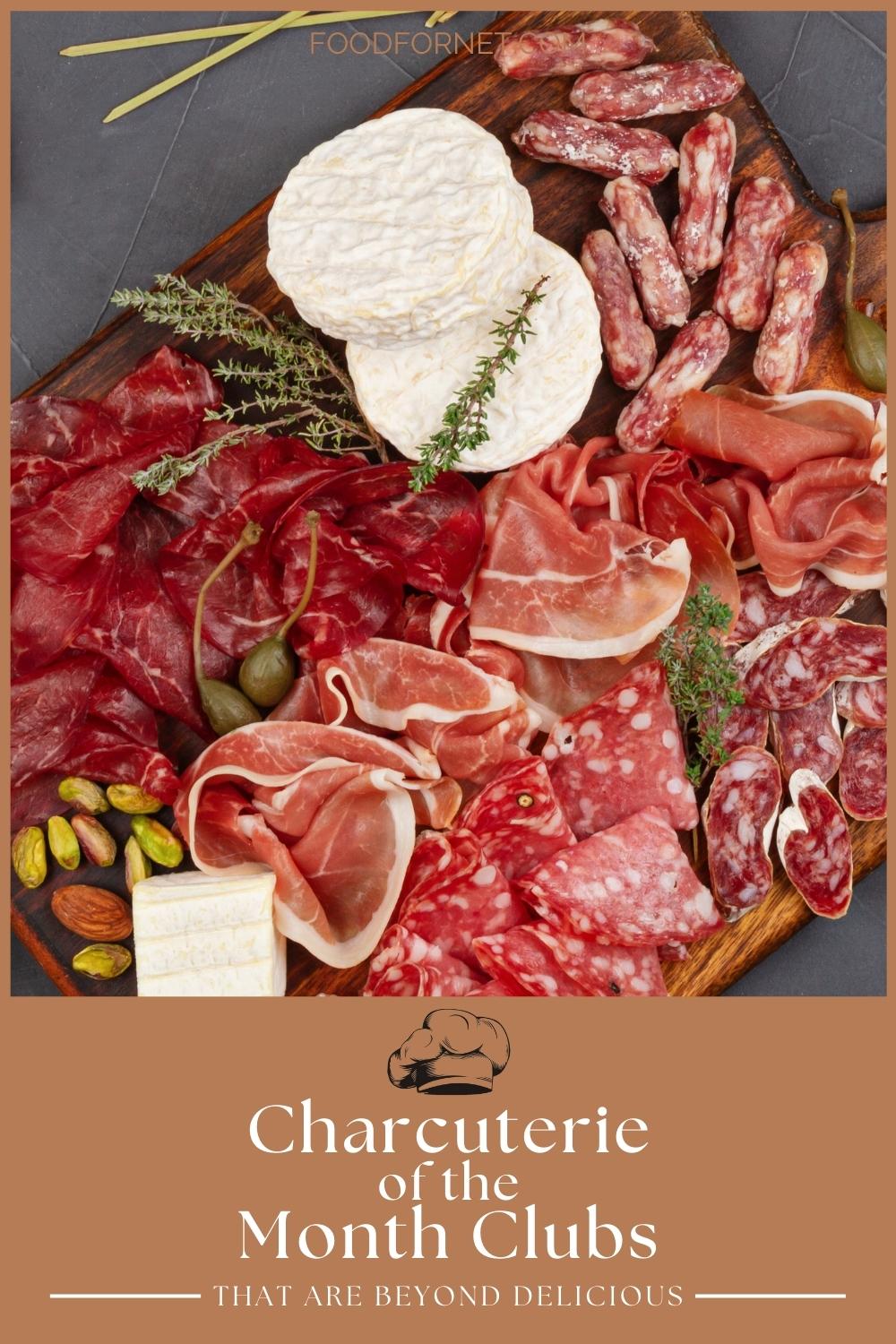 Simply put, charcuterie is any type of cured meat. Most of the time, people are talking about gourmet and specialty meats, which are often prepared in small batches. You'll often find charcuterie served on platters, along with cheese, crackers, and perhaps some fruit. Now, you can get it delivered with charcuterie of the month clubs.
You can buy charcuterie from local stores easily enough, but charcuterie of the month clubs are an even better choice. These clubs tend to provide a selection of different items, giving you plenty to try out. You'll often find some artisan products that won't be available in your local area.
If all that wasn't enough, think about the price. When you shop from a local store, you often need to buy full packets of products or full-size items. This can get frustrating and expensive, especially when you don't know whether you like the charcuterie in question.
A club gives you the ability to try out many different foods without having to stress. Plus, any charcuterie fan will also appreciate these wine clubs, cheese clubs, mustard clubs, and meat clubs.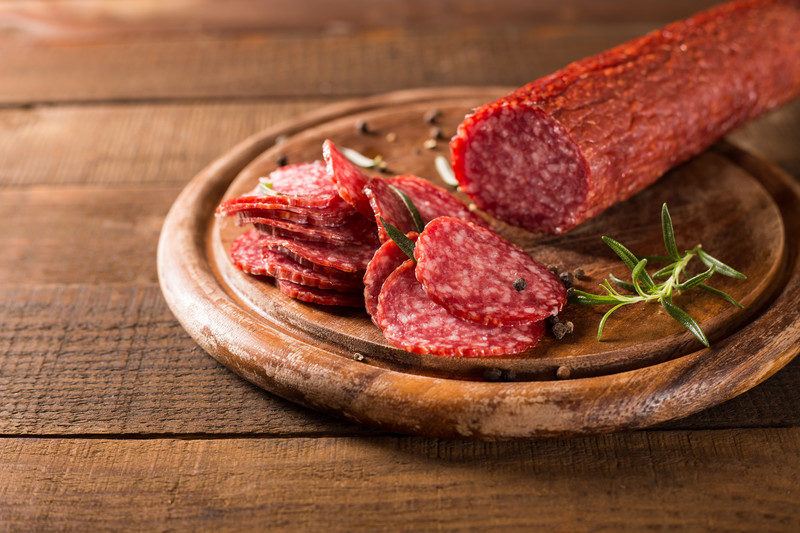 Charcuterie Of The Month Clubs
Zingerman's Cured Meats Club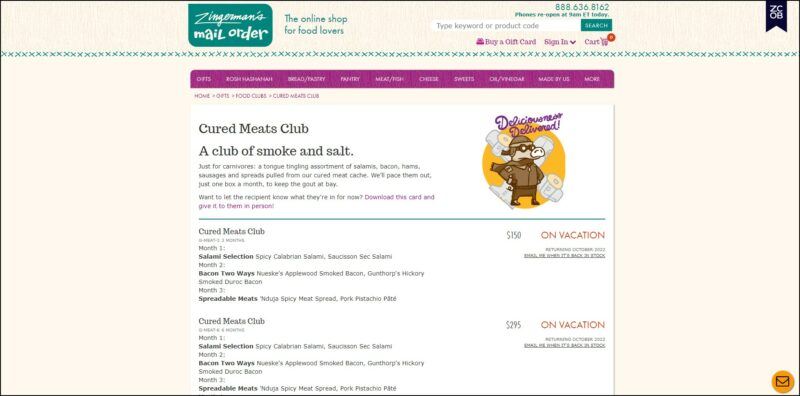 Cured meats are one of the best types of charcuterie, so why not choose an option like this Cured Meats Club? It comes from Zingerman's and is an especially high-quality choice. You can expect products like spreads, sausages, hams, and, of course, salamis.
The club always provides the same boxes in the same order, regardless of when you sign up or your membership duration. Your first month provides a salami selection, while your second month gives you 2 types of bacon and your third provides two meat spreads..
Membership costs $150 for 3 months or $295 for 6 months. Shipping is free in both cases. The club is currently 'on vacation', but keep an eye on the site. They're bound to re-introduce it soon.
Murray's Meat & Cheese of the Month Club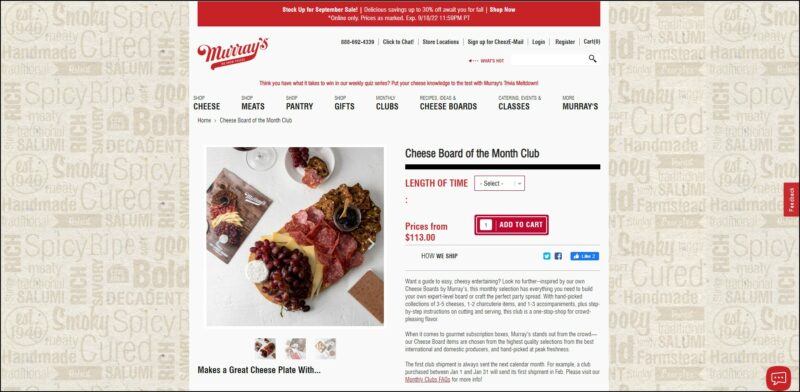 Cheese naturally complements charcuterie, making options like Murray's Cheese Board of the Month Club extremely appealing. Although it's called a cheese board club, it does provide you with 1-2 charcuterie items along with 3-5 kinds of cheese – along with other accompaniments that will help you build an amazing party spread.
The club is available in 3, 6, and 12-month variations plus the month-to-month option. Pricing starts at $113. Your shipment is sent out the next calendar month. Along with the cheeses, charcuteries, and accompaniments, they also include step-by-step instructions on cutting and serving.
Murray's does sometimes have a Meat of the Month Club as well. This follows a similar style, except that you're just receiving meat, rather than meat and cheese. That version seems to be unavailable at present, but it's likely to return at some point.
iGourmet Charcuterie Subscription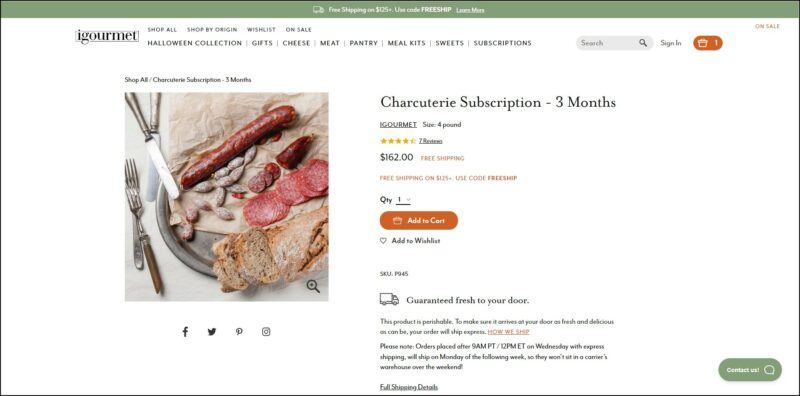 iGourmet specializes in curated clubs. These feature amazing products from companies throughout the United States. They focus on several key types, including sausage, ham, and pate.
The subscription provides you with a selection of salamis, sausages, hams, and pates every month. These are always artisanal. You're given accompanying items too, which should pair well with the charcuterie. You can learn more about your selections with the included monthly newsletter.
You can sign up for their 3-month Charcuterie Subscription for $222.30 free of shipping charges. Each month, you'll receive cured meat selections that may include those that came from a specific region as well as classics from different countries.
Sharecuterie Box Subscriptions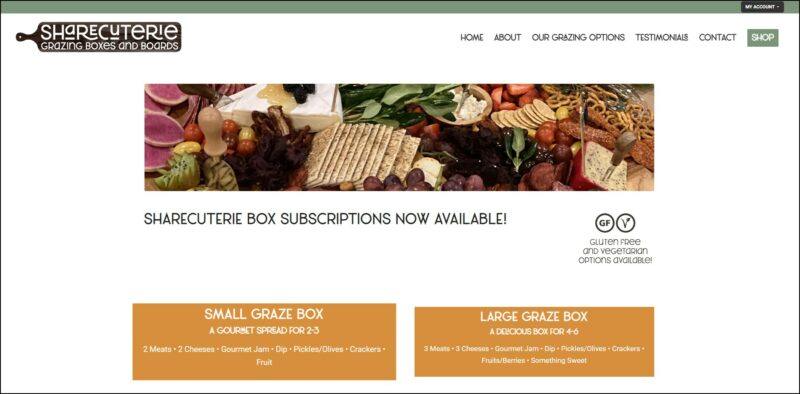 The club from Sharecuterie is designed with entertaining in mind. Each month provides you with 2 to 3 charcuterie products, 2 to 3 cheeses, and various accompanying items. Pairing recommendations are included too. The idea is that you can simply put everything on a plate and have a ready-to-go platter for entertaining.
There are two subscriptions available, the Small Graze Box costs $55 per month, which is good for 2-3 people and the Large Graze Box costs $80 per month which is good for 4-6 people. You can choose from a 3, 6, or 12-month-long subscription.
Sharecuterie can accommodate food sensitivities by giving you options to make yours gluten-free, vegetarian, keto-friendly, and other food allergies.
Carnivore Club Meat Subscription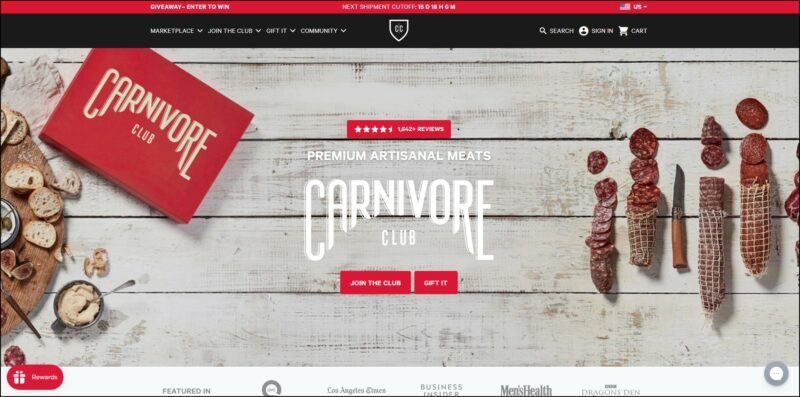 The Carnivore Club is an especially popular choice for meat lovers. The subscription features a different artisan each month. These all have their own distinctive styles and flavor combinations. This is an ideal way to experience new tastes each month, without any effort on your part.
There are 4 different types of boxes to consider with pricing starting at $19.99 to $49.99 per month. There is the Snack Box, the Classic Box, and the Complete Box. There is also a Jerky Box which is the smaller and more affordable version of their Snack Box. You can choose the box delivered monthly, every other month, or every three months.
You can expect exclusive access to premium jerky, salamis, prosciuttos, bacon, and more either for your personal snacking or for creating a delicious charcuterie board for parties or gatherings.
Journeyman Meat Co. Advanced Recipe Tasting Club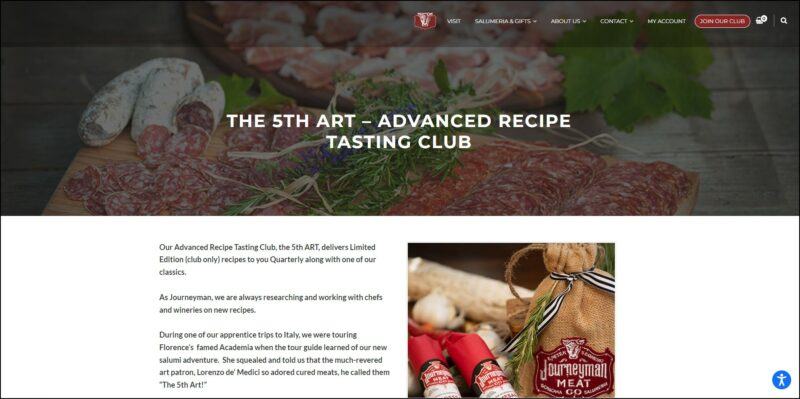 Journeyman Meat Co. has a strong emphasis on meat, so you know you'll be getting great products every time. Their main subscription is a Salumi Club (yes, that's how they spell it).
The club, also called Advanced Recipe Tasting Club, delivers two limited edition salumi quarterly. The members can also enjoy 20% savings on all salumi and bacon, special pricing on gift sets, and exclusive access to annual parties.
The subscription cost for a one-year membership is $148 including the shipping fee or you can opt for local pickup at their Healdsburg shop at $108. You can also gift the Salumi Club membership.
Olympia Provisions Charcuterie Club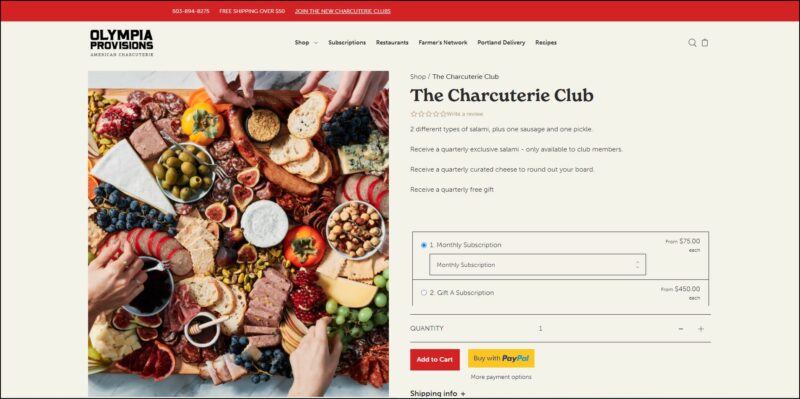 The club from Olympia Provisions is a fun choice for charcuterie lovers. It provides you with 3 different charcuterie products each month. The product selection isn't limited to meat either. You'll sometimes find pickles in the box too, along with pairing notes and recipes.
The subscription costs you $85 per month. The monthly boxes will contain two different types of salami, one sausage, and one jar of pickled vegetables. Every quarter, they also include an exclusive salami along with curated cheese to complete your board and a surprise gift.
There is also an option to gift a subscription at a price of $495 for 6 months and $975 for 12 months.
Underground Meats Buy Curious Meat Club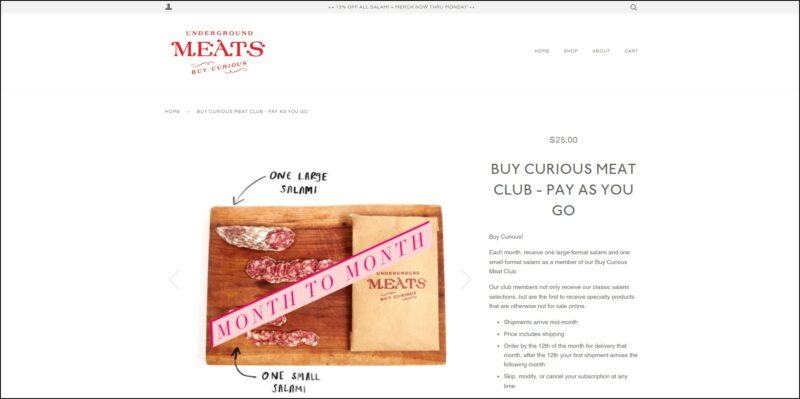 If you're particularly interested in salami, the Buy Curious Meat Club could be the choice for you. The subscription costs $25 per month and you can join on a month-to-month basis, or pre-pay for a longer duration of 6 or 12 months for a slightly lower monthly price.
Each month, members will receive classic salami selections – one large-format and one small-format salami. They're also the first ones to try specialty products. Shipments are made mid-month each month. You can skip, modify, or cancel a subscription at any time.
Your monthly shipment comes in an envelope, rather than a box. While the company doesn't define the difference between the types, the images on the site offer a general idea.
A Gift Inside Monthly Meat and Cheese Club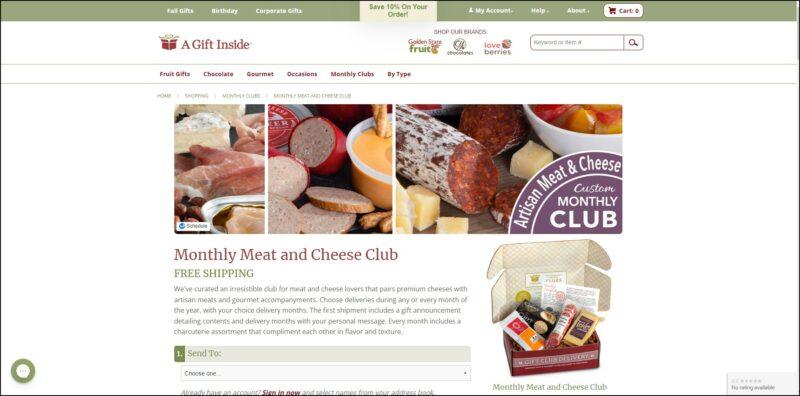 A Gift Inside is another company that provides curated clubs. Their subscriptions feature items from many companies throughout the United States, giving you a broad experience of styles and flavors.
The club is also unusual in that they provide full details of the products for each month. This allows you to make a fully informed decision about whether you want to join.
A final feature to mention is membership duration. You can have a membership of anywhere from 2 to 12 months, where you pay for the entire subscription in one go. The average monthly price ranges from $36.66 to $41.65, with the longer durations giving the best discount.
Meatbox Cured and Air Dried Meat Boxes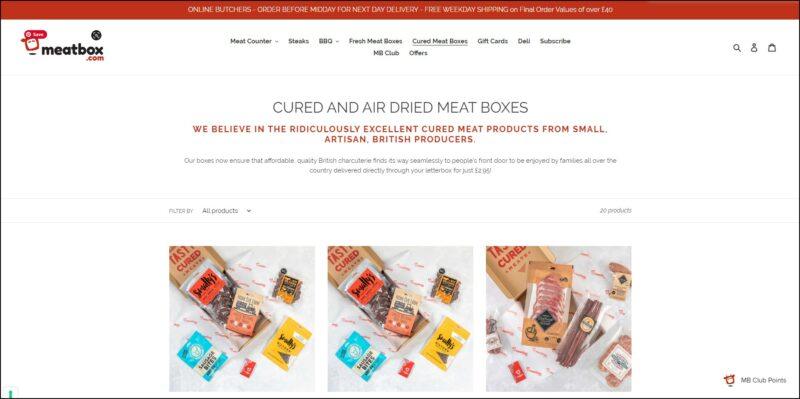 Why settle for a few charcuterie items per month when you can have a subscription like the ones from Meatbox? Meatbox doesn't just offer a larger selection than normal. The company also has a range of boxes – enough to suit everyone.
Their box names include South African Meatbox Selection, Saucissons Lovers Meatbox, Hot Hot Hot Meatbox, Connoisseurs Charcuterie Meatbox, Biltong Discovery Meatbox, and Beer Snack Meatbox
Each box type can be ordered for 1 month, 3 months, or 6 months. Pricing starts at £19.95 to £115.00 – as the pricing suggests, the company is UK-based. They ship to people in the UK and in Northern Ireland.
Di Bruno Bros Charcuterie Club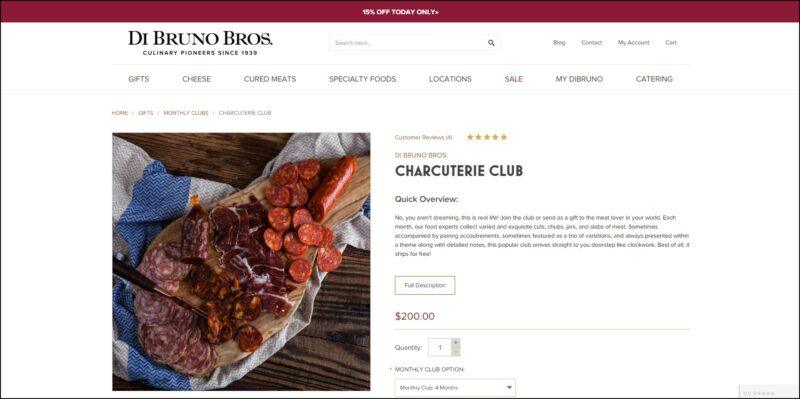 Di Bruno Bros is one of the pioneers in food retailers and importers. They traced as far back as 1930s. Today they have five retail locations, catering, import, and e-commerce divisions. Aside from cured meats and cheeses, they also provide other specialty foods.
Their Charcuterie Club is available for 4, 8, or 13 months (one free month) at a price ranging from $200 to $600 with free shipping. Each month members will get to enjoy a selection of cuts, chubs, jars, and slabs of meat. They also sometimes include accouterments and are always presented as part of a theme.
Recent pairings include Tempesta Nduja Salami, Brooklyn Cured Bresaola, and Spicy Soppressata.
Platterful Charcuterie Kits & Subscription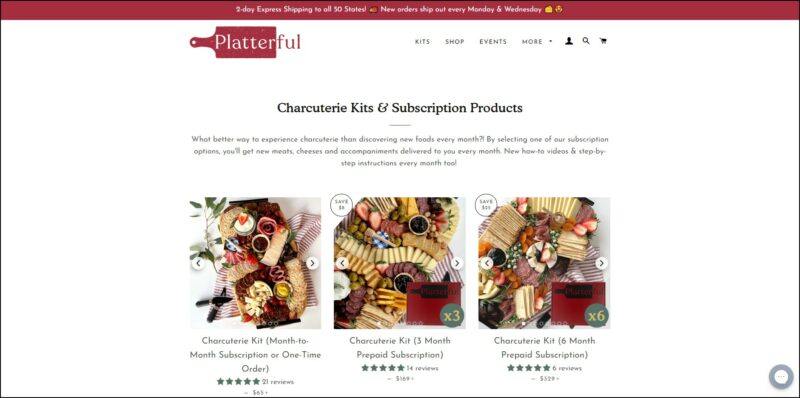 Platterful delivers the finest artisan meats, cheeses, and other accompaniments. They also provide educational materials along with instructions that could turn anyone into a charcuterie artist. They also offer gluten-free and vegan versions of the Charcuterie Kit.
You can sign up for the monthly, or the 3, 6, or 12 months prepaid subscription plan or you can also opt for a one-time purchase. Pricing is between $75 to $689. Each subscription plan has a large and standard kit to choose from.
The large Charcuterie Kit usually includes 3 kinds of cheese, 2 types of meat, 1-2 packs of crackers, 2-3 spreadable, and 3 or more other accompaniments. The standard kit on the other hand includes 2 kinds of cheese, 1 meat, 1 pack of crackers, 1-2 spreadable, and 2 or more other accompaniments. Accompaniments may be dried fruits, olives, candied nuts, chocolate, and pickled things.
Cured and Cultivated Cheese and Charcuterie Club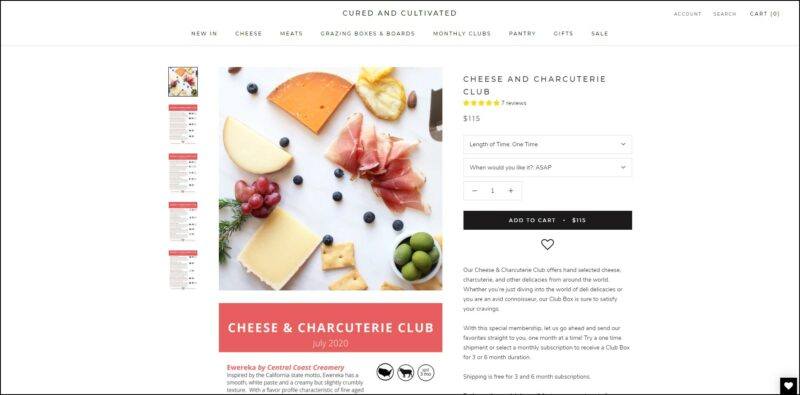 Cured and Cultivated originally started as a wholesaler to local wineries and businesses and then eventually expanded into an online cheese shop and deli. They've curated over a hundred different cheeses and cured meats and salami for their charcuterie collection from all over the world.
Their cheese and charcuterie club contains 3 kinds of cheese, 1 cured meat, 1 salami, crackers, and 1-2 condiments like nuts, olives, preserves, and others. You can choose from a one-time, 3-month, or 6-month subscription plan at $115 to $690. The shipping fee is free for the 3 and 6-month subscriptions. Club members will get a box with handpicked products that include those that are intriguing along with the classics. Members are also granted special discounts on re-ordered items plus access to exclusive promos.
You can also buy the club membership as a gift by simply giving them the recipient's email and mobile phone so that they can notify them of upcoming shipments.
Cheese & Charcuterie Monthly Package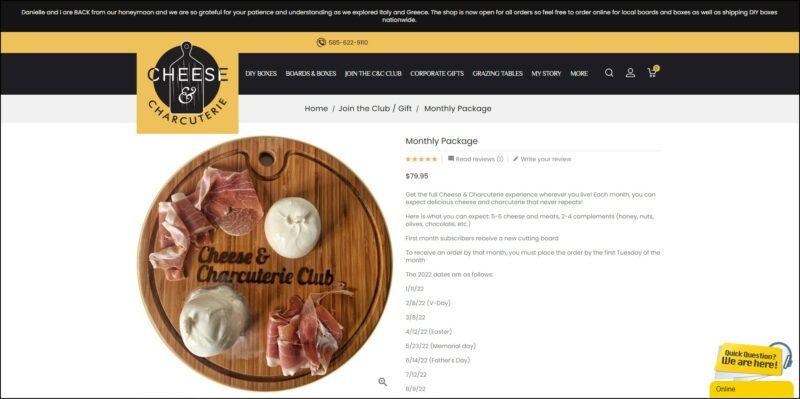 Cheese & Charcuterie is committed to delivering the best-tasting cheeses, premium cured meats, and their complements. If you're planning to host a get-together or party then try their grazing package to ease you with all the troubles and simply present the beautiful spread to your guest.
Their monthly grazing package can be availed of for 1, 3, 6, or 10-month subscriptions. Pricing is anywhere between $95 to $950. You'll get 5-6 different cheeses and meats and 2-4 complements. First-month subscribers will also get a new cutting board.
They usually ship out on the second Tuesday of each month, but don't ship in July and August. They also try to adjust shipments to ensure that monthly subscription boxes will be delivered before major holidays.
Angel's Salumi Charcuterie Club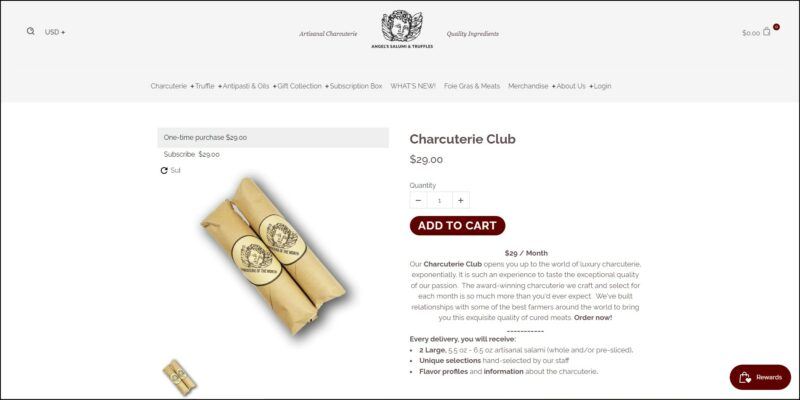 Angel's Salumi provides artisanal and unique charcuterie made only from the finest meats and ingredients. They build relationships with some of the best farmers around the world to ensure that they can provide you with only the best quality cured meats. Angel's Salumi now has a newly renovated distribution center and storefront, online shop, and tasting room located in Carlsbad, California.
Their Charcuterie Club lets you experience the world of luxury charcuterie at $29 per month. Each month they send out award-winning charcuterie with exceptional taste and quality. Members will receive two large artisanal salami, either whole and or presliced (about 5.5-6.5 oz.), along with the flavor profiles and information about the charcuteries.
If you would like to try their other products they also have a wide selection of gift boxes to choose from ranging from $79 to $118 each.
Abel & Cole Monthly Cheese & Charcuterie Club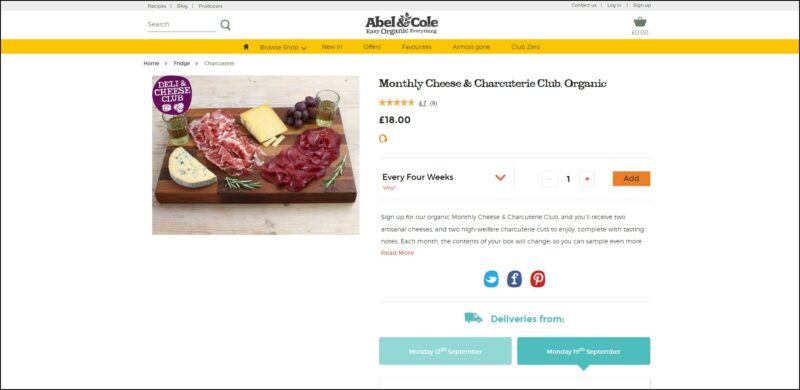 Abel & Cole is on a mission to make sustainable shopping more accessible. They work with their farmers every week to pack boxes of their best organic produce. They have fruit and veggies, meat and fish, dairy, bakery products, and more (even household items).
They also carry cured meats and even have Monthly Cheese & Charcuterie Club with subscription plans that vary from one delivery only, every week, every other week, every three weeks, every four weeks, and every eight weeks for £18.00 per shipment.
Members will receive 2 high-welfare charcuterie cuts and 2 organic, artisanal kinds of cheese along with the tasting notes. Members will get to try Abel & Cole's range of cured meats and cheeses from creamy bries to free-range salamis.
The Artisan British Charcuterie Subscription Club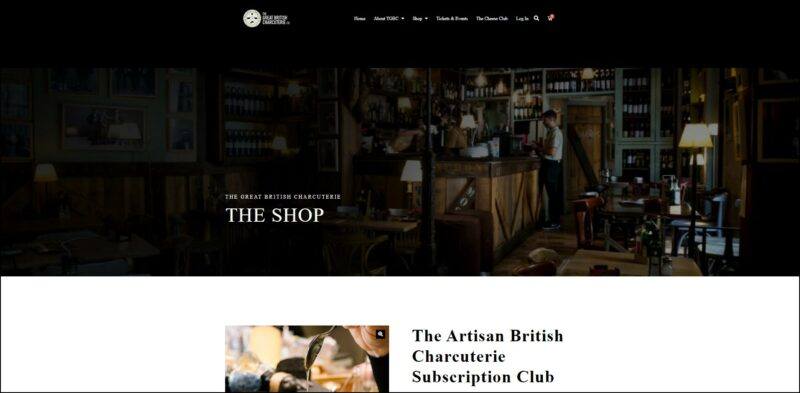 The Great British Charcuterie promotes small artisan producers around the UK. They now have grown their small shop into several restaurants, cafes, retail outlets, and online and wholesale services.
The Artisan British Charcuterie Subscription Club cost $49.95 a month with subscription lengths of 1, 3, 6, 9, and 12 months. Each month members will get hand-selected charcuterie products along with accompaniments and tasting notes and pairing suggestions. Packages are normally shipped on or around the fifth day of each month.
Members will also have first access to new products and special editions. They will also get special offers and discounts. GB Charcuterie will also cater to any dietary requirements.
Marsh Pig Charcuterie Members Club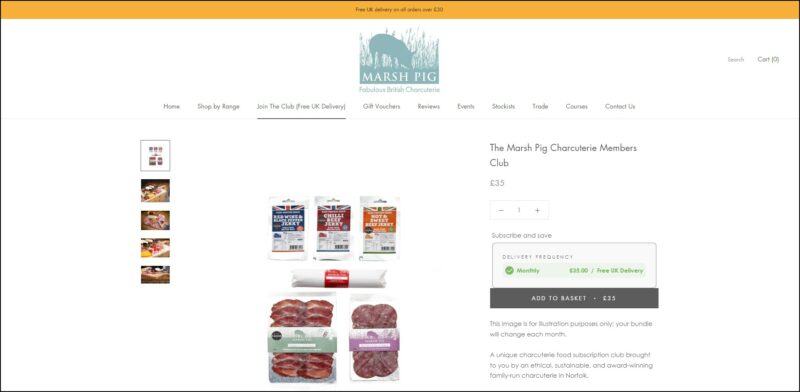 Marsh Pig is another British company that particularly offers charcuterie made from free-range pork and rare breed cross British beef. Each batch of salami is handmade without the use of any industrial-sized equipment which ensures better quality control for that guaranteed amazing flavor.
Their Charcuterie Members Club costs £35.00 per month, this includes free delivery (only in the UK). There is no fixed length of subscription and you can cancel at any time. Each month, they'll be sending out hand-selected top charcuterie products along with their favorite accompaniments. They also make sure that the bundle changes every month.
Members will have first access to new products and special editions. The first box is sent right after becoming a member and then the subsequent boxes will be sent out every 5th of the month.
Charcuterie Woo Board of the Month Club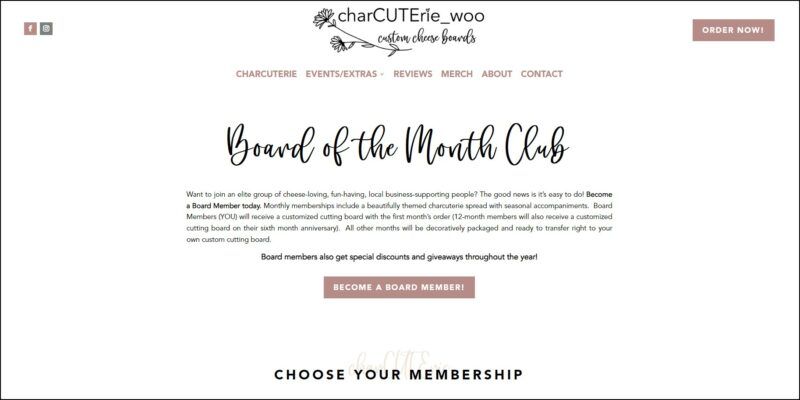 Charcuterie Woo was just recently founded by couple Kerry and Tommy Dwyer. They are now not only providing custom-made beautiful and delicious boards (all locally sourced and eco-friendly) but hosting private parties and charcuterie-making classes as well.
Their Board of the Month Club can be availed in small, medium, and large options costing $35, $55, and $75 per month respectively. Each month, members will enjoy a beautifully themed charcuterie spread with seasonal accompaniments.
Members will get a customized cutting board on their first month's order. For the 12-month members, an additional customized board will be sent out on their 6th-month anniversary. Club board members will also get special discounts plus giveaways throughout the year.
Grape Water Wine + Charcuterie Club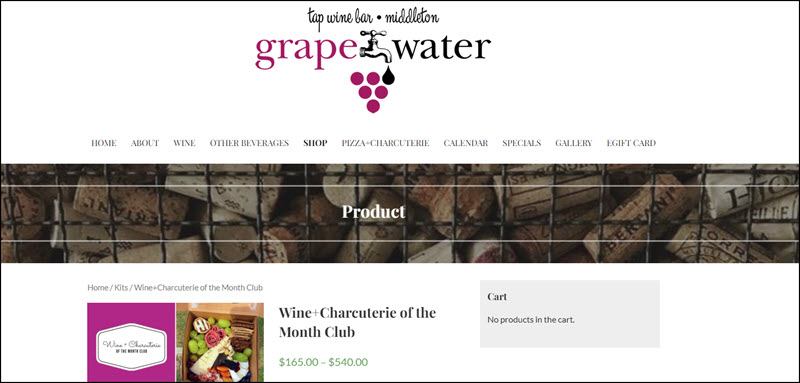 Grape Water is a small wine bar, located in Middleton, Wisconsin. They don't ship their products and their selection is pretty small. But, they offer something pretty exciting too – a wine and charcuterie of the month club.
Combining wine and charcuterie in the same subscription like this is genius. Yet, they're the only company I've seen to do so. You even get to specify the type of wine you want in your subscription, like whether you like lighter bodied reds or drier whites.
The subscription isn't even that expensive, costing $165 for 3 months, $300 for 6 months, or $540 for 12 months. Unfortunately though, there are no details about the types or quantity of charcuterie items. The subscription also isn't shipped. You'll need to pick it up from the Madison, WI area.
Yummy Bazaar


Yummy Bazaar offers a fantastic selection of foods you can order, along with a few subscriptions. One of these is a charcuterie subscription. The box costs $69 for a single month, $199 for 3 months, $399 for 6 months, or $799 for a year.
While the site looks amazing, there isn't much information about the charcuterie subscription itself. The description suggests that you're getting some cheese, some meat, and a jar of either honey or jam. However, there are no details about quantities or flavors.
The company does have a phone number and email address on the site, so you can always contact them to find out more.
Grazing Goddess


Grazing Goddess is much better at providing subscription details. Their box focuses on a selection of cheeses, meats, chocolate, and extras. The goal is to help you build a delicious charcuterie board, one that includes some brand new products.
The monthly subscription provides you with 5 to 6 different charcuterie items each month. You can even see a description of previous products on their site – showing you exactly what to expect.
For example, for April 2023, the list included Double Cream Cremont, Queen Bee Porcini Cheddar, Fennel Pollen Salami, Fennel Crostinis, Salted Caramel Shortbread Cookies, and Raspberry Habanero Preserves. That's a decent selection.
You could make a minimal charcuterie board with just those 6 items, but it would be better to add a few items of your own to make the board better. Still, that's true for most of the clubs on this list.
Brie and Banquet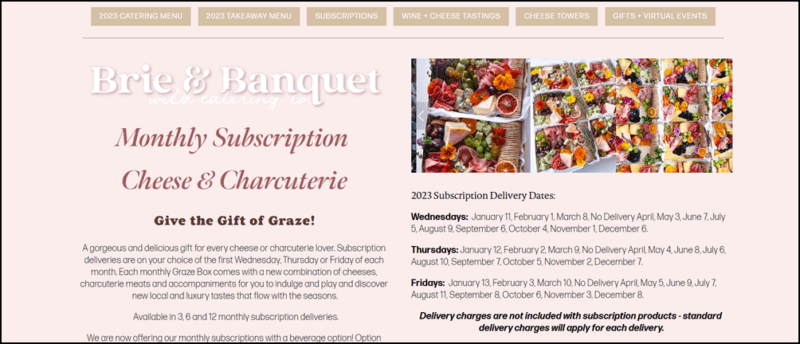 Brie & Banquet offers some seriously amazing products, which they describe as edible art. The boards always rely on seasonal ingredients and are styled so that they look amazing.
Each of their boards includes a selection of meat, cheese, and various accompanying treats. The 3-month version of the subscription averages $75 per month, the 6-month comes to $70 per month instead, and the 12-month has an average of $65 per month.
You also have the option of adding items to the subscription, including crackers, desserts, plates and napkins, a card, or wine. Doing so allows you to create an even more comprehensive subscription.
BKLYN Larder


BKLYN Larder isn't nearly as impressive as the previous entry, but the subscription is still worth considering. Each month provides you with two pieces of cheese and two types of salami. While these won't be enough for a charcuterie board on their own, they're a great starting point.
A 3-month version of the subscription costs $270, a 6-month is $520, and a 12-month is $980 instead. This gives an average of between $81 and $90 per month. That's a lot for four items, so hopefully the cheese and salami are exceptional.
Sara's Boxes and Boards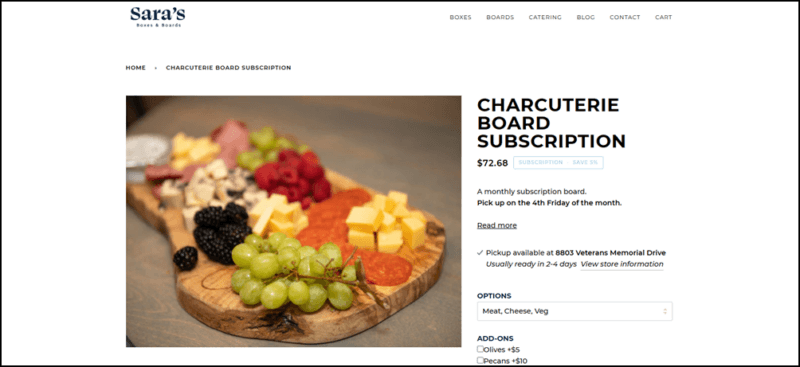 The boards from Sara's Boxes and Boards look amazing. There's one catch though – they're pickup only. The store is on Veterans Memorial Drive in O'Fallon, Missouri.
If you live in the area, the subscription is seriously worth checking out. You can choose between Meat/Cheese/Veg, Meat/Cheese/Fruit, Cheese/Fruit/Veg, and Vegan versions. There are also four sizes – small, medium, large, and extra large.
The price varies depending on the type you choose and the size. For example, the Meat/Cheese/Veg version comes in at $51.30 for small, $72.67 for medium, $86.92 for large, and $101.17 per month for extra large. You can also add extra items, like olives, pecans, pretzels, and chocolate covered berries.
The site provides no information about the number of items for each size, which is a shame. Still, you could always contact them and ask before ordering.
If you want something different, there's a seasonal board subscription as well. This is themed differently each month. You can order it as a subscription for $77.85 per month or as a one-time purchase for $81.95.
Frequently Asked Questions
Is There A Wine And Charcuterie Subscription?
You'll probably want some wine to serve with your charcuterie board, so why not get it in the same subscription? Grape Water has this option, giving you a bottle of wine and a charcuterie board each month. For the wine, you can choose between full bodied reds, lighter bodied reds, drier whites, sweeter whites, or ask the company to surprise you.
There's one big caveat though – this club is pickup only. The company is located in Middleton, Wisconsin, so it's only useful if you live in that area. Otherwise, you might need to join two clubs, one for wine and one for charcuterie.
What Is On A Charcuterie Board?
The word charcuterie technically just refers to prepared meat, but most charcuterie boards don't stop there. A board that just focused on meat would be too monotonous. This is why you'll see other ingredients as well, including cheese.
There's endless room for variation with charcuterie boards, so it's important to read the company's description closely. The best descriptions will tell you exactly what to expect each month.
For example, the Charcuterie Club from Olympia Provisions contains a sausage, a pickle, and two types of salami each month. You also receive some salami, curated cheese, and a gift every quarter. As such, you'll probably need extra products to round out your board.
In contrast, a large Charcuterie Kit from Platterful contains three cheeses, two types of meat, one or two cracker packs, two or three spreadable products, and at least three other items. There are even printed instructions and a video to help you put the board together.
Can Charcuterie Clubs Be Customized?
Most charcuterie companies select everything for you, including the specific meats and cheese you receive, plus whether there are other items. Some companies will allow you to choose the size of your board, while others just have one size.
Some companies will make adjustments based on allergies, like not including nuts or perhaps focusing on gluten free crackers. You'll need to contact customer support for the individual company to find out what adjustments they're willing to make.
Are There Dessert Charcuterie Clubs?
Dessert charcuterie boards combine sweet treats rather than savory ones. They're often romantic and elegant, making them perfect for date nights and getaways.
However, the style is pretty new and unusual. Most companies haven't got on board with the idea yet and there aren't any dedicated dessert charcuterie clubs. In fact, most boards don't contain any sweet ingredients at all.