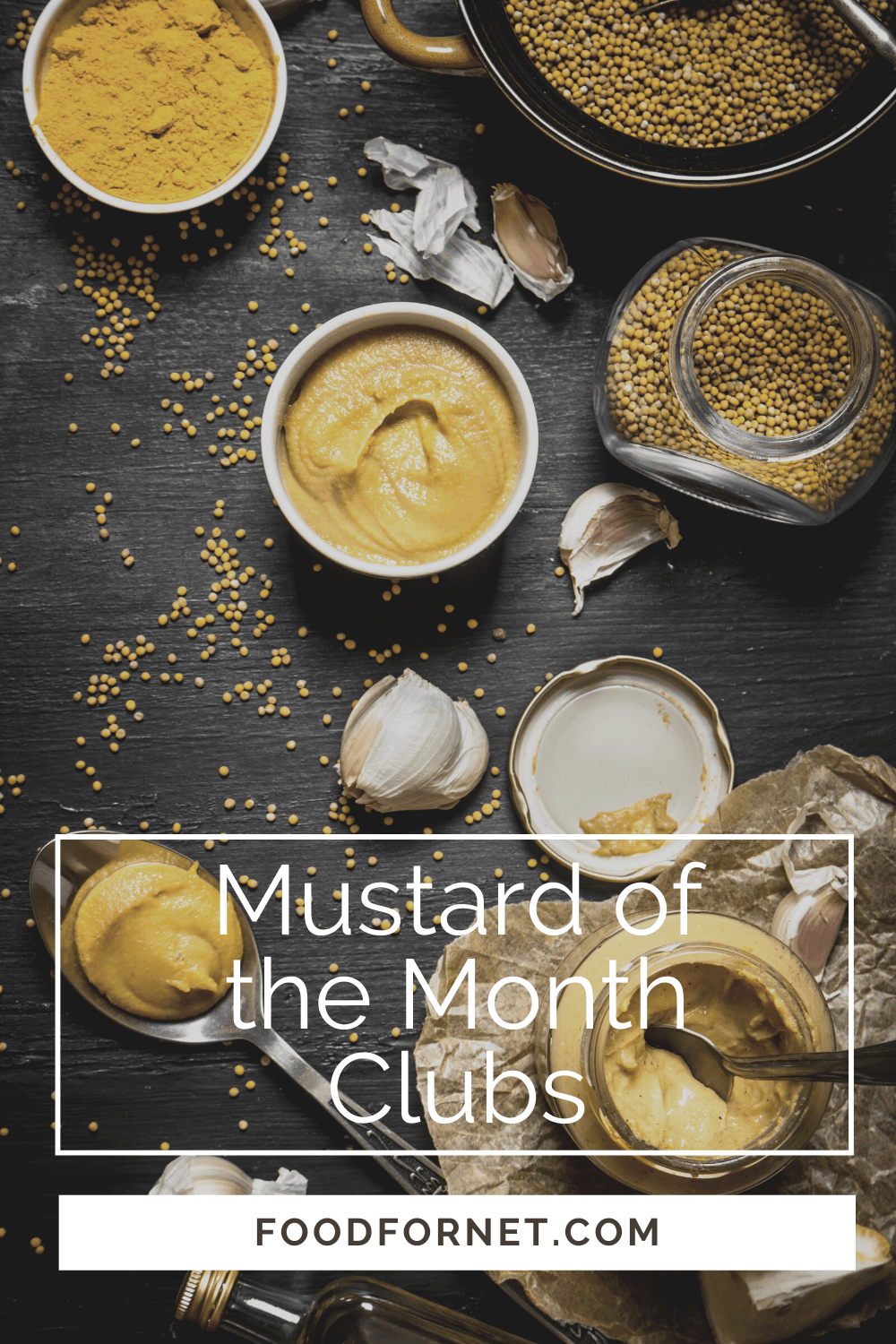 Mustard, the often yellow condiment, originates from the mustard seed. The seed is one of the oldest recorded spices, dating back to 3000 BCE in which Sanskrit manuscripts were found documenting this spice, although its use as condiment only dates back to early Roman times. These mustard of the month clubs give you the chance to enjoy the classic condiment with ease.
Mustard comes in three main condiment forms, including:
Whole Seeds
Dry Powder
Prepared
The two main types of mustard are brown and white:
Brown Mustard Seeds – French paste style mustard
White Mustard Seeds – American and German pastes
However, there are seven primary types of mustards:
American Yellow Mustard – Perfect for summer BBQs
Dijon Mustard – White wine-based instead of the traditional vinegar
Spicy Brown Mustard – The mustard seeds is a coarser ground, allowing for a spicier flavor
Hot Mustard – Usually seen in Chinese cuisine, it has a similar heat to horseradish, but the heat is strictly from mustard powder
Whole Grain Mustard – This mustard uses whole seeds allowing for a coarse, grainy texture
Stone Ground Mustard – The texture of this mustard falls between Dijon and Whole grain
Honey Mustard – A bit of the sweet and tang mixed together creating a great balance
In addition to the multitude of mustard found on our grocery store shelves, there is also a whole world of unique small-batch or flavored mustard varieties. This beloved condiment is so popular there are now several mustard clubs available bringing mustard lovers together with their favorite condiment.

Mustard of the Month Clubs
Men of Many Mustards
Mustard Museum
Month Club Store
Honest Foods
Harry & David
Men of Many Mustards

Men of Many Mustards is a small business inspired by the love of mustard. The founders have searched the world over looking for premium mustard varieties that can't be found in your local grocery store.
By signing up with Men of Many Mustards subscription box, your mustard world will open up. By taking the time to taste hundreds of mustard each year, they have ruled out those that can't cut the mustard, only bringing the best to their clients.
The mustard varieties included in their club all come from small businesses, so you will never see big name brands in your mustard box.
Shipments for mustard go out the 15th of each month, so recipients can expect to see their monthly mustard box the second or third week of each month. Plus, shipping is included in the price of the subscription. The club is easy to sign up for since there is only the one month to month option that can be canceled or paused anytime.
Some of the mustard types you may see in your subscription include:
Braswell's – Hot Horseradish Mustard, from Georgia
Beanie's Homestyle Mustard, from Pennsylvania
Edmond Fallot – Green Peppercorn Mustard, from France
Mustard & Co – Smoky BBQ, from Washington
Lusty Monk – Original Sin Hot Grain Mustard, from North Carolina
Mustard Museum

Mustard Museum, founded by Barry Levenson, is located in Middleton, Wisconsin. The Mustard Museum was an inspiration that hit Levenson back in 1986 after the Boston Red Sox lost the World Series. While mourning this favorite team's loss as he roamed the condiment aisles of his local grocery store, he heard someone say, "If you collect us, they will come."
Since that fateful October night, Levenson has collected all things mustard, resulting in the national Mustard Museum, which opened in 1992. Over the years since it has opened, the Mustard Museum has received a lot of attention. The Mustard Museum has even been featured on TV shows like Oprah, Jeopardy, and To Tell the Truth.
The museum boasts more than 6,090 different mustard varieties that come from a vast number of locations. However, included in the collection, Levenson was sure to include at least one from each state in the US, plus others from over 70 different countries.
If you are interested in seeing the world's largest mustard selection, head over to Middleton Wisconsin and visit their museum. And admission is free to the public.
However, if you are unable to make a trek to the midwest to see it in person, you are always welcome to shop their online store where you can find things such as:
Mustard gear
Mugs
Shot glasses
Mustard Balm
Novelty Candies
Gourmet Goodies
Mustard
If you can't choose from their over 500 mustard selection, there is always their mustard of the month subscription. The mustard of the month club comes in three different durations: 12 months for $340, 6 months for $185 (delivered every other month), or 4 months (delivered every quarter).
Every month the recipient receives three jars of unique mustard. Shipments go out the first Tuesday of each month via UPS or USPS. In addition to the delicious mustard, your subscription box will also contain the monthly mustard newsletter.
Month Club Store

Month Club Store, located in Omaha, Nebraska, has been helping customers find the perfect gift for over eleven years and was one of the first monthly gift club companies. The Month Club Store works with unique purveyors to provide a culmination of great gift ideas.
They pride themselves on partnering with only the best, which aids them in meeting their goal of always providing an excellent shopping experience. The Month Club Store works diligently to guarantee customers are happy with their choices. But they do realize that not all people share the same tastes, so if you are displeased in any way with your delivery, reach and allow them to make things right.
With about twenty different clubs including wine, pickle, salsa, pizza, fruit, coffee, and cigar. There are many gift options to choose from too, ensuring you will be able to find the ideal gift for that special someone.
The mustard of the month club comes in a variety of duration and quantity choices:
3 Months – 1 Jar: $44.99
6 Months – 1 Jar: $88.99
9 Months – 1 Jar: $132.99
12 Months – 1 Jar: $176.99
3 Months – 2 Jars: $59.99
6 Months – 2 Jars: $118.99
9 Months – 2 Jars: $177.99
12 Months – 2 Jars: $236.99
Additionally, you can choose the frequency for the deliveries. The options include every month, every other month, every third month, and every fourth month.
The recipient will receive a selection of unique premium mustards from all over the world. Some of the award-winning options that you may see with this membership include:
Dulcet Cuisine Madras Curry
Stone County Specialties Honeycup
Brownwood Farms Famous Kream
Delicae Gourmet Sun-Dried Tomato & Olive
Diva Delectables Brash Balsamic Maple
Honest Foods

Honest Foods, located in Brisbane, California, not only sells gourmet food but also produces it. The Honest Foods company realized a gap in the market of getting artisan foods to consumers who appreciate premium culinary delights. So together with other gourmet companies, Honest Foods has created a one-stop-shop for "Quality Foods for Quality People."
Honest Foods offers a few different shipping methods through USPS and UPS, depending on where you are shipping to in the country. Also, international shipping is available, making overseas gift giving all the easier.
Honest Foods has several gift options such as: sauces, gluten-free foods, chocolate, gourmet salts, and global foods.
And when you sign up for their mustard of the month club, you can expect to receive some unique mustards that are of the domestic and international varieties, as well as some less common styles and flavors.
The club comes in four options: 3 months f or $33, 6 months for $66, 9 months for $99, and 12 months for $141.
Each delivery is different, so you never have to worry about duplicates. Mustard subscriptions are shipped the first week of each month. And the cost of shipping is included in the prices above.
Harry & David

Harry & David first started as a family orchard in 1910, by Samuel Rosenberg, in Oregon's Rogue River Valley area. The orchard was named, Bear Creek Orchard, and initially grew pears on the 240-acre farm.
Samuel's sons, Harry and David, went to college at Cornell University for agriculture to better aid the family orchard. They planned on making the Comice pear, originally from France, the main export from their farm. However, the Comice pear flourished in the valley and was later renamed the Royal Riviera. The Royal Riviera pear was unique from all other pear varieties in the valley.
Though the family orchard is still in business today, it did hit some rough patches, especially during the depression. After the Great Depression, the brothers decided to start selling their pears via mail, to increase sales, which is when their mail order service got its start.
Over time the Harry & David company has expanded well beyond the orchards of Oregon. It now sells a wide variety of premium gourmet foods through both their online store as well as their 40+ retail locations.
They are most famous for their luxury gift items such as gourmet food towers, exquisite gift baskets, fruit from their orchards, baked goods, and monthly food subscriptions.
Their mustard of the month clubs are all set as month to month delivery options. There are four mustard flavors to choose from: Raspberry Honey Mustard, Sesame Honey Mustard, Honey Mustard, and Wasabi Mustard.
And if you can not choose just one mustard, you can always order the pick four box and try them all.