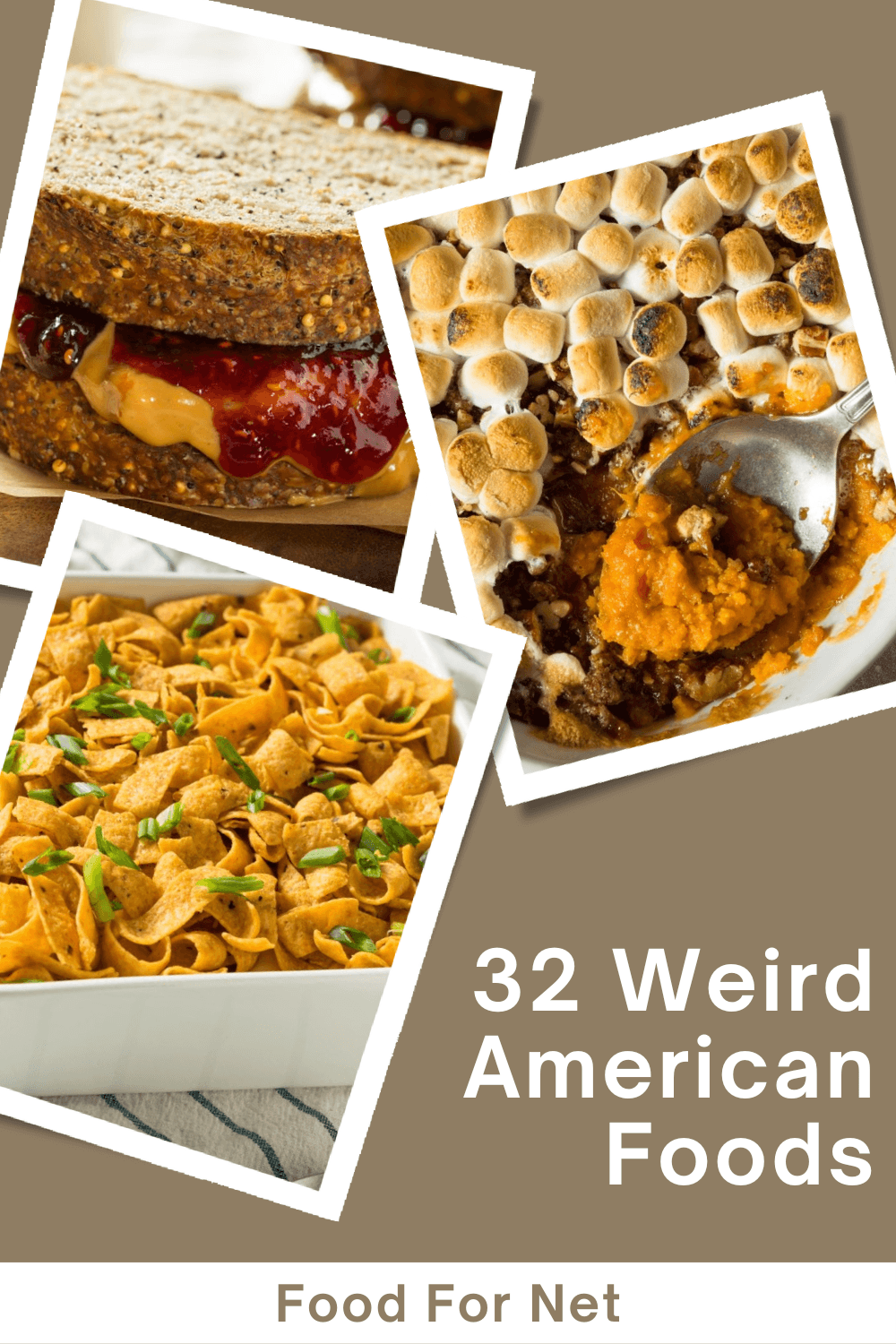 Here in America, we have plenty of delicious foods, ones that delight the tastebuds and that people come back to time and time again, including many classic breakfast foods, snacks, and dinners. American can be a weird place though, so there's go to be some weird American foods worth talking about… right? (Of course!)
Some of these dishes are known the nation over, while other dishes are more localized. Some are also similar to what you might find elsewhere, like bacon and eggs or cereal. But, American food can also be controversial. Indeed, there are some very weird American foods out there.
These strange and unexpected foods are the ones we're looking at today. Some of these are popular within America, but completely confuse anyone living outside of our nation. Other foods are just as strange to Americans as they are to everyone else.
To make this list, we're mostly focusing on common dishes. However, there are plenty of obscure weird foods too, ones that you need to go out of your way to find.
Weird American Foods (With Pictures!)
Cornbread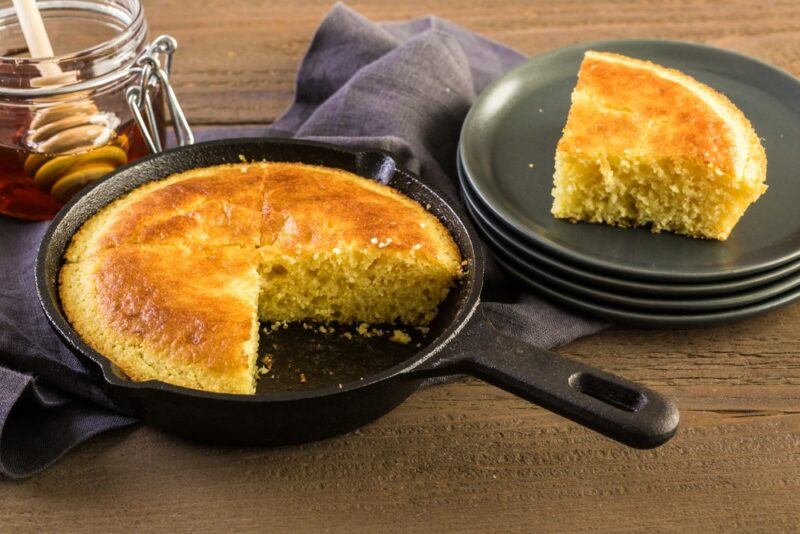 While cornbread is popular and often made within the United States, many visitors haven't heard of it at all. The bread really is distinctive, with a unique flavor and texture combination from the corn and other ingredients.
When made well, the bread is delicious and can pair well with sweet or savory dishes.
However, this is one of these foods where quality varies dramatically. There are plenty of less than ideal versions, including ones that are too dense, too dry, or too bland. So, if you're making it from home, it's critical to find a good recipe.
Corn Dogs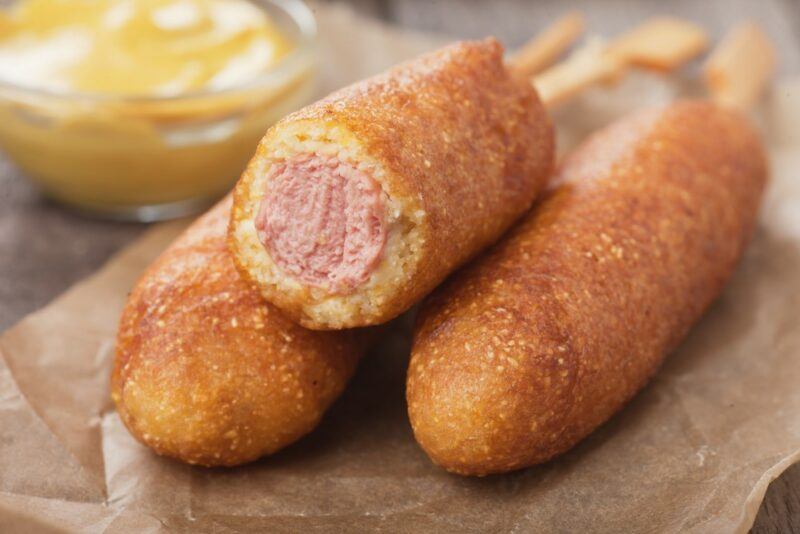 Corn dogs are so called because you have a hot dog that is coated with a sweet cornmeal batter and deep fried. It's often served on a stick, giving you an easy-to-eat mostly savory snack (although some versions are sweeter than others).
The whole idea is confusing to non-Americans, especially as many have no idea what cornbread is, so don't know what to make of the name corn dog.
In fact, corn dogs often feature on lists of foods that non-Americans want to try, partly because the name gives so little away. Some commenters even assumed that the snack simply consists of fried corn flour, without any hot dog at all.
Hush Puppies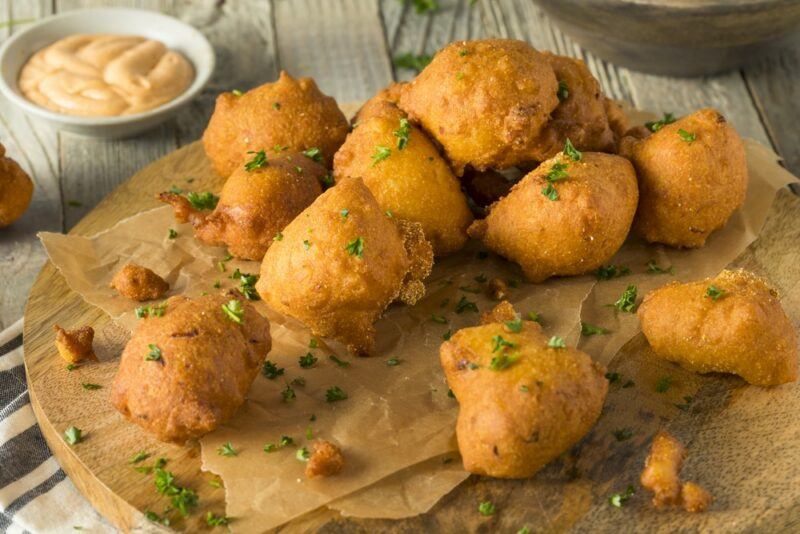 Hush puppies are a deep fried cornmeal treat. They're often pretty simple, as they rely on a batter of cornmeal, flour, baking soda, and a few other ingredients.
However, they can easily be tweaked. Some recipes focus on adding extra flavors, like including spices or hot peppers.
Hush puppies aren't especially filling, so you'll often see them served alongside other meals.
Bloomin' Onion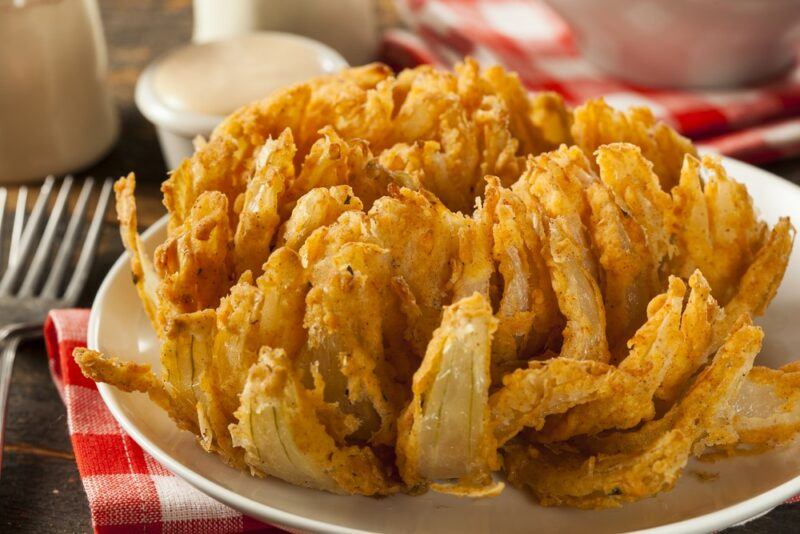 The Bloomin' Onion is famously served at the Outback Steakhouse, although there are plenty of knockoffs and recipes that allow you to make a similar dish at home.
The actual dish isn't complex. It's a deep fried onion that's been specially cut to create the bloom-like shape and is served with a special sauce.
The shape of the Bloomin' Onion is unusual, but that's not what earns the dish a place on this list. Instead, it's the fact that this isn't an Australian dish whatsoever.
Despite being served at Outback Steakhouse, the Bloomin' Onion is an entirely American invention. Which, let's face it, isn't terribly surprising. Deep frying food is a very American practice.
Circus Peanuts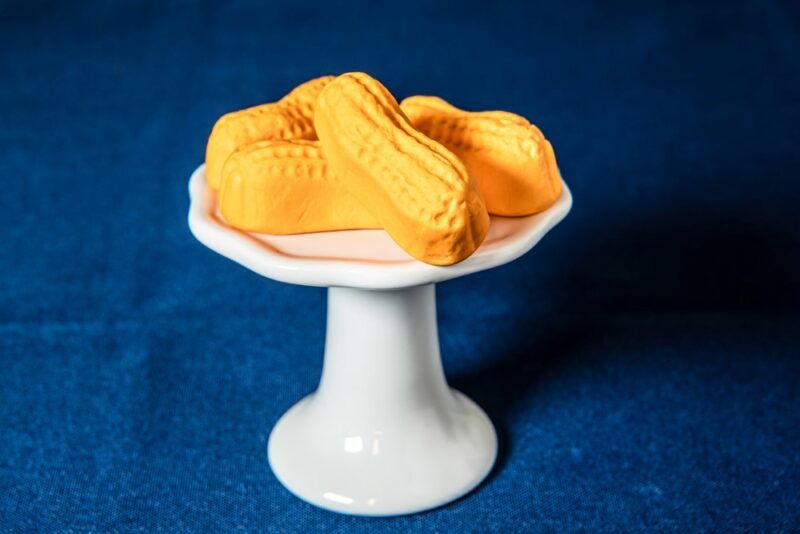 American candy is often strange, but circus peanuts are certainly one of the oddest additions. Part of the problem is that they're orange-colored and shaped like peanuts, yet use artificial banana flavoring – creating a juxtaposition between flavor and appearance.
This is a heavily processed treat, so it isn't much like real bananas or real peanuts at all. While the peanuts are still popular, they're bound to confuse any visitors.
Canned Cheese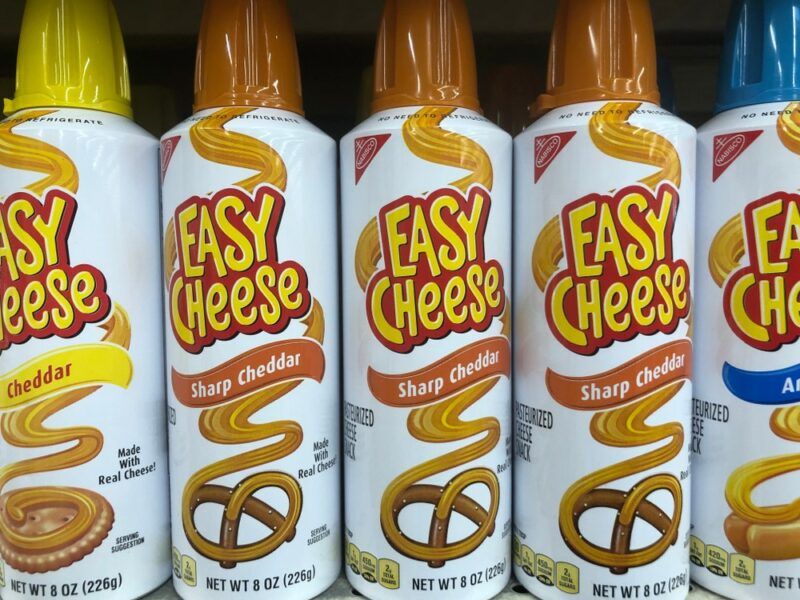 Cheez Whiz, Kraft Easy Cheese, and other similar products are completely bizarre. I mean, we're talking about cheese in a can, which really shouldn't be a thing at all.
Of course, calling these products cheese is a stretch. The label often says that they're 'made with real cheese', but they're also heavily processed, to the extent that they don't really taste like cheese at all.
American Cheese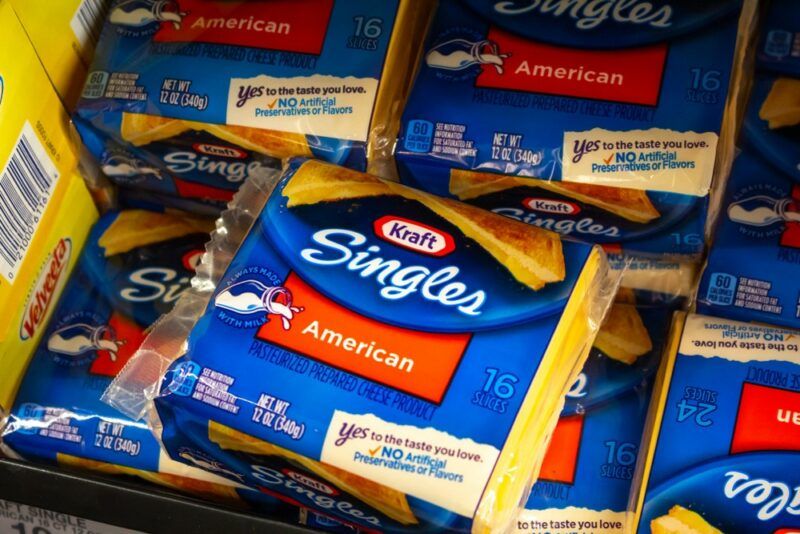 America has no shortage of delicious artisan cheese. It's easy to forget this at times, due to the monstrosity that is American cheese.
By this, we're talking about the highly processed cheese-like product, often sold in packets containing individually wrapped slices. The product is made from a blend of cheeses, plus various other ingredients, like spices, salt, emulsifying agents, artificial colors, and artificial flavors.
The even more astounding thing is that the cheese is popular.
Peanut Butter and Jelly Sandwiches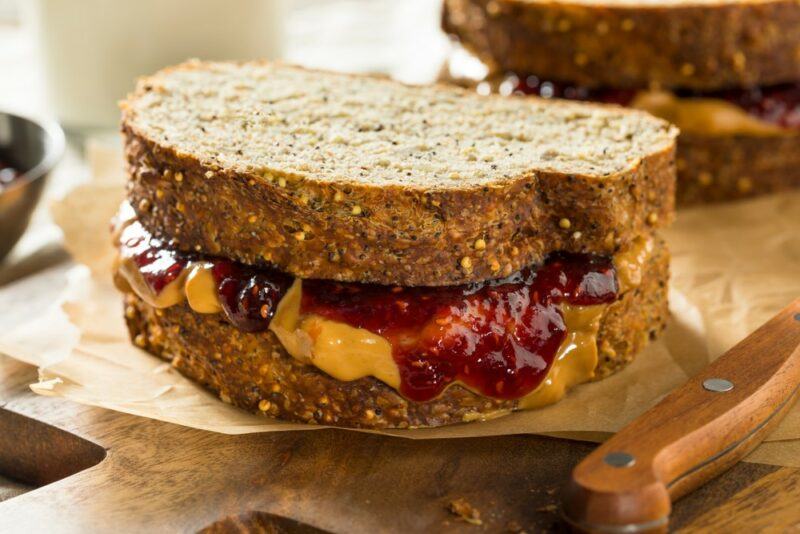 Peanut butter and jelly sandwiches aren't exclusive to the United States, but they are very American. People who grew up with these sandwiches often find them very normal indeed, while everyone else's first reaction is "what the…?".
And honestly, it is a strange idea. Not only does the sandwich attempt to balance sweet and savory, but you also have distinct textures and flavors.
Part of the confusion may be because American peanut butter is sweeter than peanut butter in many other countries. So, when foreigners think about peanut butter and jelly sandwiches (or, peanut butter and jam, depending on where you live), they probably imagine something quite different.
Pork Rinds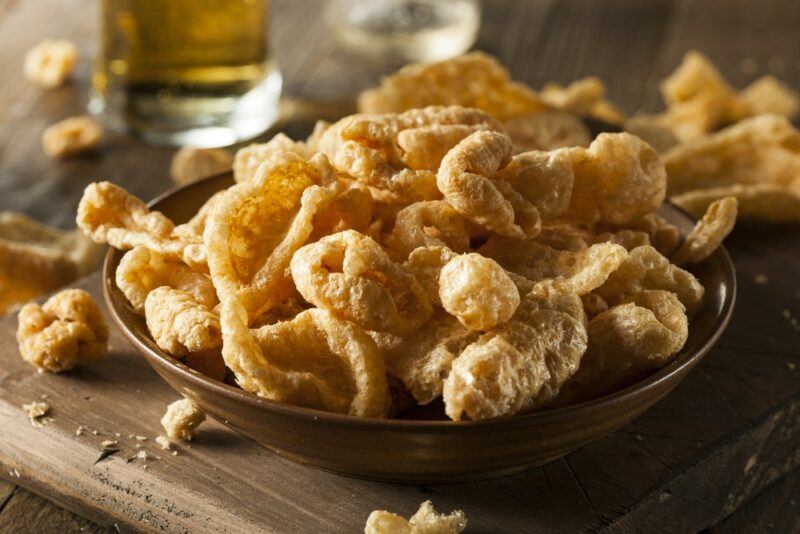 There's nothing unusual about pork rinds. The strange thing is how often Americans use fried pork rinds as a snack. They're even sometimes called a healthy snack (which is, of course, quite debatable).
Health effects aside, the rinds are an incredibly tasty snack. Good brands are often even more enjoyable than potato chips. Pork rinds are also high in protein and low in carbs, making them surprisingly satisfying.
Just watch out for the serving size, as the rinds contain a decent amount of saturated fat.
Grits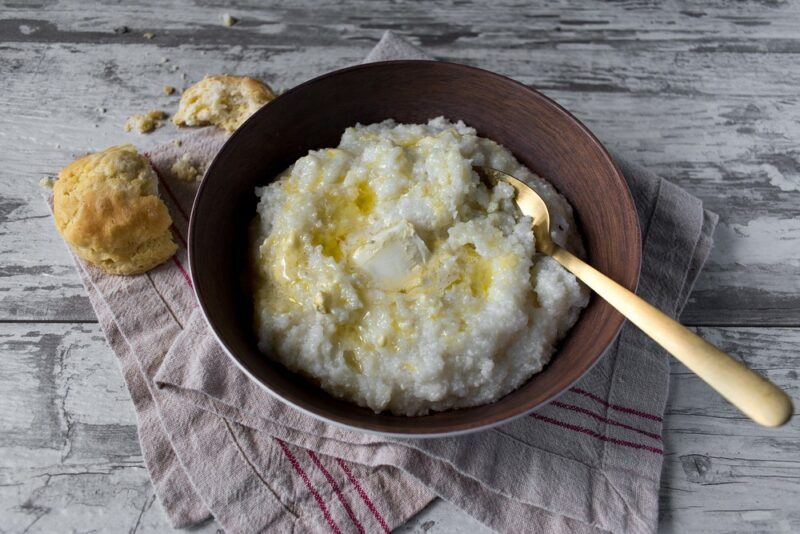 Grits are a Southern favorite. They're familiar to most people in the United States, even if some Americans think grits are bizarre and steer clear of them. Outside of the United States, grits are often unheard of.
It's a tough dish to explain too, which doesn't help. Grits are made using ground corn kernels, often cooked with plenty of milk or butter. Sometimes they're served with cheese or shrimp, or other toppings.
When made well, grits are meant to be thick, smooth, and comforting. They don't have much taste though, which is why toppings and extra ingredients are so important.
Much of the debate with grits might be because they're often made poorly. So, visitors may try them and think they're horrible, without any real sense of what they're meant to taste like.
Fried Chicken With Waffles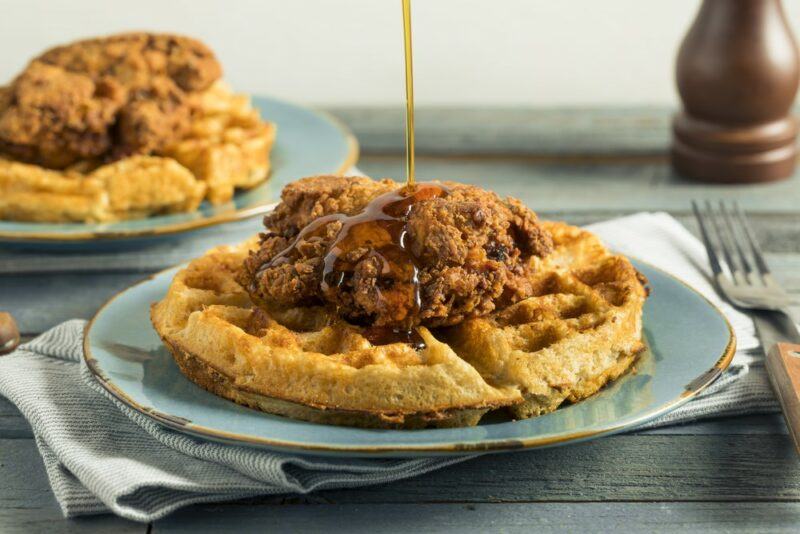 There's nothing unusual about fried chicken, waffles, or maple syrup. But, combining the three is incredibly strange and sounds like it shouldn't work at all.
It's not just visitors who think this is an odd dish either. It's a classic Southern meal, so if you're from a northern state, you might not have tried it either.
Despite how strange the dish sounds, fried chicken and waffles really do work well together. You end up with a fantastic contrast of sweet and salty, plus an excellent balance of fat, carbs, and protein.
Biscuits And Gravy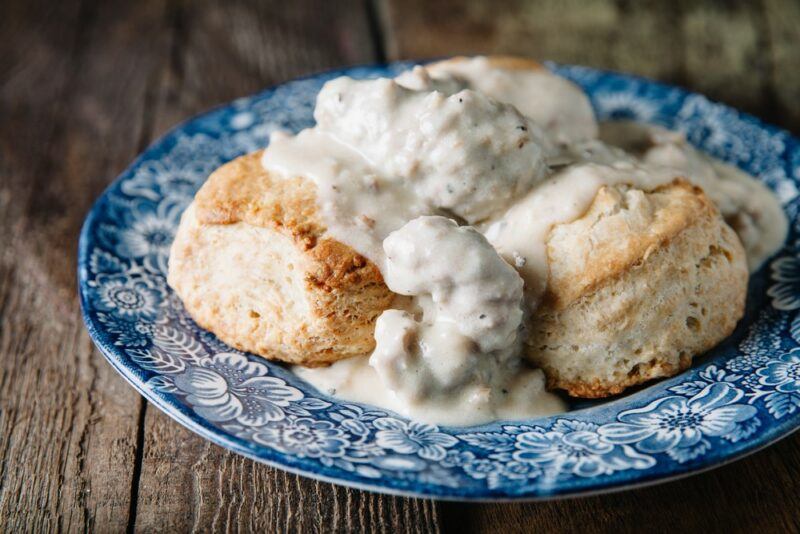 Here's another classic Southern dish, one that many Americans have tried at least once. The unusual thing here isn't so much the dish itself, as biscuits and gravy do taste good together.
But, if you're from outside the United States, the dish makes little sense. In other countries, biscuits are typically similar to the American cookies, while gravy doesn't look like the white sauce that you get with biscuits and gravy either.
American buttermilk biscuits are a little like scones and similar dishes from other parts of the world. However, those are often served with butter, jam, and/or cream. Combining scones with savory white gravy is strange in so many ways.
Not surprisingly, many non-Americans are fascinated by the dish, wanting to know what it tastes like and what they're actually eating.
Chicken Fried Steak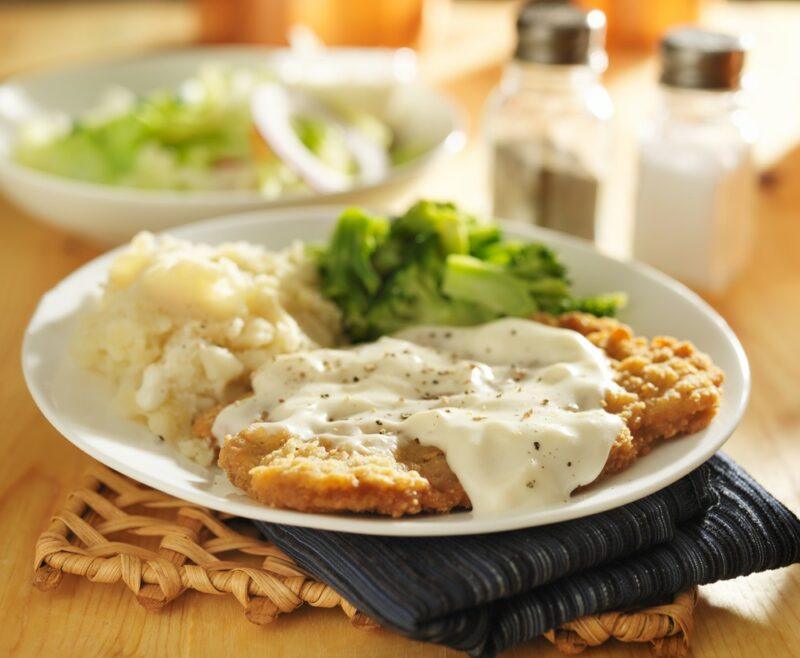 The most unusual thing about chicken fried steak isn't the dish itself – it's the name.
After all, the dish doesn't actually include any chicken at all. It's simply breaded and fried steak covered in lumpy white gravy.
The difference between the name and the dish is confusing enough if you are American. Imagine if you had just arrived and ordered it. Even the gravy mightn't be what you're expecting.
Sweet Potato Casserole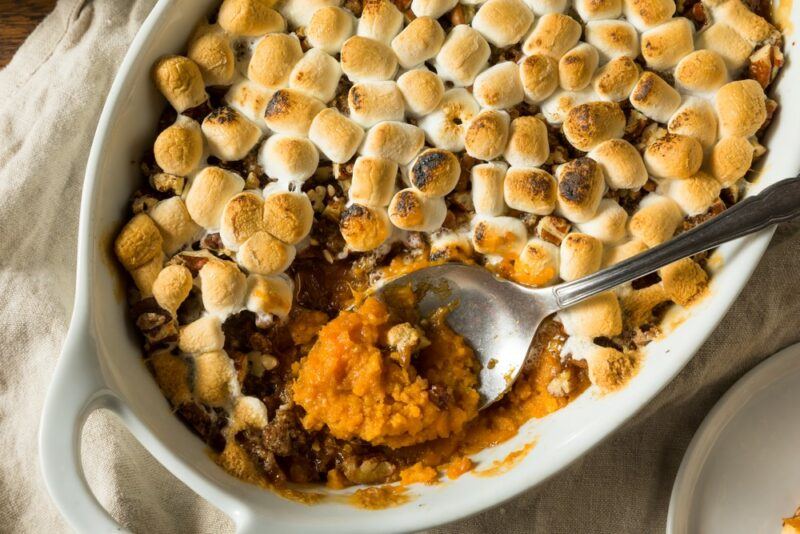 Sweet potato casserole is another dish with an odd combination of ingredients. The base is simple enough, a casserole made with sweet potatoes. But, most versions also add brown sugar, creating an even sweeter casserole.
Then there's the topping. The traditional version relies on mini marshmallows and pecans, although some people skip the marshmallows.
Even without the marshmallows, we're talking about a vegetable-based dish that's much sweeter than it needs to be.
Pumpkin Pie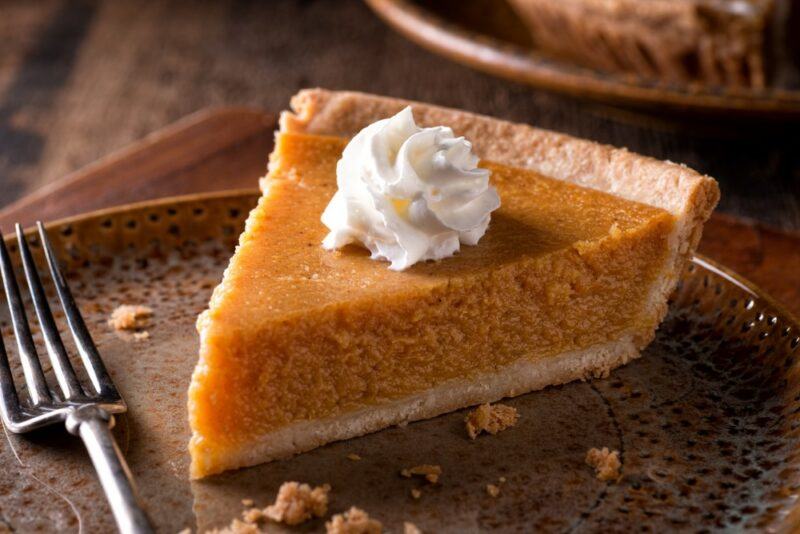 Pumpkin pie takes a different approach. Rather than being overly sweet, most recipes allow the pumpkin flavor to shine through, then complement this with various spices.
The spices add flavor and complexity to the dish, without giving it any heat. In fact, the flavor is often on the bland side, but you have a smooth and delicious custardy texture that makes the pie seem decadent.
This type of pie can be found elsewhere, true, but remains famously American. It's also an example of how Americans have an endless variety of sweet and semi-sweet pies.
Root Beer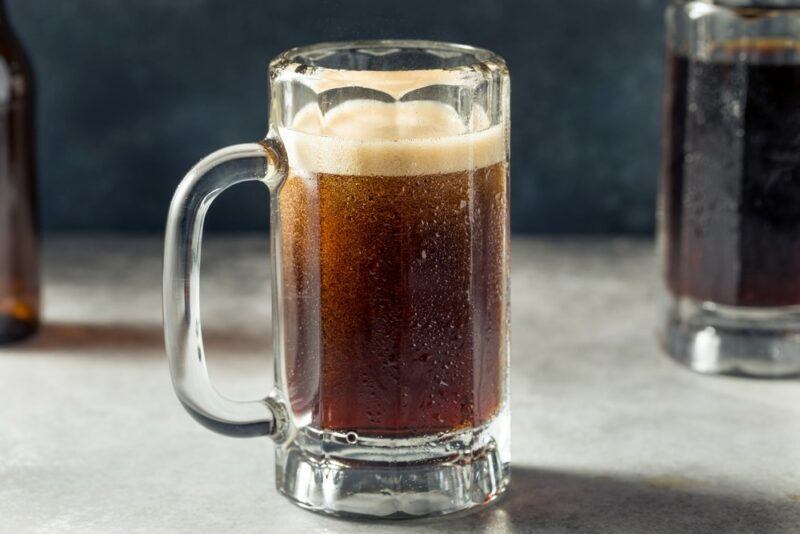 Root beer has many die hard fans in the United States, plus plenty of people who can't stand the drink at all (which is a shame, as it can be used to make some amazing cocktails).
The drink also goes by the name sarsaparilla, largely because it was originally made using Sassafras roots. These days the flavoring is often artificial, with other components added in, including honey, cinnamon, and licorice root.
Not surprisingly, you end up with a distinctive drink, one that's unlike any other type of soda.
Dr. Pepper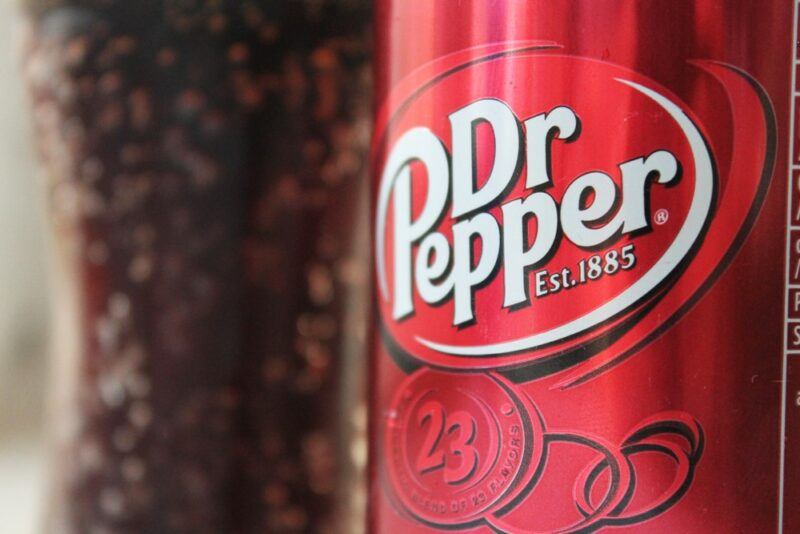 Dr. Pepper is another soda that we must include on the list (it's too distinctive to ignore). The flavor is like combining Coca-Cola and root beer. Well, there's some similarity anyway.
In practice, Dr. Pepper is difficult to describe. There are actually 23 different flavors in the drink. You may notice hints of cherry, licorice, or completely different flavors.
America isn't the only place that you'll find Dr. Pepper, but the soda is shockingly popular in the United States, more so than in most other places.
Marshmallow Fluff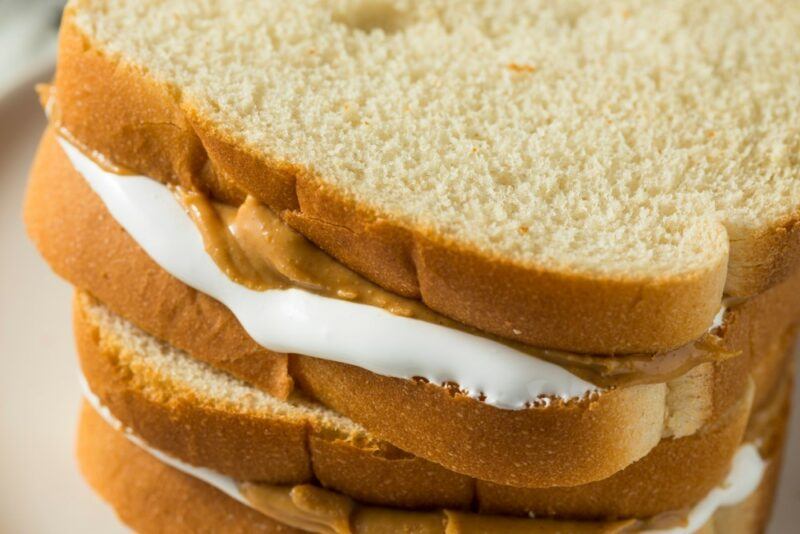 Marshmallow fluff or marshmallow crème is familiar enough to Americans, but it's a strange idea to everyone else. We're basically talking about spreadable marshmallows, which doesn't sound like it should be a thing at all.
An even stranger thing about marshmallow fluff is how it is used. You'll sometimes see it included in sandwiches, including the fluffernutter, which combines marshmallow fluff with peanut butter. Other recipes also play with that flavor combination, including cookies and waffles.
Pop-Tarts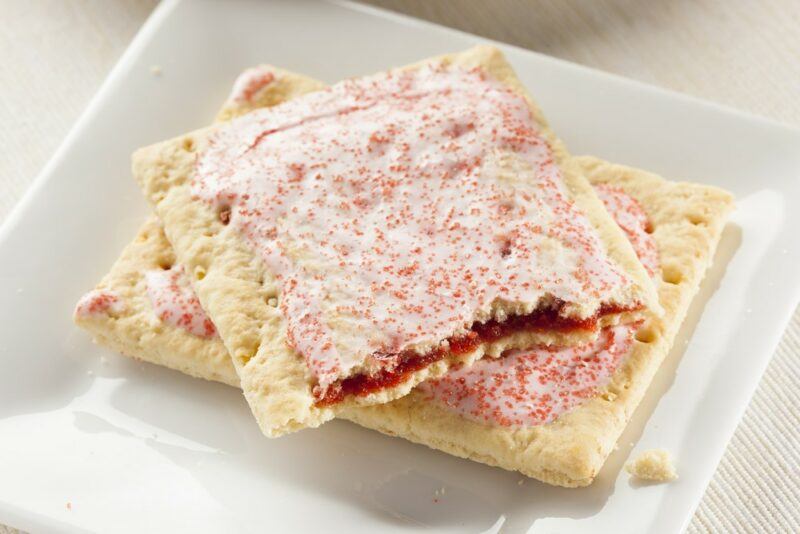 Pop-Tarts are popular enough that they're imported as treats in many countries, including New Zealand. The combination of pastry, frosting, and filling is also pretty unusual, especially as the tarts are thin enough that they even seem a bit like crackers.
They're also heavily processed, to the extent that they don't really taste like anything else. Then there's the fact that you put these pastries in the toaster.
The other odd thing is that Pop-Tarts are often served for breakfast. Yet, in terms of flavor and nutrition, Pop-Tarts are more like dessert than anything else. They're certainly not enough to keep people going for long.
Sloppy Joes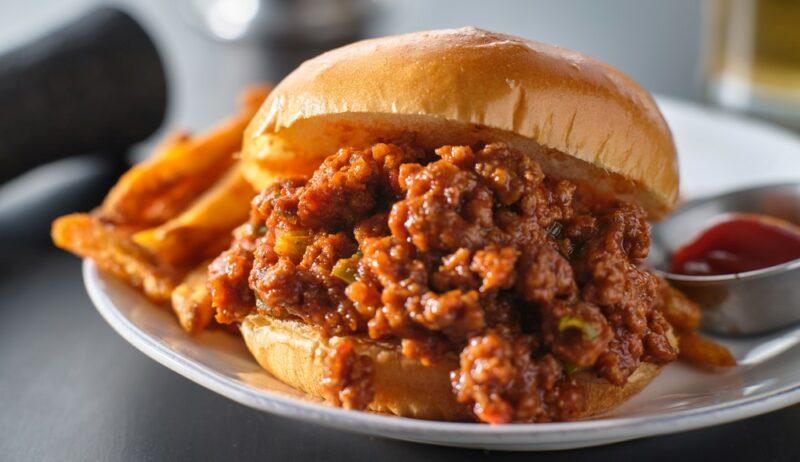 Sloppy Joes are fairly simple. You're just serving sauce laden ground beef in a bun – perhaps with a few extra toppings, like cheese.
The result is a messy meal that's quite delicious. For the rest of the world, the big question is why? There are plenty of other ways to get the same flavor combination without all the mess.
Besides, while sloppy joes taste good, they're not really that amazing. They're certainly not stunning enough to explain why Americans eat them so often.
Ambrosia Fruit Salad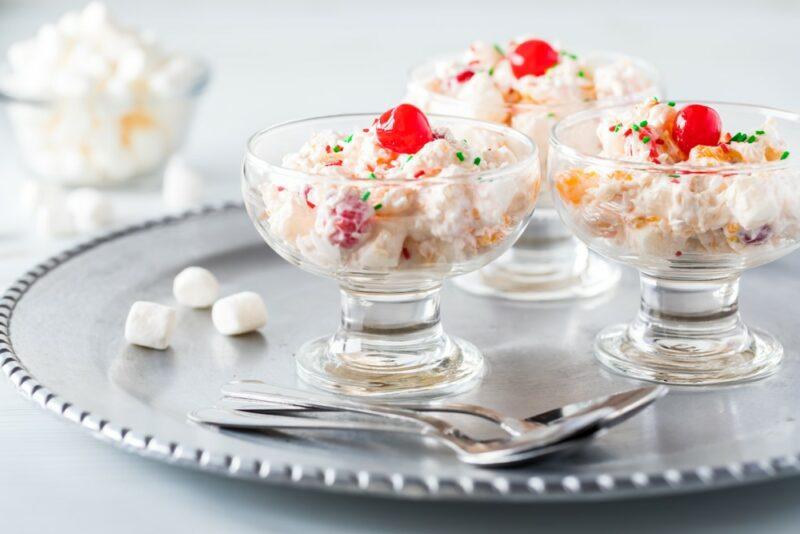 This fruit salad often features as a Christmas dish. It starts off as a basic fruit salad, often including pineapples, oranges, and cherries. Then it gets a little strange with the addition of whipped cream and coconut.
The cream might be substituted for other ingredients, like pudding or yogurt. There may be different fruits used too, with some versions even relying on canned fruit cocktail.
The salad is sometimes taken a step further too, with small marshmallows added in. You end up with a messy looking salad that's meant to taste divine.
Whether it does or not depends on your palate. While many people love ambrosia fruit salad, non-Americans often find the combination of flavors and textures to be confusing and not at all appetizing.
Miracle Whip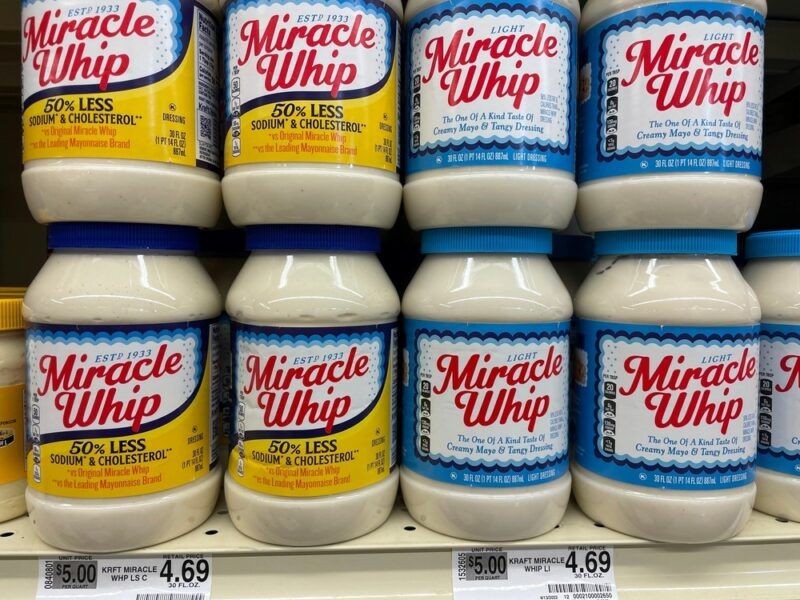 Mayonnaise isn't unusual at all. You'll find it in many other countries. But, Miracle Whip? That's a different beast entirely.
There's also the question of what Miracle Whip even is. It's like mayonnaise, but is considerably sweeter and has extra flavors. It's sometimes used like mayonnaise and sometimes as a sandwich spread instead.
Miracle Whip also catches visitors off guard if they buy it and expect mayonnaise. The extra sweetness and different texture can be seriously confusing.
Then you have combinations like peanut butter and Miracle Whip sandwiches, which raises an entirely new set of questions.
Gumbo

Gumbo doesn't have the same reach as the other dishes on this list and is mostly found in Louisiana. The meal is familiar in many ways, as it relies on a strong stock, some type of thickener, meat, and vegetables.
In other words, it's a stew.
The thickener helps to set it apart, as gumbo often relies on either okra or filé powder. Both are unusual ingredients that you don't find in many other places.
While there are many ways to make gumbo, the meal is distinctive. Most visitors won't have had anything quite like it before.
White Castle Burgers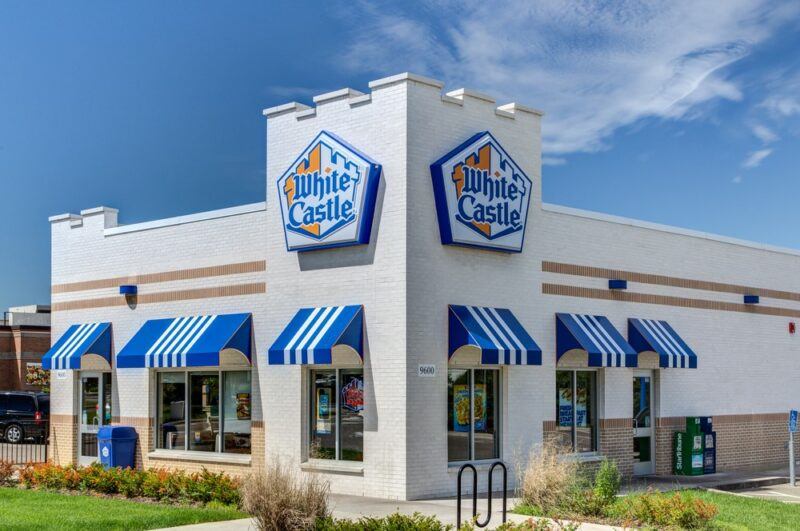 Fast food burgers can be found almost everywhere these days. However, White Castle has managed to stay very locally focused.
The tiny burgers are also in a league of their own. They're sometimes said to be more delicious than most other burgers, with a unique taste and more uniformity than you normally find with burgers.
Other people aren't so convinced though, with bloggers often mentioning that the burgers taste like regret or that they're only good after a night of heavy drinking.
S'mores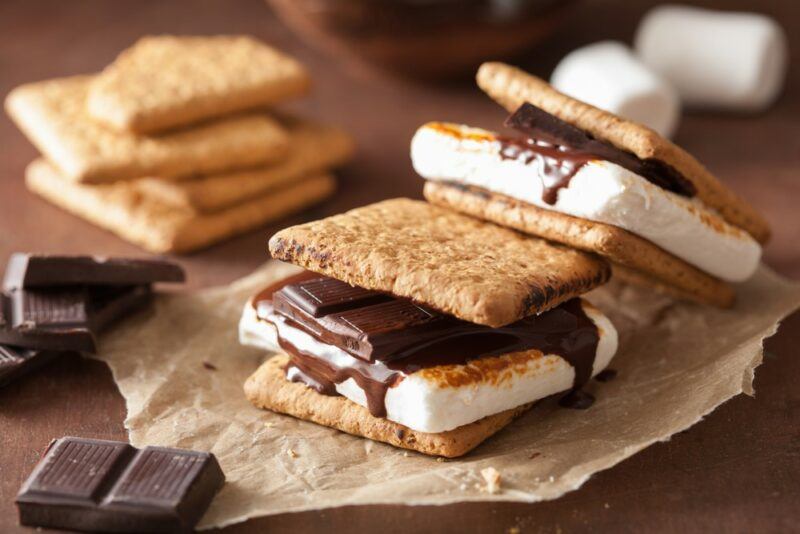 S'mores are an interesting entry. You can often find s'more-flavored treats or drinks in other countries, but not s'mores themselves.
Part of the problem is that s'mores rely on graham crackers for the outer layers and you don't really find these in other countries. Other types of sweet cracker don't have quite the same flavor profile, so the s'mores won't taste the same.
Frito Pie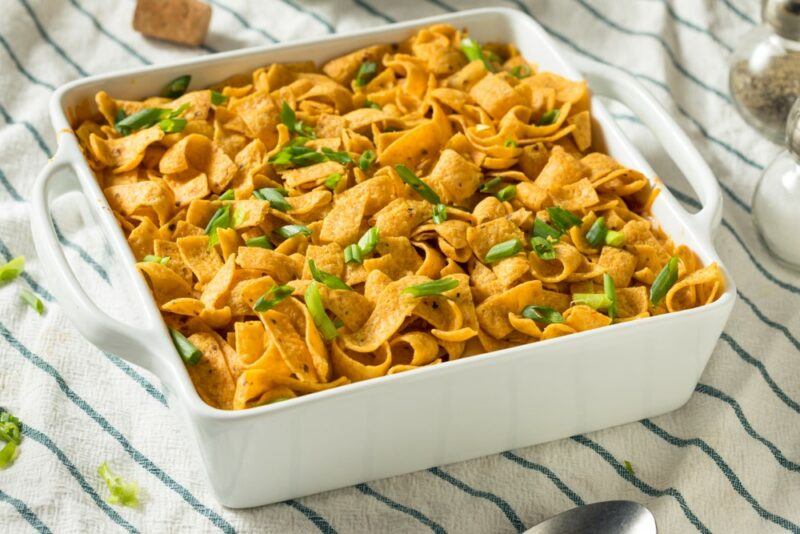 Frito pie is particularly popular in Texas, but you can find it in plenty of other places too. The name comes from Fritos, which are a type of American chip.
The simplest version of the dish is served within the Frito bag itself, where ground beef, pinto beans, enchilada sauce, and plenty of cheese are added. You end up with a snack that's both filling, portable, and somewhat messy.
Frito pie can also be made as a more formal meal. Here, most of the ingredients are cooked together and placed in an oven dish, with cheese and Fritos on the top.
Deep Fried Butter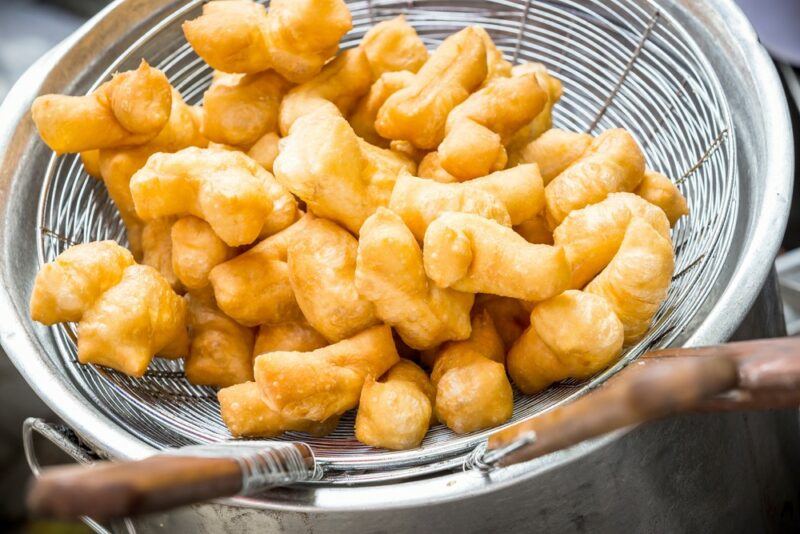 In fairness, deep fried butter isn't something Americans eat very often – if at all. It's mostly served as a fair food, one that people eat more for the gimmick factor than anything else.
Still, there must be some interest, given that deep fried butter is still regularly offered. In some ways, the snack feels very essentially American, given that it involves deep frying one of the fattiest foods imaginable.
There are plenty of other deep fried fair foods as well, including deep fried Oreos. These are less strange, but still feel over the top in so many ways.
Funnel Cake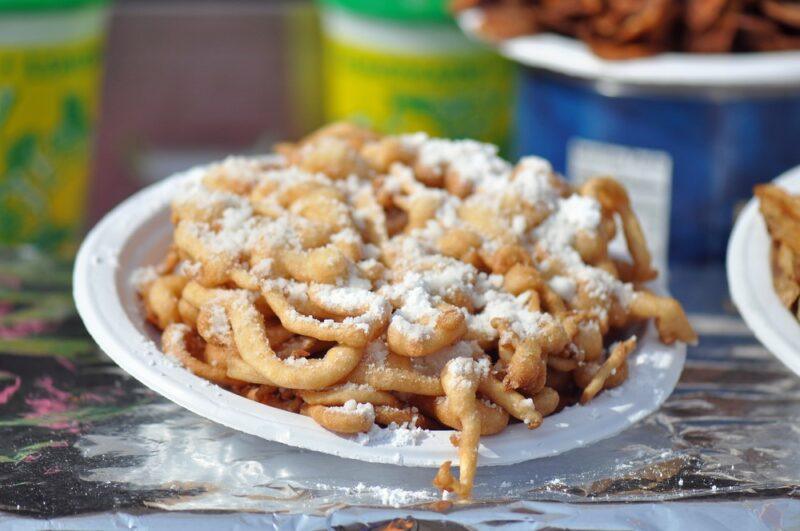 Funnel cake is another common fair food. The name isn't very helpful, as the treat isn't a type of cake at all.
Instead, funnel cake is simply deep fried batter that is served in a roughly circular pattern. The cake is often made by pouring the batter through a funnel, which is where that part of the name comes from.
Funnel cake is most often served on its own with just powdered sugar on top. However, other toppings can be used, such as jelly, chocolate, fresh fruit, or whipped cream.
Rocky Mountain Oysters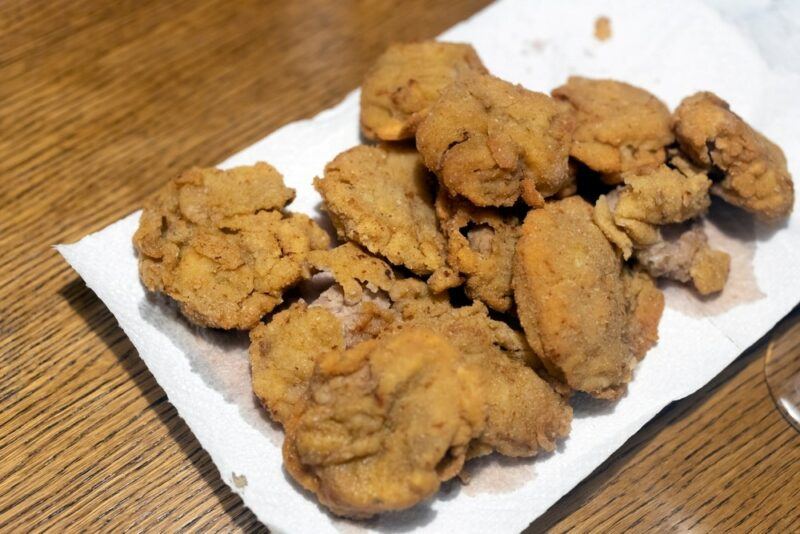 Rocky Mountain oysters (or prairie oysters) aren't what the name suggests at all. Rather than being some type of marine delicacy, the meal is made from bull testicles.
The testicles often have their skin removed and are deep fried, which doesn't make them that much more appealing.
This meal isn't limited to America. You'll find it in Canada too, along with a similar dish in Spain. Regardless of where you have the 'oysters', this dish is a reminder to always make sure you know what you're eating. Don't just rely on the title – or you might get a shock.
Olive Loaf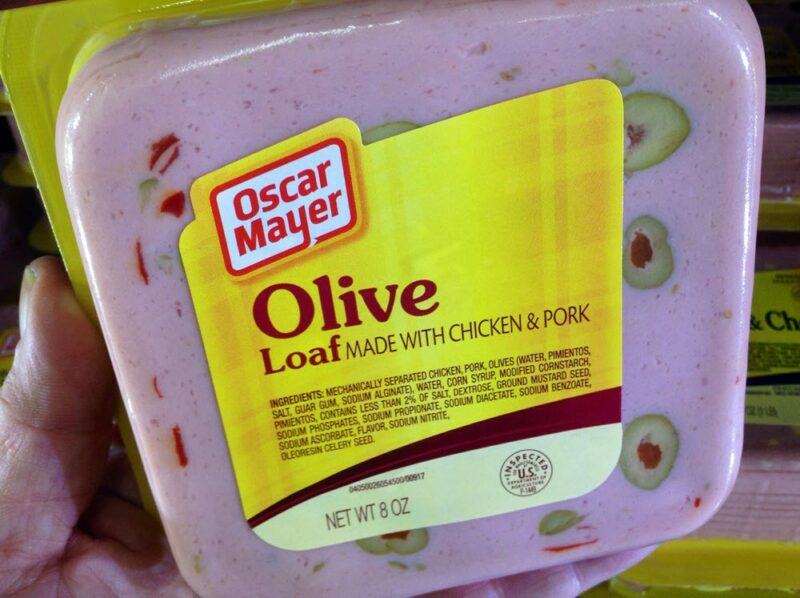 Olive loaf makes a delicious alternative to plain lunch meat, but it is a bit of a strange concept. Not only do you have the meat, which is often a blend of pork and beef, but you also have spices and green olives.
Some versions of the loaf do taste good, with a distinct tangy flavor and interesting texture variation from the olives. Other versions aren't so good, partly because they're heavily processed.
Spam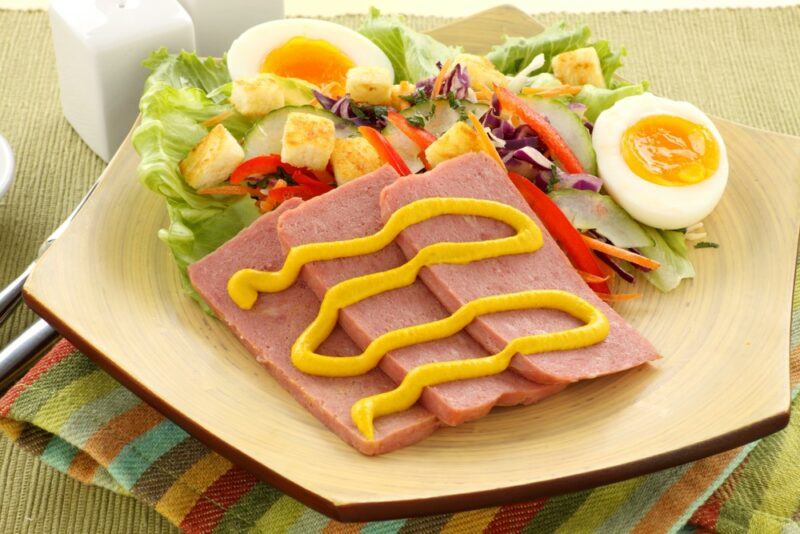 Spam was created in 1937, offering a way to sell unused parts of pigs and to bring meat to people facing severe food shortages. That much makes sense. What doesn't make sense is the continued popularity of the processed meat product, especially as it really doesn't taste good.
Many people wonder why Spam is still served regularly, even by people and places that could easily turn to better quality meat.
American Sliced Bread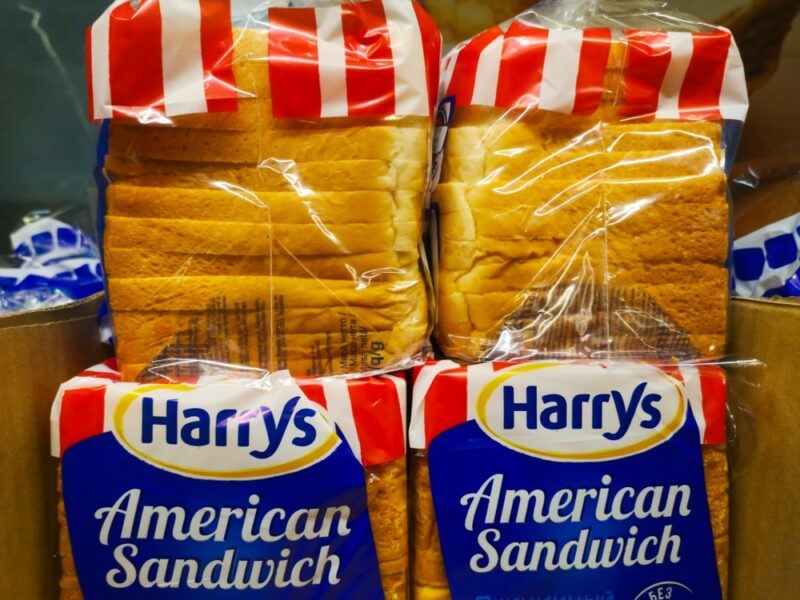 Bread isn't unusual. American bread, though? It often confuses visitors.
Now, we're not talking about homemade bread here or bread from an artisan bakery. We're focusing on the sliced bread found in the grocery store.
Part of the problem is the sweetness. American bread is often much sweeter than bread in other countries. Plus, this is often in the form of high fructose corn syrup rather than sugar.
While some products are less sweet than others, non-Americans sometimes struggle to find bread that tastes like they expect.