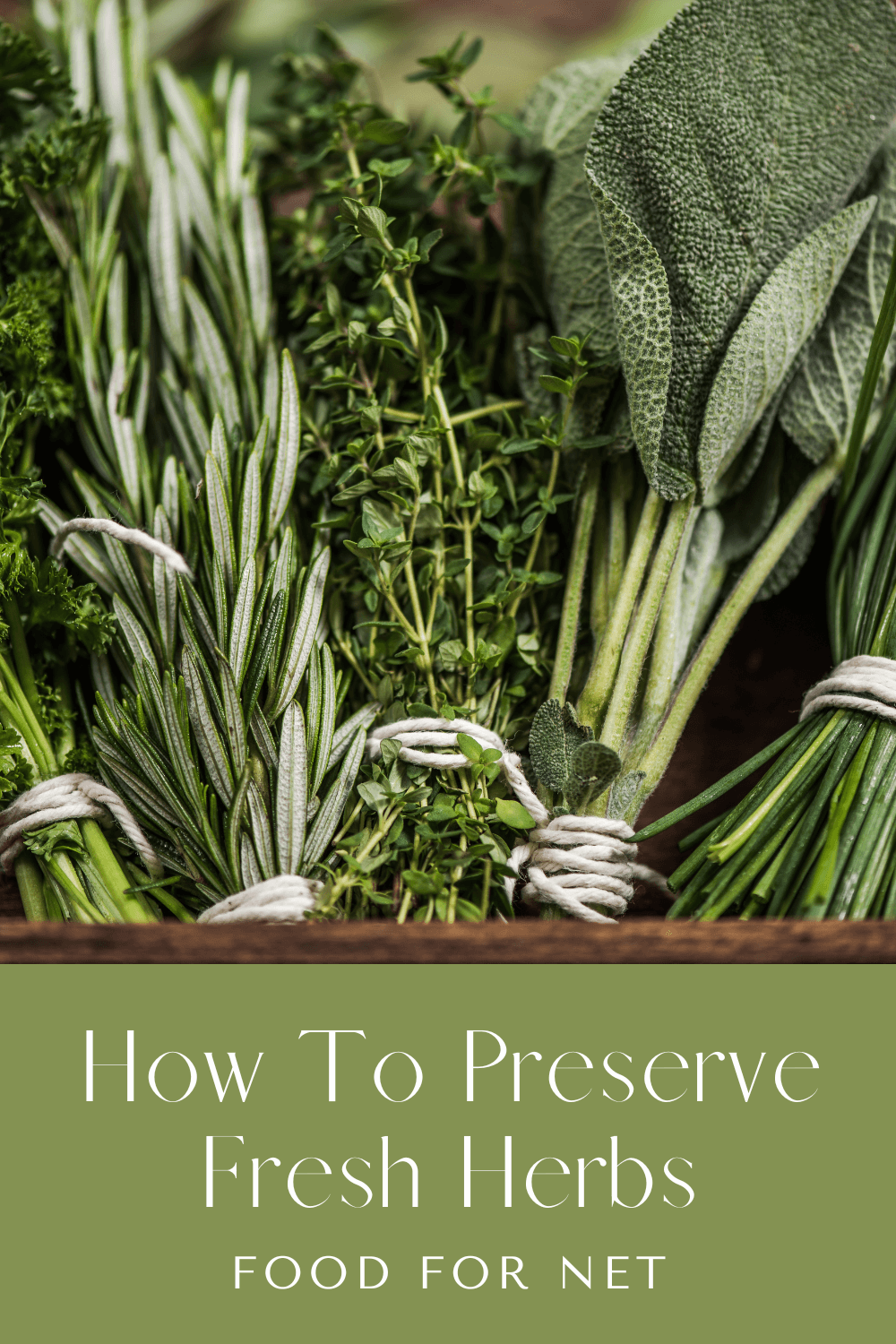 Fresh herbs are a fantastic way to add flavor to your meals. They're certainly better than using prepackaged sauces or relying on processed foods. Plus, they give you a more delicate flavor than dried herbs, which is sometimes exactly what you need. The question, then, is how to preserve fresh herbs.
After all, you're not going to use an entire bunch of parsley or rosemary in a single meal and you can't buy tiny amounts of fresh herbs at a time. Throwing the rest away is just a waste.
You could grow fresh herbs in your garden, but many of us don't have the time. Besides, there are more than 20 different common herbs (not to mention all the unusual ones). That's a lot to try and grow. Odds are, you'll need to buy at least some of your herbs.
Thankfully, there are ways to make these fresh herbs last longer than just a few days. If you're careful, you might even get a couple of weeks from them.
These techniques are particularly good for herbs you buy online. I mean, seriously, if you're going to all that effort to get your herbs in the first place, you really do want them to last.
How To Preserve Fresh Herbs (With Pictures!)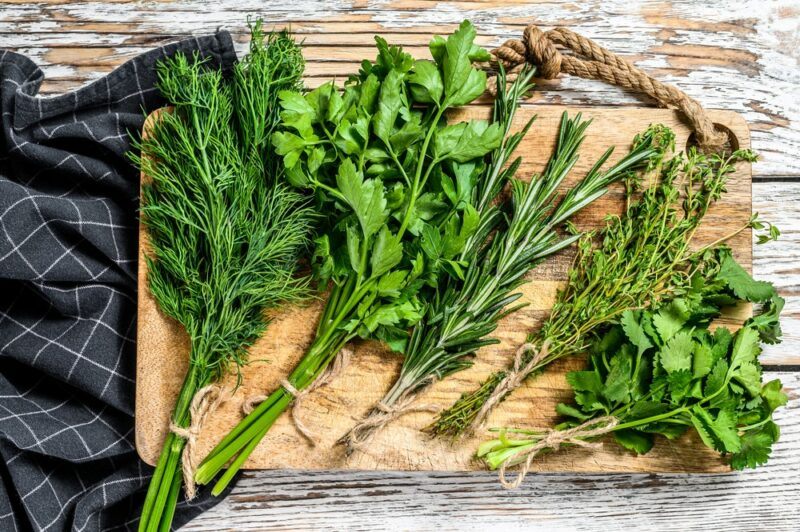 To get serious about preserving herbs, we first need to talk a bit about different types. Not surprisingly, herbs don't all behave the same.
A useful distinction is tender versus hard herbs. Tender ones are those that have soft leaves and stems. No surprises there. Basil, cilantro, and parsley are all examples.
Hard herbs tend to be, well, harder. Their stem is often woody, like rosemary. When you use the herb, you often first strip the leaves off, then discard the stem.
Keeping Them In The Fridge
Should You Wash The Herbs?
There's some debate about whether herbs should be washed. Doing so adds moisture, which isn't ideal. Then again, if you're getting herbs from the store, they're generally moist anyway. A little more water won't hurt.
Plus, washing your herbs gets rid of any bugs or germs that decrease their shelf life.
There's a trick, though. If you're going to wash your herbs when you get them, you'll need to dry them well. A salad spinner is almost essential here. It's hard to get the herbs dry enough any other way.
If you don't have a salad spinner, then it's best to only wash the herbs right before you're going to use them. Otherwise, the extra moisture from washing could make your herbs go moldy much faster.
Storing Tender Herbs
Regardless of whether you've washed the herbs or not, the next step for tender herbs is to trim the ends, on the diagonal, – just like you would with a bunch of flowers.
Then you put the herbs in water. Again, just like flowers.
Here's where things get a bit different though. For many herbs, including parsley, cilantro, dill, and mint, it helps to cover the herbs, perhaps in cling wrap or in a loose plastic bag.
Finally, the herbs should be kept in the fridge.
If you change the water regularly, then you should get at least a week out of your herbs, if not longer.
Storing Hard Herbs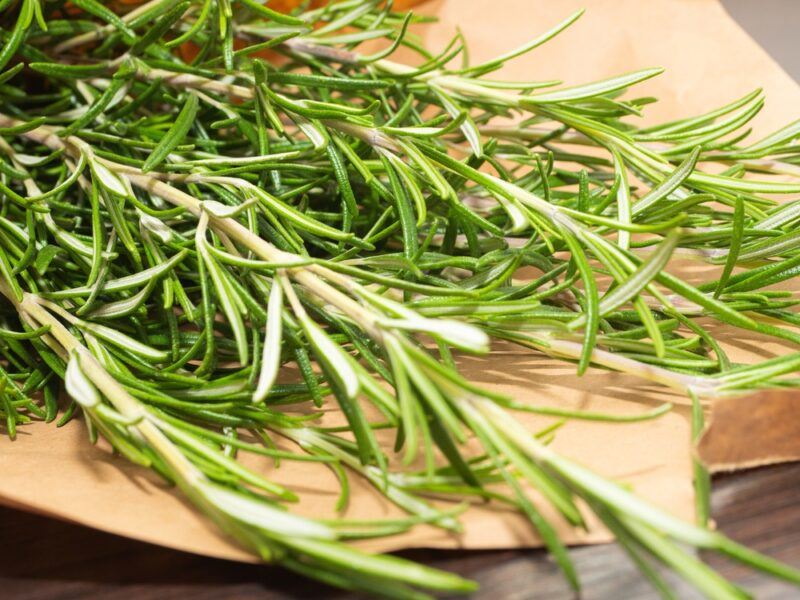 The jar of water trick doesn't work so well for hard herbs. Instead, it's better to arrange the herbs carefully on a paper towel that you've dampened a little.
Then, you can roll the herbs up in the paper towel. The herbs may look like a bundle of sticks within the paper. Don't roll them too tightly tough. The herbs will fare much better if they're loosely rolled.
After this, the entire roll of herbs and paper should be put into a plastic bag and stored in the fridge.
These steps can be a hassle, especially if you buy a few herbs at once. Still, isn't it worth the effort to have your herbs still usable a week or two after you buy them?
How Long Will They Last?
The exact shelf life of your herbs varies. It's influenced not just by the type of herb, but also by the precise storage conditions, how fresh the herb is, and the journey the herb went through before getting to you.
However, you should get at least a week from most fresh herbs. The more resilient herbs, like oregano and rosemary, can last up to three weeks if cared for well.
Preserving Them In Oil
Storing fresh herbs in the fridge is the most powerful approach. But, you're still only getting a couple of weeks from your herbs – at most.
Sometimes this isn't enough, especially if you purchased a few large bunches of herbs or have an herb garden that's in full flow.
Preserving your herbs in oil instead helps them to keep for much longer. While they still lose some of their flavor, they're still delicious. There are two ways to do this – freezing the herbs or keeping them in the fridge instead.
Freezing The Herbs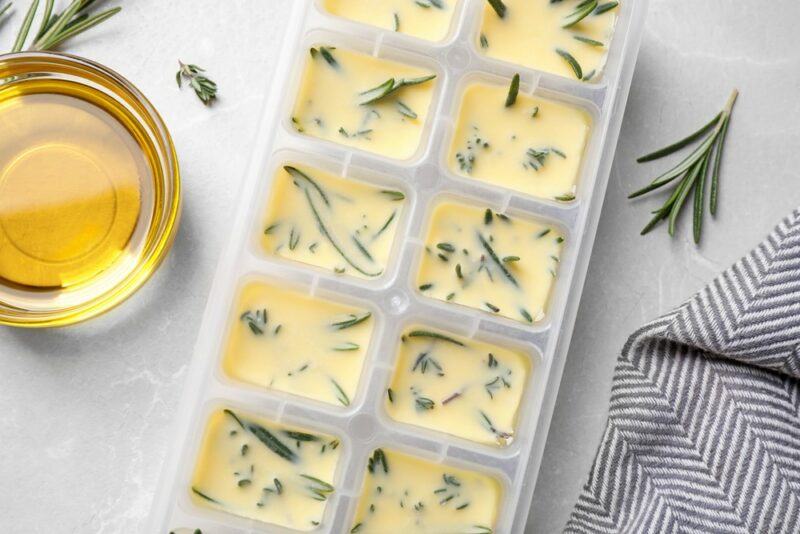 This technique is best for harder herbs, including rosemary and thyme.
What you do is add pieces of the herbs to the bottom of ice cube trays, then top each section up with olive oil (ideally extra virgin olive oil). Once the tray is full, you can freeze it.
Doing so gives you frozen chunks of olive oil and herbs that you can simply throw in your cooking.
You could even blend your herbs into a paste first. Doing so gives you a more intense pesto-like cube of herbs and oil that work well in plenty of meals.
You don't need to keep the olive oil herb chunks in the ice cube tray either. Once they're frozen, you can remove them from the tray and store them in a plastic bag. This way they take up less space.
Just be sure to label each batch so you know which herbs they contain. The olive oil goes cloudy when frozen, making it harder to identify the specific herbs. Plus, once things have been in your freezer for a few months, it's often hard to remember exactly what they were.
Putting Them In The Fridge
The idea of olive oil herb cubes is incredibly common, but this isn't the only way to rely on oil. You can also make jars that contain fresh herbs and olive oil.
To do so, you first chop the herbs up, then place them in the bottom of the jar. You need at least enough oil to completely cover the herbs. Doing so is crucial, as you need to minimize their exposure to air.
When stored this way, your herbs should last a couple of months. They're easy to use too, as you can simply add a spoonful or two of the herb-oil mixture into your dish.
This technique even works well with some softer herbs, like chives. The herbs also retain most of their original flavor (more than if you froze them).
Can You Change The Oil?
Extra virgin olive oil is the most common choice here, partly because the flavor nicely complements your herbs.
You could tweak this though. Other types of oils should work well too, particularly those that aren't heavily refined.
Avocado oil is the most obvious alternative. It has many of the same benefits and properties as olive oil, but it has a different flavor profile. Some products are fairly neutral, while others have a distinct avocado flavor instead.
Coconut oil works well too. This brings a coconut flavor into your dishes, which may be fantastic sometimes and not at all appropriate at other times.
What about freezing the herbs in butter (or ghee)? This is perfect for many situations, like sautéing or even spreading on bread. The approach is also an easy way to make butter taste more interesting.
Try Creating Blends
You can also experiment with blends of different herbs in the same oil or even herbs plus other ingredients. For example, parsley, lemon zest, and butter work well with many different veggies, while sage butter is a fantastic addition to chicken.
Also think about combinations of herbs you use often. If you regularly combine two or three herbs in your recipes, why not make a frozen blend of them? Doing so not only preserves the herbs, but makes your cooking process much easier.
The Limits Of This Technique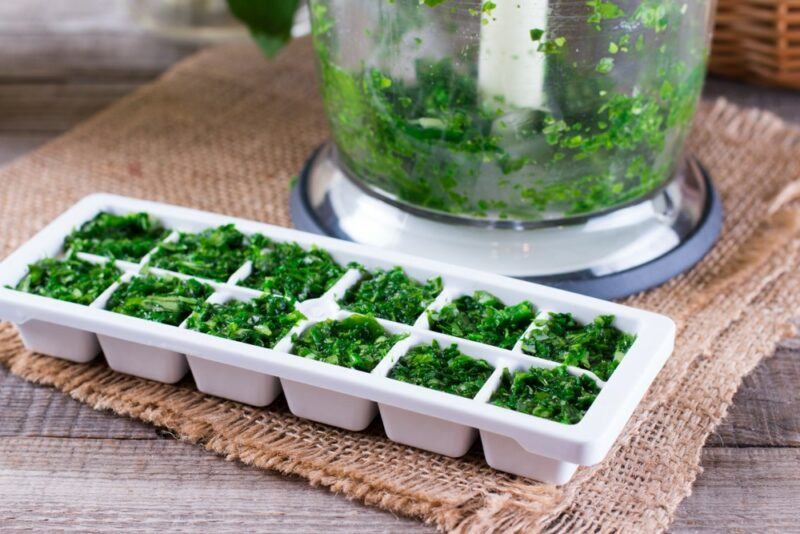 Using oil is much more powerful than simply keeping herbs in the fridge on their own. However, it does leave you stuck with an herb-oil mixture.
This works well much of the time, as many recipes call for some type of cooking oil. Still, the approach won't work well for meals that won't cope with added fat.
And, while the oil is a healthy source of fat, it is still high in calories. This could be a problem for anyone trying to lose weight.
You may also need a decent amount of fridge or freezer space. After all, each oil-herb combination will need to be stored separately. This could mean you have half a dozen jars of herbs in your fridge and a similar number of bags in the freezer.
Drying Your Herbs
Then there's the idea of drying. This is one of the easiest ways to make your herbs last. If your herbs are relatively low in moisture, like oregano and rosemary, you can simply air dry them.
Many people do this by bundling herbs together, then hanging them upside down. This works best with relatively small bundles, perhaps with five to ten sprigs of herbs.
You can also use an oven or a dehydrator. This is particularly helpful for moist herbs, like mint and chives, although the approach works well for almost any type of herb.
There are plenty of instructions online that detail specific techniques for drying herbs, ones that dry your herbs quickly, without any risk.
You should always pay close attention to the herbs, as they could start to become moldy before fully drying. This is particularly likely with moist herbs. If there's any sign of mold, you'll need to dump your herbs and start again.
While drying is useful, it does change the flavor profile of your herbs, often making them more intense and reducing some of the more subtle aspects of their flavor profile. To account for this, you'll need to use a smaller amount of a dried herb in your recipe compared to its fresh counterpart.
There will also be some cases where only fresh herbs will do – using a dried version just changes the dish too much.
Other Techniques
We've already highlighted the most common and useful ways to preserve your herbs. However, there are some other approaches. These may be useful in specific situations.
Freezing The Herbs
Instead of freezing herbs in oil, you can simply freeze herbs as-is. The easiest way is to use a baking sheet lined with parchment paper. Lay the herbs out neatly on the paper and place the tray in the freezer.
If you're using hard herbs, you can freeze the entire thing – stick and all. When the herb is frozen, shaking the sprig should make most of the leaves drop off. Easy. Tender herbs can be chopped first, then frozen.
Once the herbs are frozen, you can transfer them into plastic bags and keep them in the freezer. The leaves shouldn't stick together, making it easy to use the herbs while they are still frozen.
Freeze In Water
If you don't want to use oil, why not chop herbs up and freeze them in water? The water helps to protect the herbs from freezer burn and oxidization – and you avoid adding any extra oil to your meal.
You can even use the frozen ice cubes as-is, without thawing them. Just remember that they'll add moisture to your meal and will initially drop the temperature.
Roll The Herbs Up
Herbs with large leaves often don't freeze well on their own. But, you can create a type of cigar by layering the leaves into a freezer bag, removing all the air, then rolling the bag up. Rubber bands help to secure the bag.
While you won't be able to use the leaves individually, you can cut slices of the roll, then use this in your cooking.
Layer Them In Salt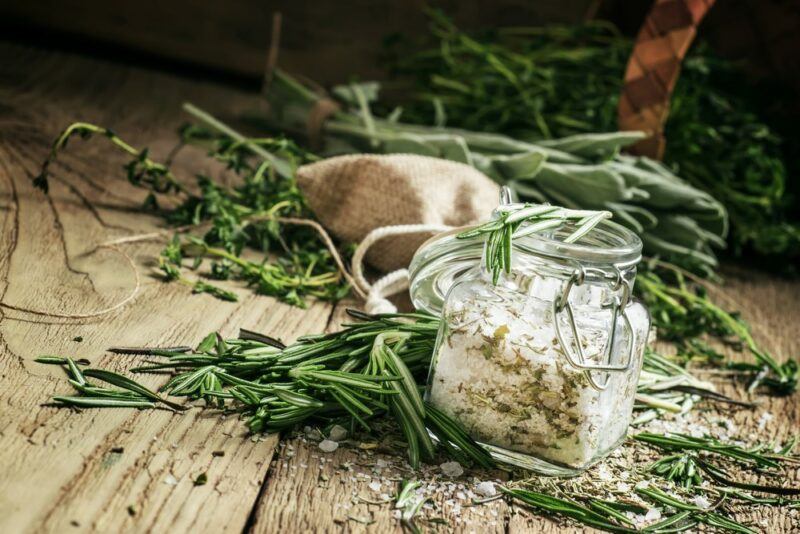 Salt was traditionally used to preserve food and still works well in this role.
One trick is to make herbed salts, where you're chopping up your herbs using a food processor. Adding minced garlic helps to balance out the flavors well too. Then, you can use the whole mix just like you would regular salt.
Alternatively, you can layer tender herbs into jars with salt. Keep the herb-salt jar away from the sunlight in a cool place. Your pantry is perfect, but even the fridge will work.
Then, you just need to pull out the herbs and shake the salt off when you want to use them. When the herbs are finished, you'll be left with herb-flavored salt, which tastes delicious too.
This method of preservation is powerful. You might get six months out of the herbs or perhaps as much as a year.
Remember The Herbs Can Still Go Off
These preservation methods aren't foolproof. Your herbs can still go off if you don't do things right or if you try to keep your herbs for too long.
This means you should always keep an eye out for signs of mold or deterioration. If there's any hint of mold, then it's time to throw the herbs away entirely.
Changes in color and texture suggest deterioration too. For example, when stored in the fridge, herbs may start to become brittle and dark once they're past their best.
Final Thoughts
There are plenty of ways to preserve herbs. Keeping them in the fridge, either in water or a damp paper towel, is one of the best approaches. This retains the flavor and texture of fresh herbs.
The catch is that you're still just getting a couple of weeks from your herbs – at most. This mightn't be enough, especially if you have an overflowing herb garden.
To keep your herbs for longer, you'll need to use one of the other techniques on this list. These all have their quirks, so you'll need to choose carefully, based on how you plan to use the herbs.
For example, preserving the herbs in butter is a delicious technique, but only works if butter complements the meals you plan to make. The same is true for olive oil and coconut oil.
While drying herbs gives you more flexibility, you also lose many of the aromatic compounds and nuances found in fresh herbs.
The simple answer is to experiment. Try different techniques and see what works the best with your herbs and the meals you prepare.