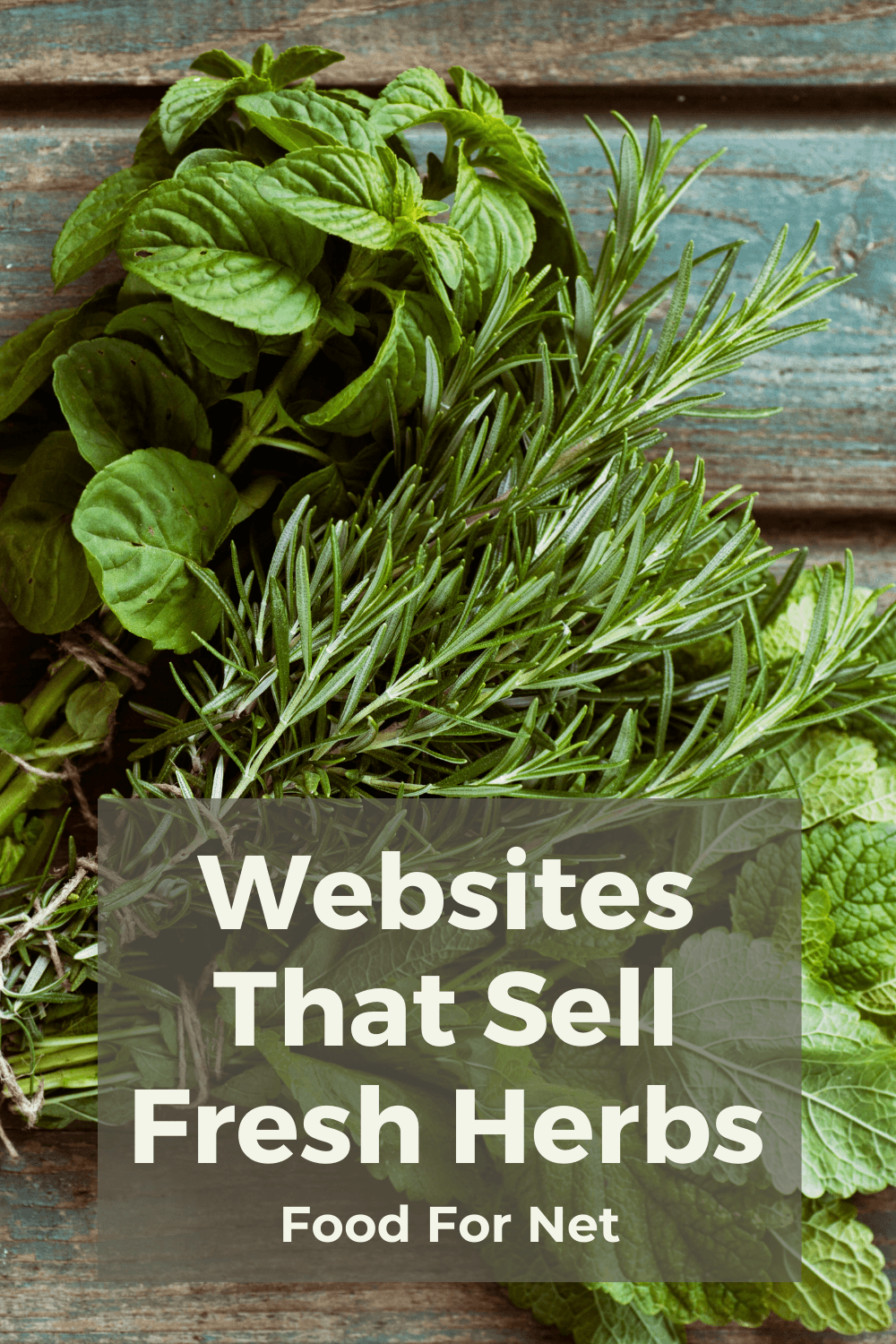 Herbs and spices have been used by many cultures for many generations. There are many herbs, such as thyme, basil, and rosemary that add a wonderful flavor to many dishes. Other herbs are used for healing or to make herbal tea. Whatever you need, you can buy fresh herbs online even if they aren't available locally.
Regardless of your intended purpose, you should buy the freshest, highest-quality herbs you can find to ensure proper potency and maximum health benefits.
But, this isn't always easy as regular grocery stores aren't always too concerned with where they source their herbs from. This is why it's beneficial to buy fresh herbs online. You can order from only the best and most conscientious farmers.
And, if you want to cook with fresh ingredients, you could also order fresh fruit, vegetables, or even meal prep ingredients online.
Where to Buy Fresh Herbs Online (With Links!)
Pacific Botanicals
Burpee
Tasteful Garden
Richter's
Mountain Valley Growers
The Growers Exchange
Wilson Bros Gardens
Pacific Botanicals

Pacific Botanicals wants to empower everyone to take control of their health in a natural way. They have been growing medicinal botanicals since 1979. They are located in the Applegate Valley and they know exactly which herbs do well in their specific climate and environment.
Not only do they know which ones are the best to grow, but they select the best varieties of each and only plant the best seeds. They are particular about their greenhouses and they create an absolutely perfect growing environment each time.
Their herbs and spices can be bought fresh or as powders. They also have a selection of seeds for sale if you'd like to try your hand at growing your own.
Burpee

Burpee offers the many Americans that face long and dreary winters a welcome and colorful reprieve. Burpee has everything you could imagine needing to ring in the start of Spring, from flowers, fruits, and vegetables to a variety of herbs and even some gardening tools.
They have so much to offer that they release a catalog every year detailing exactly what they have. Many have this mailed to them each Spring, but it's also available online. Whether it's seeds or actual plants you want to buy, they guarantee that everything is certified GMO-free, with many organic options as well.
Burpee ships everywhere in the United States, but they want to make sure you get what you want at the right time. There is a growing zone map on their website to help you determine when to best receive your seeds or plants.
The Tasteful Garden

The Tasteful Garden was founded in 1996 by some who loved to cook with herbs and food they'd grown themselves. Today, they grow and sell all varieties of culinary herbs as well as a wide variety of both hybrid and heirloom tomatoes.
Their product selection also includes a variety of other fruits and vegetables. Everything they grow is USDA certified organic.
They choose their herb varieties carefully, focusing on flavor and how easy they are to grow. While herbs can be used for many things, they grow and sell theirs primarily to be used for cooking, so this is what they consider when choosing which varieties to grow and sell.
Their herb plants are sold in 4.5″ square pots that are designed to travel well. There's even a guarantee that the plants will arrive healthy and ready to plant in your garden. If something goes wrong with shipping and your plant is damaged, they'll give you a credit or entirely replace the plant.
Tasteful Garden sometimes has herb planting kits and gifts as well. These are fantastic ways to make the herb planting process easier, especially for beginners.
They ship only to the continental U.S. as shipping overseas comes with too many requirements and certifications.
Richter's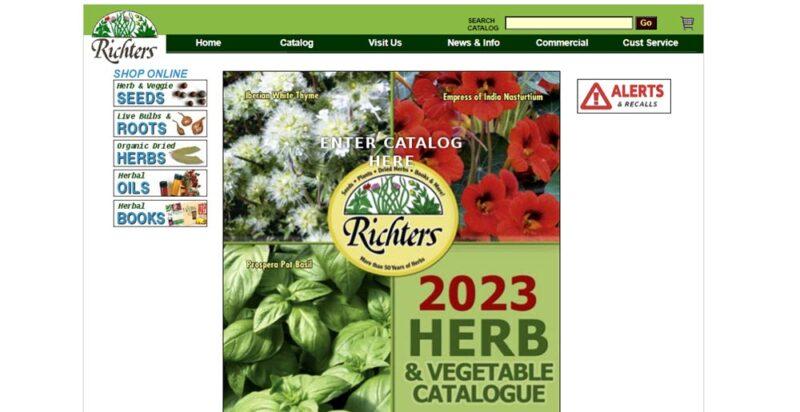 Richter's wants to be your ultimate and number one resource for everything herbal and beyond. This includes fresh herb plants, herb seeds, dried herbs, books, and more. In addition to herbs, they have oils, vegetable seeds and plants, roots, spices, tea, and body care.
In addition to the hundreds of products they have to offer, you can also get a good variety of herb and herb-related books. There are thousands out there, so their team of experts reviews as many as they can and hand-select only the best to sell through their online store. Books include recipes, medicinal plant care, informational books, and more.
Richter's ships most of their products internationally, with a few restrictions on live plants into certain countries.
Mountain Valley Growers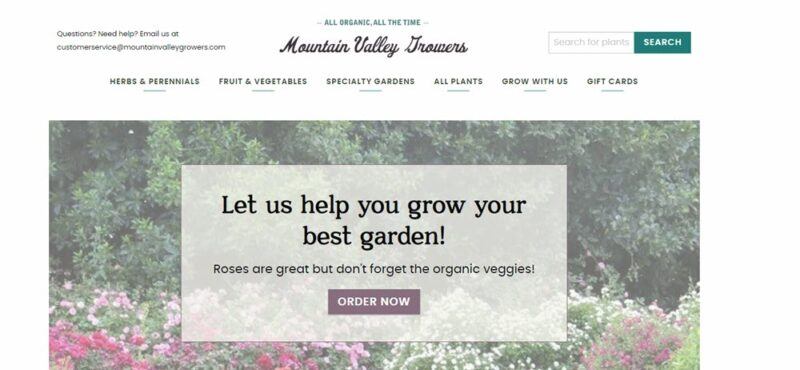 Mountain Valley Growers began in 1983 with a grand total of seven herb varieties. Their goal was to provide organically grown herb pots to local nurseries and grocery stores. A few years went by and they began supplying their plants to individual consumers as well and they were up to 300 varieties.
Today, they offer USDA certified organic herbs, flowers, vegetables, and fruits to the entire United States. While they have shifted their focus to individual customers they do still have wholesale deals available. If this is something you're interested in, they have a separate platform.
Their fresh herbs are generally sold in 3-inch pots. They occasionally have plug trays as well, with 128 plants. These plug trays aren't always in stock, but you can get notified when they are available.
The Growers Exchange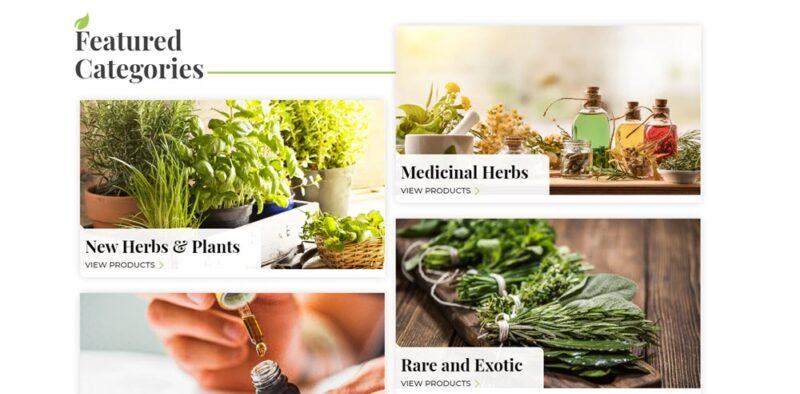 The Growers Exchange was founded by a man who started gardening as a way to cope with how much he hated his day job. He started by working for a reputable botanical garden but opened his own company three years later in 1985.
He called it the Growers Exchange because he wanted it to be a true exchange – from one passionate gardener to the next. This is exactly what it became and it was immediately a hit, growing from a local company to an international one.
They offer everything a gardener could want or need. This includes herbs, houseplants, perennials, seeds, soil, tools, and so much more.
Wilson Bros Gardens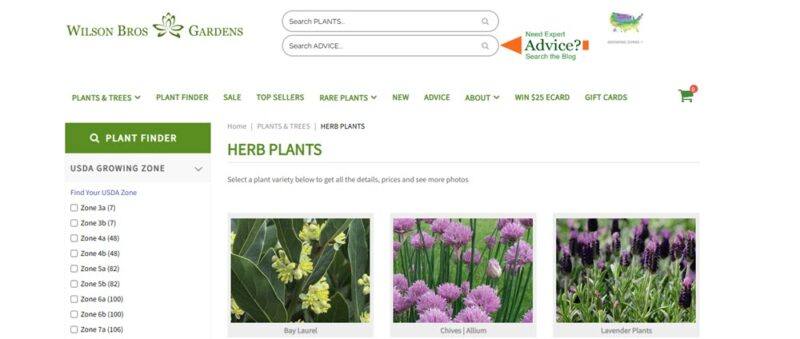 As the name suggests, Wilson Bros Gardens provides plants for your gardens. They were founded back in 1989 in McDonough Georgia and continue to go strong today.
While they don't specialize in herbs, they do have a decent selection of full herb plants, including chives, oregano, rosemary, thyme, and mint. There are multiple varieties of some of the herbs too, giving you plenty of selection.
Things to Consider When Buying Fresh Herbs Online
Depending on what you're looking for, buying fresh herbs online can be a little tricky. It's always worth it, but definitely consider the following when making your decision:
The Variety
If you're an avid herb fanatic, you're probably looking to buy many herbs at once. Do they have everything you want? Look for a supplier with a large selection so that you don't have to buy from multiple places.
The Time of Year
Be conscious of growing seasons, and where in the world each herb grows the best. It may be a bad time of year for a specific herb, so to get it fresh you might have to wait. Or, you can buy it dried or powdered. Many companies also offer their herbs this way.
The Climate You Live In
If you're looking to buy plants so you can plant and continue to grow them at your home, you need to consider your climate and which herbs will do best where you live. If you can't properly sustain a certain type of herb, dried and powdered versions are good options here too, if you don't want to always have fresh plants shipped to you.
Fresh Herbs Vs Dried Herbs
This post has focused on fresh herbs, but they're not the only option. Many of us turn to dried herbs instead, partly because they last longer. They're often less expensive too.
What other differences are there?
Shelf Life. Fresh herbs can last a week or two if you store them well, while dried herbs retain their quality for a year and occasionally longer.
Flavor. Fresh herbs tend to taste better than dried herbs, but there are exceptions. Dried herbs also have a more intense flavor. This often means you need to use smaller amounts of dried herbs compared to fresh.
When To Use Them. Because fresh herbs are delicate, you're normally using them right at the end of cooking. Dried herbs tend to be added much earlier, which makes them perfect when you're slow cooking stews or soups.
Fresh herbs are generally the best, which makes buying them online such a fantastic idea. However, there's no harm in getting some dried herbs as well, particularly for herbs you don't use very often.
Where To Buy Dried Herbs
What if you want dried herbs? There are plenty of reasons to do so, especially as the herbs last longer and are easily shipped. Thankfully, plenty of sites sell high quality dried herbs.
Herb Co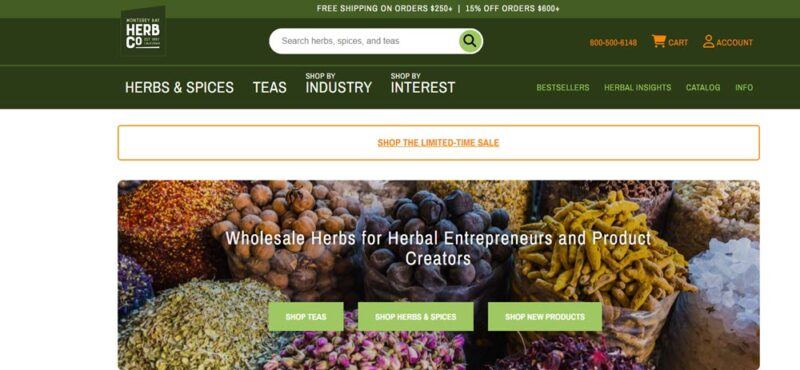 Herb Co, also known as the Monterey Bay Herb Company, began in 1997. Since then, they have worked hard to be a quality resource for quality products. They provide their customers with a wide variety of herbs, spices, and other botanicals in bulk.
Not only do they have a great selection, but they focus on quality so that customers can be confident using them in their own products and recipes. They source as much as they can directly from various growers and farmers. This allows them to ensure quality as well as offer competitive prices.
They have 296 herbs and spices to choose from as well as various spice blends, teas, oils, and other supplies such as dropper bottles and tea infusers. They ship throughout the United States and Canada.
Mountain Rose Herbs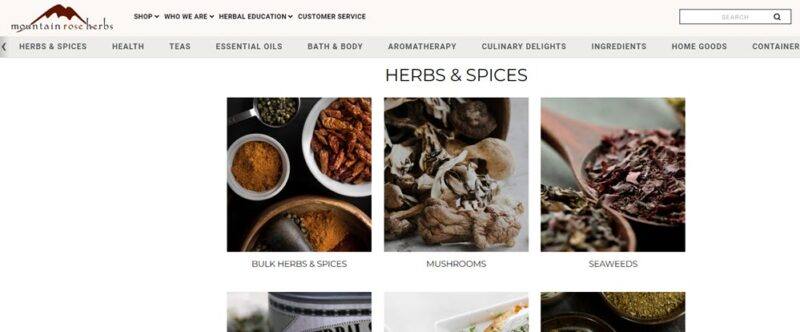 Mountain Rose Herbs is an online retail store that sells a variety of herbs and spices as well as essential oils, natural bath and body products, teas, aromatherapy products, carrier oils, butters, cosmetic clays, and many other such things. Their general target audience is anyone who wants to maintain their health with natural products, but more specifically it's a fantastic resource for those who like to go the DIY route. For this, they also carry a selection of bottles, jars, tins, and more.
They offer bulk herbs and spices, mushrooms, and seaweeds fit for consumption as well as blends for smoking purposes.
Starwest Botanicals


Starwest Botanicals began as a small herbs shop in 1975. They faced a lot of competition with their wholesale ventures, so they made a commitment to producing herbs that were of superior quality. They have maintained this goal and have been successful for more than 40 years now.
Today, they have expanded and are currently one of the largest organic herb suppliers in the United States.
They don't just stop at herbs, though. They also offer a solid collection of spices, teas, essential oils, natural body care, and some accessories like tea bags, measuring accessories, tea accessories, and more.
When it comes to herbs, you can get them fresh, powdered, or in capsule form. They ship to all of the United States, as well as Canada – though they warn Canadians of possible duties, taxes, brokerage fees, etc.