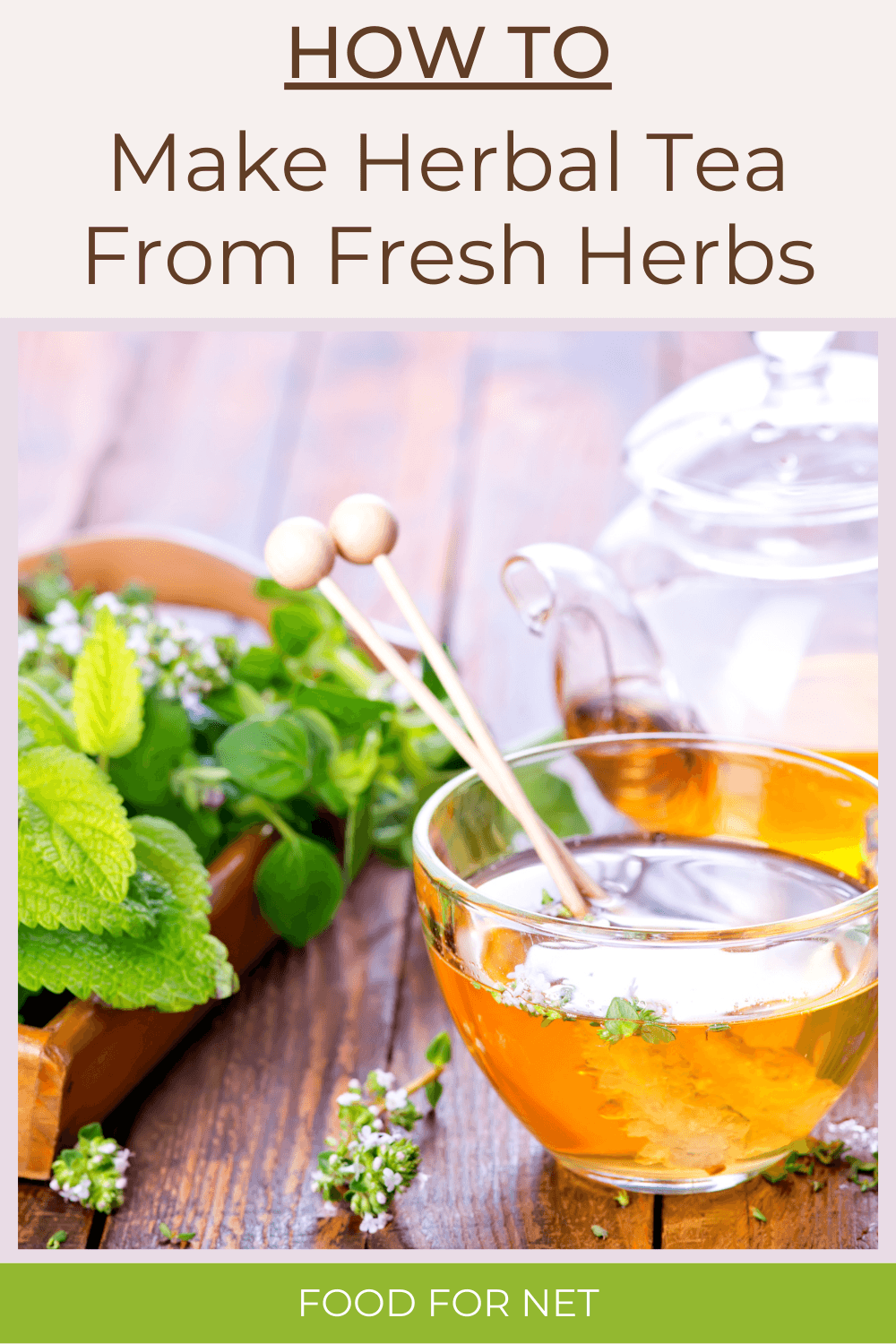 It's easy to see why herbal tea is so popular. It's often delicious, relaxing, caffeine free, and may offer considerable health benefits. There are also many types of tea, including products we buy at local stores and ones we make ourselves. There's this assumption, though, that you need dried herbs to make tea, so homegrown herbs first need to be dried before you can brew a cup.
Thankfully, that's not true. In this post, we'll show you how to make herbal tea from fresh herbs instead and why you might do so. We'll also talk a little about the best herbs to use and whether there are any benefits to drying them first.
You're not limited to herbs you grow, either. You can also make tea from herbs you've purchased at a grocery store, in a farmer's market, or even online. After all, not everyone has the time or the space to make their own decent herb garden.
How To Make Herbal Tea From Fresh Herbs (With Pictures!)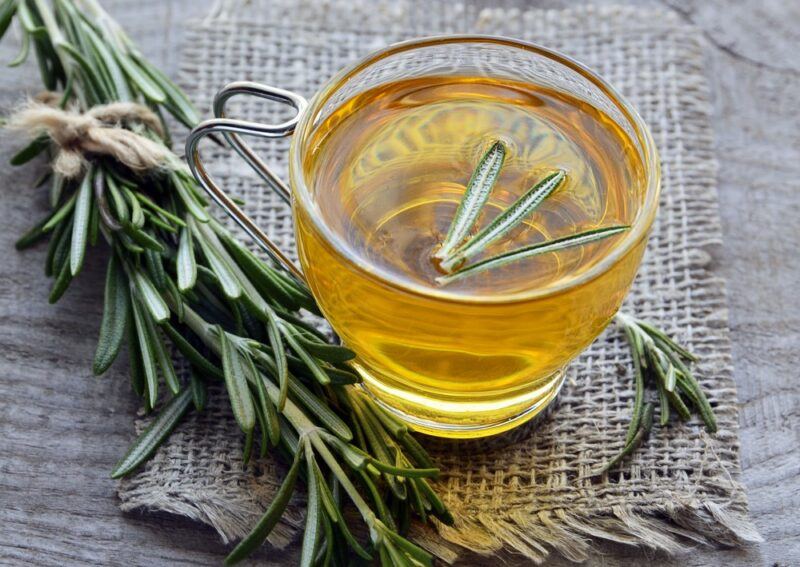 Making herbal tea is incredibly simple. You're normally steeping the herbs, which simply involves pouring hot water over them and leaving them to steep for a while.
Somewhere between 5 and 10 minutes steeping time is a good place to begin. The exact time will depend on the herb you're using and the strength you want (longer steep times give you a more robust flavor). So, you'll need to experiment to find the right balance.
As for the amount, it's best to start with roughly a teaspoon or a sprig of your fresh herb for every cup of hot water. This is true whether you're using leaves or flowers. For a more intense flavor, try crushing the herbs slightly before brewing with them.
There's room for variation here too. Increasing the amount of herbs will give you a more flavorful cup of tea. This is helpful, but can be a bit too intense if the herbs you're using are strong (like peppermint).
You can also make iced tea with fresh herbs. You'll need more herbs for this goal, as it's important to make the flavor bold. Perhaps start with two teaspoons of the herb per cup and increase from there as needed.
How Hot Should The Water Be?
Water temperature can make a huge difference when making coffee or tea. Using water that's too hot risks giving you a bitter drink that has lost some of its nuances.
For dried herbs, this is easy. You can simply use water at 212°F. That's the boiling point, so you can simply boil a jug, then make your tea.
Fresh herbs are a little more delicate. It's normally best to use water that's a little off the boil. You can do so by boiling the jug, then allowing the water to cool a little, or by stopping the process before the water ever boils.
That said, you can make herbal tea using cold brew tea approaches too. Doing so takes longer, but the resulting tea could be even better for you.
Are Fresh Herbs Better Than Dried?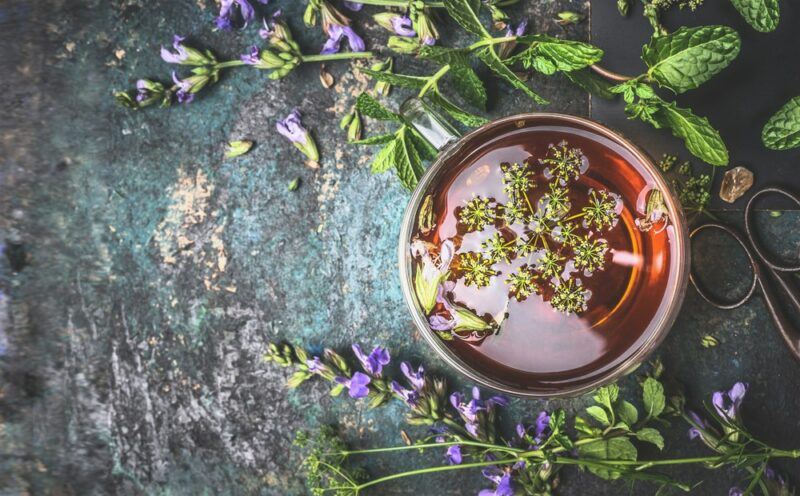 Fresh herbs tend to give you a more vibrant tea, especially if you use the herbs when they're at their best. So, fresh herbs are ideal in this sense.
They're also limited though, as fresh herbs are much less practical than dried ones. Even if you're very careful about storing them, you'll get no more than a couple of weeks from your fresh herbs. Sometimes the herbs might last a week or less.
This is frustrating, especially if you want to make a tea that uses a blend of herbs.
Because of this, it's best to grow most of your own fresh herbs, rather than buying them locally or online. This way you can harvest herbs as you need them. Doing so also gives you the freshest possible tea.
If growing our own herbs isn't realistic, you might need to focus on dried herbs instead. These easily last a year, giving you much more flexibility for your tea.
Which Herbs Can You Use?
There's no end to the flexibility of herbal tea. You can prepare the tea with almost any type of herb, using fresh or dried versions. Here are some interesting ones to get you started.
Mint. Mint is one of the classic herbal teas and is an extremely easy herb to grow. The menthol in mint tea makes it especially good for clearing your sinuses when you have a cold or just want to wake yourself up. Crushing your mint leaves before adding the hot water will increase the flavor of your tea.
Basil. While basil is most common in pesto, it can make a bracing cup of herbal tea as well. Ginger and honey complement basil's flavor, making them excellent accompaniments.
Tarragon. This herb is mostly used for cooking, but it is delicious in tea as well. It actually tastes a lot like licorice, even though it isn't related at all.
Chamomile. Chamomile tea is famous for its calming properties and ability to promote sleep. You can easily make it yourself by growing the herb, then steeping roughly two teaspoons of the flowers in hot water.
Lemon balm. This is another calming herb that could easily help you to sleep. The herb comes from the mint family, so your tea will have hints of mint. However, the mint taste is secondary to the herb's distinct lemon flavor.
Thyme. Here's another cooking herb that's surprisingly good in tea. Thyme can also be perfect for sore throats, as it is soothing and has antibacterial properties.
Catnip. Did you know that catnip can be used to make tea as well? Truly. The herb even has a calming effect on humans, so it can even be a sleep aid like chamomile.
You can also experiment with honey, lemon juice, and fresh ginger as additions to your tea. These ingredients often work well with herbal teas, complementing their flavors and offering health benefits as well.
In fact, many of these teas need some type of sweetener to make them enjoyable. Anyone on a low carb diet might need to avoid honey and focus on a low carb sweetener instead.
Interesting Herbal Combinations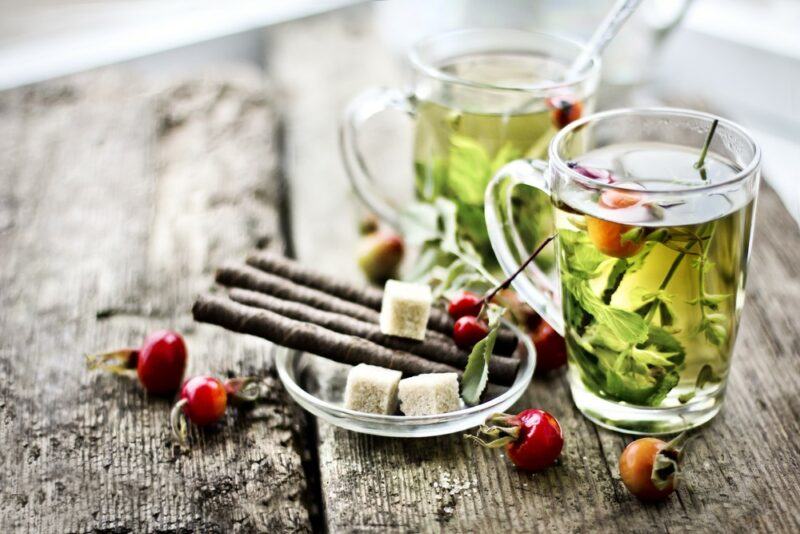 Of course, you don't need to use a single type of herb on its own. Some of the best herbal teas combine two or more different herbs. Doing so gives you a more complex and nuanced drink. The following combinations offer a few examples to try.
Mint, rosemary, and basil. These are all popular Mediterranean herbs and complement each other well. The tea is particularly good with some ginger root and lemon juice added.
Mint, tarragon, and basil. Swapping rosemary for tarragon adds a slight anise flavor to your tea that works surprisingly well.
Peppermint and lemon balm. The flavors of mint and lemon work together beautifully, giving you a refreshing tea.
Peppermint, lemon verbena, and lemon zest. This flavor combination is fantastic as a way to wake yourself up and get the day started right.
Holy basil, lemon balm, lavender, and chamomile. This is a relaxing tea blend, perfect for the end of the day when you're trying to wind down. It's one of many great uses of lavender.
There are plenty of other herbal combinations. Finding them takes some experimentation and plenty of patience.
After all, it's not just the specific herbs you need to consider, but also the amounts of each type. Some herbs have a very strong flavor and using too much will overpower the rest of your drink. Peppermint is a classic example here.
Blends With Real Tea
It's also possible to blend herbal teas with green or black tea. You'll often see this when you buy tea online or even in a grocery store. Such blends often rely on a combination of tea, herbs, spices, and perhaps dried fruit for a complex flavor balance.
You can make blends like this at home, but most of the time you'll be using dried herbs, as tea leaves themselves are dried.
Some people experiment with a workaround, where they brew green or black tea the regular way, then add a handful of fresh herbs (mint is an excellent addition to green tea). While doing so can work, you'll need to experiment to find the right proportions and the best steeping time.
Remember too that black tea and green tea both contain caffeine, so the drink won't be as relaxing as pure herbal tea.
The Benefits Of Herbal Tea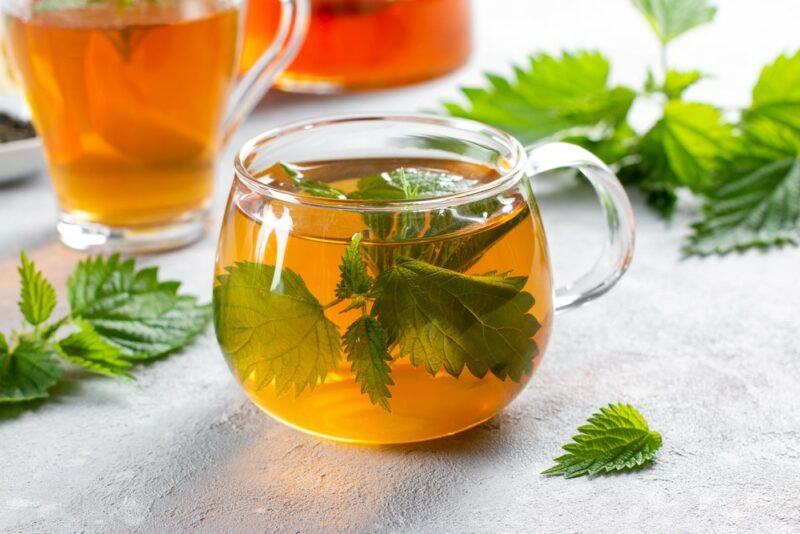 Herbal teas come with many potential health benefits.
Such benefits come from the plant-based compounds in the herbs, which can often help to decrease oxidative stress and inflammation. Some have other health effects too, like lowering blood pressure, helping with blood sugar levels, and reducing stress.
Also, herbal tea is almost always completely caffeine free (unless we're talking about yerba mate). This is powerful, as caffeine comes with many side effects and is already incredibly common. Indeed, most of us don't actually need any more caffeine.
Besides, if you want a calming hot drink before bed, what could be better than hot caffeine free herbal tea?
Finally, herbal tea contains a decent amount of water. This makes it a simple way to stay hydrated, one that's much healthier than using heavily sweetened and artificially flavored soda or too much fruit juice.
Are Herbal Teas Always Healthy?
While herbal teas can be incredibly good for you, they also have a shadow side that isn't talked about often enough.
This is because plants always have benefits and risks. Whether they're helpful or harmful depends not only on the dose, but also on a person's medications, health, and other factors.
For example, some herbs like oregano can have a slight blood thinning effect. While this isn't a big deal for most people, anyone on blood thinners needs to be cautious.
Licorice tea is also concerning, as too much could increase blood pressure. Indeed, licorice root itself isn't as safe we often assume.
Similarly, St. John's Wort is often used as an herbal tea to help combat depression. It can be an excellent alternative to antidepressants, but also comes with some concerning side effects. The herb can also interact with antidepressants, which could easily lead to even more issues.
A good rule of thumb is to have no more than one or two cups of a given type of tea each day. Try not to have the same tea too many times a week either.
Moderating your intake like this should help to protect you from most side effects. But, it's still worth talking to your doctor or doing some research to ensure no interactions between the herbs and any of your health conditions or medications.
Final Thoughts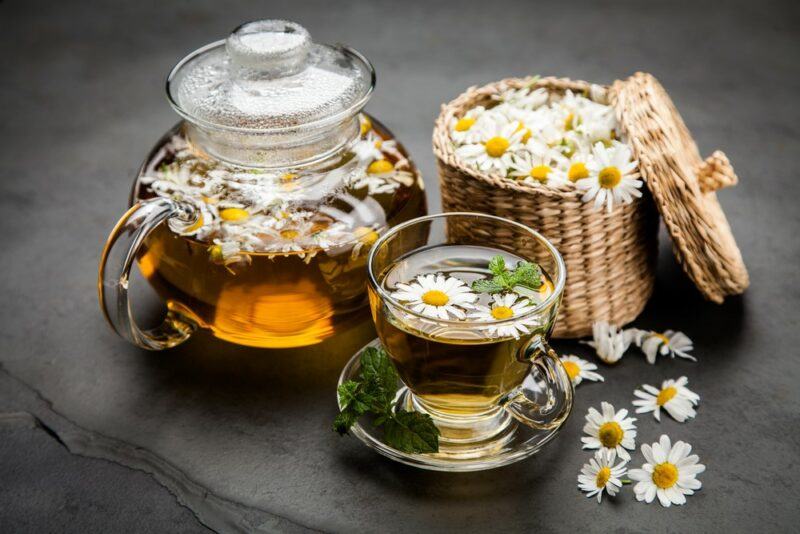 Despite common assumptions, you don't need to use dried herbs to make tea. Fresh herbs can be just as tasty and often involve much less effort.
Some teas even taste better with fresh herbs than with dried ones. Just make sure you watch the steep time, as you can still make fresh herbs bitter if you steep them for too long.
Besides, when you buy dried herbal tea, you don't really know how long it's been sitting around for. The quality might be much lower than you expect. In contrast, you can determine the quality of your fresh herbs by just looking at them.