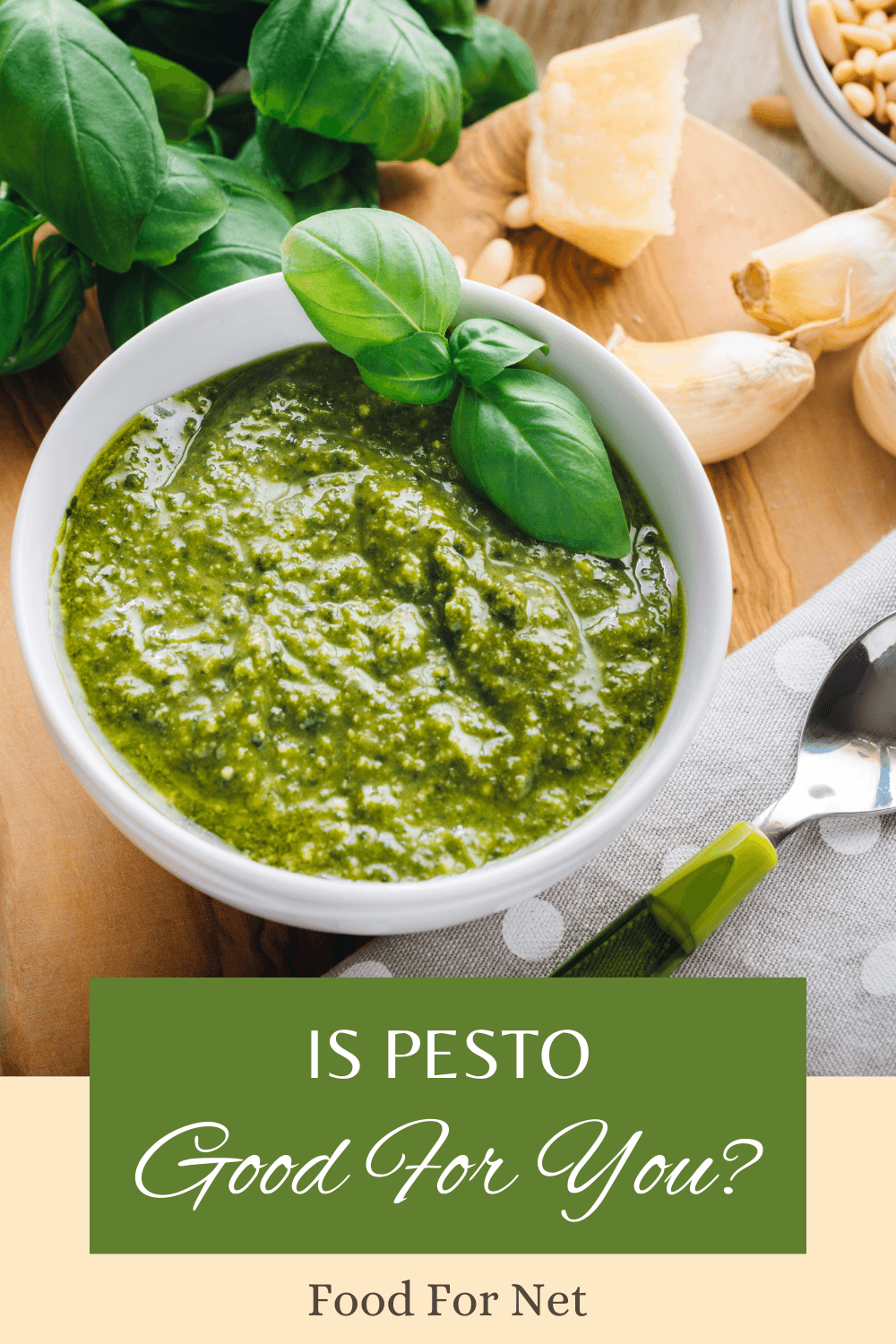 Pesto is a simply stunning condiment. It brightens your meals up and manages to make everything taste that much better. What else imparts so much flavor in such a small serving? If you love pesto, you are probably asking, "Is pesto good for you?" because it doesn't taste like it should be.
Putting pesto in pasta, on sandwiches, or serving it with chicken are some of the most popular approaches, but the options are almost endless. You could also mix pesto through your vegetables, your salad, put it on pizza, or even use it as a dip.
Still, delicious food often isn't that healthy. So, we need to ask – is pesto good for you? Also, is pesto healthy enough to have regularly or is it something that needs to be reserved for special occasions?
To begin with, we're going to focus on the traditional version of pesto, as this is the type you'll find in restaurants and grocery stores. There are plenty of ways to vary pesto as well, variations that change the health effects and the flavor. We'll talk about these after we've covered pesto itself.
Is Pesto Good For You?
What Is Pesto Made Of?
Benefits Of Pesto
How Pesto Could Be Harmful
Ways To Vary Pesto
Final Thoughts
What Is Pesto Made Of?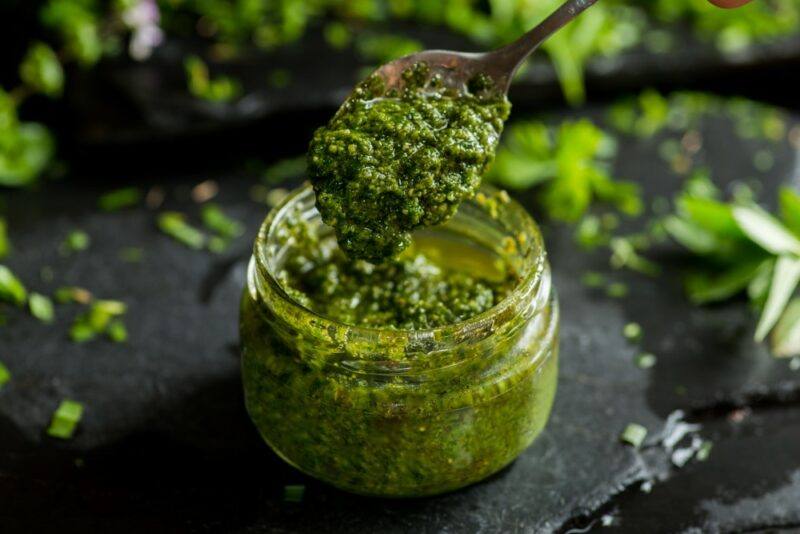 Pesto is generally a bright green sauce or condiment. It gets its name from the verb pestare, which translates to 'to crush'. This makes sense, given that pesto was traditionally made using a mortar and pestle.
These days, food processors are more often used to make pesto. This makes the process much easier and the finished condiment is just as delicious as ever.
There's only a handful of ingredients to worry about: basil, pine nuts, garlic, olive oil, and parmesan. The ratio of these varies depending on the recipe that you choose, but there's normally a decent amount of parmesan and pine nuts.
Benefits Of Pesto
A Source Of Healthy Fats
The reliance on olive oil means that pesto is brimming with healthy fats, particularly monounsaturated fats and oleic acid. These fats are incredibly important, as they can help decrease LDL cholesterol levels, raise HDL cholesterol, and help protect your heart.
Olive oil itself has also been linked to a healthy heart. This effect is even more powerful if you're consuming monounsaturated fats instead of saturated fats. Doing so improves a variety of heart disease risk factors.
So, choosing pesto instead of a saturated fat rich option like alfredo sauce is the most powerful way to promote health.
May Decrease Your Risk Of Some Diseases
Pesto contains powerful plant-based compounds. Some of these have antioxidant effects and/or anti-inflammatory ones, both of which are incredibly important.
Let's begin with inflammation. This is the process that our bodies use to protect itself against injury and infection. However, inflammation isn't always as helpful as it could be.
Instead, too much inflammation may lead to a cascade of issues. Long-term inflammation could even raise the risk of some health conditions, like heart disease, cancer, depression, and arthritis. Inflammation is a particularly big issue these days, as many of the foods we eat end up promoting inflammation.
A similar pattern is true for oxidation. While the process itself is important, oxidative damage can harm your proteins, cells, and even DNA. Such damage then raises your risk of disease.
Getting plenty of antioxidants and anti-inflammatory compounds can protect you in both areas. The basil, olive oil, and garlic all help here, as they're powerful sources of plant-based compounds.
Can Be Low FODMAP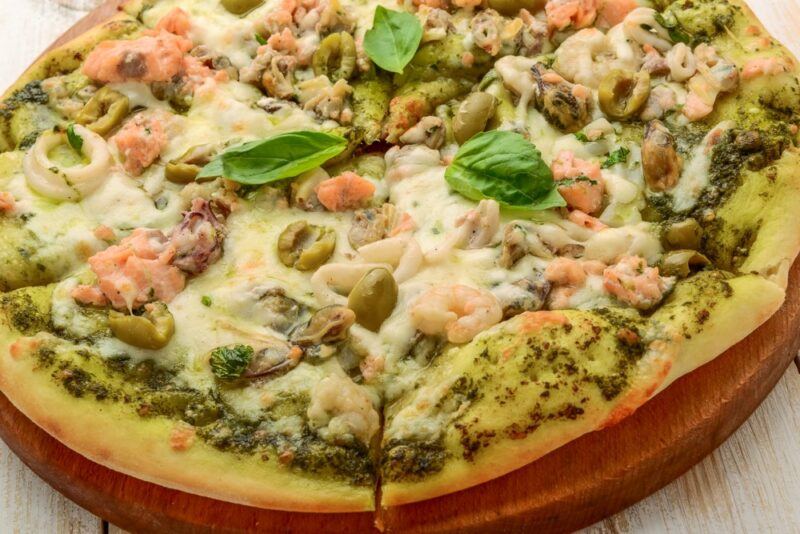 Some foods contain carbs known as FODMAPs, which can ferment in the small intestine. Not everyone can tolerate FODMAPs. For some people, these carbs lead to many concerning side effects, including gas, bloating, and diarrhea.
In particular, if you have irritable bowel syndrome or a sensitive digestive system, you may need to be cautious with FODMAPs.
Pesto is a surprisingly good choice. Almost all of the ingredients are naturally low in FODMAPs. Plus, the strong flavor of pesto is a great way to make low FODMAP dishes more interesting.
There's just one problematic ingredient – garlic. This one is high in FODMAPs and many people are sensitive to it. Thankfully, pesto tastes just as good without the garlic.
It's A Whole Food Ingredient
Here's another cool thing – pesto is made entirely from whole food ingredients. Basil, olive oil, parmesan, garlic, and pine nuts all go through minimal processing (or none at all).
Sauces made from such ingredients will always be much healthier than ones that have been heavily processed and are chock full of additives.
Even store bought versions of pesto often avoid common additives. You'll still need to check the ingredients label, though, as some products are healthier than others.
It's Low In Carbs
Pesto is naturally low in carbs, often containing less than a gram of carbs per serving. This even makes it useful for keto dieters. That's fantastic, honestly, as you're often looking for more flavor.
Once again, you'll need to check the ingredients label, as there's always variation. Some products may contain more carbs than others.
Could Improve Your Heart Health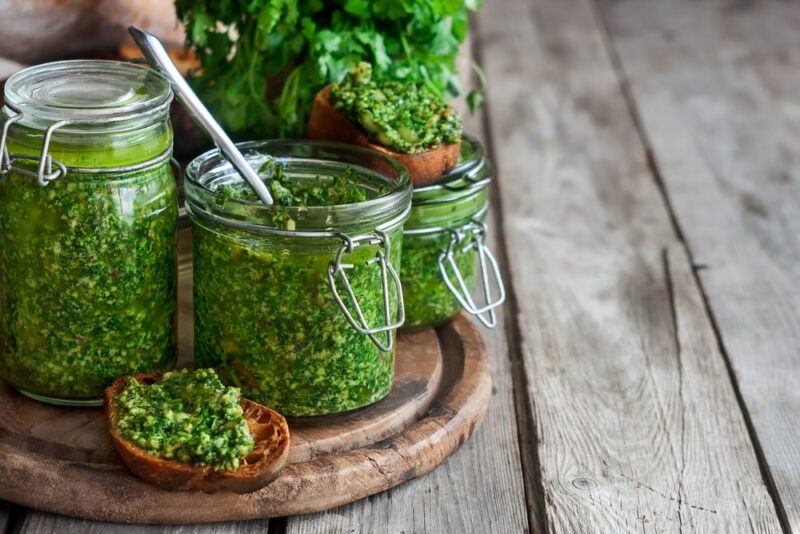 Pesto is sometimes linked to better heart health. This effect largely comes from the olive oil, as the monosaturated fats in the oil help lower your LDL cholesterol (the unhealthy kind), while increasing HDL cholesterol levels. Both effects reduce your heart disease risk.
The antioxidants in pesto are relevant to your heart too, partly because they lower the risk of LDL oxidation. Then there are the omega 3 fatty acids, which come from the olive oil and pine nuts. These monounsaturated fats are famously healthy and could add to the heart protective effect of pesto.
The heart health effects of pesto are strongest if you're using it instead of a saturated fat rich food. You'll see fewer benefits if you're simply adding pesto to your diet.
How Pesto Could Be Harmful
Could Lead To Weight Gain
Pesto relies on cheese, nuts, and oil. Not surprisingly, then, it ends up being high in fat and calories.
As we discussed earlier, these are healthy fats, ones that could provide plenty of benefits. Even so, you still end up with a calorie dense ingredient.
The calorie density can easily be a problem, especially if you're not being careful with your serving size. If you're using a lot of pesto regularly, it could easily make you gain weight.
Pesto is actually a bigger issue than many other calorie dense foods because the ingredients make it seem healthy. These apparently healthy foods can trip us up more easily than ones that are obviously bad for us.
Often Paired With High Carb Ingredients
While pesto itself is low in carbs, we often use it with high carb ingredients, including pasta and sandwiches.
The carbs themselves may not be a problem if your diet is balanced. After all, many recommendations still suggest that you should get 40% or more of your energy from carbs.
The trick is to pay attention to where the carbs come from. Refined carbs tend to be the worst for health, as they can spike your blood pressure and increase your risk of disease. Foods rich in refined carbs are also relatively low in nutrients, as nutrients are lost during the processing steps.
Unfortunately, white flour is highly processed, meaning that pasta and bread often are as well. To avoid problems from these ingredients, it's best to be cautious with your portion sizes and load up with veggies in your meals. Looking for minimally refined ingredients can help as well.
There's The Chance Of Contamination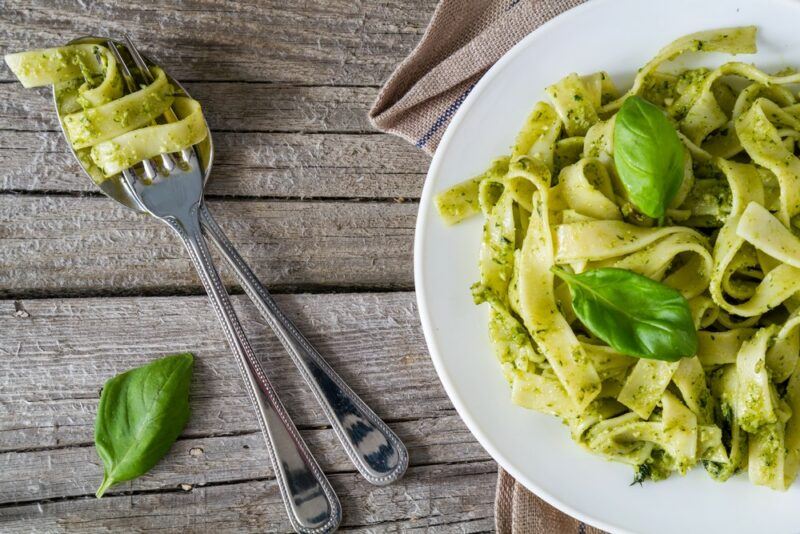 We often associate contamination with seafood and food poisoning with undercooked poultry. Yet, vegetables can often be the culprit as well.
Every step of the growing, harvesting, and transport processes can leave residues on your herbs. This is even true for organic produce. Washing vegetables and herbs before using them often helps, but won't always be enough.
Herbs are a particular problem as we tend to use them fresh, rather than cooking them first. They often grow close to the ground too, which increases the risk of contamination.
If you have a compromised immune system or can't be certain that your basil comes from a reliable source, you could tweak your pesto recipe. For example, you can make pesto using cooked spinach or kale, rather than raw herbs. Doing so helps to protect you, while still giving you a delicious condiment.
Can Be High In Sodium
Pesto can be relatively low in sodium, getting a little from the parmesan and that's it. However, some products ramp up the sodium content.
To avoid the problem, be sure to check the ingredients label or make your own pesto at home. The high sodium varieties of pesto don't taste much better anyway, so why even bother with them?
It Can Contain Allergens
Pesto contains pine nuts and parmesan, both of which can cause allergic reactions for some people.
Parmesan is lower in lactose than most other dairy products, but you could still experience reactions to the lactose or the milk protein. Parmesan is also no good if you're trying to avoid all dairy products.
Thankfully, pesto can be customized in plenty of ways. You'll even see this in some store varieties. If you shop carefully or make your own pesto, you can still enjoy the condiment without setting off any allergies.
Ways To Vary Pesto
The traditional pesto recipe can be switched up in other ways too. You might do so to change the flavor profile or to make the condiment easier to prepare at home. Or, perhaps you want to avoid one of the issues that we talked about earlier.
Pesto is interesting in that you can switch around almost any ingredient and still end up with a surprisingly familiar dish. You can even change multiple ingredients at the same time. Here are some interesting tweaks to experiment with.
Swap Out The Pine Nuts
Pine nuts are perfect in pesto, but they're not cheap. If they're beyond your price range or you simply don't like them, why not try a different type of nut instead?
Walnuts are a good choice as they are soft like pine nuts. Honestly though, any type of nut can be used, as you're typically using a food processor when you prepare pesto.
It's also possible to avoid the nuts entirely. You could swap these for seeds or chickpeas to give your pesto a similar texture. Or, you could skip the nuts and not replace them with anything. Avoiding the nuts can be perfect if you're allergic to them.
Change The Cheese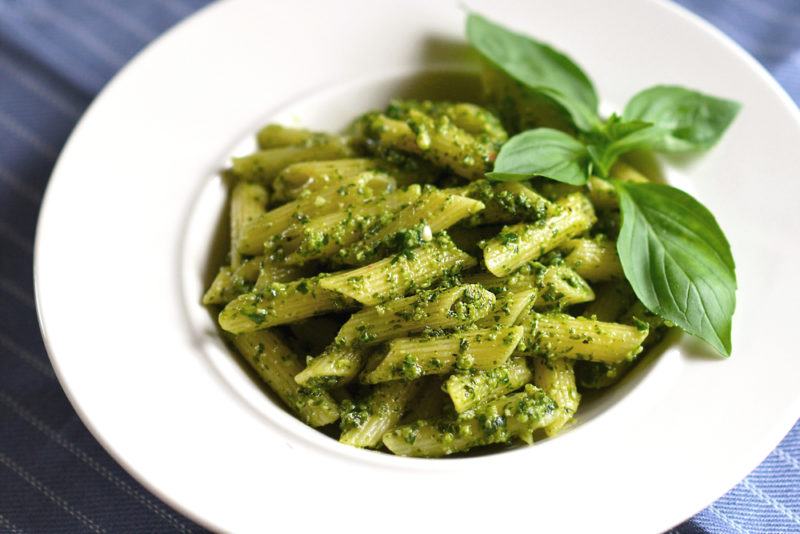 Parmesan gives pesto a distinctive undertone, but it isn't necessary either.
Any type of salty aged cheese has a similar effect on your pesto. Asiago and Grana Padano are two alternatives to try. Soft cheese doesn't work as well, but you could always skip the cheese entirely and then use cheese in whatever meal you're making (for example, a pesto and cheese sandwich is surprisingly delicious).
Skipping the cheese is also how you make vegan pesto. You could also swap the parmesan for nutritional yeast. This will give you some cheese-like flavor, along with extra protein.
Change The Greens
Yes, even the basil can be swapped out in pesto. You can actually use any type of dark leafy green or herb. If the ingredient is tender, like cilantro, spinach, or parsley, you can use them exactly like basic.
If the greens are on the tougher side, it's best to blanch and then drain them first. This softens them and means that they'll work better in the pesto.
It's even possible to grill your greens first. This creates a more complex flavor, one that's particularly good when paired with meat.
Some authors suggest turning to leftover ingredients when making pesto. For example, beet greens are often discarded and are surprisingly nutritious, so why not use them for pesto?
Skip The Garlic
Garlic gives pesto a fantastic flavor, but it isn't necessary at all. You can easily leave it out if you're sensitive to garlic or don't like the flavor.
Change The Oil
Pesto traditionally uses olive oil, but why not play around with other oils?
Grapeseed oil works well for something neutral. Alternatively, you can choose any oil you like the flavor of, like walnut oil or avocado oil.
You can also play around with garlic infused oil. Such oil often won't cause the same side effects as garlic itself, so it's a good way to leave garlic out of the recipe but retain some of the flavor.
Combine Approaches
You can also combine the different approaches to make your own interesting version of pesto. You might even use more than one type of green. Here's a handful of options to try for yourself:
Kale and hemp seed pesto
Spinach and almond pesto with truffle oil
Carrot tops and walnut pesto
Parsley, mint, and almond pesto
Kale and pecan pesto
Mint and macadamia nut oil pesto
Finally, why not get even more creative? These versions of pesto take things in completely different directions, sometimes using ingredients like beets, corn, or red pepper as the base for pesto, rather than a green ingredient.
Final Thoughts
Pesto isn't just delicious. It's also a great source of healthy fats and antioxidants, without providing many carbs at all.
The biggest problem is the fat content. This doesn't matter too much if you're keeping your pesto portions small, especially as the fat is healthy. However, if you're being cautious with your weight or fat intake, you might need to measure your pesto servings out to avoid any issues.
Pesto is rarely used on its own, so don't forget about the rest of your meal either. What's that doing for your health? Are there ways to make it better for you? Perhaps you could add some protein, decrease the carb content, or include some more vegetables.
Frequently Asked Questions
What Does Pesto Taste Like?
Pesto tends to have the bright flavors of basil and garlic, complemented by some saltiness from the parmesan and nuttiness from the pine nuts. This balance of flavors works together well to give you a refreshing dip or spread.
The flavor is on the strong side, but you can easily mix pesto with a creamy ingredient to create a milder pesto sauce (perfect for pasta!).
Is Pesto Vegan?
Traditional pesto isn't vegan friendly, as it relies on parmesan cheese. However, this is the only non-vegan ingredient and can easily be left out of the recipe.
Some vegan pesto recipes replace parmesan cheese with nutritional yeast instead. Doing so keeps the flavor profile intact, while still giving you a vegan friendly dip.
Does Pesto Go Bad?
Yes. Pesto also has a fairly short shelf life. For homemade pesto, you're often looking at around three to four days. Anything from the store may last a little longer, as there are often preservatives. However, most of the time, you'll need to use it within a week or two of opening.
Does Pesto Have Nuts?
Pesto traditionally uses pine nuts as an ingredient. But, despite the name, pine nuts are actually a seed, rather than a nut. This means that technically pesto is completely nut free.
Because they're from a different family, pine nuts shouldn't trigger a tree nut allergy. However, it's crucial to still be cautious as some people may be allergic to both pine nuts and tree nuts.
Is Pesto Keto Friendly?
Traditional pesto ingredients are keto friendly, so most pesto should fit onto a keto diet – including store bought versions. However, it's important to check the ingredients label, as some may contain non-keto additives.