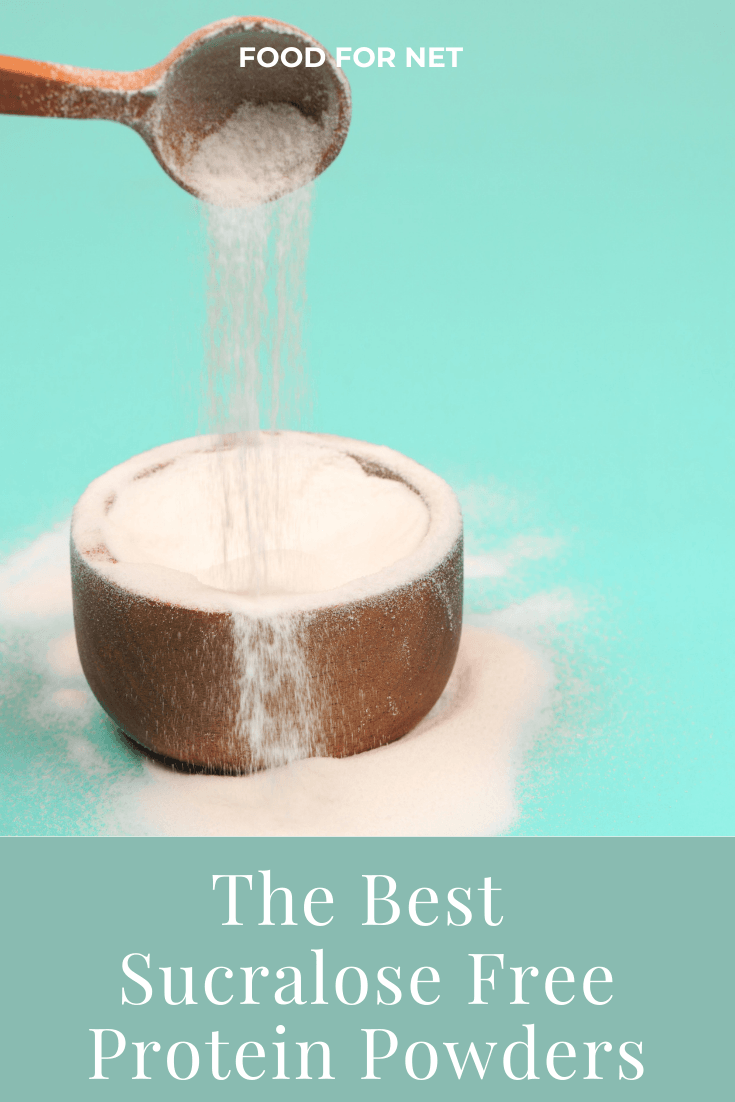 It's common knowledge at this point that we should be wary of having too much artificial, refined, or processed sugar. What isn't as common knowledge is how many different kinds of sugar are out there, and where the dangers could be hiding, disguised as something healthy. To help the public avoid consuming too much sugar, companies started putting out artificial sweeteners, many of which include sucralose.
While these sweeteners indeed don't contain sugar and at the same time still sweeten your drink or recipe, doesn't automatically mean they're always the healthiest option. For some, it may be good enough that it's not real sugar. But before you start using this product every day, it's important to know the risks. It's a compound not recognized by the body and therefore, different people may have different reactions. For example, it can cause high blood sugar or spike insulin levels in some. It can also damage the bacterial environment in your gut, especially if you're having too much of it.
While there are risks, some may still determine that it's better than sugar, while others may decide neither is for them and seek out more minimal products like sucralose free protein powder. The following products contain clean, healthy formulas with no artificial sweeteners and no sucralose. They may not always be as sweet, but that doesn't mean they don't have some fun and delicious flavors!
The Best Sucralose Free Protein Powder Brands
1. Transparent Labs 100% Grass-Fed Whey Protein Powder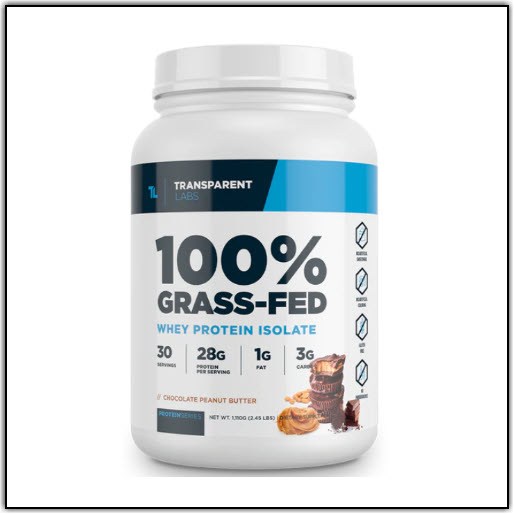 Transparent Labs 100% Grass-Fed Whey Protein Powder is a fantastic whey powder product. Whey protein is among the most common and popular for many reasons, but not all are made alike. Some are chock-full of additives, preservatives, and unhealthy flavorings that hardly makes the protein worth it in the end.
Transparent Labs does everything right, though. They only use milk from entirely grass-fed cows that are free from hormones. It's flavored with natural ingredients like stevia, cacao powder, and more depending on the flavor you choose. Available flavors include chocolate peanut butter, mocha, strawberry, vanilla, cinnamon, and a few more.
Each serving has 120 calories, no fat, one gram of carbs, less than a gram of sugar, and 28 grams of protein. It's also gluten-free, non-GMO, and contains nothing artificial whatsoever. The formula mixes easily and is great for so many things, from smoothies to cooking to baked goods!
2. Orgain Organic Protein Powder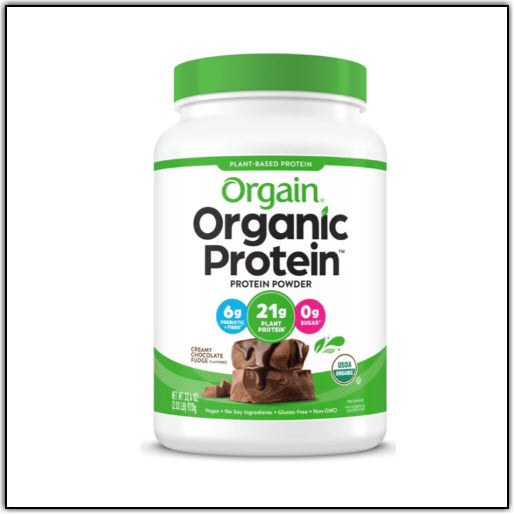 Orgain Organic Protein Powder is an organic, plant-based protein supplement that offers 21 grams of powerful, high-quality protein with a complete amino acid profile. The protein sources include pea, brown rice, and chia seeds.
It comes in several yummy flavors, but uses only healthy and natural flavors and sweeteners, nothing artificial, ever. Available flavors include classics like chocolate and vanilla with some fun ones too like iced coffee and chocolate caramel. It's also free from most common allergens including gluten, soy, dairy, and lactose. It's non-GMO, vegan, kosher, and USDA-certified organic.
Many plant-based protein powders struggle with being a bit chalky and gritty, but not this one. It's smooth and mixes well, creating creamy and delicious shakes and smoothies. It's also suitable for cooking hot foods and baking into treats like cookies, muffins, or even pancakes. Orgain also has other organic products like collagen peptides and protein bars to help you improve other areas of nutrition, or have a nice healthy snack or meal replacement on the go.
3. Nuzest Clean Lean Protein Powder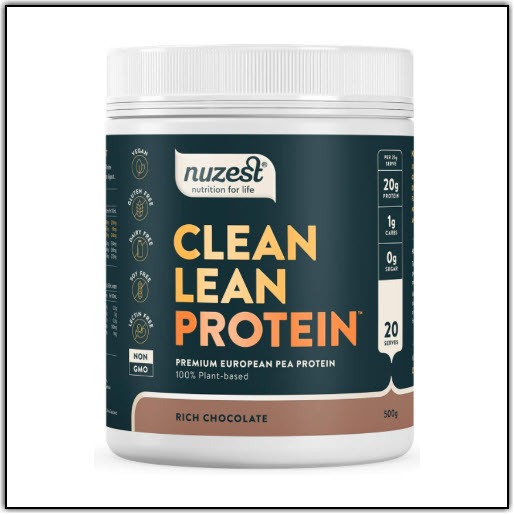 Nuzest Clean Lean Protein Powder might just be the cleanest protein powder you'll find. It's a pea protein and contains no other ingredients except for the natural flavorings necessary to create their flavors like vanilla, chocolate, strawberry, coffee, chai, and more. You can also get it unflavored, where you'll find no extra ingredients at all.
Some of the natural flavors they use include cacao powder, coffee powder, matcha green tea powder, and beet juice powder. Each serving has about 100 calories and 20 grams of protein. There are two grams of fat, one gram of carbs, no sugar, and no cholesterol. These protein powders also contain a long list of other vitamins and nutrients like selenium, zinc, manganese, iron, calcium potassium, and more.
This protein is clean, vegan, non-GMO, and made from sustainable crops and sustainable processing. It's about as healthy as protein gets, for both you and the planet. It's smooth, sweet, and absolutely delectable in smoothies while also making a great shake when simply mixed with your favorite plant-based milk.
4. Levels Grass-Fed Whey Protein Powder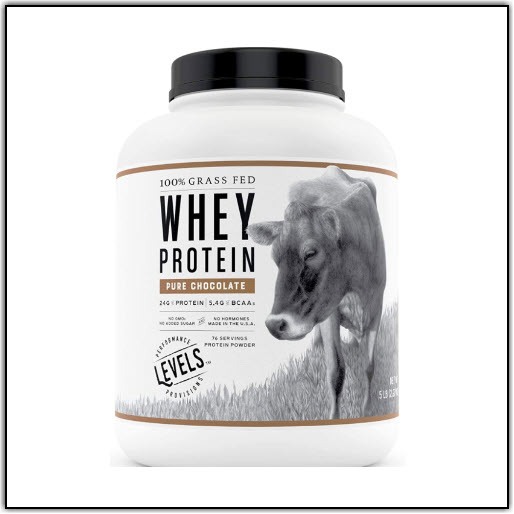 Levels Grass-Fed Whey Protein Powder is another clean and lean protein supplement that's made in the healthiest way – using only grass-fed, well-treated cattle. It's a whey protein that's built for athletes, gym enthusiasts, and anyone living an active lifestyle! It offers a great protein boost along with some great nutrition.
There are 24 grams of protein powder per serving with 130 calories, 2.5 grams of fat, three grams of carbs, and only two grams of sugar. The low carb content makes it perfectly keto-friendly and it offers 5.4 grams of BCAAs as well.
There are many flavors available, including chocolate, double chocolate, vanilla, strawberry, chocolate mocha, cold brew, and more. You can also get it unflavored if you don't want any flavor overtaking the other ingredients in whatever you're making.
The ingredients vary slightly depending on your chosen flavor, but they promise to never use anything artificial, ever – only clean, whole, real foods. Some of these flavoring ingredients include natural things like cocoa powder, beet powder, monk fruit extract, coffee powder, and peanut powder.
5. TGS Nutrition 100% Whey Protein Powder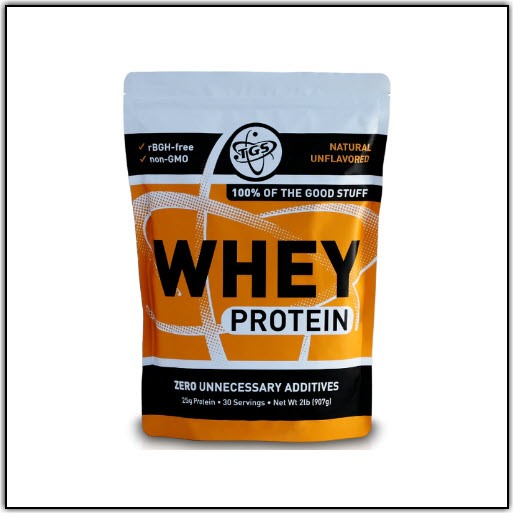 TGS Nutrition 100% Whey Protein Powder has an amazing collection of products that live up to the name – they only use the good stuff! This particular protein powder has only two ingredients, whey protein concentrate and a small amount of sunflower lecithin which is just there to help the whey dissolve better. This is good, especially for making shakes and smoothies as it'll eliminate any grittiness or chalkiness that can come with other powders.
The minimal ingredients mean their formula is pure and versatile, free from all the bad stuff and potential allergens like gluten, soy, corn, wheat, starch, and added sugar. It's also non-GMO, and uses no fillers, no additives, no preservatives, or anything else undesirable.
It's great for low-carb diets, keto, and vegetarian lifestyles. It works to help support and build muscles for those that are active and workout, but it also works as a general nutrition boost and/or meal replacement for those looking to get healthier or even lose weight.
Each serving has 130 calories, two grams of fat, two grams of carbs, and no sugar with a solid 25 grams of protein. It also has a good amount of calcium with a little iron and potassium.
Sugar-Free Snacks
As we learn more and more about the danger and potential harm of processed, added, and artificial sugar, more people are cutting it out of their diets. This is a great decision to make, but not always an easy one. Especially for those with a busy lifestyle and not much time to cook or prepare, it can be particularly tough to find healthy, sugar-free snacks.
The following recipes do take minimal time and effort, but will also save you time in the long run as you can make big batches and be set for the coming days or even a week at a time!
Banana Oat Energy Bars
Not only are these banana oat energy bars free from added sugar, but they're super healthy and provide a great energy boost. They're perfect for getting through that midday slump or fueling up before a workout.
In addition to the obvious bananas and oats, the other ingredients include apples, carrots, chopped peanuts, and unsweetened applesauce. The addition of veggies makes these bars unique, too. Here, you're getting some nutrients that you don't get in a lot of similar types of snacks because they don't think to add any veggies or whole fruits!
Homemade Hummus
At its core, hummus is usually pretty healthy. Except, however, when it's been heavily processed and mixed with a bunch of salt and sugar. If you want to truly benefit from hummus, it's best to make your own.
This genius recipe uses tahini and black beans to create an interesting, unique, and super healthy dip for anything from chips to veggies or even crackers. It calls for cumin and black pepper but of course, you can add and remove spices as you wish to create different flavors and even different levels of heat. For lovers of heat, you can make this super spicy if you want!
Related Content