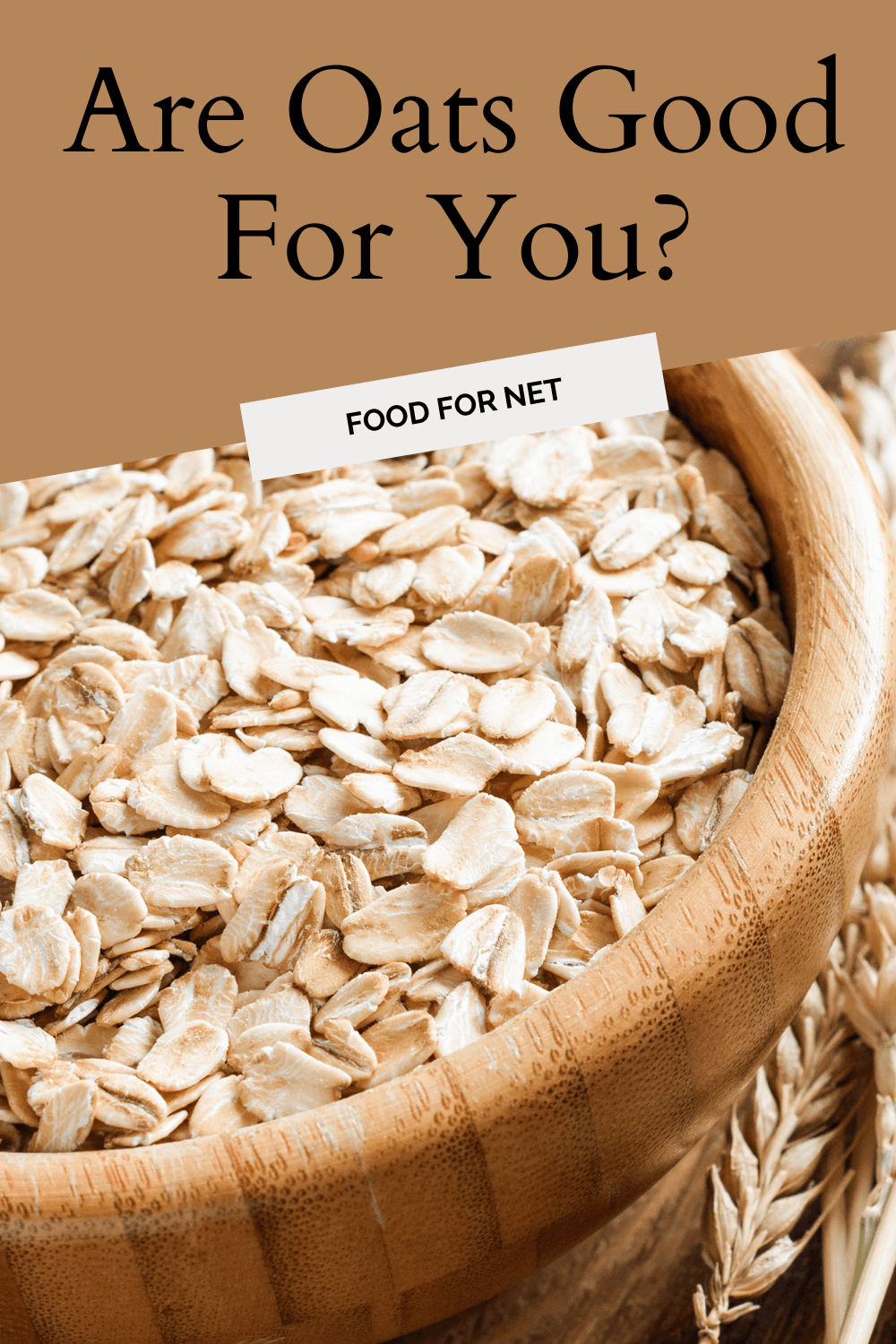 Carbs seem to have become the villain these days. Countless articles and websites talk about how you should cut down your carb intake to protect your health and lose weight. Considering how oats are also advertised as "healthy", are oats good for you, or are they a secret source of carbs you should avoid?
The idea of unhealthy carbs is is certainly accurate for refined carbs, particularly the added sugar you find in processed foods. However, perhaps the idea that all carbs are bad is a gross oversimplification.
After all, there's some evidence that the right type of carbs could still offer various benefits. Oats are a classic example here, as they're a relatively unrefined ingredient that could lower your risk of heart disease, improve your digestion, and have other positive effects as well.
So then, are oats good for you? Do the potential benefits outweigh the problems with the carbs or should you skip them altogether?
Are Oats Good For You?
Types Of Oats
Benefits Of Oats
How Oats Could Be Harmful
How To Get The Most Out Of Oats
Are Oats Keto Friendly?
Final Thoughts
Types Of Oats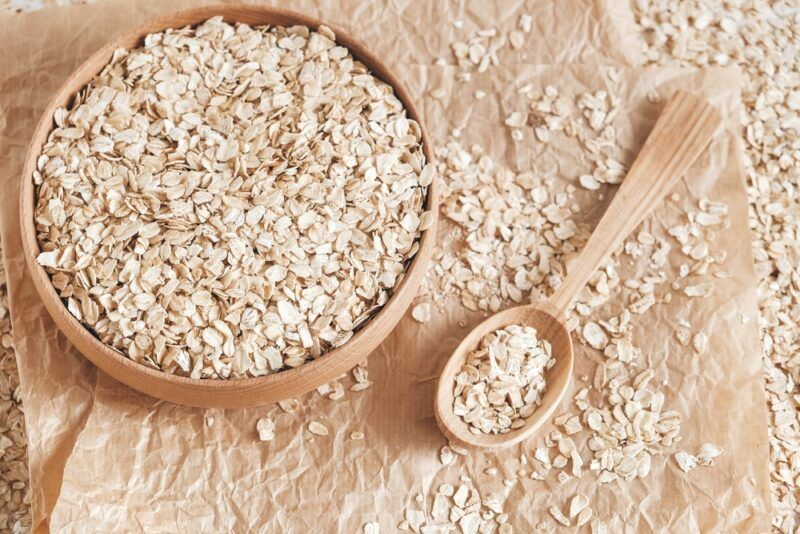 There are various styles of oats. Most of them have a similar nutritional profile, but differ in the amount of processing. The processing is important however, because the less processed versions digest more slowly and have a lower blood sugar impact than highly processed ones.
Here are the main types to look for:
Oat groats. These are the entire oat grain with the hull removed. As such, they contain the endosperm, bran, and germ of the oat grain, making them a whole grain product.
Steel cut oats (also called Irish oats). As the name suggests, these oats have been cut into pieces, often around two to three pieces per oat. The larger these pieces are, the more slowly they digest.
Old fashioned oats (also called rolled oats). These oats go through a process of steaming, rolling, and flattening, giving you thin oat flakes. They're also dried, so none of the added moisture remains.
Scottish oats. This time the oats are ground, giving you a relatively fine meal. The texture here is a little rougher than flour, but not dramatically. When used to make oatmeal, Scottish oats give you an amazing creamy texture.
Quick oats. These oats have been through a longer steaming process. They're also rolled to create thin pieces that cook quickly. Instant oats fall into this category as well, although they may also use extra ingredients for flavoring.
Benefits Of Oats
They're A Whole Grain
Despite all the controversy surrounding grains and carbs, studies continue to show that whole grains promote health. Seriously, they come with a ton of benefits, including decreasing your risk of heart diseases and diabetes.
They can help to keep your weight in check as well, partly because the fiber they contain is filling and helps with your digestion. That's not all. Fiber can also help with your blood sugar and cholesterol levels, helping to decrease the risk of type 2 diabetes and heart disease.
There are plenty of other potential benefits too.
Then again, this isn't so surprising. Whole grains regularly feature in healthy diets and many cultures rely on them. Even the Mediterranean diet routinely uses whole grains.
They're Relatively Unprocessed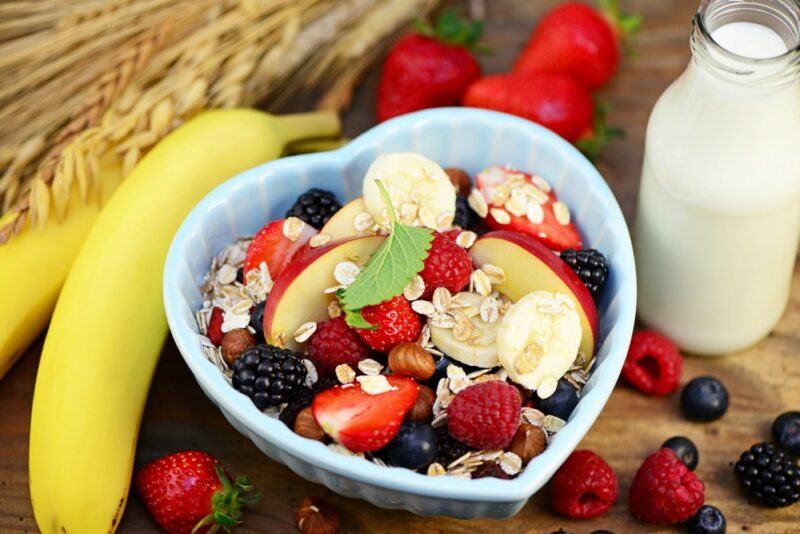 Oats go through a few processing steps, which may include steaming and flattening them, but they're still much less processed than most breakfast cereals.
For that matter, many modern sources of grains are ultra-processed. Just look at bread. The nutrients in white bread are just a shadow of what you find in wheat grains. Whole grain bread is better, but even then, the grains have often been ground to form a fine flour, a process that decreases many of the health benefits.
Plus, processed foods are far too common these days. Such foods aren't just packed with additives; they can also lose nutrients during the processing steps. Focusing on unprocessed ingredients like oats is a much better approach.
They Provide Nutrients And Antioxidants
Not surprisingly, oats provide you with various nutrients. Some of the main ones include magnesium, zinc, and iron, which are all powerful for keeping you healthy.
Despite their bland color, oats also provide you with antioxidants – plant-based compounds that help to protect you against oxidative damage. While antioxidants aren't difficult to find, it's always helpful to get them from a variety of sources, as there are many types of antioxidants, and they can have different effects on your health.
May Help With Your Blood Sugar Levels
Despite being high in carbs, oats are well known for helping to stabilize your blood sugar levels. This effect comes from the soluble fiber, which helps to moderate blood sugar release.
The soluble fiber even means that diabetics can sometimes include oats in their diet.
However, the blood sugar effect depends on the type of oats you choose. Steel cut oats and old-fashioned oats are the best choices, as these have been minimally processed. In fact, old-fashioned oats have a glycemic index (GI) of 55 and a glycemic load (GL) of 9, which are impressive scores for such a high carb food.
Instant oats are quite different. They're more heavily processed, giving them a greater effect on your blood sugar levels (which is one more reason to stick to old-fashioned or steel cut oats instead).
Can Help With Digestion And Your Gut
First of all, oats are fantastic for fiber, with a 3.5-ounce serving giving you more than 10 grams of fiber. This fiber helps your digestive system in a variety of ways. It's crucial for promoting regular bowel movements and keeping food flowing through the digestive system without a hitch.
Some of the fiber can also be food for your gut bacteria. This effect is more powerful than it first sounds, as gut bacteria can interact with your health in a shocking number of ways. Having a good balance of gut bacteria may be powerful indeed.
There are plenty of other fiber sources out there, but oats are exceptional. They contain much more soluble fiber than other types of grains. They're also high in a particular type of soluble fiber, called beta glucan. Beta glucan has been studied in-depth and may be ideal for decreasing cholesterol levels and protecting your heart.
Fiber isn't the only thing that helps with your digestion and gut either. Oats are also a decent source of starch, including resistant starch. As the name suggests, this starch resists digestion. As such, it behaves much like fiber, giving you many of the same benefits.
The fact that oats are rich in soluble fiber and resistant starch is beyond fantastic.
Could Promote Weight Loss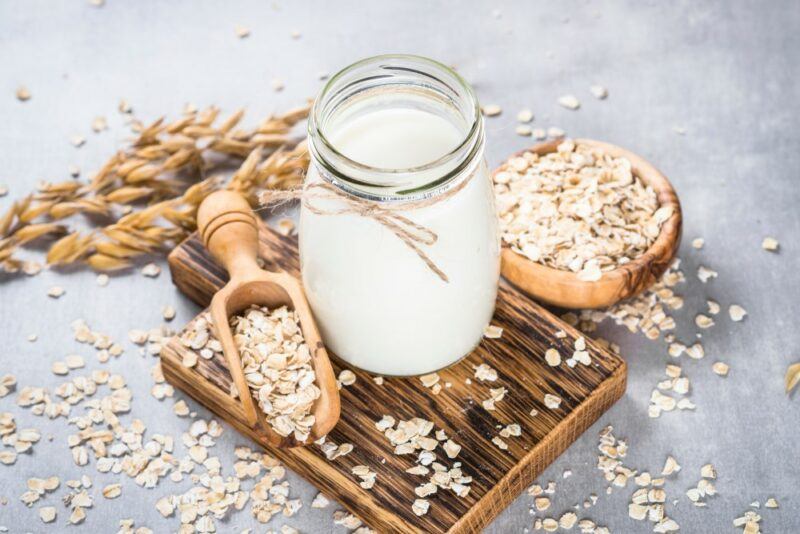 When used well, oats are an excellent ingredient for weight loss. Their combination of protein and soluble fiber gives you a satisfying meal that can keep you full for hours.
This is one reason that oatmeal is such a common breakfast choice. Make it with water and add a few high protein toppings and you have a breakfast that's relatively low in calories, is delicious, and is filling. What more could you want?
They're Generally Gluten Free
Unlike wheat, oats don't naturally contain gluten. They do contain avenin, which is a similar protein, but avenin tends to be safe for people with gluten sensitivities and celiac disease, even in large doses.
The lack of gluten makes oats an excellent choice when you're following a gluten-free diet. After all, oats are easier to find and use than many other gluten-free grains. They're also an easy way to boost your nutrient intake.
There is one catch though – you need to choose your brands carefully. Despite being naturally gluten-free, oats are often contaminated with gluten, particularly when they're processed in a facility that's also used for wheat. To get around this problem, you need to look for certified gluten free oats, ideally from a company that regularly tests for contamination.
How Oats Could Be Harmful
The Carb Content
The biggest problem with oats goes without saying – the carbs. If you're worried about carbs at all, then oats problem seem incredibly unhealthy, as a single cup of cooked oatmeal contains 28 grams of carbs.
Some of this fiber comes from the carbs, but most of it is from starch instead.
Thankfully, though, oats are a whole grain, so they're one of the healthiest sources of carbs that you can find. There's little doubt that diets rich in whole grains promote health.
Still, there's much to understand when it comes to carbs. Carb rich diets may still be harmful in some situations, leading to increased inflammation, along with spikes and dips in your blood sugar levels.
People who are sensitive to carbs might need to avoid high carb foods and spread out their carb intake across the day. If this is the case for you, then oats mightn't be the right addition to your diet.
Can Lead To Weight Gain
Oats are a weight loss ingredient, right? That's true enough, but like any food, oats can easily lead to weight gain if you're not careful.
Part of the problem is how we use oats. We often serve them in the form of oatmeal or overnight oats, complete with high calorie additions. For example, oatmeal made with milk or cream, then topped with maple syrup and dried fruit, will never be amazing for health.
Making oatmeal with water instead, then using fresh fruit and perhaps some nuts as a topping tends to be much more powerful.
They Contain Antinutrients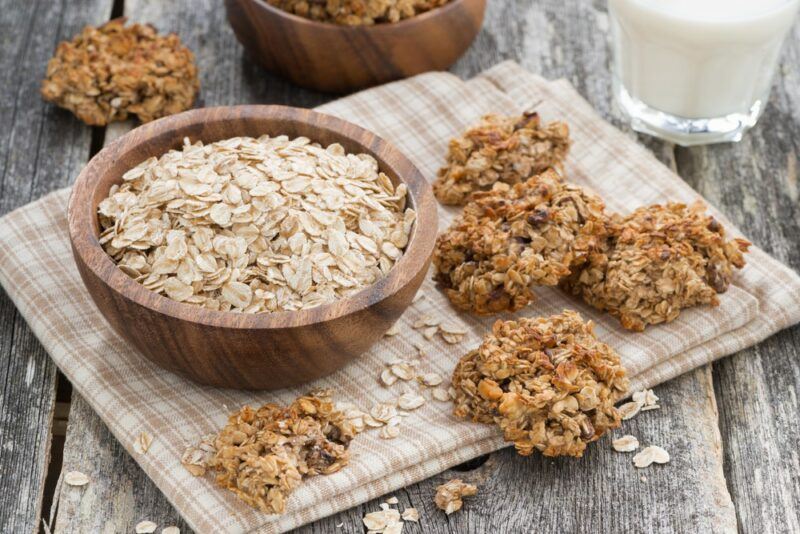 Like other grains, oats are also a source of antinutrients, including lectins and phytic acid. You've probably heard about these compounds before, as there's plenty of controversy surrounding antinutrients.
Part of the problem is that antinutrients decrease your absorption of some minerals, including zinc, magnesium, and iron. That's concerning, right? Those minerals are all essential. We need them to survive.
Antinutrients might also have other effects, which are more difficult to spot, like increasing inflammation or harming the microbes in our guts.
Such issues paint a grim picture. Paleo dieters choose to avoid most legumes and grains to avoid such problems. The antinutrients could be a reason to watch your oat intake or even skip oats altogether.
That said, there are two sides to every story. If you're getting plenty of nutrients in your diet already, then antinutrients aren't going to cause deficiencies. They might even lead to some health benefits.
Perhaps the antinutrients are simply a reason to not go overboard with oats, grains, or legumes – rather than a reason to cut out these ingredients entirely.
How To Get The Most Out Of Oats
One of the biggest problems with oats is that they can be a little boring. Most of us consume them in the form of oatmeal, which is delicious when made well and pretty unappealing when it isn't.
So, how do you eat oats in a healthy way, while also enjoying them?
Watch Your Toppings
If you're having oatmeal, be cautious with your toppings is ultra important. Many of the things we use with oatmeal, like maple syrup, brown sugar, half and half, or cream, aren't healthy at all.
Also, remember how oatmeal is high in carbs? Any sugary topping is going to make that problem even worse. Using protein-rich toppings, like nuts or nut butter can help, but be sure to keep an eye on your calorie intake too.
Skip Instant Oats
Prepackaged instant oats seem like a convenient healthy breakfast, but they're really not. The problem? There are often additives, like flavors, vegetable oil, and sweeteners. None of these are great for your health.
The fiber isn't as powerful here either, as it has been more heavily refined and will have a faster blood sugar impact than minimally processed oats.
Plus, instant oat packets are often high in sugar. You might even be getting more than 10 grams of sugar in a single serving. That's far too much.
Try Overnight Oats
If you're bored of oatmeal, why not try overnight oats? This breakfast involves soaking the oats in milk or plant-based milk overnight. You can add in other ingredients for texture and flavor, including chia seeds, nut butter, cocoa powder, cinnamon, berries, and whatever else you can think of.
Overnight oats can be fantastic, as there's no work for you to do in the morning. Your breakfast is already prepared and ready for you. How cool is that? You're also getting more nutrients from all of the added ingredients.
Be Careful With Serving Sizes
Whether you're making overnight oats, oatmeal, or something else, it's important to keep your portions in check. If your portions are on the large side, you may end up gaining weight from oats.
Measuring oatmeal out is surprisingly helpful. This might seem a little silly, but it's very easy to misjudge your servings when you're gauging them by eye. Even if you're only a little bit out, those little bits start to add up.
Try Savory Oatmeal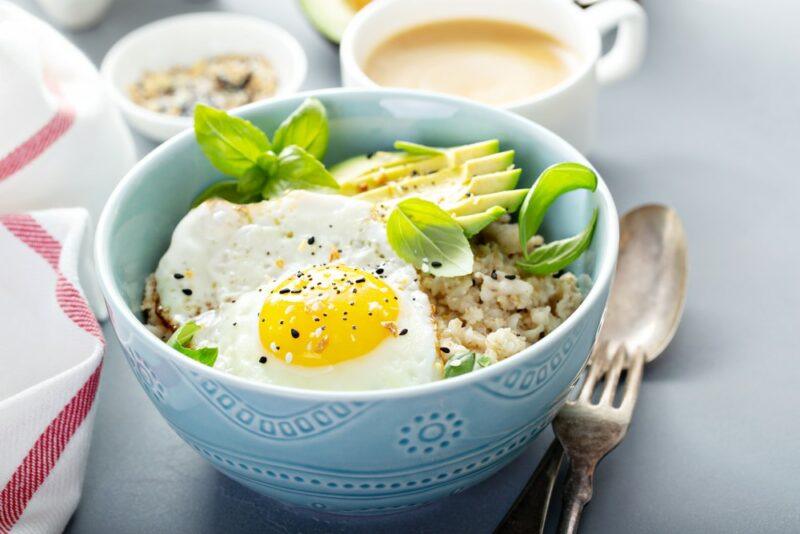 Most of us default to serving oatmeal on its own or with sugary toppings. However, this isn't your only option. Because oats have a mild flavor, you can easily use savory toppings instead, like eggs and avocado.
Doing so changes your meal considerably, giving you more fat and protein. This is an important effect, helping to balance out your macro intake and give you a much healthier breakfast.
You'll still need to watch your serving size, though, especially as the extra toppings all increase the calorie total of your meal.
Be Cautious With Oat-Based Recipes
Plenty of recipes rely on oats as an ingredient, including muffins, homemade muesli, pancakes, oat pilaf, snack bars, and many others. However, the focus on oats doesn't automatically make these recipes good for you. Some of them will. Others won't.
It's always important to check the ingredients list and any nutritional details before getting started with a recipe. This way you know precisely what to expect.
Are Oats Keto Friendly?
Oats don't fit onto a keto diet. It's as simple as that. Their carb content is simply too high, even when you account for the fiber.
Of course, keto dieters have found a way around the issue, with recipes that mimic the consistency and flavor of oatmeal (somewhat, at least), while keeping the carb content low. For example, the version from Wholesome Yum relies on a combination of seeds, collagen, and coconut milk. It's an odd combination of ingredients, but you get a breakfast that's surprisingly similar to oatmeal.
Some of the benefits remain the same too, as you're getting plenty of fiber and nutrients from the seeds. However, you'll need to pay attention to the calorie content, as such versions are often higher in fat and calories than traditional oatmeal.
Final Thoughts
Oats can be powerful, largely because they're such an easy way to increase your soluble fiber intake. Plus, they're an exceptional source of beta-glucan, a type of fiber that offers even more benefits than normal.
Of course, there's always a tradeoff when it comes to food. For oats, this tradeoff is the carb content, which is too high for keto dieters and may be higher than you'd like as well. You can offset some of the blood sugar impact by having a source of fat with your carbs, but this doesn't completely get around the problem.
Still, for most people, the benefits of oats will outweigh the issues with carbs.
If you're not certain whether oats are a good choice for you, why not experiment? Try having oatmeal or overnight oats for breakfast for a few days and see how you feel physically. How full are you? What are your energy levels like?
Don't be afraid to experiment either. Oats are a versatile ingredient that can be used in countless ways. You're bound to find at least a few options that you really enjoy.
Frequently Asked Questions
What's The Difference Between Oats And Oatmeal?
In general, the term oats refers to the grain itself, mainly when the oats are uncooked. In contrast, oatmeal is the cooked dish that you typically serve for breakfast.
However, definitions do vary. Some people use the term oatmeal for any type of processed oat, regardless of whether it's cooked or not (so, rolled oats are sometimes called oatmeal, even before they've been cooked). Other people simply use the words oatmeal and oats interchangeably. Thankfully, the meaning will normally be obvious from the context.
Is Oatmeal Inflammatory?
Oats could actually help with inflammation, as they contain some anti-inflammatory compounds. Then there's the fiber, which is relevant as well. There are even some studies that support this effect, although they mostly focus on patients with health complications.
However, there's plenty of debate. That's not surprising really, as inflammation is difficult to measure and people vary in their responses.
Some people even argue the opposite effect, suggesting that oatmeal (and oats themselves) can increase inflammation. This is partly related to concern that grains and carbs lead to higher inflammation. Plus, while oats don't naturally contain gluten, they may be contaminated with it and gluten is inflammatory for some people.
Because there's no straightforward answer, it's best to pay attention to your own body and how oats make you feel.
Are Oats Paleo?
For the most part, no. Oats are classified as grains and paleo dieters tend to exclude all grains, which leaves oats off the table.
That said, some evidence suggests that cavemen may have actually ground grains with stones – including oats. The paleo diet is meant to focus on eating what our ancestors ate, suggesting that grains may actually be a viable addition.
Of course, whether you actually include oats in your paleo eating plan depends on how you interpret the diet. Some paleo dieters may end up eating oats soon enough, while others are likely to avoid them entirely.
Are Oats Low FODMAP?
Oats can be included on a low FODMAP diet, as long as you keep an eye on the serving size. For rolled oats, up to half a cup meets the criteria for low FODMAP. If you go beyond this, your fructan and GOS intake is likely to be too high.
What's more, oats may be helpful on a low FODMAP diet, as they're rich in soluble fiber. This fiber may help to lower irritable bowel symptoms. However, if you typically don't eat much fiber, it's best to introduce it slowly, so your body can adjust.
Are Oats Good For Weight Loss?
Oats are often promoted as a healthy weight loss food, as they're rich in fiber, contain plenty of nutrients, and help to keep you satisfied.
However, the weight loss effect is only true if you closely watch your portion size. Most recommendations suggest consuming around half a cup of oats, paired with low fat milk (or plant-based milk) and minimal toppings. If your serving is larger or you go overboard with other ingredients, the oats could easily lead to weight gain instead.