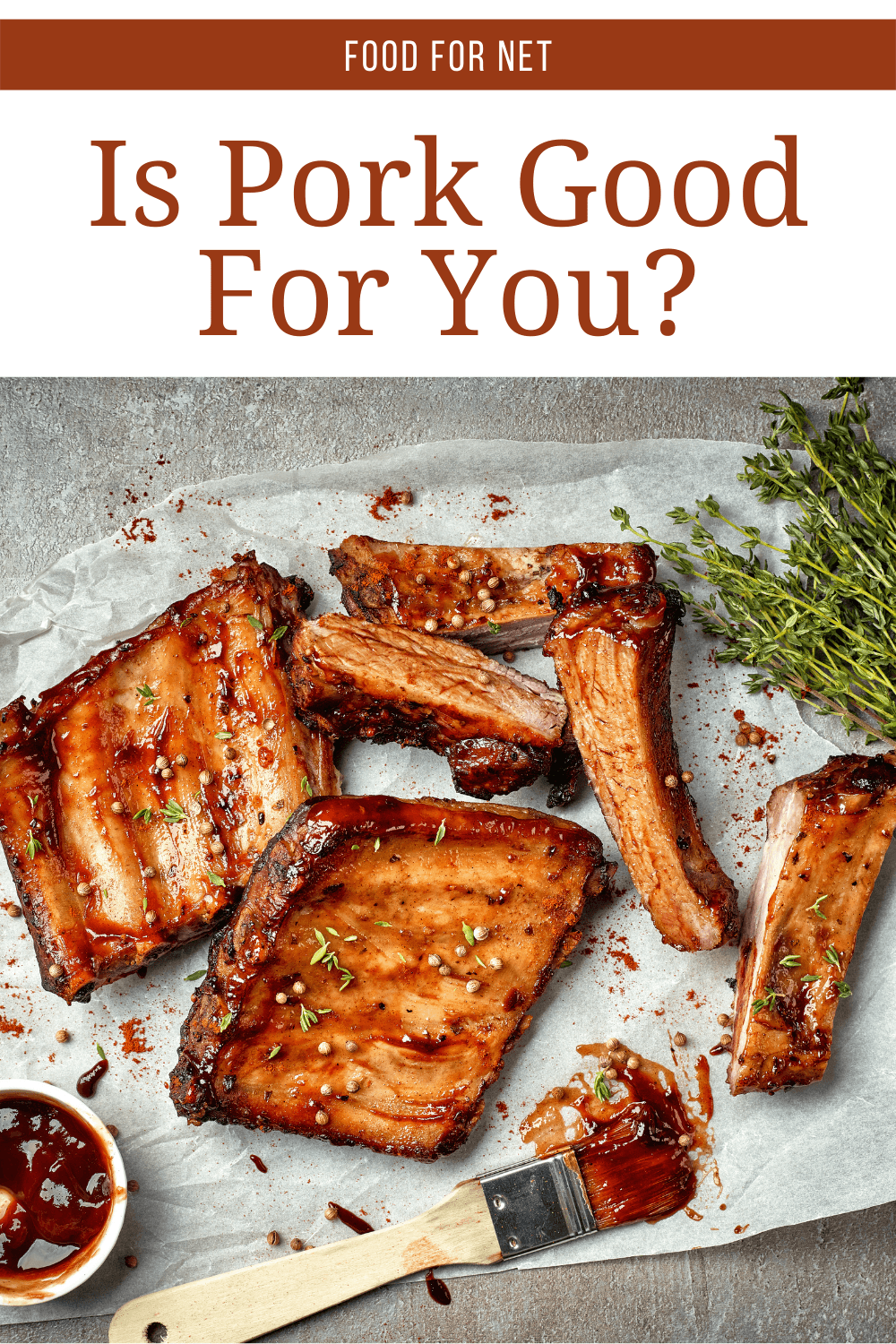 Meat, including pork, is an important source of protein and nutrients, one that we have relied upon throughout history. There's also an incredible amount of debate about whether we should be eating meat at all, with topics like saturated fat, ethics, protein, nutrients, and hormones all featuring in the discussion.
When it comes to pork, the controversy just gets stronger. Pork is often seen as a dirty type of meat, one that's even prohibited in some religions, including Judaism and Islam. Yet, many people love pork and pork products. Some couldn't fathom living without bacon. This brings us to the question of the day, is pork good for you?
I'm sure you can already rattle off some of the benefits of pork, along with various risks. This post will dig into those in more depth, along with how the two areas balance out.
Is Pork Good For You?
Why Is Pork So Controversial Anyway
The Benefits Of Pork
The Serious Problems And Risks Of Pork
Which Pork Products Are Best?
Does Pork Contain Hormones?
Is Pork Worse Than Other Types Of Meat?
Is Pork Unethical?
Is Pork Bad For You?
Why Is Pork So Controversial Anyway?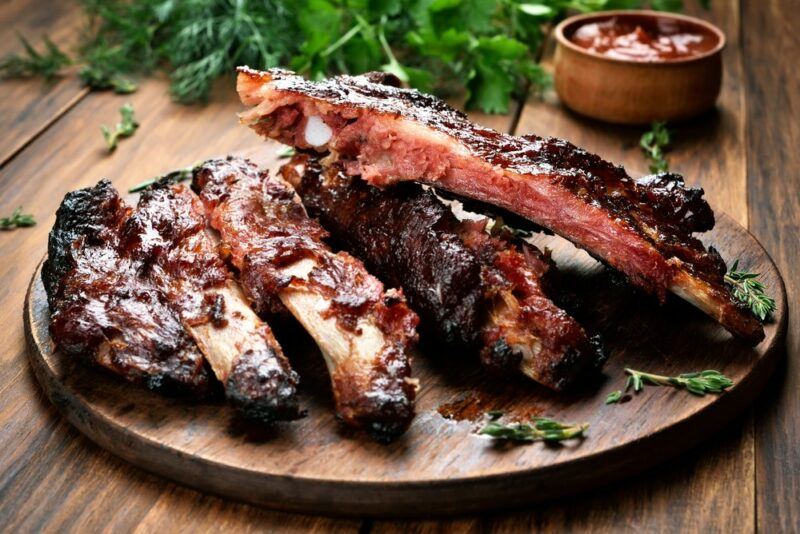 The debate that surrounds pork is astounding. There seem to be multiple reasons for the strong controversy, starting with the way that some religions ban pork products entirely, viewing it as an unclean type of meat.
Pigs don't have the greatest reputation either. They're often seen as dirty animals, ones that spent a lot of time rolling around in the mud. Interestingly though, pigs aren't naturally dirty at all. They tend to be hygienic animals. That practice of rolling around in mud is a way to cool off, as pigs can't sweat.
Other issues include the cruelty of the pig farming industry, along with the fact that pork products are often cured and may rely on many additives.
Pork also falls victim to the negative associations that surround red meat. Indeed, despite the phrase 'the other white meat' still being thrown around regularly, pork has the properties of red meat rather than white meat.
However, as you'll see, there are two sides to every coin. Despite the potential issues with pigs and pork, there are positive features as well. Besides, you can focus on healthier cuts of pork from animals that have been humanly raised. Doing so helps you avoid some of the major issues.
The Benefits Of Pork
A Source Of Quality Protein
First things first. Pork is a quality source of protein. This means that the protein contains all the essential amino acids that your body needs. You're also getting a decent amount of protein per serving.
Protein is used throughout our bodies. It's particularly important for muscle development, which is why you see bodybuilders focusing on high protein meals and protein shakes.
However, it isn't just bodybuilders who need protein. We all need a decent amount of it to keep our bodies functioning well. Some estimates suggest around 56 grams of protein per day for men and 46 grams for women.
Protein is relevant for weight loss too, as it helps to keep us full and reduces cravings for sugary snacks. This is one reason why high protein diets are often associated with weight loss.
Offers Important Nutrients
Like other types of meat, pork is a powerful source of nutrients. You get a decent amount of thiamine, niacin, vitamin B6, and selenium, not to mention a host of other vitamins and minerals.
In fact, a 3-ounce serving of cooked lean pork gives you more than a third of your daily needs for those four nutrients. Pretty impressive, right?
The nutrient concentration does vary depending on the cut of pork that you choose. Leaner cuts of pork tend to offer more nutrients than the same serving size of a fatty cut. That effect is to be expected, given that the nutrients are found in the meat, rather than the fat.
The Serious Problems And Risks Of Pork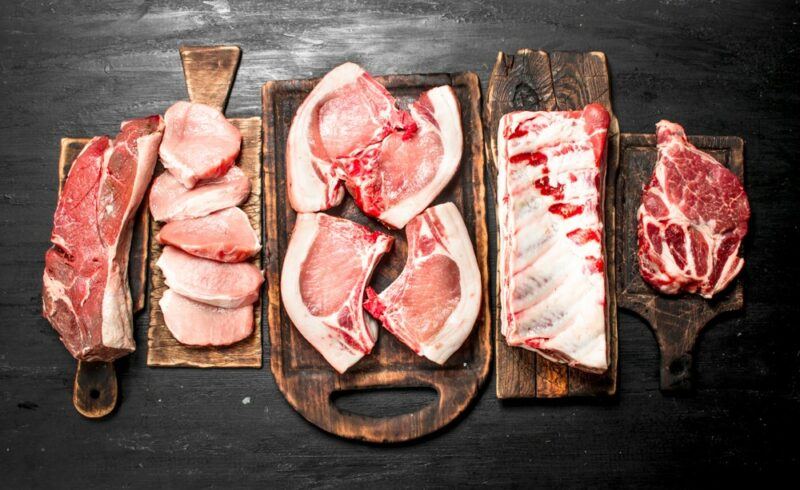 The Saturated Fat And Cholesterol
While pork can be lean, many cuts are incredibly fatty. There are multiple types of fat present, including monounsaturated, polyunsaturated, and saturated fats.
Not surprisingly, saturated fat is the biggest concern here. This type of fat is often linked to significant health problems, particularly a higher risk of heart disease. Experts often recommend cutting down on saturated fat, and relying more foods that are rich in monounsaturated fats instead.
Then there's the cholesterol.
This could increase heart disease risk too, as there's a proposed link between cholesterol in your diet, cholesterol in your bloodstream, and issues like blood clots and plaque buildup.
The cholesterol and saturated fat may be reason enough to avoid fatty cuts of pork entirely.
Still, it's worth mentioning that these risks aren't as well-proven as health experts suggest. We've highlighted some of the issues in our discussion of saturated fat. The crux of the topic, however, is that most studies linking saturated fat to heart disease are observational and many are extremely limited.
We know that unhealthy diets that are high in saturated fat lead to increased disease risk. But, we can't be certain what happens when people eat saturated fat as part of a balanced diet with plenty of vegetables and minimal processed foods.
The impacts of cholesterol are debatable too. We now know blood cholesterol levels often don't directly relate to levels of cholesterol in the diet. This is one reason why eggs are now seen as healthy, despite their high cholesterol content.
What does all this mean in practice?
Well, it shows there are still serious gaps in our knowledge. Saturated fat and cholesterol mightn't be as bad as we think. This could mean that fatty cuts of pork aren't unhealthy either.
Even so, proceeding with caution is still important. Even if saturated fat and cholesterol don't cause dramatic harm, high levels of consumption could lead to issues. Besides, you're still not getting many benefits from saturated fat or cholesterol. Lean meat that's rich in nutrients is likely to be much more powerful.
The Omega 6 Fatty Acids
Pork is also relatively high in omega 6 fatty acids, higher than most other types of meat. These fats have their benefits but can promote inflammation if you're consuming a lot of them and not much omega 3.
That said plenty of other ingredients are much higher in omega 6 content, including vegetable oils.
Sodium And Additives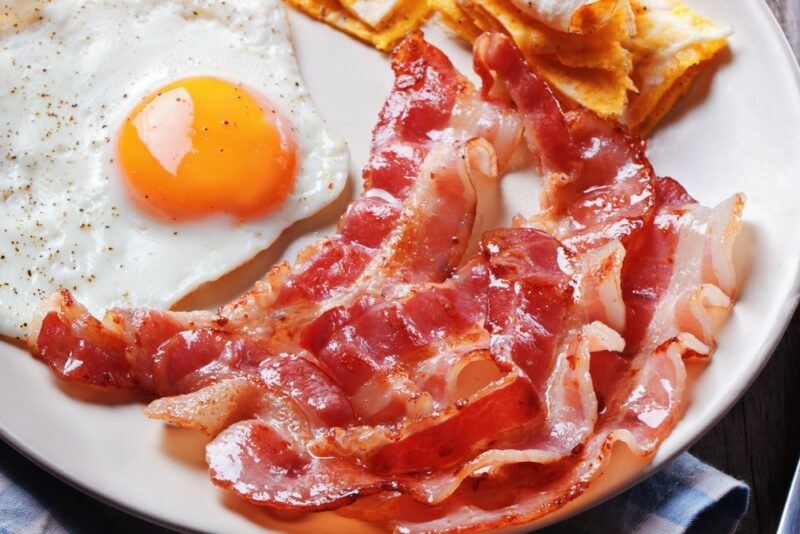 Some pork products also contain a decent amount of additives. For example, sausages often contain monosodium glutamate as a flavor enhancer, along with ingredients like sodium nitrate, potassium nitrate, and various phosphates.
Many of these additives have been linked to health issues. They may also be one reason that processed meat is linked to more health problems than other types of meat.
We can't forget about the sodium either. Some pork products, like bacon, can be incredibly high in sodium.
While some sodium is important for health, most of us are already consuming far too much. Excessive sodium intake can significantly increase blood pressure, which then raises the risk of heart disease.
Sodium also plays a role in your body's fluid balance. Too much sodium often leads to water retention, which can then have significant health effects, including problems like edema.
May Increase The Risk Of Disease And Death
Studies have linked red meat to a variety of potential issues, including increased risk of heart disease, type 2 diabetes, cancer, obesity, and death. The associations are particularly strong for processed red meat, including bacon and sausages.
There's still much debate about why these effects occur. The saturated fat content of red meat is one potential cause, but it may not be the only issue.
Another problem is that carcinogenic compounds called nitrosamines are produced when protein is cooked at high heat. The problem is particularly significant for meat and even more so for processed meat.
And, unfortunately, processed pork is something that many of us enjoy regularly. Just think about all the bacon we eat, not to mention sausages.
Because the research is still ongoing, experts often suggest decreasing red meat intake, avoiding processed red meat whenever possible, and focusing on lean cuts of red meat. This combination of approaches should reduce the risk from meat, without forcing people to cut it out entirely.
Can Contain Parasites
There's also the risk of contracting parasites from pork. One of these is Taenia solium, also known as pork tapeworm. This parasite is often harmless, but can sometimes cause significant issues.
There's also Trichinella, a type of parasitic roundworm. While symptoms of Trichinella infection tend to be mild, they can sometimes be serious, particularly in seniors.
Thankfully, the risk of parasites in your pork is low. The parasites are also killed during cooking. This is one reason why cooking your pork thoroughly is so important. Doing so dramatically drops your risk of food-borne illness.
That's not all. While Trichinella in pork used to be a huge issue, this really isn't the case anymore. One estimate suggests that your odds of being infected in the United States are 1 in 10 million. Clearly, this isn't a big concern these days.
Could Increase Multiple Sclerosis Risk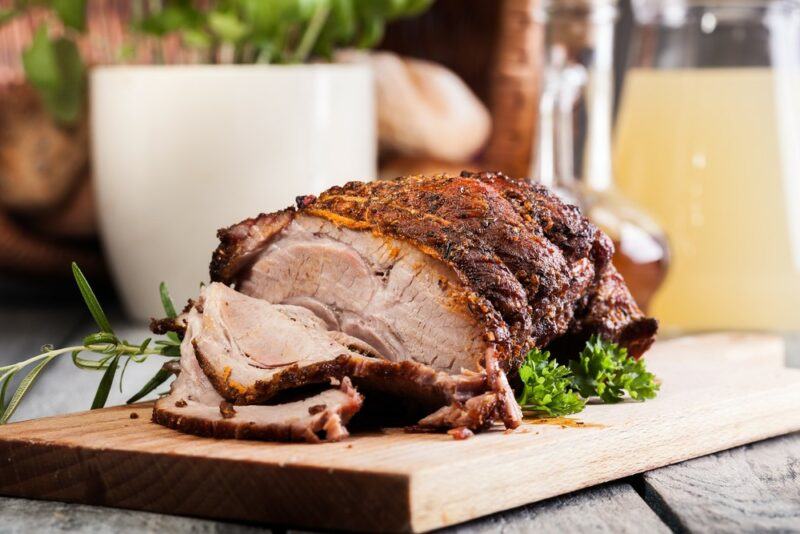 An interesting effect that often isn't talked about is that pork consumption might increase the risk of multiple sclerosis. A cause-and-effect relationship hasn't been established at all. Even so, there's decent evidence that countries with high pork intake also have high rates of multiple sclerosis.
There's still plenty of doubt about whether pork actually causes this effect or not, partly because finding a mechanism is difficult. Still, while we can't say that pork increases multiple sclerosis risk, there's a chance that it could.
For some people, this chance might be enough to avoid pork altogether. You might turn to beef and chicken instead, as they don't tend to be nearly as controversial.
Which Pork Products Are Best?
Many of the issues with pork are related to the saturated fat content or how processed the meat is. So then, a simple way to improve your outcomes is to focus on cuts that aren't processed and have minimal saturated fat.
In fact, some cuts of pork end up being as lean as chicken breast. That's impressive, especially as you're getting more nutrients with pork than with chicken. Pork tenderloin, sirloin roast, and loin chops are some of your best choices.
High fat cuts of pork should be consumed with more care. Be particularly cautious with products like pork sausages and bacon, as they're not only high in fat, but also tend to be processed and may contain some concerning chemicals.
Be Cautious With Pork Liver
We need to say a word about pork liver as well. Liver is often a powerful ingredient, one that is nutrient dense and an easy way to increase your nutrient intake.
However, pork liver comes with an unexpected issue, as it may transmit hepatitis E. This virus is often symptom free, but it's still a matter of concern, as some people have strong reactions and can end up very sick.
Thankfully, severe issues are rare and fully cooking pork liver before using it should dramatically lower your risk of contracting the virus.
Does Pork Contain Hormones?
You've probably seen hormone-free pork in stores, which suggests that hormones are often used when raising pigs for pork.
Yet, that's not the case at all.
Food and Drug Administration (FDA) regulations prohibit the use of hormones at any stage of the production process. This means that all pork products are hormone-free, regardless of whether the label says as much or not.
Is Pork Worse Than Other Types Of Meat?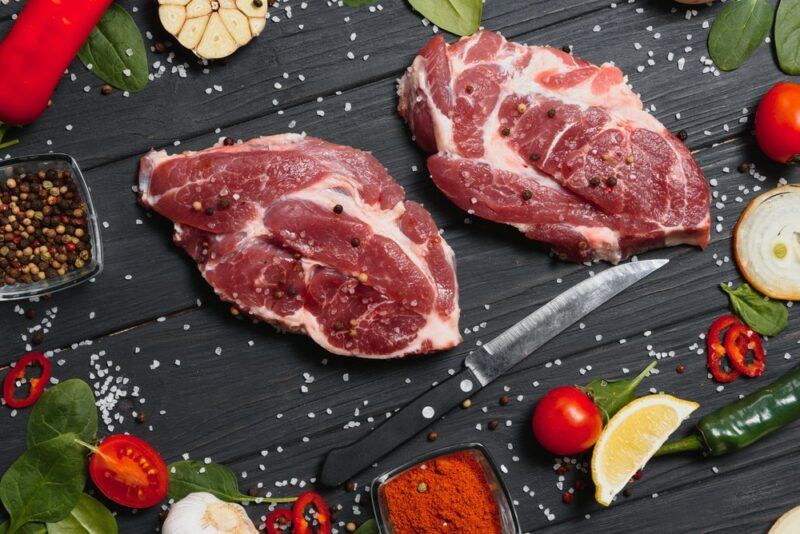 Many of the problems with pork apply to other types of meat as well, including the saturated fat content, the risk of food poisoning, and the fact that cured or smoked products sometimes contain additives.
From what we've talked about thus far, it should be clear that you can avoid many issues by simply choosing your type of pork well. After all, some cuts of pork don't even contain all that much saturated fat.
Is that enough though? Does choosing your cut well make all the difference or is pork really worse than other types of meat? Should you be avoiding pork entirely?
Honestly, it's hard to know.
There do seem to be more studies linking pork to problems than any other type of meat. For example, we don't often talk about parasites or increased multiple sclerosis risk for beef.
Even so, the studies do have notable limitations. Take the link between pork and multiple sclerosis as an example. Countries with high pork consumption do tend to have higher levels of multiple sclerosis than those that don't, but we still can't know whether pork caused those effects at all.
There could be something entirely different at play. After all, the decision to avoid pork is often for religious reasons and other aspects of a person's diet and lifestyle may be affected as well. Similarly, people dropping pork consumption down for health reasons are likely to make a variety of changes, rather than just avoiding pork.
Is Pork Unethical?
While this article focuses on the health impacts of pork, we need to consider the elephant in the room too – the ethics of it all.
Many people argue that eating animals in any context is unethical. After all, we can get almost all the nutrients that we need from plants. The more difficult ones, like vitamin B12, can be sourced from fortified foods or supplements instead.
If you feel this way, then you'll need to avoid pork entirely.
Honestly though, ethics is an incredibly subjective field. What's ethical versus not is strongly based on values and values can be different from one person to the next. They also vary between cultures and social groups.
There will probably always be some people who have no problems with eating meat, while others see the practice as completely unethical.
One thing you can do is to focus on animals that have been raised humanely. This is extremely important for pork, as pigs are often kept in horrible conditions, which sometimes includes severely restricting the movement of pigs to prevent too much muscle from forming.
Such practices aren't just concerning from a moral perspective. They may also influence the nutritional profile of the meat and increase the risk of disease and infections. Thankfully, some companies focus on raising pigs more humanely. This can include choosing animal feed carefully and raising the pigs in a free-range pasture-based environment.
Is Pork Bad For You?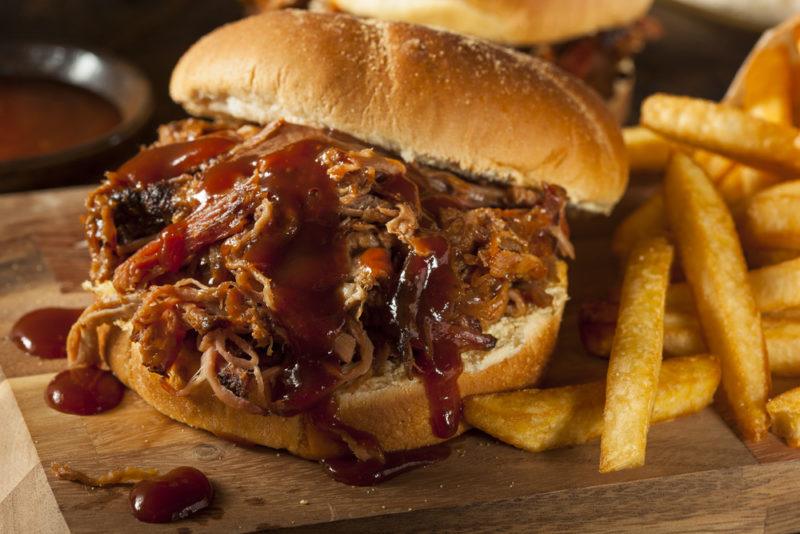 Pork is complicated – more so than many other foods. There are clearly some good features, including the high protein content and nutrients, along with serious issues, like the amount of saturated fat and the risk of parasites.
There's also all the concern that surrounds red meat, including how high red meat consumption might put you at risk for various diseases, including cancer.
Despite these problems, most people don't need to avoid pork entirely.
Instead, you can still enjoy pork if you're wise. Focus on low fat cuts whenever possible, while also keeping an eye on how much you consume. You might even choose to have some meat free meals each week to help balance out your red meat consumption.
As for bacon and the fattier cuts, well, you'll need to decide for yourself.
Many of the issues in studies are dose-dependent, which means that they increase with your level of consumption. Because of this, eating a little bacon may not be that harmful at all.
If you are worried about pork itself, then cutting it out is certainly an option. After all, the benefits that we've highlighted don't just apply to pork. All types of meat are fantastic sources of vitamins, minerals, and protein. You're not going to be deficient simply because you remove pork from your diet.
Frequently Asked Questions
Is Pork Red Meat?
Pork is a little odd. It's nutritionally classified as red meat, yet culinary practices tend to treat it as white meat instead. Plus, pork does become lighter as it is cooked and sometimes even ends up white.
The reason pork is considered red meat comes down to the myoglobin. Despite ending up a lighter color than beef and other red meats, pork still contains more myoglobin than fish or poultry.
Is Pork Healthier Than Beef?
While pork sometimes has a bad reputation, it can easily be as healthy as beef, if not more so. The biggest advantage is that pork tends to be lower in saturated fat and calories than beef.
However, the cut you choose matters here, as a fatty cut of pork will be much less healthy than a lean one. Pay attention to the processing too. Processed pork products, including bacon, are much more concerning for health than a lean pork chop.
Also remember that beef can be good for you too. Both types of meat are rich in nutrients, but they have different nutritional balances, so it's often best to have some of each type in your diet.
How Much Protein Is In A Pork Chop?
For a 4 ounce pork chop (bone removed), you're looking at around 23 grams of protein and 11 grams of fat, plus roughly 190 calories. These stats make pork chops one of the best cuts of pork, as you're not getting too much fat.
That said, the protein and fat content will vary depending on the size of the chop and precisely where it came from in the animal. Most will still have somewhere between 22 and 24 grams of protein, but the fat content can vary dramatically.
Is Pork Good For Weight Loss?
Despite its reputation as a fatty and unhealthy cut of meat, pork can actually be helpful for weight loss. After all, it still contains plenty of protein and a decent serving will keep you satisfied for hours. The trick is to focus on lean cuts of pork rather than fatty ones.
Think about the level of processing as well. Highly processed cuts of pork, like bacon, tend to be less healthy and aren't ideal for weight loss.
Is Pork Good For Diabetics?
Lean meats can work well for diabetics, due to the protein and nutrient intake. Meat is also very low in carbs, so it won't spike blood sugar levels. However, diabetics need to be cautious about the fat content of their meat, as they're already vulnerable to some health conditions, like heart disease.