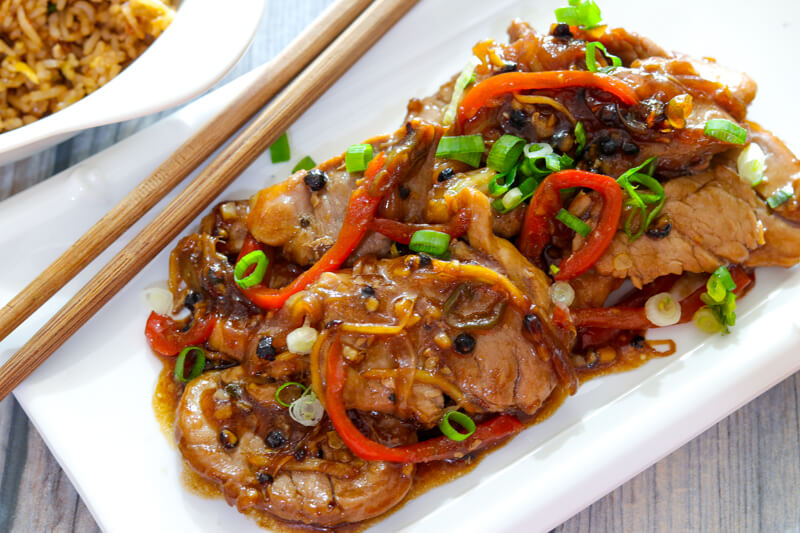 Thai Black Pepper Pork
Speed - 100%
Simplicity - 100%
Tastiness - 97%
The pork, really tender. The flavors were a perfect balance of briny, sweet, spicy, and really aromatic!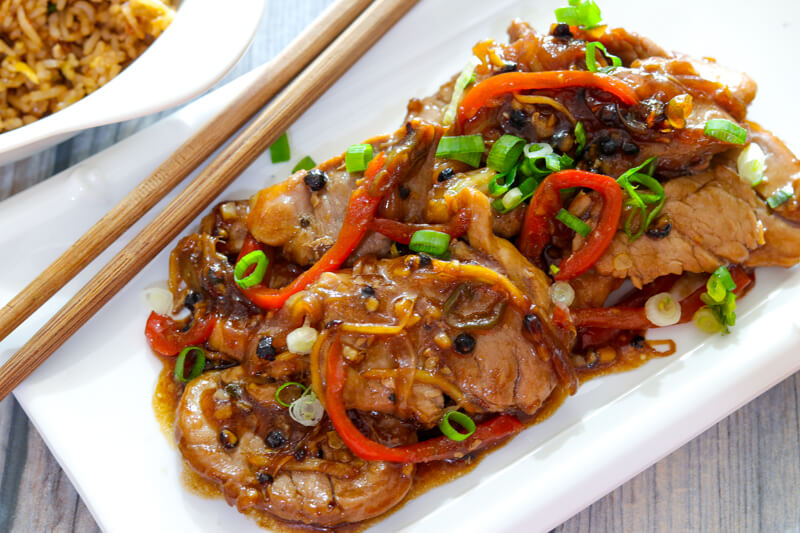 Ingredients
300

Grams

Pork Tenderloin

sliced

1

Piece

White Onion

thinly sliced

6

Cloves

garlic

minced

1

Piece

red bell pepper

cut into thin strips

2

Pieces

Thai Chili

chopped

1

thumb-sized piece

Ginger

cut into thin strips

1/4

Cup

Oyster Sauce

1

Tablespoon

Black Peppercorns

1

Tablespoon

Sugar

1

Tablespoon

Vegetable Oil

1/4

Cup

Spring Onions

chopped
Instructions
Heat oil in a wok.

Sautee pork until slightly brown.

Add the garlic, ginger, Thai chili, and black peppercorns. Sautee until aromatic.

Add the onions and bell peppers. Sautee until onions are slightly translucent.

Add the sugar and oyster sauce and stir for a minute.

Garnish with chopped spring onions.
I just love stir-frys. You could practically make any stir-fried masterpiece in minutes, making use of ingredients you may already have sitting in your pantry. And the best part is, most stir-fried dishes that I know, do taste excellent, this Asian black pepper pork included.
Let me walk you through this Thai-inspired recipe as a guide, that should basically work with most Asian stir-fried dishes. Feel free to substitute ingredients, modify proportions, and add personal touches – these types of dishes are so open to make your very own.
Let's start with good even slices of pork tenderloin. The choice for this cut would be for the obvious reason that they're going in for a really quick cooking time. Strips of chicken or practically any seafood would be excellent substitutes or additions. Reserve those tougher cuts of meat like those from a pork shoulder or a beef brisket for more thorough methods such as braising or stewing.
Getting your meat to a uniform size and thickness would be essential for even cooking, without leaving some pieces raw as the others overcook.

Give your meat some color before adding your aromatics. For this recipe, garlic and ginger are sauteed in the pan, as the black peppercorns are roasted until aromatic. Most spices do get to release their aroma when roasted briefly. Black pepper, in this instance, turns from merely spicy and pungent to something really fragrant with a similar minty flavor.
Keep everything moving in the pan. You'll want those aromatics to sweat out their flavor without the slightest color. Garlic, especially, takes no time at all to burn.

The vegetable components of the stir-fry go in next, starting from the ones that need longest to cook down to those that are better kept near their raw state.
Though serving much more as additional aromatics for this dish, those vegetables would have to be the onions, bell peppers, and Thai chili. Stir them around the pan until just a bit short of your desired doneness. I prefer them with a slight crunch, needing just a couple of seconds.

The oyster sauce(or any sauce you prefer to work on), and additional seasonings go in next. Oyster sauce would really be enough with its briny flavor, though you could certainly add a bit of fish sauce.
I also added a dash of brown sugar for a couple of reasons:
it would complement the saltiness from the oyster sauce
that sweetness would balance out the heat from the chilis and black pepper
the sweet flavor should mimic the natural sweetness of fresh vegetables, giving the dish a fresher taste

Stir over high heat just until everything is evenly coated in the sauce and serve smoking hot!