Potato Latkes
Speed - 98%
Simplicity - 100%
Tastiness - 97%
Perfectly smooth and tender on the inside, while really crisp outside. These latkes are perfect for any dip, from sweet to savory.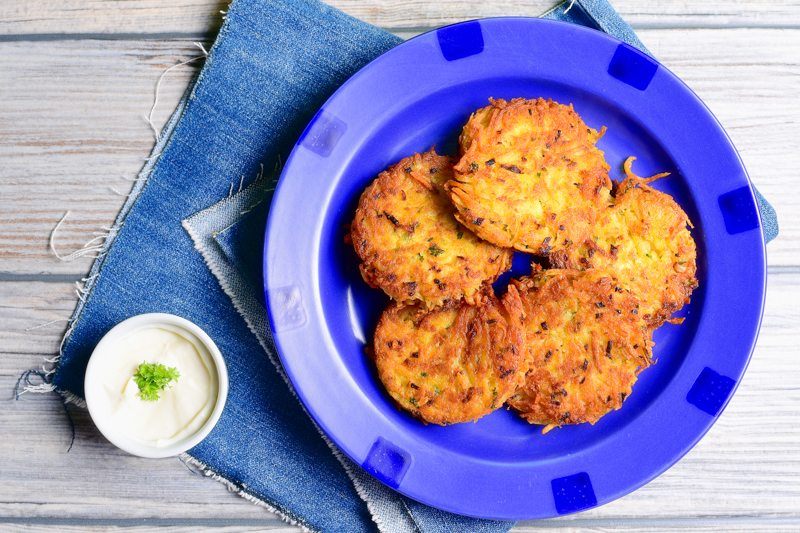 Ingredients
1

large

Potato

peeled

1

piece

Egg

1

small

White Onion

minced

1/4

cup

Panko Bread Crumbs

1

tablesoon

Chopped Dill

1/4

cup

olive oil

Salt

to taste

Pepper

to taste
Instructions
Process the potato through a cheese grater. Keep submerged in a bowl of water.

Drain the potatoes from the water and pat dry on a kitchen towel.

Tip off the water from the bowl, leaving the layer of potato starch at the bottom.

Toss the grated potatoes, panko, dill, egg, salt, and pepper together with the potato starch.

Heat olive oil in a pan.

Fry the latkes over medium heat for 3 minutes per side, shaping each piece with an egg ring.

Turn the heat on high, and give them another minute per side to crisp.
Derived from the Russian word ladka which means "small pancakes", latkes need not be made exclusively from potatoes despite this variant's popularity. It would be really difficult to point out the exact origins of this dish as it is shared by several European and Middle Eastern cuisines. It is known as Reibekuchen in Germany, Patatnik in Bulagaria, Bramborak in the Czech Republic, or Kotlet in Iran, to site a few examples.
Made essentially from grated potatoes, eggs, and flour, these potato pancakes have seen some changes while being adapted by various other cuisines around the world. The Swiss for example, prepare flourless versions of this dish known as Rosti. Also, depending on preference, it would not be so uncommon to see the inclusion of grated onions, spices, herbs, and at times tomatoes and eggs to these pancakes. Furthermore, the use of other vegetables such as zucchini instead of potatoes has also become popular.
Let's begin preparing some of these Latkes!
Run a few potatoes through a coarse cheese grater. Having a bowl of cold water to hold all those processed potatoes would be advisable to keep them from oxidizing.


Once all grated, drain the potatoes in a colander, squeezing out any excess moisture. There would be a significant amount of natural potato starch in that soaking water which we'll use later for binding these latkes. Setting your colander over a bowl that would catch all of that water would thus be necessary.
Leave the bowl of soaking water for a few minutes to let all that potato starch settle to the bottom. Meanwhile, I do suggest that you keep the grated potatoes covered with a kitchen towel to slow down any browning.
As soon as you see starch settled at the bottom, slowly tip the bowl off to its side to discard the water that has risen to the top.

Next would be to toss the potatoes, onions, eggs, herbs, seasoning, and some panko bread crumbs together with the natural potato starch in the same bowl. As you'll notice, I did not use any additional flour in this recipe. The eggs and natural starch from the potatoes would be more than enough to bind these latkes.
Also, here's where you get to play with the recipe. A few bacon bits, some grated hard cheese, chopped chili. . . throw in any ingredient you'll enjoy with potatoes – and that would practically be anything.

Heat some oil in a pan, just enough for shallow frying. Without any additional breading on the outside, these potato latkes would disintegrate in the oil if deep-fried.
Though not necessary, using egg rings such as the silicone ones I've used, would give your latkes a more uniform size and shape. That would not only make these pancakes look prettier and professionally-prepared, getting them evenly-sized would also allow for uniform cooking.
Here's a good tip for frying these latkes: fry them for 2-3 minutes per side over medium heat to make sure they're cooked to the core. Then, turn the heat up high and allow them to crisp for another minute on each side.

Serve them with any dip of your choice – yogurt, applesauce, catsup, remoulade. . . as strange as this may sound, I do enjoy them with vinegar!