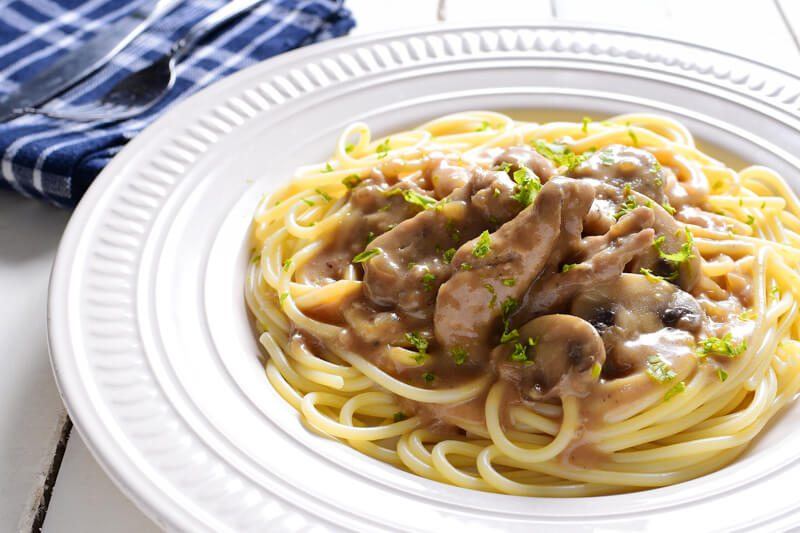 Pork Emincer
Speed - 97%
Simplicity - 97%
Tastiness - 99%
The pieces of pork tenderloin were really so tender and succulent. The sauce, perfectly creamy and well-flavored.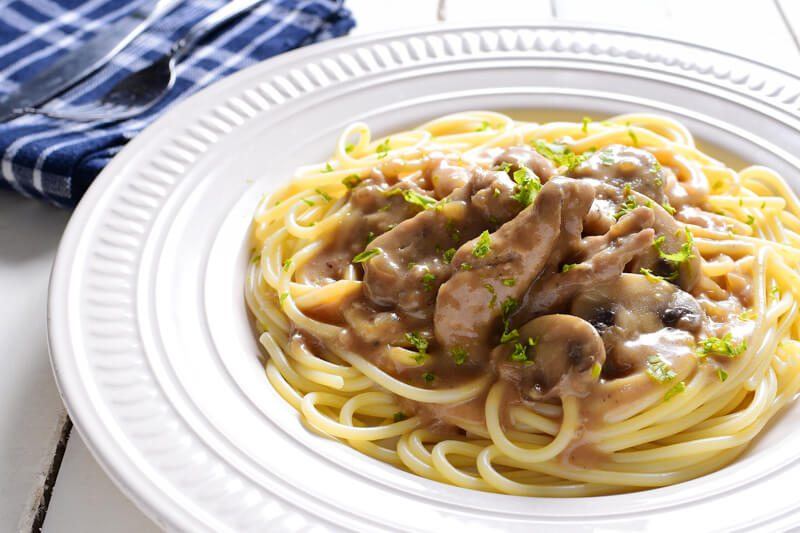 Ingredients
250

Grams

Pork Tenderloin

sliced

150

Grams

Button Mushrooms

sliced

1.5

Cups

Demi-Glace

1

Piece

White Onion

finely chopped

2

Tablespoons

olive oil

All Purpose Flour

for dredging

Salt

to taste

Pepper

to taste

Parsley

for garnish
Instructions
Season the pork tenderloin with salt and pepper. Lightly dredge in flour.

Heat olive oil in a pan.

Sear the pork until brown on both sides. Set aside.

In the same pan, sautee onions until translucent.

Add the mushrooms and sautee until soft.

Pur in the demi-glace into the pan. Simmer to reduce.

Put the pork back into the pan. Bring back to a simmer.

Turn off the heat and fold in the sour cream.

Garnish with fresh chopped parsley.
Fancy serving something French for dinner? This simple pork entree may be worth a look.
This creamy pork emincer recipe would go perfectly with almost any side of your choice – pasta, rice, mashed potatoes. . . well, most creamy dishes would. It's also one of those recipes that just easily wins the approval of most people, regardless of preference for any specific taste. In fact, I find most French dishes to have this very universal appeal.
Let's get cooking.
The French term emincer simply refers to thin cuts of meat, in this case pork, and specifically from the tenderloin which would be the perfect choice for the short intended cooking time. A tougher cut, say from the shoulder, would serve better for longer and more aggressive cooking methods such as stewing, roasting, or braising.
These thin slices of meat are seasoned with salt and pepper, then dredged lightly in all-purpose flour. This flour coating would serve two important purposes. First, it will provide a layer for any intended sauce to adhere to. Second, bits of flour left in the pan after searing, in the form of pan drippings, would give body to the sauce towards the end of cooking. Moreover, that flour would give the meat a deeper brown color, making the dish more visually appetizing.

Heat some butter or olive oil in a pan and sear those pieces of meat in small batches. Dropping in too many at a time would lead to a sudden drop in your pan's temperature, causing those pork pieces to turn too soggy and pale.

Set all the browned pieces of pork aside, and in the same pan get the onions sweating. You'll want to get the onions into a very fine mince so they'll end up melting off and blending beautifully in your sauce.

Once the onions turn slightly soft and translucent, get the sliced mushrooms in the pan and sautee for another minute or so. Allowing the mushrooms to caramelize, just as with onions, lets them develop a naturally sweet flavor.

The demi-glace then goes into the pan as a base for the sauce of this dish. Deglazing those pan drippings with a splash of wine would also be a good idea.

Allow the demi-glace to simmer for a few minutes in the pan or until it reduces into a consistency just enough to coat the back of a spoon.
Bring the cooked pieces of pork back into the pan and bring everything back to a simmer. Keep in mind that these pork pieces are already done and don't need any further cooking, so turn the heat off just before everything comes into a boil. Extended cooking would only cause that pork tenderloin to dry out.

Finally, fold in a nice dollop of sour cream for a perfectly contrasting richness.

Typically served with freshly cooked pasta, this emincer would also be excellent over some extra creamy mashed potatoes or some buttered rice pilaf.